---
---
---
Often fresh rolls are served with a peanut sauce, I like to serve it with the Vietnamese Nuoc Cham Chay Sauce, but why not have the best of two worlds? So I decided to pull the jackfruit and fry it with the peanut butter, then roll it with rice noodles, cucumber, spring onion, yellow carrot and red bell pepper, served with the Vietnamese dipping sauce.
The preparation is fairly quick, what takes more time though, is rolling the rolls, as you have to wait a bit for the soaking of every rice paper sheet. I use 3 plates at the same time, soaking 1 sheet in each, then start rolling as they get softer. It really speeds up the process a lot. As for how many this can serve, we were 3 for dinner and a served it with a small portion of soup for each and it was more than enough food, so serving for 4 with a side would be sufficient as well.
---
Like Fresh Rolls in general? Then check out these recipes:
---
---
Makes about 16 medium sized rolls
---
Dinner for 3 or 4 with a side dish
---
Ingredients
---
Pulled Peanut Butter Jackfruit
---
1 can of jackfruit in water – NOT in sugar brine (482g / 17 oz can – yield of 280g / 9.8 oz)

1 medium red onion

1.2 dl water (1/2 cup)

4 garlic cloves

4 tablespoons peanut butter

2 tablespoon soy sauce

1 tablespoon sesame oil
---
Fresh rolls
---
16 sheets of round rice paper

100g thin angel hair rice noodles (3.5 oz)

2 yellow carrots

1/2 cucumber

1 red bell pepper

2 stalks of spring onion
---
Dip – Nouc Cham Chay
---
80 ml soy sauce (1/3 cup)

60 ml water (1/4 cup)

3 tablespoon rice vinegar

1 tablespoon granulated sugar

1 thumb grated ginger

2 grated garlic cloves

1 tablespoon sesame seeds

1 teaspoon hot chili flakes

Juice from 1/2 lime
---
What you will need
---
Cutting board and knife

1 strainer

1 fork

1 pan + spoon to stir

1 bowl for noodles

1 small bowl and grater for dip

Measuring spoons and measuring cup

1 plate and bowl for rice paper soaking
---
---
---
---
---
Note: This video is not from this recipe, but another fresh summer roll recipe, but the rolling method is the same.
Tip: place the peanut butter jackfruit first, then the pointy vegetables on top, then the rice noodles on top,
this will prevent the pointy vegetables to make holes in the rice paper as you roll, while pulling it tight.
---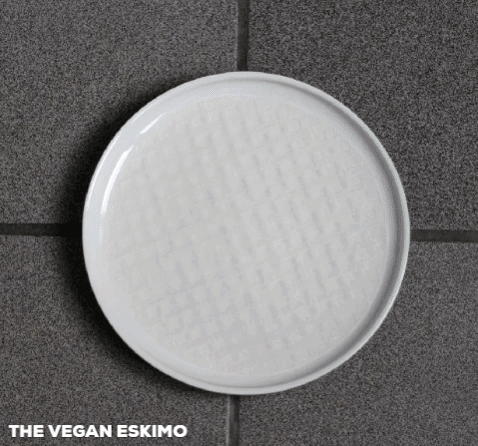 ---
Instructions
---
Mix all the dip ingredients together. Let sit in the fridge and marinade itself until serving.

---

Rinse the jackfruit well and strain. Press out as much liquid as you can. Pull the jackfruit with a fork and transfer to a pan with the water, sesame oil, soy sauce, peanut butter, peeled and chopped onion and garlic. Turn heat on medium and fry for 5 minutes until cooked and onions are tender. Set aside.

---

Add the rice noodles to a bowl with boiling water and a little salt to taste. Let sit for a few minutes until fully cooked. Strain over the sink and rinse well with cold water, this will prevent them from sticking to each other and stop the cooking process. Set aside.

---

Peel the carrot. Thinly julienne the carrot, cucumber, spring onion and bell pepper. Set aside.

---

Make a small bowl of water. Place the rice paper sheet on a plate. With your hands wet 1 piece of rice paper generously on each side. Let sit for 10-20 seconds until it has soaked the water, pour out excess water if there is too much, then place the ingredients a little off centre of the roll in a little rectangle. Don´t overfill it as it will be hard to roll them. Fold over the sides, then start rolling as you pull the paper tight. Continue with the rest of the rolls.

---

Serve with Nouc Cham Chay Dip or any other dip of your liking and fresh cilantro.
---
Enjoy !
---
---
---