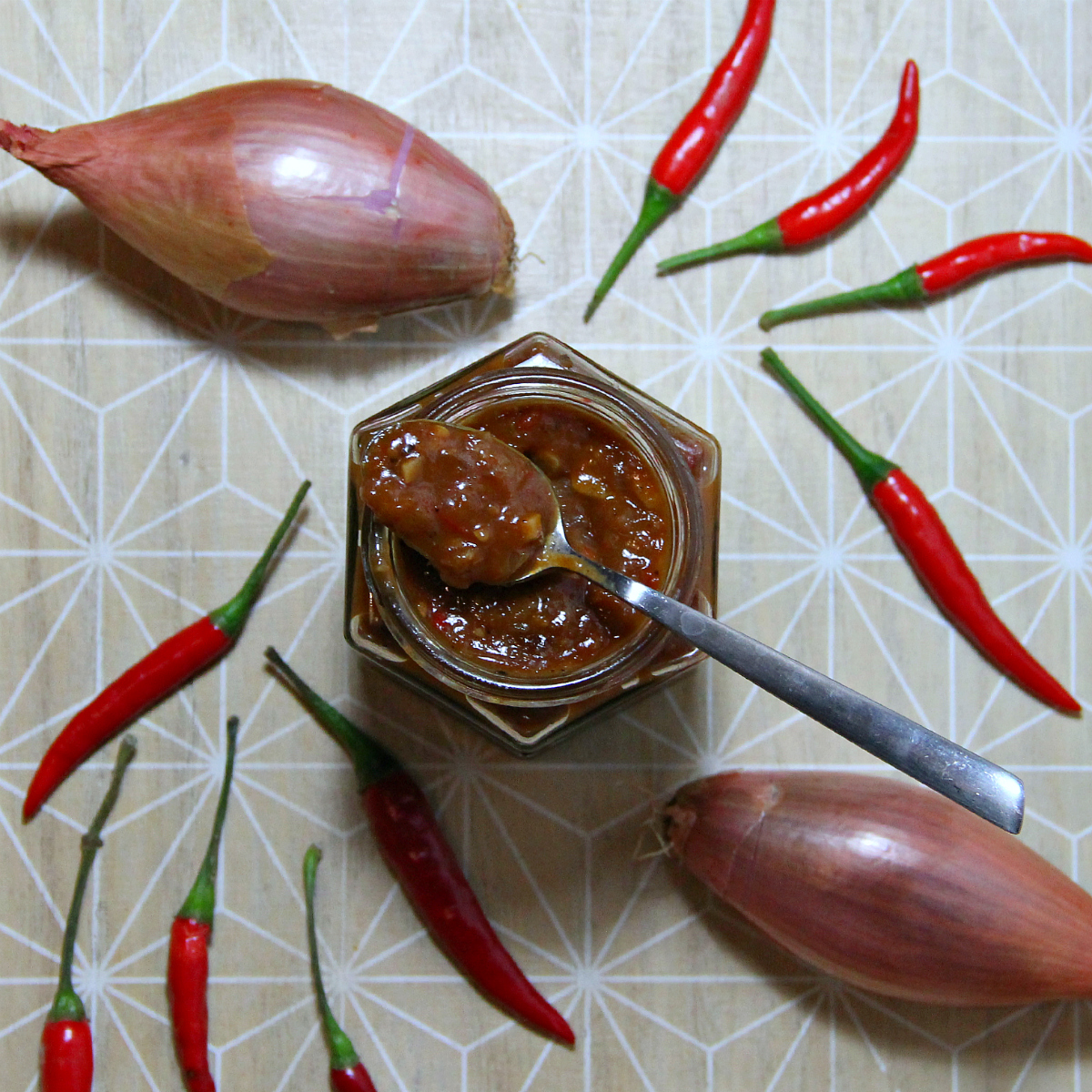 ---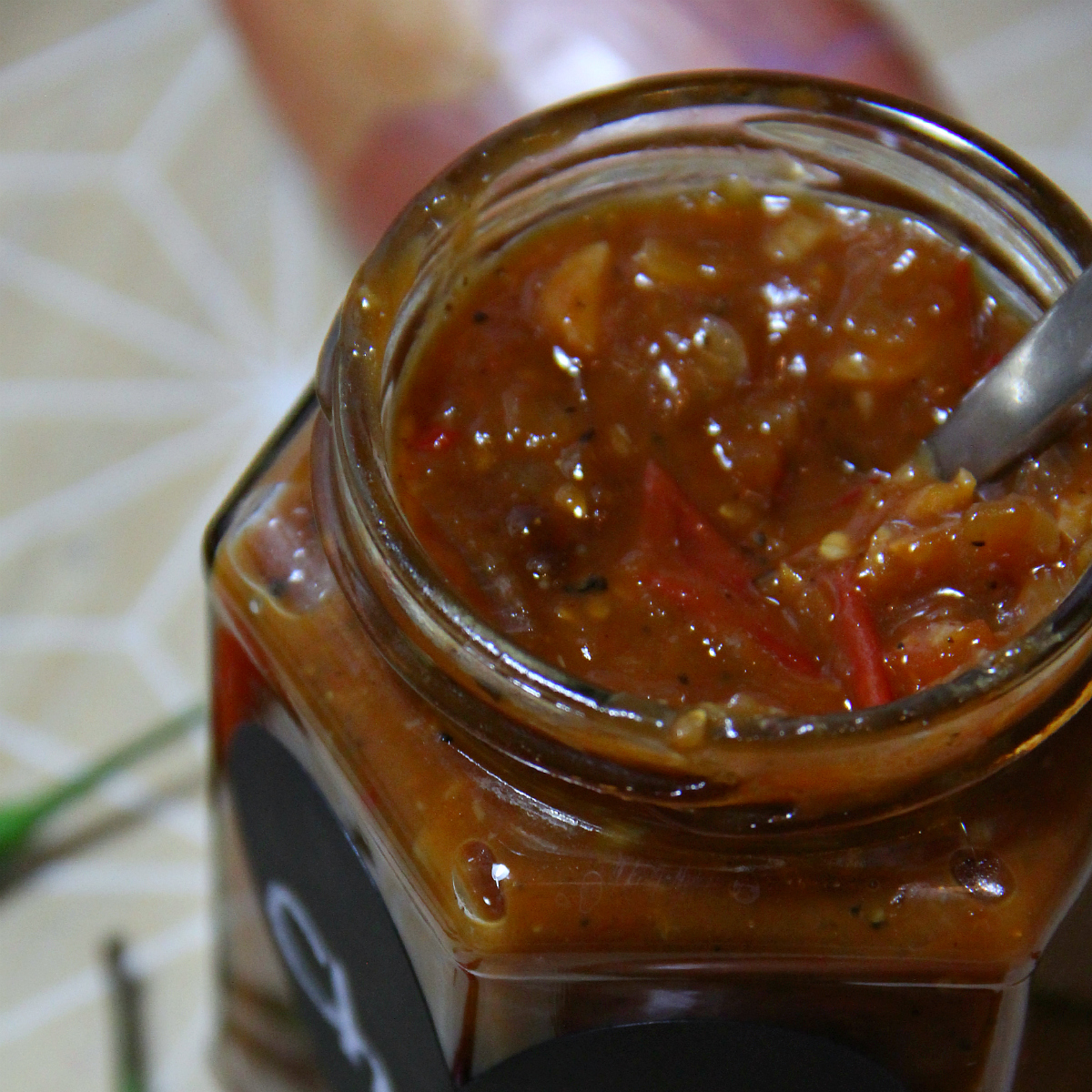 ---
I just adoooore this chutney, I can eat it with a spoon, no kidding. I wonder why a tomato onion chutney is not as popular as the mango chutney? Anyways, this is a must try !
Note that the small red chilies can vary a lot in heat, depending on the ripeness, season and where it came from. The variety used in this recipe is the ordinary supermarket chili we all have seen: Chili de árbol or also called Bird's beak chili.
Sometimes they're really NOT that hot, more like spicy bell peppers and I can snack them, other times just one chili is enough for a whole dish, taste them first, see how much you prefer. Here i got a pretty hot bunch and i used 3 chilies with the seeds. Keeping the seeds add more spice, you can also leave out the seeds and go for more chili meat.
---
Like Indian cuisine in general? Check out these recipes:

---
---
Makes about 200 ml / 6.8 oz
---
Ingredients
---
25 small cherry tomatoes (yield 3.5 dl / 1½ cup when halved)

2 shallots

4 garlic cloves

5 tablespoons granulated sugar

2 tablespoons sunflower oil

2 tablespoons balsamico

1-5 small red chilies (to taste)

½ teaspoon ground ginger

½ teaspoon salt

½ teaspoon pepper

Juice from ½ lime
---
What you will need
---
Cutting board & knife

1 small pot + fitting lid

1 spoon to stir

Measuring spoons

1 stick blender (if needed)

Sterilzed glass jar
---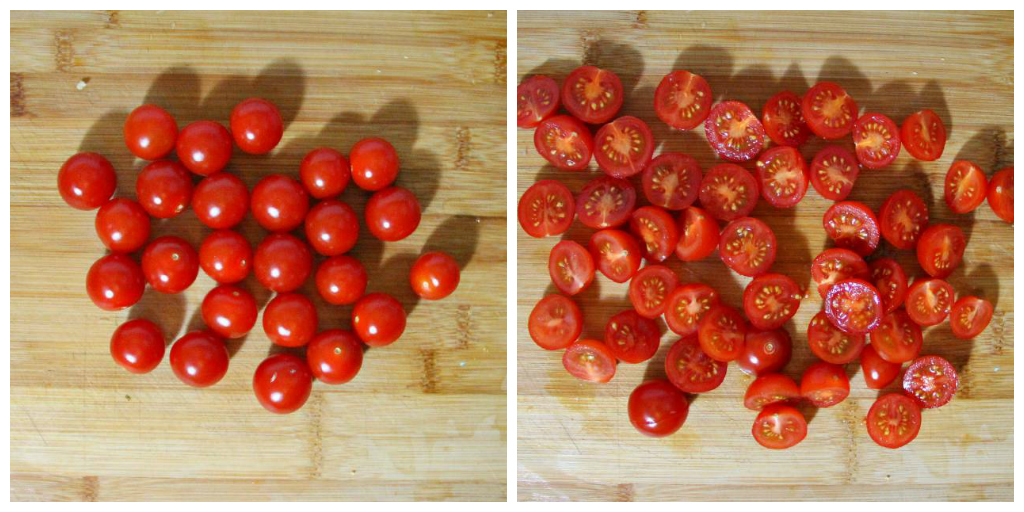 ---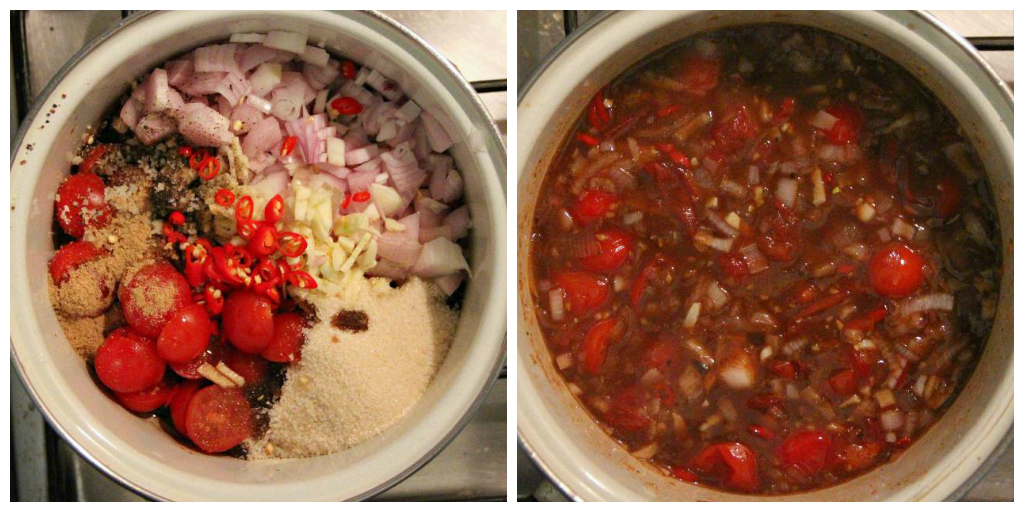 ---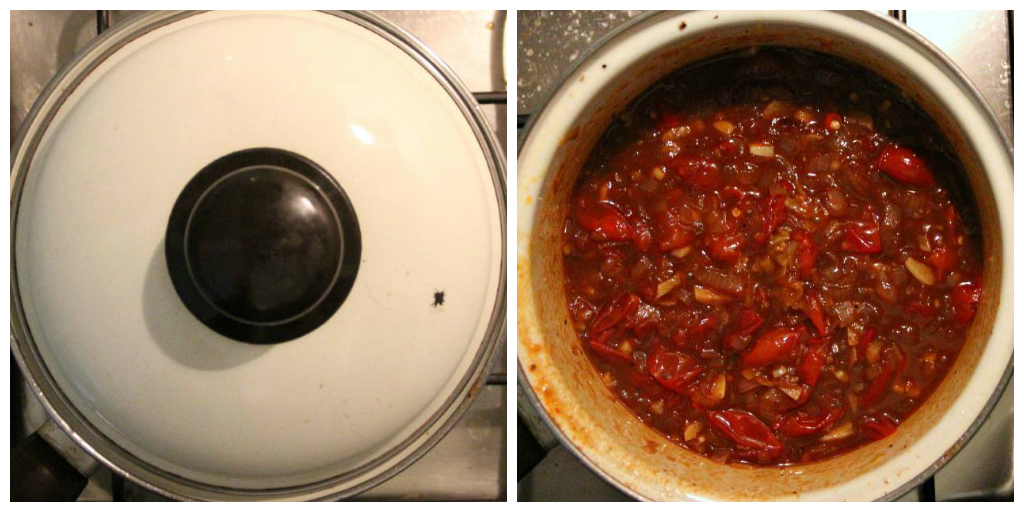 ---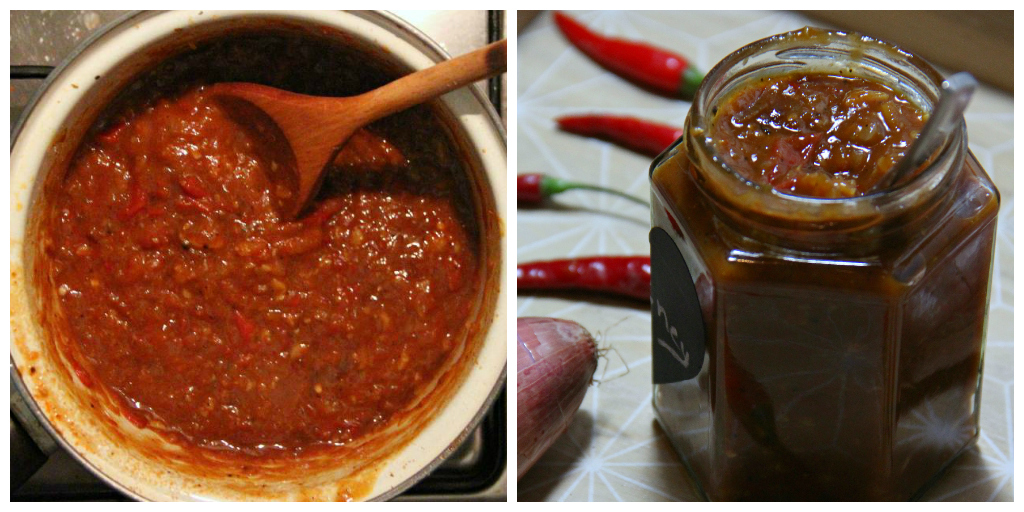 ---
Instructions
---
Sterilizing jars and timing
---
The jar should be clean, sterilized and hot when the chutney is finished, so prepare it while the chutney is cooking.

---

Wash your glass jar in hot soap.

---

Boil the rubber closures (if any) for a few minutes separately.

---

Put the glass jar (without the rubber if any) in the oven on 140°c (280°F) and bake until dry.

---

Take out just before the chutney is ready, so the container is hot and the chutney is hot, this will prevent the glass from breaking when pouring the hot chutney into it.

---

Sterilizing is important to keep your chutney from spoiling. If sterilized well a chutney can keep good unopened for months. After opening if should be stored in the fridge.
---
Chutney
---
Chop the cherry tomatoes in half. Add to the pot.

Peel and finely chop the shallots and garlic, add to the pot.

---

Finely chop the red chilies, use as many as you're comfortable with, I used 3 with seeds (seeded for extra spice, deseeded for less spice). Add to the pot with the sugar, oil, balsamico, ginger, salt and pepper.

---

Turn the heat on high and bring to a simmer. Stir on occasion.

---

When brought to a simmer turn the heat on low and put a lid on the pot. Simmer for about 40 minutes, stirring occasionally.

---

Add in juice from ½ lime.

---

Depending on how you like the texture of your chutney you can blend it with the stick blender. Chunky = don't blend. Medium chunky = blend half. Smooth cream = blend all. I blend this to medium chunky, but do as you prefer.

---

When texture is as desired, turn off the heat and transfer to a sterilzed and hot jar, leaving about 2-3 cm / an inch free space on top. Tap the jar gently to free potential trapped air bubbles. Avoid spilling on the rim and wipe off any if so, this will help prevent the chutney from spoiling. Cover with the lid but dont seal shut yet, cool down for about 5 minutes, then seal shut while still hot.

---

If sterilzed well the chutney can be stored for months without spoiling. After opening it keeps good for about a month in the fridge

---

Can be enjoyed as a side dish with various Indian curries, in sandwiches, wraps, eaten with Pakoras, pappadums, chapati or Onion Bhajis.
---
Enjoy !
---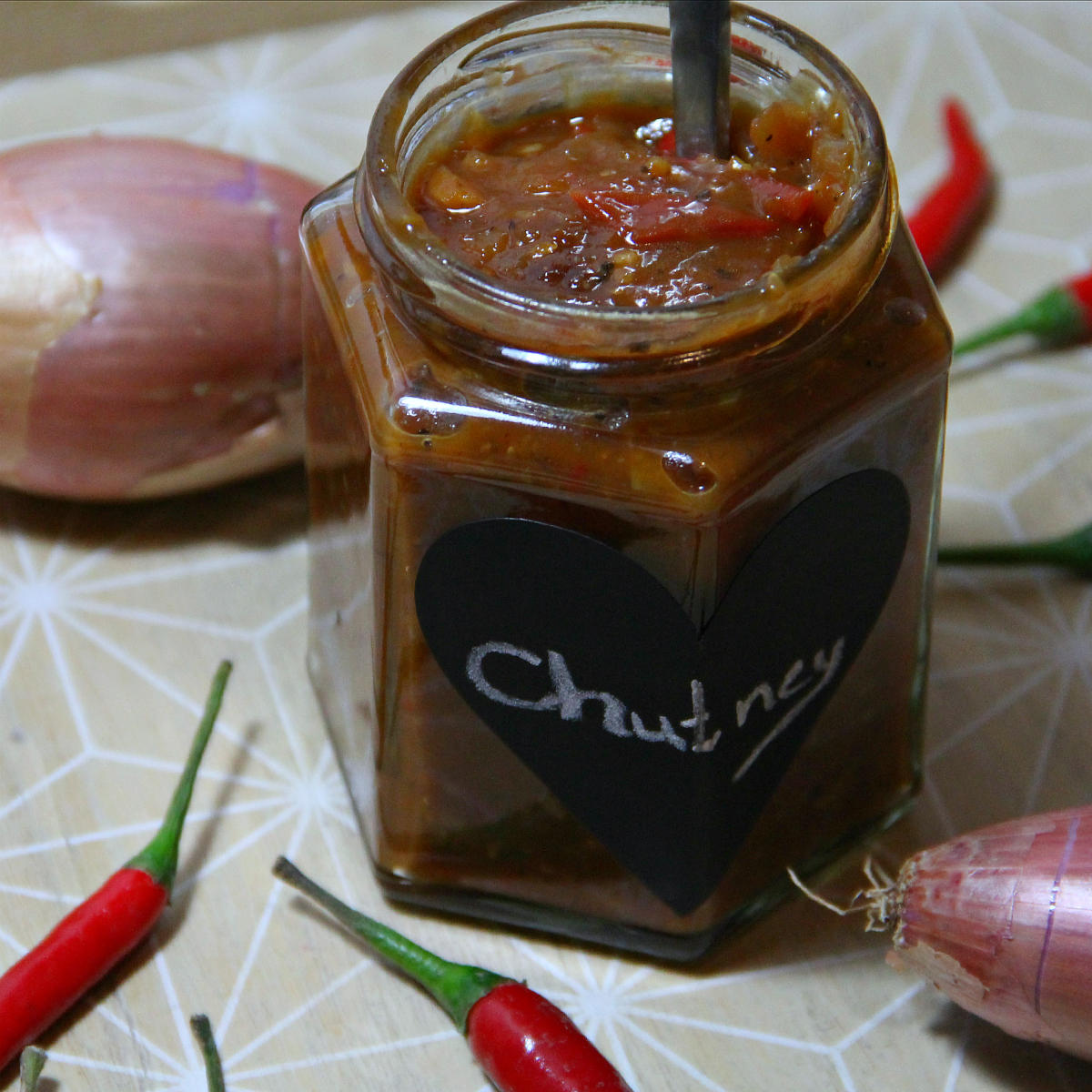 ---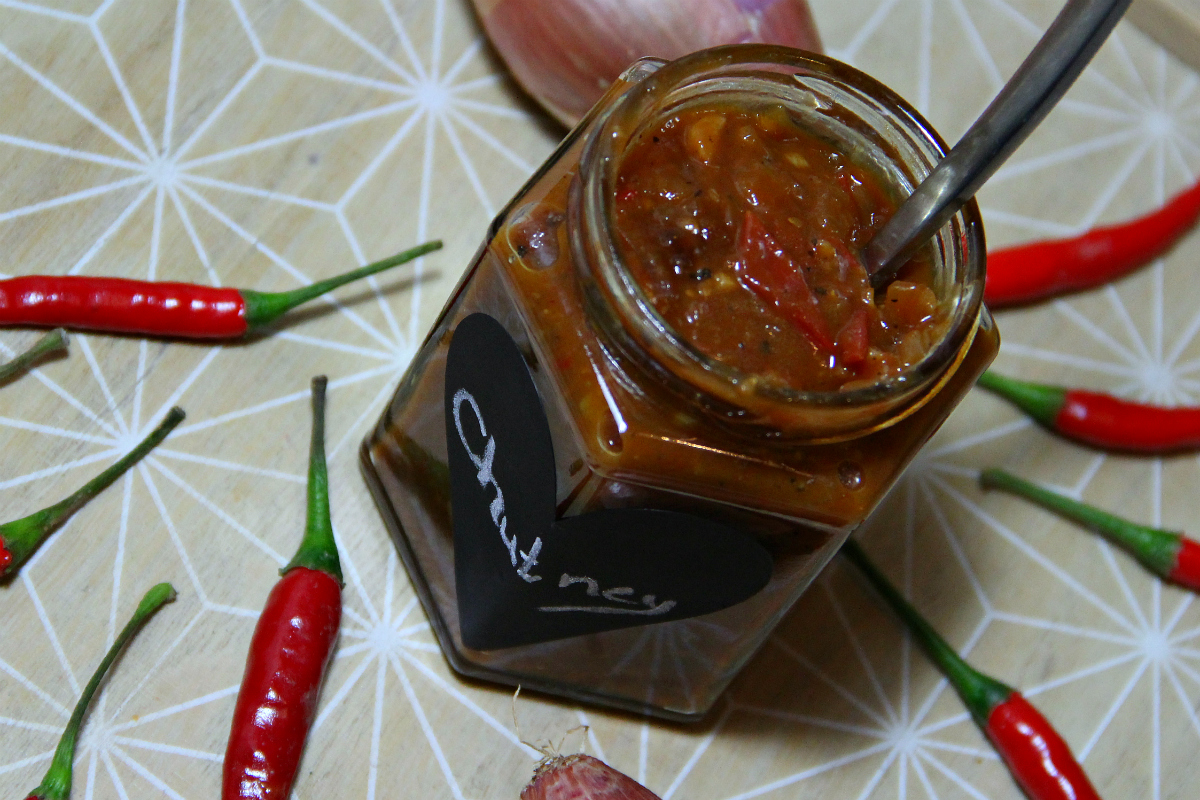 ---