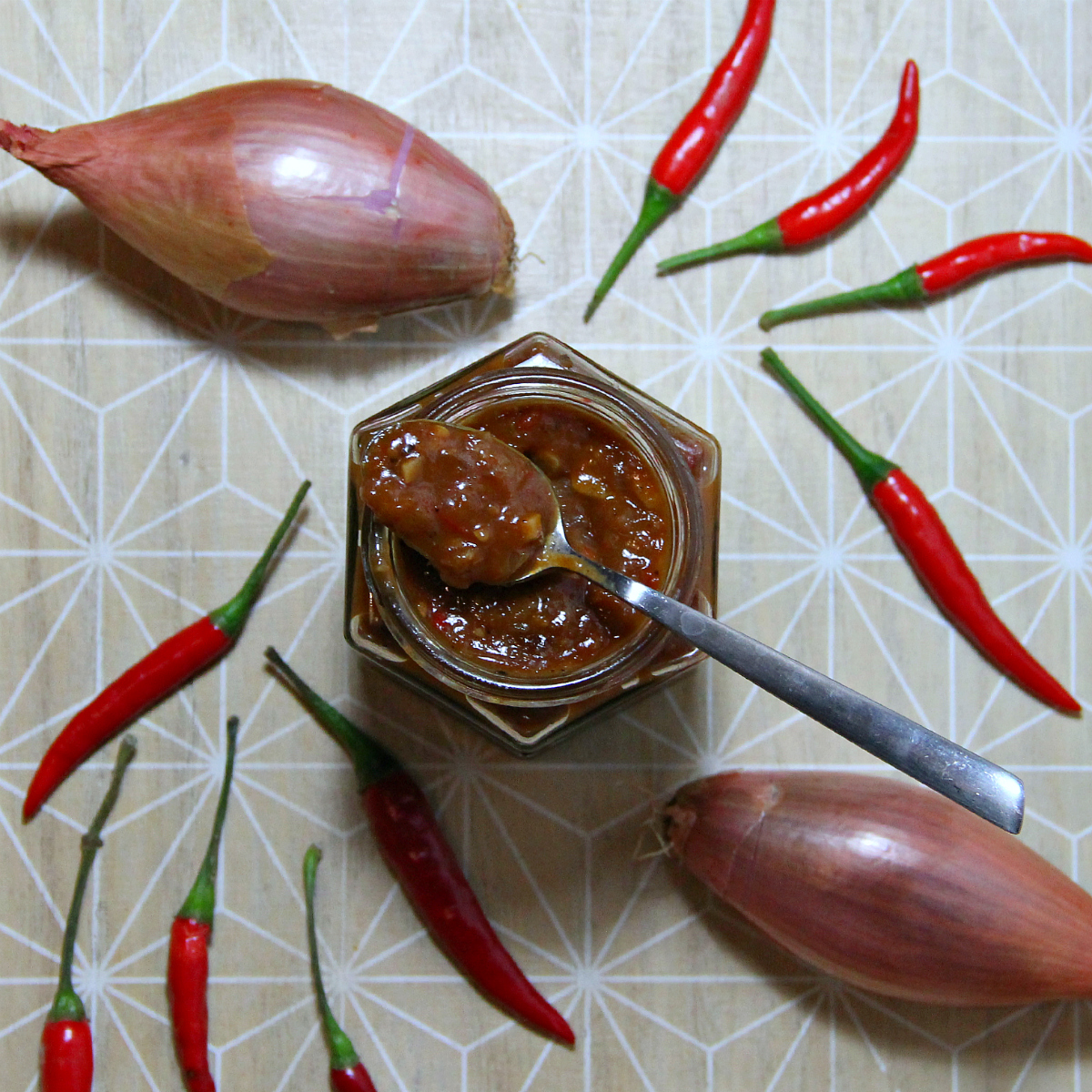 ---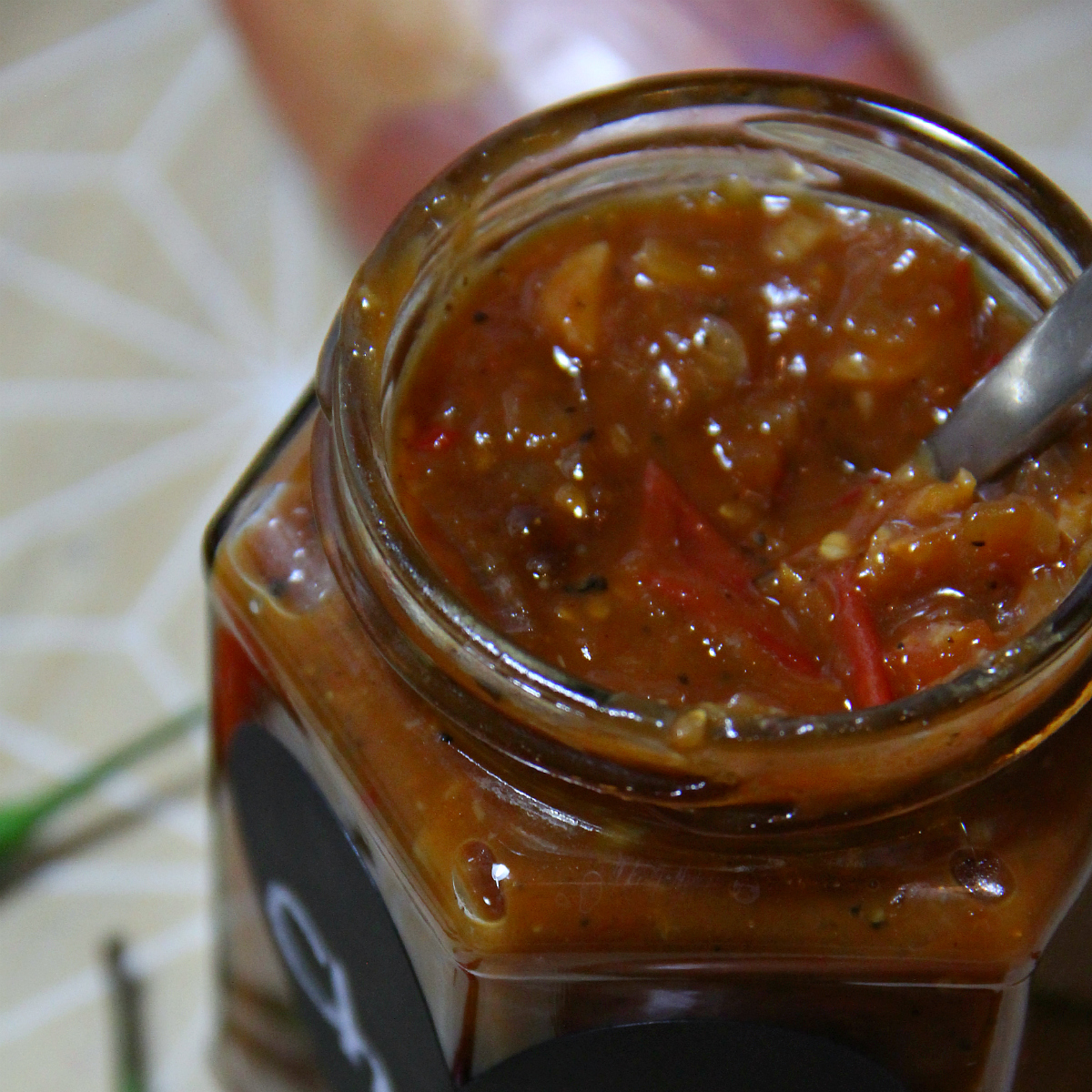 ---
I just adoooore this chutney, I can eat it with a spoon, no kidding. I wonder why a tomato onion chutney is not as popular as the mango chutney? Anyways, this is a must try !
Note that the small red chilies can vary a lot in heat, depending on the ripeness, season and where it came from. The variety used in this recipe is the ordinary supermarket chili we all have seen: Chili de árbol or also called Bird's beak chili.
Sometimes they're really NOT that hot, more like spicy bell peppers and I can snack them, other times just one chili is enough for a whole dish, taste them first, see how much you prefer. Here i got a pretty hot bunch and i used 3 chilies with the seeds. Keeping the seeds add more spice, you can also leave out the seeds and go for more chili meat.
---
Like Indian cuisine in general? Check out these recipes:

---
---
Makes about 200 ml / 6.8 oz
---
Ingredients
---
25 small cherry tomatoes (yield 3.5 dl / 1½ cup when halved)

2 shallots

4 garlic cloves

5 tablespoons granulated sugar

2 tablespoons sunflower oil

2 tablespoons balsamico

1-5 small red chilies (to taste)

½ teaspoon ground ginger

½ teaspoon salt

½ teaspoon pepper

Juice from ½ lime
---
What you will need
---
Cutting board & knife

1 small pot + fitting lid

1 spoon to stir

Measuring spoons

1 stick blender (if needed)
---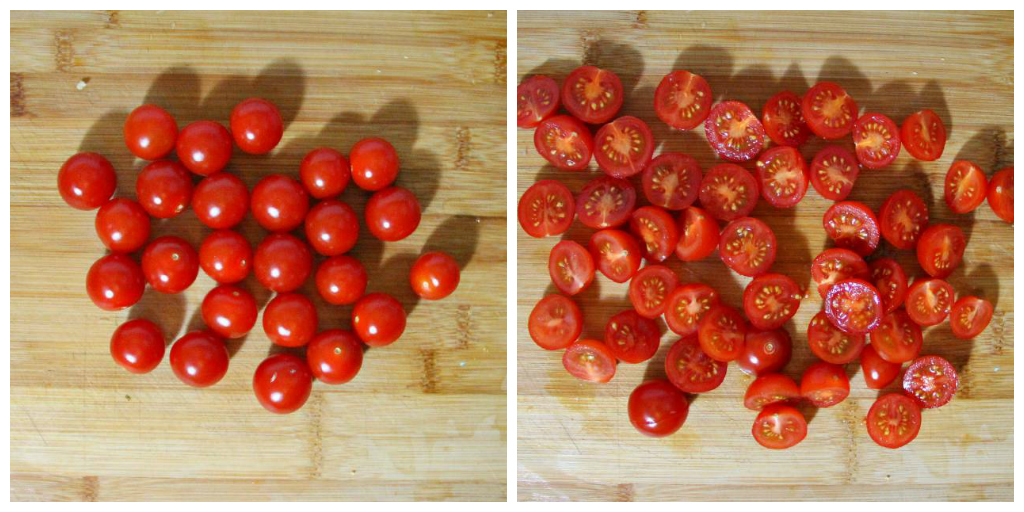 ---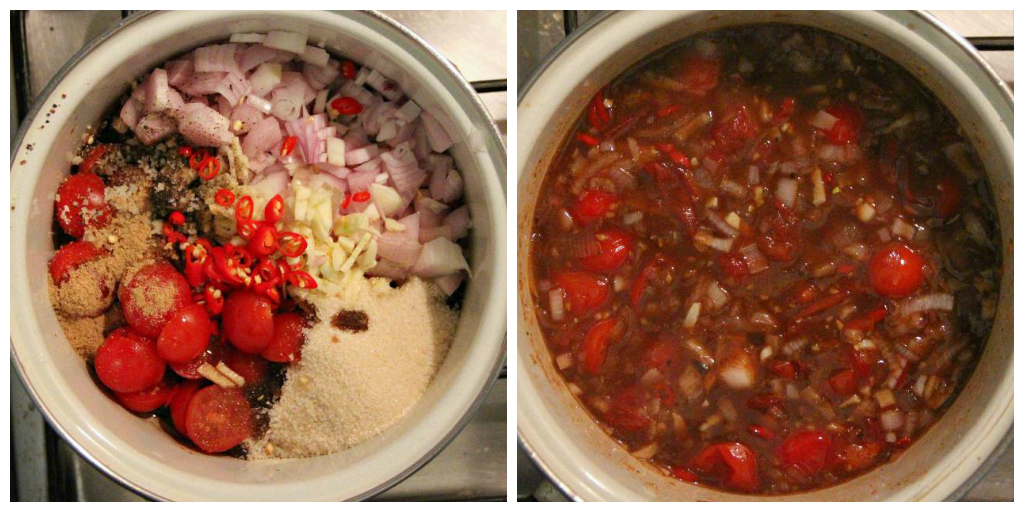 ---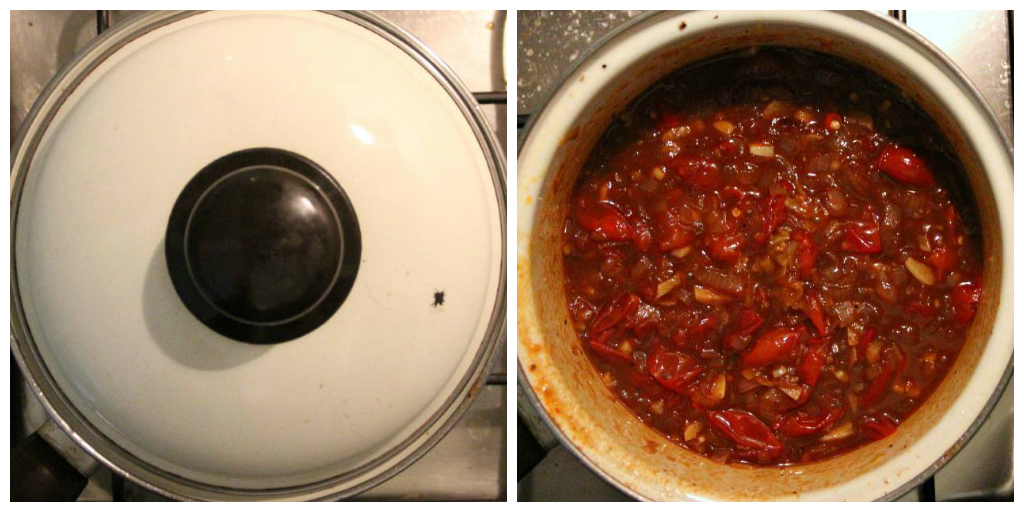 ---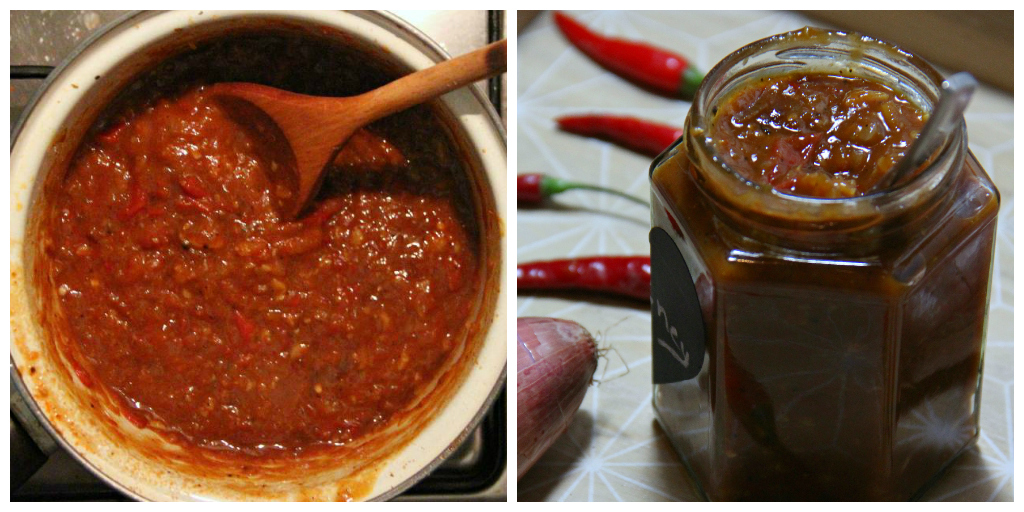 ---
Instructions
---
Chop the cherry tomatoes in half. Add to the pot.

---

Peel and finely chop the shallots and garlic, add to the pot.

---

Finely chop the red chilies, use as many as you're comfortable with, I used 3 with seeds (seeded for extra spice, deseeded for less spice). Add to the pot with the sugar, oil, balsamico, ginger, salt and pepper.

---

Turn the heat on high and bring to a simmer. Stir on occasion.

---

When brought to a simmer turn the heat on low and put a lid on the pot. Simmer for about 40 minutes, stirring occasionally.

Add in juice from ½ lime.

---

Depending on how you like the texture of your chutney you can blend it with the stick blender. Chunky = don't blend. Medium chunky = blend half. Smooth cream = blend all. I blend this to medium chunky, but do as you prefer.

---

When texture is as desired, turn off the heat and set aside with the lid half off. Let cool completely down.

---

Sterilize one glass container / mason jar / other container. If used glass pour over boiling hot water on the glass in the sink. Let rest for a few minutes. Be careful not to burn yourself when emptying for water. Let dry completely.

---

When fully dry add in the cold chutney. Keep refrigerated. Can be enjoyed as a side dish with various Indian curries, in sandwiches, wraps, eaten with Pakoras, pappadums, chapati or Onion Bhajis.
---
Enjoy !
---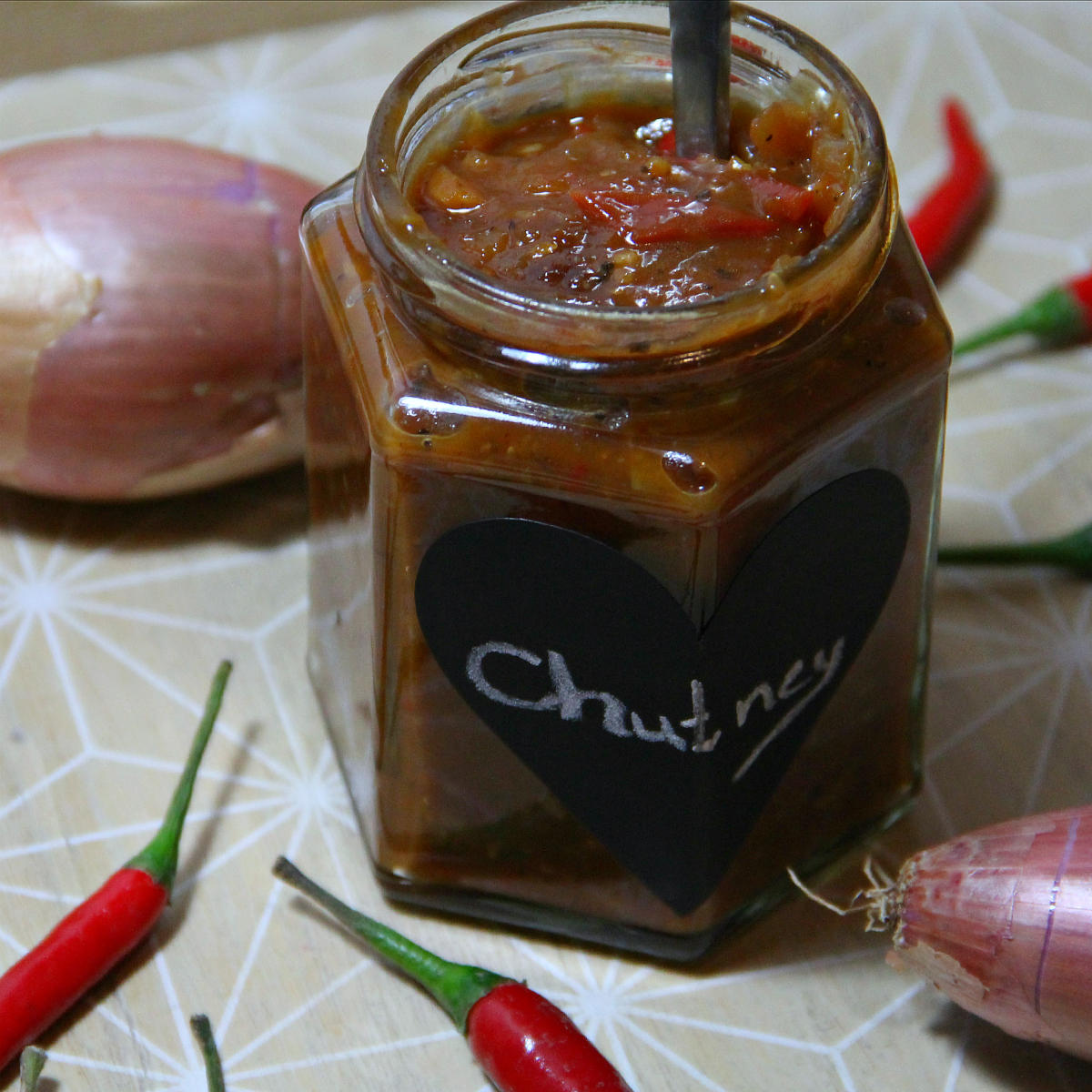 ---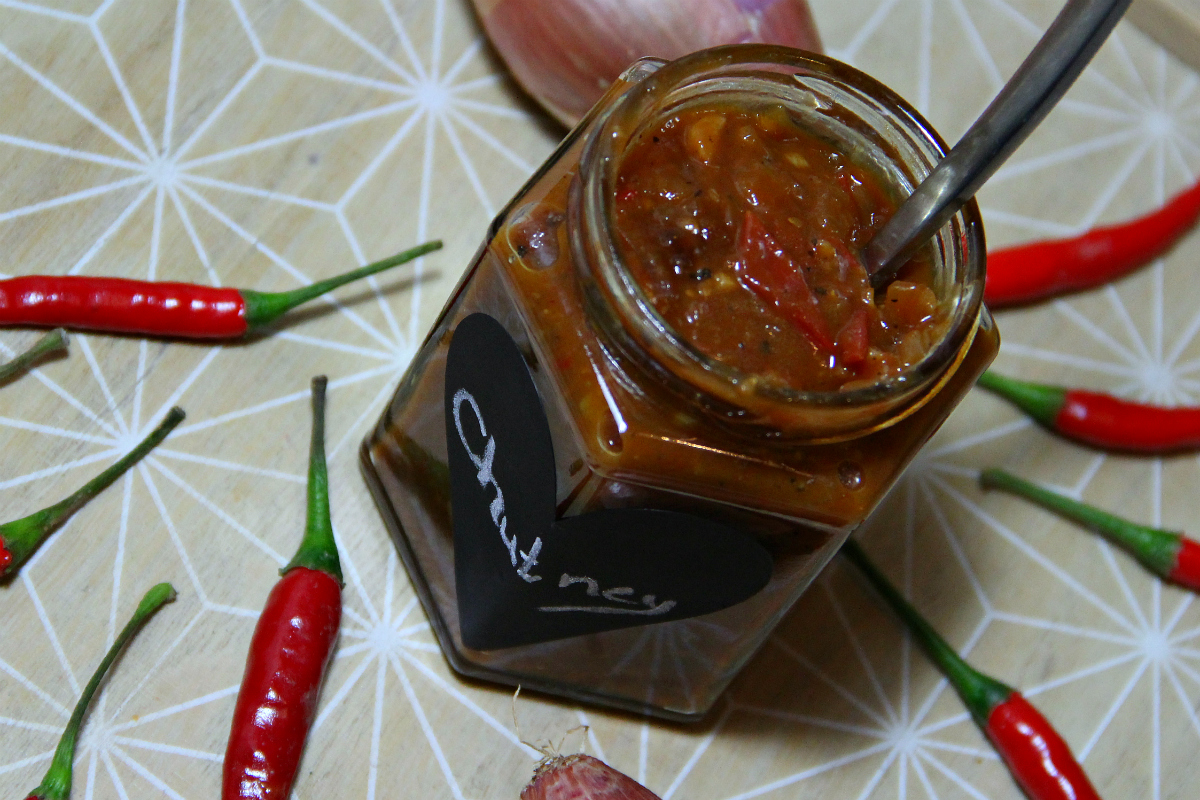 ---