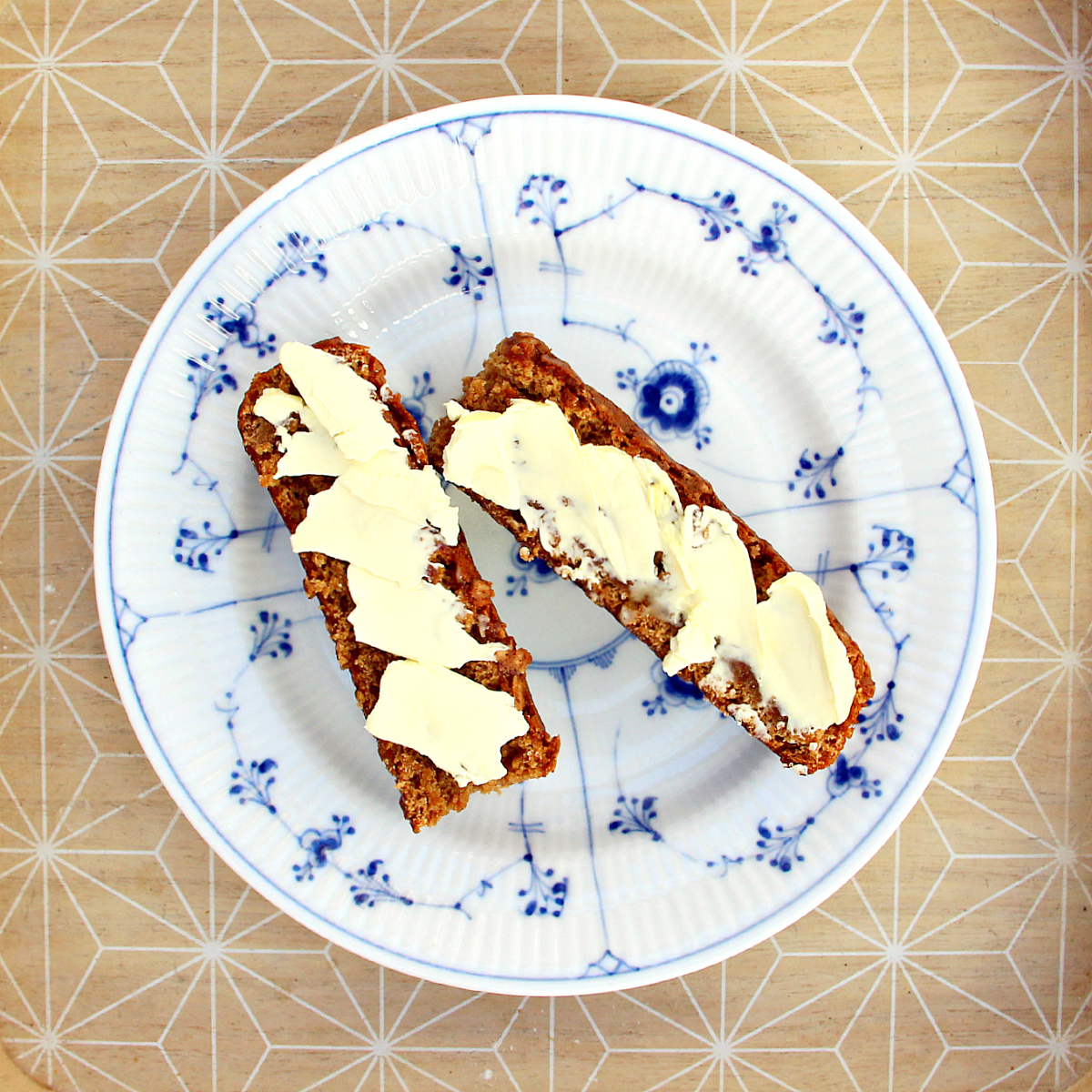 ---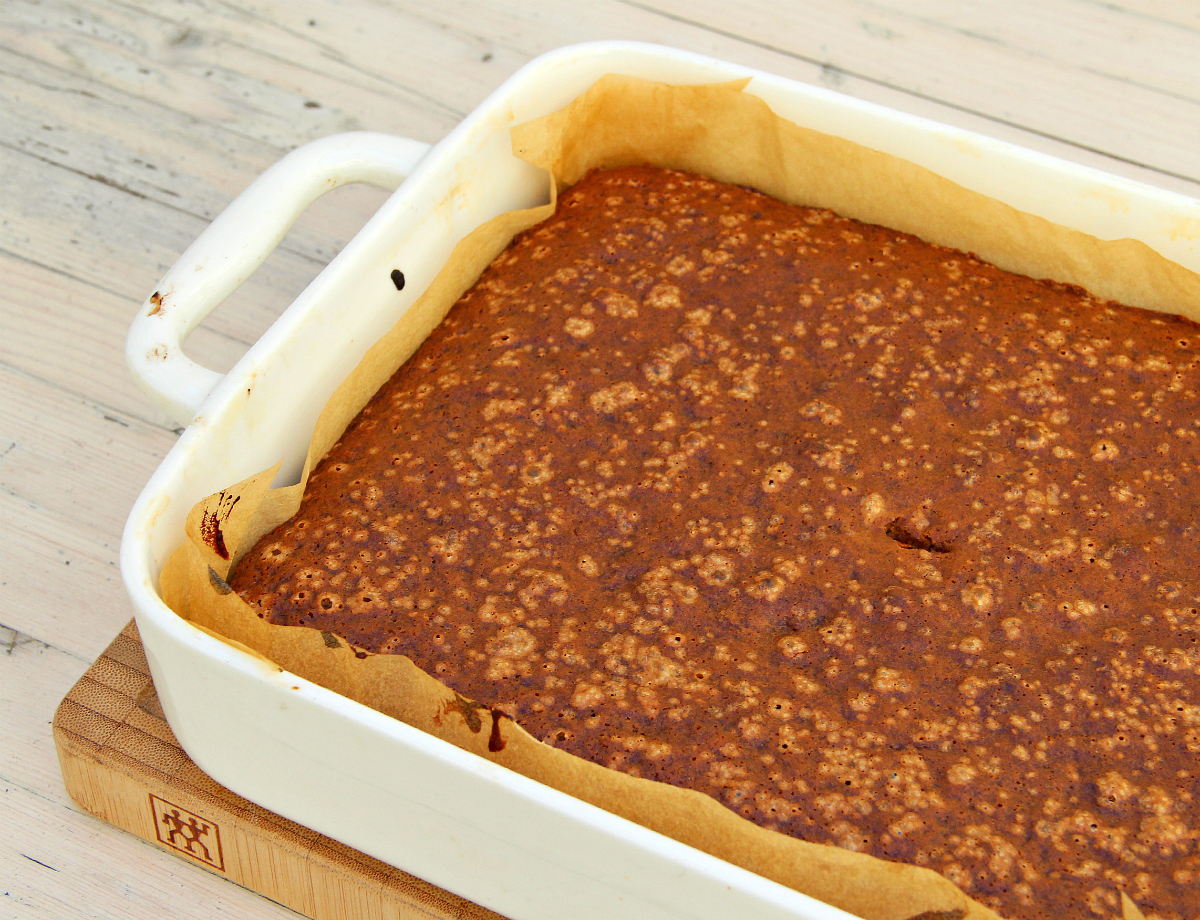 ---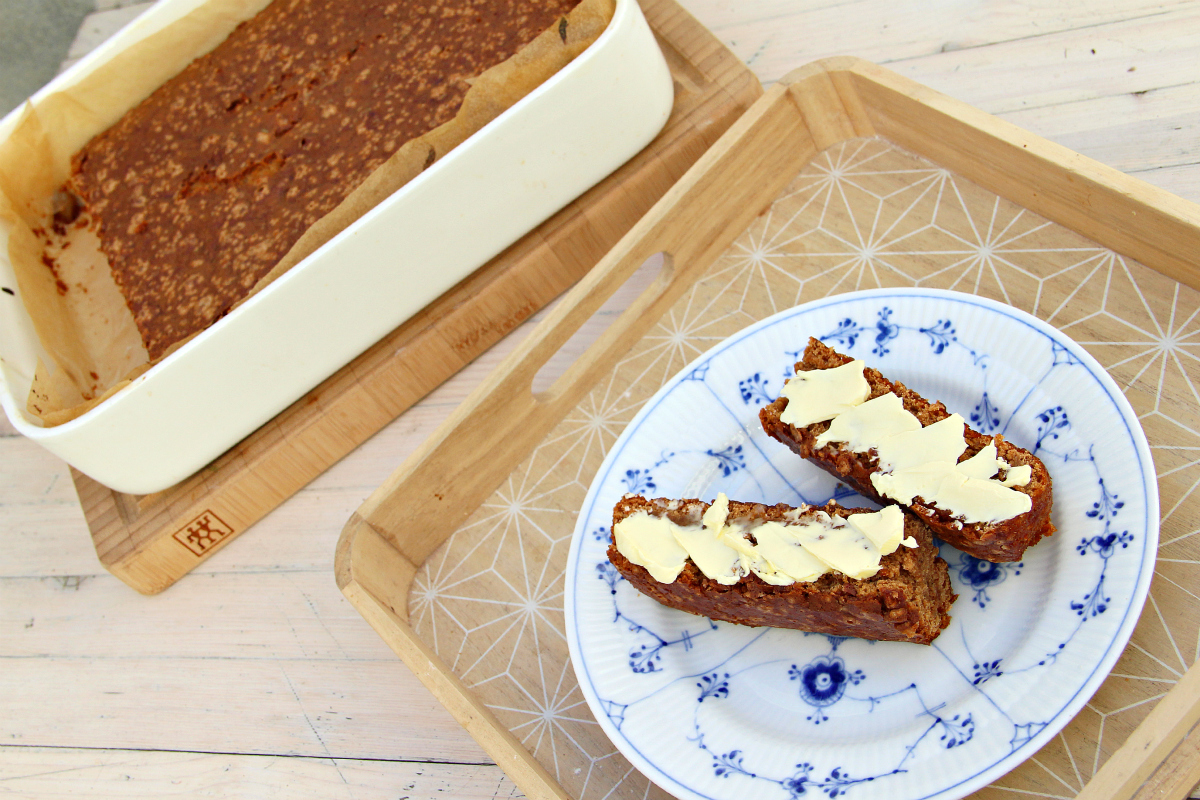 ---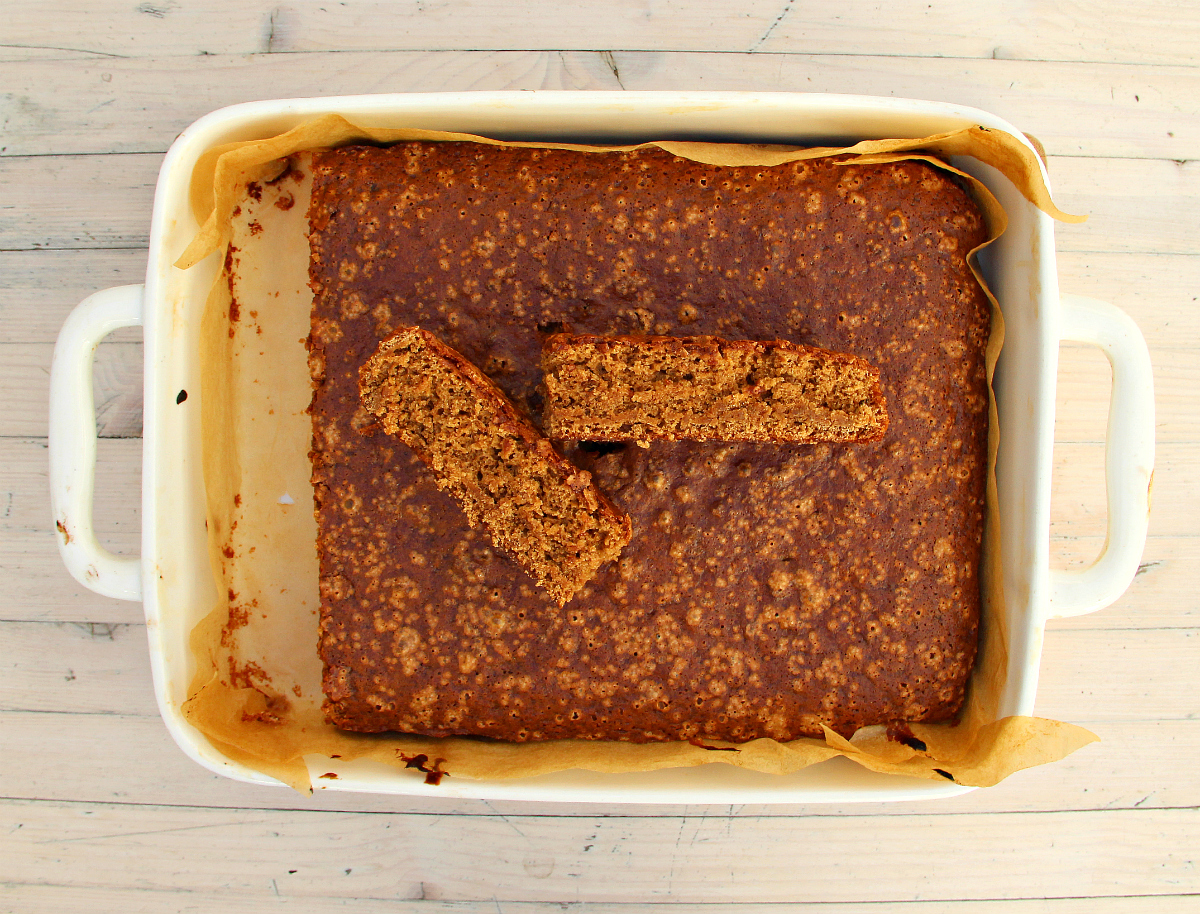 ---
This is a traditional Danish cake made with beer and an extraordinary amount of sugar. No, there is no version without that much sugar, it's suppose to be this way! The cake is usually cut in slices and buttered, in this case used vegan butter of course. The cake was very popular during WWII when eggs and butter were rationed, so the original version of the cake is in fact vegan, without having to veganize the recipe at all! One more thing to the list of accidentally vegan sweets!
This recipe is made a bit different than the normal usual version, this recipe have been used in my family since I was a child, we add more cinnamon and also add cardamom, it makes it more warm and spicy!
One ingredient that might be difficult to come by is the beer... but... beer is everywhere right? Well, this is a very specific beer traditionally used. In Denmark we use, Hvidtøl, translating to White Beer. It's a very low alcohol percent beer (about 1.8° depending on brand) made with malt. It is a sweet and very dark beer, so the name white beer does not really make that much sense to be honest, haha!
Finding this beer outside if Denmark have proved basically impossible, so I have tried with alternatives, and it works great! I live in Belgium and the selection of beer here is, of course, great. The local supermarket had a dark malt beer with 1.1 procent alcohol, don't know if it was sweet, but I went for it. It worked great and tasted like the usual childhood cake I know!
So you might be thinking, is a child suppose to have beer cake? Well, the alcohol percent is VERY low, and baking it in the oven for close to an hour is definitely killing whatever is left of that alcohol.
Child friendly, yes! Don't worry!
Does it taste like beer? No, don't worry!
It is the ultimate spiced cake that smells like autumn, winter and Christmas !
Note: USA people, look for a vegan unrefined cane sugar, or else it has bone char in it, yuck ! Most of the rest of the world: you´re fine, the sugar most likely very ok, if you wanna make 100% sure, then go for unrefined sugar or sugar made from beets. Sugar from beets are always 100% vegan, and this is actually almost the only sugar to find in Europe, so here its not a problem, just be careful with the cane sugar if you wanna use that.
---
To find your mystery beer for this cake then look for:
---
Very low alcohol percent

Brewed with malt

It should be a dark beer

It should be sweet

Check if its vegan, not all beers are, check it on a list here
---
Makes 14-16 long pieces like shown
---
Ingredients
---
Dry ingredients
---
500g flour (17.6 oz)

500g brown and unrefined vegan regular sugar (17.6 oz)

(i did 2/3 brown sugar and 1/3 regular sugar, but you can do all of it brown, thats traditional)

1

teaspoon baking powder or natron

2 teaspoons ground cinnamon

1 teaspoons ground cloves

½ teaspoon ground cardamom

½ teaspoon ground ginger

Pinch of salt
---
Wet Ingredients
---
33 cl Hvidtøl / low alcohol percent sweet dark malt beer (11 oz)
---
Vegan butter or margarine to grease baking paper
---
What you will need
---
1 big bowl

1 sift

1 measuring cup

Spoons to measure

1 whisk

1 fork

1 big wide oven proof dish

1 silicone spatula

Baking paper
---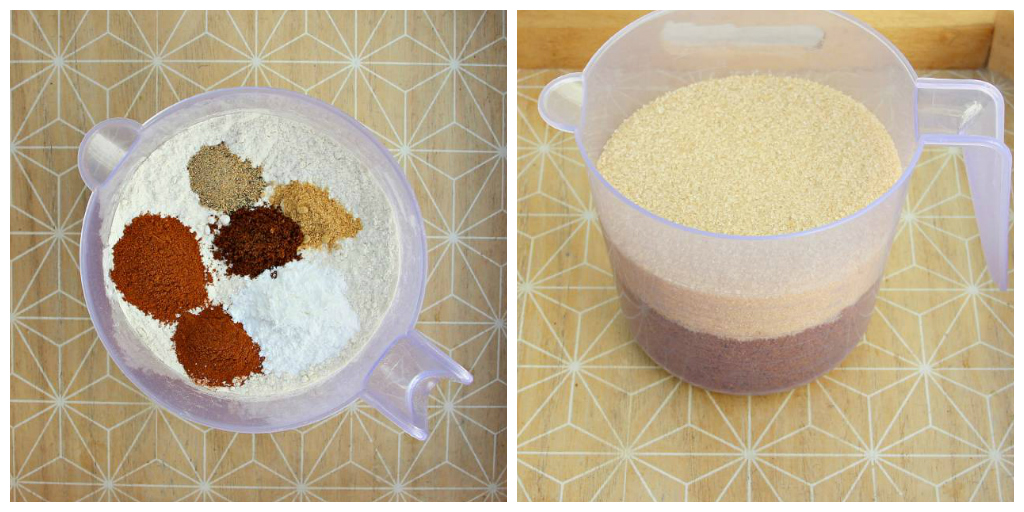 ---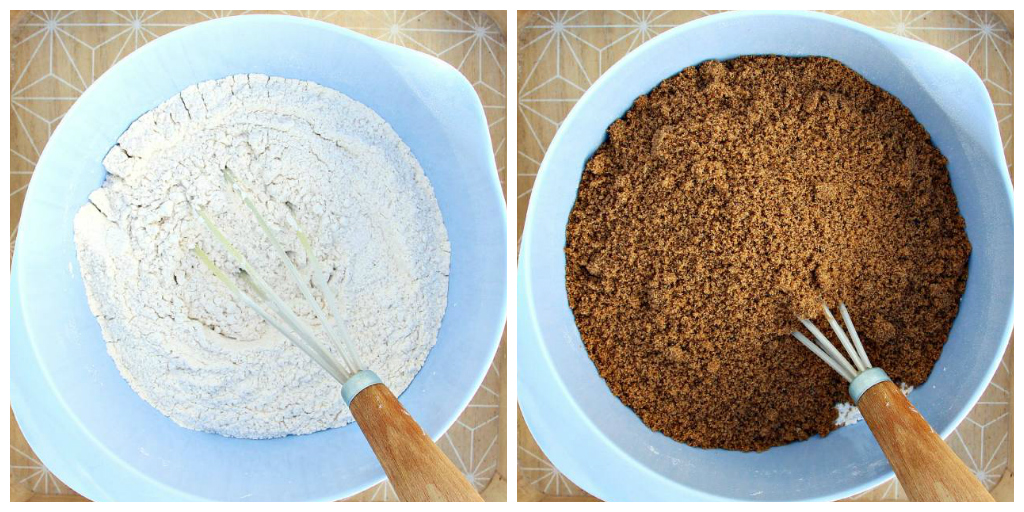 ---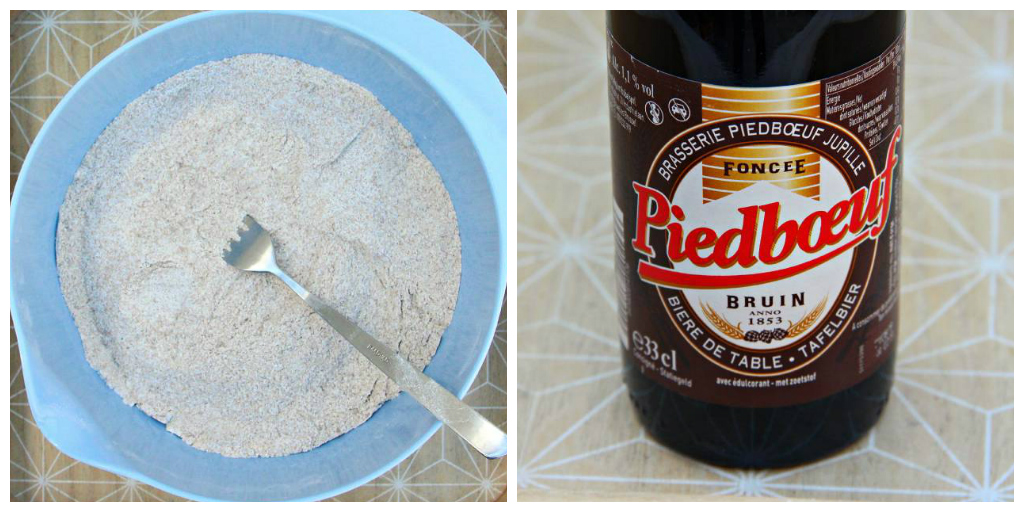 ---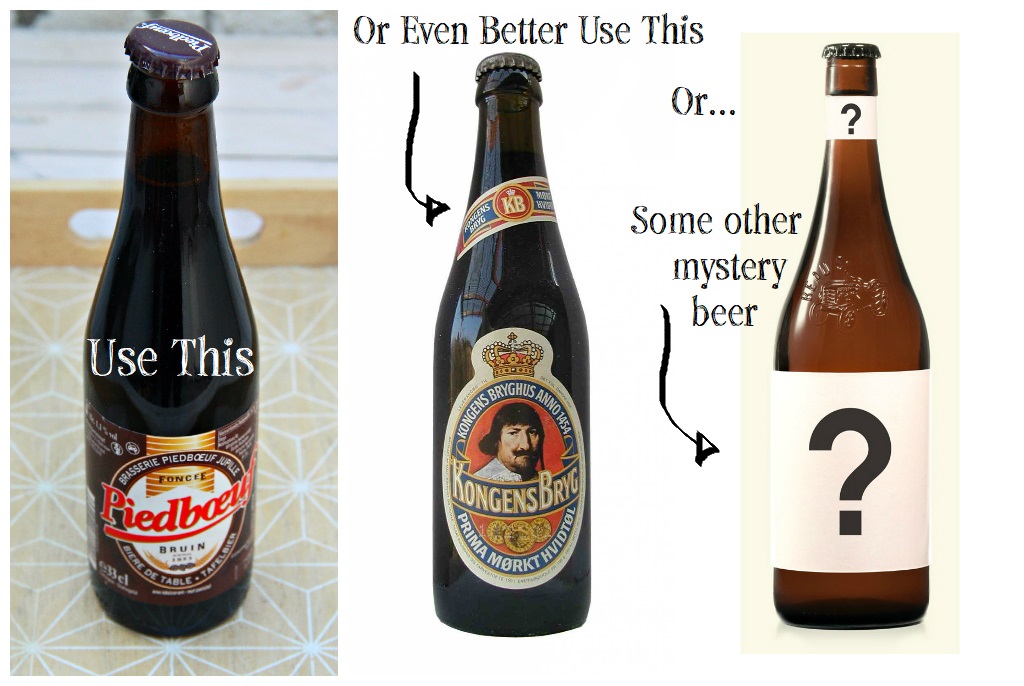 ---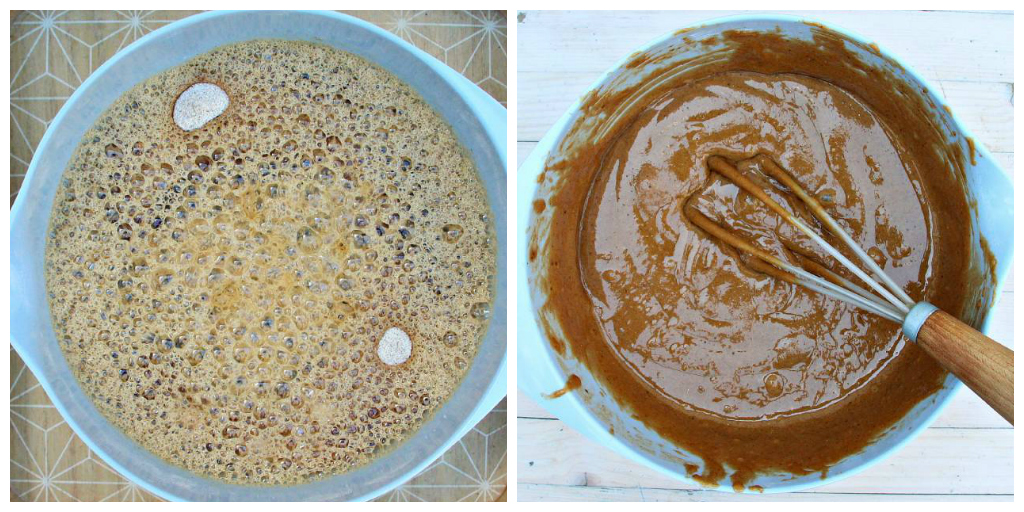 ---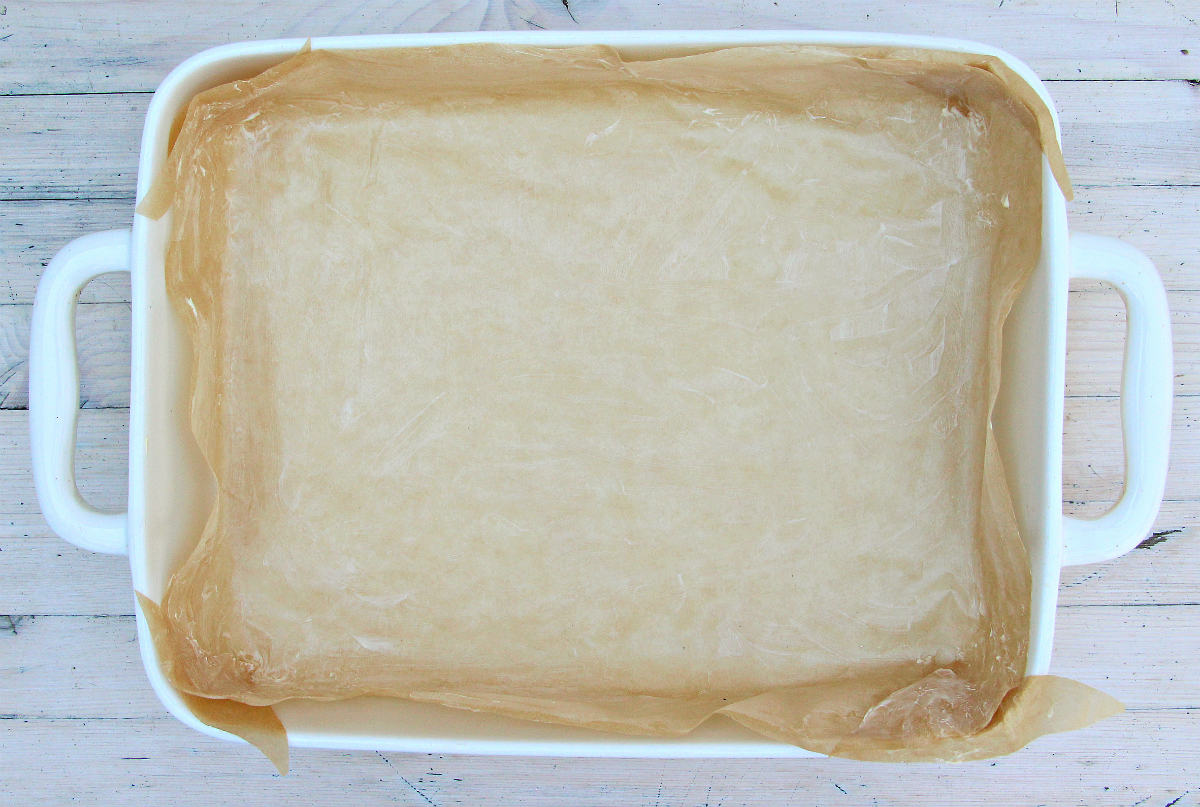 ---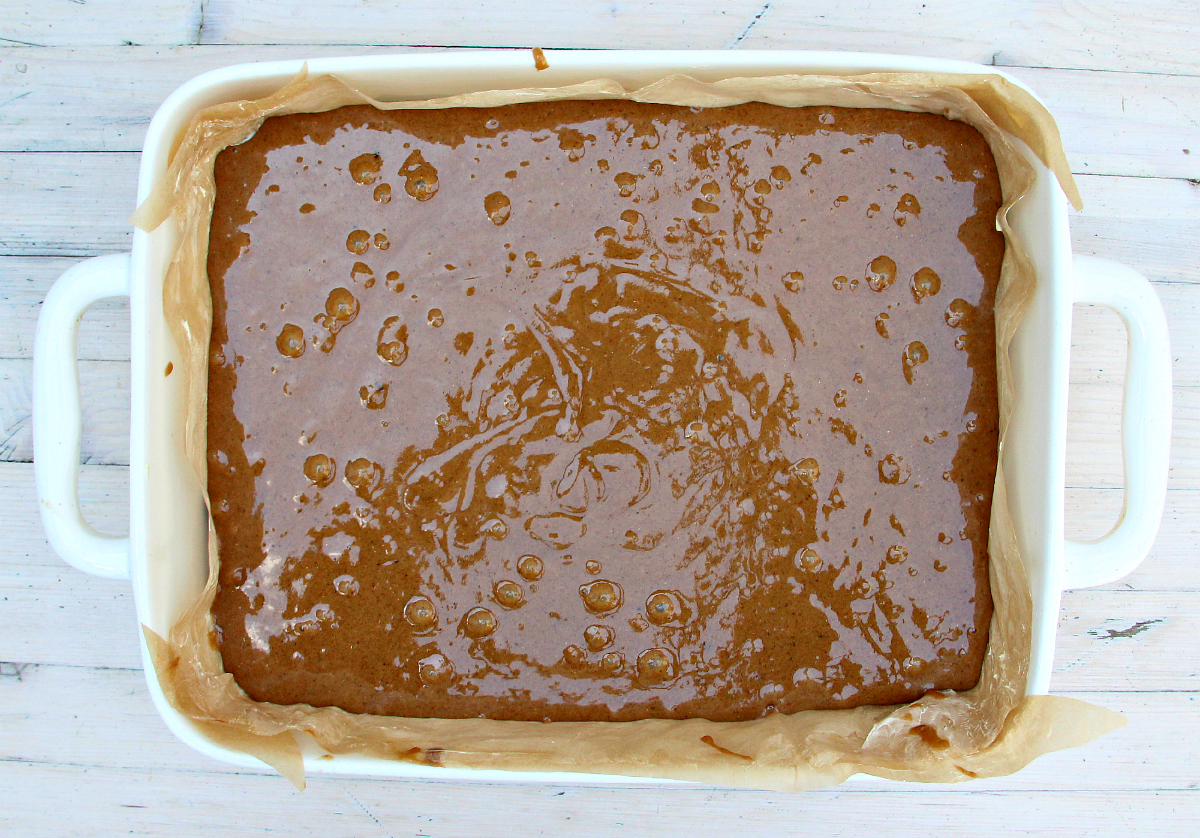 ---
Instructions
---
Preheat the oven to 200c (390 F).

---

Measure the flour and sift it into the big bowl.

---

Add in the baking powder, cinnamon, cloves, cardamom, ginger and salt. Mix well with a whisk.

---

Measure the brown sugar and the granulated sugar and add to the bowl. With a fork make sure that the dry mixture is completely smooth, no big or small clumps of sugar should be prevalent at all.

---

Make a little hole in the dry mixture and add in the beer. With a whisk mix well for a few minutes until completely smooth. The dough should be heavy and thick like pictured, but still completely smooth.

---

Prepare the oven proof dish, line it with baking paper, cut the corners a bit and fold the paper in.

---

Lightly grease the baking paper with some vegan butter or margarine. The dough is very sticky, this is an important step, don't leave it out.

---

Then pour in the thick batter to the lined dish. With a soft silicone baking spatula scoop out the remaining batter to the dish. Even out the batter in the dish and shake it a bit to level it.

---

Bake in a preheated oven at 200c (390 F) for 35 - 50 minutes on normal setting.

The baking time really depends on the oven and the size dish you're using. I use a 25 x 32 cm (10 x 12.5 inch) dish, and I baked it for 42 minutes, without having to cover the cake. If you have a dish that is narrower and taller, you might bake it for longer time, and it might be necessary to cover the cake with some aluminum foil to prevent the cake from burning, however this is normal when you bake this cake.

---

Pierce the cake in the middle with a knife to test if it's fully baked. If there's any soft dough on the knife the cake is not finished. If the cake is starting to burn on top, cover it with aluminum foil and keep baking it until it's finished.

---

Take the cake out the oven when finished baking and let cool down for a bit. Serve in thick slices with vegan butter or margarine, it's especially good when a bit warm and the butter melts!
---
Enjoy !
---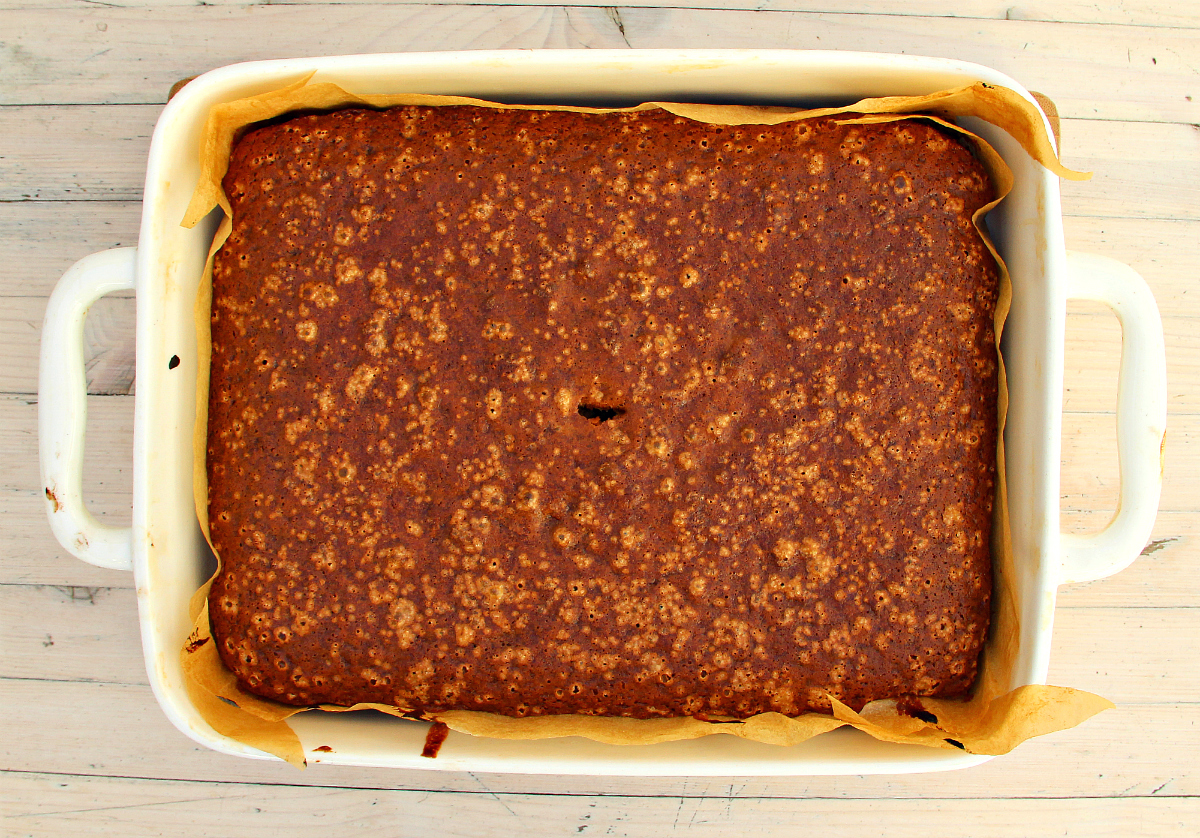 ---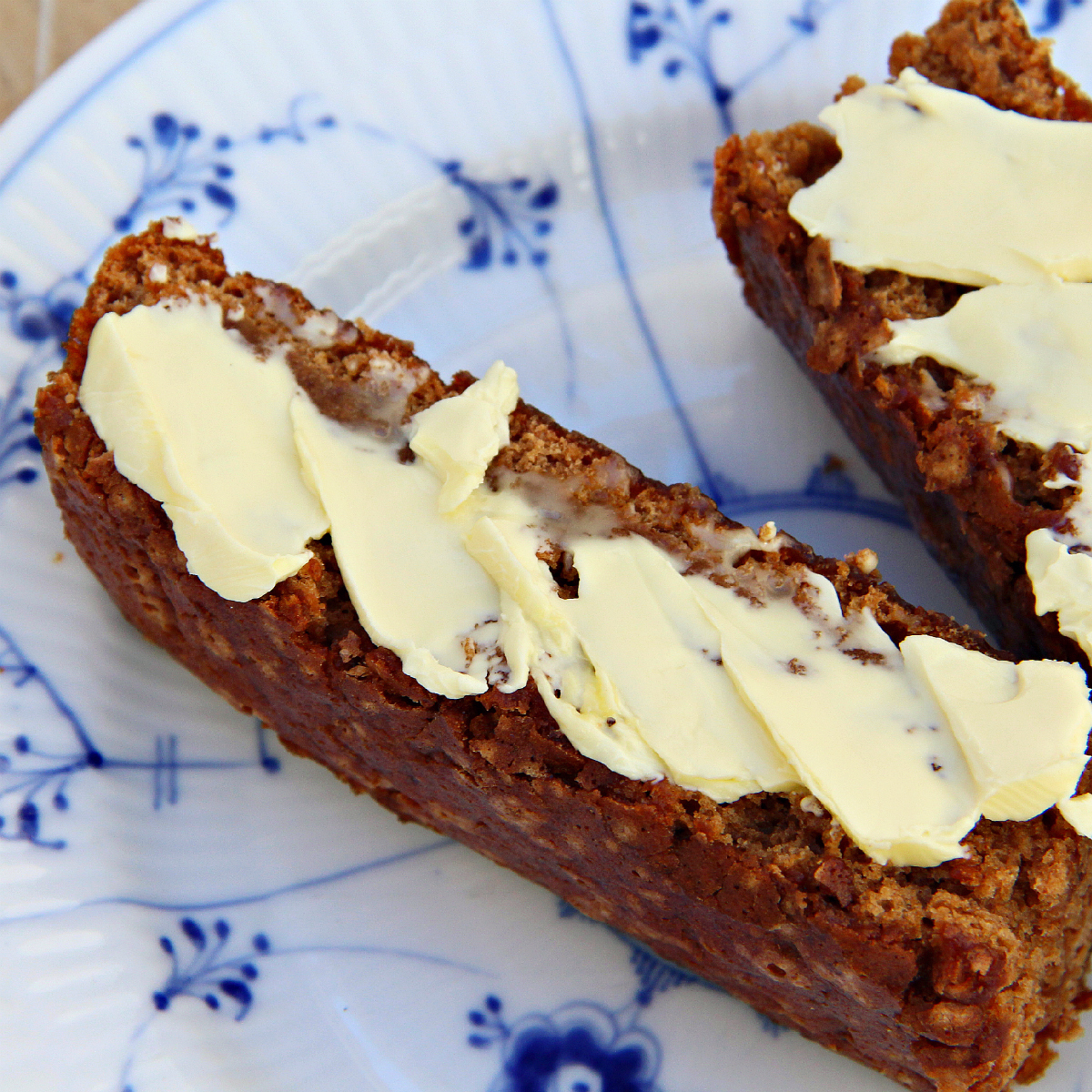 ---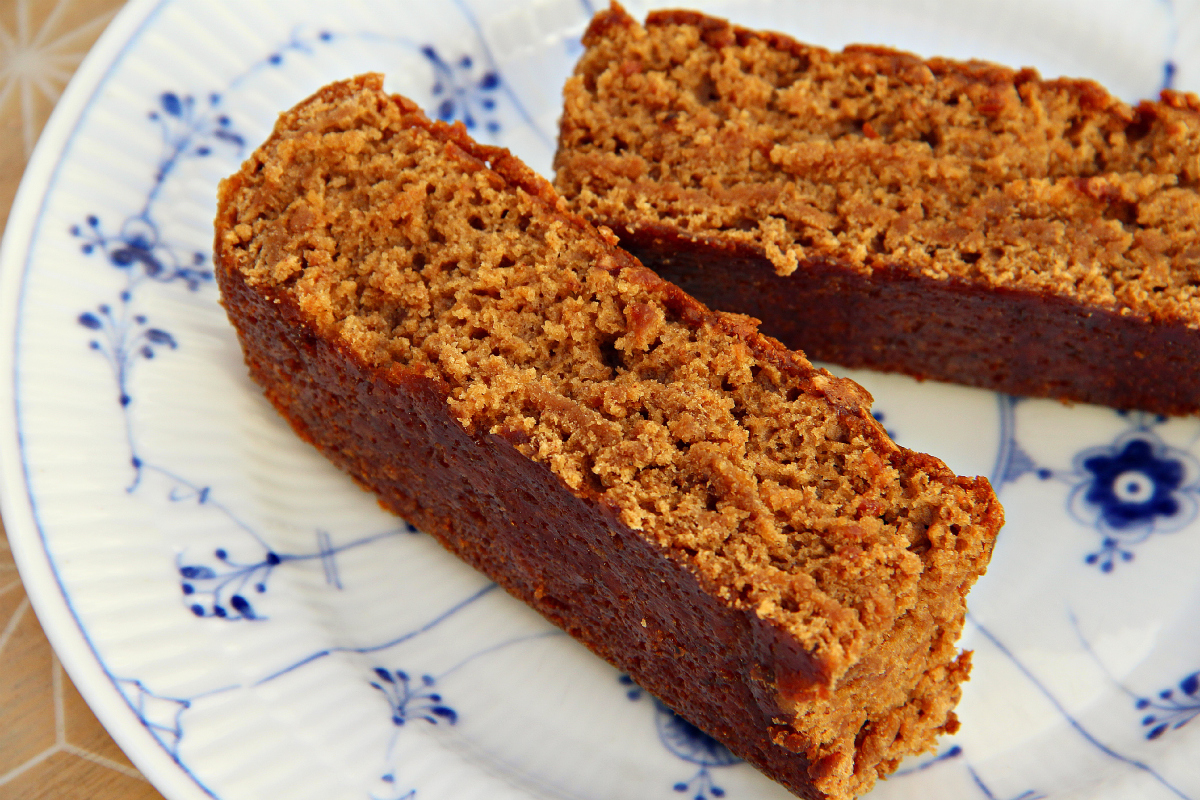 ---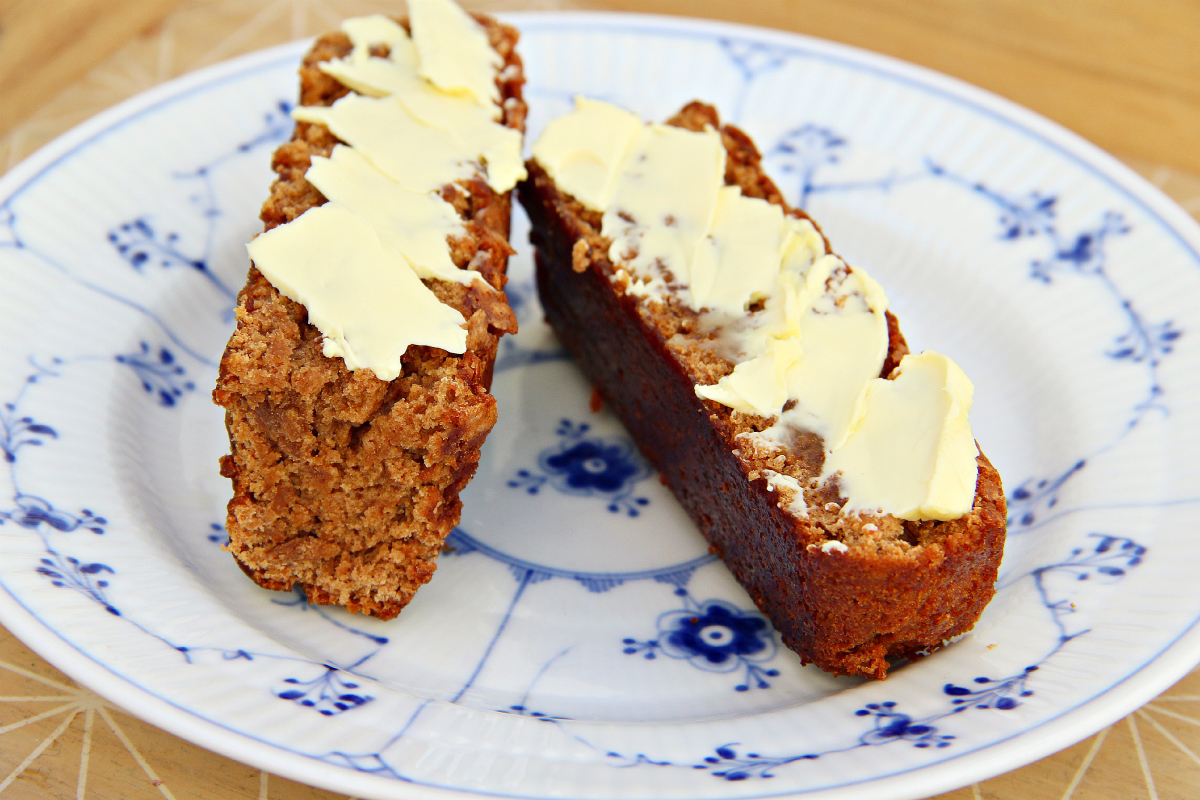 ---