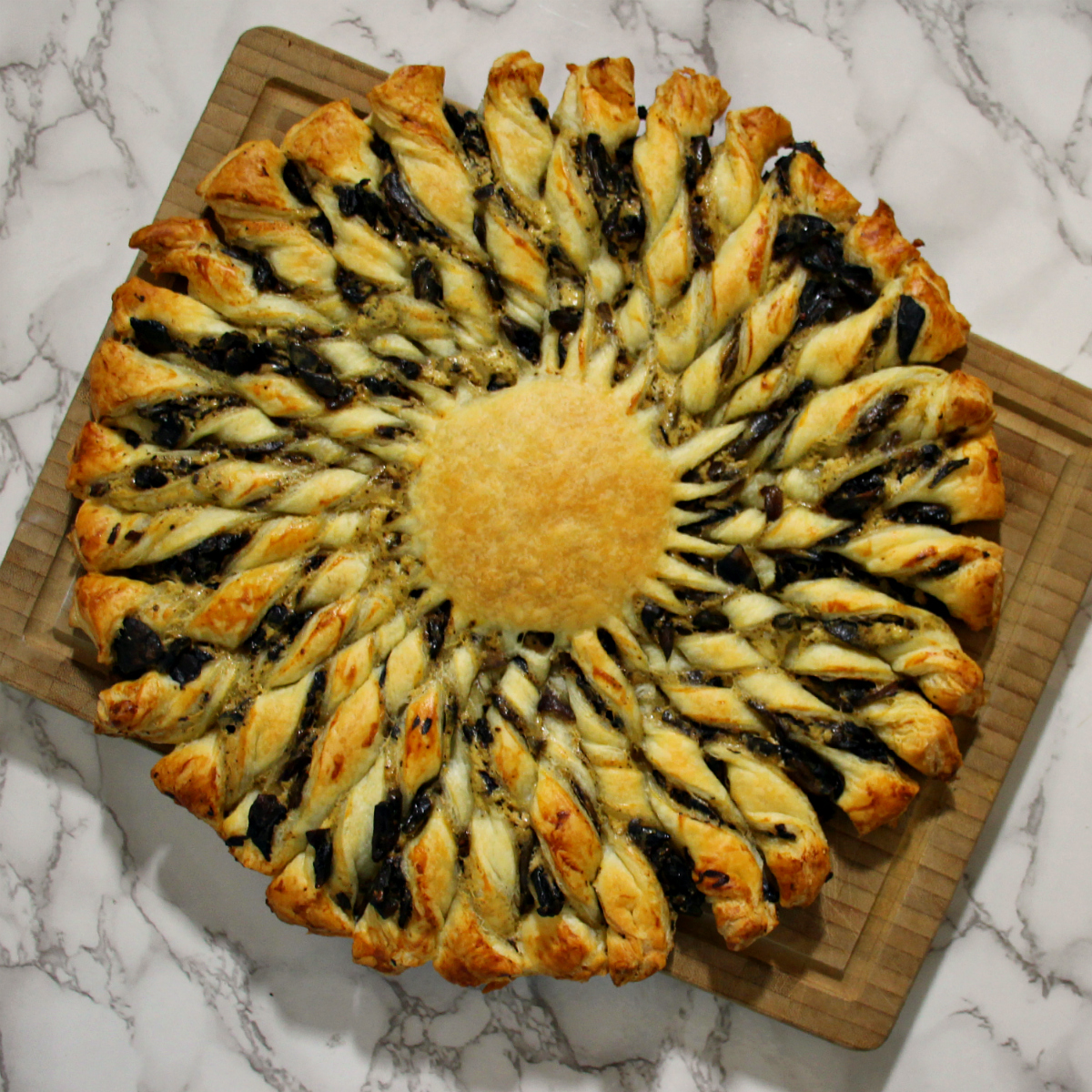 ---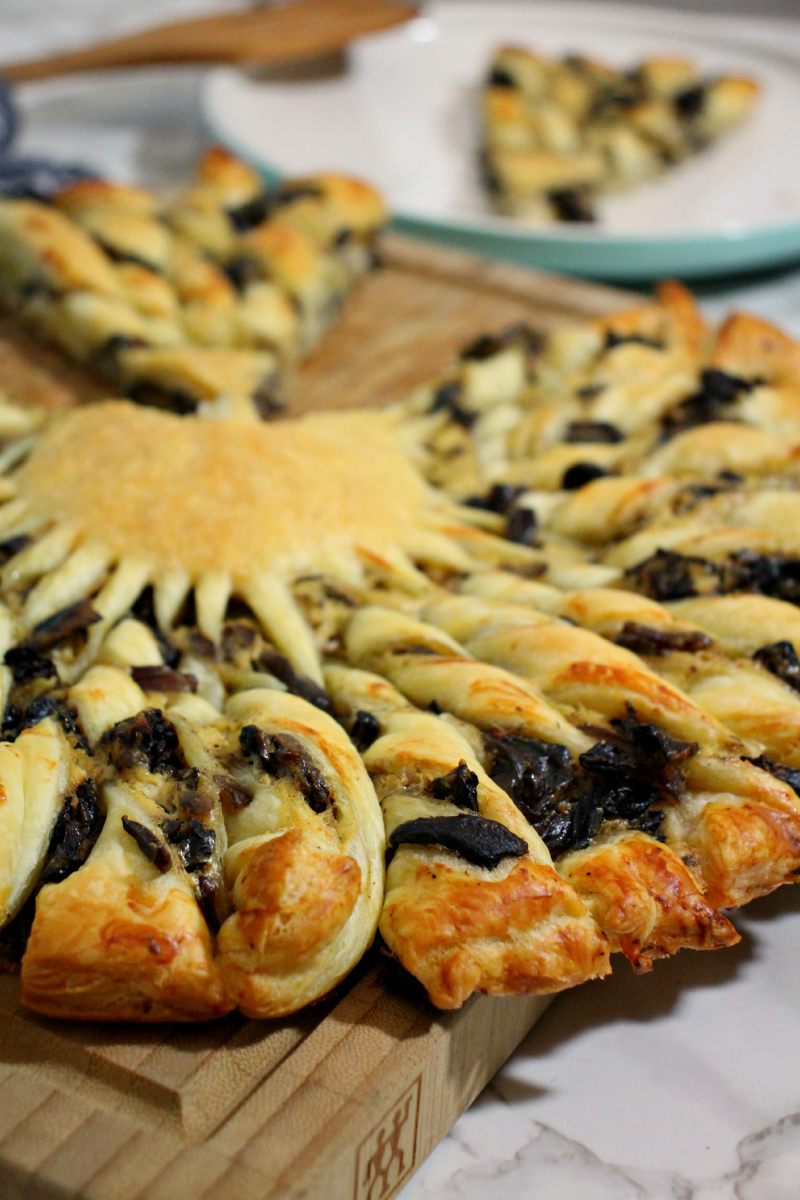 ---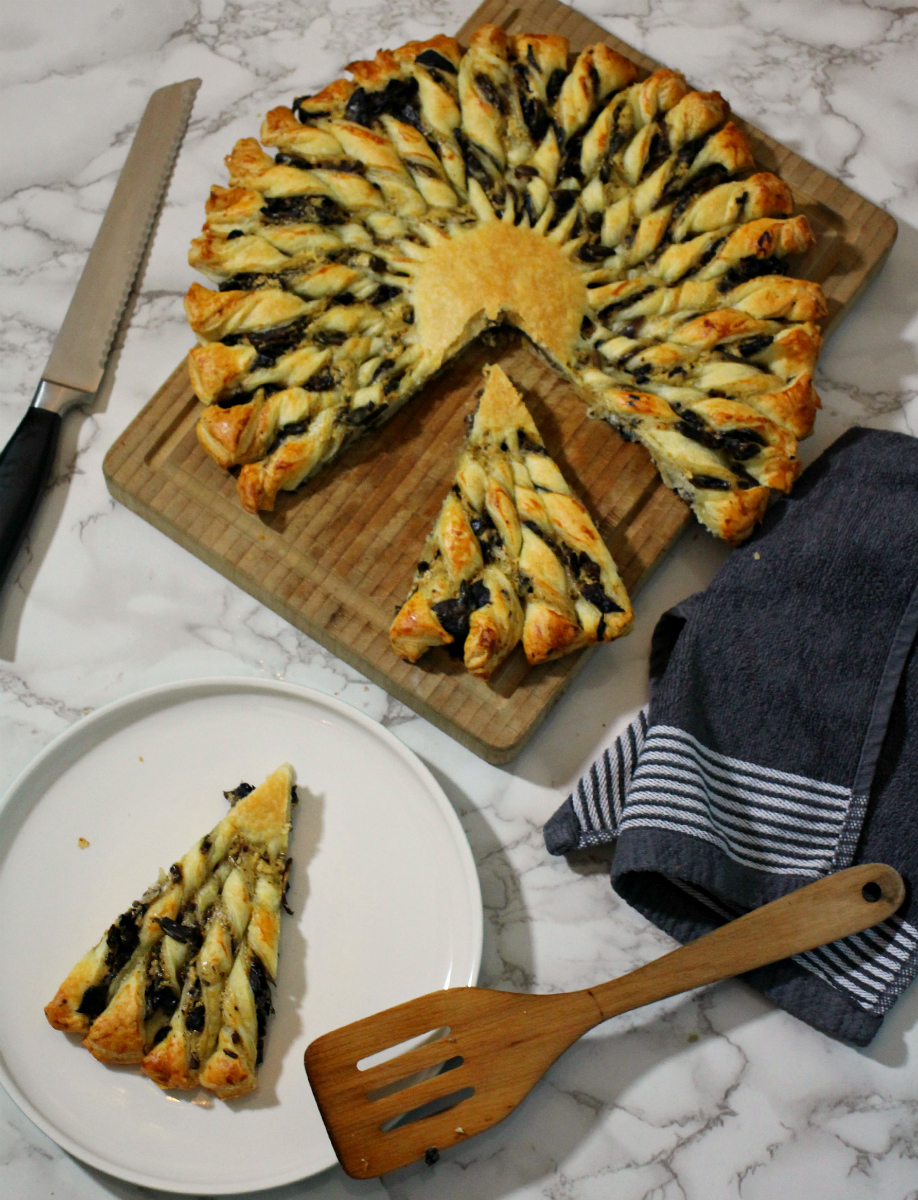 ---
A perfect breakfast or brunch idea. Basically, make sure you have a very cold dough, cold ingredients, just go and fetch your sharpest knife, not the dullest one in the drawer, and you´re good to go !
Kala namak, AKA black salt (that´s actually pink) is used for the optional eggy flavour. It might be the only odd ingredient here, everything else is super easy to find. It might look daunting to take on this recipe – just by the looks of it – but it´s so easy to make with ready made puff pastry.
And YES! Most puff pastries are vegan, the more expensive ones might have real cow butter in them, so lucky for us the cheap ones are usually vegan, as plant based fats are much cheaper in production. Just watch out for and avoid the ingredient L-cysteine (that´s duck feathers, super yummy huh?) that might be in the ingredient list on otherwise vegan ones.
---
If you found this amazingly and surprisingly easy to make, then check out these other vegan tarte soleils I have made
---
---
Makes one big tart
---
Ingredients
---
500g cremini mushrooms (17.6 oz)

2 x 280g round ready made vegan puff pastry (2 x 9.9 oz)

400g silken tofu (14.1 oz)

1 red onion

2 garlic cloves

2 tablespoons extra virgin olive oil

1/2 teaspoon dried vegetable stock

1/2 teaspoon kala namak (optional for egg flavour)

1/2 teaspoon pepper

1/2 teaspoon salt
---
What you will need
---
Cutting board and knife

1 pan and spoon to stir

Measuring spoons

1 bowl and stick blender OR 1 blender

1 cup or any round smaller object

1 lined baking tray
---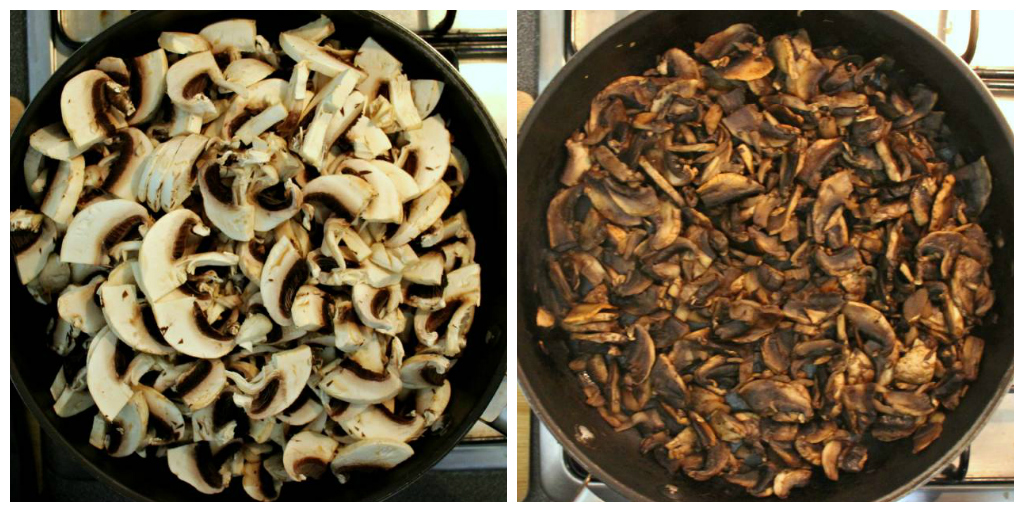 ---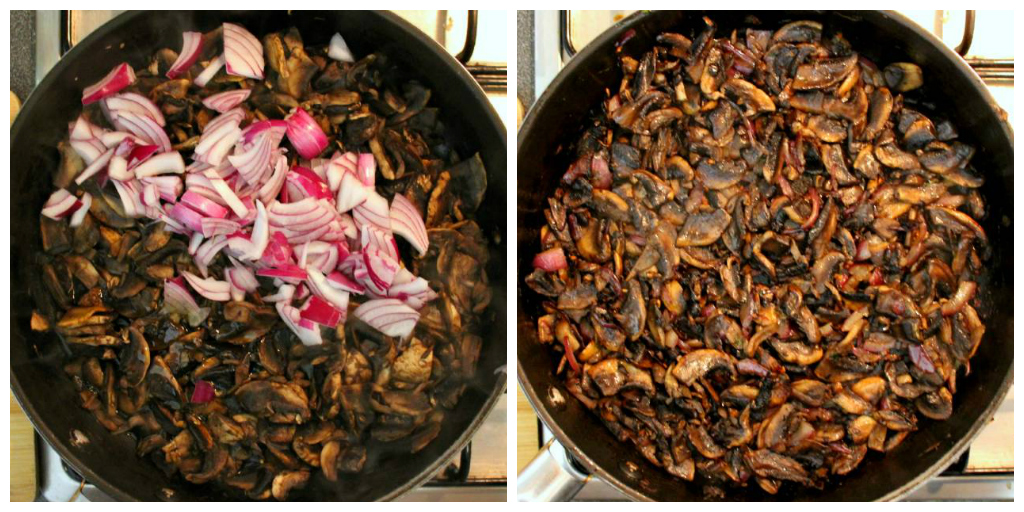 ---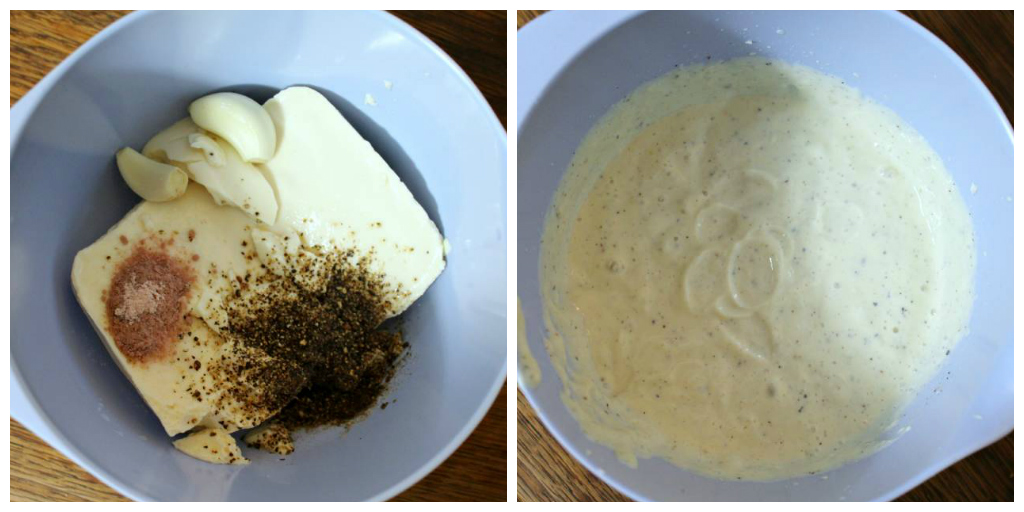 ---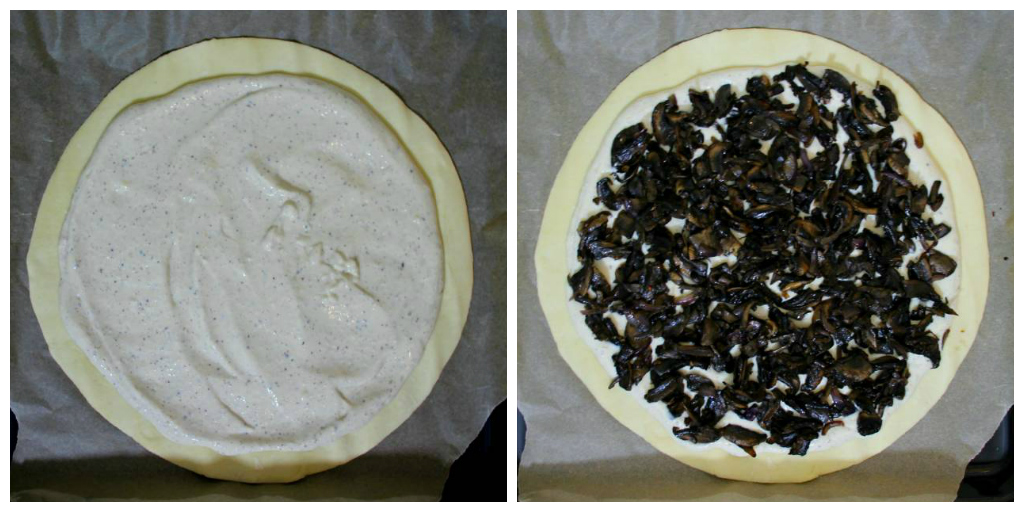 ---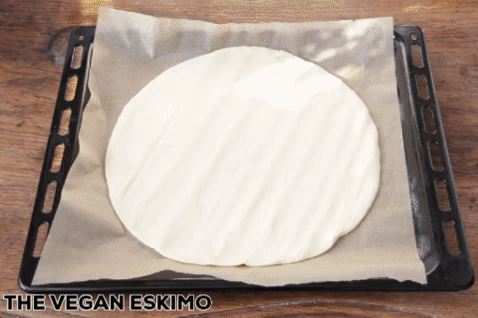 ---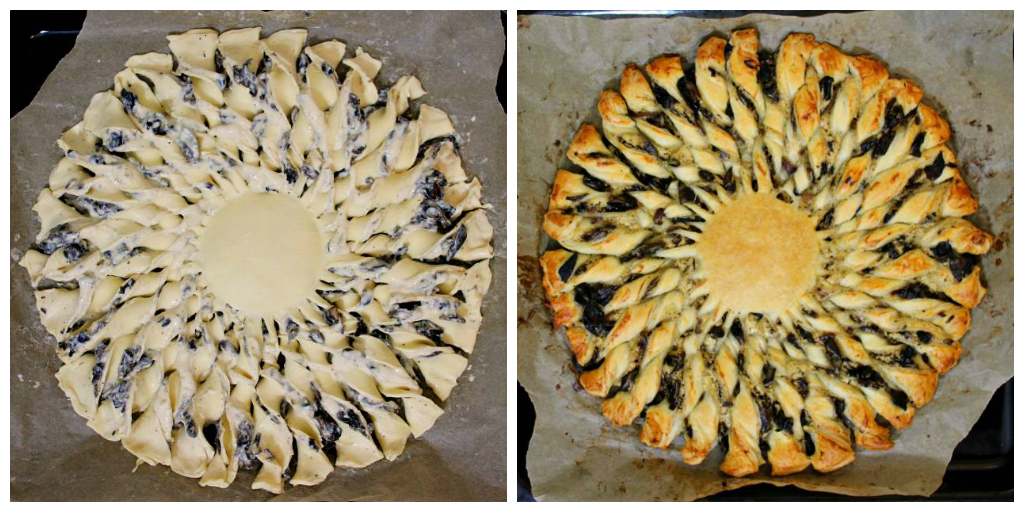 ---
Instructions
---
Make sure your puff pastry is VERY cold ! Do not leave it on the counter, freezing for a bit before cooking is also good, but not for too long.

---

Brush the dirt off the mushrooms, half and slice them. Add to a pan and dry fry them until all liquid has evaporated and they have shrunk down.

---

Peel and slice red onion and add with the oil and dried vegetable stock. Fry until golden and mushrooms look like pictured above, this can take a while. Set aside and let cool completely down, storing in the fridge makes this step faster. Note: it´s MUCH easier to cut the dough if the mushrooms are not warm, if they are warm it´s gonna be a MESS with the puff pastry.

---

Blend together the silken tofu, kala namak, salt and pepper. Set aside.

---

Preheat the oven to 180c (350 F).

---

On a lined baking tray add one of the round puff pastries. Cover evenly with the silken tofu, leaving about 1-1.5 cm (1/2 inch) on the edge without filling. Cover with mushrooms evenly as well.

---

Brush the bare edge with plant milk. Put the other puff pastry on top, push down all around the edge to "glue" the dough parts together.

---

Place a round object in the middle of the circle. Cut with a very sharp knife 1 cross like pictured above. GIF is from another recipe, but same method applies. Continue to cut crosses in between the new cuts until 32 beams have been cut. 4 – 8 – 16 – 32. Do this neatly but fast, as its hard to cut if the puff pastry gets warm. The colder it is and the faster the easier it is to cut the beams.

Be careful not to cut through the baking paper.

---

Take up one beam and fold around itself a few times. Continue to do so with all the beams.

---

Bake in a preheated oven at 180c (350 F), in the middle of the oven on normal setting for as long as your pre-made puff pastry recommends on the package. This time can vary so keep and eye on it. I baked mine for about 35-40 minutes.

---

Take out when puffed up and golden.
---
Enjoy !
---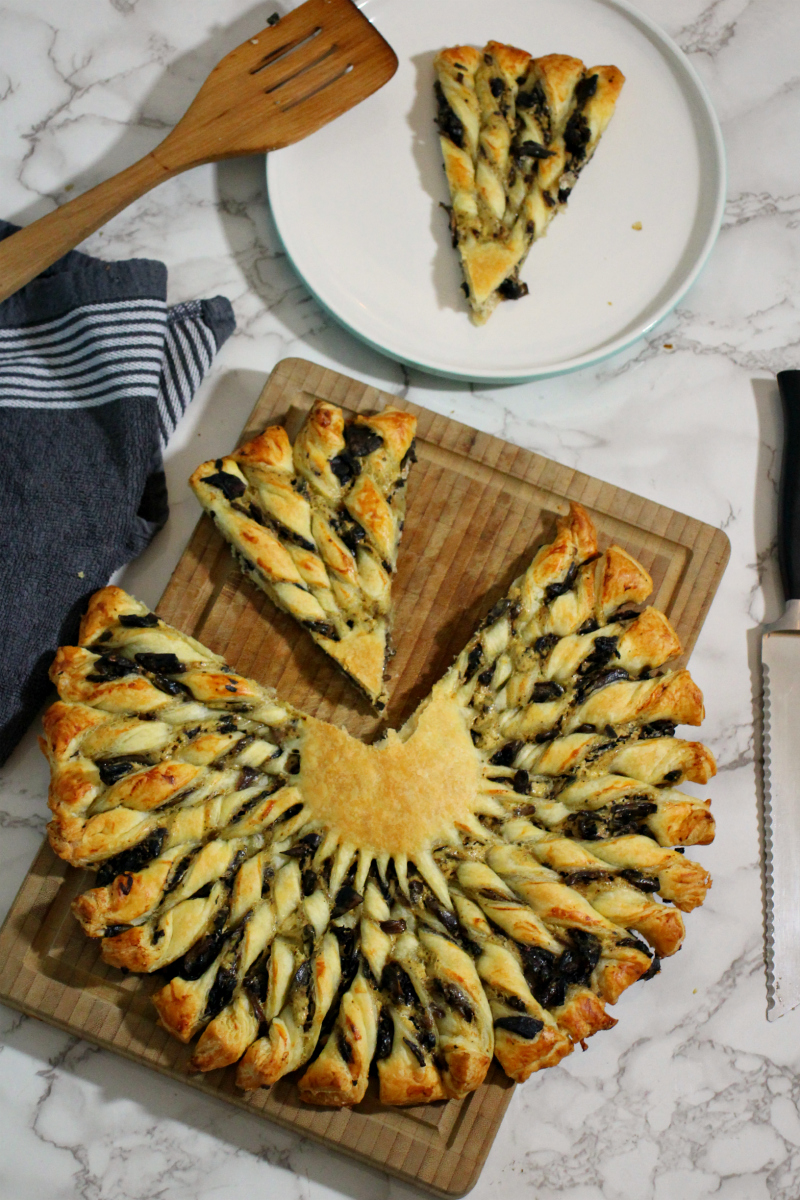 ---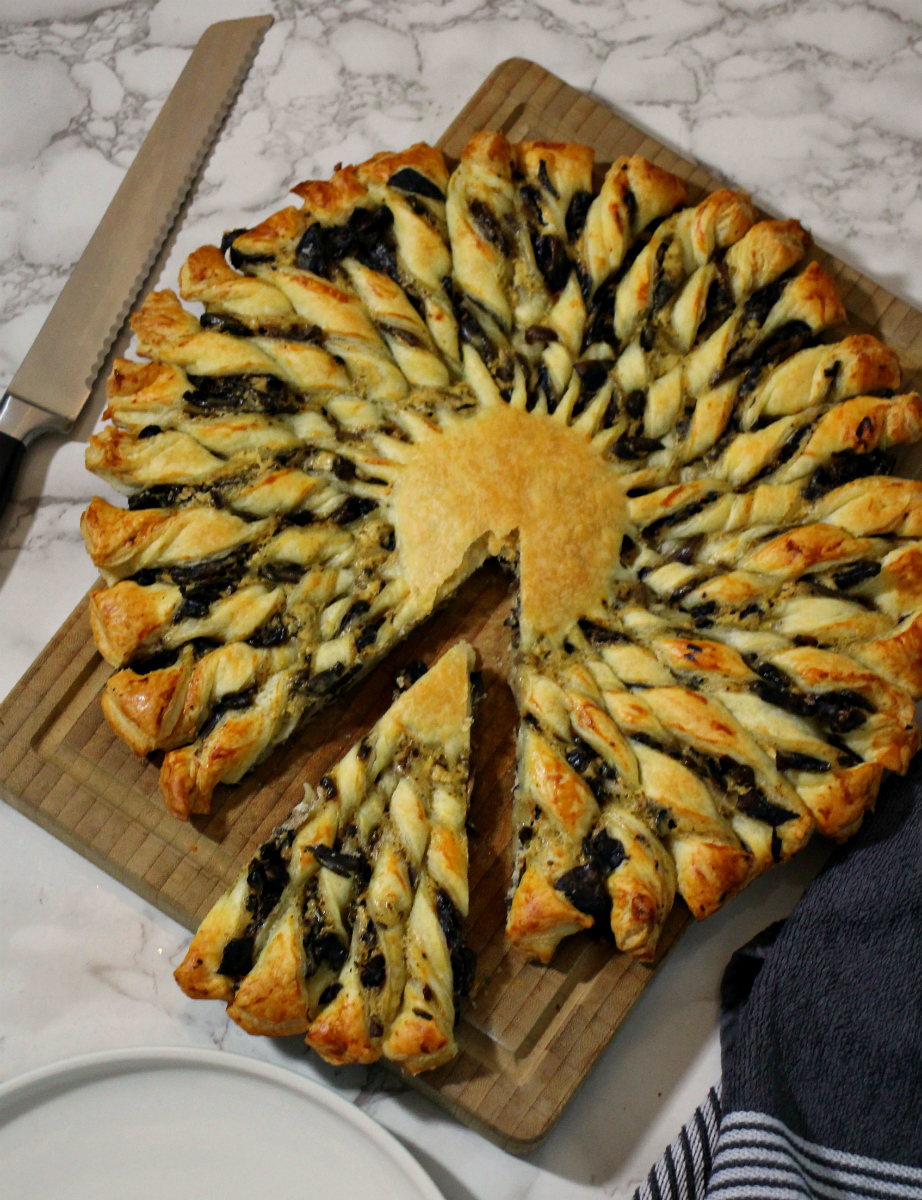 ---