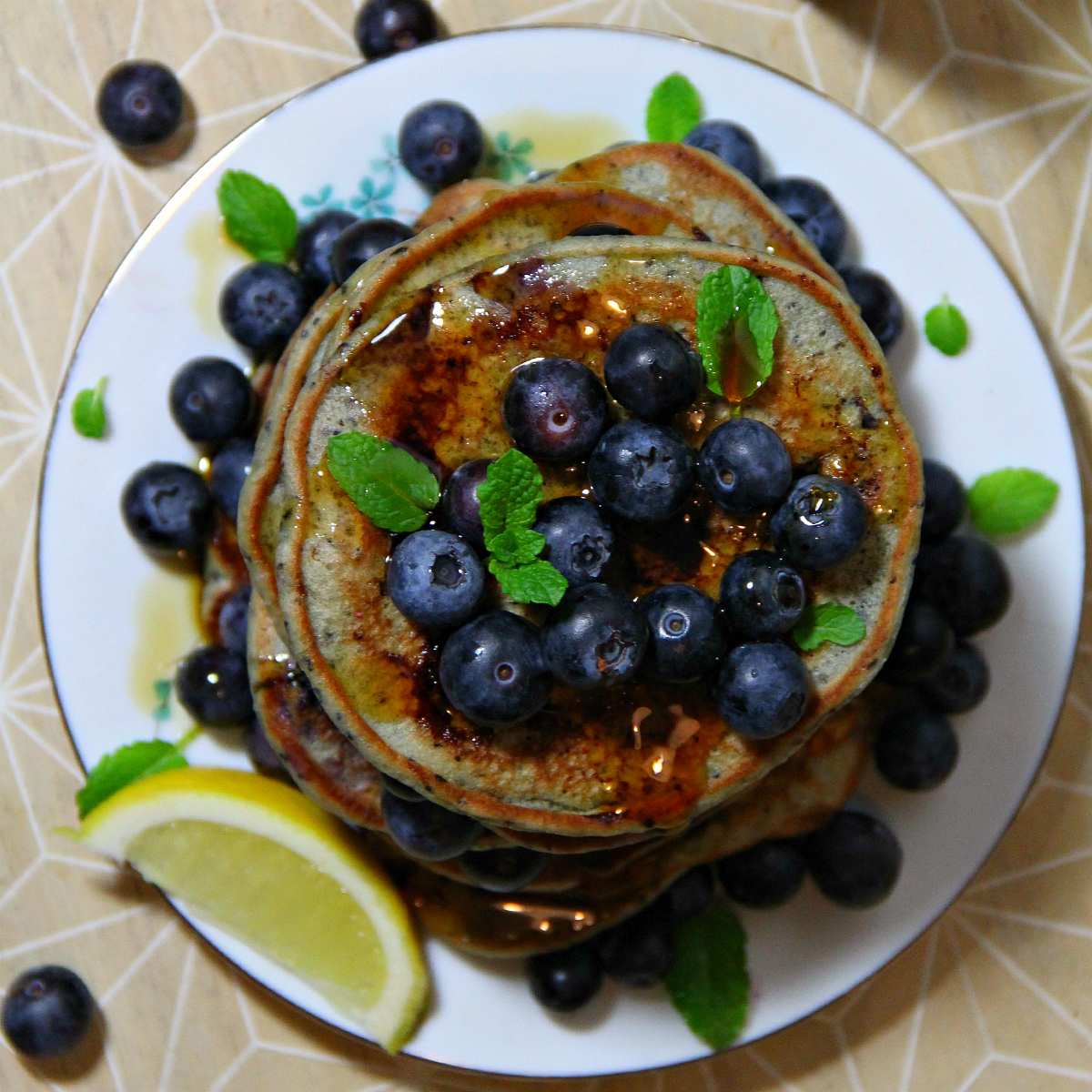 ---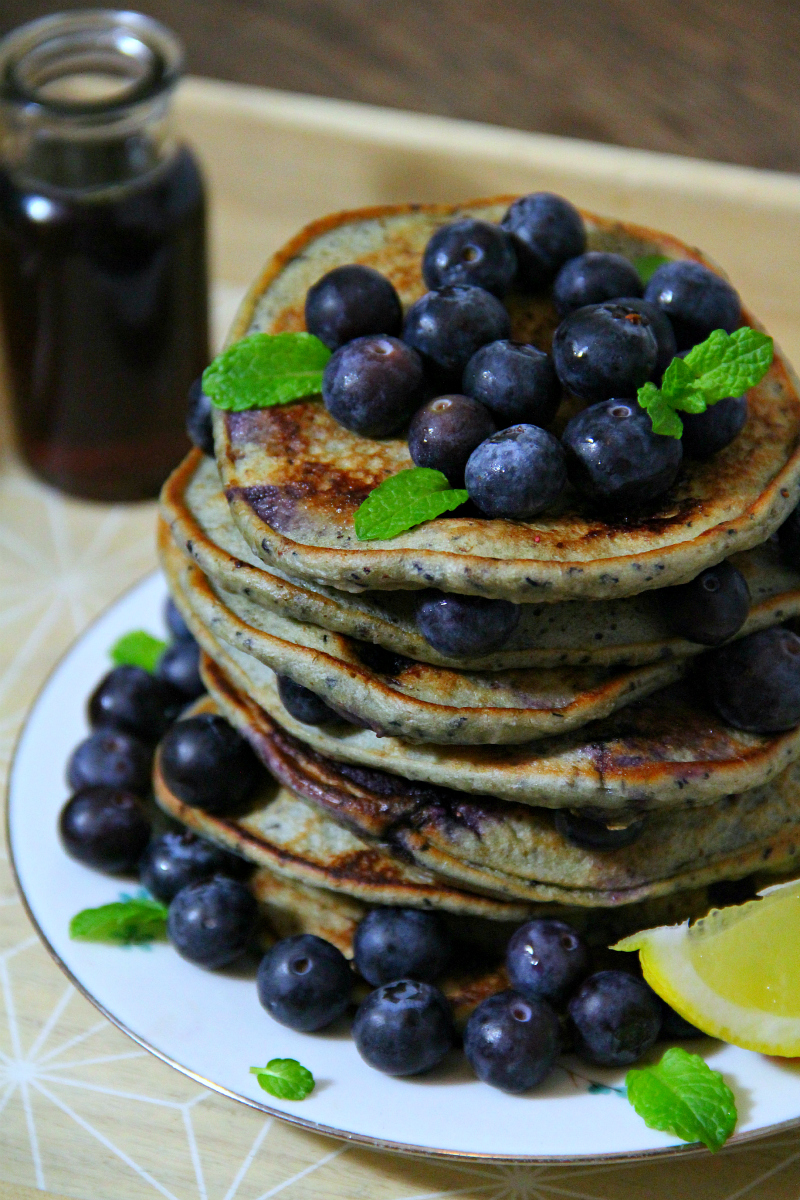 ---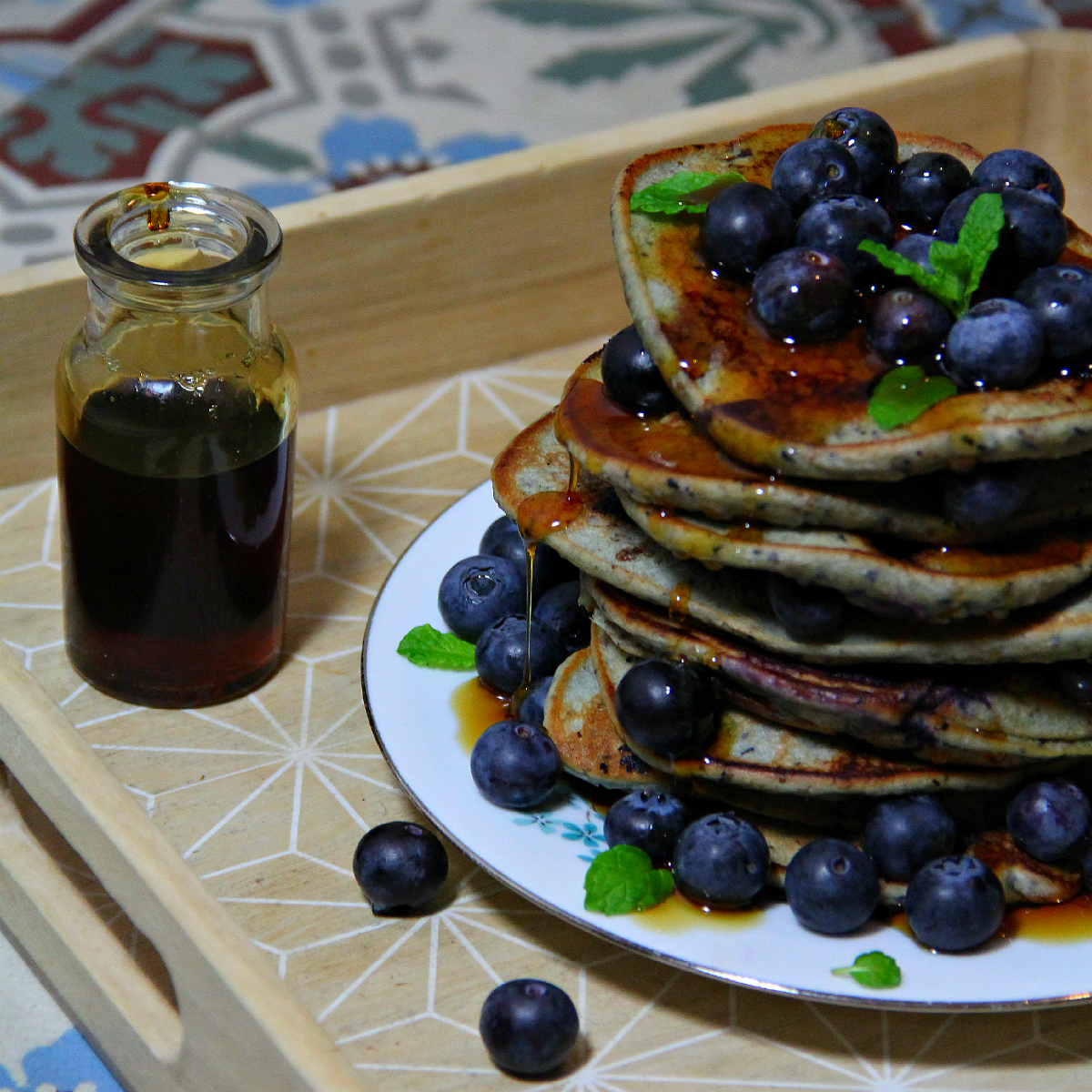 ---
Fresh blueberries blended into the batter, fresh whole blueberries in the dough and fresh whole blueberries on top the pancakes. Yup, that's blueberry pancakes !
But... actually, the REAL blueberries are hard to find fresh, the 'Wild Blueberry'. Granted, the ones they sell in the supermarket branded as blueberries are a kind of blueberry, but the inside meat of them is more towards white.
The wild blueberries are much more colourful and has a magenta reddish blue colour inside. If these berries are used, the batter will get a MUCH more beautiful colour and be more fragrant, so opt for those if you can find them. The ones used in this recipe is the 'normal' white ones, that are easy to find.
These pancakes are thick and fluffy, they rise a lot and the texture is super soft, gewy and poofy.
---
Like pancakes in general? Then check out these:
---
---
Makes about 20 pancakes
---
Ingredients
---
Batter
---
500g fresh blue berries (17.5 oz)

7 dl organic white flour (3 cups)

7 dl plant milk of choice (3 cups)

1.2 dl granulated sugar (½ cup)

60 ml sunflower oil (1/4 cup)

3 tablespoons chia seeds

2 teaspoons baking powder

2 teaspoons baking soda

1 teaspoon vanilla sugar OR a pinch of pure vanilla powder

½ teaspoon salt

Vegan butter / margarine as needed for the pan
---
Topping suggestions (optional)
---
Fresh blueberries (1/3 of the recipe)

Fresh mint

Freshly squeezed lemon

Maple syrup

Anything you like
---
What you will need
---
1 big bowl

Measuring cups

Measuring spoons

1 whisk

1 stick blender

1 pan

1 spatula
---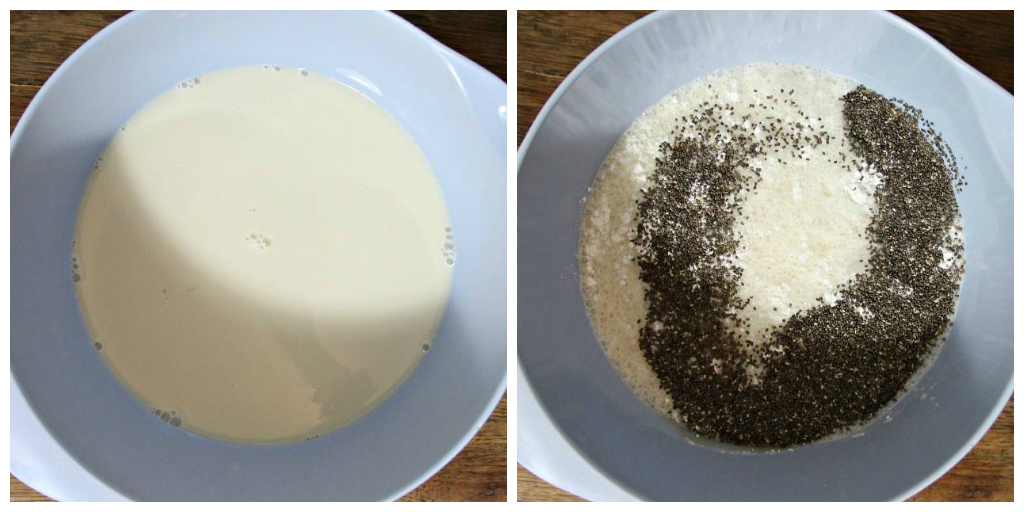 ---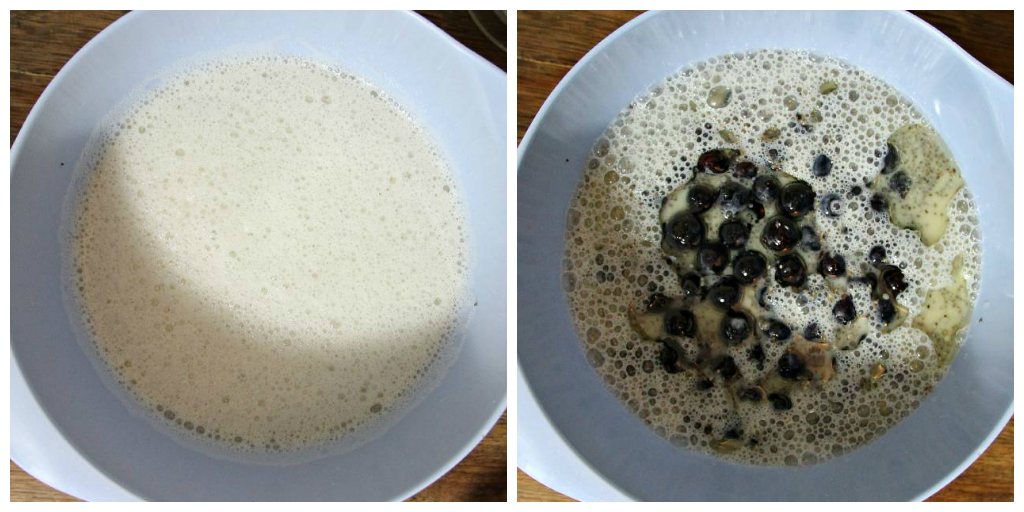 ---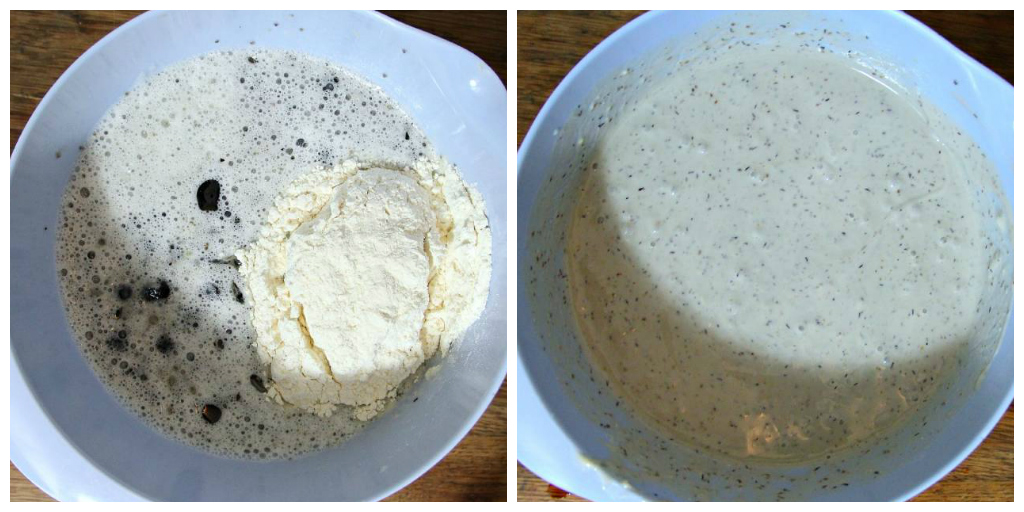 ---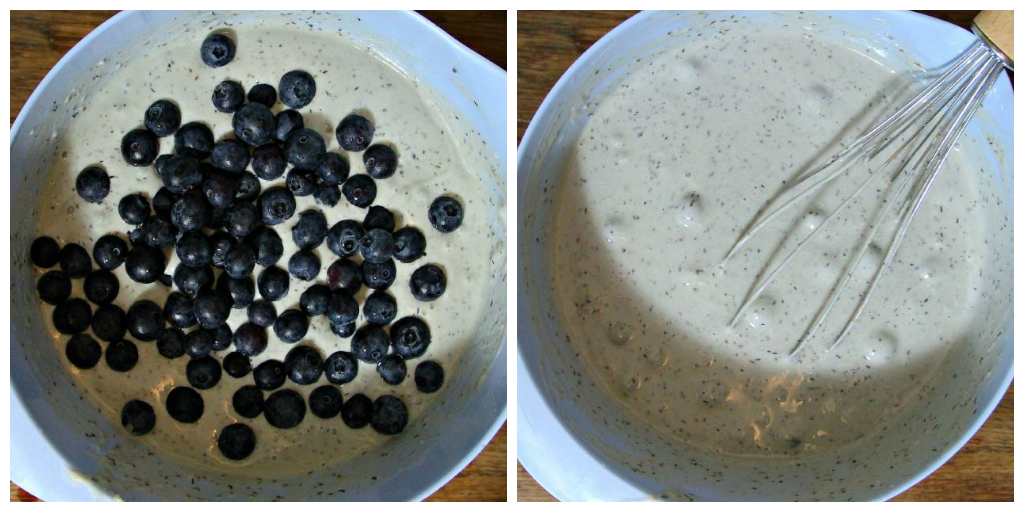 ---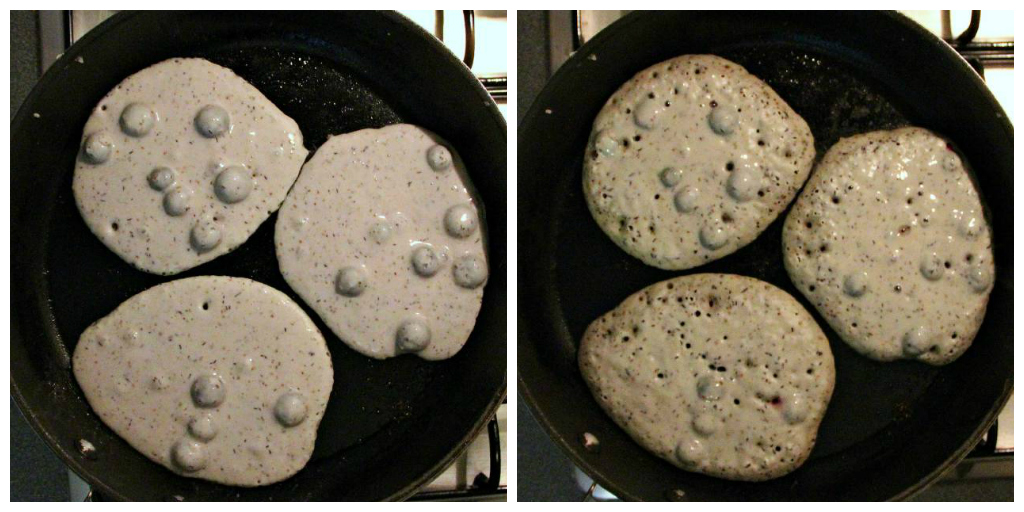 ---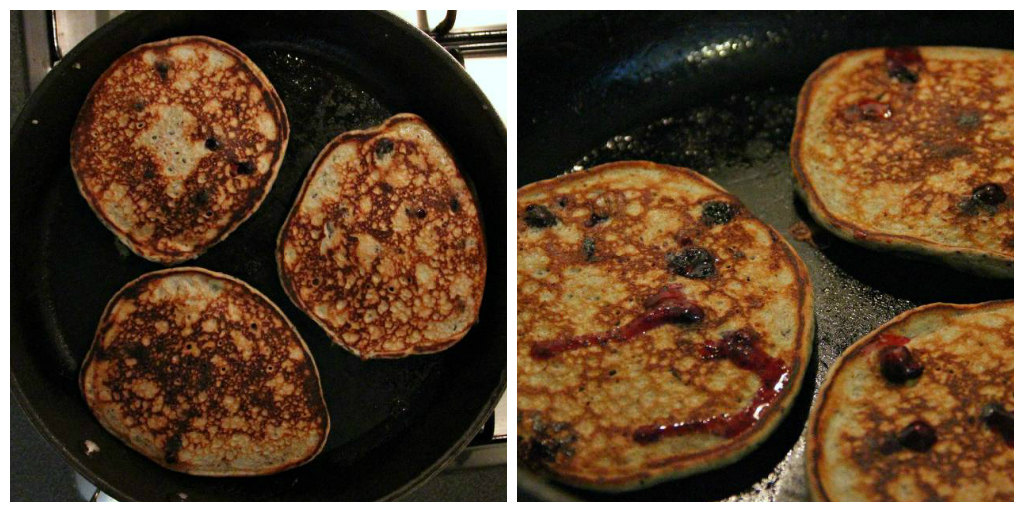 ---
Instructions
---
Pour the plant milk in a bowl. Then add in the sugar, oil, chia seeds, baking powder and soda, vanilla sugar and salt. Whisk well.

---

Add in 1/3 of the fresh blueberries and the flour and blend smooth with a stick blender. This gives flavour and colour to the pancakes.

---

Then add in 1/3 of the blueberries whole to the batter. The rest of the 1/3 is for eating fresh on top of the pancakes, if you wish to keep in them in the dough add in the rest as well. Let the batter rest for at least 15 minutes.

---

Preheat a pan on high. When hot, butter the pan well and make one test pancake with the heat on medium. The dough should easily rise and cook for about 2 minutes on each side. Depending on your pan and how much heat you use, you might cook for more or less. If the test pancake looks good continue to make about 3 pancakes in a 28 cm pan (11 inch) or as many as you like.

---

Finish all the pancakes. Serve with fresh blueberries, maple syrup or any syrup or topping as you like.
---
Enjoy !
---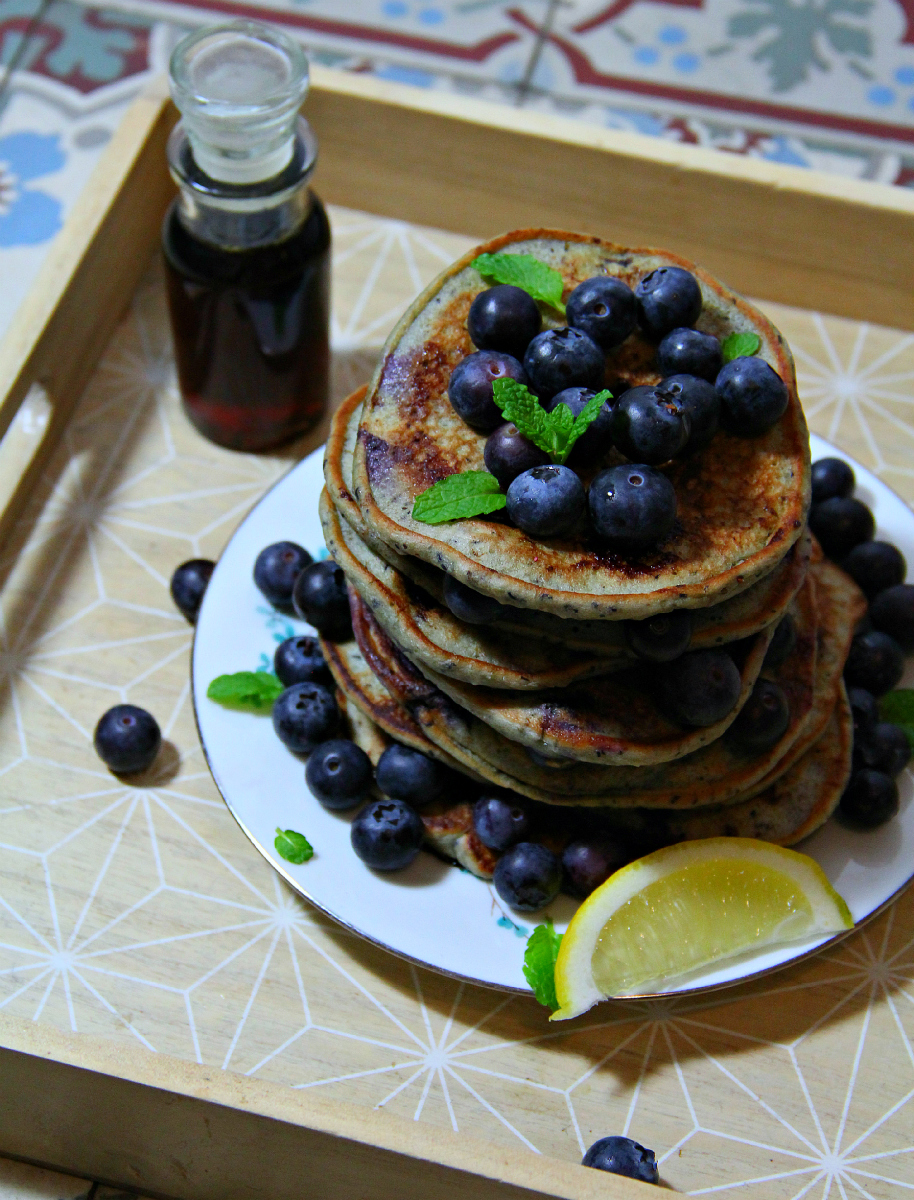 ---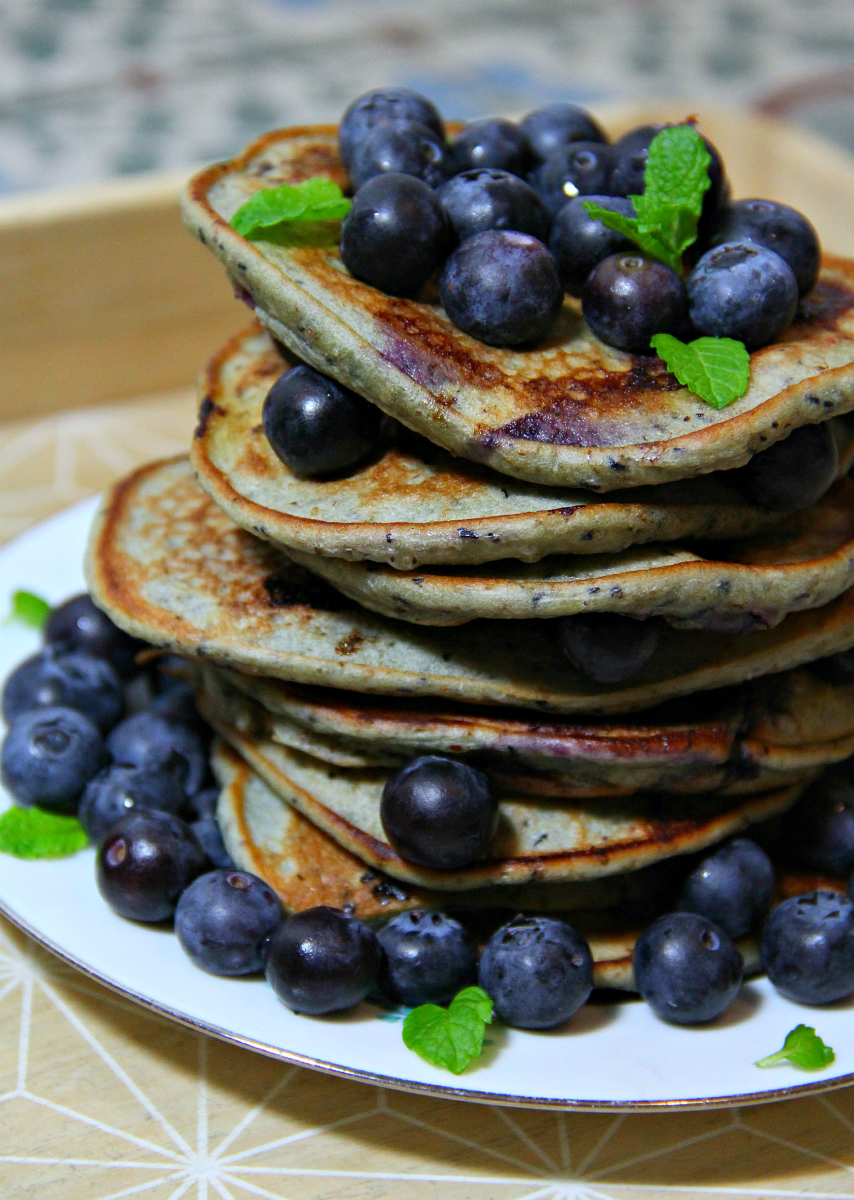 ---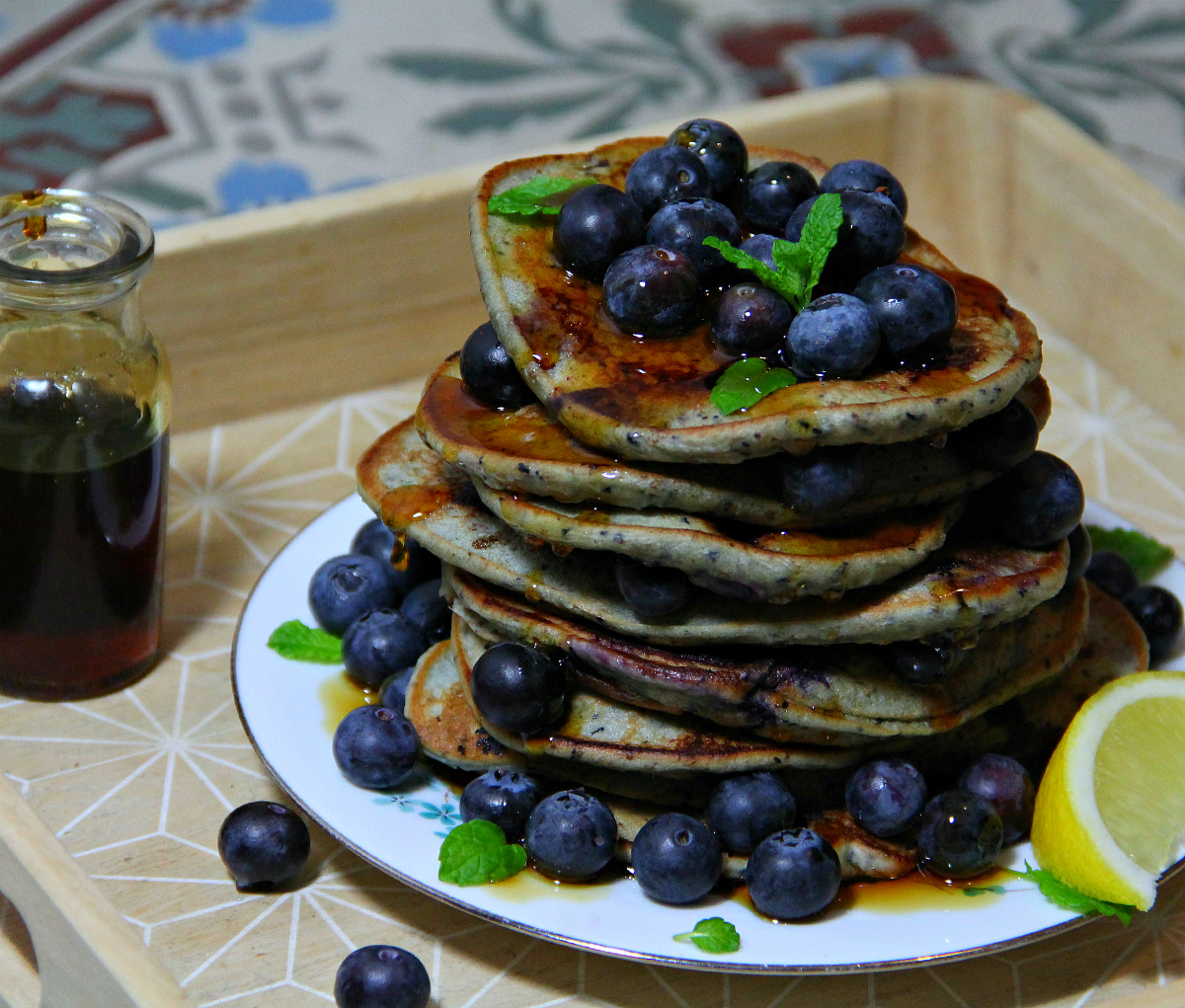 ---