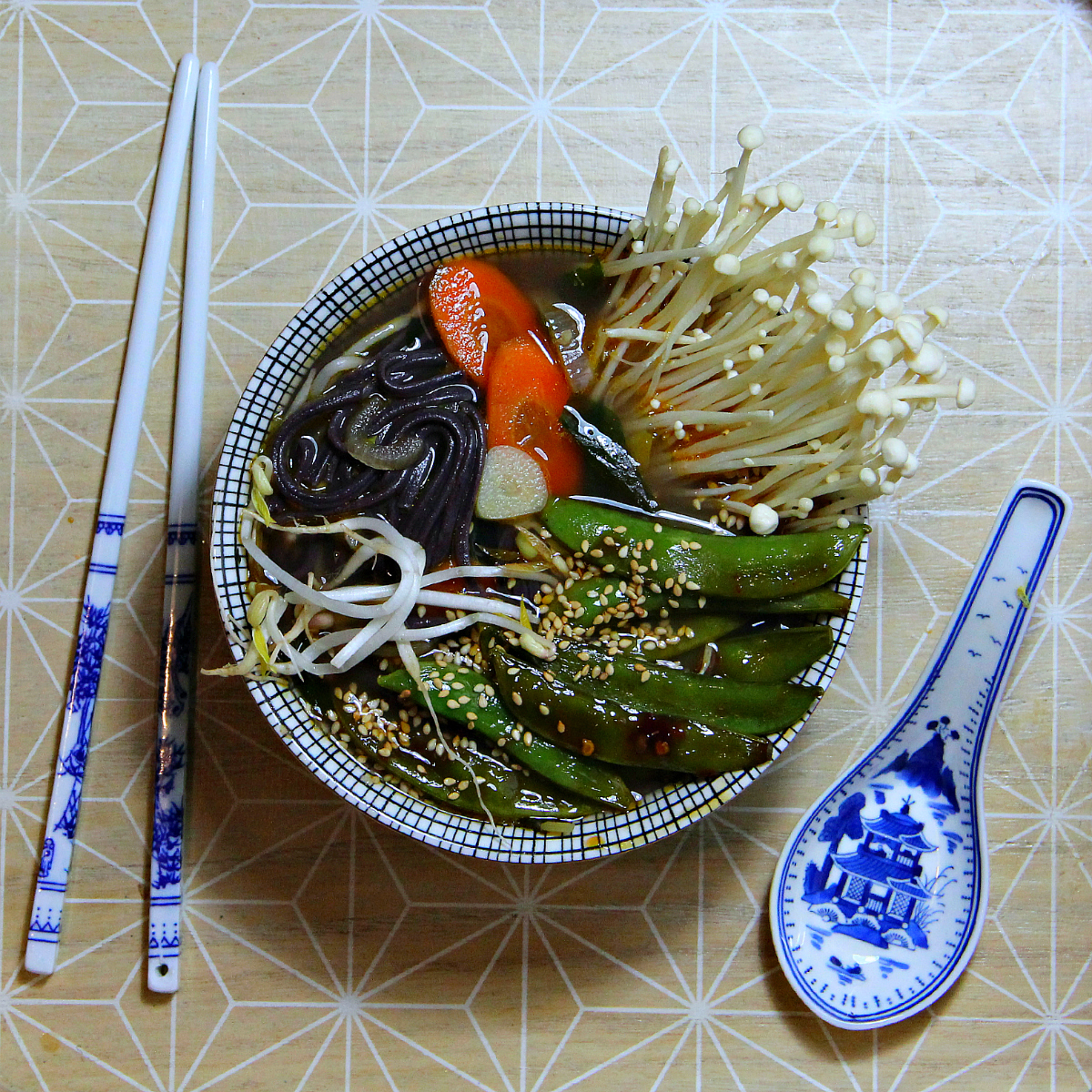 ---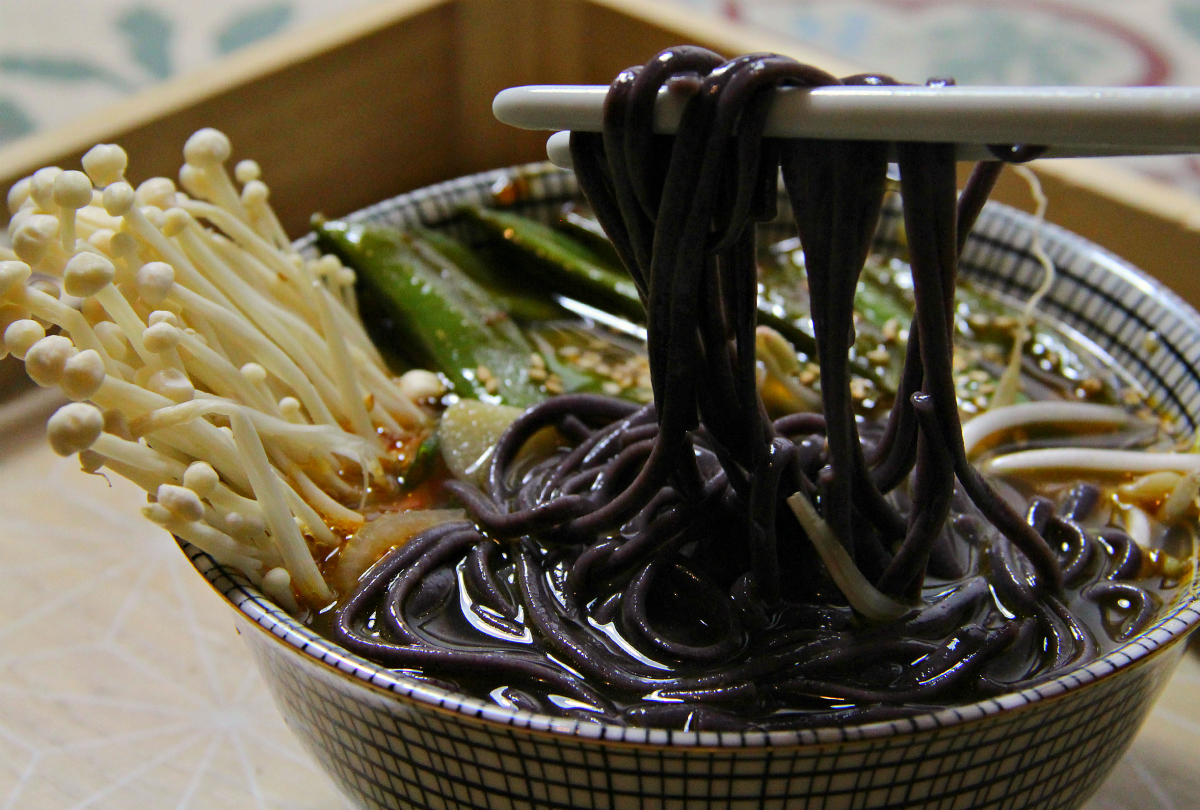 ---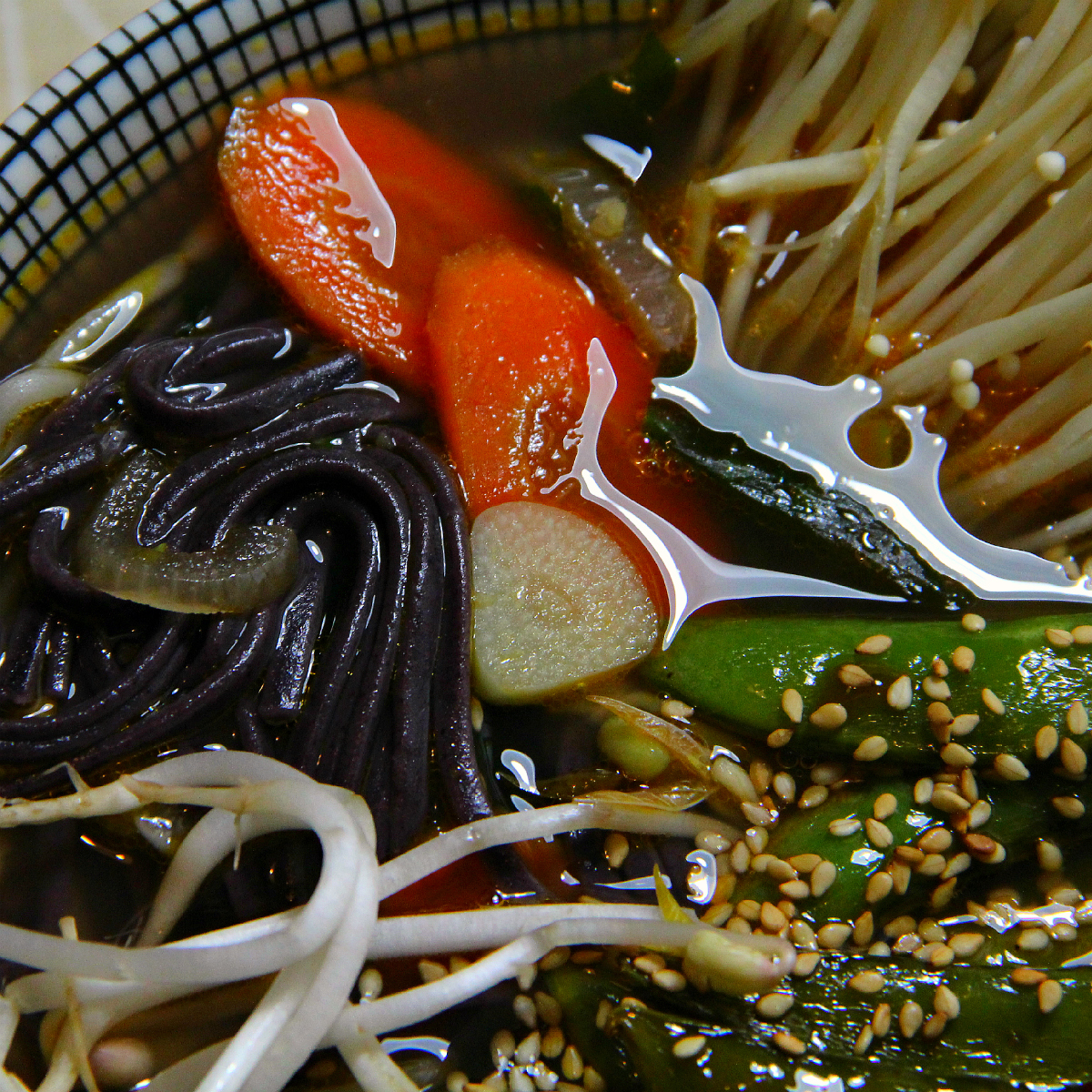 ---
This soup is clear and has a beautiful reddish hue to it. The black rice noodles also adds a splash of purple colour to the dish and the gorgeous enoki mushrooms are earthy, the wakame adds that flavour of the sea and the sweet chili glazed sugar peas has bite and sweetness to them to balance out the soup. A Japanese inspired soup that is comforting and full of flavour.
---
Serves 4
---
Ingredients
---
Soup
---
1.5 liters of water (1.6 quarts)

250g black rice noodles (8.8 oz)

2 shallots

1 carrot

5 stalks of spring onions

4 garlic cloves

2-4 tablespoons instant wakame seaweed (to taste)

1 tablespoon roasted sesame oil

1 tablespoon sunflower oil




1 thumb of fresh ginger

2 teaspoons dried vegetable stock

1 tablespoon soy sauce

1 teaspoon mirin

1 teaspoon ume su / umeboshi / Japanese plum vinegar

½-1 teaspoon sambal oelek (optional for a slight heat)
---
Toppings
---
100g enoki mushrooms (3.5 oz)

200g sugar peas (7 oz)

2 tablespoons sweet chili sauce

2 tablespoon soy sauce

1 tablespoon sunflower oil

Sesame seeds
---
What you will need
---
Cutting board and knife

1 large pot

1 small pot

1 pan

1 spoon to stir

1 vegetable peeler

Measuring spoons

1 measuring cup

1 strainer
---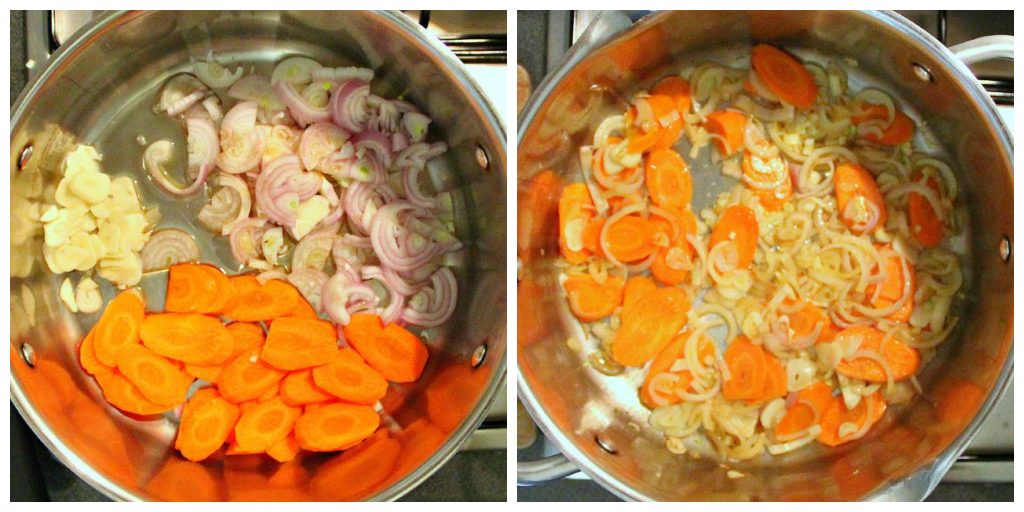 ---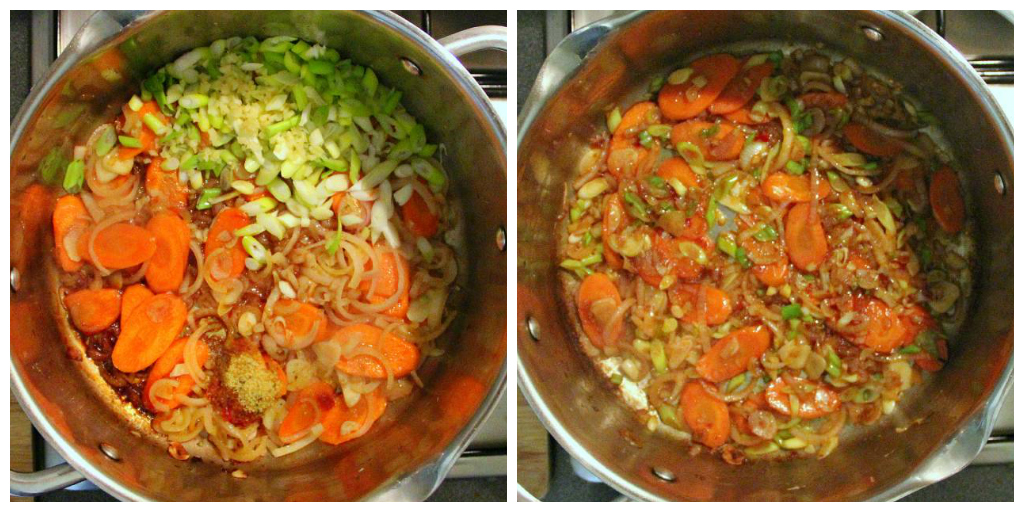 ---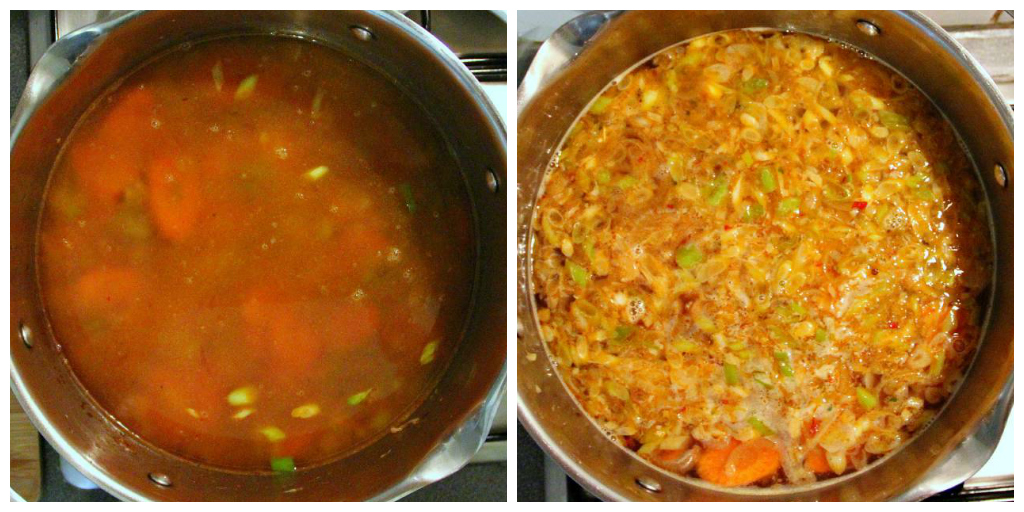 ---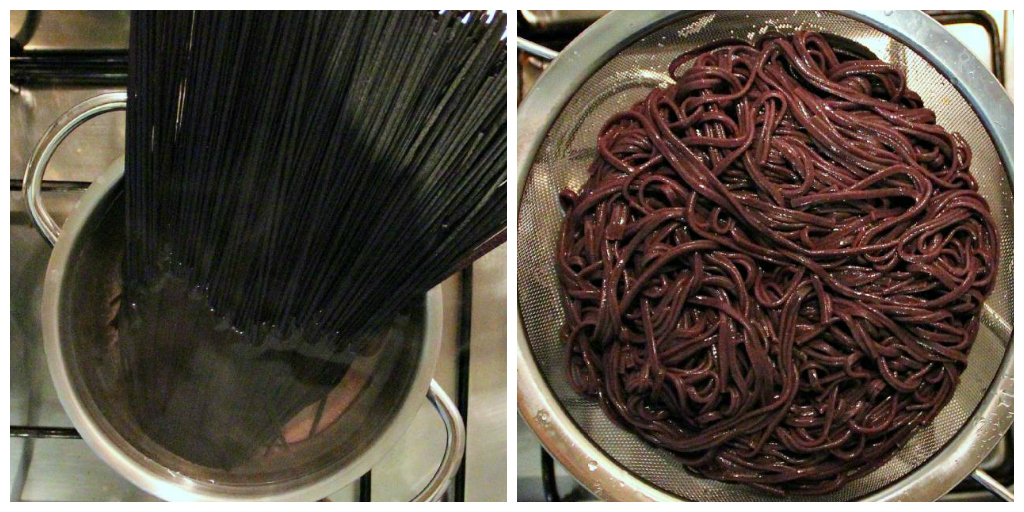 ---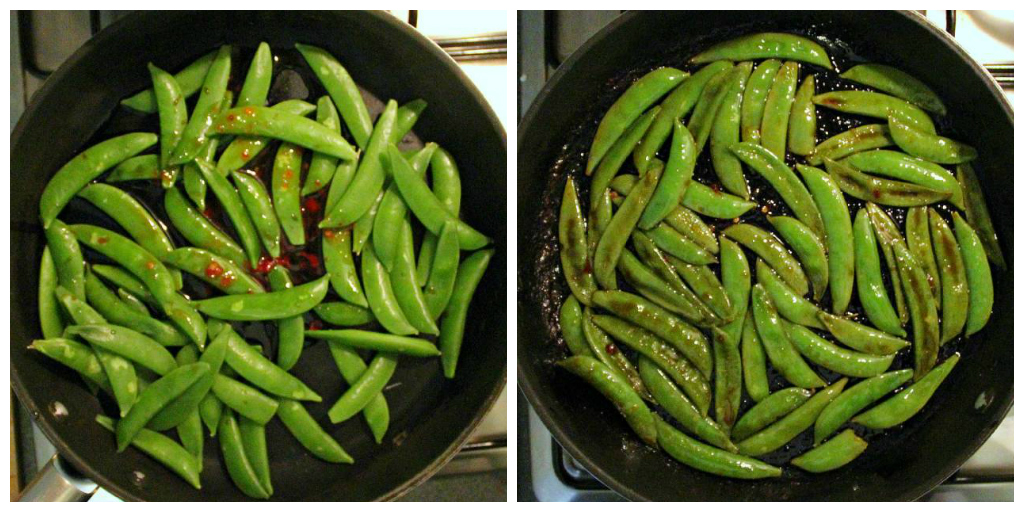 ---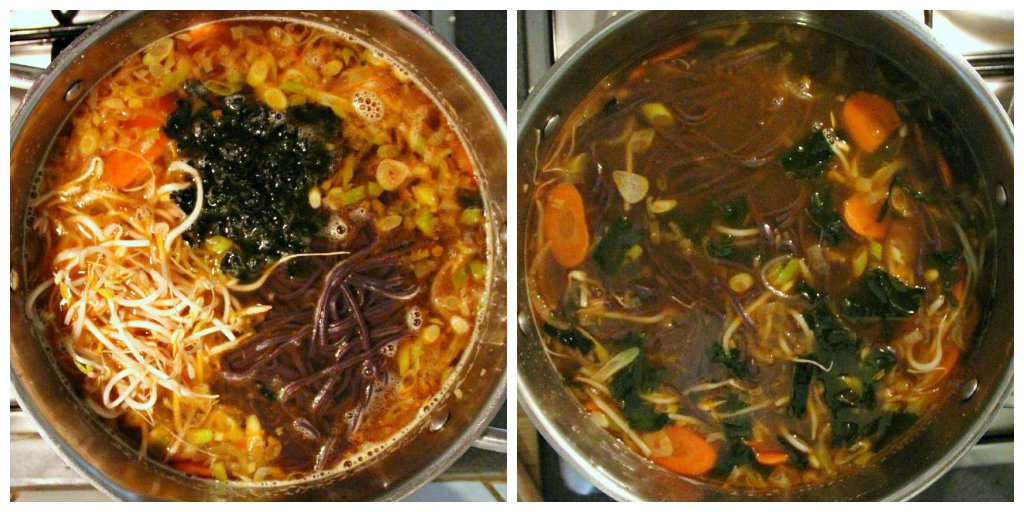 ---
Instructions
---
Boil 1 small pot of water with salt.

---

Peel and chop the shallots down the middle on its long side. Then chop into thin half moon slices. Peel and thinly slice the garlic.

---

Peel the carrot and then slice thinly diagonally. Add carrot, shallot and garlic to a bog pot with the sesame and sunflower oil. Turn heat on high and sweat the onions. Stir occasionally.

---

Peel and finely chop the ginger. Chop the spring onions diagonally. Add to the pot with the soy sauce, mirin, ume su, vegetable stock and sambal oelek. Fry for 2-3 minutes.

---

Add in the water and bring to a simmer on low heat.

---

When the water is boiling in the small pot add in the black rice noodles. Cook as the package advises (my package said 4-5 minutes, but it depends on the size noodles you have) but under cook them about 1 minute. Then strain over the sink when finished and wash clean with cold water, this will keep the soup clear. Set aside.

---

Wash and put the sugar peas in the pan. Add the oil, sweet chili sauce and soy sauce. Turn the heat on high and glaze them, stirring occasionally. This only takes a few minutes (they can easily overcook), they should still have a bite to them.

---

When the soup is brought to a simmer, then add in the cooked rice noodles, wakame and soy sprouts. Let simmer for about 1 minute. If needed add salt to taste.

---

Chop the ends off the enoki mushrooms, brush them for dirt if necessary, but don't wash them.

---

Serve the soup in deep bowls and top it with fresh enoki mushrooms, the glazed sugar peas and a sprinkle of sesame seeds. Eat straight away so the noodles wont get soggy.
---
Enjoy !
---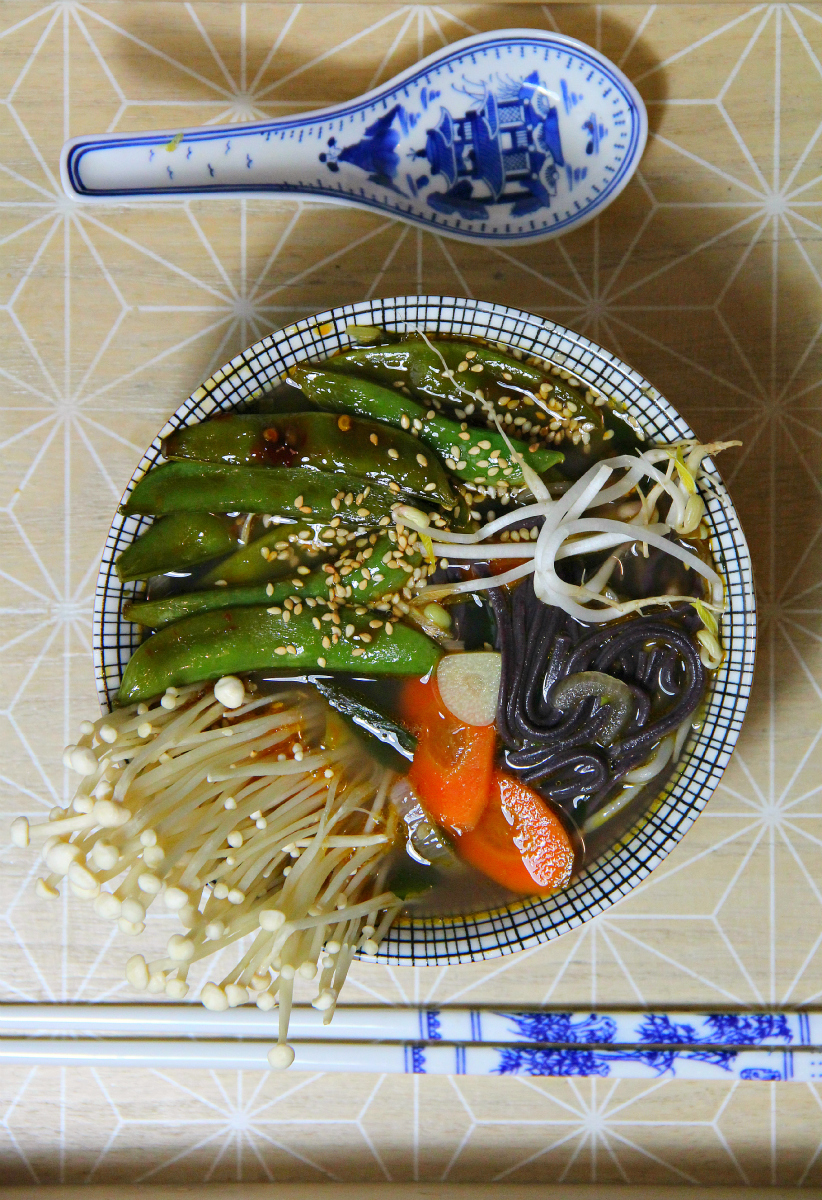 ---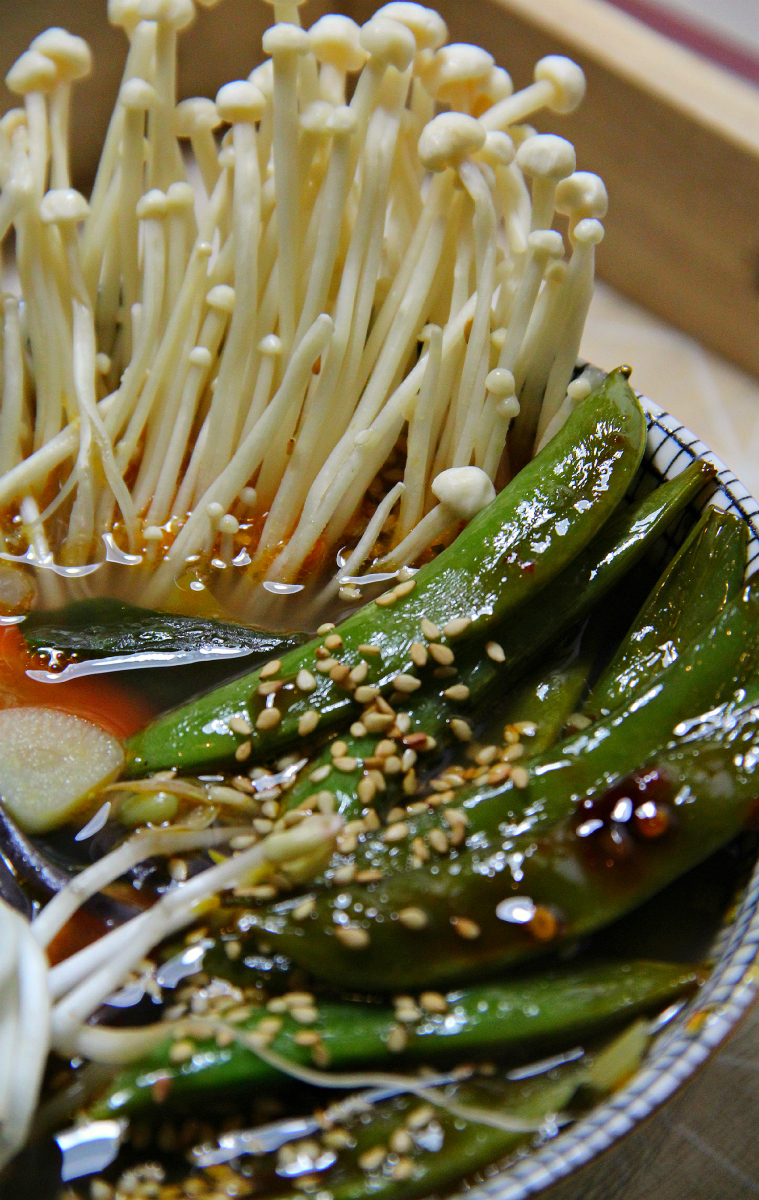 ---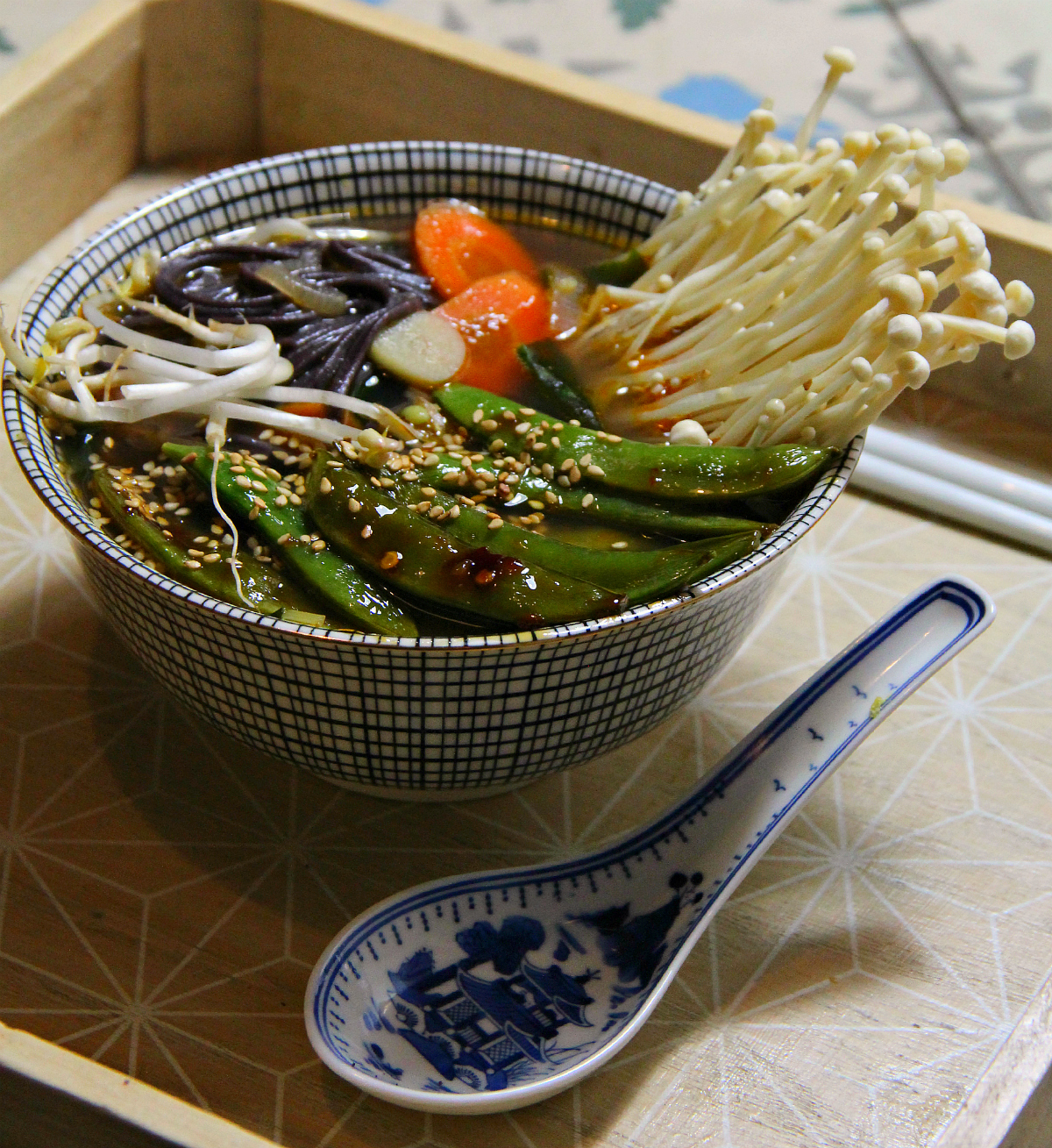 ---