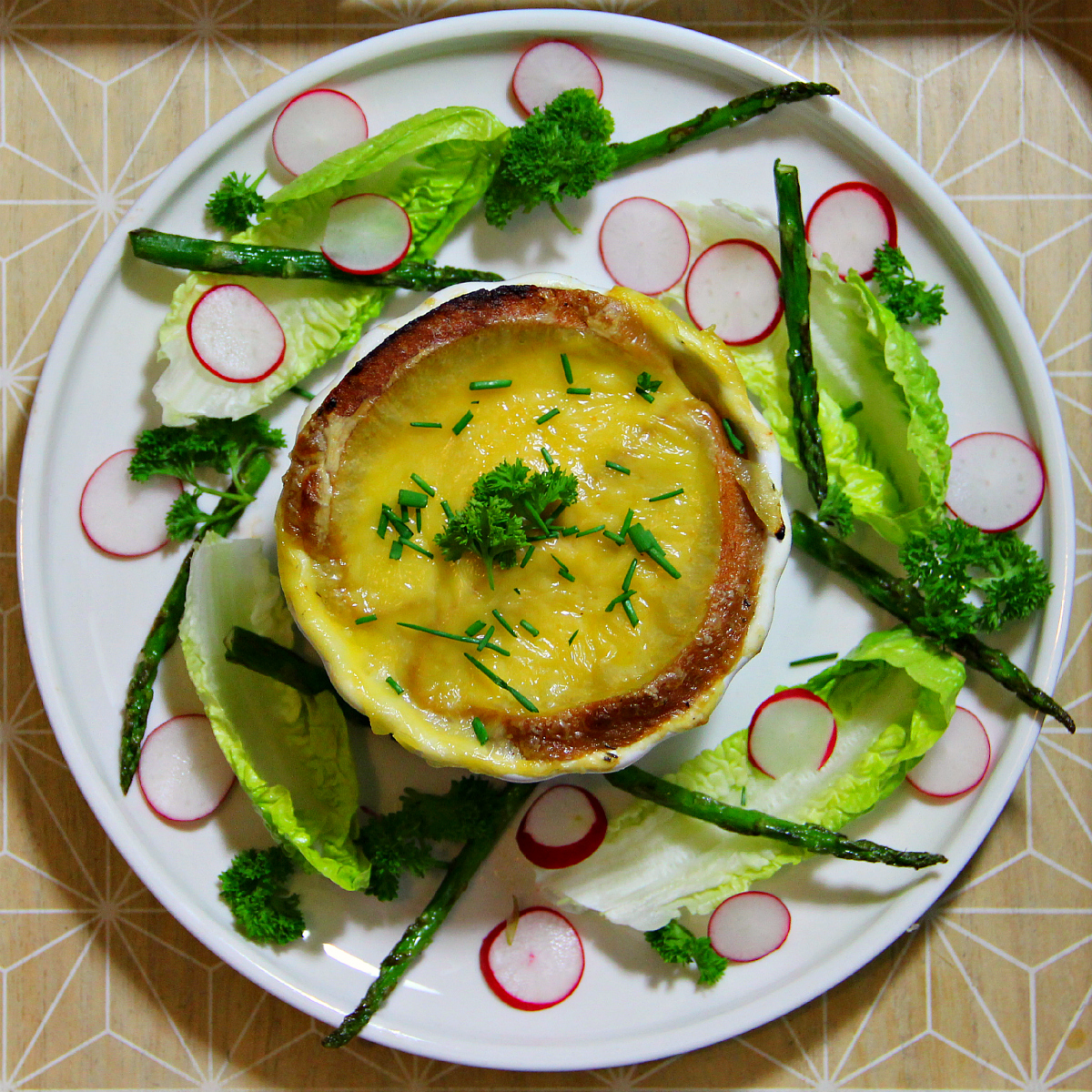 ---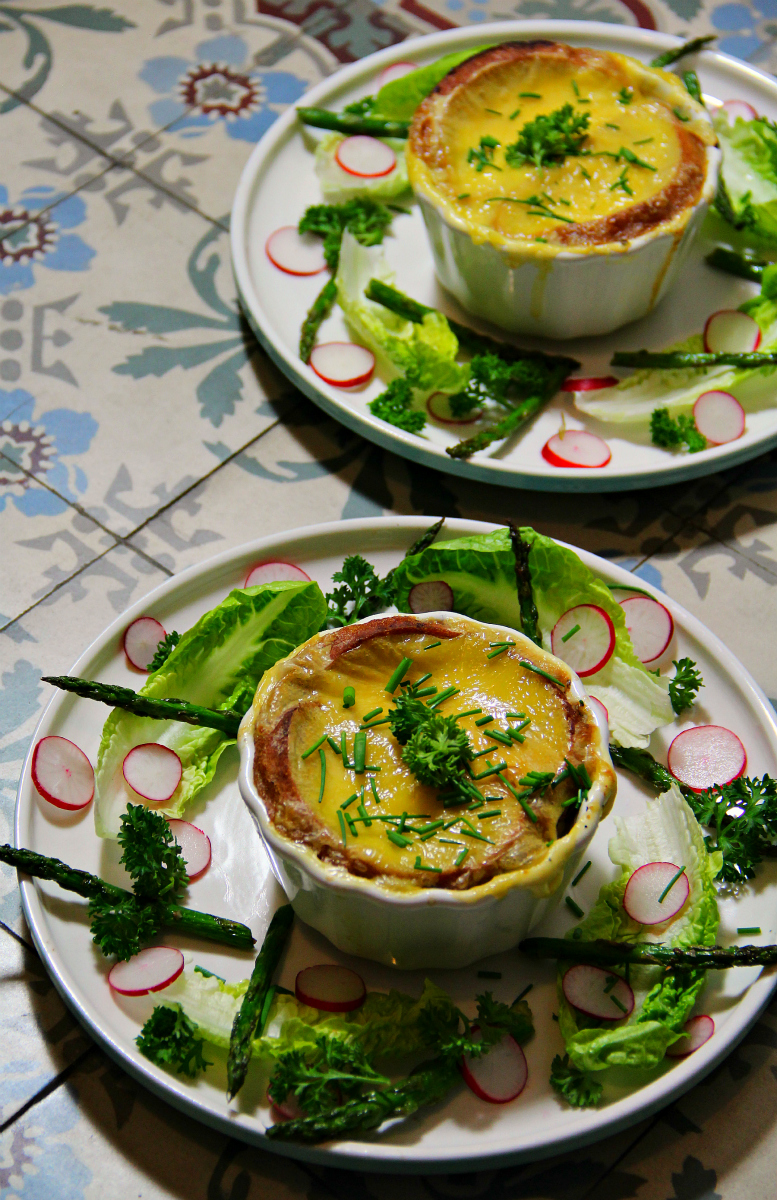 ---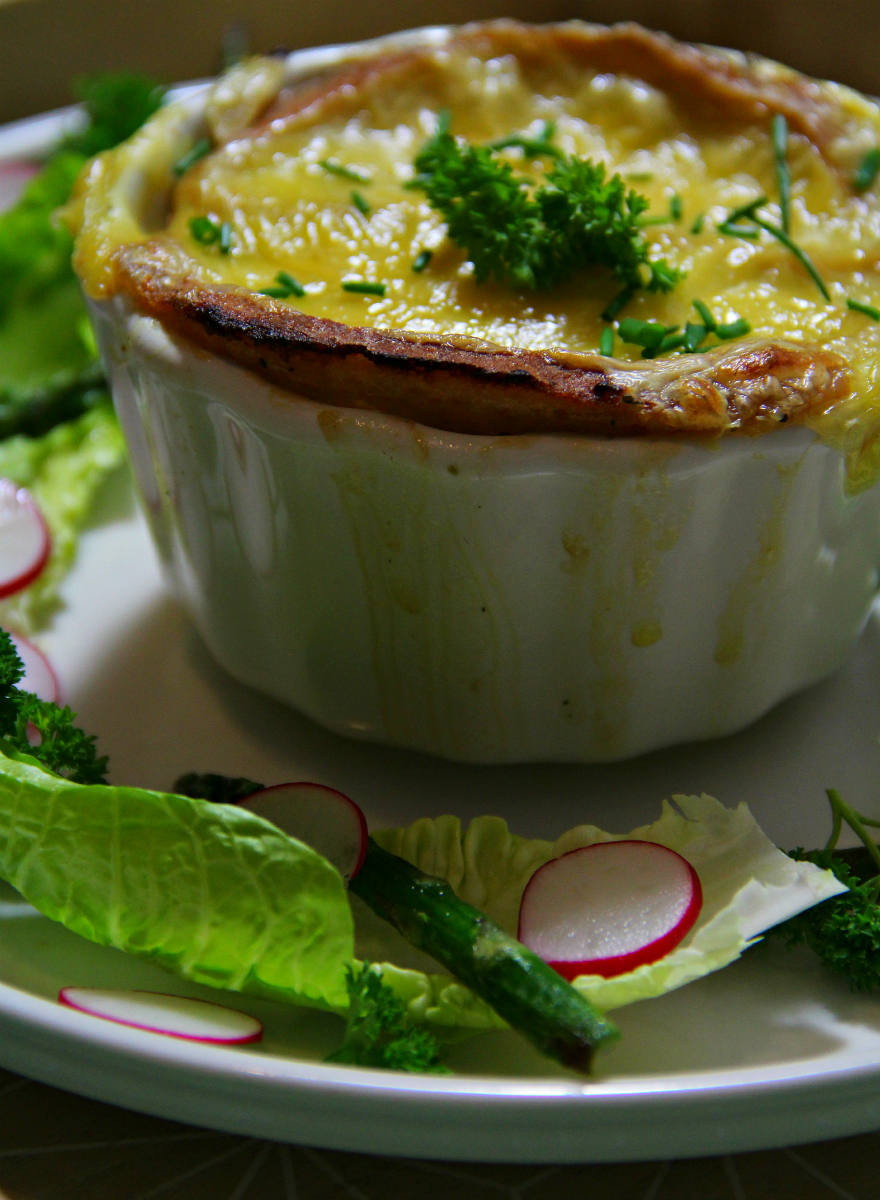 ---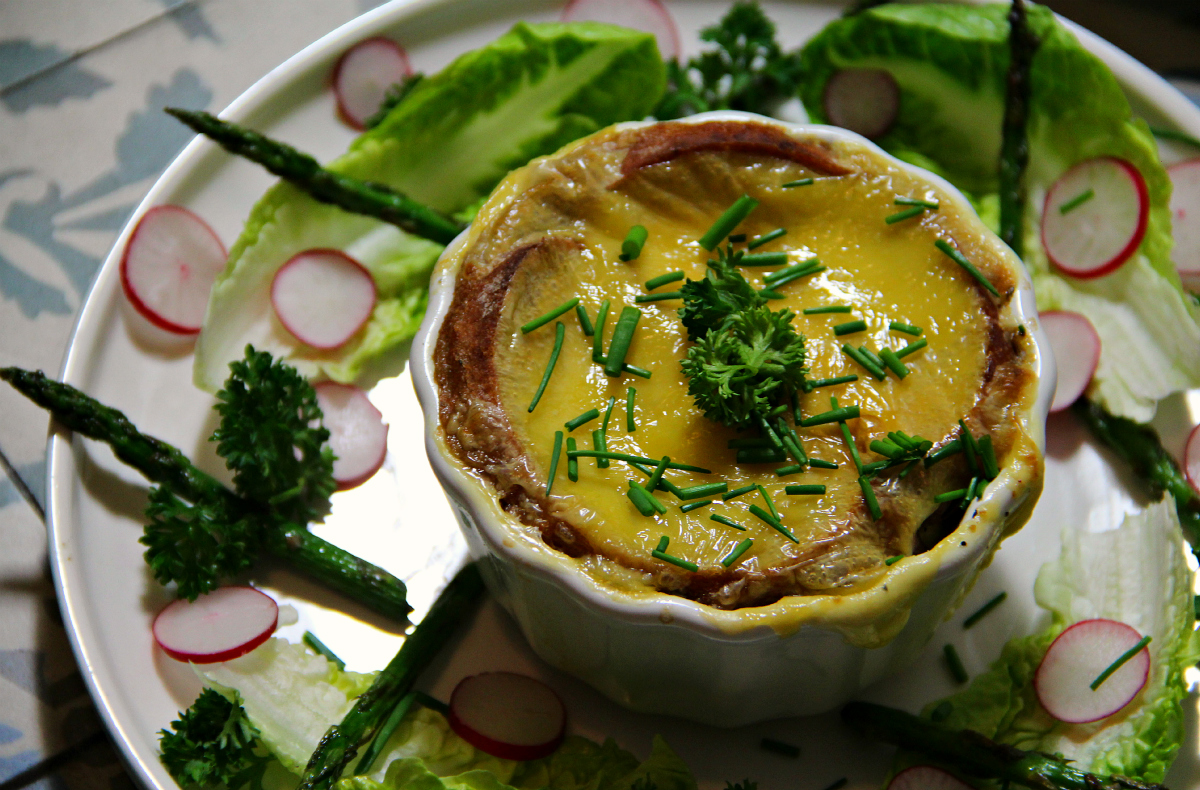 ---
Probably the best soup I have ever made, said my husband. And it was indeed great ! Thick and creamy, breaded and crispy on top with that cheesy flavour. Healthy sides with quick fried salty mini asparagus, fresh green salad and colourful radishes, topped with herbal greens.
Such a comforting dish, perfect as a main course or starter. Depending on how large your ramekins are you could make 2 large ones or 4 smaller starter sized ones like shown here. I like to eat this as a main course, so i would eat two of these and then split the sides as well, this would make a super filling dinner. The pictures shown is what a starter would look like if you made it for 4 people.
---
Serves 2 as main, 4 as starter
---
Ingredients
---
Soup
---
800g yellow onions (28 oz)

1 liter of water (4.2 cups)

50g vegan butter (1.8 oz)

6-8 garlic cloves

3 tablespoons extra virgin olive oil

2 tablespoons apple cider vinegar

2 teaspoons dried vegetable stock

½ teaspoon dried thyme

½ teaspoon dried rosemary

1/4 teaspoon fresh grind nutmeg

1 teaspoon salt

½ teaspoon freshly grind pepper
---
Topping
---
Sourdough bread in slices as needed

150g vegan cheese of choice (5.3 oz)

1.2 dl unsweetened plant milk of choice (½ cup)

1 tablespoon nutritional yeast

½ teaspoon salt
---
Side dishes
---
Salad as desired

A few radishes

Fresh chives

Fresh parsley

110g mini asparagus (3.9 oz)

2 tablespoons vegan butter

½ teaspoon salt
---
What you will need
---
Cutting board and knife

1 measuring cup

Measuring spoons

1 large pot + spoon to stir

1 small pot + spoon to stir

4 ramekins 11cm / 4.5 inch diameter
---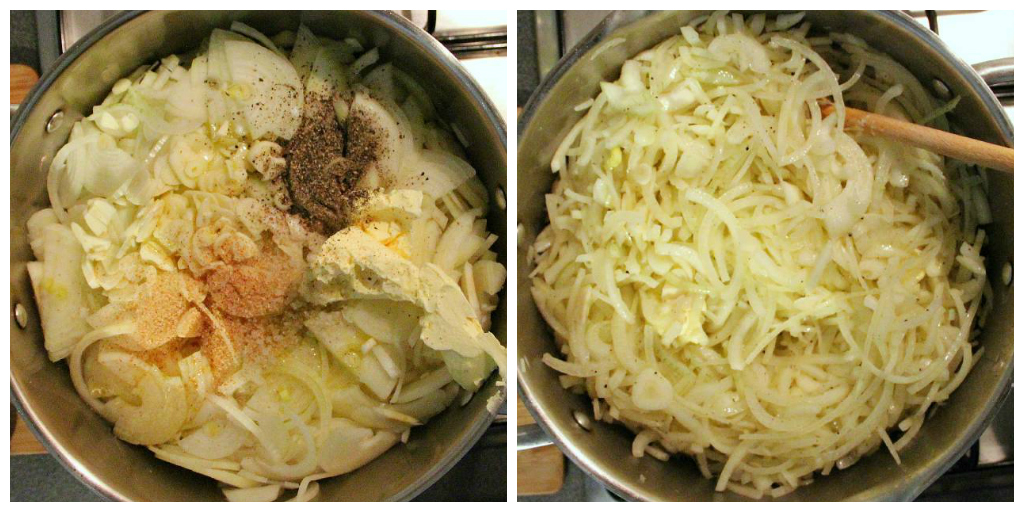 ---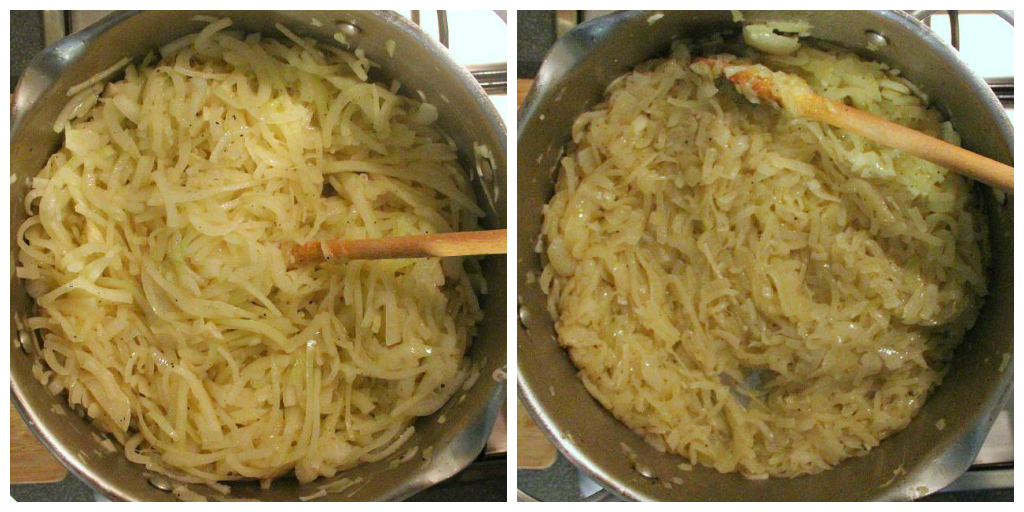 ---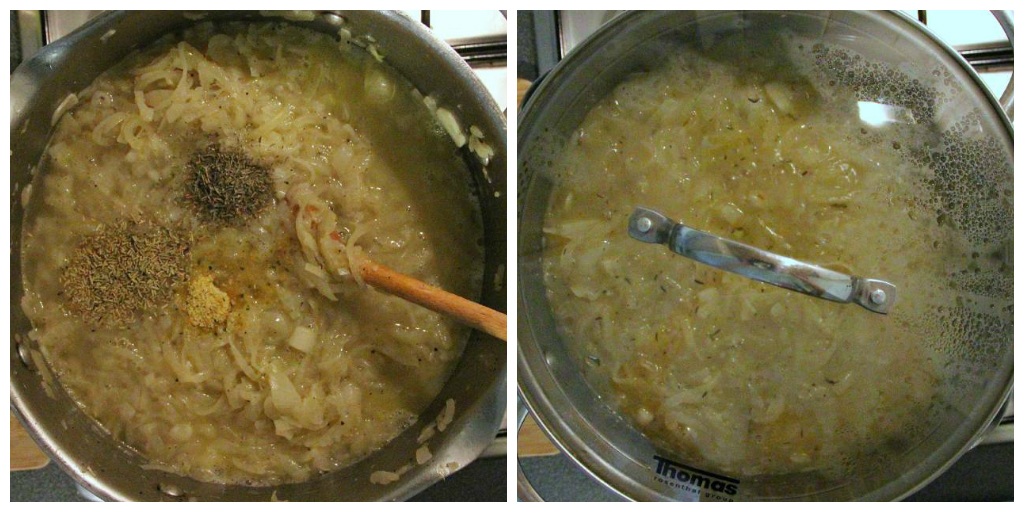 ---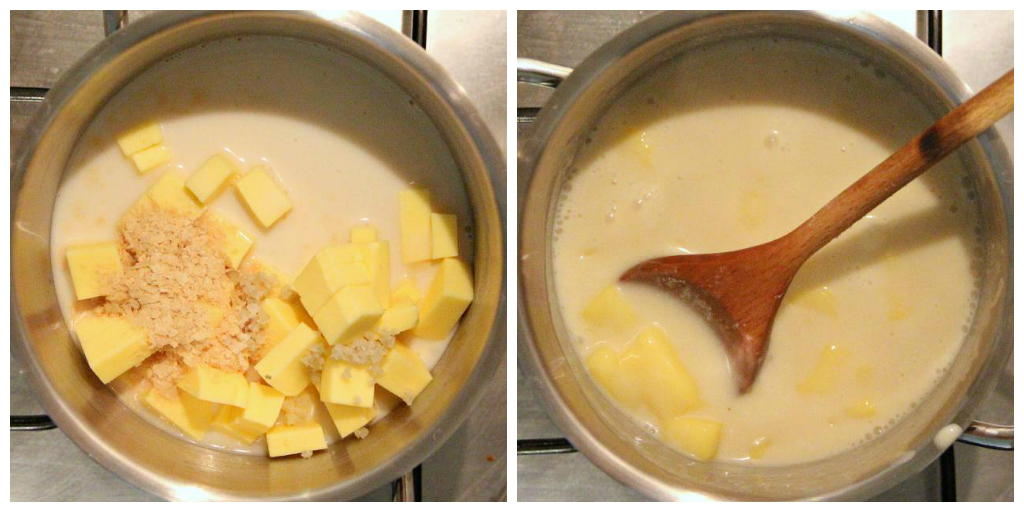 ---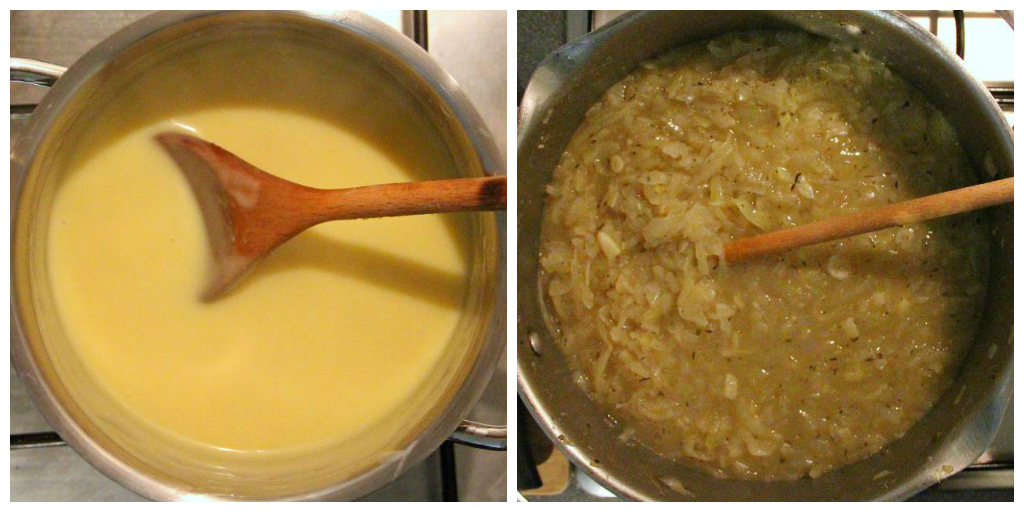 ---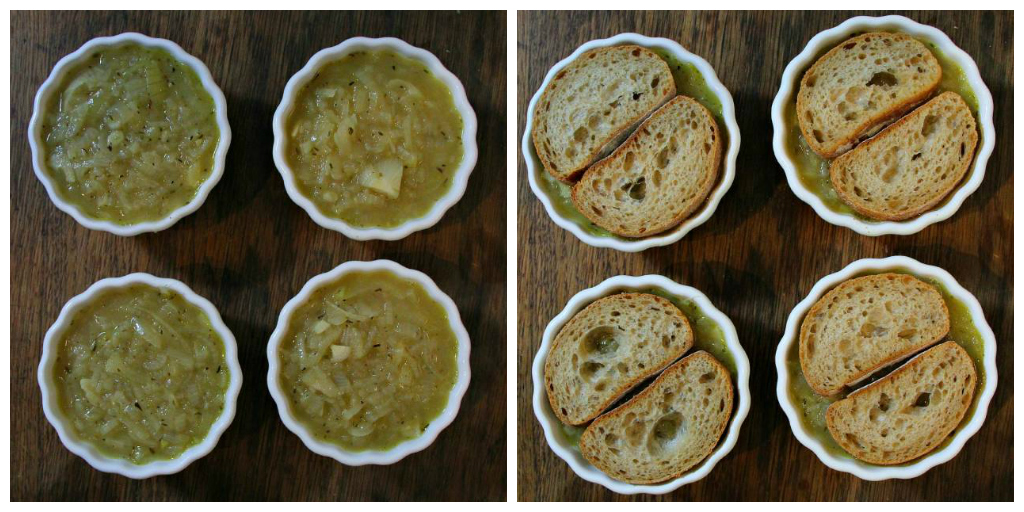 ---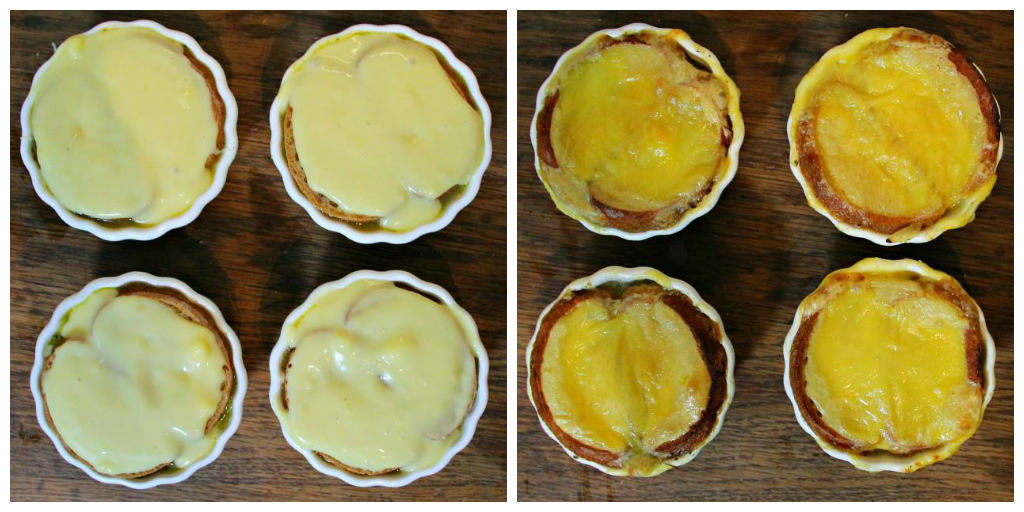 ---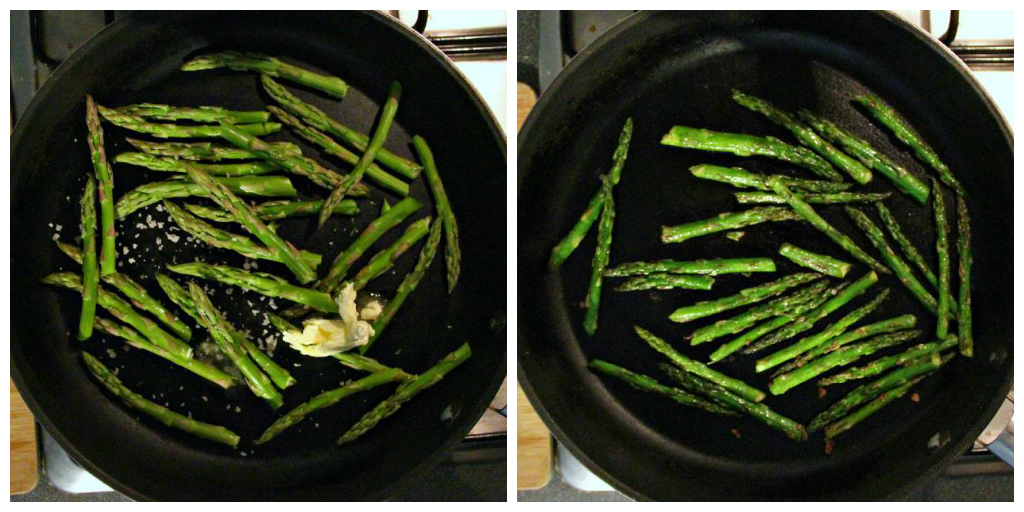 ---
Instructions
---
Peel the onions. Chop them in half and then slice them thinly. Add to a big pot with the vegan butter, olive oil, nutmeg, salt and pepper.

---

Peel and finely chop the garlic and add to the pot.

---

Turn the heat to high and sweat the onions while stirring almost constantly. Let them become translucent and let them caramelize slightly, but do not brown them, stir very often and be careful not to burn them. Continue for about 15 minutes or until the onions are about 1/3 of the original size, translucent and not burned.

---

Pour in the water, dried vegetable stock, apple cider vinegar, thyme and rosemary. Bring to a simmer on medium to low heat, put a lid on and let simmer for about 40 minutes, stirring occasionally.

---

Chop the vegan cheese in smaller chunks. Add to a small pot with the unsweetened plant milk, nutritional yeast and salt. Turn heat on high and melt all ingredients together while stirring. When fully melted turn off heat and set aside.

---

Preheat the oven to 220c (430 F) on convection.

---

When the soup has cooked, pour it into the ramekins but leaving a little space for the bread and cheese. Slice some good sourdough bread and cover the soup with the bread. Pour over the cheese mixture evenly onto the bread.

---

To avoid spillage in the oven put the ramekins on baking paper or aluminum foil. Bake in the oven at 220c (430 F) on the middle of the oven on convection setting for about 4-5 minutes or until the cheese looks set and golden and the bread crisp on the edges.

---

Wash and break off the stem of the mini asparagus. Put them into a pan with the vegan butter and salt. Fry for a few minutes until they have cooked, look bright green and still has a bite to them. Turn off the heat and set aside.

---

Wash the lettuce and arrange on a plate. Wash and finely chop the radishes and arrange on the plate with the asparagus.

---

When the french onion soup looks crisp and golden on top serve with the salad and asparagus. Sprinkle with fresh chives and parsley.
---
Enjoy !
---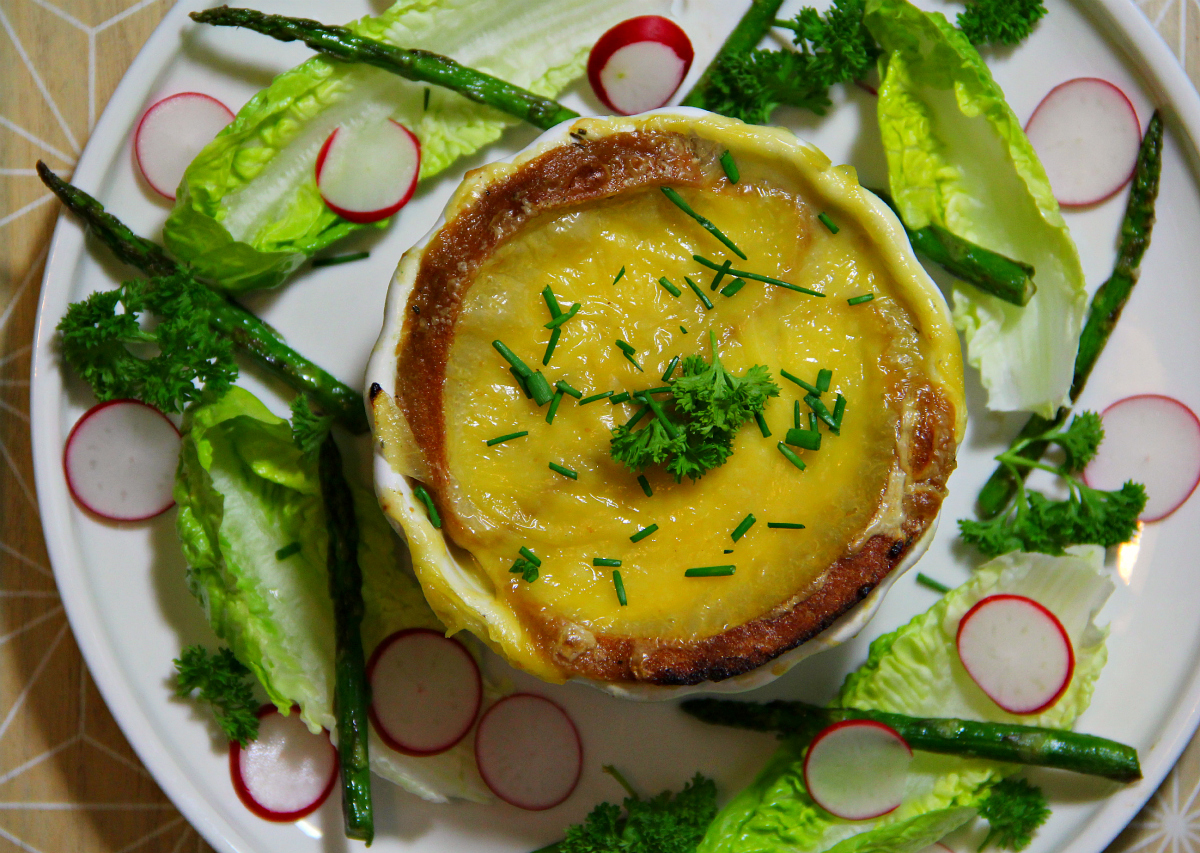 ---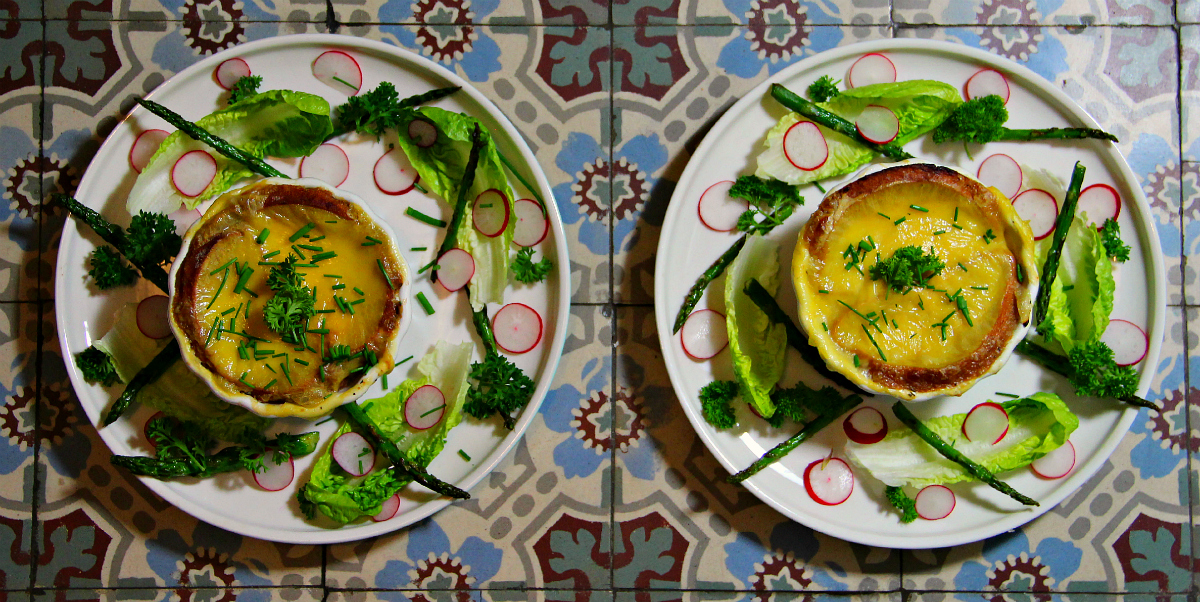 ---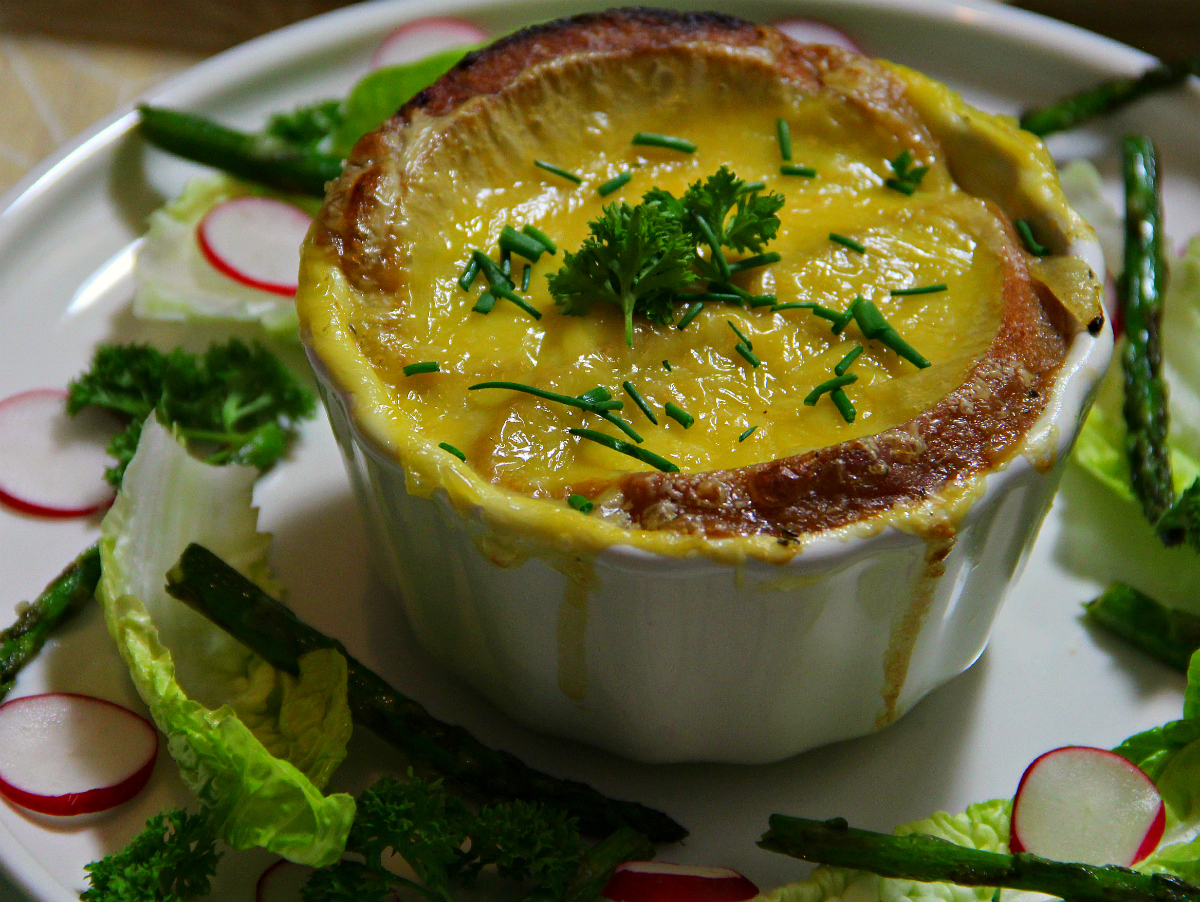 ---