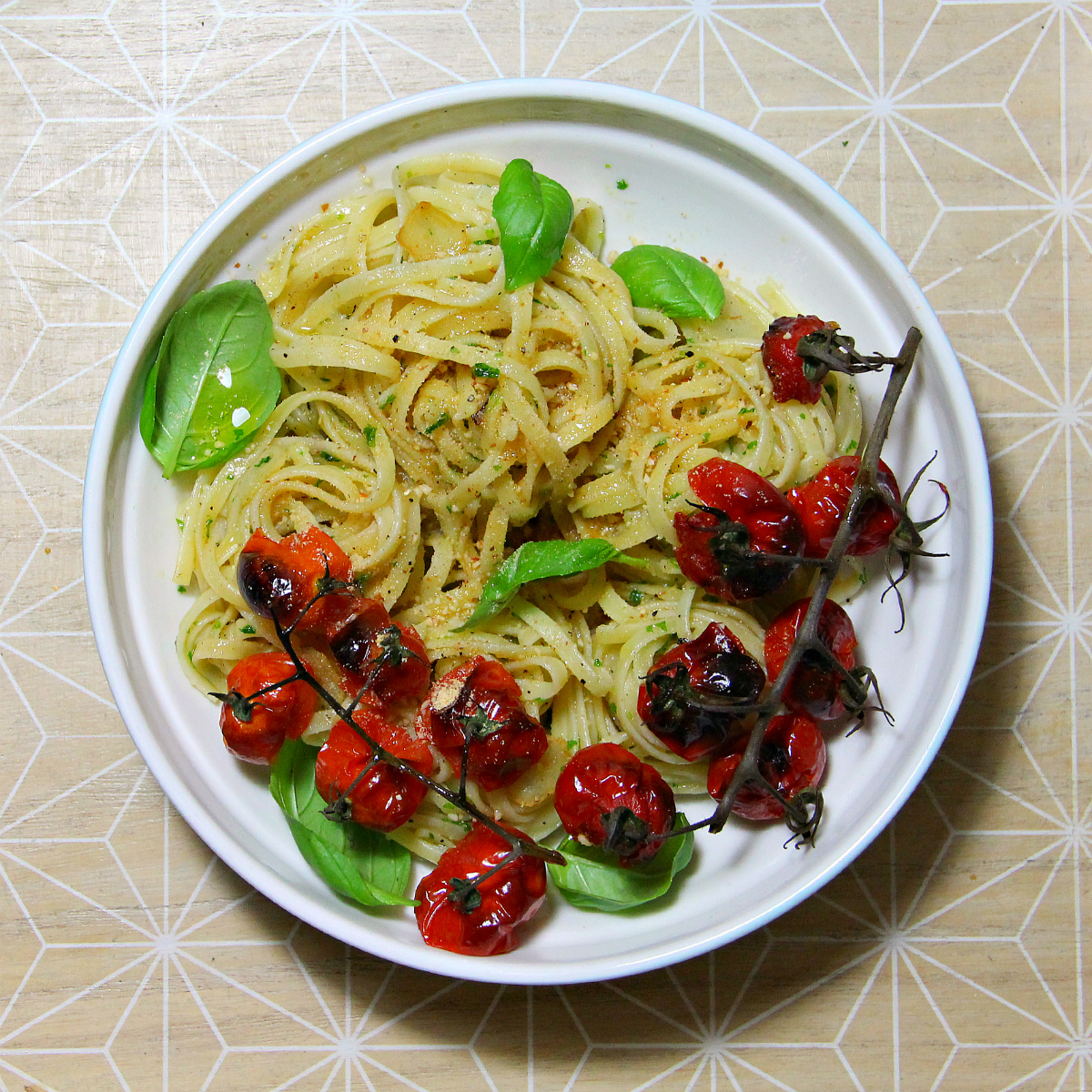 ---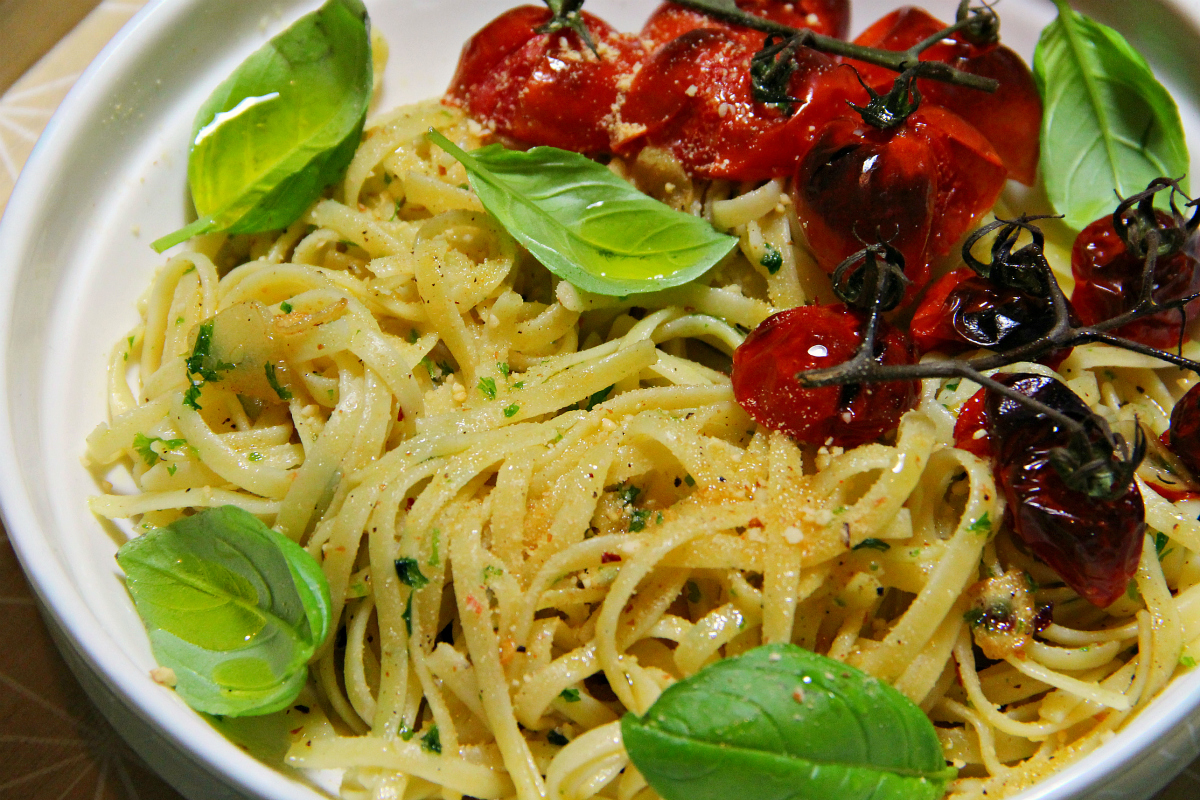 ---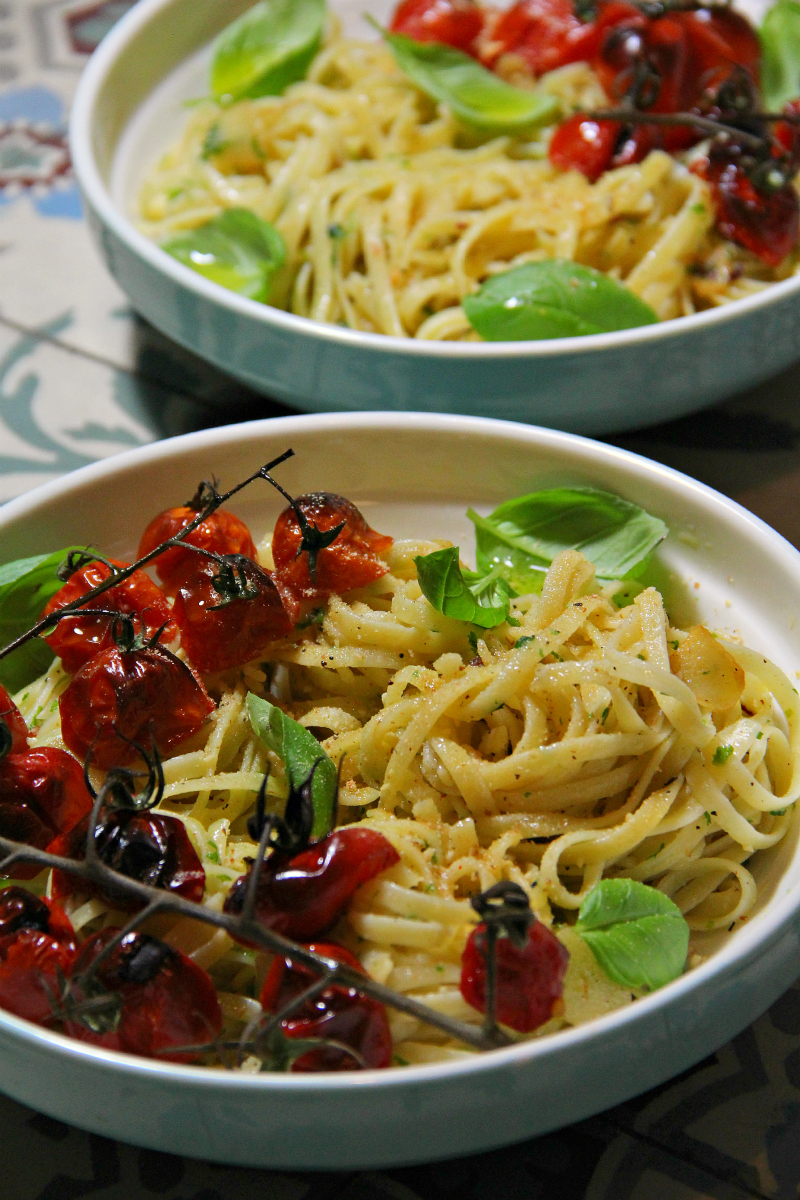 ---
So easy and yet so delicious. When I first was served this dish it was actually at a restaurant where I did not really have another option to get anything else vegan to eat. I was slightly disappointed in choosing this, I just thought: well... oil and pasta... sure... this is gonna be boring, but at least I will eat something !
I could not be more wrong. The dish was delicious, garlicy and spicy from the chili. I got it served without herbs though, and just a very few tomatoes as well, but it worked. I was happy. So I thought I am gonna beat this dish and make it even more great. The one I got served was very thin in texture though, and by just using one small trick this dish can be creamy and thick and not oily and thin ! Just add some of the starchy pasta water and Voila ! It reacts with the oil and thickens the sauce.
So about the oil.. We had already planned to go to Greece in early spring, so I knew I would stock my pantry with some of the best olive oil in the world, so I waited to make this dish until after the trip. And.. it's actually the most important (!!!!!!) ingredient in this dish, get some descent – if not great or awesome tasting – olive oil, or else this dish is not gonna be tasty at all. Really.
Unfortunately many supermarket olive oils are not real, there have been many studies on olive oil in various countries where you see that, what is labelled and sold as 100% extra virgin olive oil often only contain a small trace of real olive oil, is scented and often not even fit for human consumption. This is so sad that people get cheated in that way. Find a good store that sells high grade fruity and delicious extra virgin oil, that is 100% real.
The one we got I am completely and utterly in LOVE with ! The best oil I have ever tasted, so fruity fruity fruity and with a slight peppery after taste, and the taste of the oil lingers in your mouth for more than 30 minutes after you've eaten it. Just magical. We got the no. 1 international gold winner of best olive oil 2015 + 2018 that's Greek. Okay, I know that sounds expensive, it was not, and it's sooo worth it (not sponsored, but I wish it was then I would get more of this liquid gold).
So – all in all – get some good stuff olive oil, it IS the main ingredient here, so if you don't want your dinner to taste like rancid garbage, get a delicious oil to make this with and you will not regret it.
---
Serves 2
---
Ingredients
---
Pasta
---
250g vegan spaghetti or linguine (8.8 oz)

6-7 garlic cloves

60 ml GOOD olive oil (1/4 cup)

3-4 tablespoons freshly chopped parsley

1/4 teaspoon hot chili flakes

Pinch of ground cayenne pepper

Salt & pepper to taste
---
Toppings
---
200g cherry tomatoes (7 oz)

Vegan Parmesan Sprinkle

Fresh basil
---
What you will need
---
1 ovenproof dish

1 large pot

1 tong or spider

Chopping board and knife

1 pan

1 measuring cup

Measuring spoons
---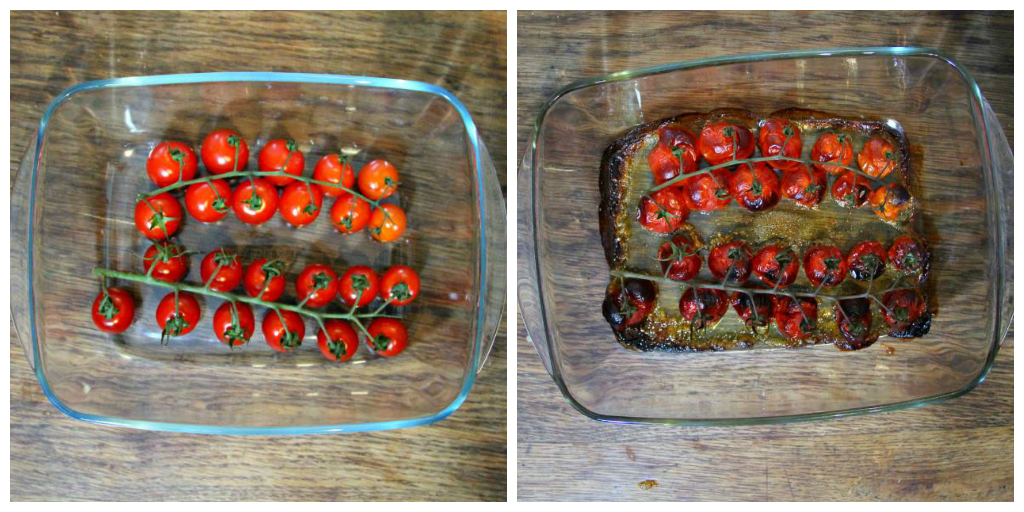 ---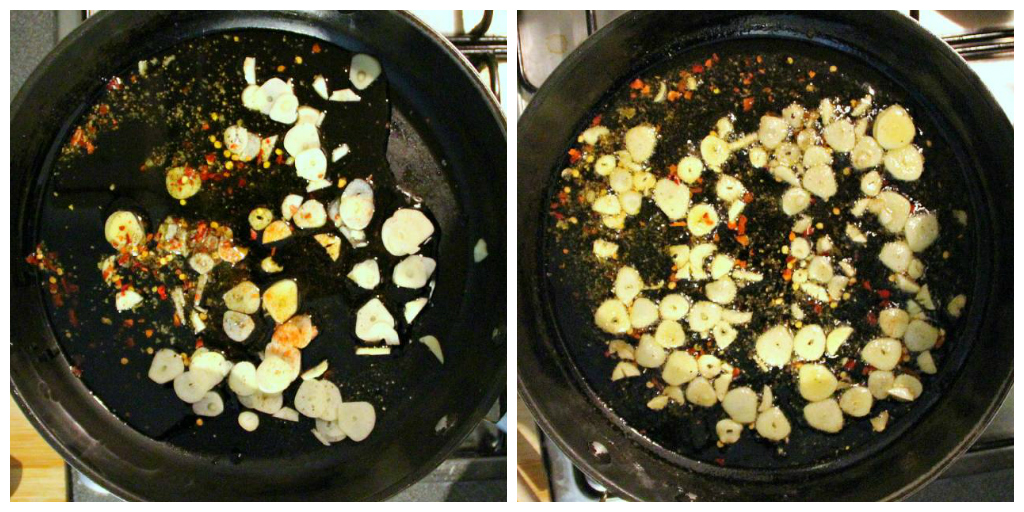 ---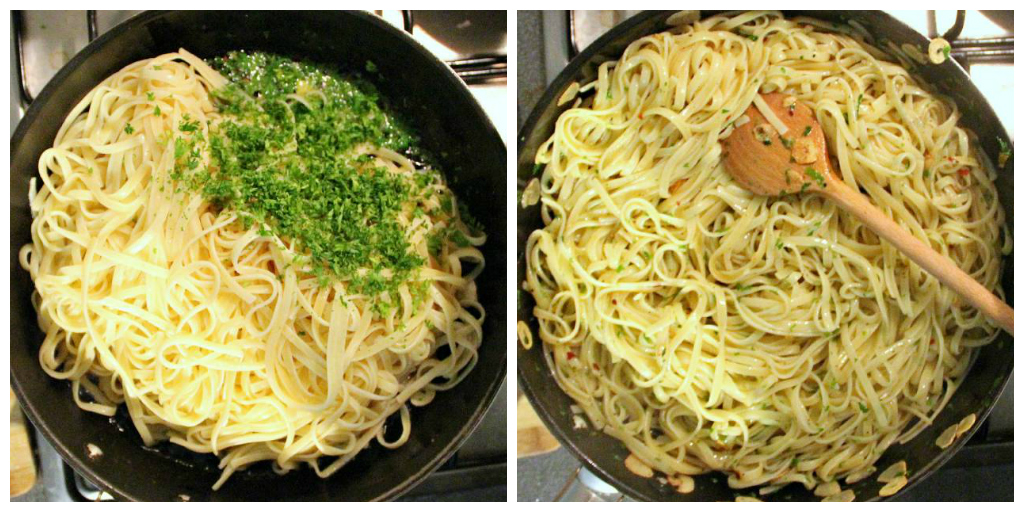 ---
Instructions
---
Preheat the oven to 200c (390 F) on convection.

---

Wash, dry and put the cherry tomatoes in an ovenproof dish. Bake in the preheated oven on 200c (350 F) in the middle of the oven on convection for about 30 minutes, or until they look slightly charred.

---

Boil water in a bowl and salt it slightly, when fully bubbling boiling add in the pasta. Cook until al dente, do not over boil it.

---

Right before the pasta is done cooking prepare the pan.

---

Peel and finely slice the garlic. Add to the pan with the olive oil, salt, pepper, cayenne and chili flakes. Turn the heat to medium. You don't want the oil to fry the garlic, just slighty heat the oil to infuse it with the chili and garlic. Just about 1-2 minutes of slight simmering without browning the garlic.

---

When the pasta is al dente turn off the heat but do not strain it, you want to preserve the starchy pasta water to thicken the viscosity of the sauce and prevent it to be oily and thin, but get an oily thick and creamy sauce.

---

Use a spider or a tong to lift the pasta directly from the pot to the pan, let some water drip off the pasta and put in the pan slightly wet. Do this with all the pasta.

---

Finely chop the parsley and add to the pan as well. Stir the pasta around on very low heat and see the oil thicken. If still too thin in texture or too dry and not saucy, add a little bit of pasta water at the time and stir to thicken the texture and get it creamy.

---

Take out the cherry tomatoes of the oven. Divide the pasta evenly into two dishes, top it with the roasted cherry tomatoes, fresh basil, another drizzle of olive oil and some Vegan Parmesan Sprinkle. Serve straight away when warm.
---
Enjoy !
---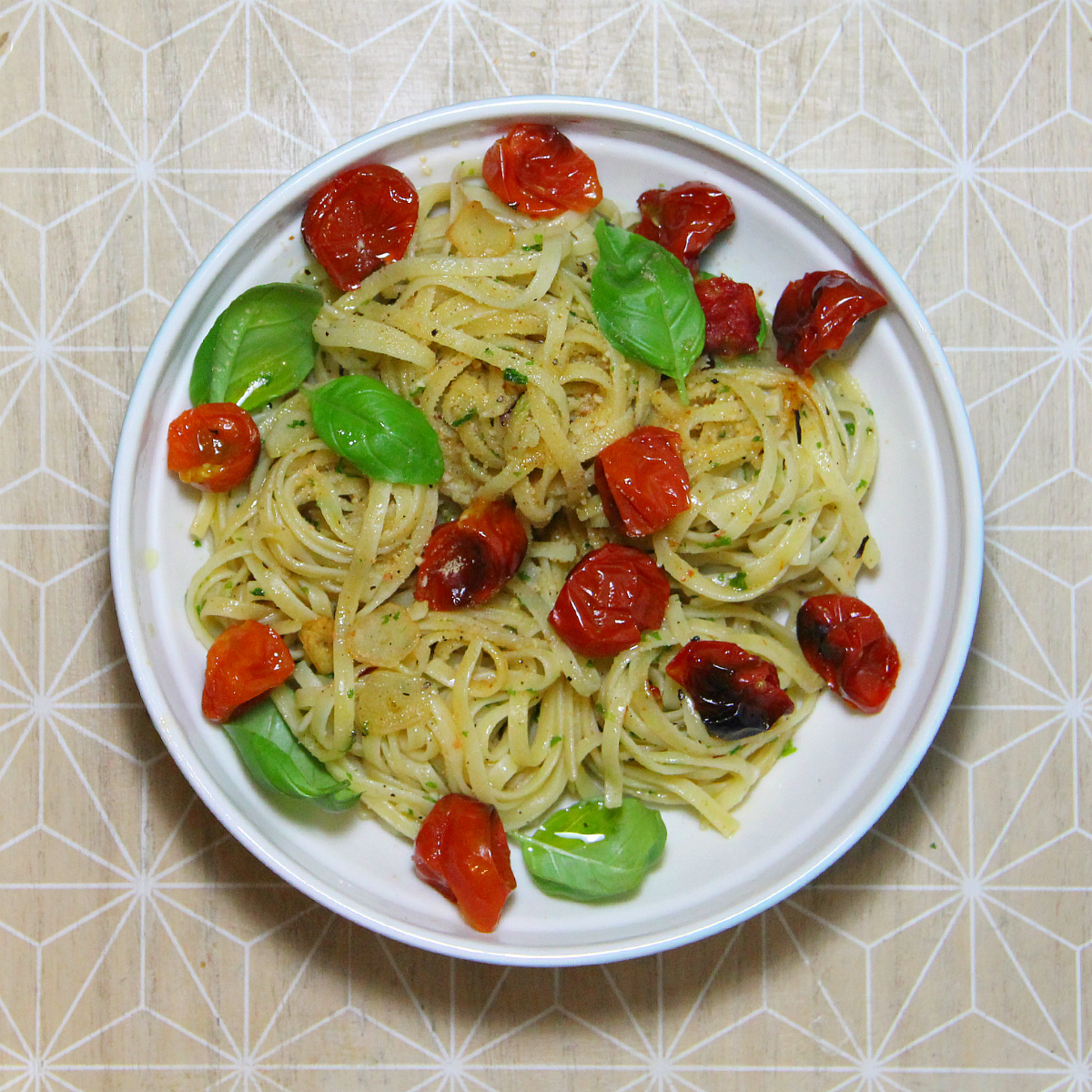 ---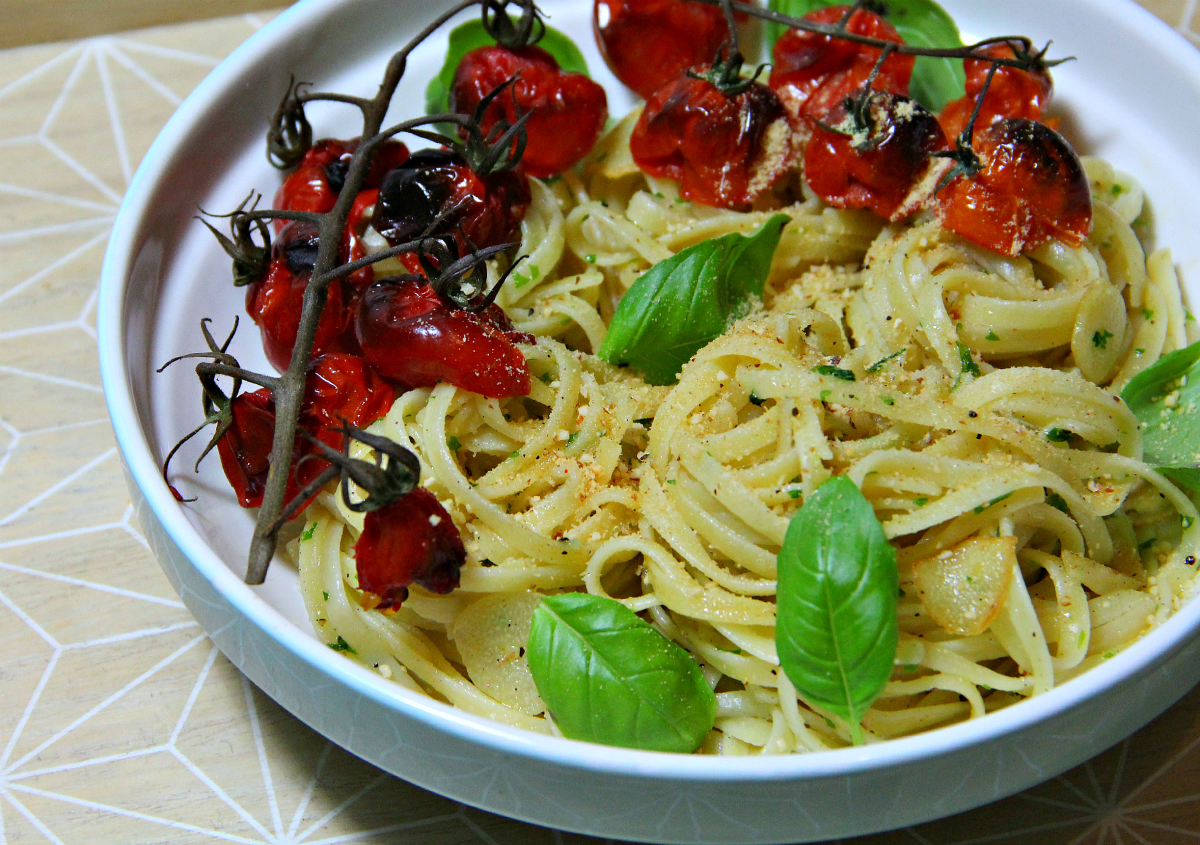 ---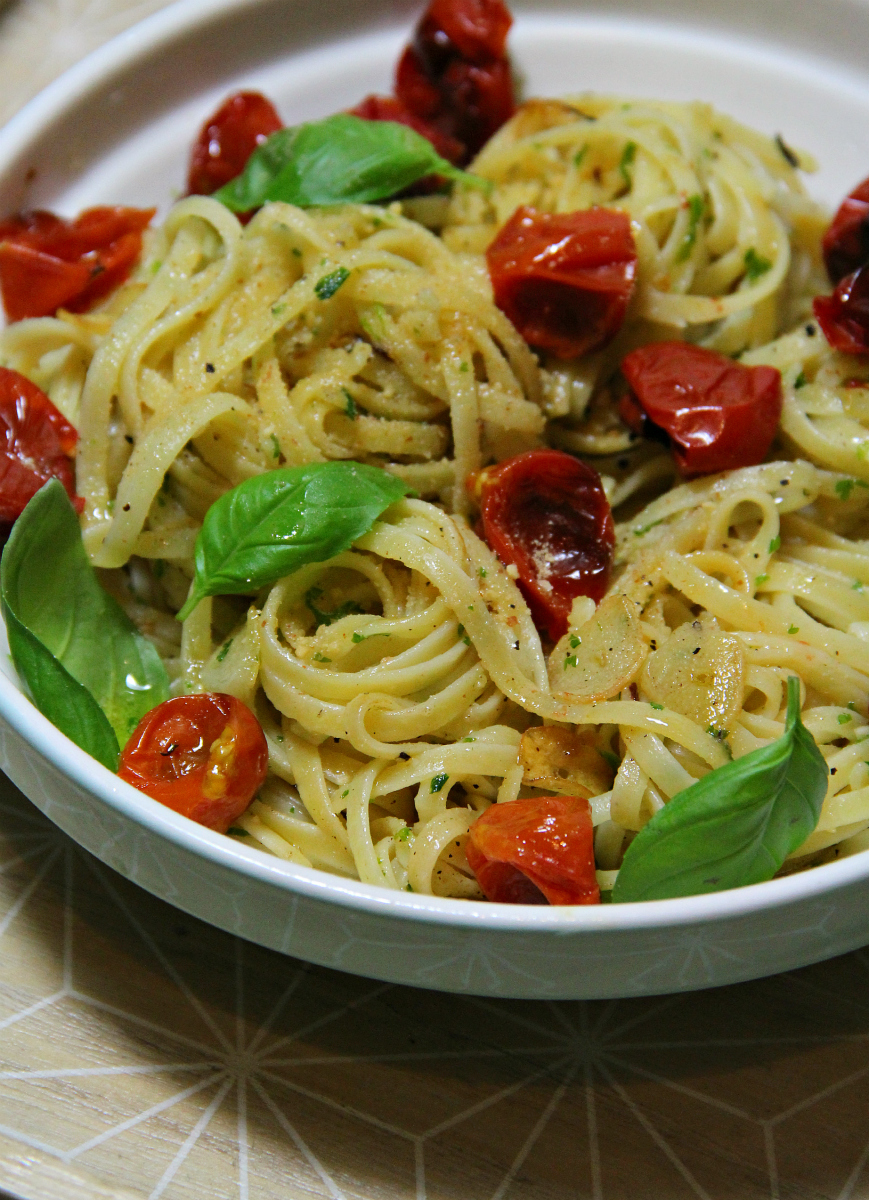 ---