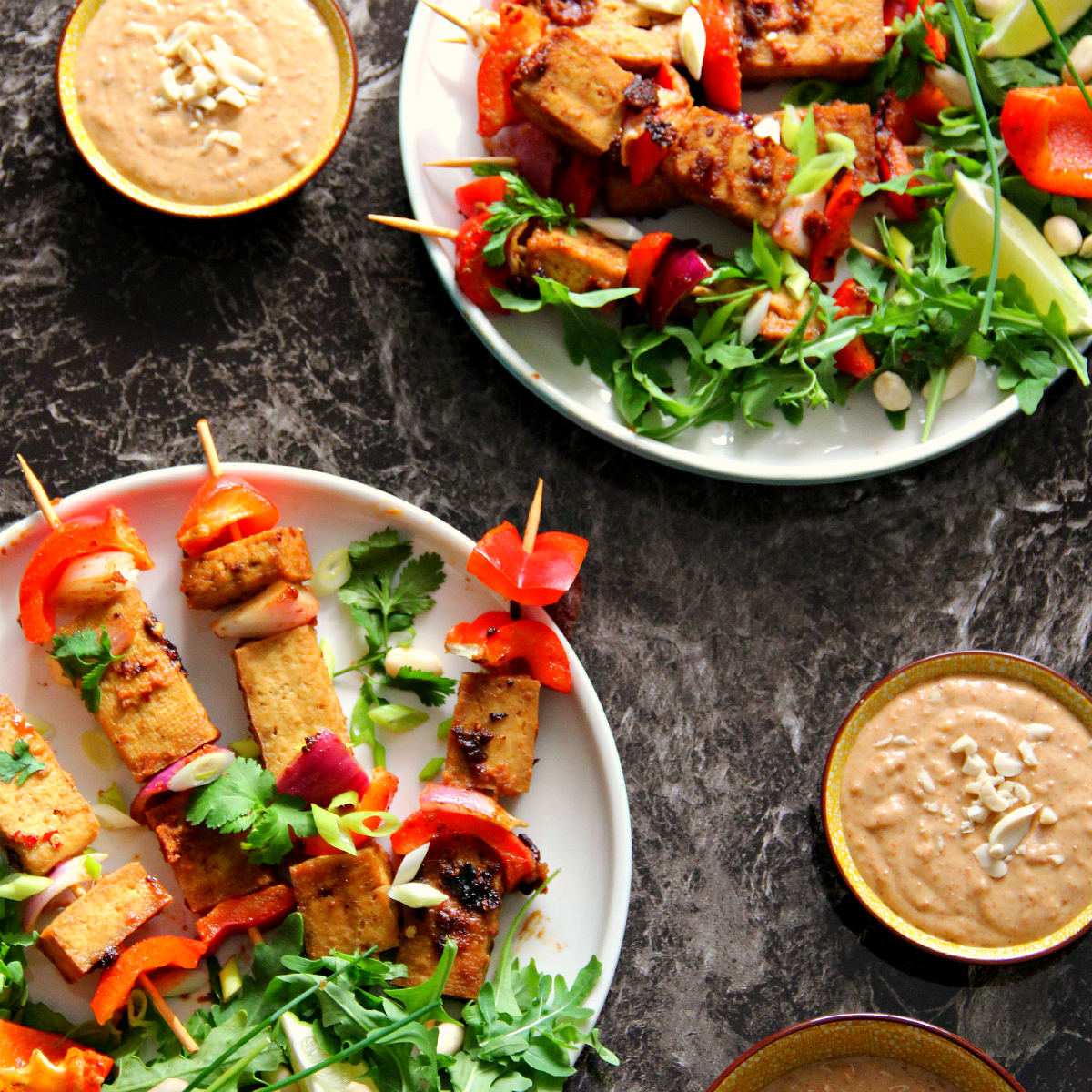 ---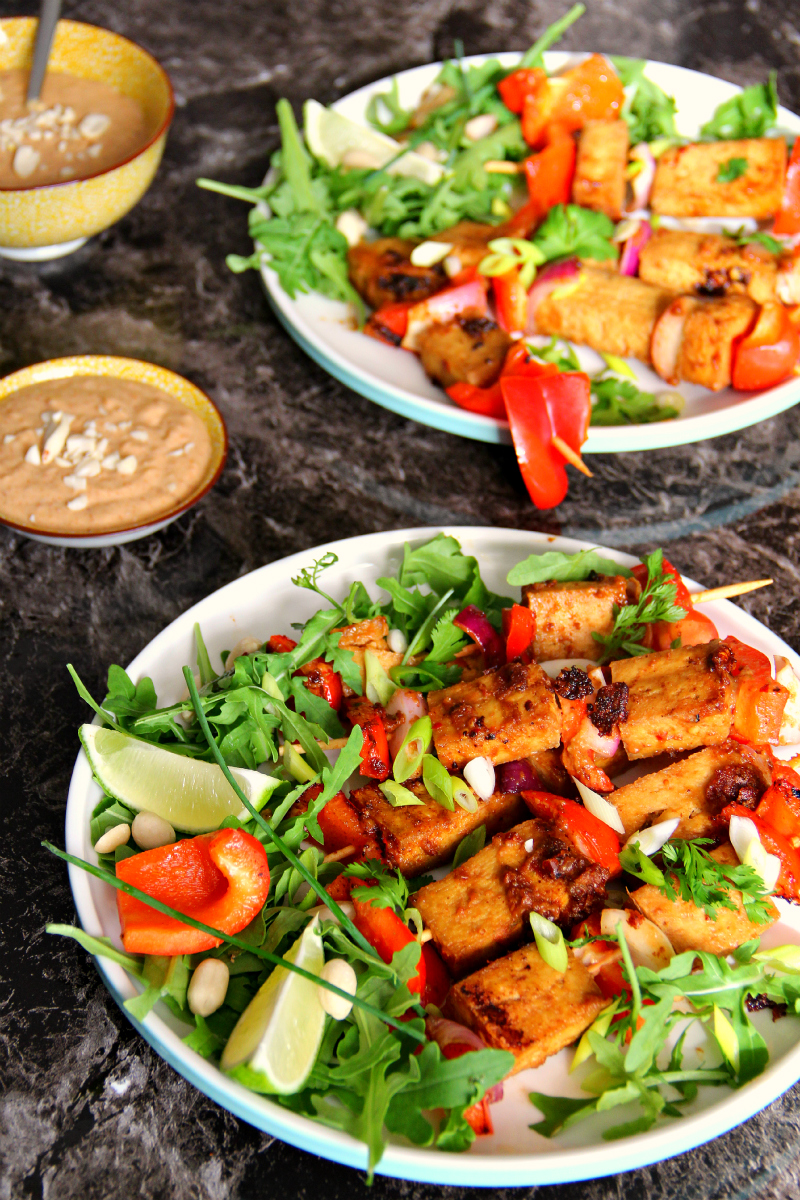 ---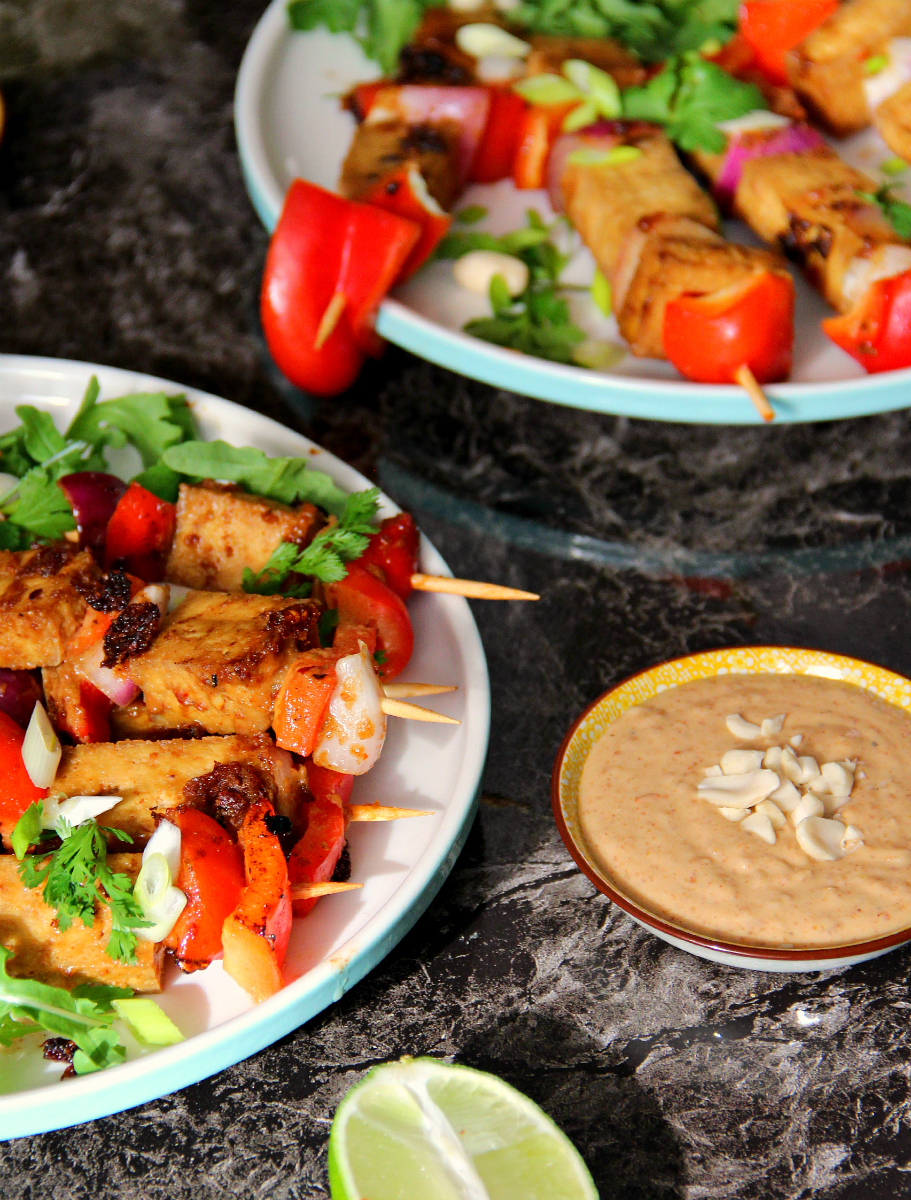 ---
This is my vegan take on the traditional Indonesian Satay. Normally it would be made with various kinds of meats, but of course here substituted with tofu.
The marinade is so delicious it could very well be used as a dipping sauce for anything else, but here given loads of flavour to the pre-baked tofu. Then Put on grill sticks with bell pepper and red onion for a pop of colour and extra flavour.
The dipping sauce is a coconut peanut sauce with a hint if chilli, soy sauce and lime, which is the most traditional dip for this type of dish. Optionally this can be served with various of other side dishes for a grill night to serve more people, or here served with some greens on the side to serve 2 people.
My husbands comment on this: we could get more sticks with just a few more veggies ! True, so if you wanna serve a main for 4 people, add some more veggies of choice and make twice as many sticks ! Also he said, this recipe is a total keeper ! So sweet !
The tofu can easely be prepared in advance, and then you just take the marinated tofu, sticks and vegetables with you whereever you want to grill it.
---
Serves 4 as side dish / 2 as main course with a side
---
Ingredients
---
Satay
---
500g firm tofu (17.6 oz)

1 red bell pepper

1 small red onion

Oil as needed for pan grilling
---
Marinade
---
60ml soy sauce (1/4 cup)

60ml water (1/4 cup)

2 tablespoons peanut butter

1 tablespoon granulated sugar

½ a teaspoon chili flakes

1/4 teaspoon ground ginger

1/4 teaspoon garlic powder

Juice from ½ a lime

Zest from ½ a lime
---
Peanut coconut dipping sauce
---
60ml full fat coconut milk (¼ cup)

60ml peanut butter (¼ cup)

1 garlic cloves (or to taste)

½ tablespoon soy sauce

¼ teaspoon chilli flakes

Lime juice to taste

Pepper to taste
---
Garnish (optional)
---
Spring onion

Cilantro

Salad greens

Lime wedges

Chopped peanut sprinkle
---
What you will need
---
Cutting board and knife

1 oven rack + baking paper

1 tight lid storage box for marinading

Measuring spoons

1 small bowl for dip

Grill sticks as needed (depends on size)

1 grill pan or grill
---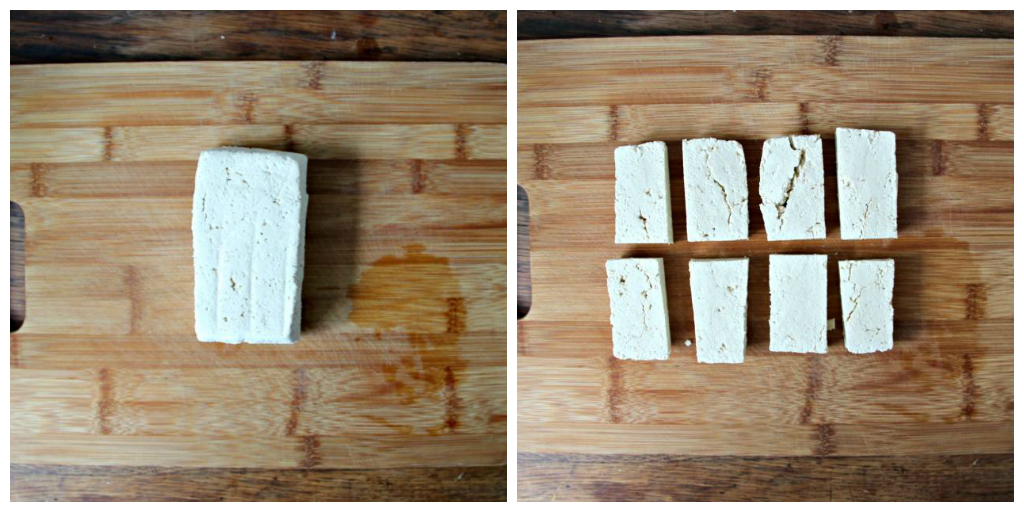 ---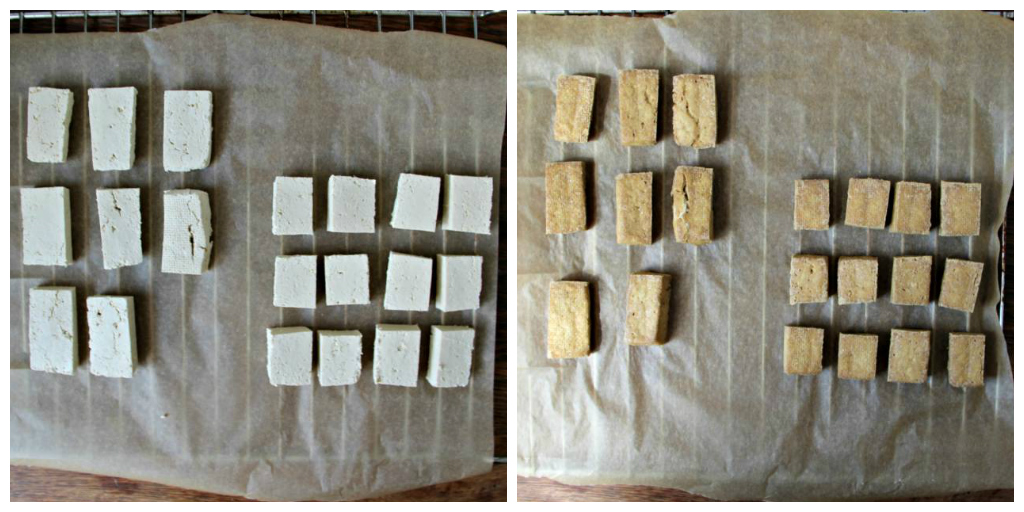 ---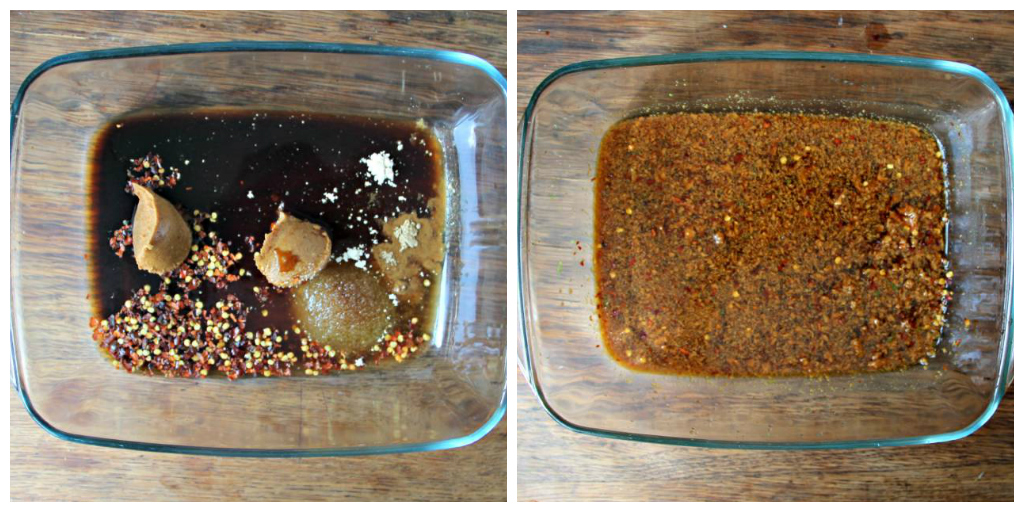 ---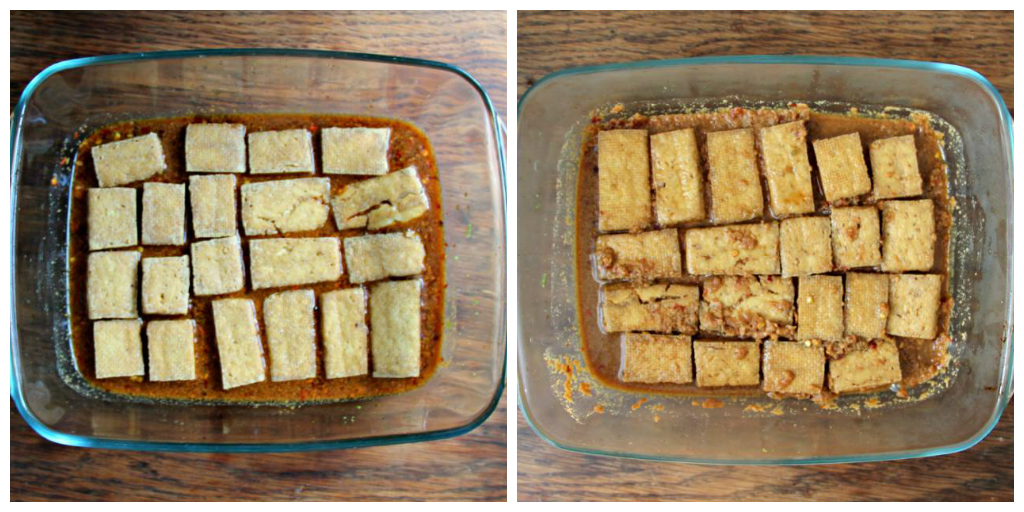 ---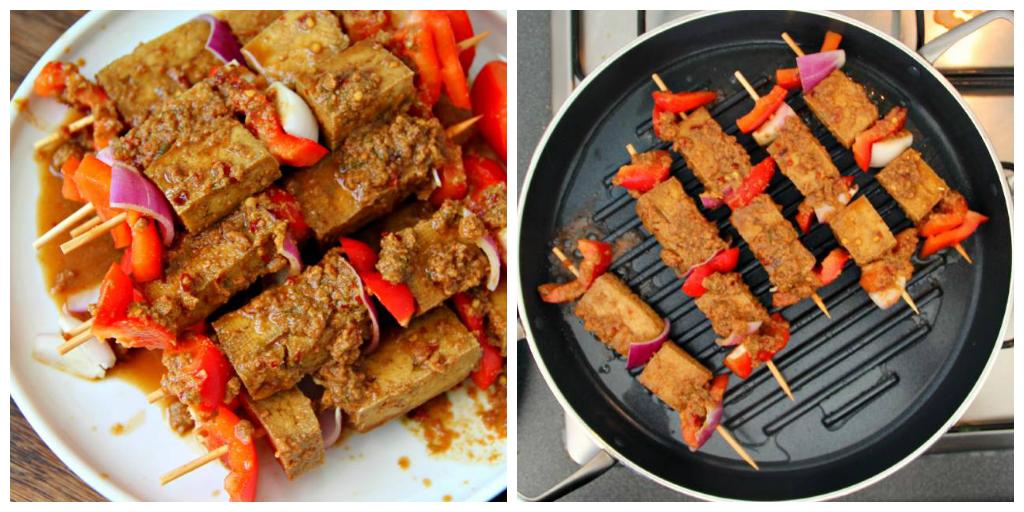 ---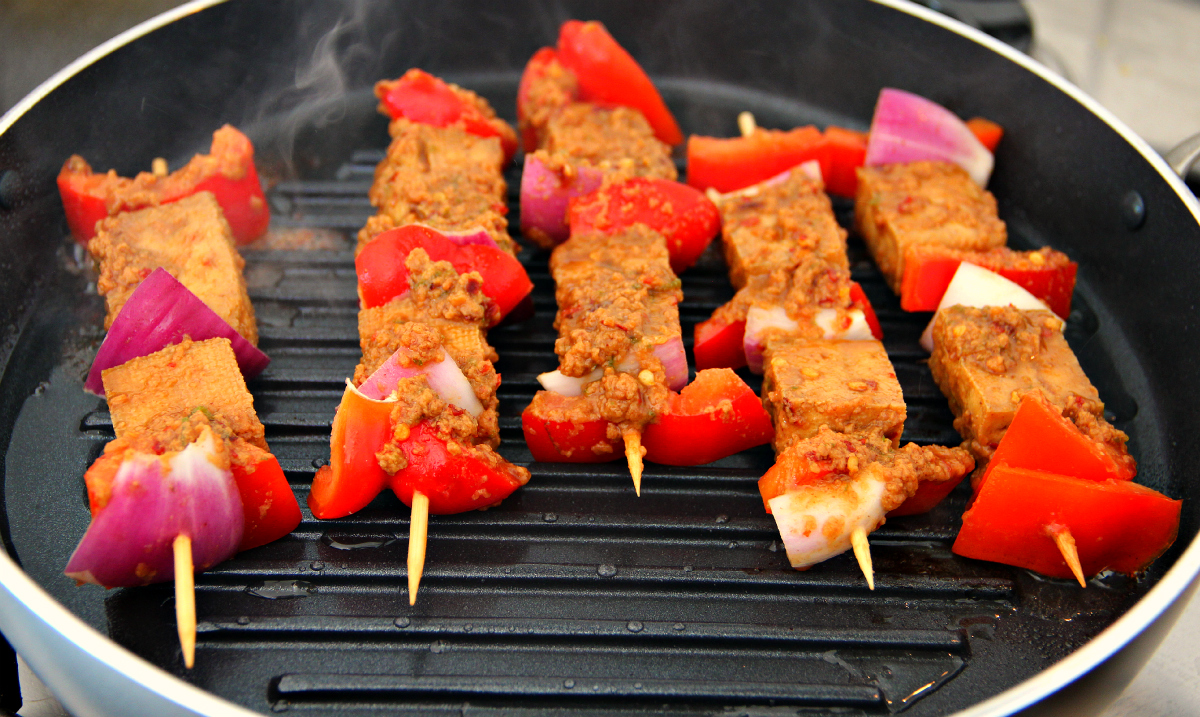 ---
Instructions
---
(optional) Drain the tofu well, bag it and freeze overnight. Thaw in the morning in the fridge. Drain again well in the evening when thawed, much more liquid will come out this time. The tofu becomes much fluffier this way, and soaks marinade better.

---

Preheat the oven to 180c (350 F).

---

Chop each block of tofu into 8 or 12 evenly sized cubes, I did both to get different sized on the skewers.

---

Place the tofu on an oven rack with baking paper. Bake in a preheated oven at 180c (350 F) in the middle of the oven on normal setting for about 35 minutes, take out halfway through the bake time and flip and finish baking. Take out when they look like pictured above.

---

Find a tight lid storage that would fit all the tofu. Make the marinade in that. Place in the tofu. Cover and let marinade in the fridge for at least 2 hours. Meanwhile prepare the dipping sauce.

---

Measure all the ingredients into a bowl, mix well and refrigerate until use.

---

Peel and roughly chop the red onion into big enough chunks to be put on a stick. Deseed the bell pepper and cut into big chunks.

---

On the grill sticks use tofu, red onion and bell pepper in an order you like. Use all the tofu and as much bell pepper and red onion as desired until all the tofu is used.

---

Lightly oil a grill pan and turn the heat on high. When hot place as many satay sticks as you can, grill evenly on medium to high heat on all four sides, until they are warm. Continue to do so until all sticks are grilled.

---

Serve with a sprinkle of chopped peanuts, some salad greens, lime wedges and the peanut dipping on the side.

---

Tip. If the skewers are too difficult to fully cover in the dip, just take a spoon and slather it on there generously, the more the merrier !
---
Enjoy !
---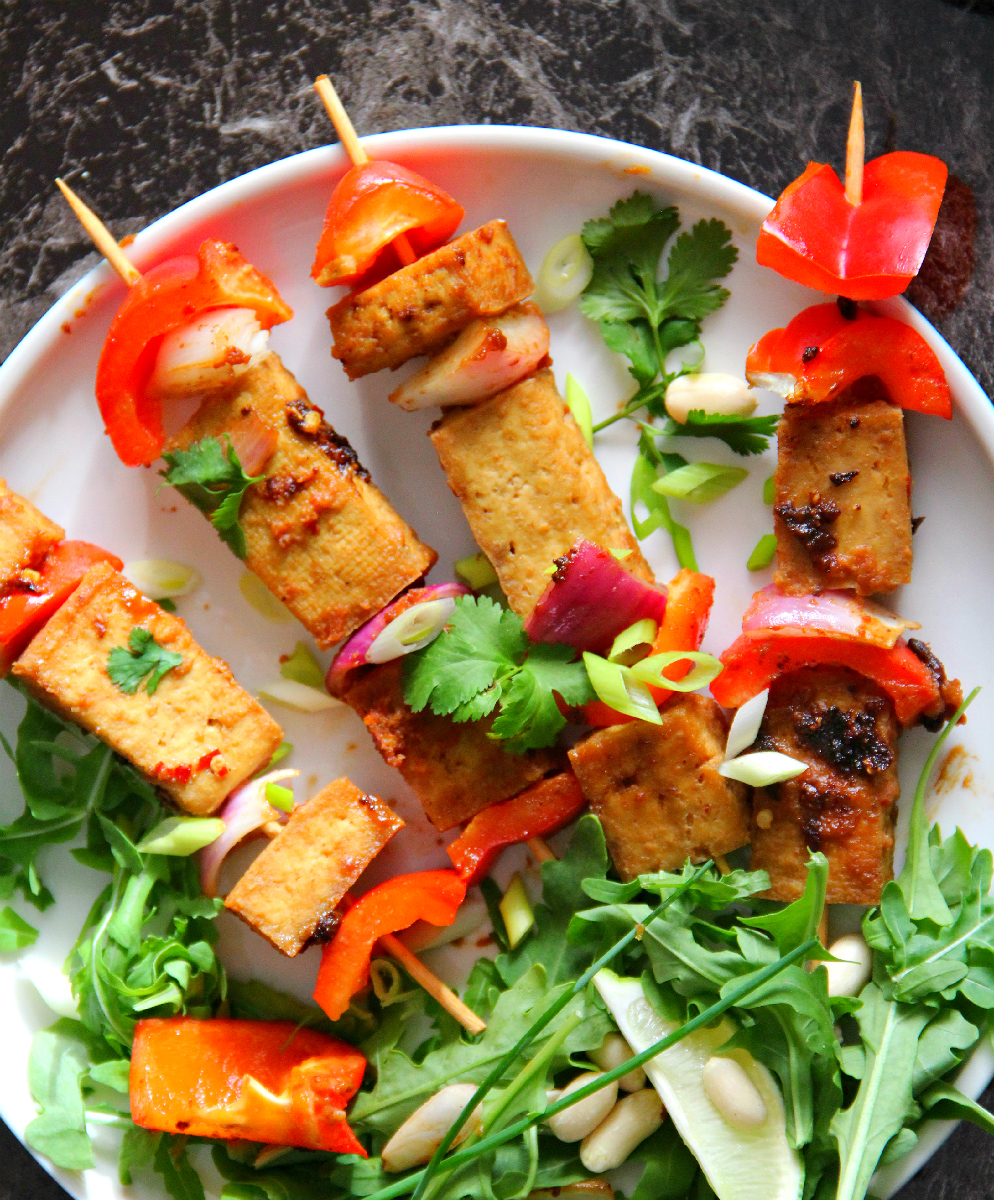 ---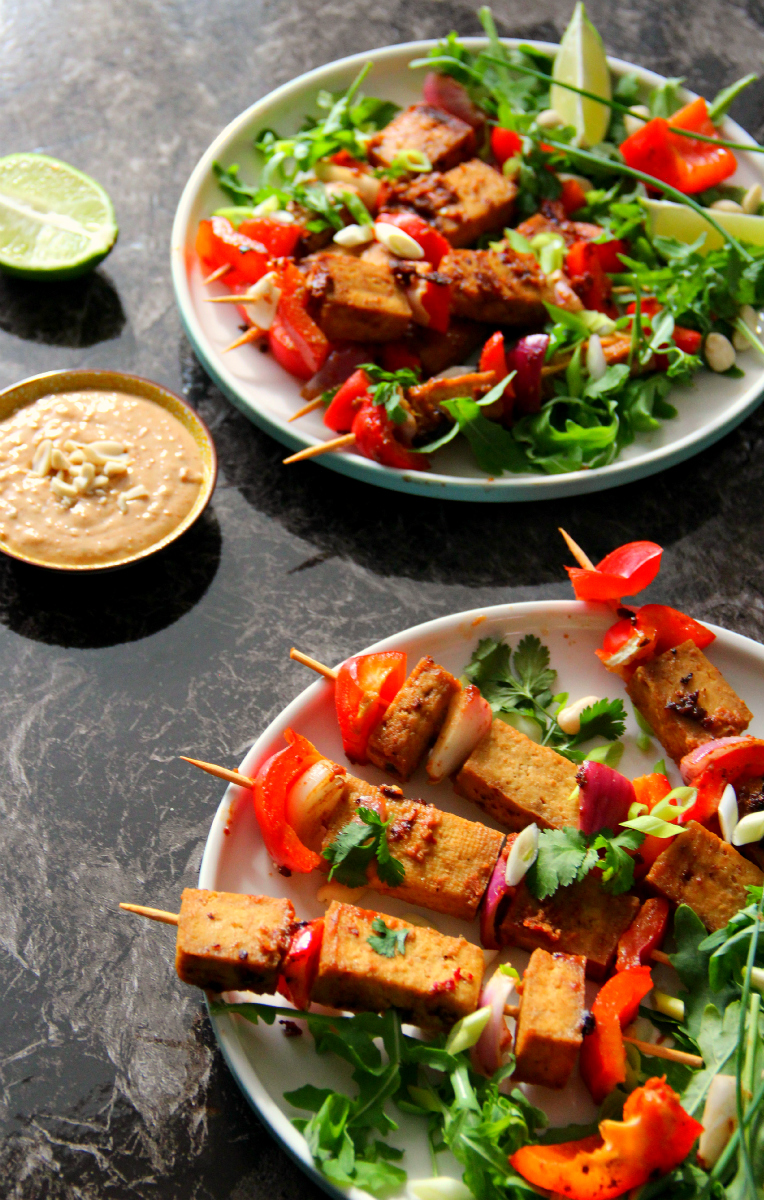 ---