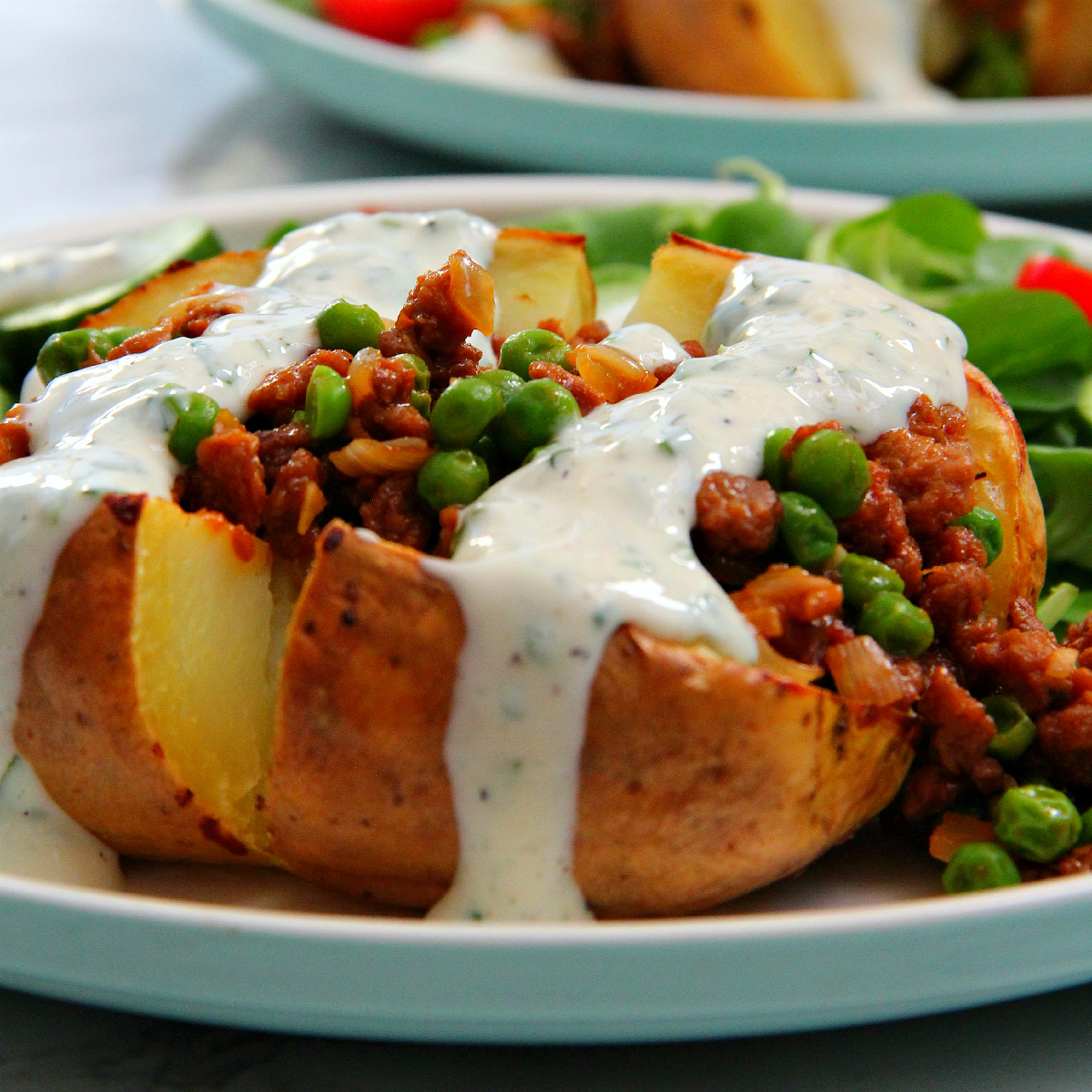 ---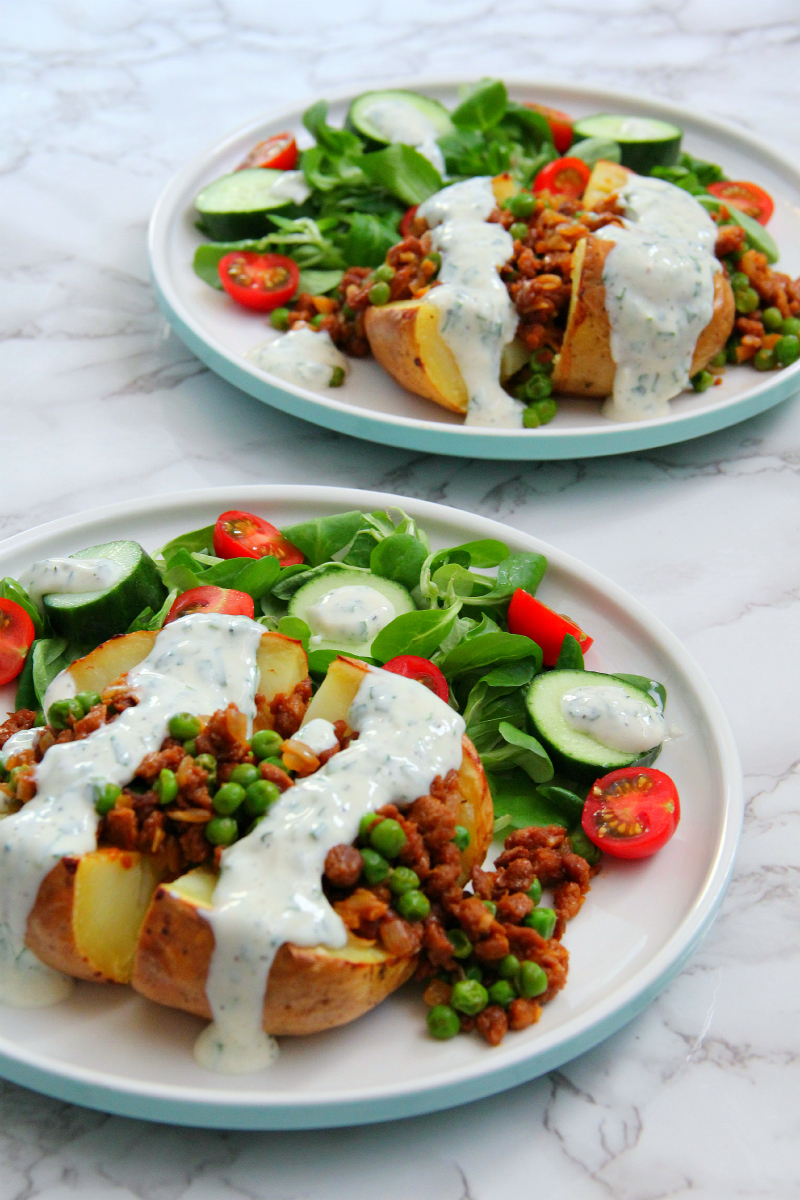 ---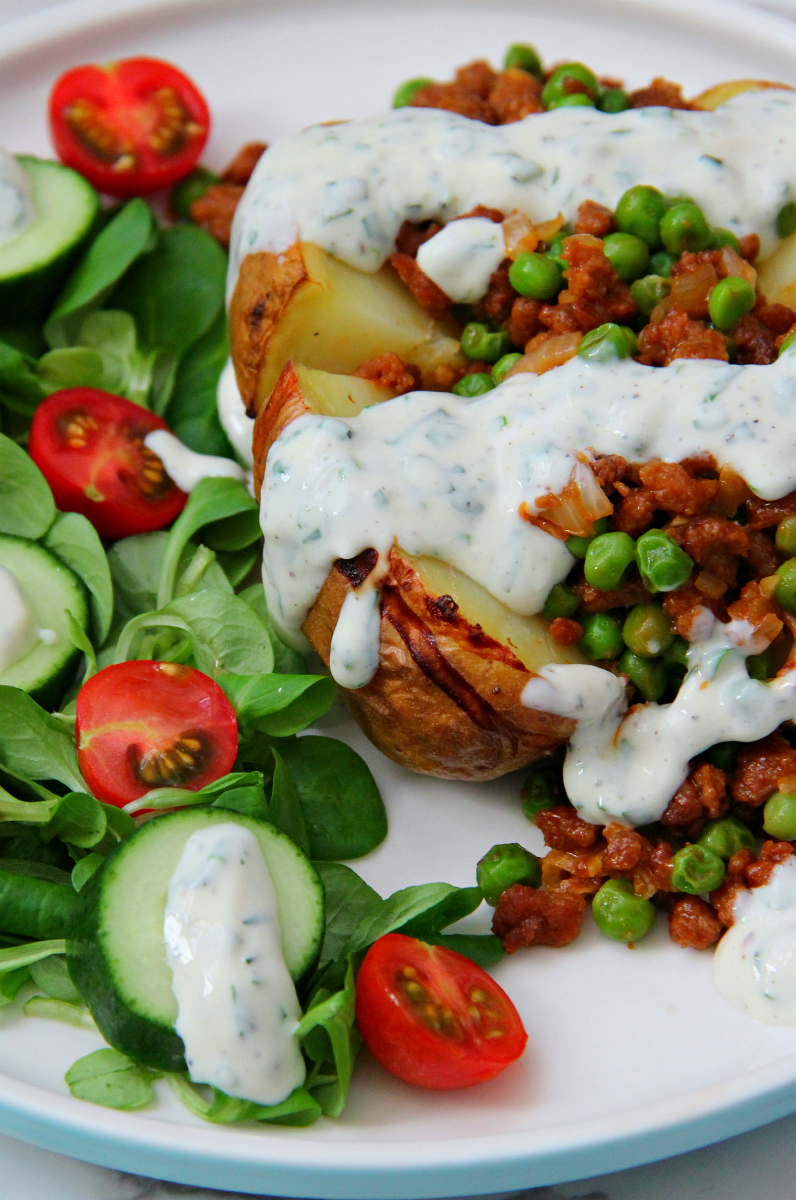 ---
Yeah, you actually don´t need tinfoil / aluminium foil to bake potatoes. Shocking right?
I tend to steer away from using that, at least with cooking hot meals, I only use it to cover cold food for the fridge (if I have no other option). It´s a personal preference though, and I think foil is only needed in restaurants where you need to keep the potatoes warm for longer periods of time, and the foil helps maintain heat AFTER the baking. During baking time the foil would just trap moisture from the potatoes and you would not get that crisp of an exterior.
These potatoes are crisp on the outside with a fluffy interior, then filled with a deliciously marinated soy mince with green peas and then drizzled with a herbal yogurt dressing. A side of salad is a great addition to this, to have something warm and something cold on the plate, and something fresh and something cooked. Balance you know..!
---
Serves 4 with a salad on the side
---
Ingredients
---
Baked potatoes
---
4 x big Russet baking potatoes, roughly 250-300g / 9-10.5 oz each

1 tablespoon canola oil

Salt and pepper for after the baking
---
Soy mince mix and marinade
---
180g ready made unmarinated soy mince (6.4 oz)

2.5 dl frozen green peas (1 cup)

1 small yellow onion

2 garlic cloves

60ml water (1/4 cup)

1 tablespoon ketchup

1 teaspoon dried vegetable stock

1 teaspoon soy sauce
---
Herbal yogurt dressing
---
2.5 dl Greek style vegan yogurt (1 cup)

1 grated raw garlic clove

2 tablespoons freshly chopped basil

2 tablespoons freshly chopped parsley

1 tablespoon freshly chopped chives

1 tablespoon lemon juice

1 tablespoon agave syrup

Salt and pepper to taste
---
Sides (optional)
---
Salad greens

Cucumber

Cherry tomatoes
---
What you will need
---
Cutting broad and knife

1 ovenproof dish

1 pan + spoon to stir

1 measuring cup

Measuring spoons

1 bowl for dressing

1 grater
---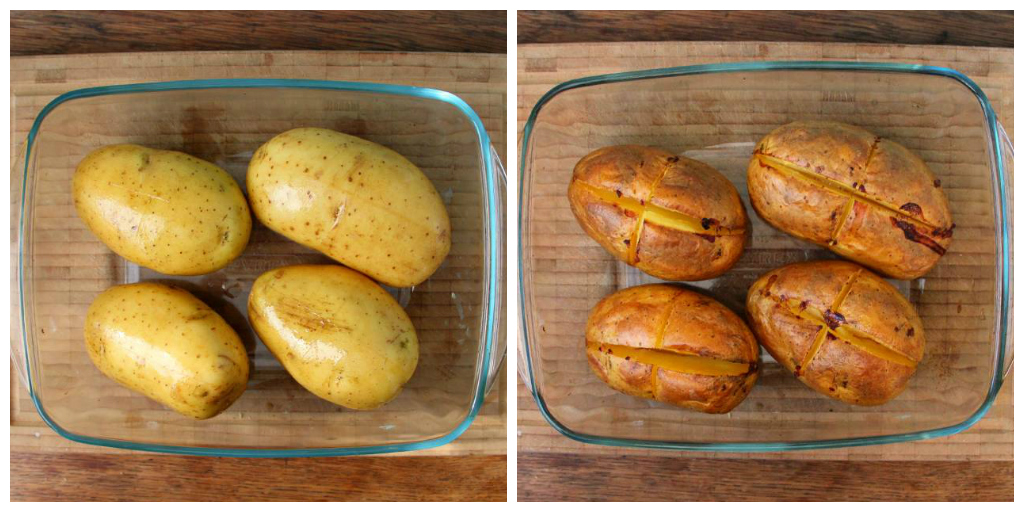 ---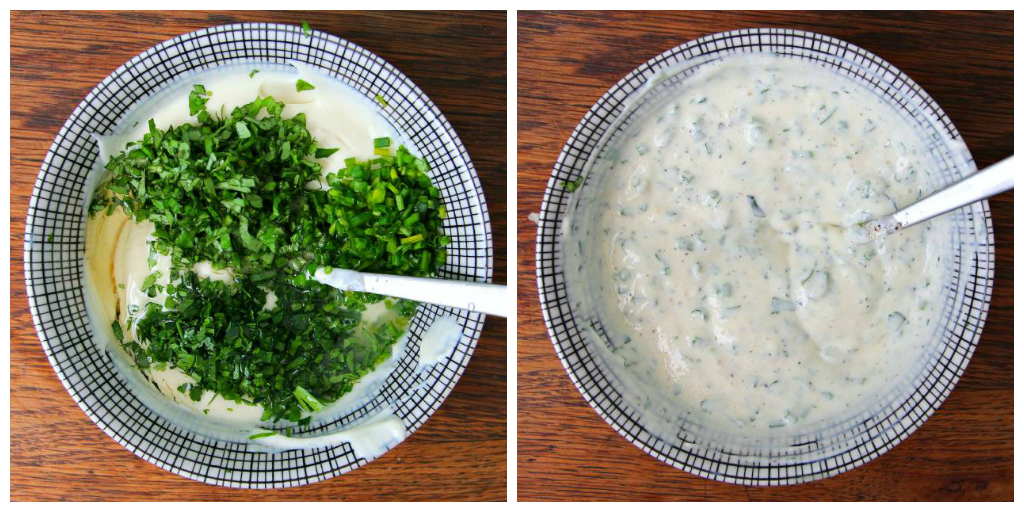 ---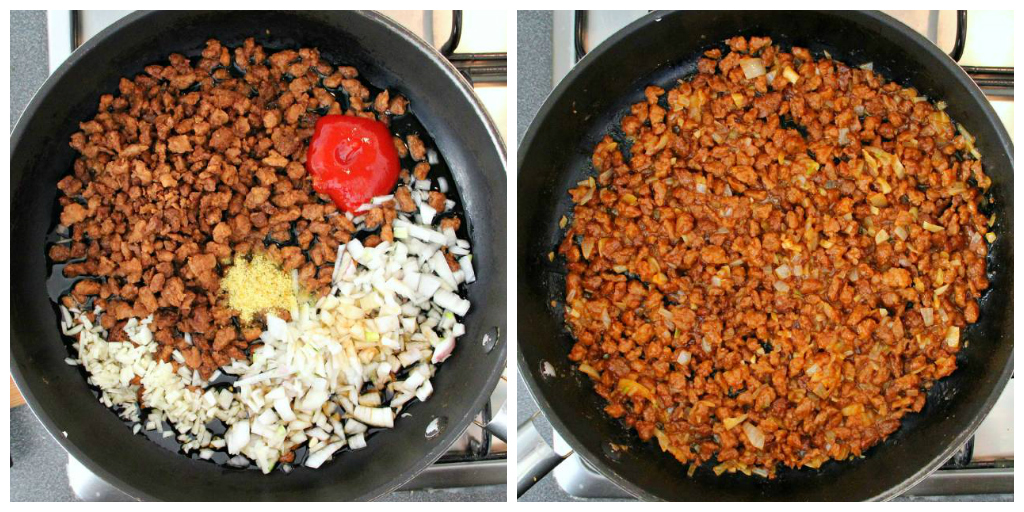 ---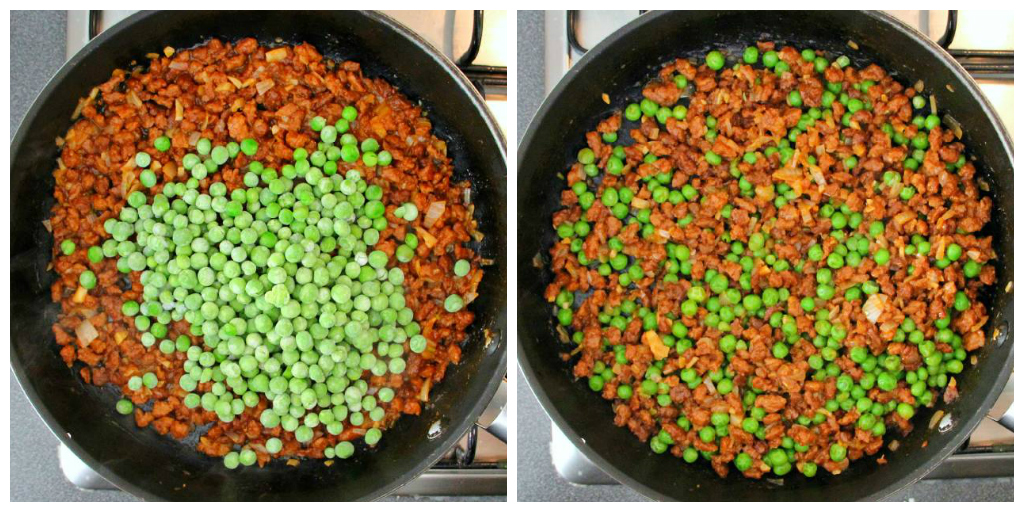 ---
Instructions
---
Preheat the oven to 175c (345 F).

---

Wash the potatoes and pat dry. Make a cross incision into each potato. Put into the ovenproof dish and cover them fully with canola oil.

---

Bake in a preheated oven at 175c (345 F), in the middle of the oven on normal setting for 1 hour and 30 minutes. Then crank the heat up to 200c (390 F) on convection setting and bake for another 30 minutes.

---

NOTE: Be aware that baking time can vary slightly depending on the size of the potatoes, if yours are smaller than what I used then use a little less baking time, if yours are bigger then bake for longer but check occasionally to see when they are ready. The cross section both helps if cook to the middle, not explode, and it´s also a great way to see if the middle is cooked and fluffy.

---

In a small bowl put in the Greek style vegan yogurt. Peel and grate the garlic clove, add in with all the chopped herbs, the lemon juice and agave. Mix well and add salt and pepper to taste. Depending on which vegan yogurt you used, you might want to thin it down, I had to, so just add a tablespoon or two of water until desired texture, if needed. Cover and refrigerate until use.

---

About 15 minutes before the potatoes are done baking prepare the soy mince filling. Peel and finely chop the yellow onion and garlic, add to the pot with the mince, water, ketchup, soy sauce and dried vegetable stock. Turn heat on medium high, stirring occasionally.

---

The soy mince is done once the liquid have been absorbed and evaporated and the mince looks sticky. Then add in the frozen peas. Heat until the peas are fully warm and bright green. Set aside.

---

Take out the baked potatoes once done baking, then put on a serving plate and break open at the cross section (its HOT, be careful). Add salt and pepper to taste on the potatoes. Add in the soy mince pea mixture evenly into all of the potatoes. Drizzle with the herbal yogurt dressing and serve with an optional side of salad.
---
Enjoy !
---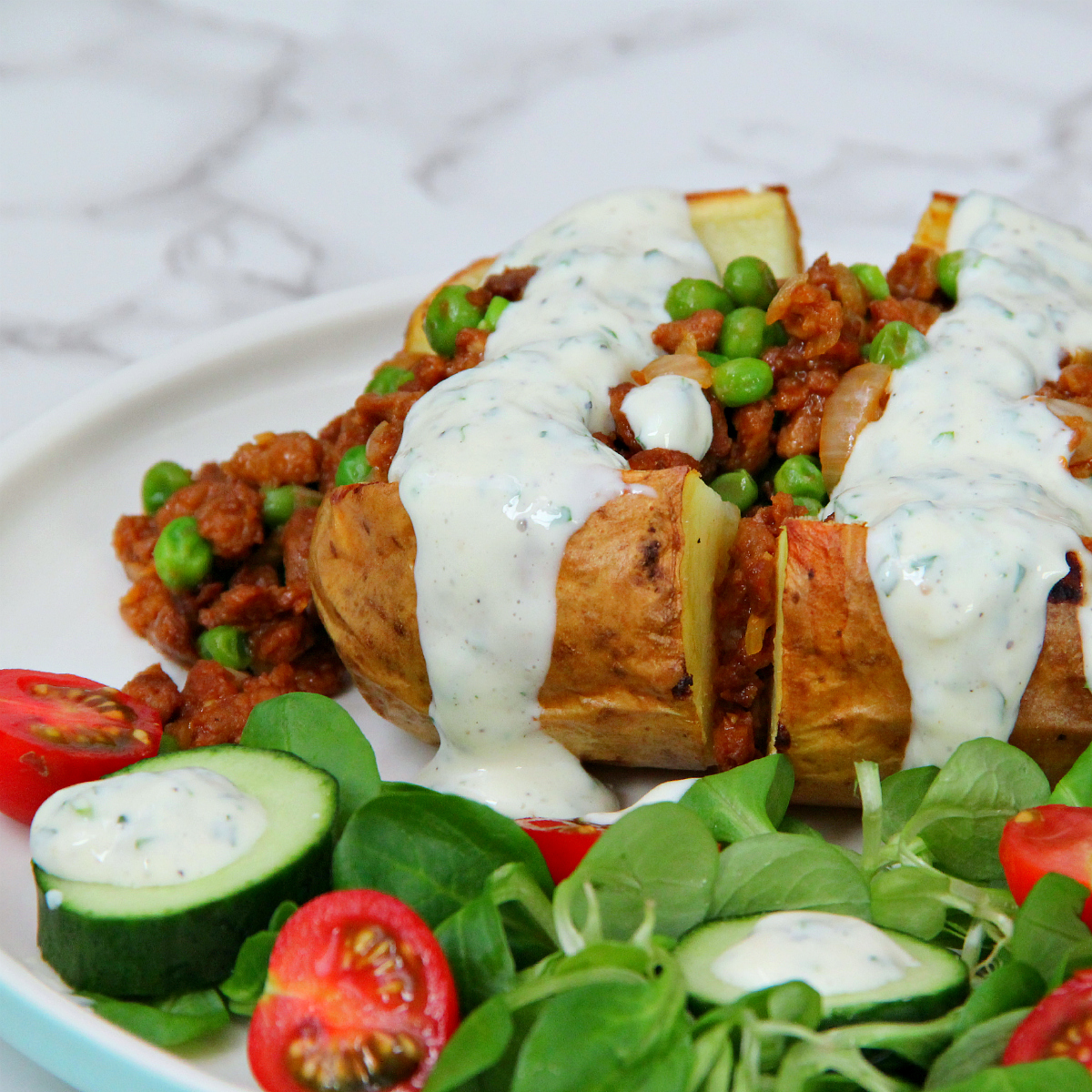 ---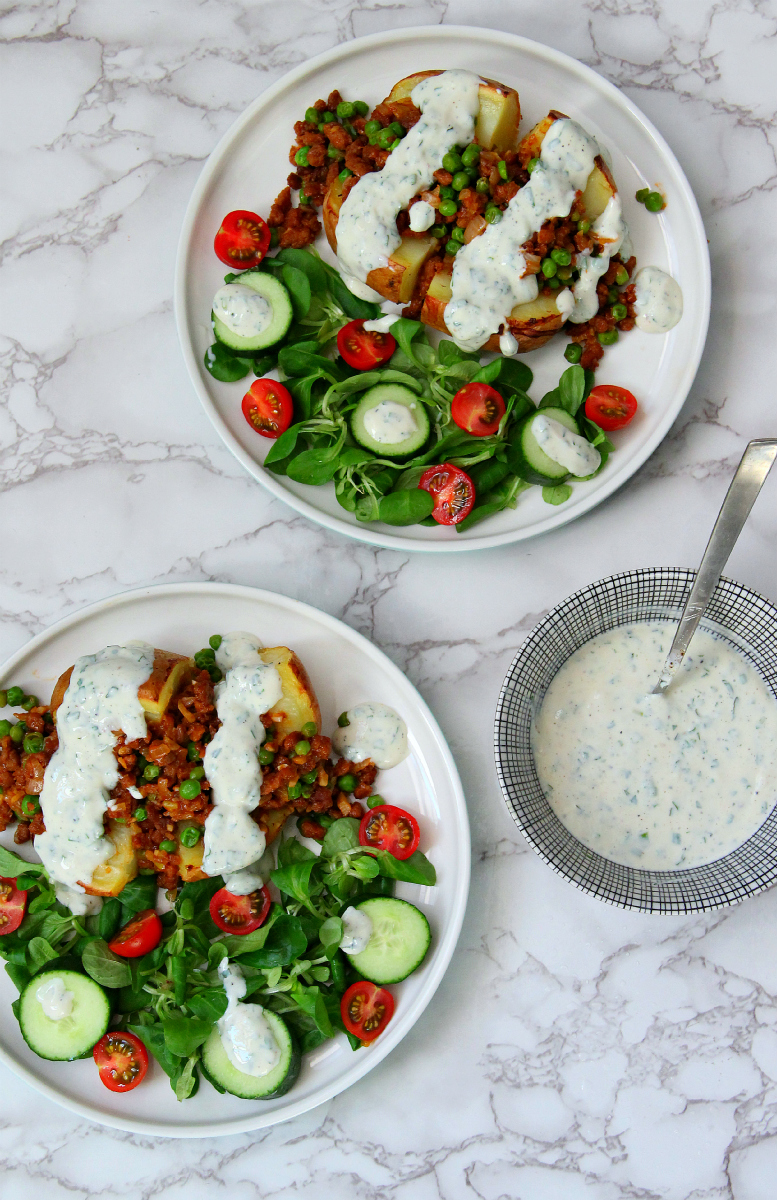 ---