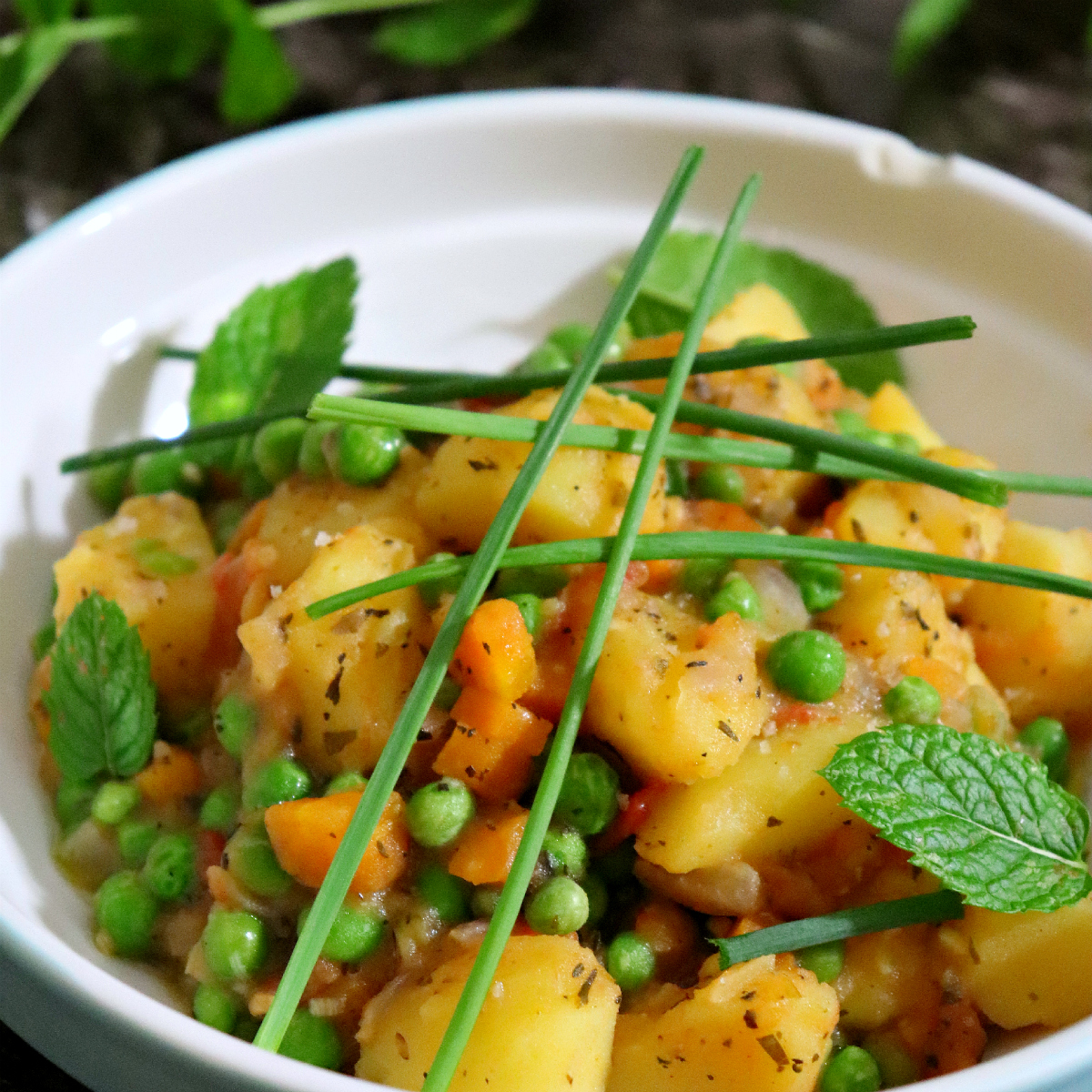 ---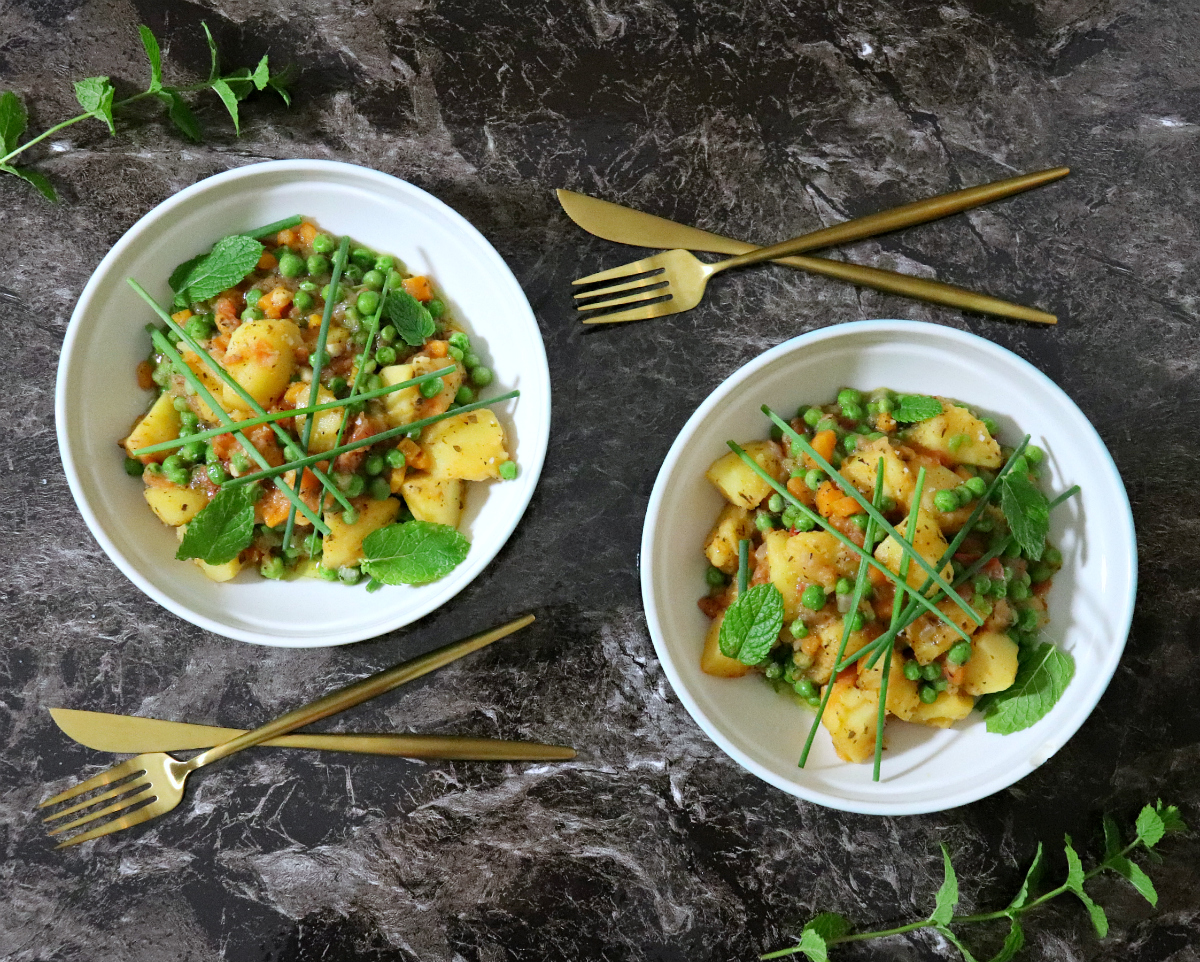 ---
---
So simple and easy to make, but sooo much flavour ! Laderos (also called latheros) is a traditional Greek dish where the only fat in the cooking comes from olive oil. The olive oil brings good flavour to the dish, so its important to use a good fruity extra virgin olive oil.
This is a very herbal potato and pea stew, cooked in olive oil and tomato, with some flavour from onion and garlic, but its mostly very herbal. You might think its a bit odd to add mint into an evening dinner, but its actually a great addition to the other herbs and brings a fresh lightness to the dish, which does not come across as minty at all when you first taste it.
Oregano and mint is two very traditional Greek herbs that I chose to use in this dish, which normally uses dill, but as I just cannot stand to be near that vicious herb, so I naturally left it out. Feel free to add it if you like though, but without it its just as delicious and super herbal !
---
Serves 4 as pictured or 3 big portions
---
Ingredients
---
1 kg potatoes

(2.2 lbs)

450 g frozen peas (15.9 oz)

450 g red ripe tomatoes

(15.9 oz)

2 carrots

1 red onion

4 garlic cloves

60 ml good quality fruity olive oil (1/4 cup)

2 teaspoons dried oregano

2 teaspoons freshly chopped mint

1 teaspoon dried thyme

1 teaspoon dried basil

1 teaspoon salt

½ teaspoon pepper

350 ml water (1½ cup)
---
Garnish (optional)
---
Freshly cut chives

Mint leaves

Sprinkle of rock salt

Drizzle of olive oil
---
What you will need
---
Cutting board and knife

1 vegetabel peeler

1 big pot and spoon to stir

1 measuring cup

Measuring spoons
---
---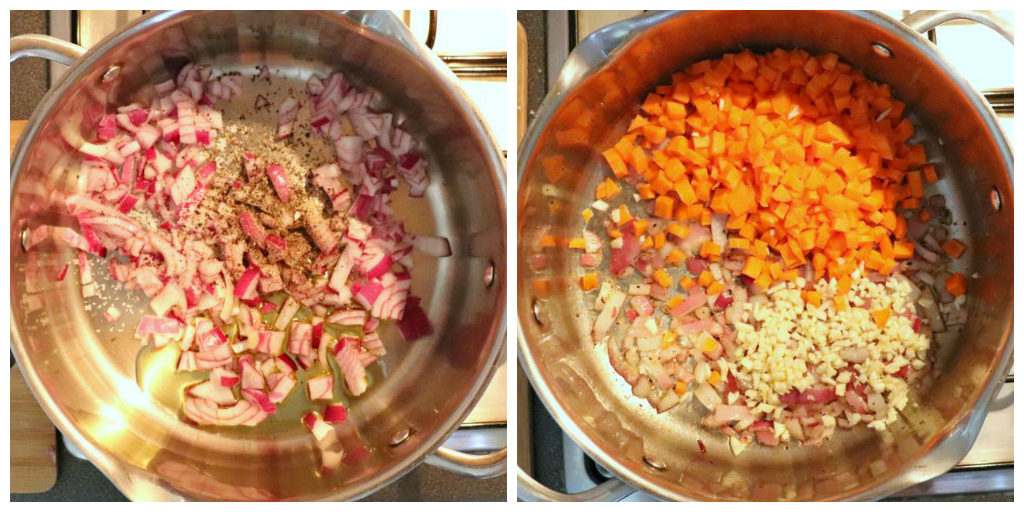 ---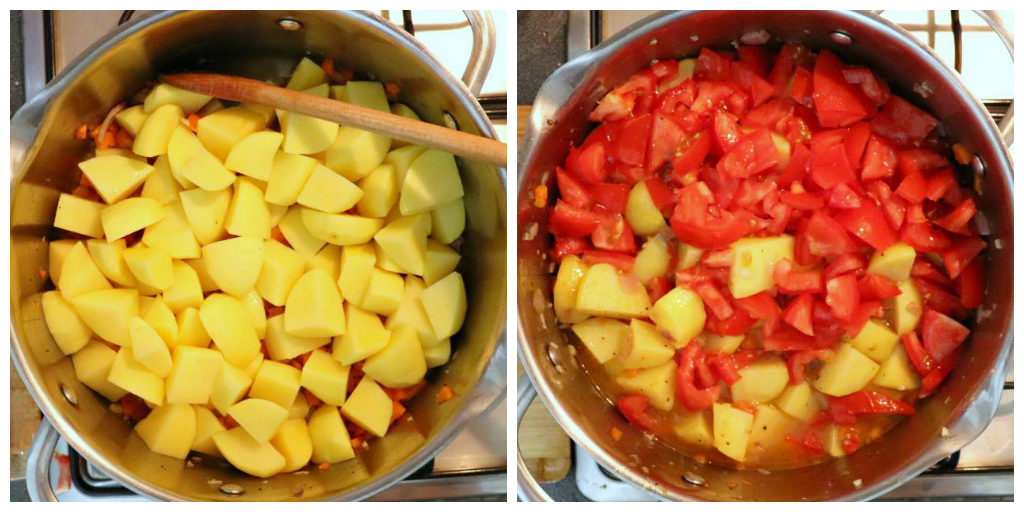 ---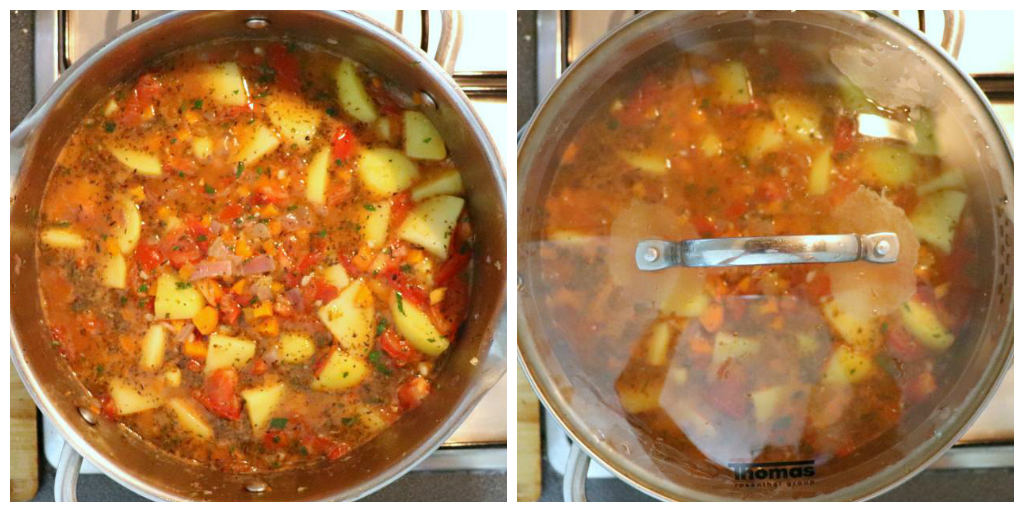 ---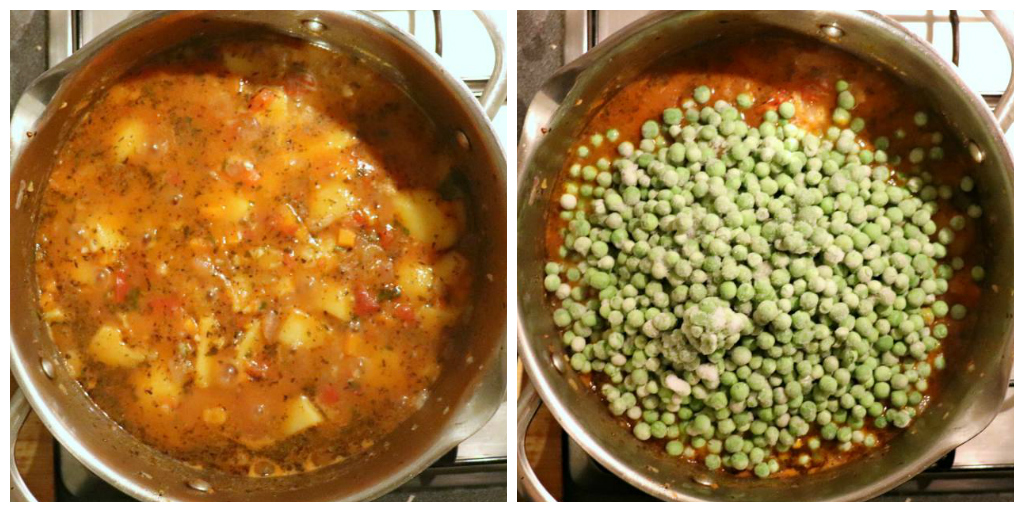 ---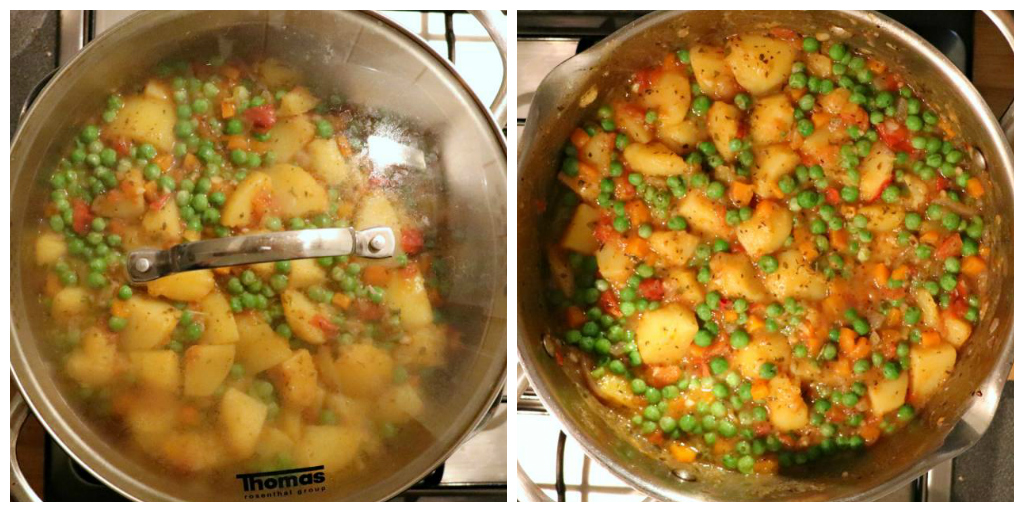 ---
Instructions
---
Peel the potatoes and wash them. Chop them into smaller chunks like pictured. Set aside.

---

Peel the carrots, chop the ends off and chop into small cubes. Set aside.

---

Peel and chop the red onion. Add to a big pot with the olive oil, salt and pepper. Turn heat to medium and soften for a 2-3 minutes. Then add in the carrots, soften for another minute.

---

Add in the potatoes and cook for about 5 minutes, stirring often.

---

Wash and chop the tomatoes, discarding the hard part where the stem was attached. Add the tomatoes to the pot with the water and all the herbs.

---

Bring to a simmer on medium heat with the lid on for about 10 minutes, stir and let simmer for about 20 minutes without the lid on, making sure the potatoes are covered by the liquid.

---

Add in the peas, stir and put lid on, leave for 2-3 minutes. Add salt and pepper to taste if needed.

---

Best eaten luke warm, so leave lid off and let cool down for a bit before eating. Can optionally also be eaten very hot. Garnish with fresh chives, mint, rock salt and olive oil.
---
Enjoy !
---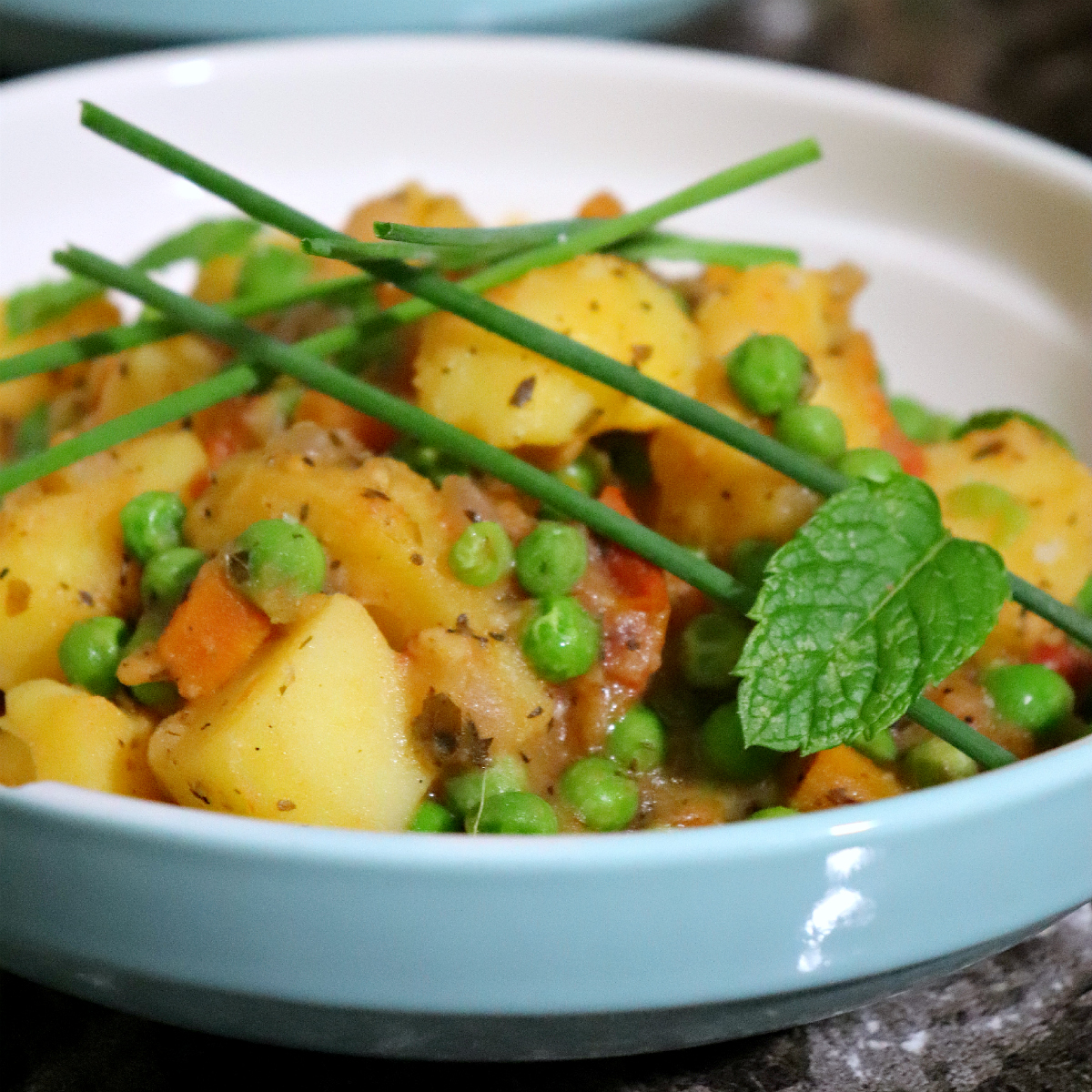 ---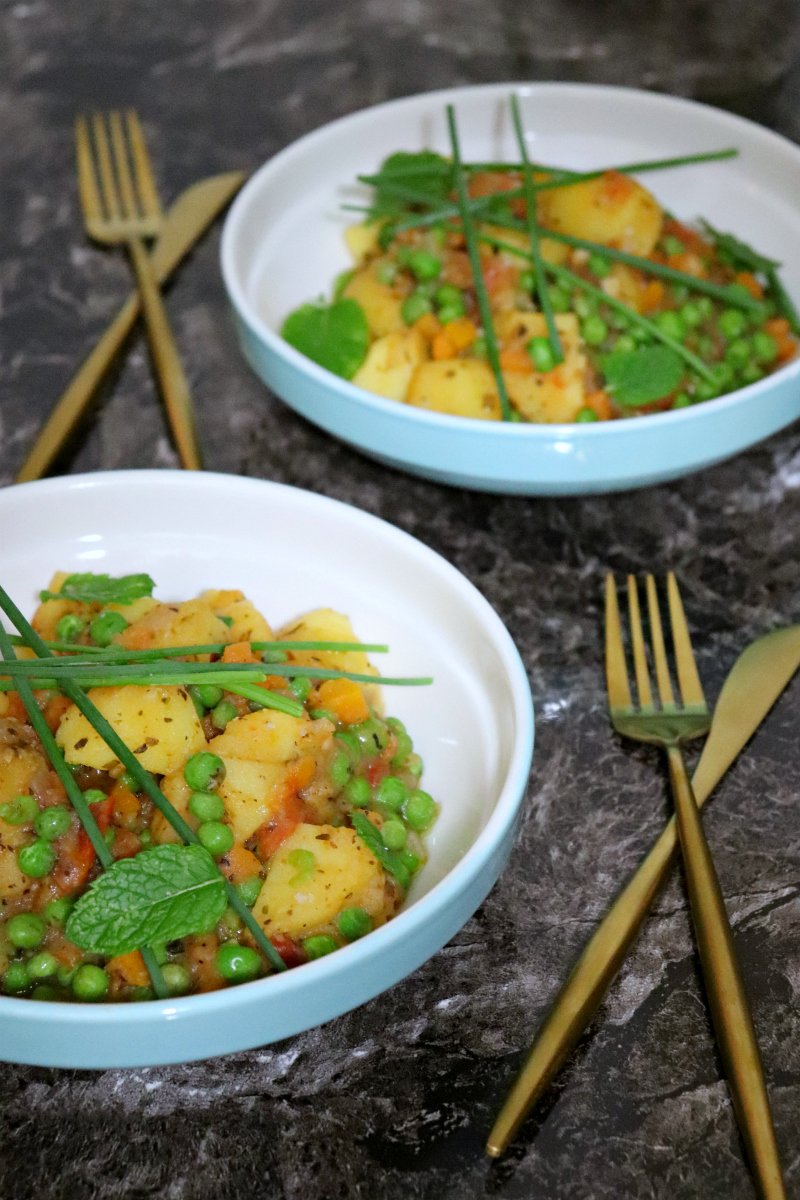 ---