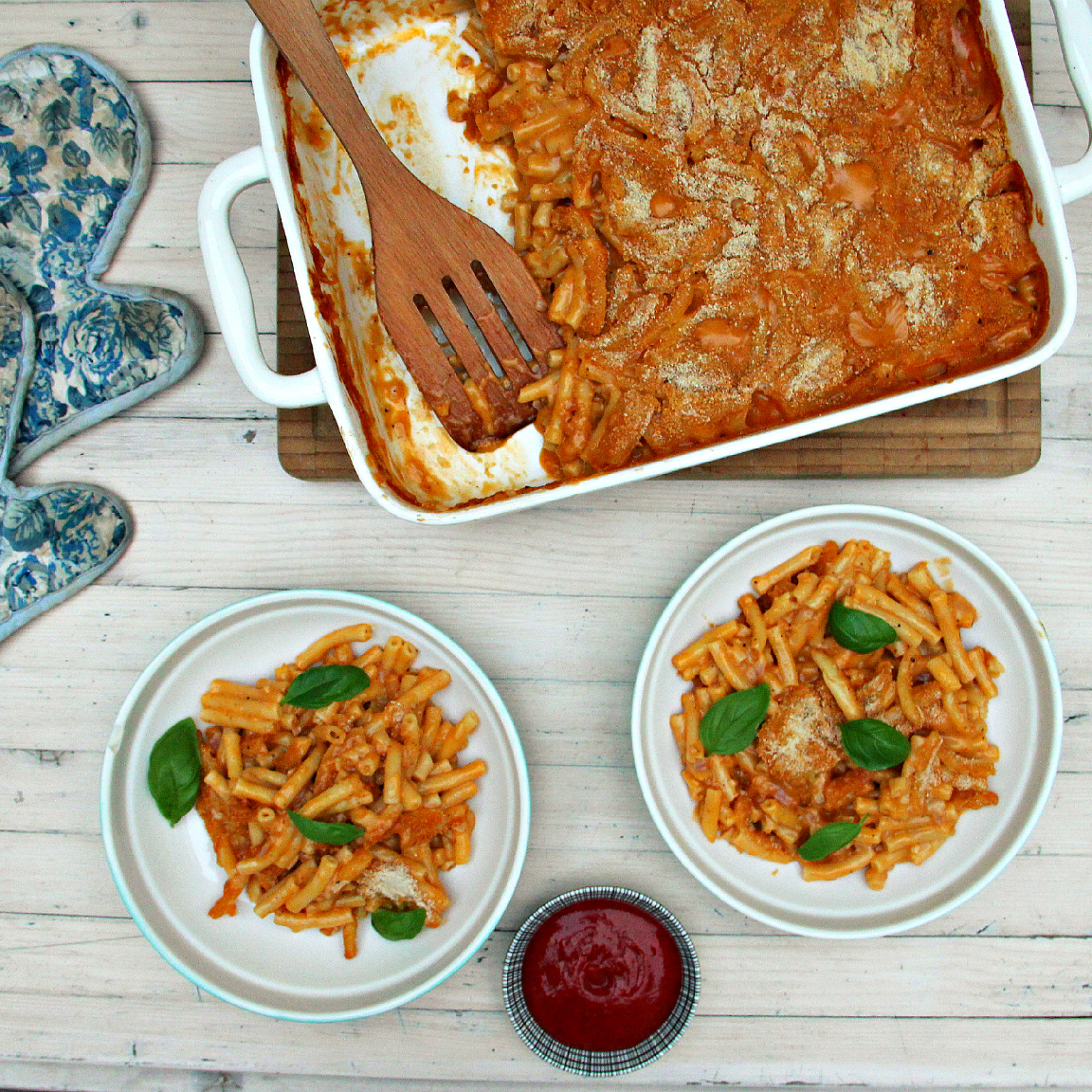 ---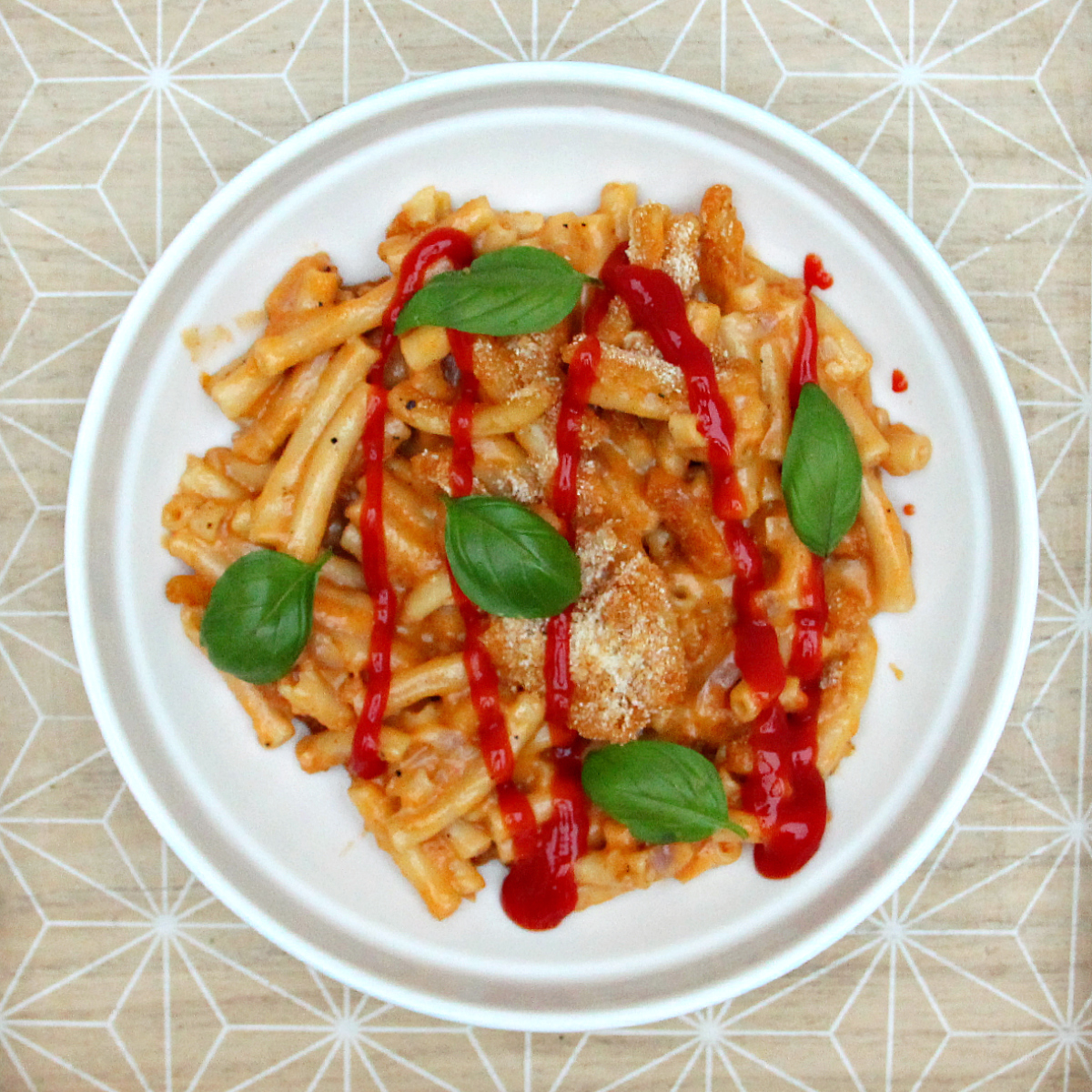 ---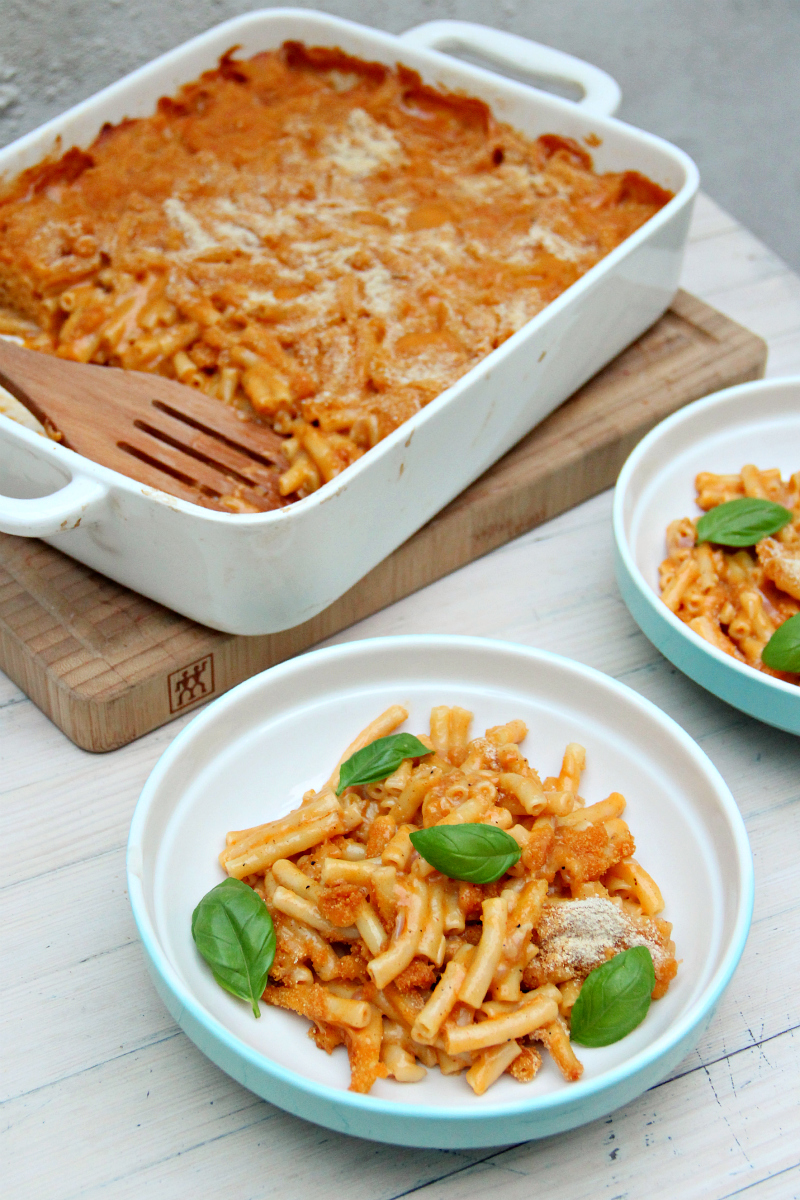 ---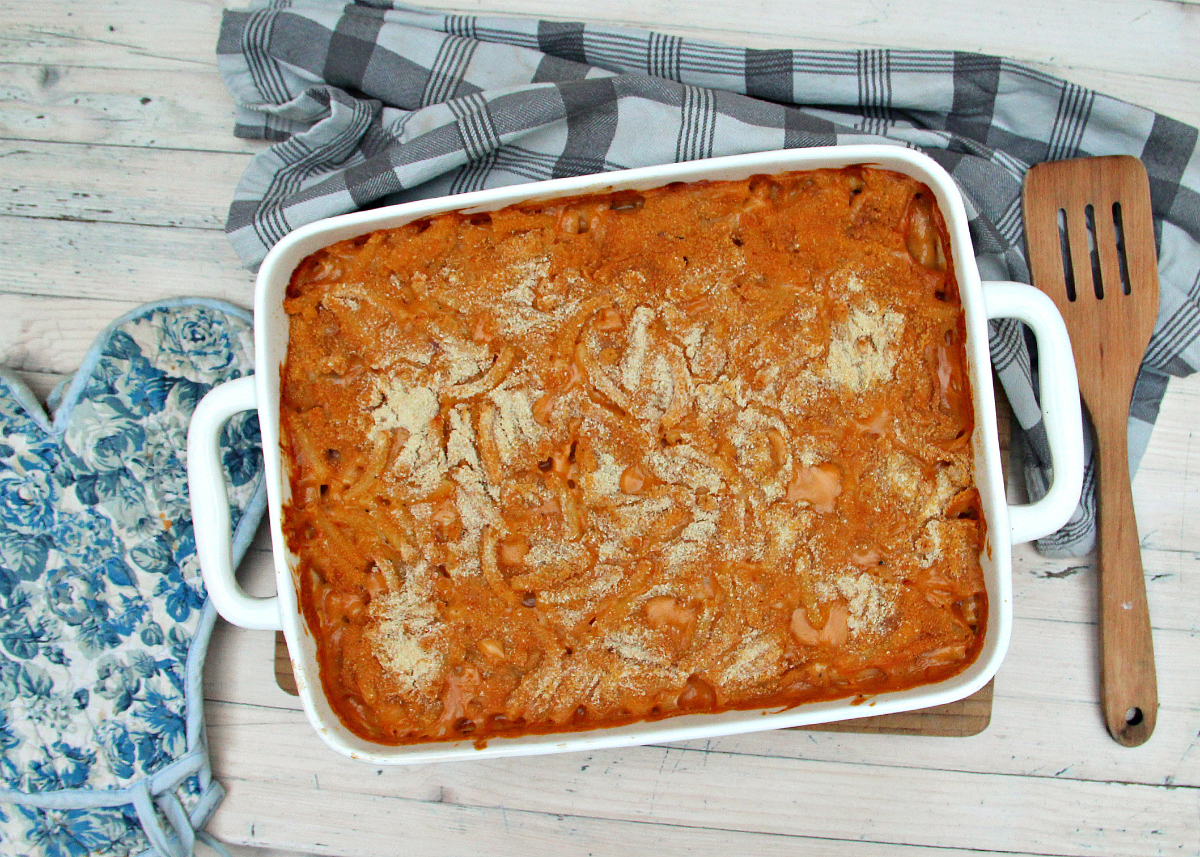 ---
This vegan macaroni and cheese in unlike most I have tried.
To be really honest most of the vegan versions out there with carrot, potato and what not are just too disappointing to say the least, and really don't taste like cheese at all. It's brutal to say and I might sound like a tough judge, but you need cheese in it to make it taste like cheese... and in this case vegan cheese of course!
And... This one tastes like a traditional mac n' cheese!
There's some great vegan cheeses out there so you might be able to substitute with another vegan cheese than the one I am using, one that you know that you like - that really does taste like real cheese.
But unfortunately, all vegan cheeses are not created equal, and I'm sad to say that I don't like many of them, they simply don't compare to real cheese. Albeit, I have been lucky to find one that does real cheese justice, and it's the Wilmersburger classic wedge cheese, so it's the one I choose to use here.
No, this is not sponsored, but Wilmerburger people: if you read this - contact me for sure!
I have added nutritional yeast as well for more cheesy flavour than there is already, and here you gotta be careful too, get a proper nutritional yeast that tastes great / like cheesy great. Unfortunately there's tons out there that just taste like plain paper. So sad. Get the real stuff.
Serve this delicious cheesy dish to your friends and family and they wont be able to tell if it's vegan or not, it's really that great. My omnivore husband loved this, so can say for sure that it's approved !
---
Serves 5-6 people
---
Ingredients
---
9.5 dl macaroni pasta (4 cups)

1 whole wedge of Wilmersburger classic cheese

500 ml plant milk (2 1/5 cups)

200 ml soy cream (6-7 oz)

200g vegan butter / margarine (7 oz)

8 tablespoons nutritional yeast

5 tablespoons white organic flour

3 red onions

5 garlic cloves

1 tablespoon ketchup

3 tablespoons extra virgin olive oil

1 teaspoon salt

1 teaspoon pepper

1 teaspoon paprika

½ teaspoon freshly grind nutmeg

Breadcrumbs to sprinkle as needed
---
What you will need
---
2 x 2L pot or bigger (0.5 gallon)

1 strainer

1 measuring cup

Cutting board and knife

Spoons to measure

1 big flat oven proof dish

1 spoon to stir

1 whisk
---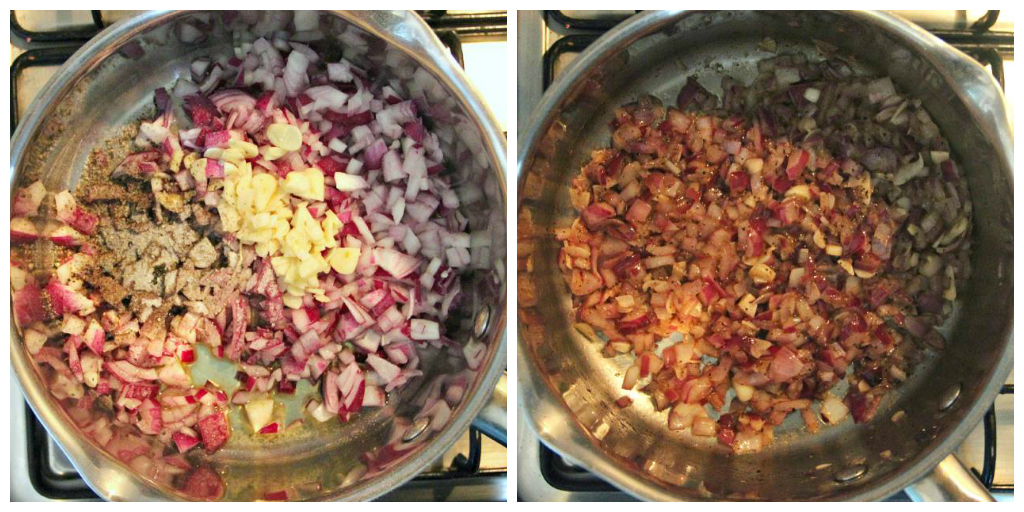 ---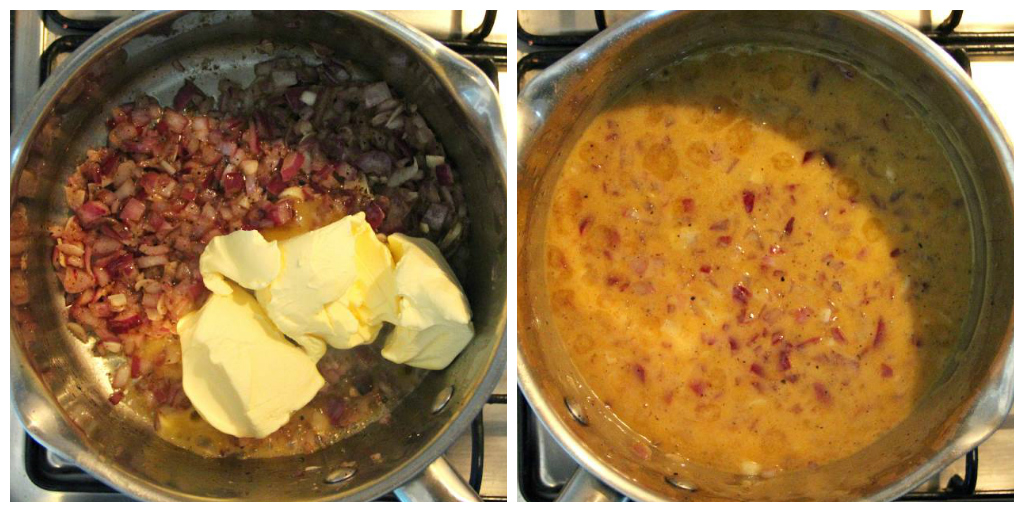 ---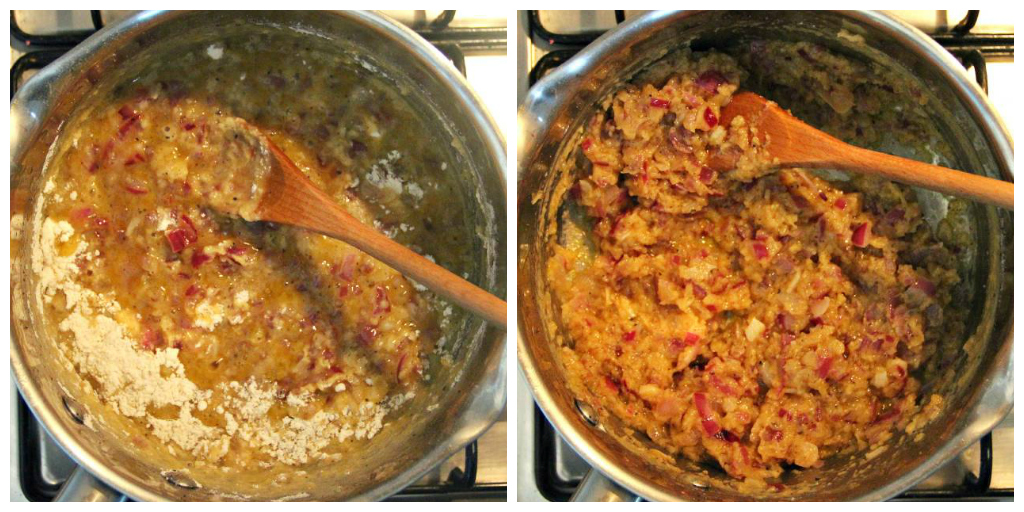 ---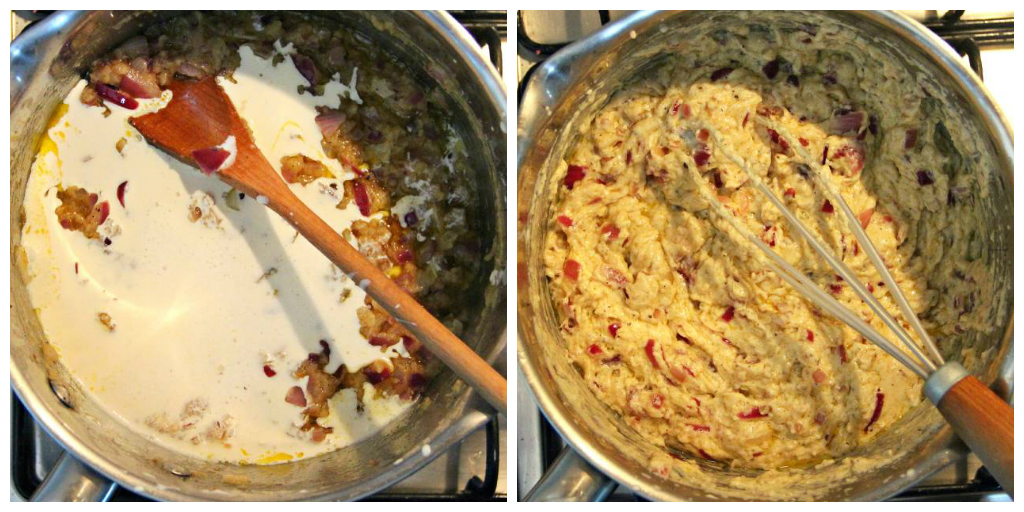 ---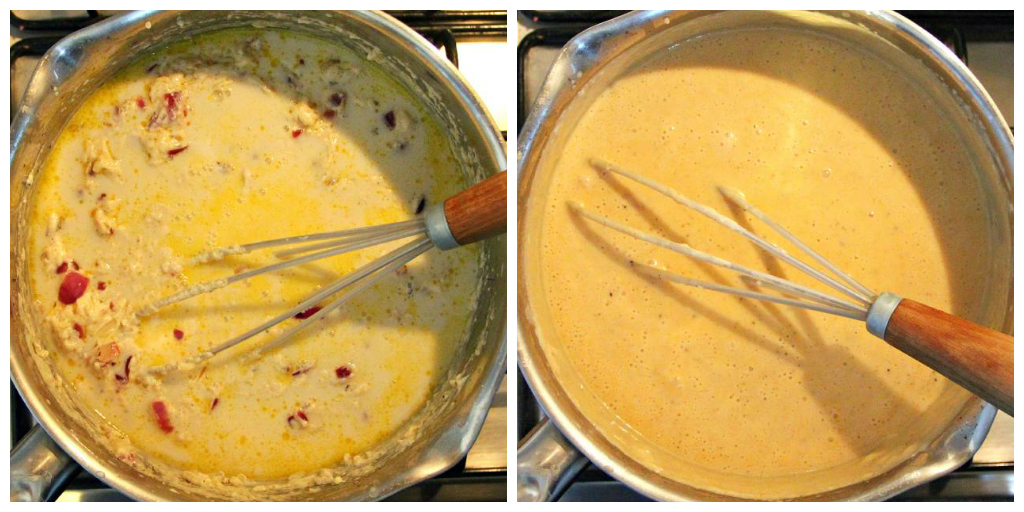 ---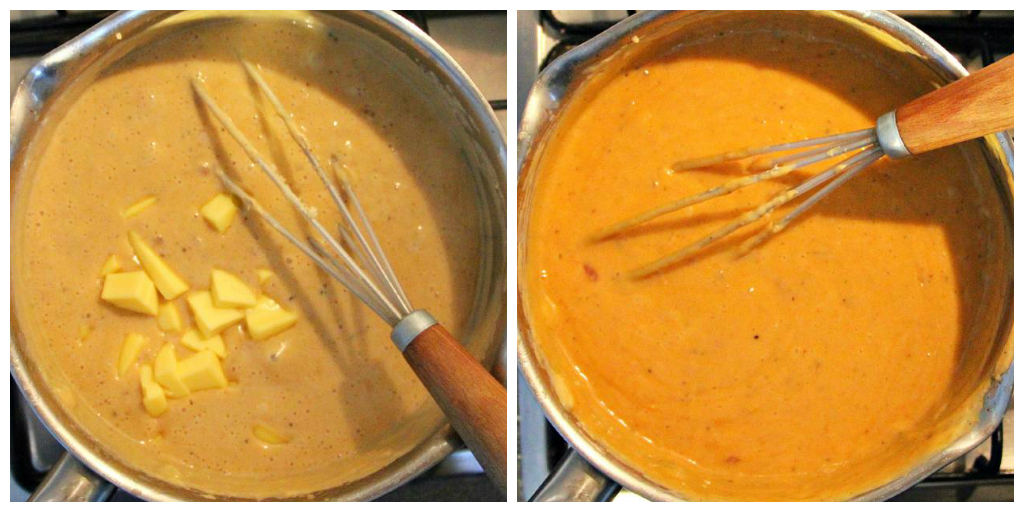 ---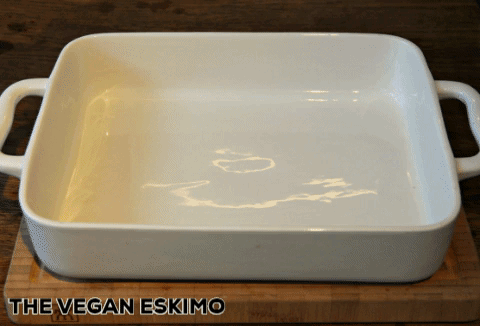 ---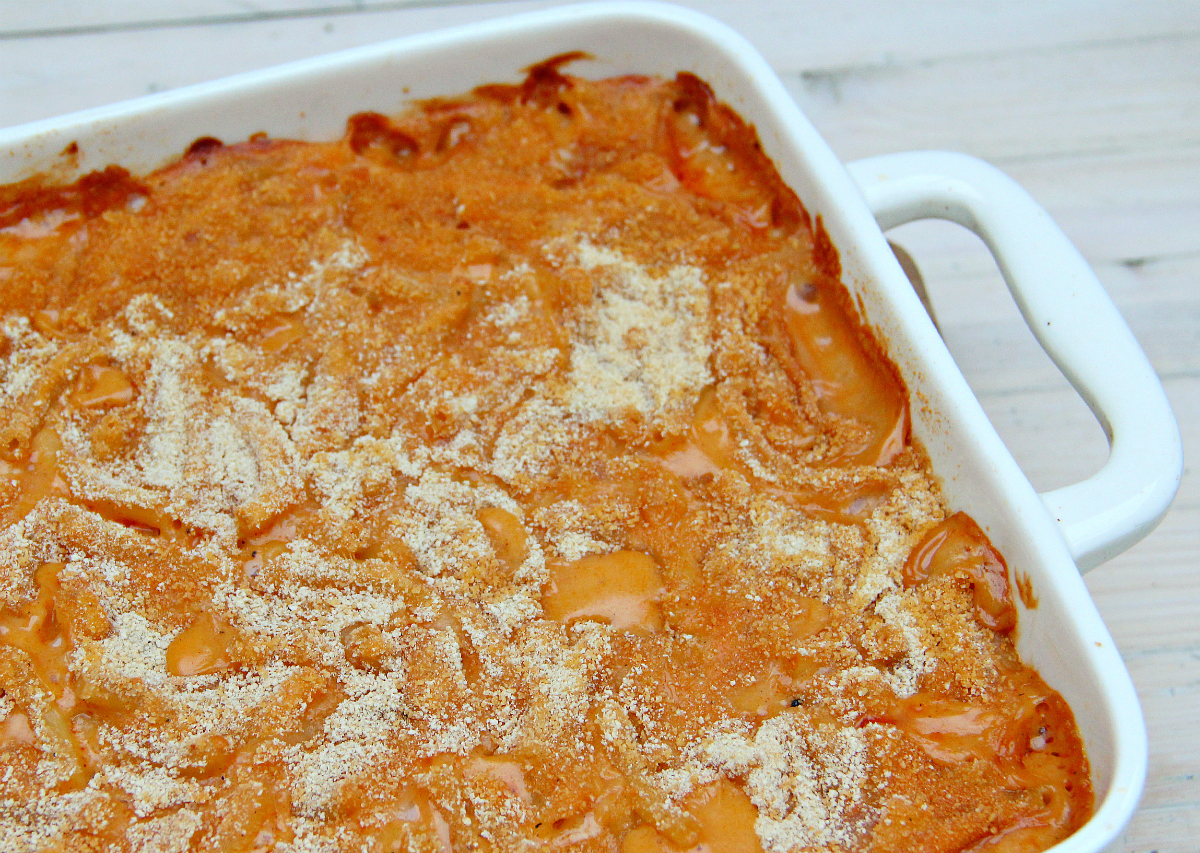 ---
Instructions
---
Measure the macaroni pasta and boil them so they're about 1-2 minutes under cooked. Meanwhile prepare the sauce.

---

Finely peel and chop the onion and garlic, put in a pot with the olive oil, salt, pepper, paprika and nutmeg. Turn the heat on high and fry until soft.

---

Add in all the butter and heat it until melted. Then add in the flour and constantly stir it. The flour should be fried for a few minutes while constantly stirring with a whisk.

---

Then add in the soy cream and stir until the texture is even and creamy. When it starts to thicken again then add in the plant milk. Bring to a simmer while constantly stirring until the texture it completely smooth and creamy.

---

Chop the whole wedge of vegan cheese into small cubes and add to the sauce along with the ketchup and nutritional yeast. Stir until the cheese has melted completely. The sauce should be thick and creamy. Simmer for a few minutes on low heat.

---

After the macaroni is strained put it in the oven proof dish. Then pour over the cheese sauce and mix well. Sprinkle with some breadcrumbs.

---

Bake in a preheated oven at 200c (390F) in the middle of the oven for about 30 minutes.

---

Take out of the oven and let rest for 5 minutes then serve.
---
Enjoy !
---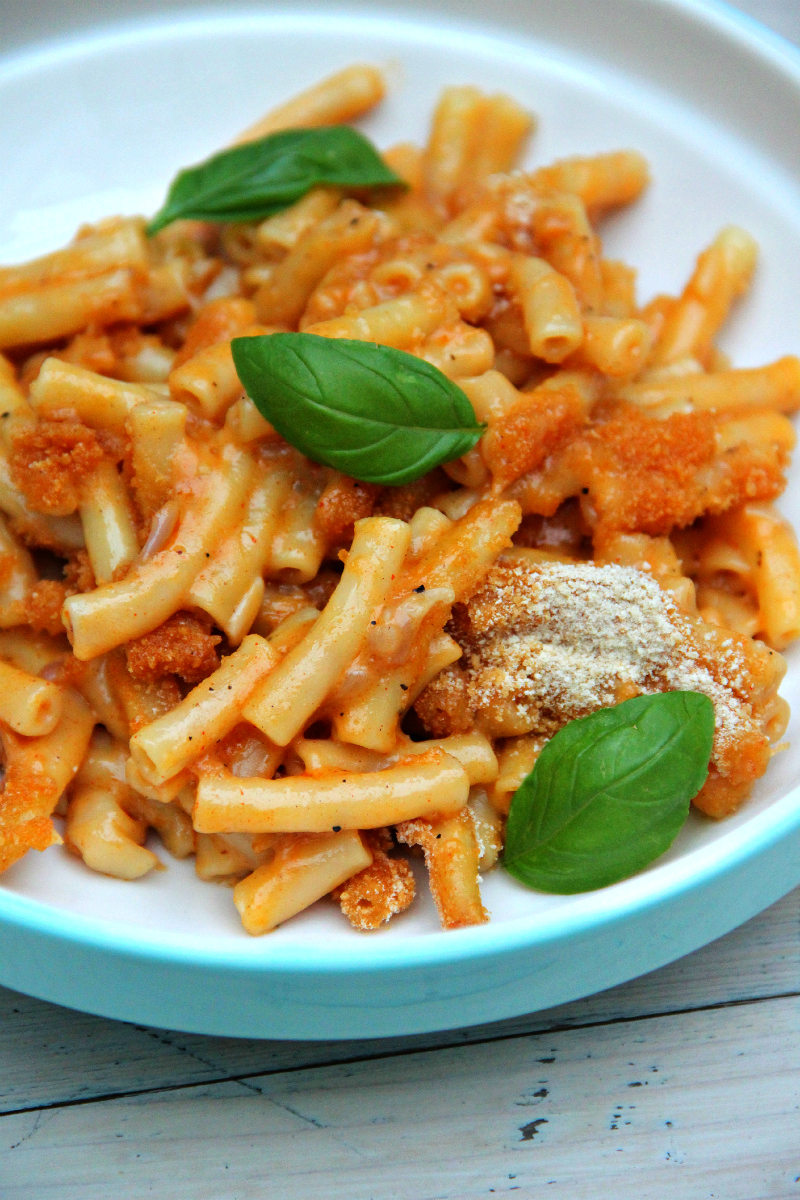 ---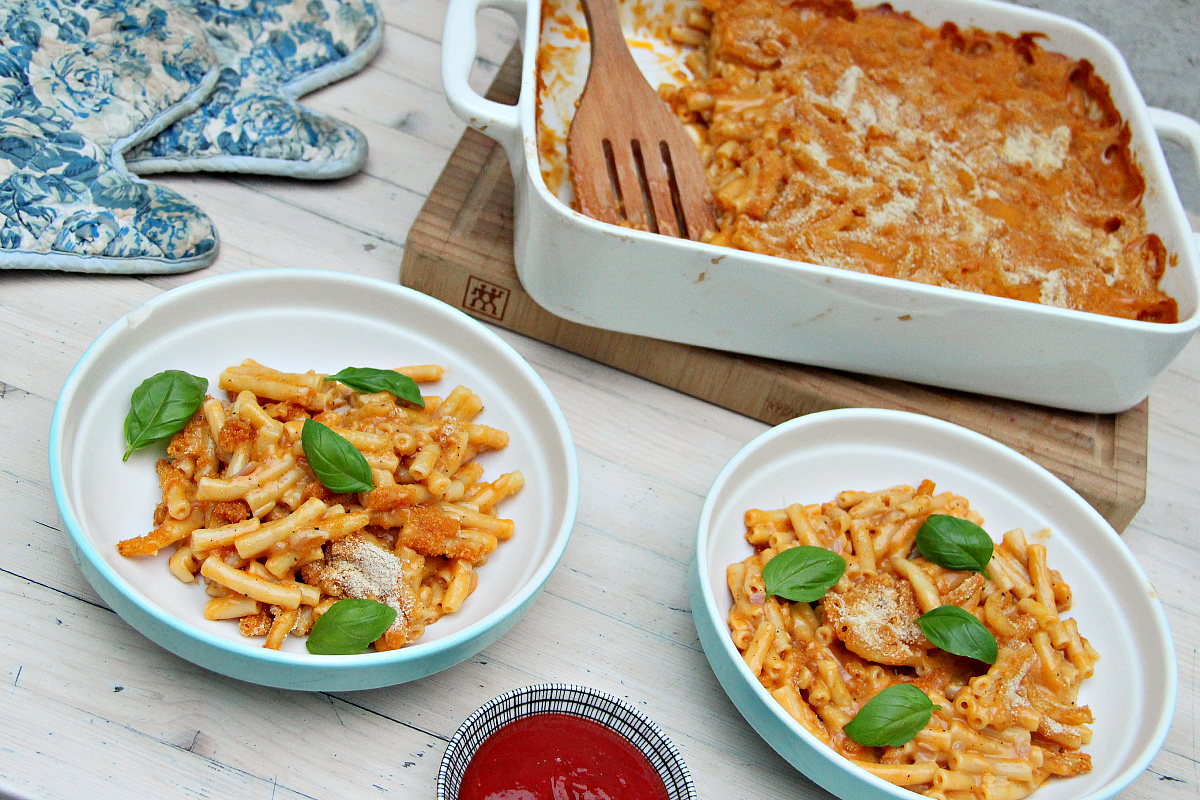 ---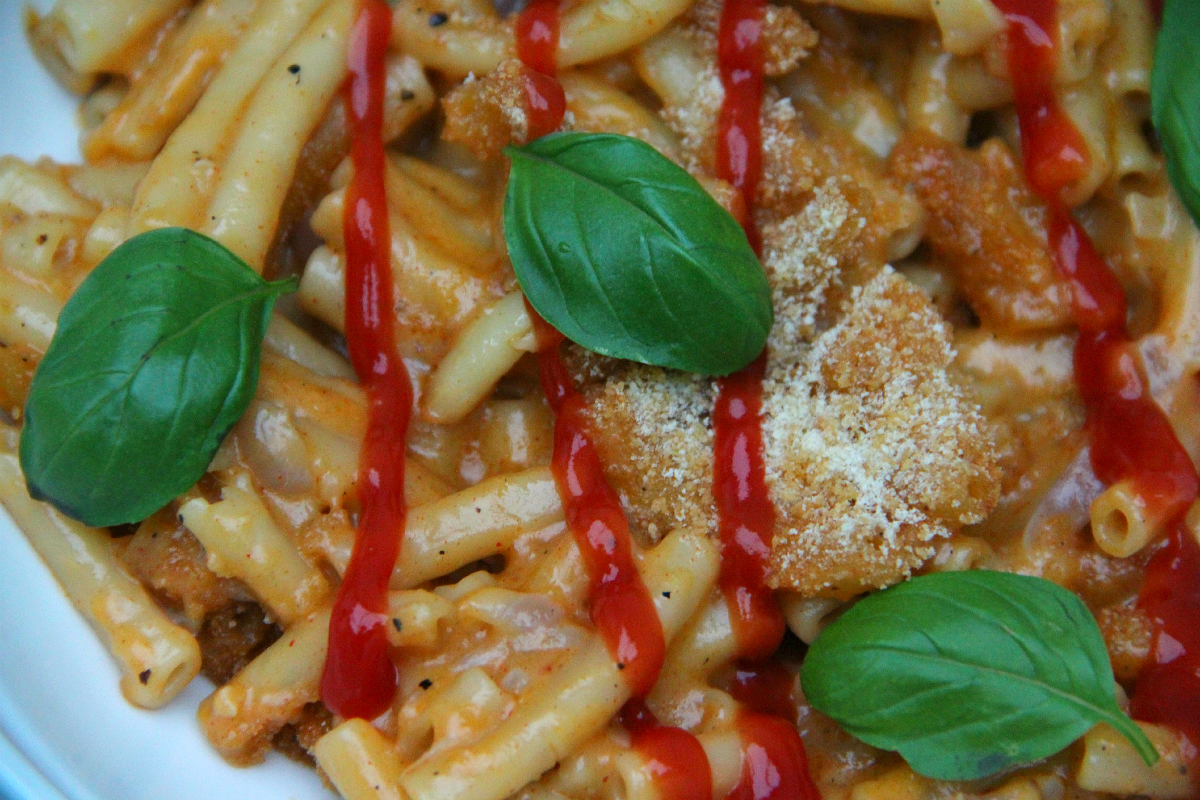 ---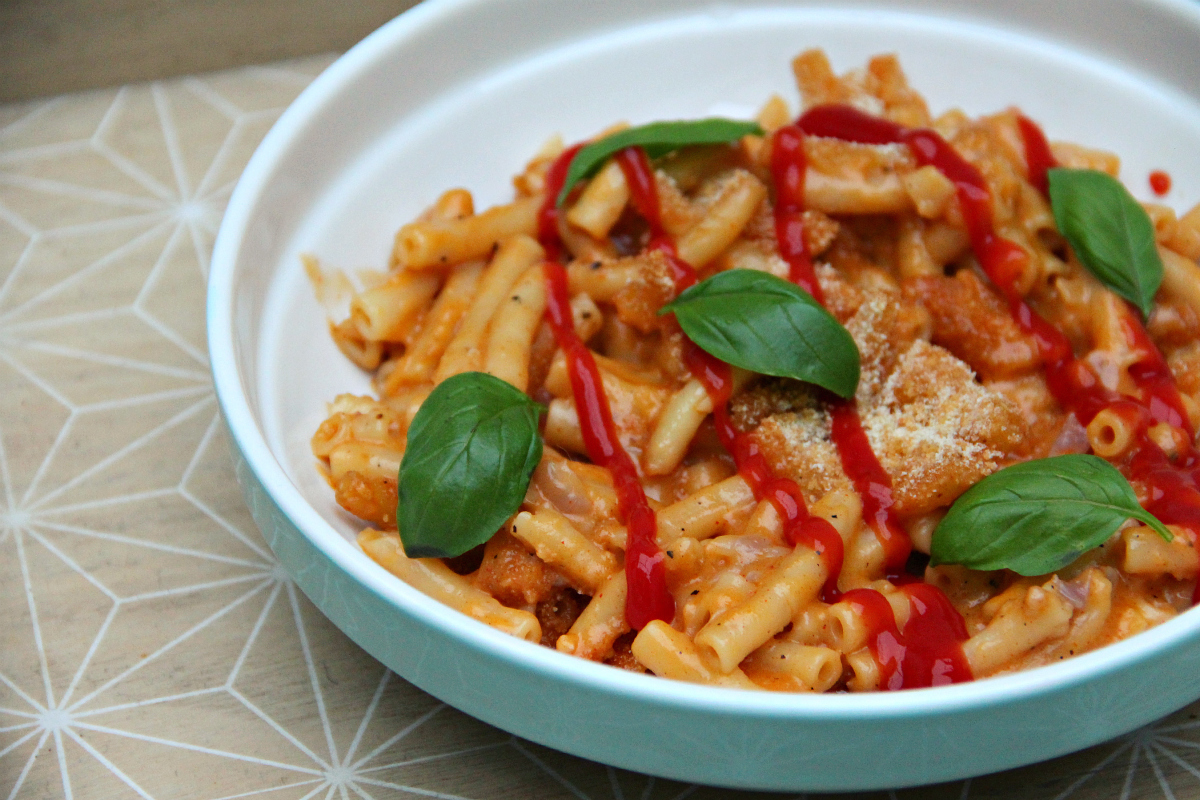 ---