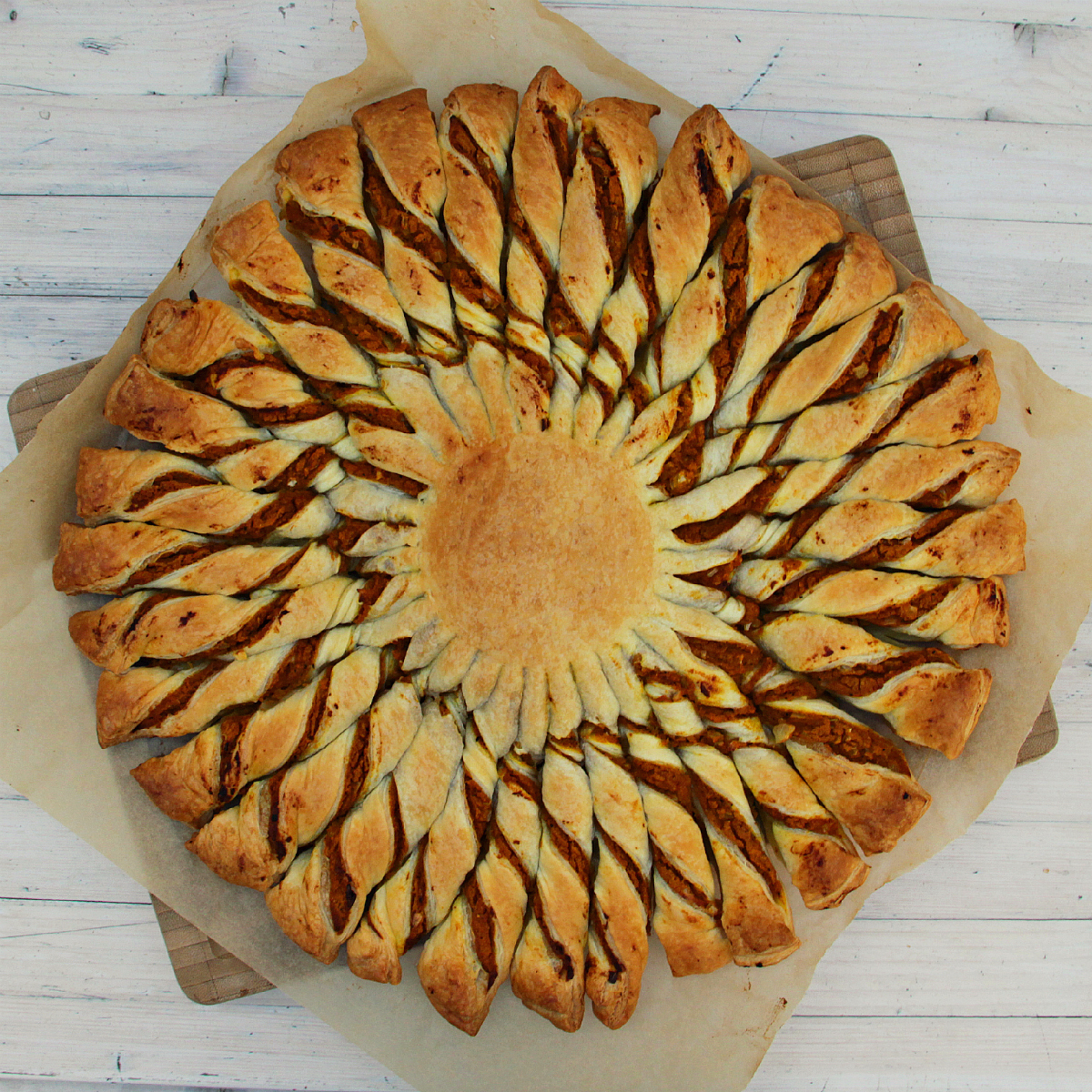 ---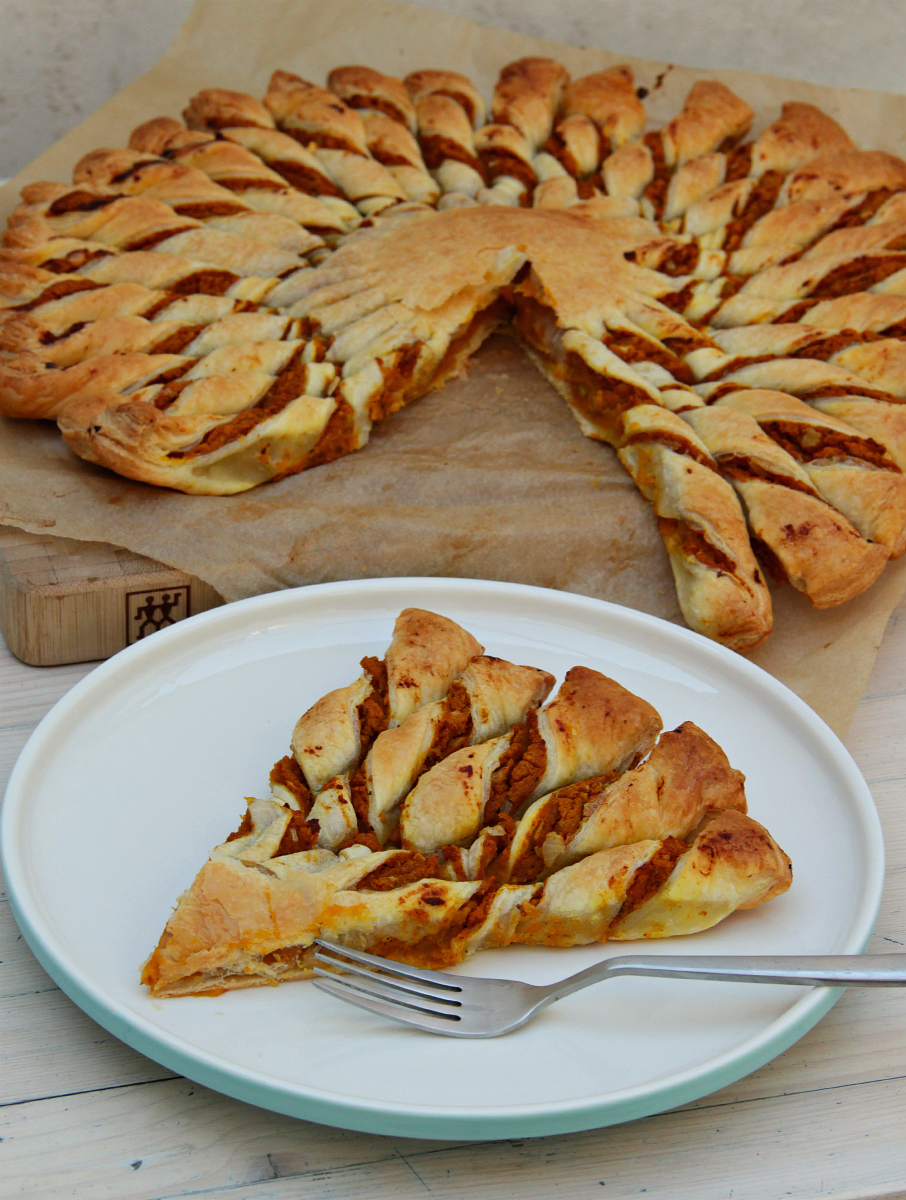 ---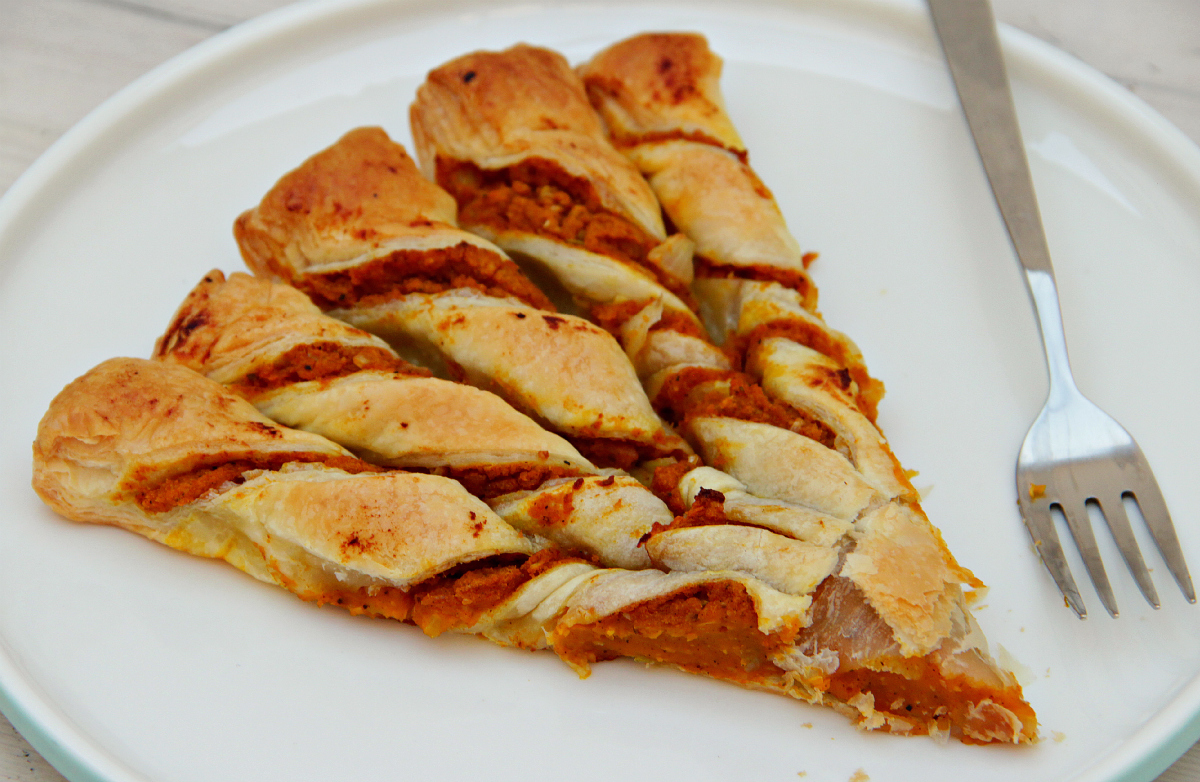 ---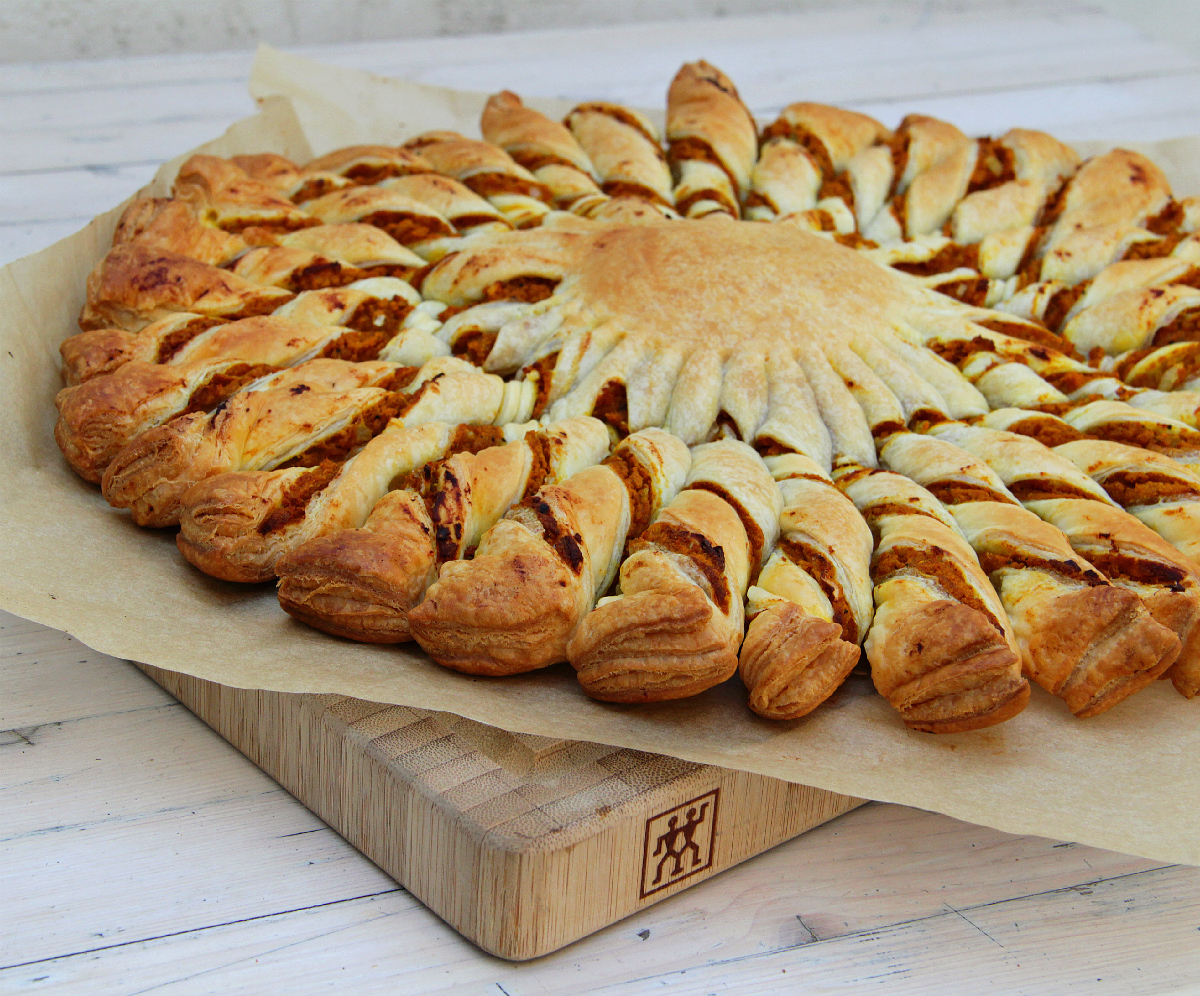 ---
This is a different take on the traditional pumpkin pie. This is a super fluffy puff pastry filled with homemade pumpkin puree, spices with cinnamon, ginger, cloves, nutmeg and allspice. Besides that it has a savoury touch with garlic and onion, salt and pepper!
The tarte looks gorgeous and is very easy to make and for more ease with the recipe, I have chosen to use pre-made puff pastry.
Making puff pastry takes a long time, and you will need to roll and fold the dough countless of times. Finding vegan puff pastry is easy in the supermarket, most of them are vegan, but look through the ingredient list to be sure, some contain real butter, but many don't and are vegan.
But if you like homemade vegan puff pastry go for it ! It's just gonna make it even more gourmet !
---
Like Tarte Soleil in general? Check out these other recipes
---
---
Serves 4-5
---
Ingredients
---
2 x 280g vegan ready made puff pastry (2 x 9-10 oz)

1 hokkaido pumpkin (about 1.2 kg whole, with seeds, stem and skin)

2 medium yellow onions

6 garlic cloves

4 tablespoons full fat coconut milk (or sub with plant milk)

1 teaspoon salt

1 teaspoon pepper

½ teaspoon ground cinnamon

½ teaspoon ground ginger

1/4 teaspoon freshly grind nutmeg

1 pinch ground cloves

1 pinch ground allspice / Jamaican pepper
---
What you will need
---
Cutting board and knife

1 oven rack

Baking paper

1 big bowl

1 stick blender

1 spoon to stir

Measuring spoons

1 glass
---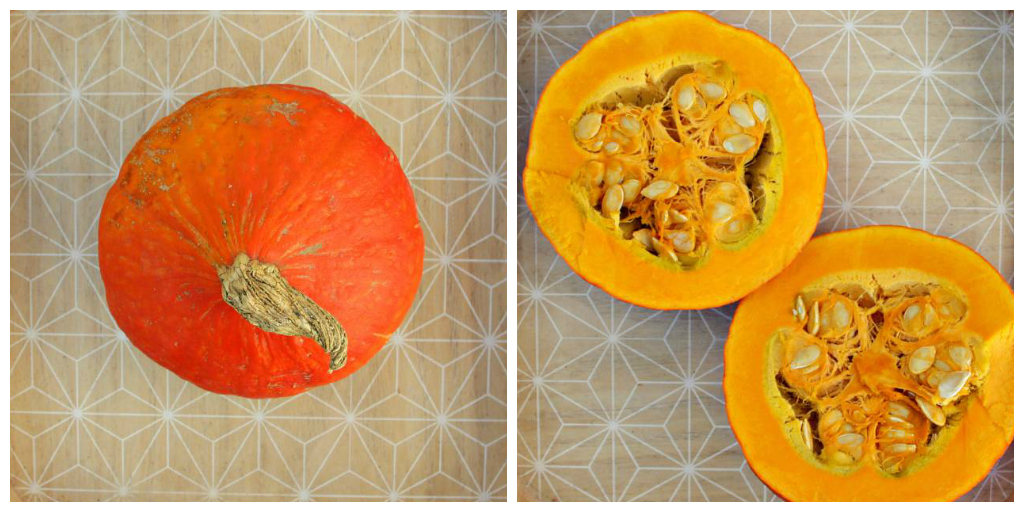 ---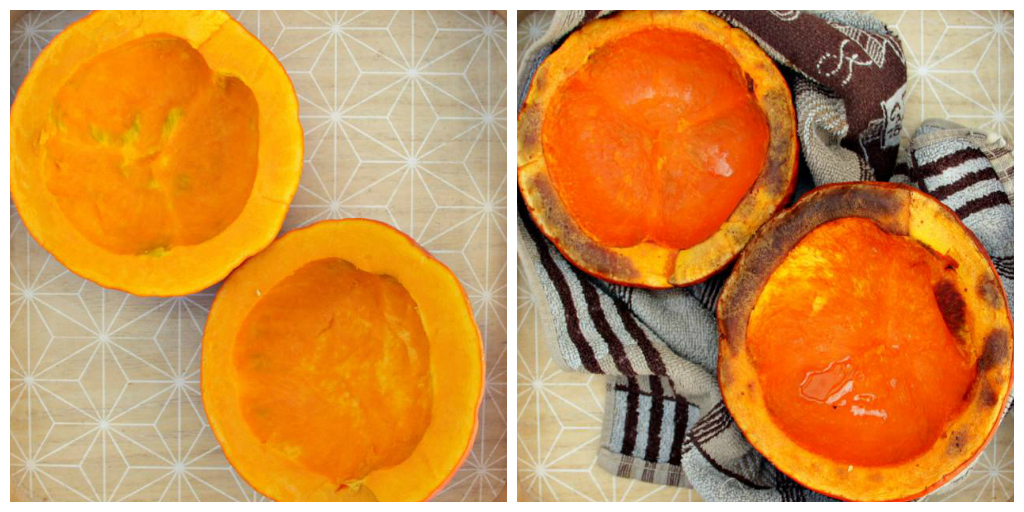 ---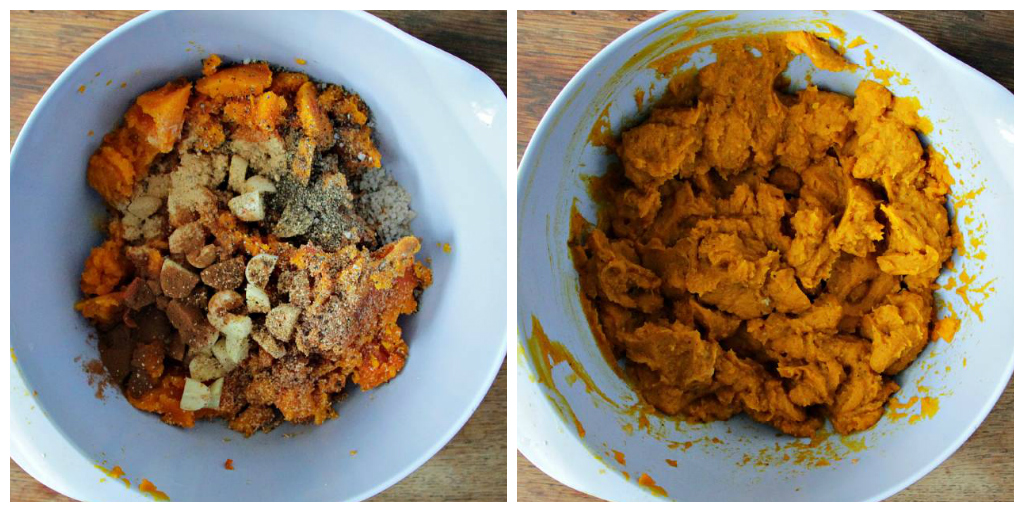 ---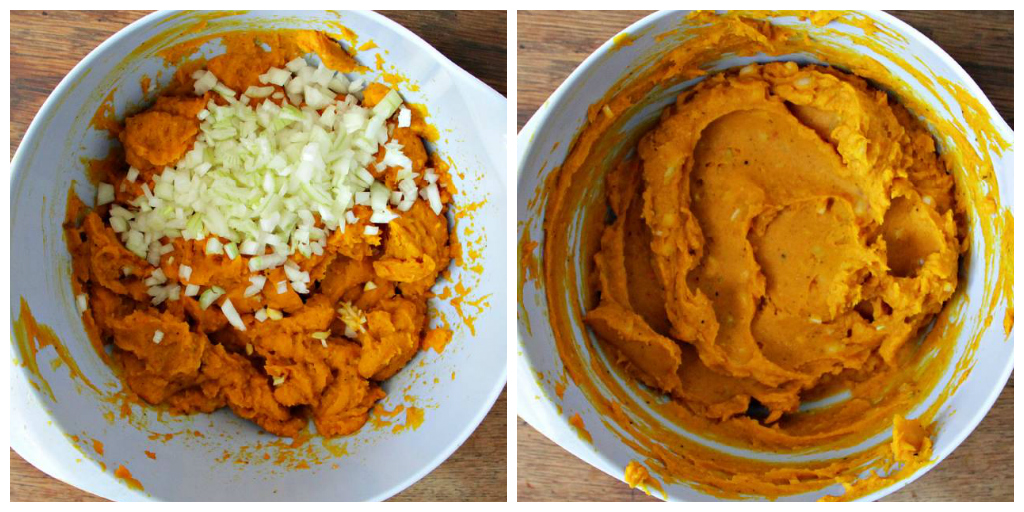 ---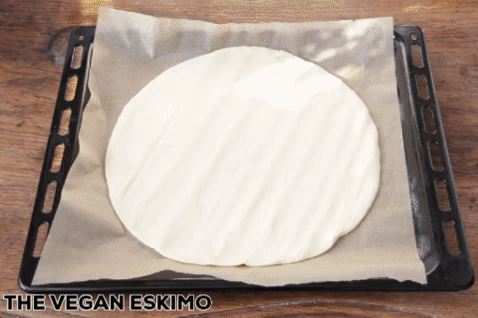 ---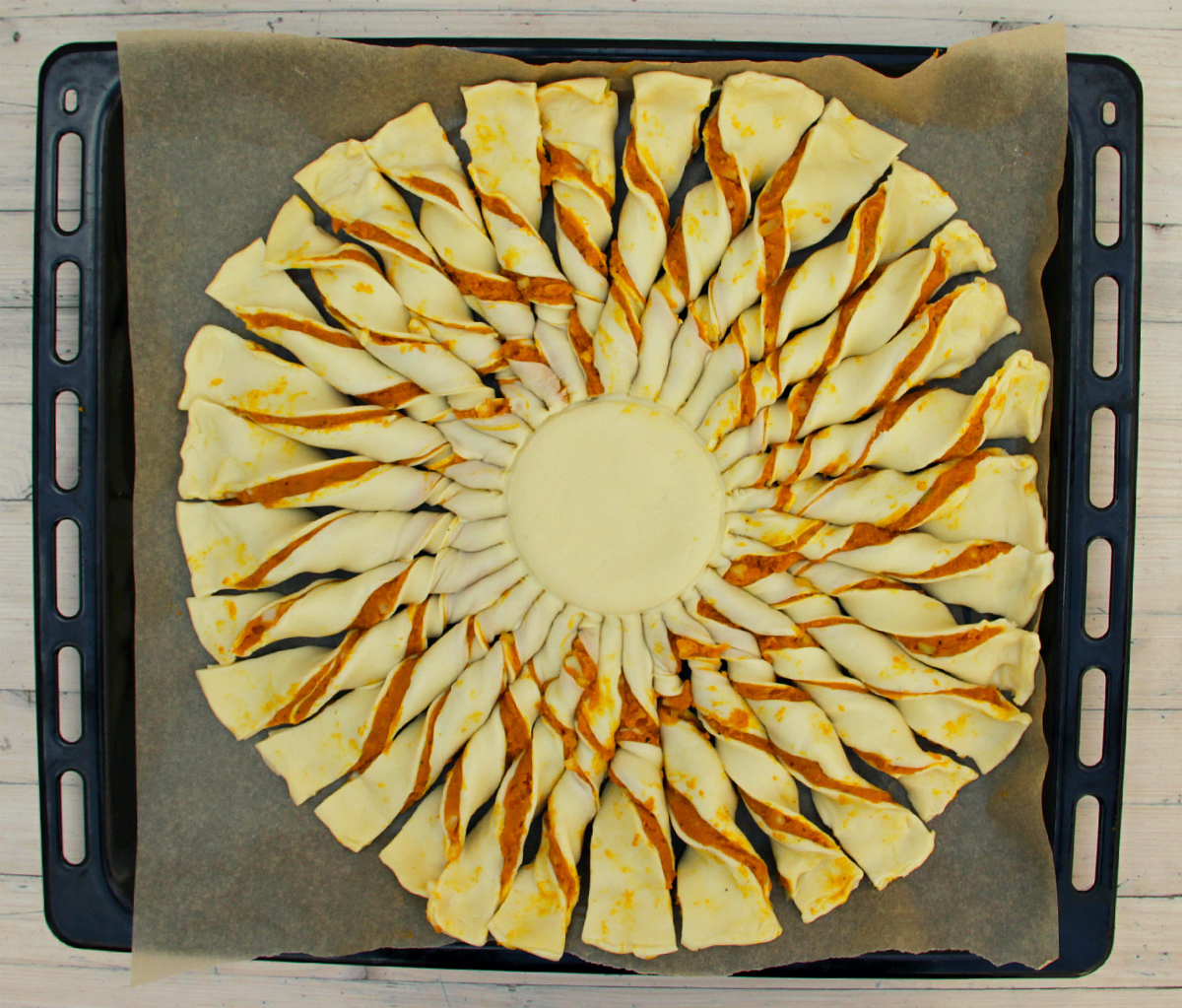 ---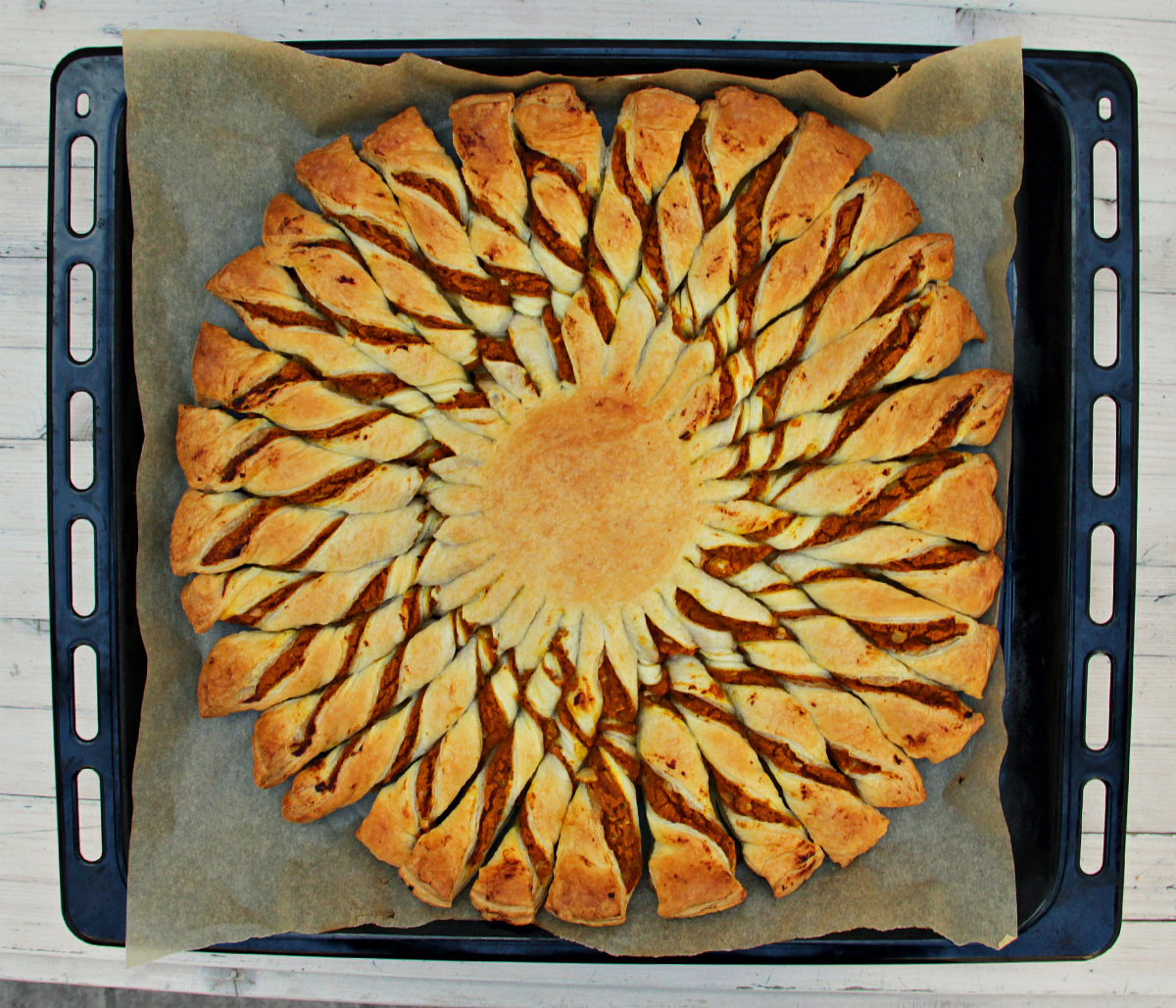 ---
Instructions
---
Cut the pumpkin in half and deseed it. Bake in the oven at 200c (390 F) in the middle of the oven on normal setting for about 1 hour, or until the pumpkin is very soft.

---

With a spoon scrape out the meat of the pumpkin to a big bowl, discard the skins.

---

Peel the garlic cloves, add to the bowl along with all the spices and coconut milk. Blend until completely smooth.

---

Finely chop the onions and add to the pumpkin puree mixture. Refrigerate for about 30 minutes or until the mixture is completely cold ! This step is important, you wont be able to cut the sun beams proberly if the pastry gets warm. Place the dough in the freezer for a bit before assembly as well, this helps to keep it very cold while cutting, then its MUCH easier to cut.

---

Prepare the puff pastry. Put the dough on a baking sheet on a baking tray. If pre-cut round already that's good. If not then cut the dough into a circle about 34 cm in diameter (13-14 inches).

---

Preheat oven to 180c (350 F).

---

Take the pumpkin mixture out of the fridge and spread out as shown in the video. The filling should be built up tall until all the filling is spread on the dough. Leave out fillings on the outer edge of the circle about 2.5 cm (1 inch).

---

With wet fingers wet the exposed part of the dough you left without filling. This acts as a glue.

---

Place the other part of the puff pastry on top. Make sure they are the same size. Gently press down where you wet the dough to make sure everything is glued together all around.

---

Place a cup in the middle of the dough. Cut from the glass and out to the edge. First cut 4 lines, creating a cross. Then cut an additional 4 crosses in between, creating equal sized sun rays. Continue to cut the rays in equal half sizes until you have 32 rays (4 – 8 – 16 – 32). Be careful not to cut through the baking paper.

---

Lift the outer edge of one sun ray and twist it a few times. Continue to do so with all the sun rays.

---

Bake in a preheated oven at 180 c (350 F), in the middle of the oven on normal setting, for as long as your ready made dough recommends on the package, this time can vary from brand to brand, I baked mine for about 35-40 minutes, or until the dough looks puffed up crisp and golden.

---

Let cool down for a few minutes and eat as is or with a dipping of choice. With vegan creme fraiche / sour cream it's great!
---
Enjoy !
---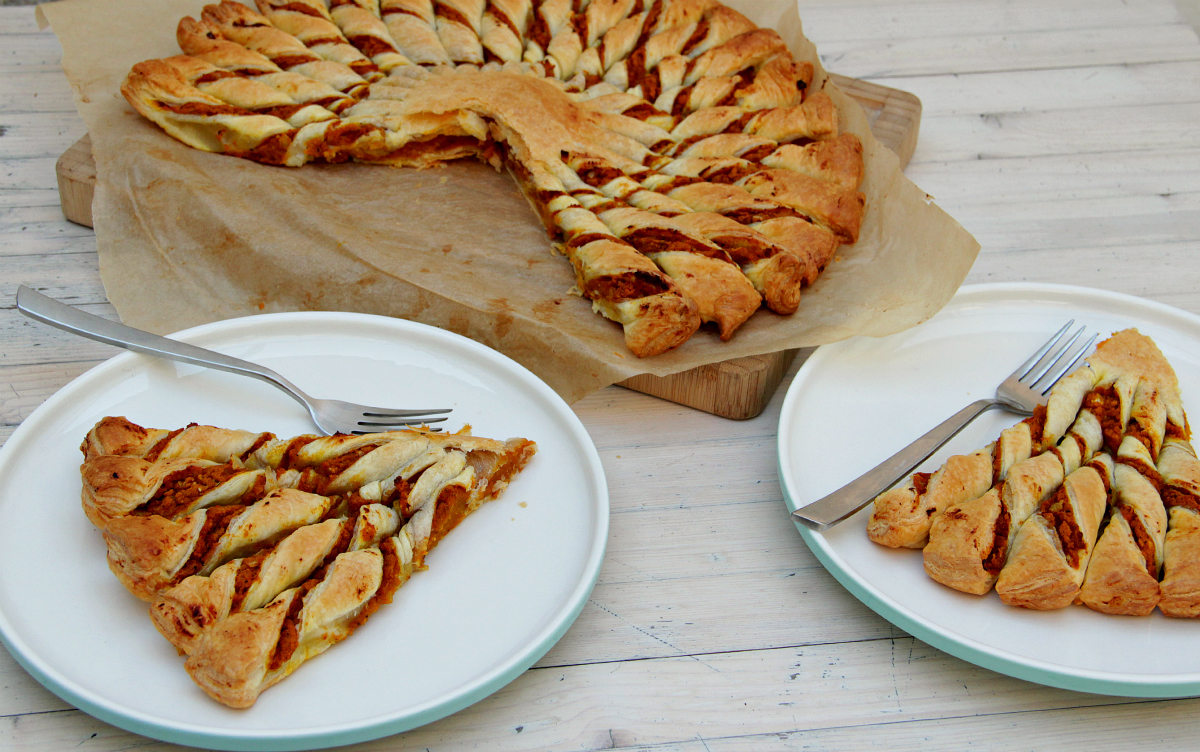 ---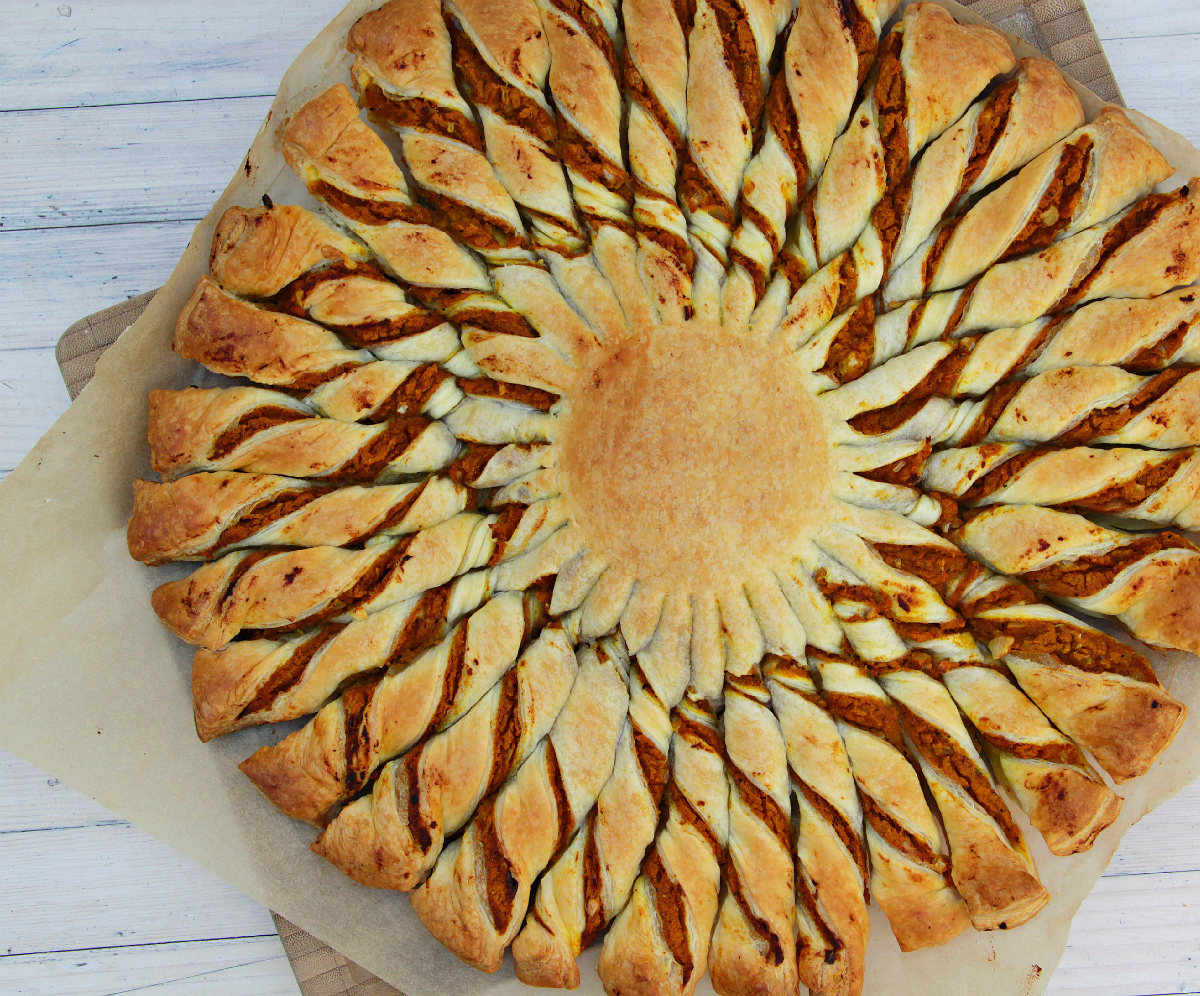 ---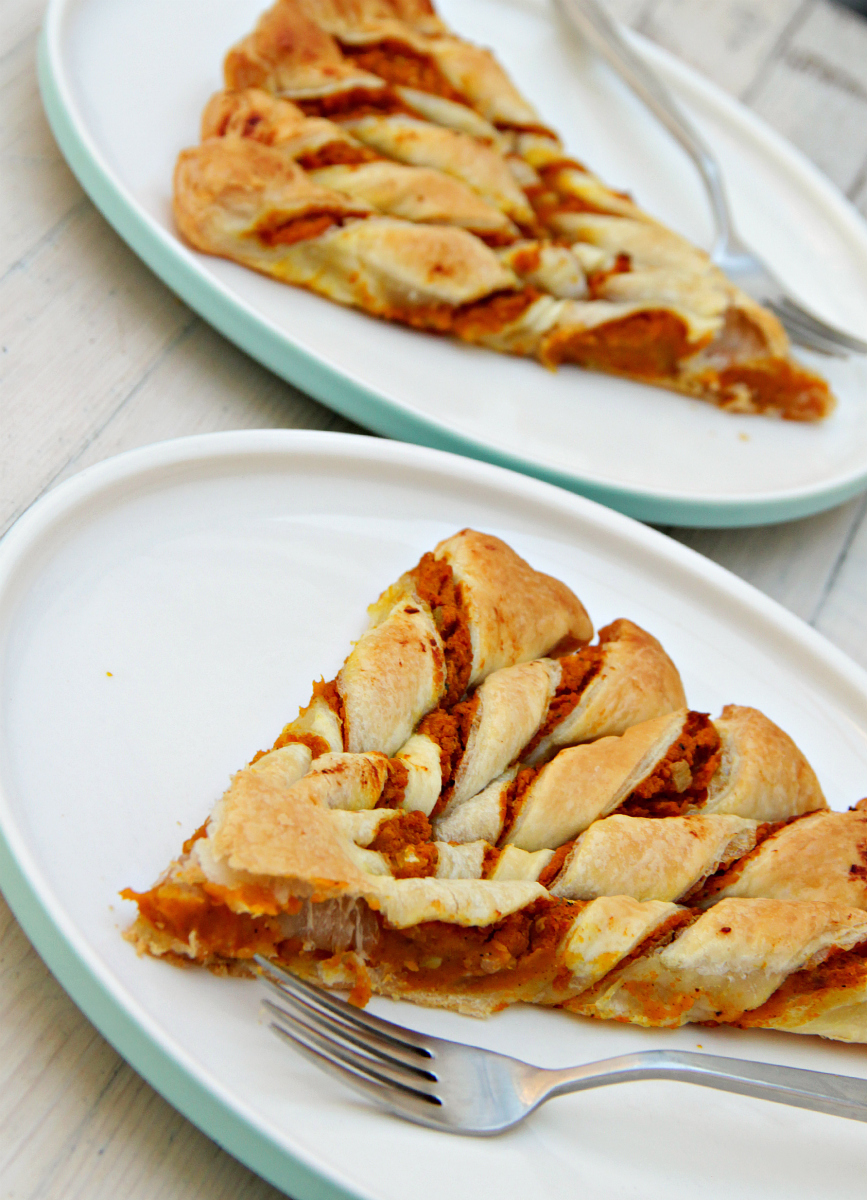 ---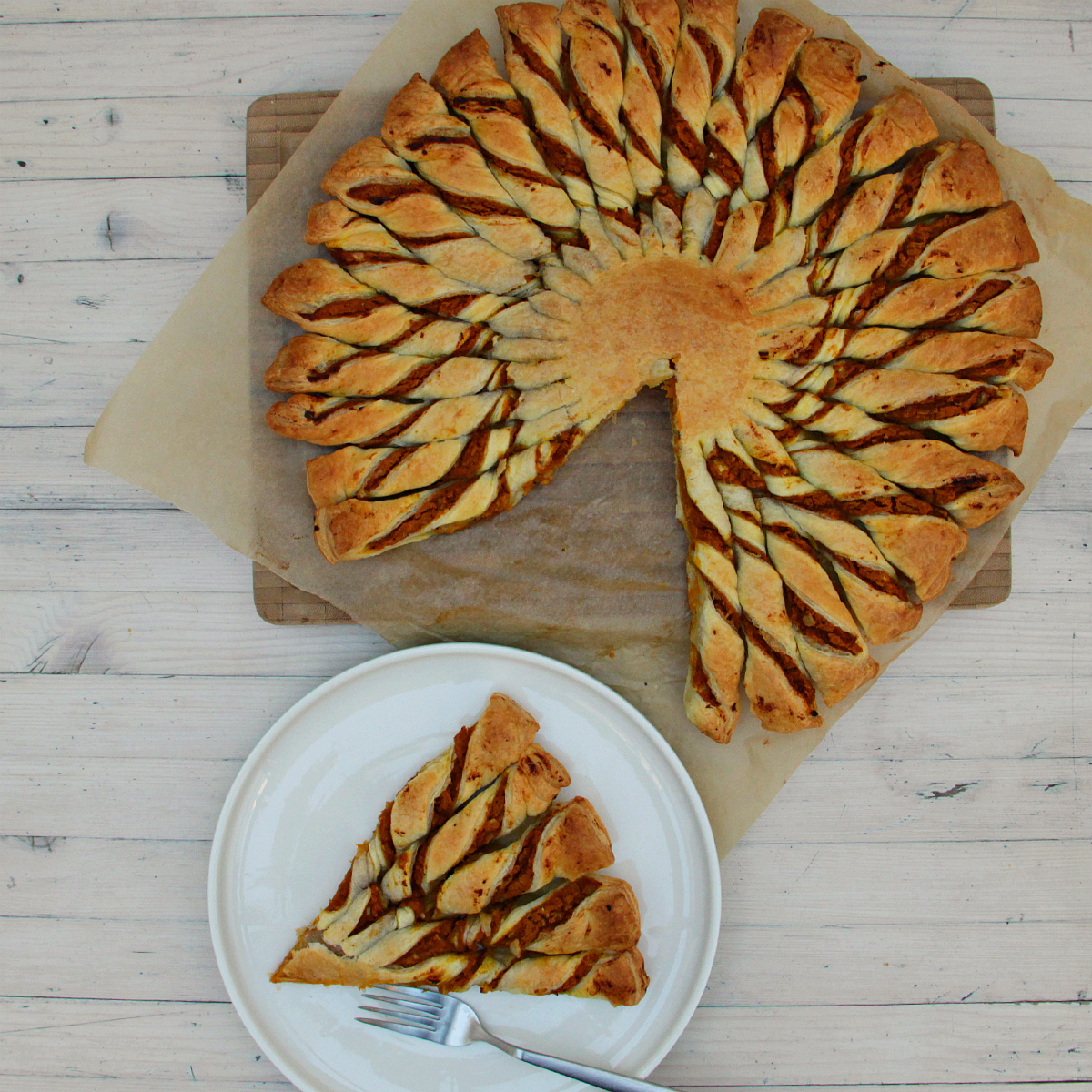 ---