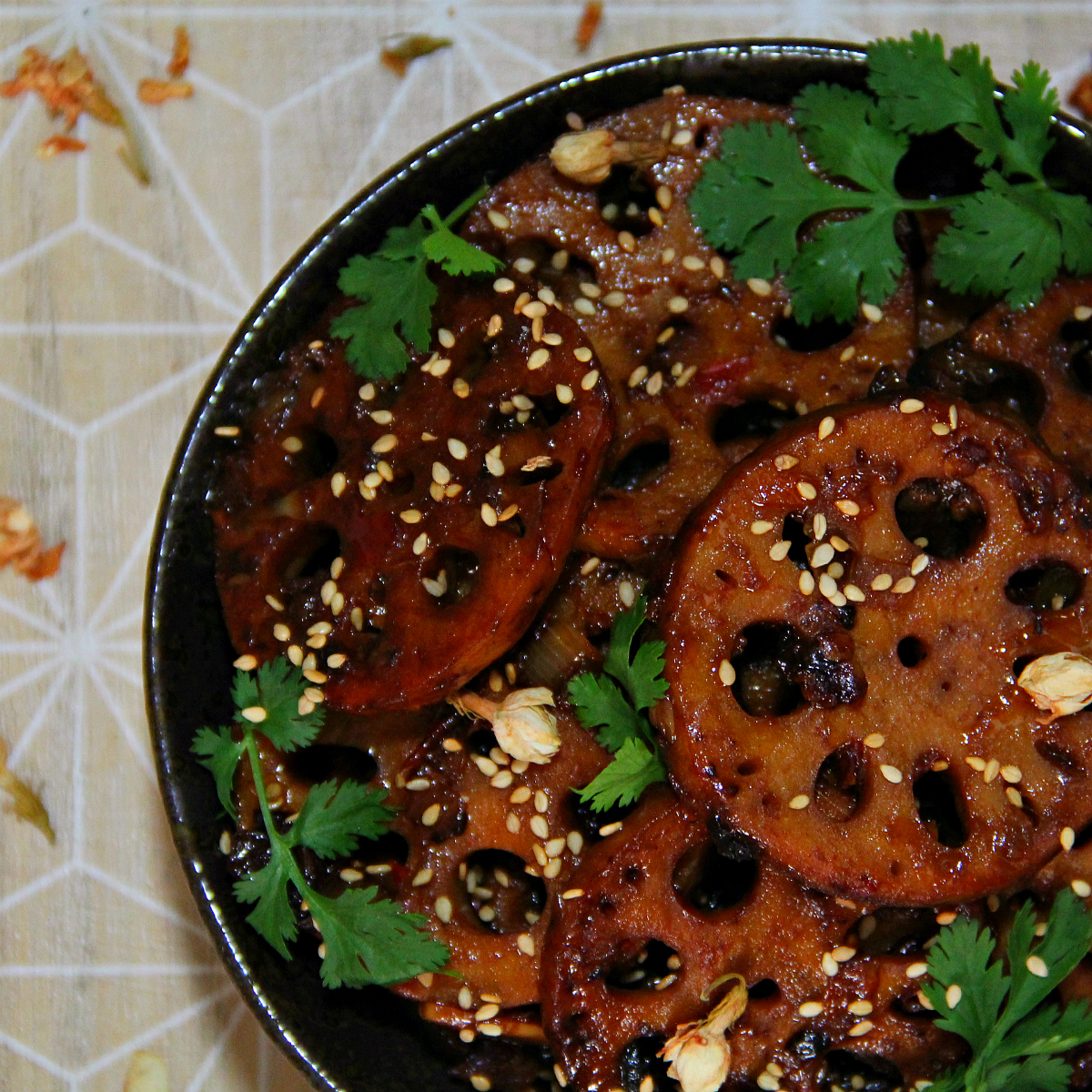 ---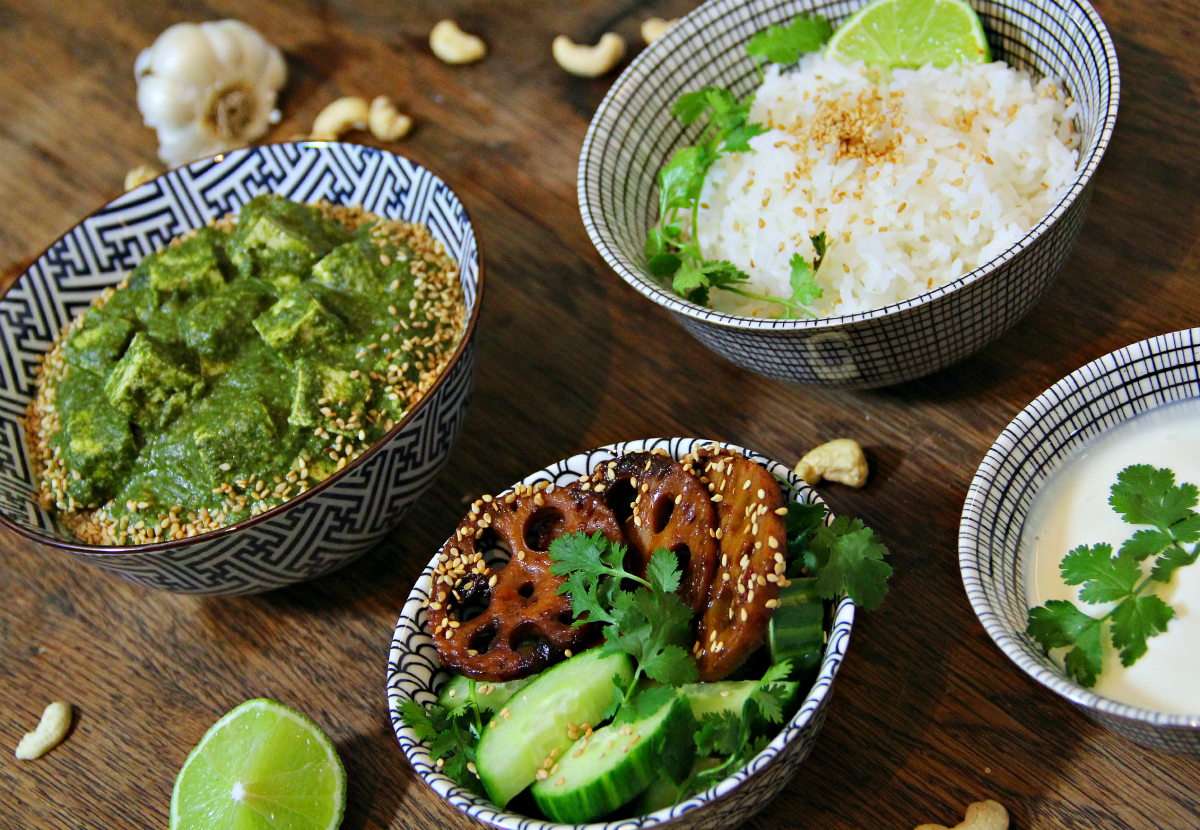 ---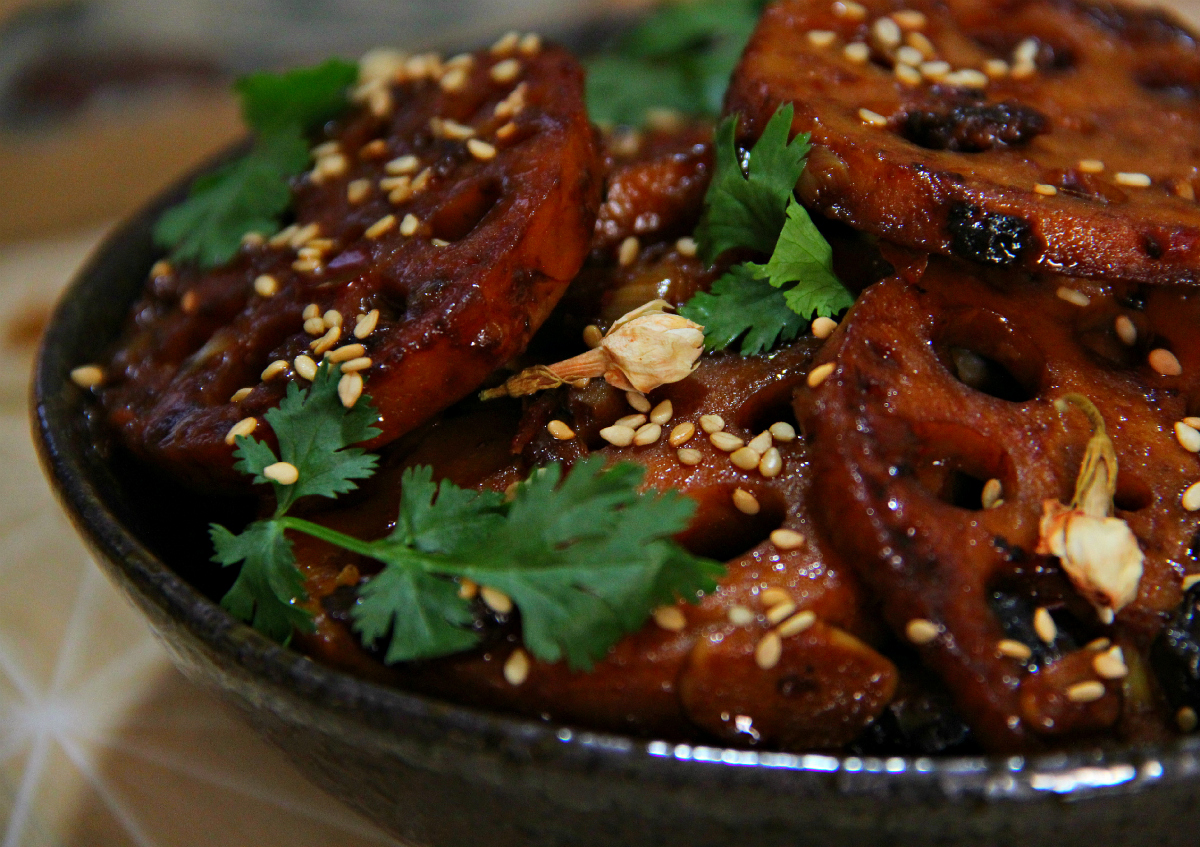 ---
Two methods in this recipe is going to elevate this side dish a whole lot. A traditional tea brew and knowing how to braise.
The tea don't need to be of the highest grade ceremonial tea, but the brewing technique is going to make it more potent and flavourful ! There's a huge difference in brewing western style tea and gong fu style tea. Gong fu is the traditional Chinese way (may I say the right way?) of brewing tea. To explain it simply, you use a gaiwan or a small (read: tiny) teapot, a right temperature water, much more loose leaf tea (unflavoured and unscented) than what you think you should use. You steep it for shorter time and can continue to steep the leaves in between 7-15 times depending on the tea. Every infusion will taste different, and usually 2nd or 3rd infusion is considered the best, so use these infusions.
Use more tea leaves than what you think if you use a western style brew, and steep it for shorter time, drink the first 1 or 2 steepings and use the 3rd steeping. If you use commercial grade loose leaf tea that is flavoured and scented it's usually a tell tale that this tea is no good, if you need to scent it with something to make it good, so use real tea instead (unscented / unflavoured). If you still choose to use scented tea then the first steeping should be sufficient as those grade 'teas' are not made for a traditional style brew and just tastes worse as you continue to brew them. Go gong fu style – you won't regret it ! And... don't even get me started on the 'tea' bag... just... don't... !
When you braise you fry something to give it texture first on high heat, then afterwards you let it soak and simmer in liquid with a lid on. In this case you fry the lotus pods in the shallots, garlic, jasmine and Chinese chili bean paste. This gives it tons of flavour and texture. The braising is done with a green tea, preferably brewed as explained above, this will give a much better result. The taste of the green tea is there, if you know the taste of lotus root you know it can taste a bit bitter and has a very crisp texture. The green tea braising softens the lotus root – and still leaves some bite to it – and the bitter taste is taken away and gives it more of a flowery taste both from the jasmine and the green tea. Very mellow, but it's there and not bitter. Even when simmered in liquid the lotus still has this lovely texture from the frying before, and this is why braising is such a good technique for this unique vegetable (flower?).
You wont always be able to find lotus pods in western supermarket, but a well stocked Chinese or Asian supermarket you will be able to find just about every ingredient in this recipe, pods, chili bean paste, green tea, jasmine flowers, soy sauce, yup – just about everything.
Here it is served with Vegan Punjabi Style Palak Tofu 'Paneer'.
---
Serves 4 as side dish
---
Ingredients
---
Lotus Pods
---
3 fresh lotus pods

1.2 dl green tea (½ cup)

2 shallots

5 garlic cloves

3 tablespoons chili bean paste / Toban Djan / Doubanjiang

2 tablespoons peanut oil

1 tablespoon dark soy sauce

1 tablespoon dried jasmine flowers
---
Garnish
---
Fresh cilantro

Sesame seeds
---
What you will need
---
Cutting board and knife

Vegetable peeler

1 wok + fitting lid

1 spoon top stir

Measuring spoons
---

---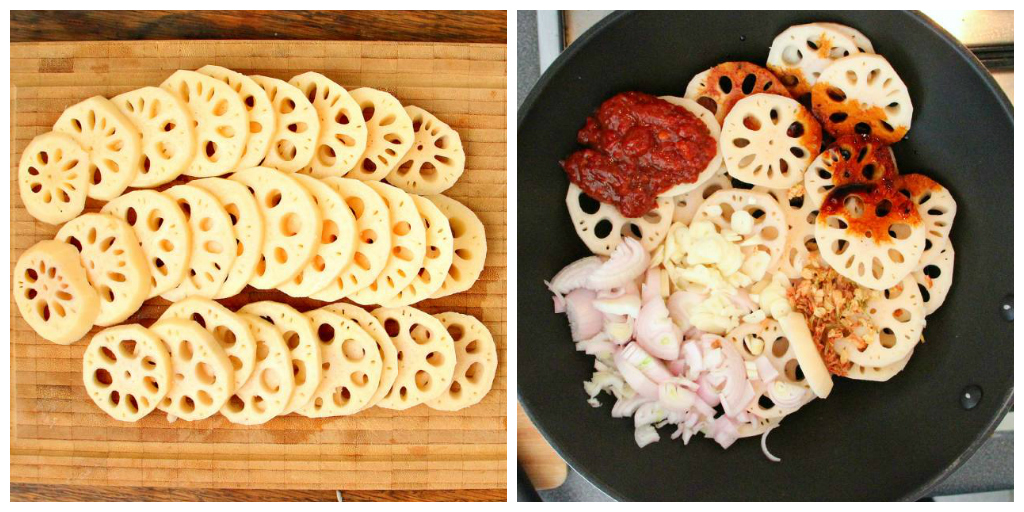 ---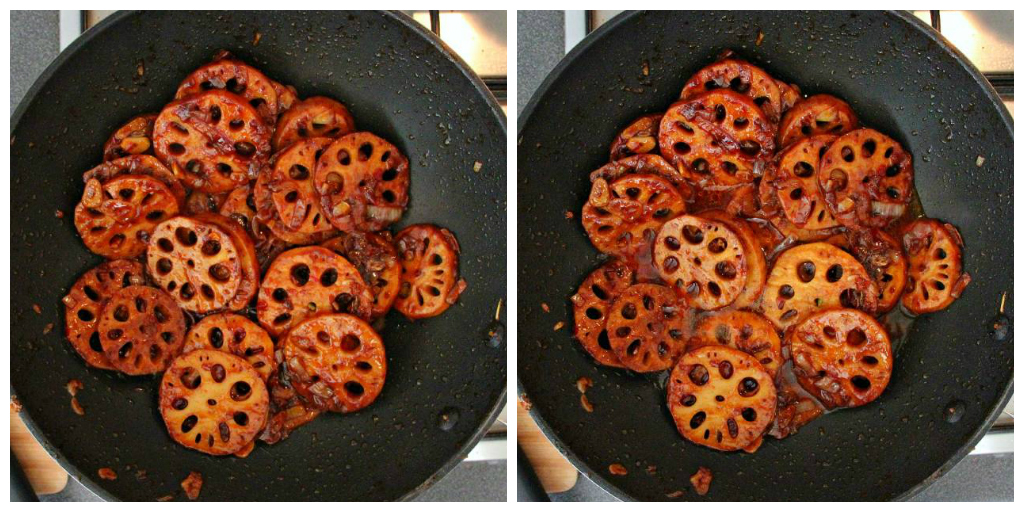 ---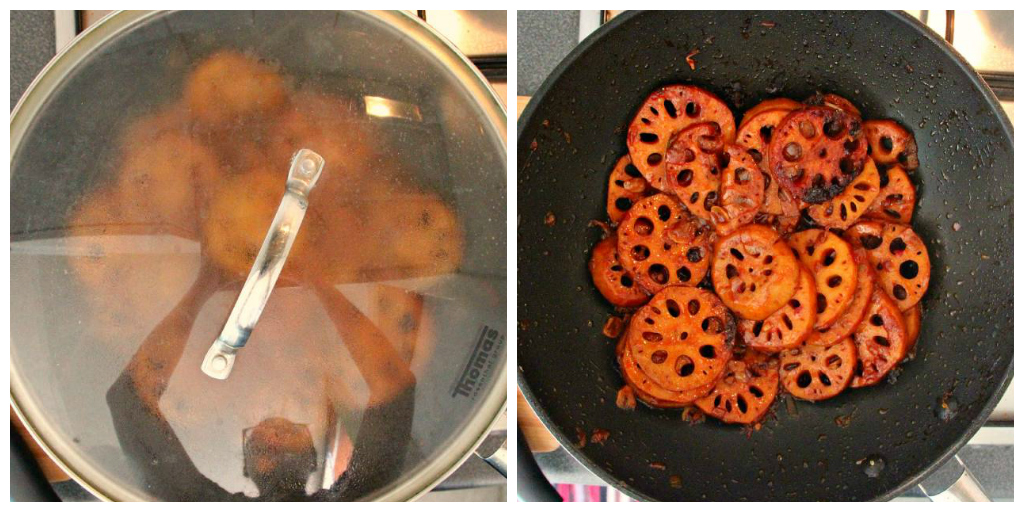 ---
Instructions
---
Separate the lotus pods. Chop off the ends. Peel them, rinse over cold water and shake dry. Chop them in about 1 cm / 0.4 inch slices. Add to a wok.

---

Peel and finely slice the shallots and garlic. Add to the wok with the dried jasmine flowers, chili bean paste, oil and dark soy sauce. Turn heat on high and cook for about 5 minutes flipping them occasionally.

---

Prepare ½ cup green tea, only use 80c (175 F) hot water to brew, this will prevent the green tea to release its bitter components and it will taste less astringent. Preferably use a gong fu style brew, or else a western style brew will do... okay.

---

Transfer the tea to the wok, cover and let simmer for about 10 minutes on medium heat, flip them once or twice during this time and put the lid back on.

---

When finished braising all the tea should have been soaked into the lotus pods, and they're ready to serve. Garnish with fresh cilantro and sesame seeds.
---
Enjoy !
---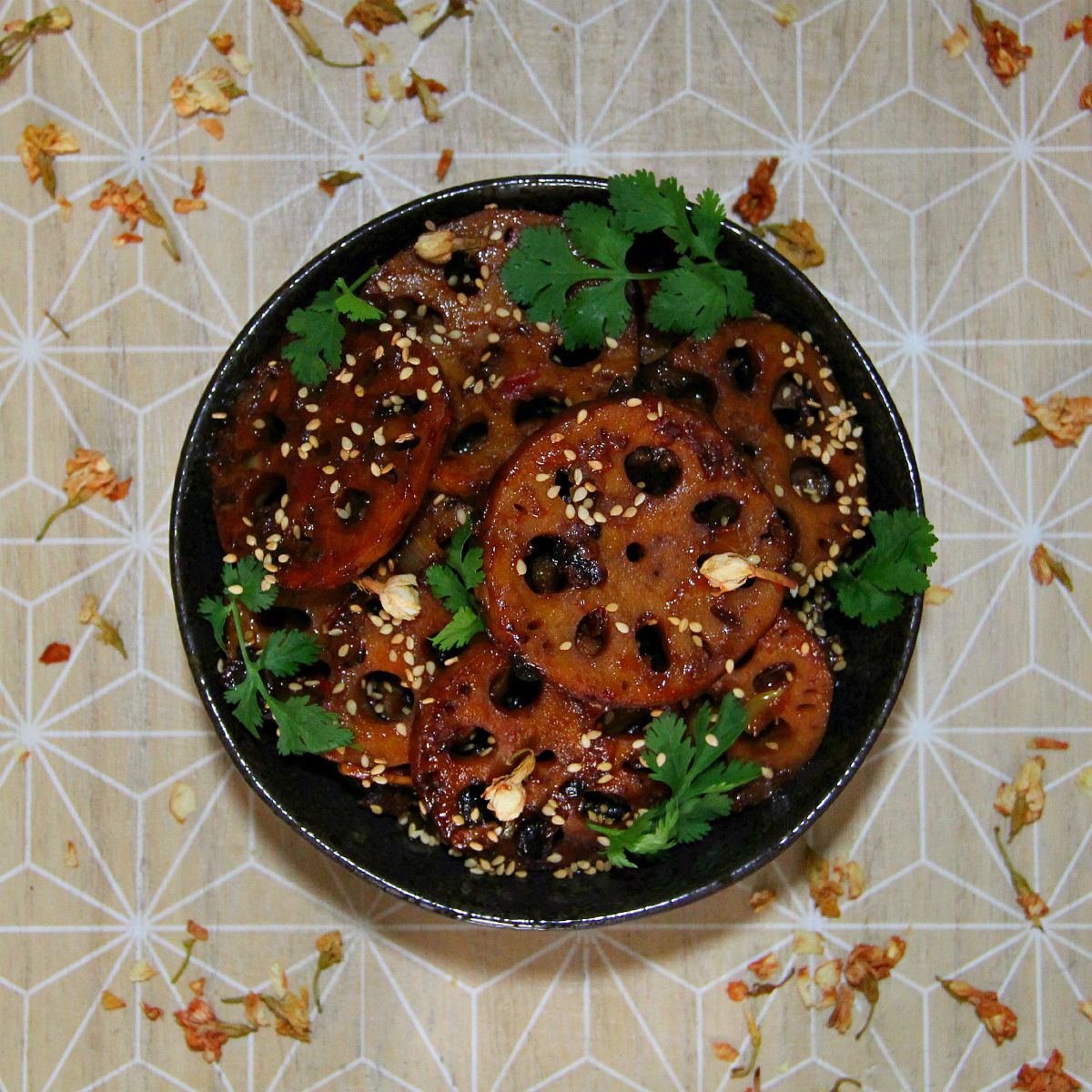 ---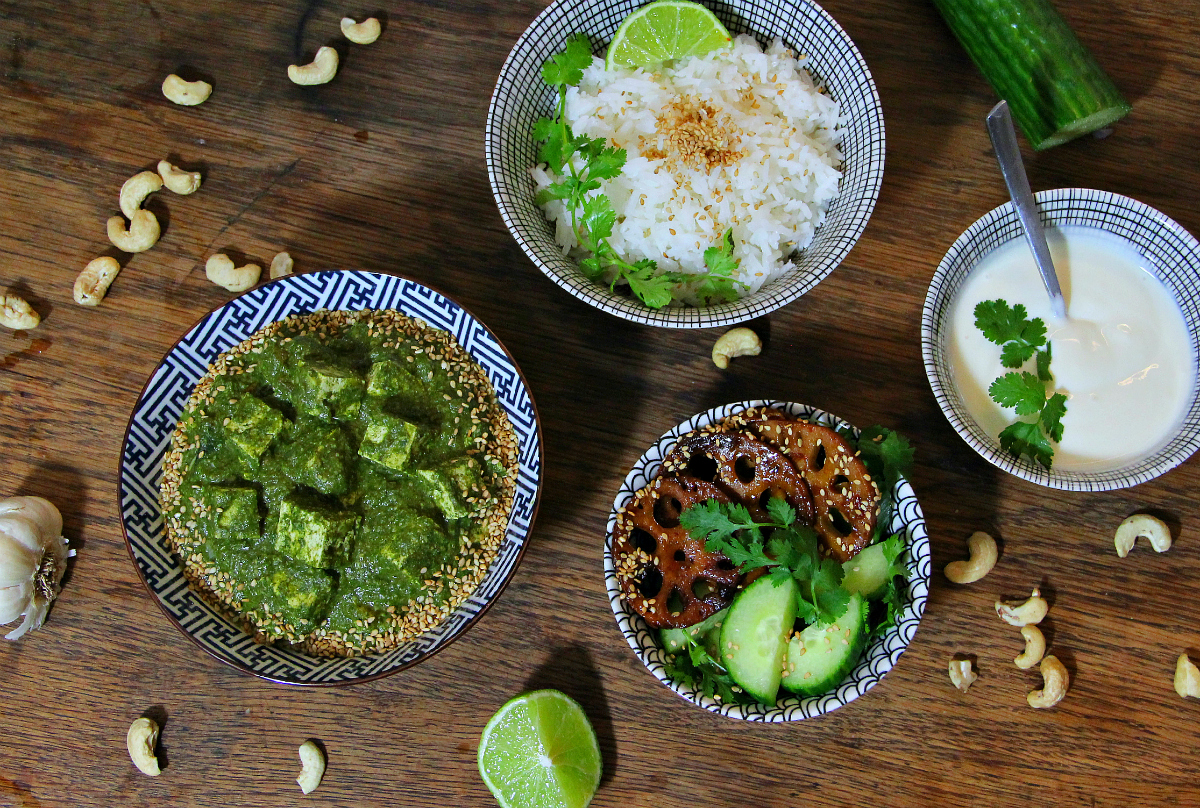 ---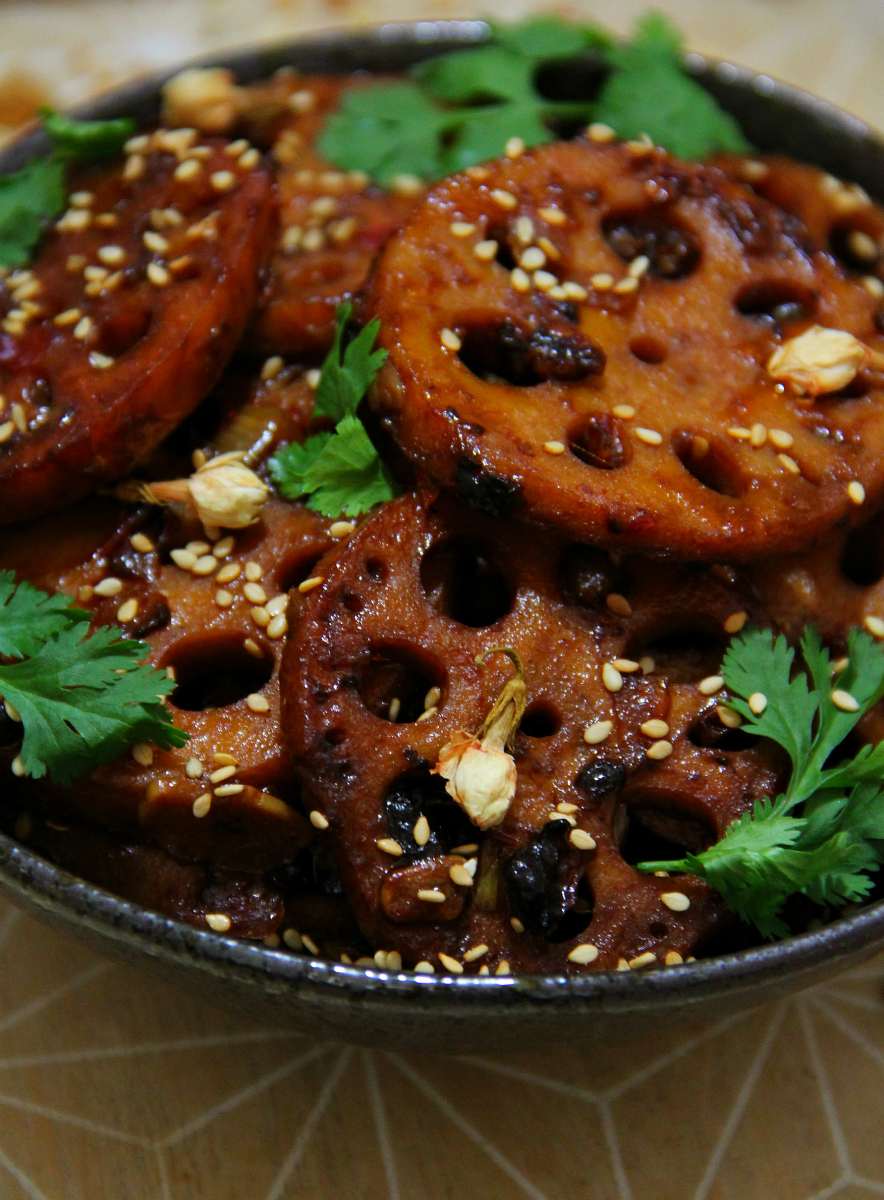 ---