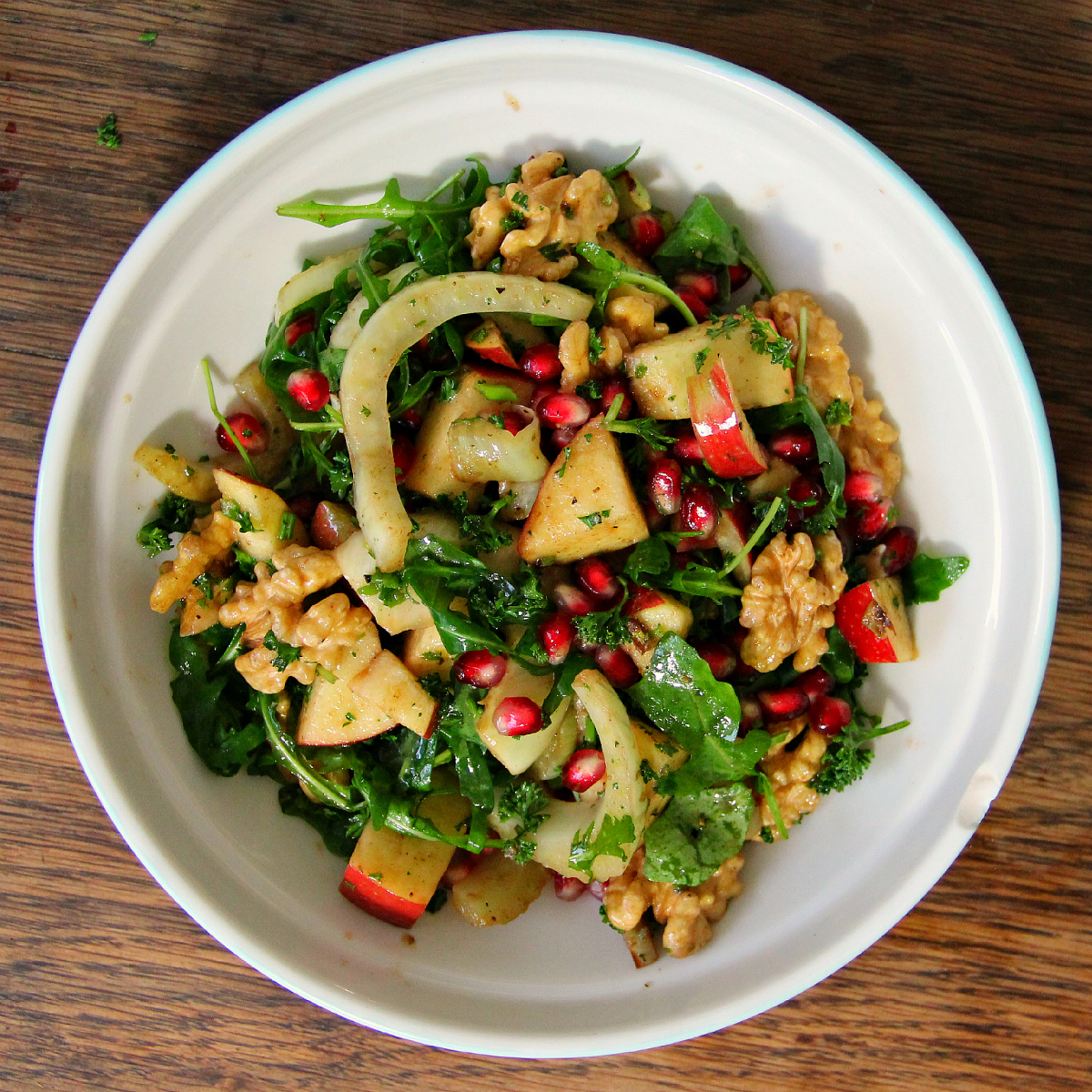 ---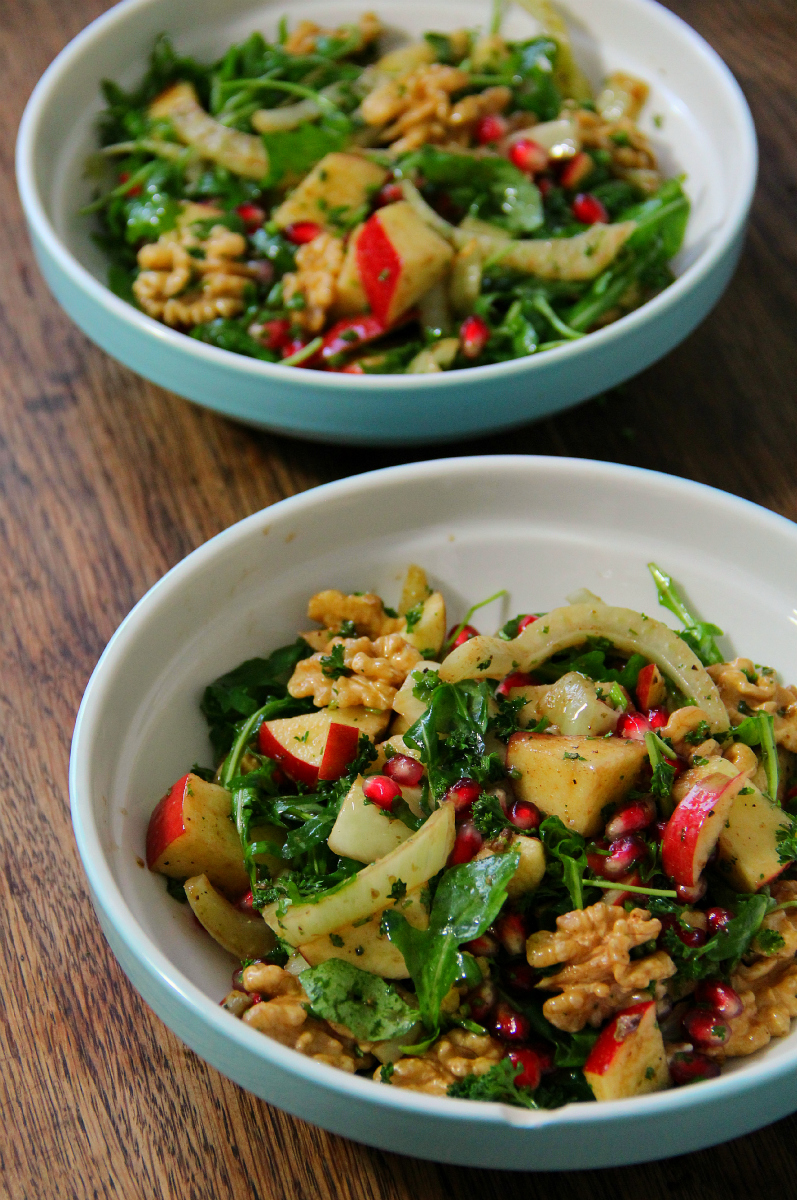 ---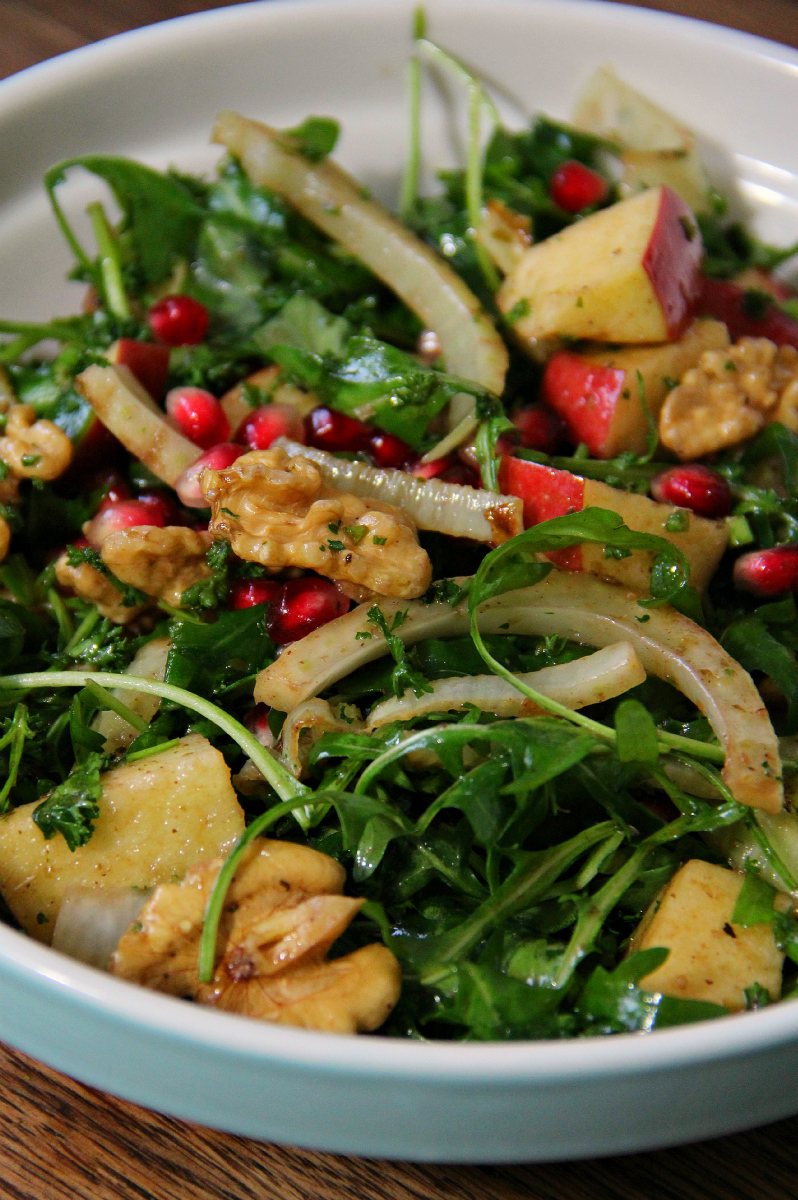 ---
I kind of a bad vegan since I don't eat much salads, I'm such a savoury person, as much as I often eat leftover dinner for breakfast.. Not a big traditional breakfast person either.. Haha.. but when I do eat salads it gotta be interesting, and often I add fruits and nuts more than I add veggies, it just gives such a good freshness to the salad ! Something fruity and sweet with the savoury is a good twist.
This is a Middle Eastern inspired version of a salad with a Mediterranian twist, a fusion salad made of delicious fried fennel with oregano and cumin, crunchy apple, gorgeous red pomegranate, green parsley and ruccola and lots of healthy walnuts and figs. Drizzled with a tangy balsamic vinegar dressing with a tasty olive oil, sweet agave and kick from the lemon juice.
The taste of spring and summer, super refreshing, fruity and nutty salad with a kick from the dressing. Great as a side dish for a BBQ night, or even as a main course for 2 people on hot summer day.
One thing to note, I didn't picture the dried figs as I forgot them, and first added them after the photo shoot.. Woops ! I went a little too fast there, but certainly add them as they add a nice sweet taste and some great texture as well !
---
Like salads in general? Then check out these
---
---
Serves 4 as side dish
---
Ingredients
---
Fried fennel
---
1 fennel

1 tablespoon vegetable oil

½ teaspoon ground cumin

½ teaspoon dried oregano

Salt and pepper to taste
---
Salad
---
1 pomegranate

1 red apple

150g walnuts (5.3 oz)

50g ruccola / rocket (1.8 oz)

1 handful curly parsley

1 handful dried figs
---
Dressing
---
2 tablespoons balsamico

2 tablespoons good olive oil

1 tablespoon agave syrup

Juice from ½ lemon

Salt and pepper to taste
---
What you will need
---
Cutting board and knife

1 small bowl

1 big bowl

1 pan + spoon to stir

Measuring spoons
---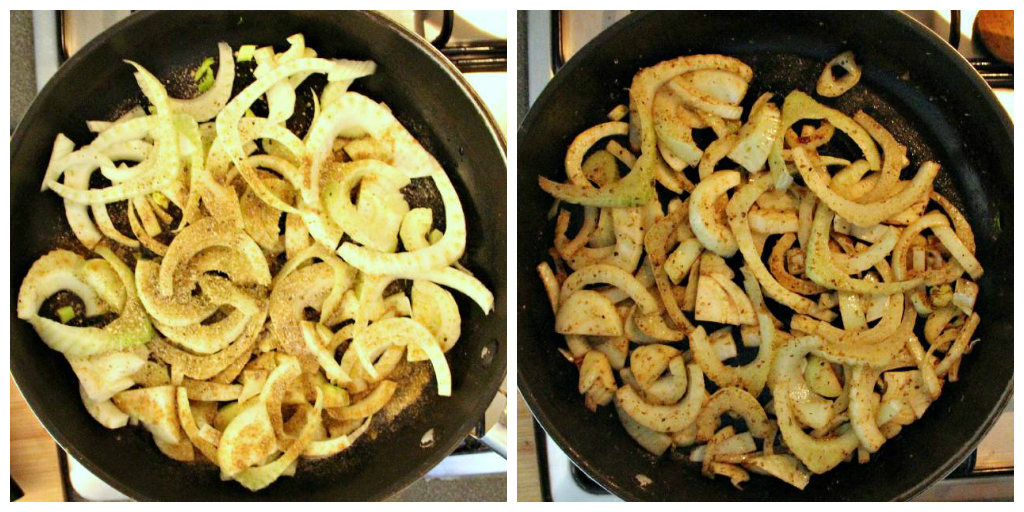 ---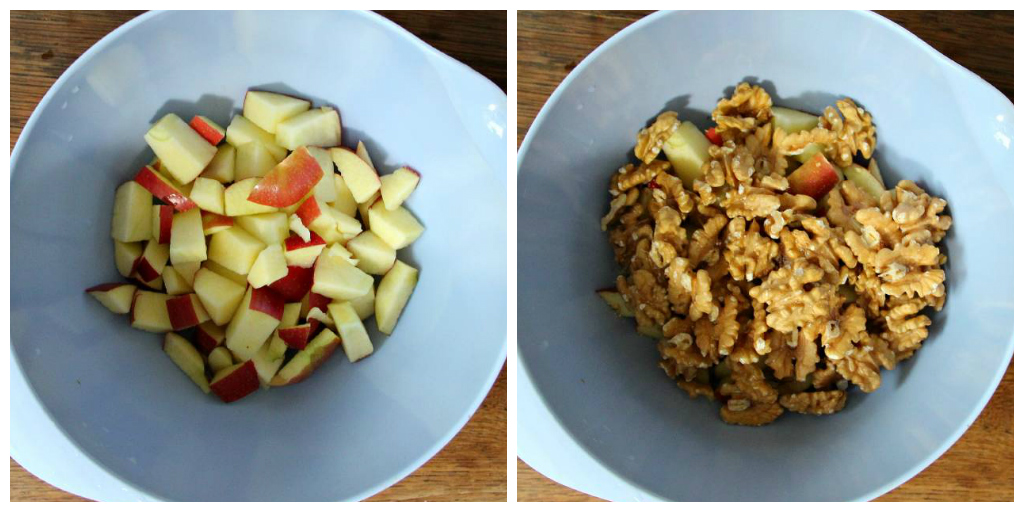 ---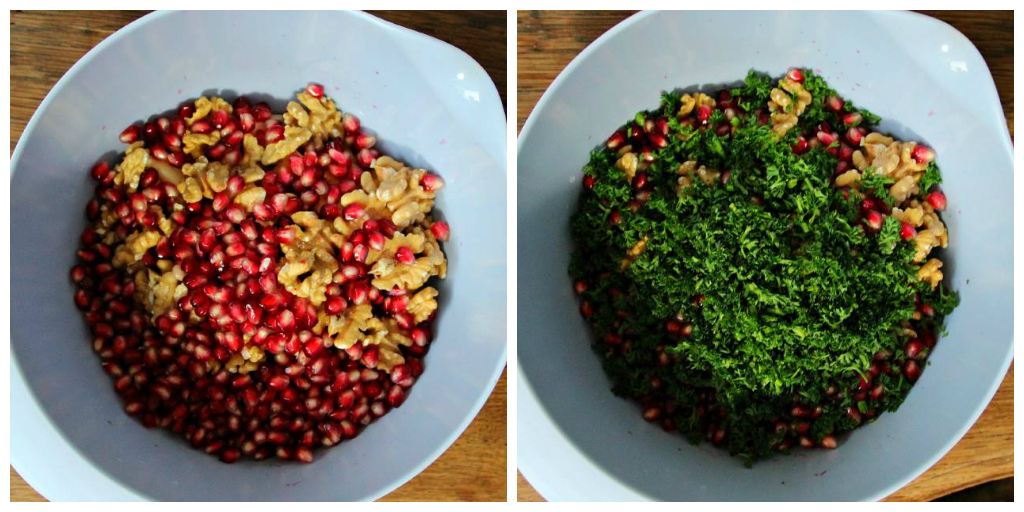 ---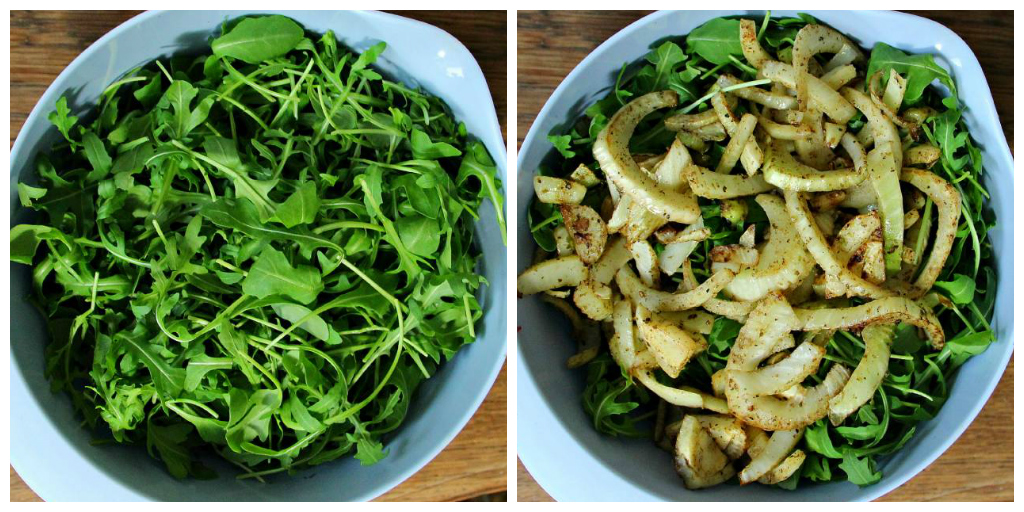 ---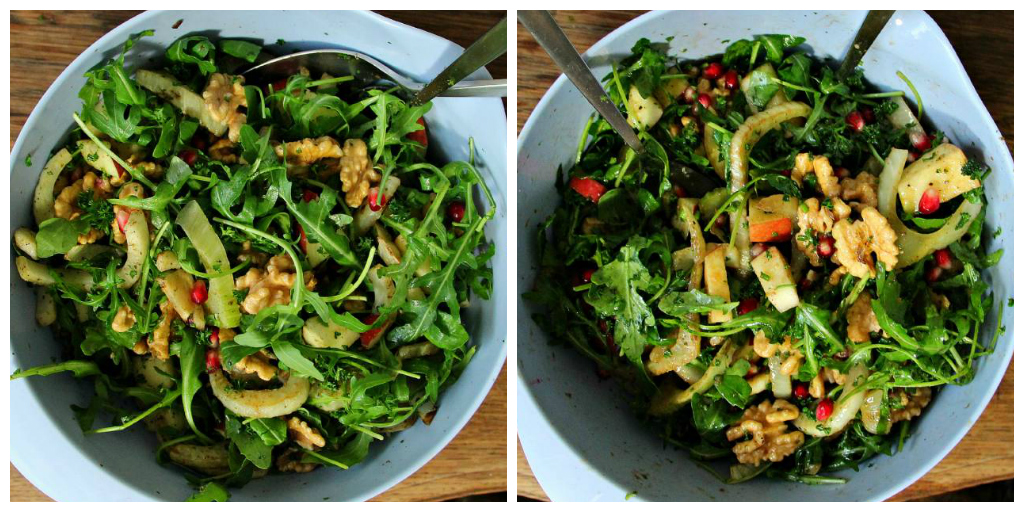 ---
Instructions
---
Wash the fennel, chop the leafy parts off and the hard bottom. Slice it in half and then chop each half into slices.

---

Put onto a pan with the oil, cumin, oregano and salt and pepper to taste. Turn heat on high and fry for about 5-7 minutes until the fennel is tender. Flip them occasionally. When tender turn heat off and set aside.

---

In a small bowl put in all the ingredients for the dressing, balsamico, olive oil, agave syrup and freshly squeezed lemon juice. Stir together and set aside.

---

Wash and chop the apple as pictured and put into a big salad bowl along with the walnuts.

---

Chop the ends of the pomegranate and peel it, gently take out all the pomegranate seeds discarding the white 'walls' of the pomegranate. Add to the salad bowl.

---

Chop the stiff ends off the dried figs, chop them into smaller pieces and add as well.

---

Wash and finely chop the crop the curly parsley. Soft green stems are ok, harder stems should be cut off. Add to the salad.

---

Wash and drain the ruccola / rocket well. Add to the bowl along with the fried fennel. Give it a good mix and add in all the dressing, giving it another toss to combine the dressing evenly.
---
Enjoy !
---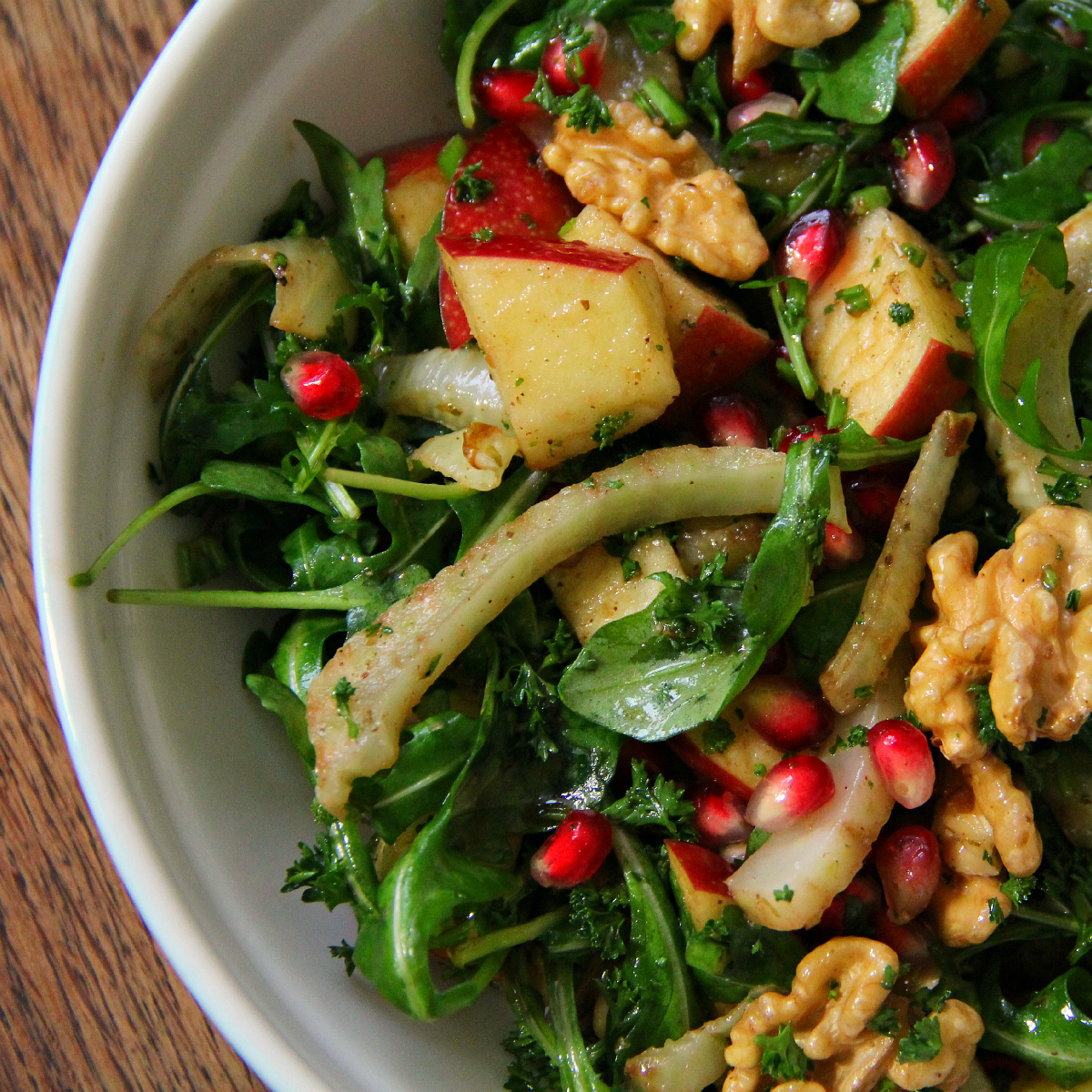 ---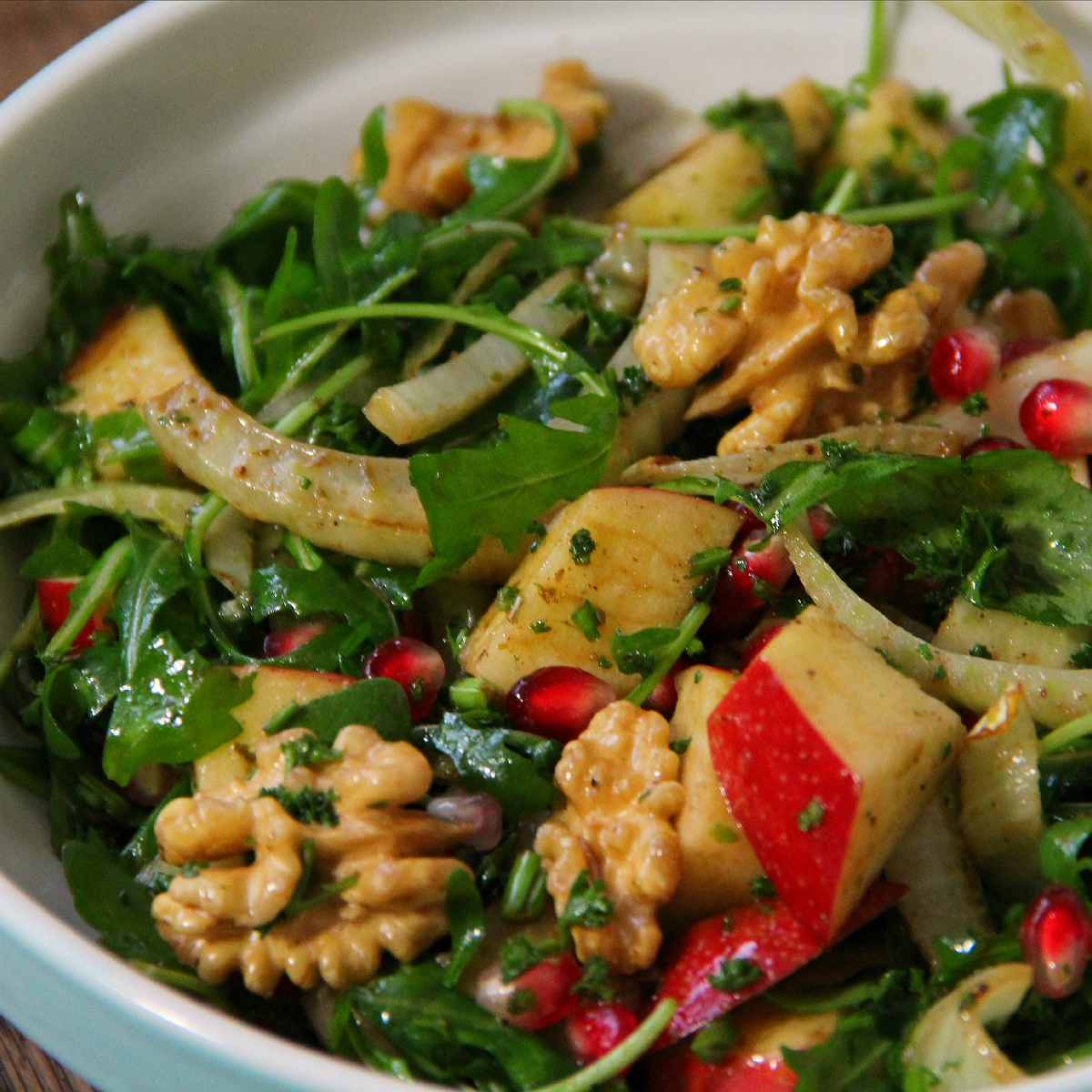 ---