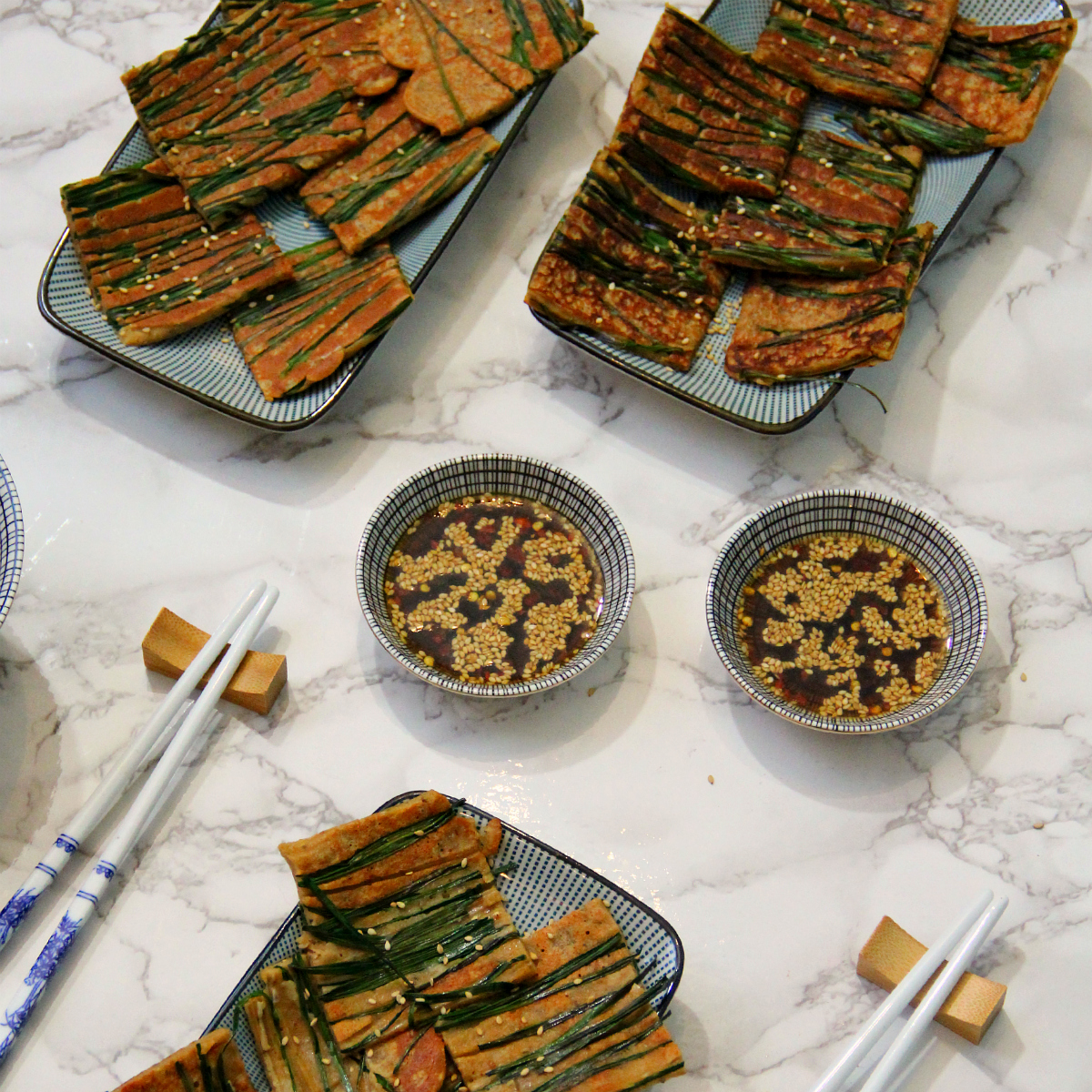 ---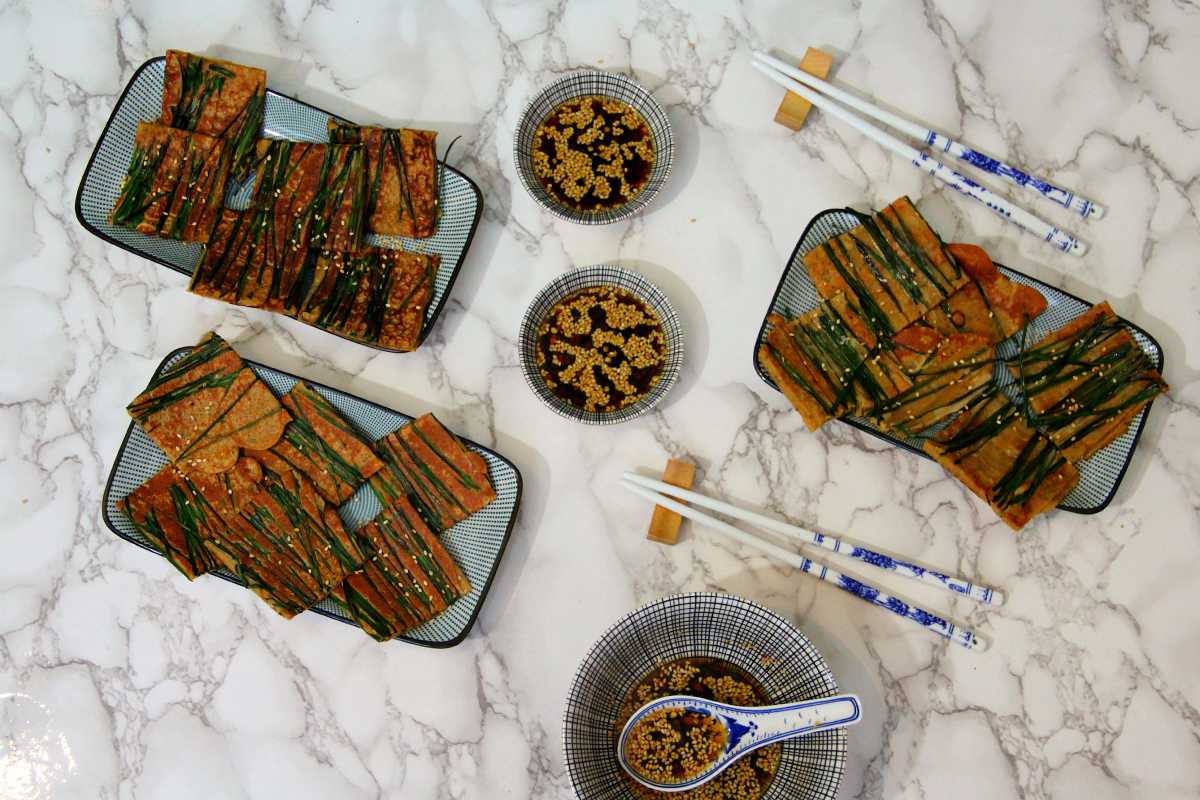 ---
I have wanted to make these pancakes for a long, long time. I got inspired by one of my personal cooking heroines, Maangchi, who made a video about Korean Pajeon, which is spring onion pancakes. Granted, she is not cooking vegan food in general, but many of her recipes are vegan, and she makes the most delicious and authentic Korean food you could imagine (also she is the sweetest internet personality out there by far).
So these I chose to make were a little different than Maangchi´s, I made it with chives instead of spring onions. Chives is "Buchu" and "Jeon" is pancakes, simply just "chive pancakes" in Korean. "Pajeon" means spring onion pancakes. In Korea you´d actually use delicate new garlic chives, but western chives are just as good to use, which I also did here. I also added sweet bean paste to this to spice it up a bit.
Yes, it can be categorized as a Korean breakfast, but not like the western sweet breakfast, as this is nice and savoury. It´s also a great side dish, snack and starter. As side dish this would serve enough as 3 or 4 people, depending how much you want each, this recipe makes 3 pancakes.
---
Serves 3-4 as side dish
---
Ingredients
---
Buchujeon
---
2.5 dl unsweetened soy milk (1 cup)

1.2 dl chickpeas flour (½ cup)

1.2 dl organic white flour (½ cup)

2 tablespoons chia seeds

2 tablespoon sweet bean paste

1 tablespoon sesame oil

½ teaspoon salt

30g of fresh chives (1 oz)

Little peanut oil for frying
---
Dip
---
2 tablespoons soy sauce

2 tablespoons water

1 teablespoon sesame oil

1 tablespoon rice vinegar

1 tablespoon granulated sugar

1 tablespoon sesame seeds

¼ teaspoon hot chili flakes
---
What you will need
---
1 big bowl

1 whisk

1 measuring cup

Measuring spoons

1 pan + spatula

1 bowl for dip
---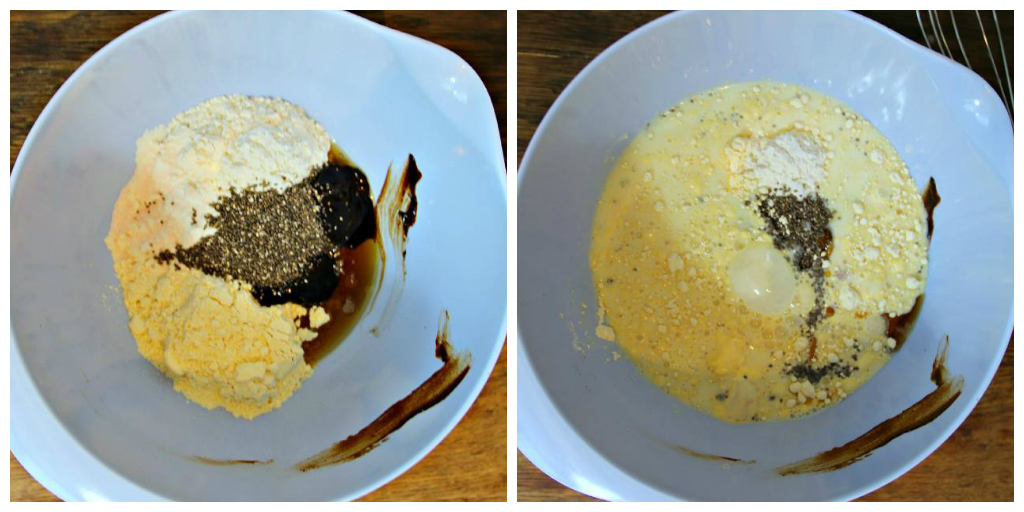 ---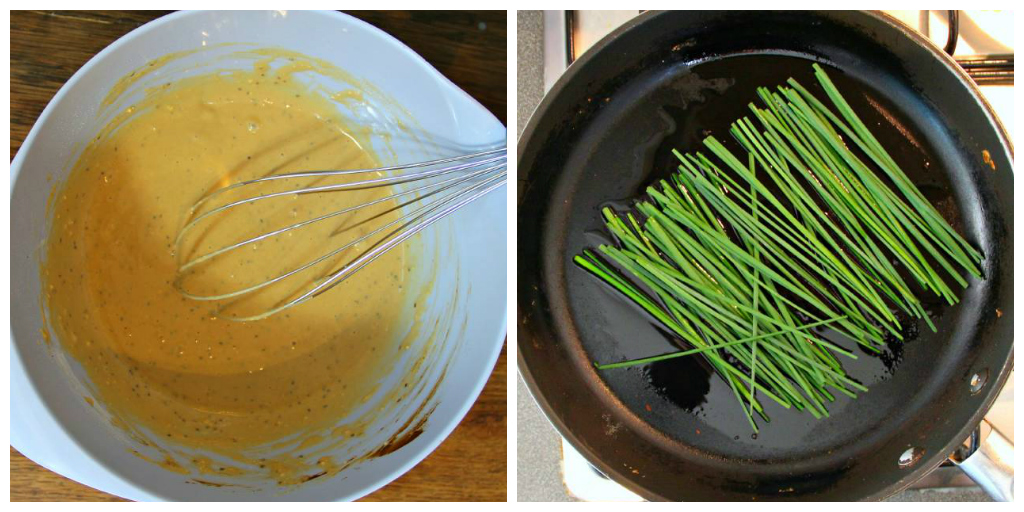 ---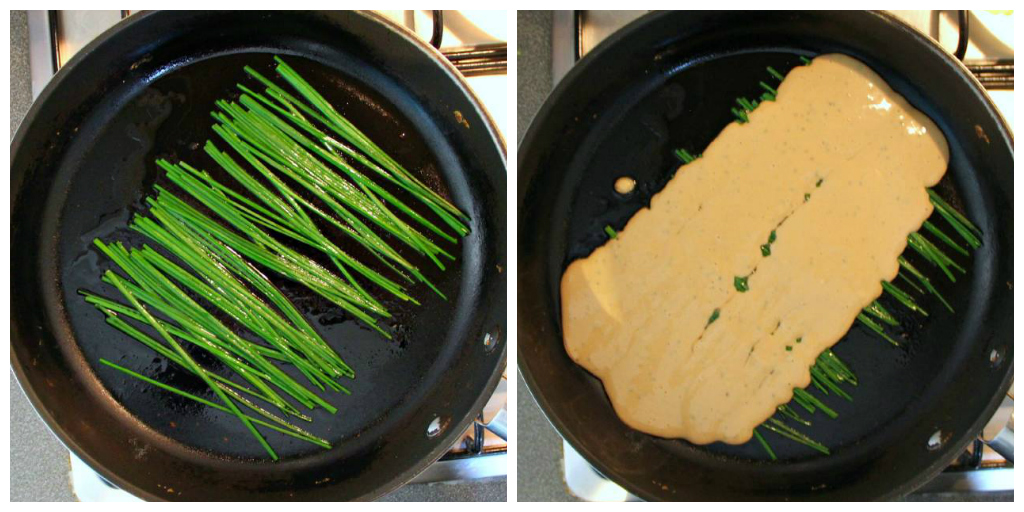 ---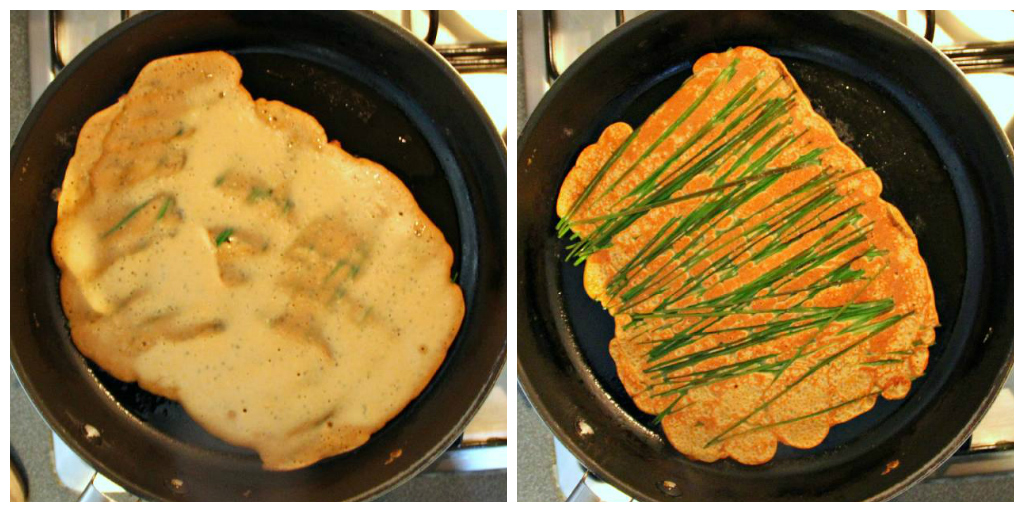 ---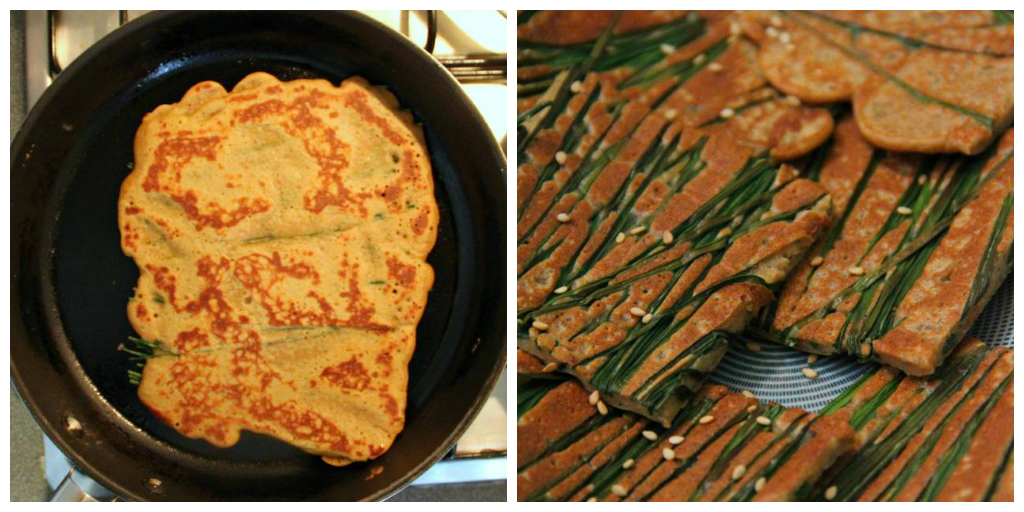 ---
Intructions
---
In a bowl put in the flour and chickpeas flour, with the salt, chia seeds, sesame oil and sweet bean paste.

---

Add in the unsweetened soy milk. Whisk well. Let sit for a few minutes to let the chia seeds soak the liquid.

---

Prepare the dip. Add all the ingredients in one bowl and mix well, set aside.

---

Turn the heat on the pan. Add in a very little amount of the peanut oil. When the pan is hot add in the chives and let them simmer on medium heat for about ½ a minute.

---

Then pour over the batter in a thin line, gently covering the chives, using about 1/3 of the batter. Use a spatula to cover the chives evenly with the batter afterwards. Let cook about 2-3 minutes or until golden.

---

Flip the pancakes once golden and let cook for another 2-3 minutes on the other side, or until golden. Set aside and continue steps with 2 more pancakes.

---

When done, slice the pancakes into squares, sprikle with sesame seeds and serve with the dip on the side.
---
Enjoy !
---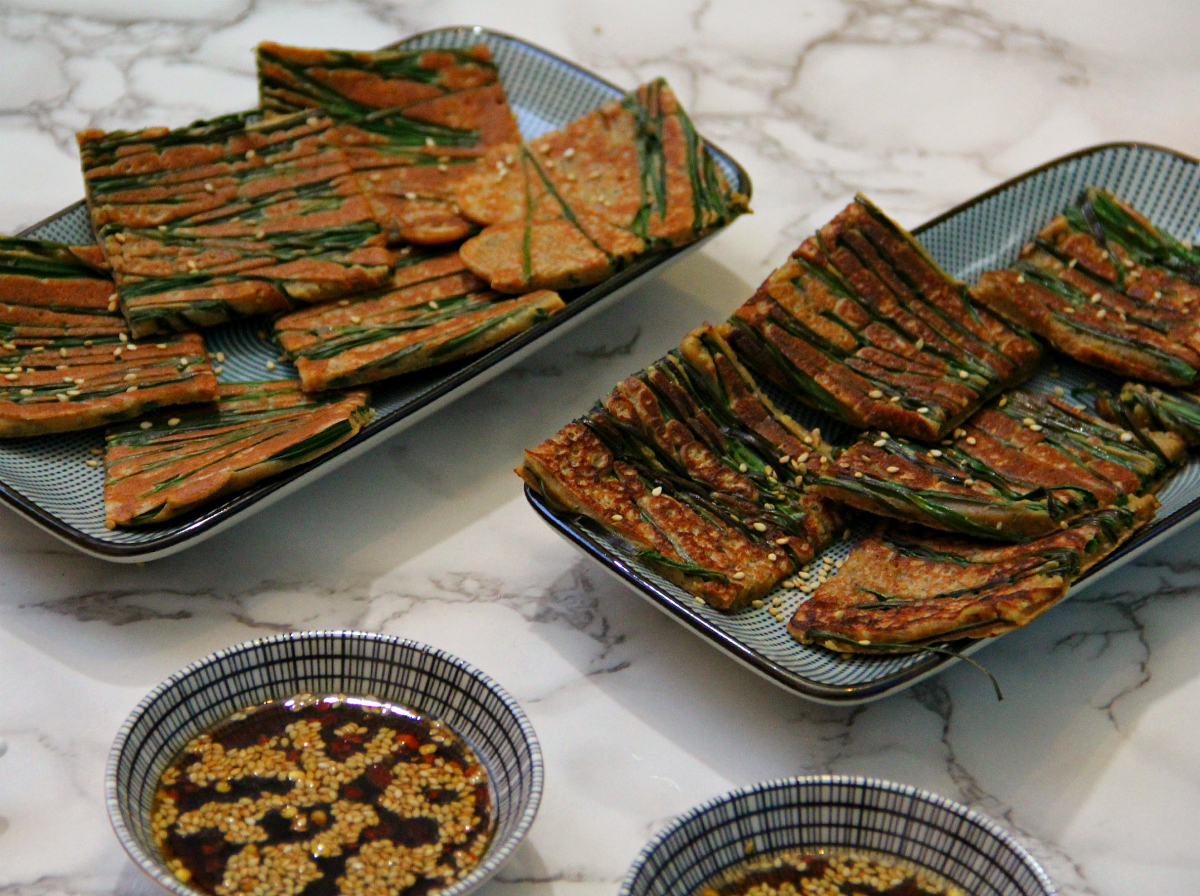 ---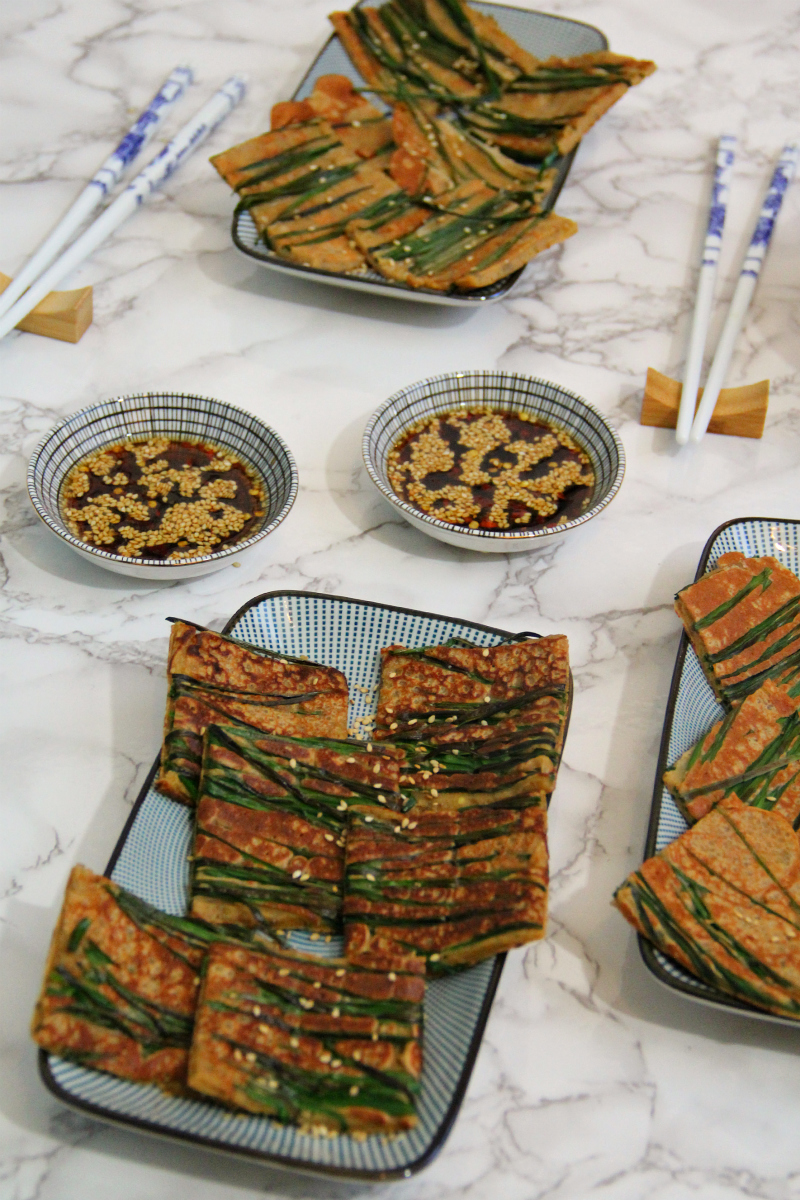 ---