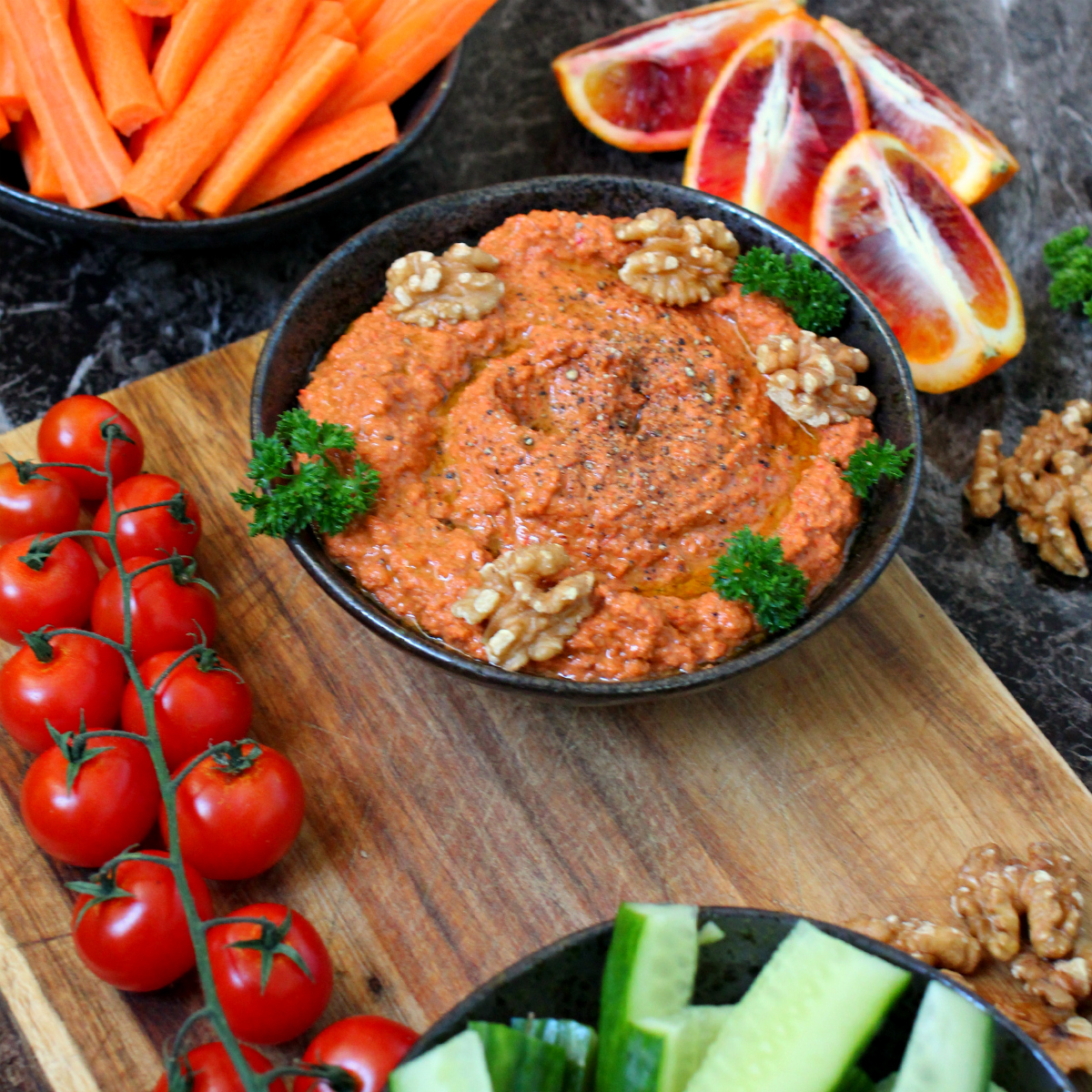 ---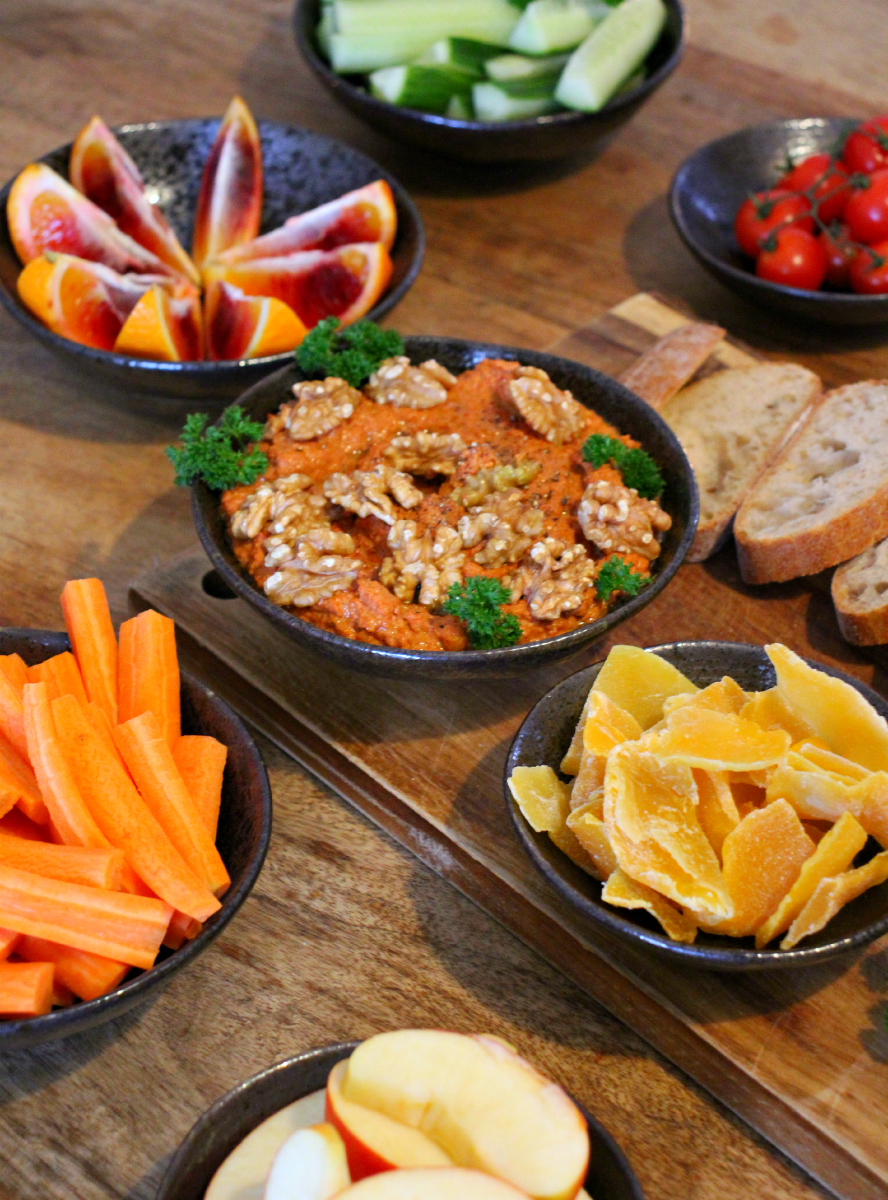 ---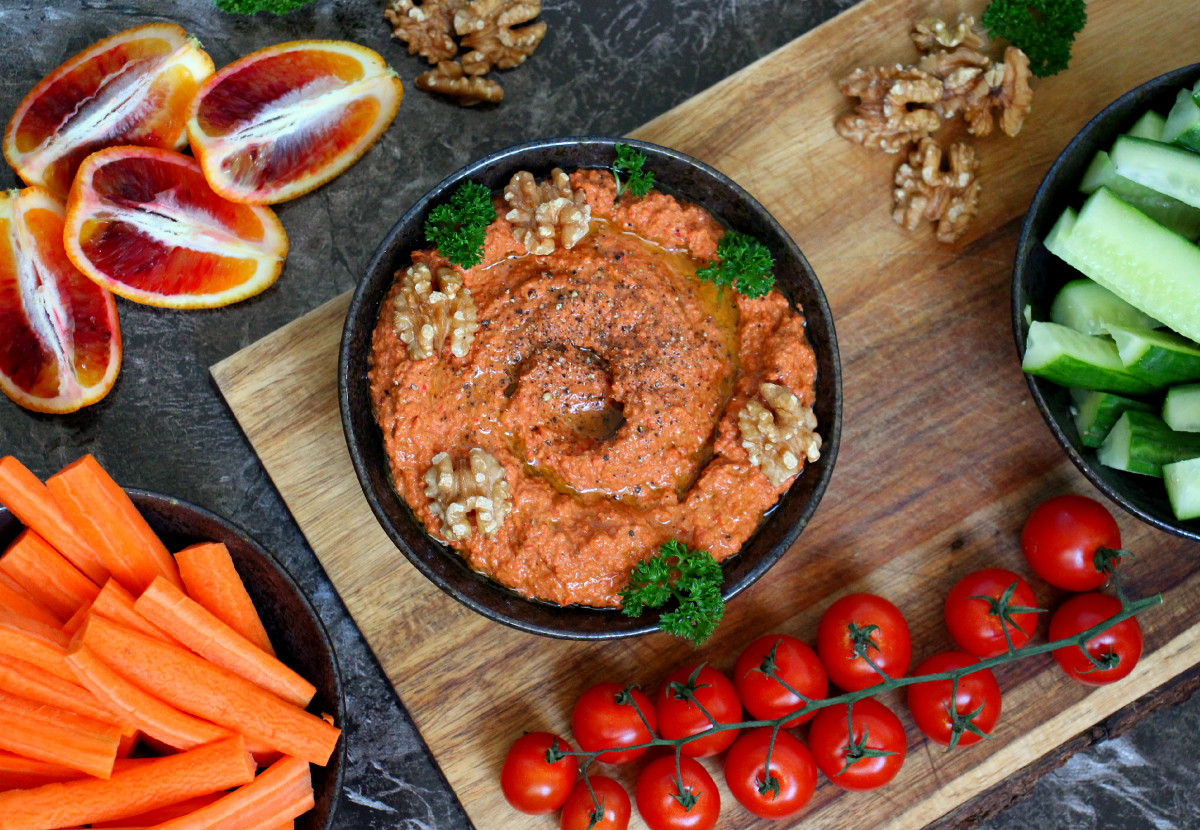 ---
I call it crack dip, its SO addictive and I absolutely love it. My local supermarket has a great dip section and I tried this one and fell in love. Actually never heard of this, and after eating this store bought one since I came across it last summer, I HAD TO try and make my own version.
Originally a Syrian dip, this uses both pomegranate molasses and Aleppo chili flakes. This might be hard to come by, but odds are that a Turkish supermarket has these ingredients, as this dip is also quite popular in Turkey. I managed to find pomegranate molasses, which is crucial to get the real taste of this, but I just . Could . Not . Find . Aleppo chili ... Hhhmmmmm ... But, I used normal chili flakes here and used less, but opt for Aleppo Chili flakes if you can find them for sure !
---
Makes about 1 liter / 33.8 fl. oz
---
Ingredients
---
3 red bell peppers

200 g walnuts (7 oz)

80 ml breadcrumbs (1/3 cup)

1 stalk of spring onion

2 garlic cloves

3 tablespoons extra virgin olive oil

2 tablespoons pomegranate molasses

2 tablespoons tomato puree

2 tablespoons tahini

1 teaspoon ground cumin

1/2 teaspoon chili flakes (or to taste)

Juice from 1 lemon

Salt and pepper to taste
---
Garnish
---
Drizzle of olive oil

Walnuts

Parsley

Freshly grind black pepper
---
What you will need
---
Cutting board and knife

1 ovenproof dish

1 pan + spoon to stir

1 measuring cup

Measuring spoons

1 blender OR bowl and stick blender
---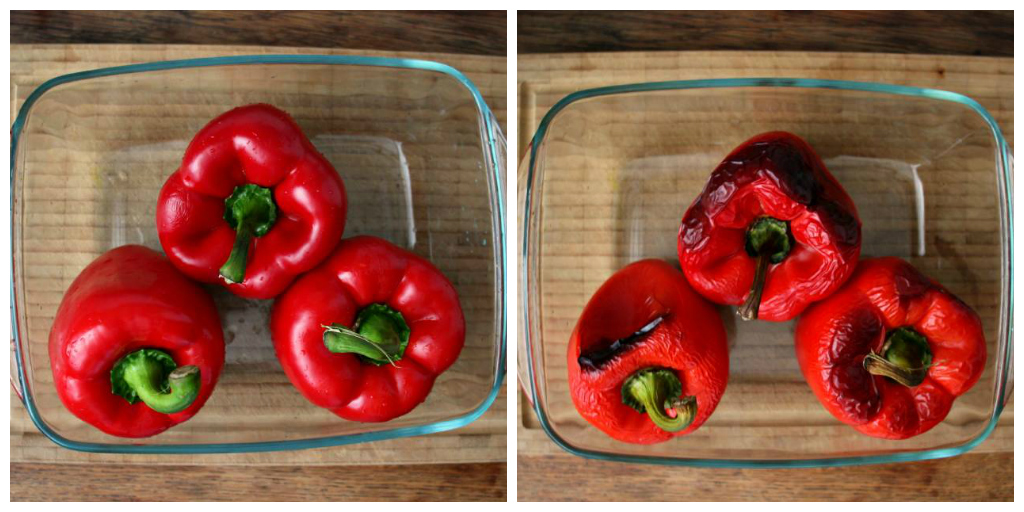 ---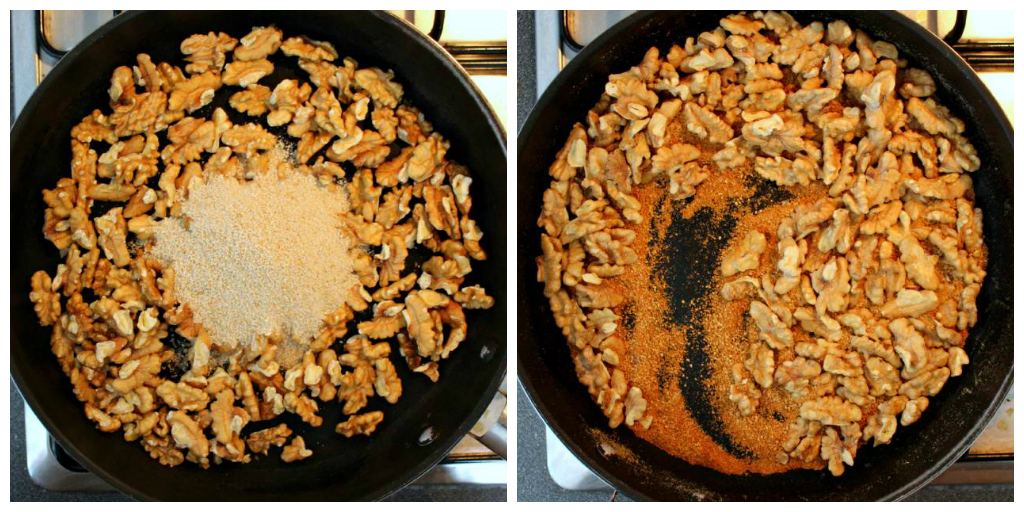 ---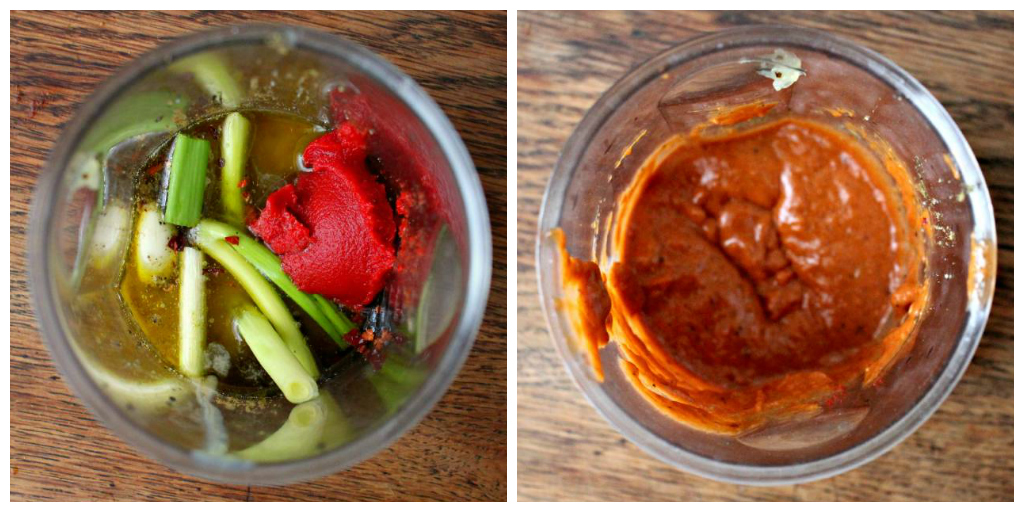 ---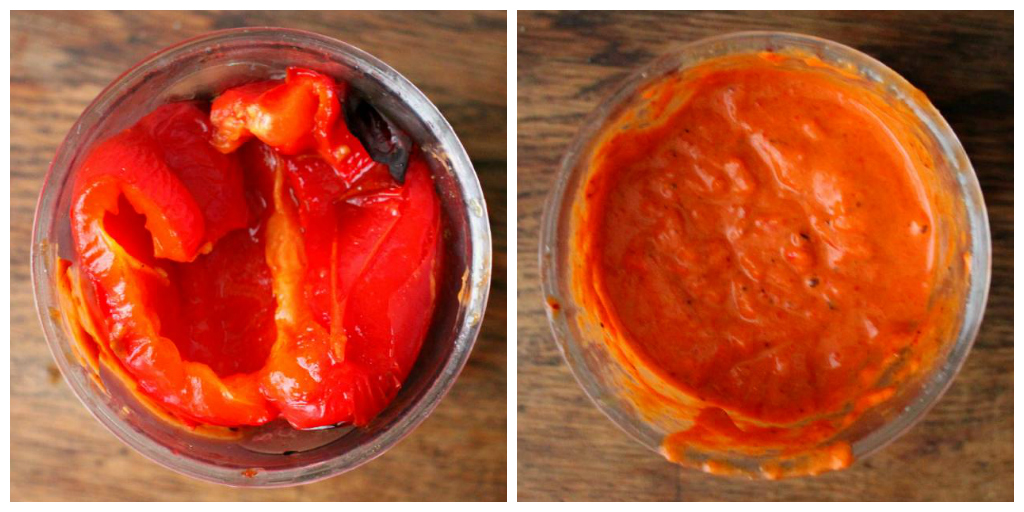 ---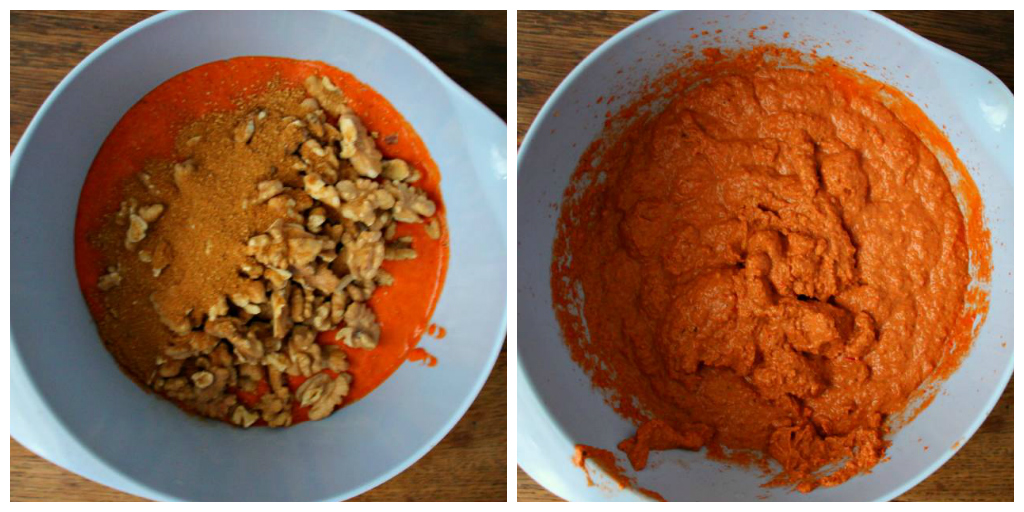 ---
Instructions
---
Preheat the oven to 200 c (390 F).

---

Wash the bell peppers and let dry. Put in an ovenproof dish, roast in the oven for about 30-40 minutes, or until slightly charred on top.

---

Put the walnuts and breadcrumbs in a pan. Toast on medium high heat while stirring until the breadcrumbs are very golden, but not burnt. Set aside.

---

Blend smooth: spring onion, garlic, pomegranate molasses, olive oil, tomato puree, tahini, chili flakes, cumin, lemon juice and some salt and pepper. Let sit and marinade.

---

Take out bell peppers when slightly charred. Carefully deseed and take the stem off. Blend with the marinade until smooth.

---

Add in the toasted breadcrumbs and walnuts, keeping a few walnuts for topping on later. Blend until desired texture, but keep some chunks. Refrigerate for a few hours, allowing the mixture to soak the walnuts and marinade.

---

Serve topped with an olive oil swirl, fresh parsley, black pepper and toasted walnuts, eat as a dipping for toasted bread, vegetable sticks, fruit, dried fruit, crackers etc etc.
---
Enjoy !
---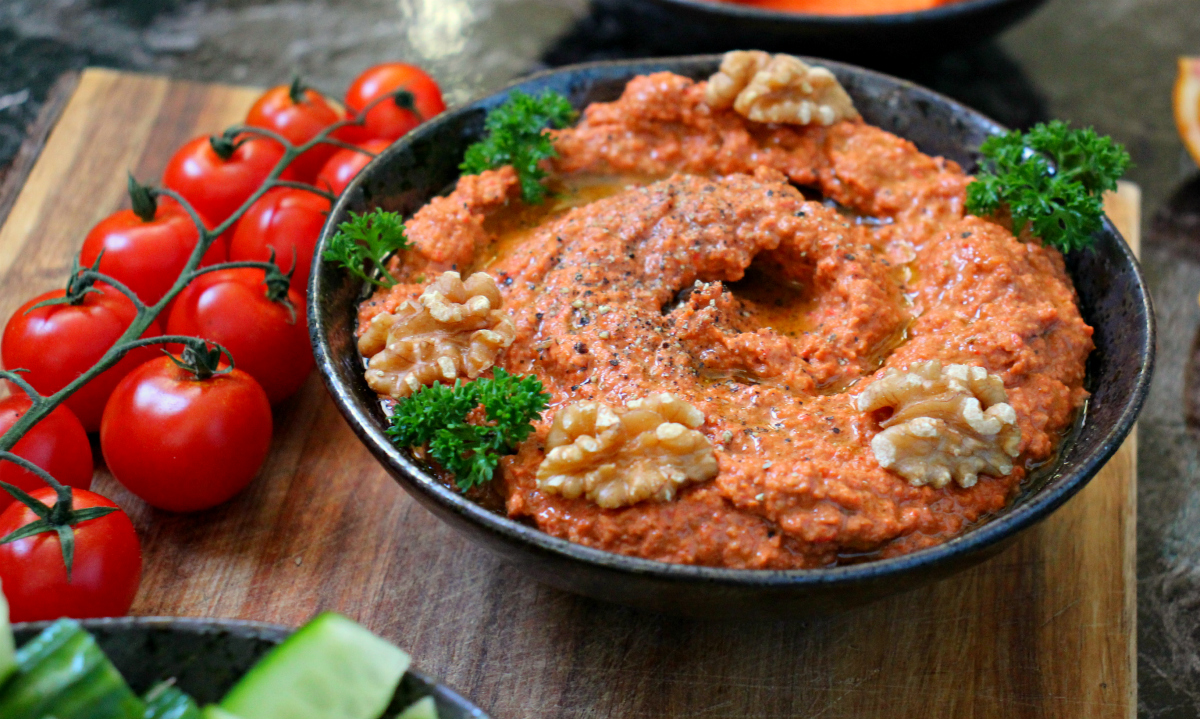 ---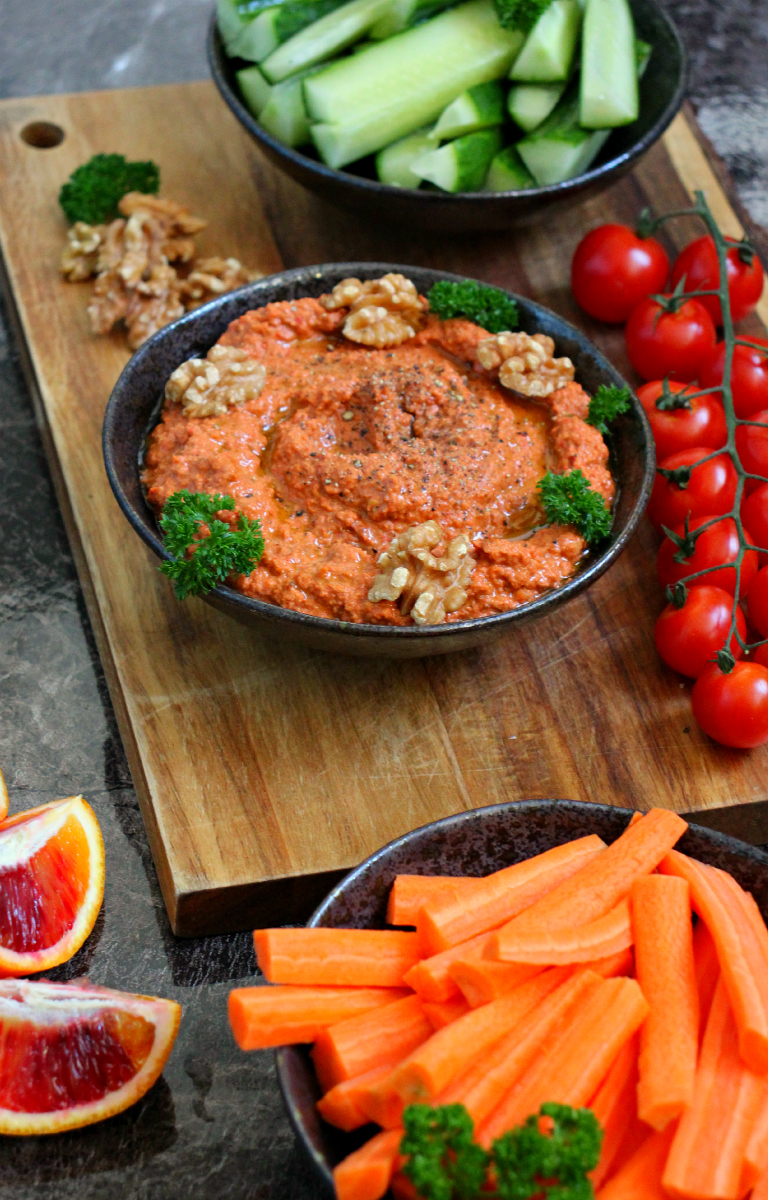 ---