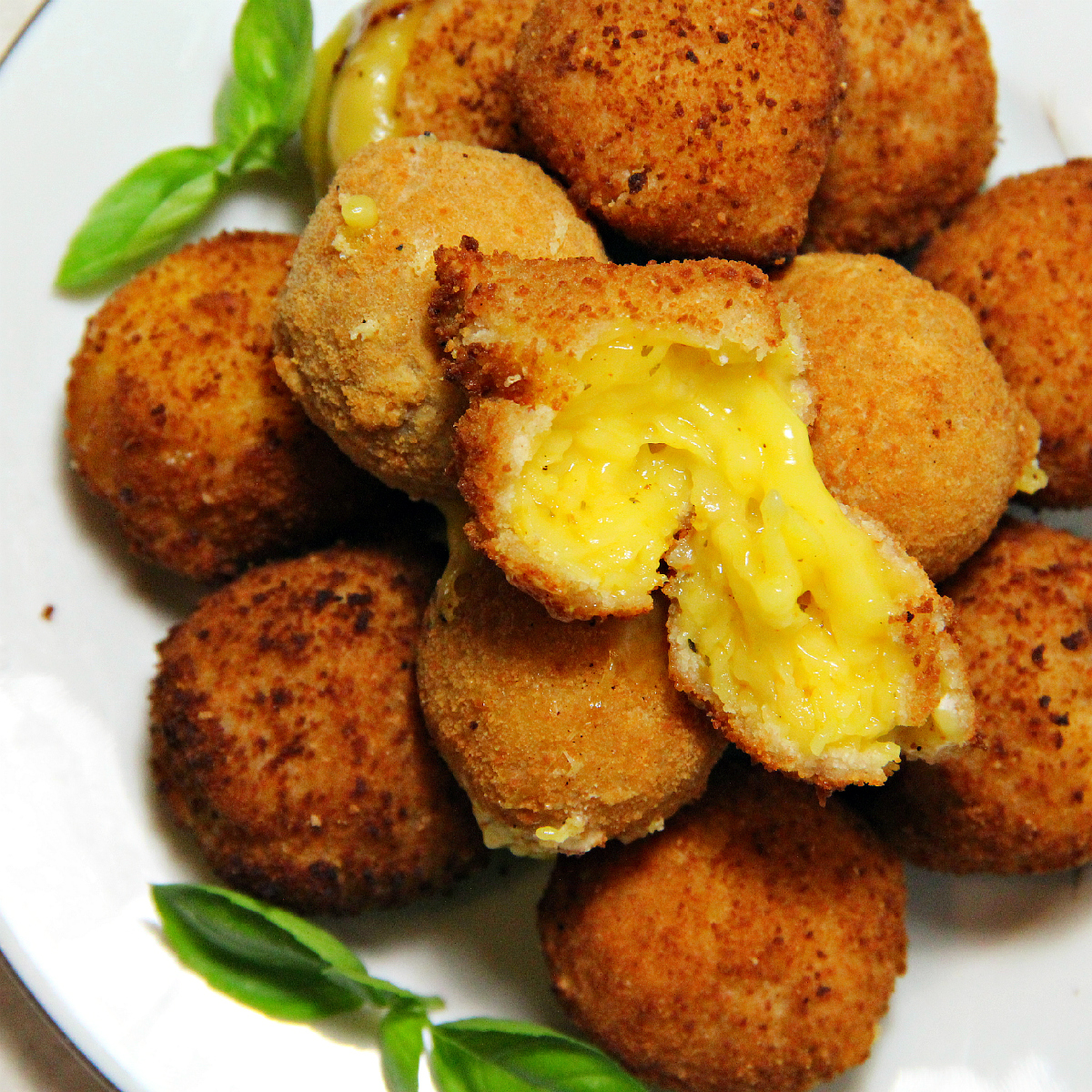 ---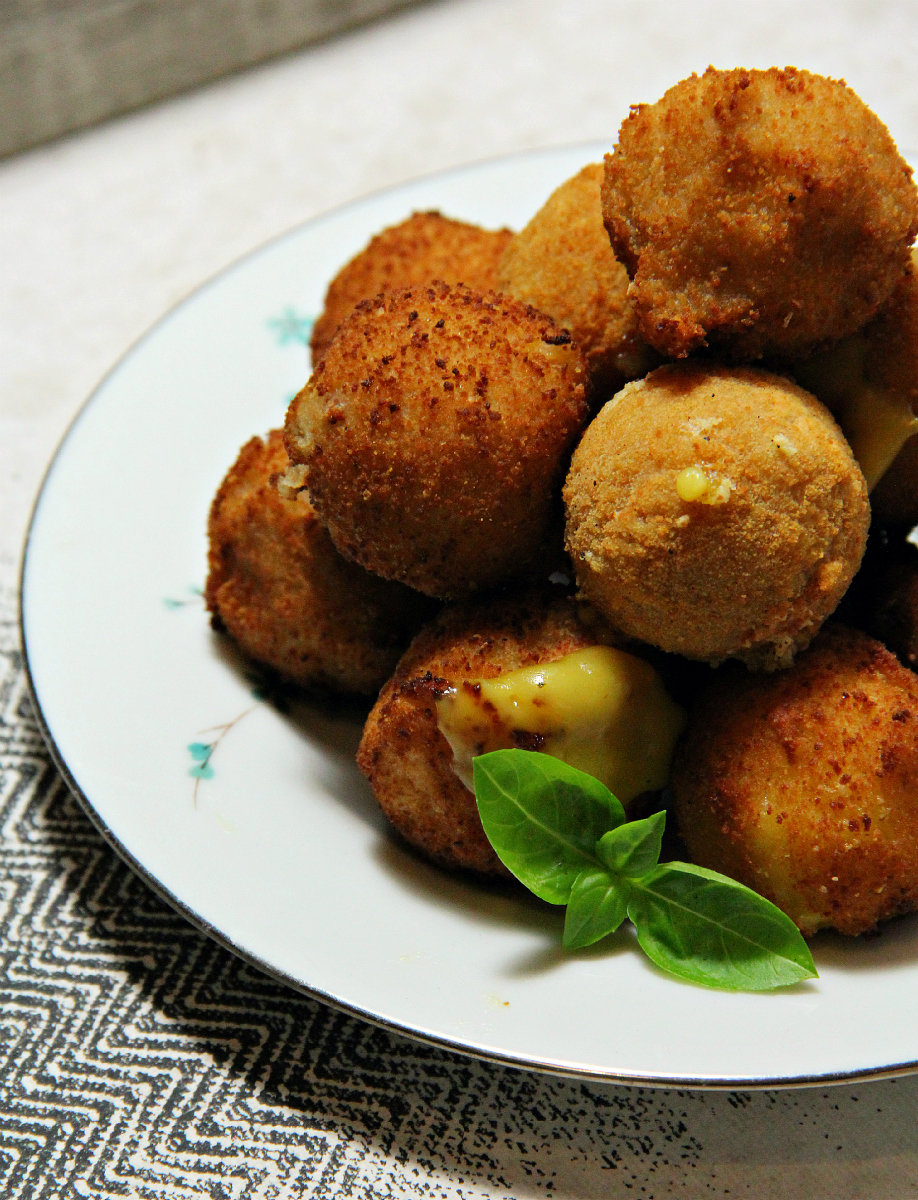 ---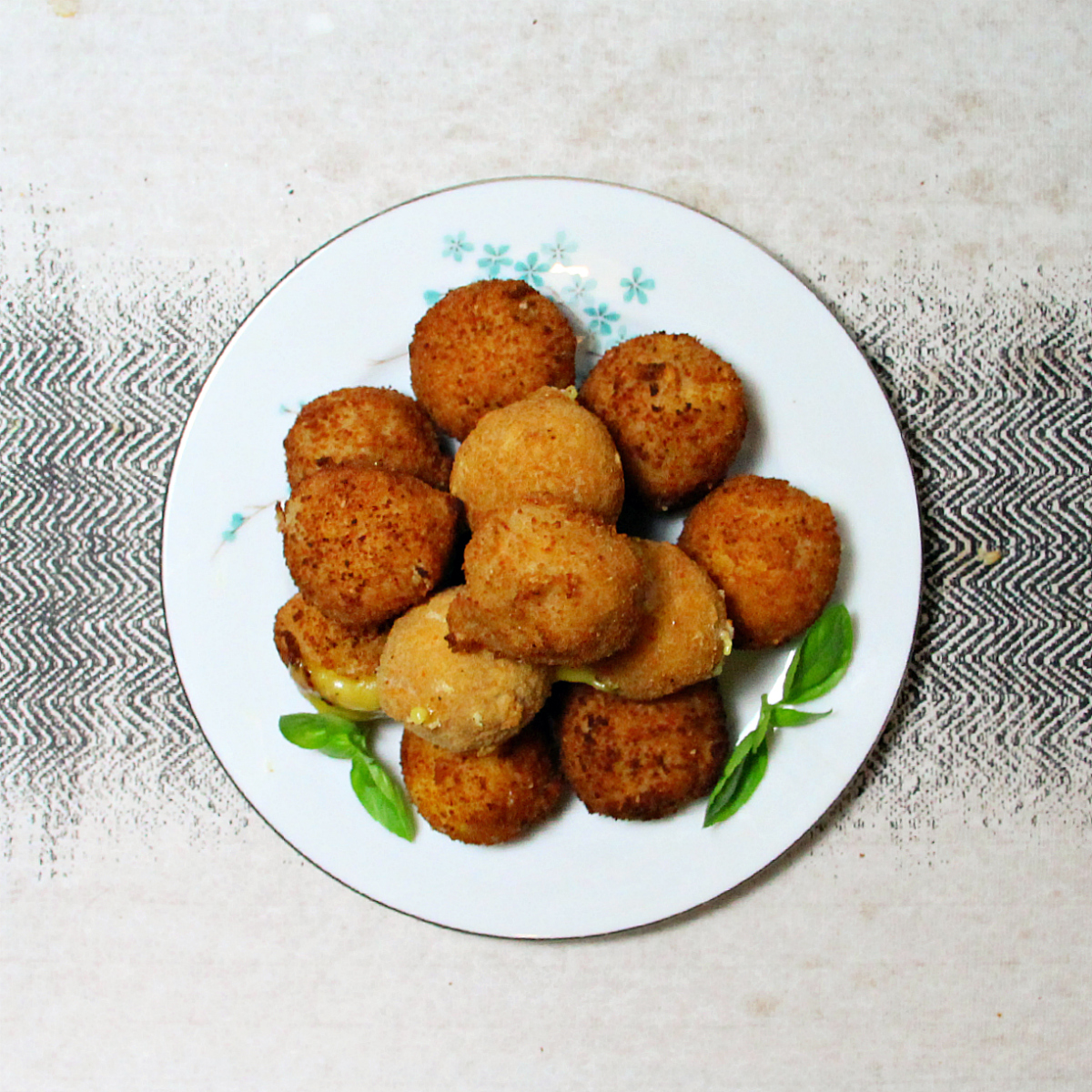 ---
**Disclaimer! This recipe will make your kitchen smell like you fry something in oil, which is probably what you are going to do if you make these delicious vegan chili cheese tops**
The ultimate vegan cheese sin. I used to LOVE eating chili cheese tops / bites, and I have missed them a lot since going vegan. Miss no more ! If you have a good vegan cheese wedge you are saved. Now all you need is the ultimate best hot sauce in the world. No kidding, this is gonna spice up your life in a very good way and this sauce is the star in this recipe!
My husband and I have a very special story with Mado's Hot Pepper Sauce. When we went to Canada for Christmas our friends brought us a bottle of this amazing sauce, and we have been addicted ever since. Since coming back to Europe where we live we have struggled with not having this sauce on hand. So we had our friends buy it in Toronto, and when they went back home to Ottawa, they figured out that shipping 5 bottles would cost more than an arm and a leg. So they shipped it to some other friends living at Georgian Bay, who would come to visit us in Europe some weeks later. They bubbled wrapped it and packed in in their check-in bags hoping the bottles wouldn't break. And then they arrived here in Europe. And AT LAST, the Mado's arrived safely !
The bottles are now long empty, since eating it on everything the past 5 months, and we used the last drops left on this delicious recipe ! We might need to have some friends smuggle some more Mado's for us from Canada yet again ! Haha !
If you'd like to try this amazing pepper sauce then you can purchase the wonderful sauce online here or in stores specific places in Canada, there is a list here.
If you wanna substitiute then look for a good flavourful Caribbean hot sauce with scotch bonnet peppers, fruity notes like papaya and a kick from the vinegar to get a similar taste result.
Can't find that specific vegan cheese I use here? opt for another vegan cheese of your liking and use the same amount as in this recipe, just make sure that your vegan cheese melts. Any good vegan cheese that melts will be amazing in this recipe !
---
Makes about 18 balls
---
Ingredients
---
Filling
---
300g Wilmersburger Classic Wedge (10-11 oz)

2-3 tablespoons Mado's Hot Pepper Sauce* or other hot sauce of choice

Sprinkle of salt
*2 spoons: ok heat. 3 spoons: extra heat.
---
Crust
---
1.2 dl bread crumbs (½ cup)

1.2 dl organic white flour (½ cup)

Liquid aquafaba from 360g can / glass chickpeas (13 oz)
---
For frying
---
---
What you will need
---
1 cutting board

1 grater

1 big bowl

1 spoon to measure

1 measuring cup

3 deep dish plates

1 strainer

1 deep fry thermometer (optional, or else use these tips to be safe)

1 big pot

1 Tong

1 plate + paper towels
---

---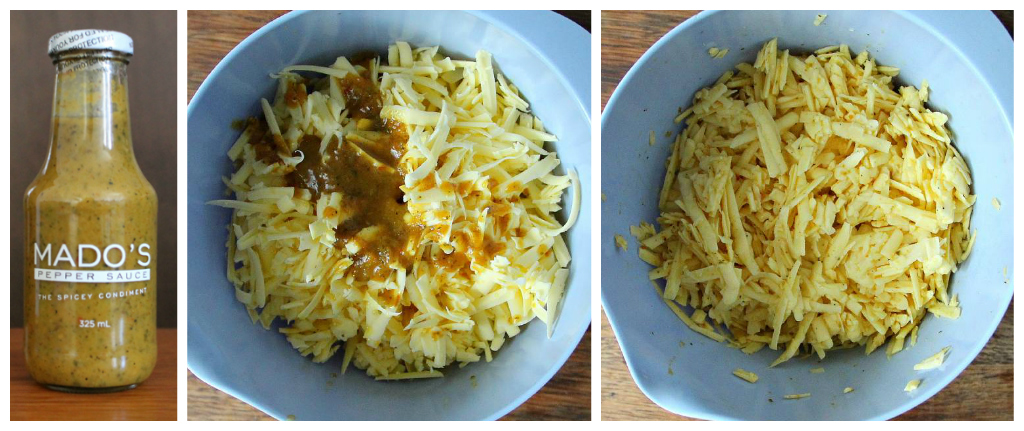 ---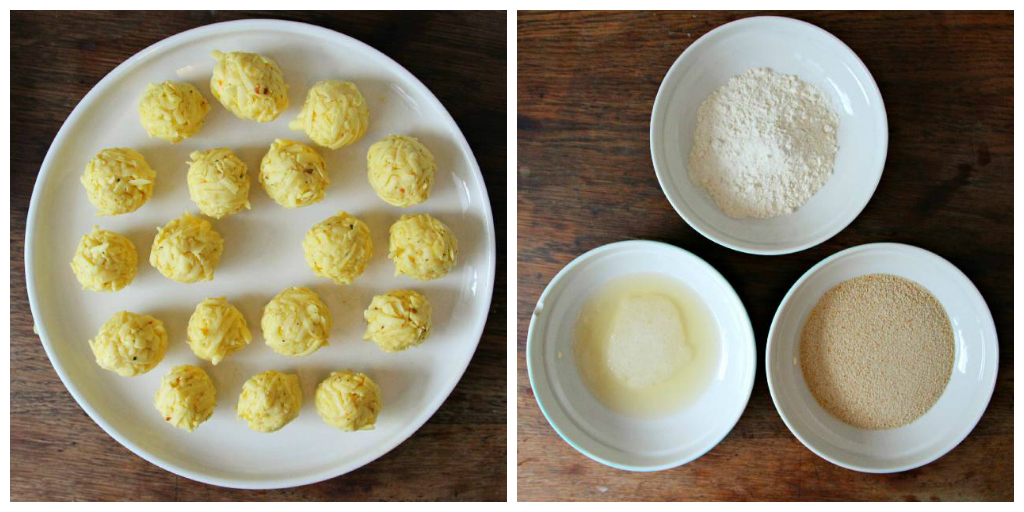 ---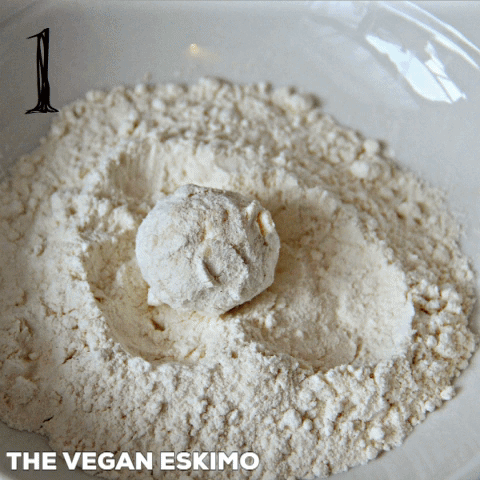 ---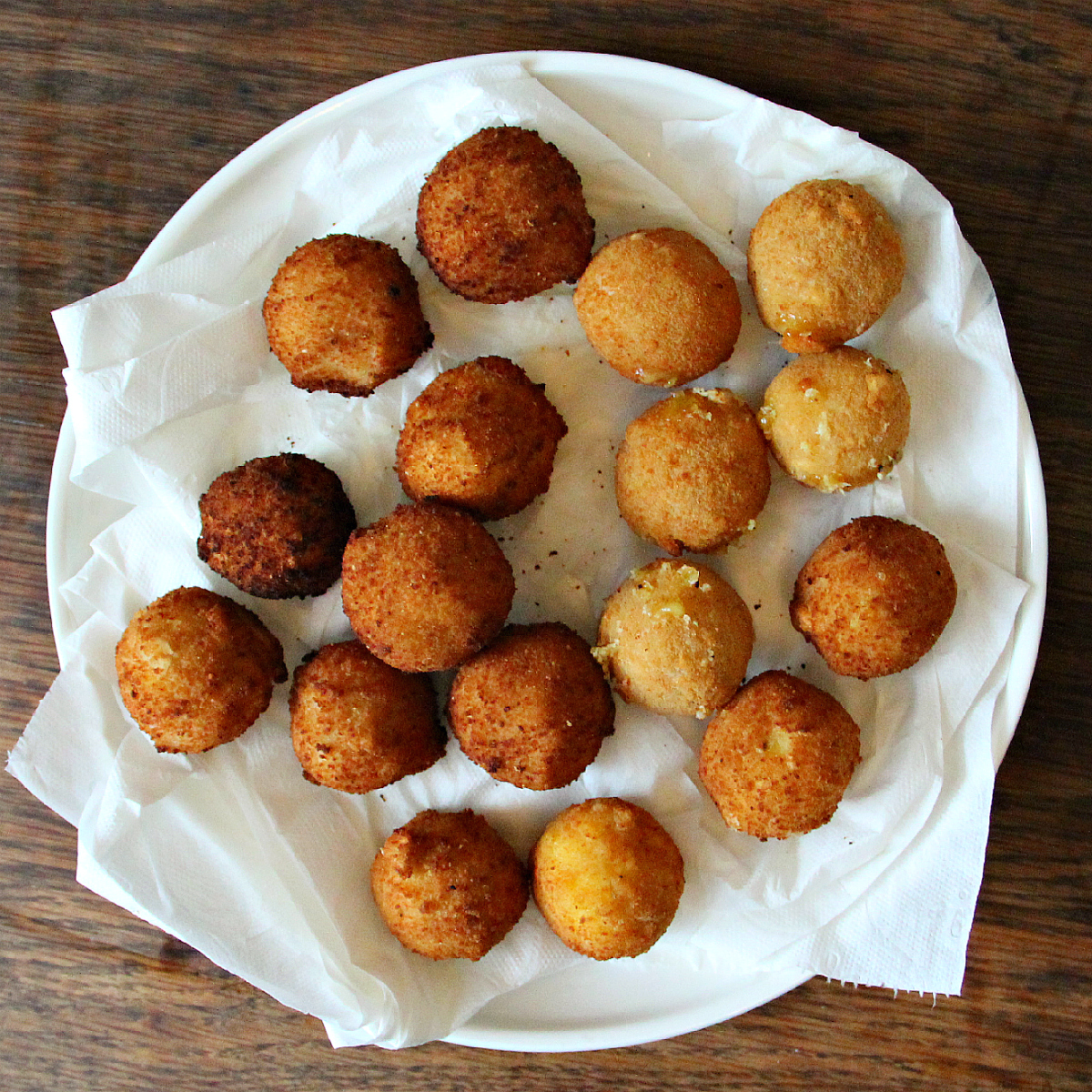 ---
Instructions
---
On a cutting board grate the vegan cheese.

Add the grated cheese to the big bowl along with the Mado's Hot Pepper Sauce and salt. Mix well with clean hands.

---

Shape the chili cheese mixture with your hands into about 18 equal sized balls, about 4 cm (1.5 inch) in diameter. You might wanna squeeze the balls a bit for them to stick together well.

---

Take the chickpeas and strain them over one of the plates. Let all the liquid aquafaba drain into the plate (Save the chickpeas for another purpose, like hummus or a curry etc.)

Arrange the two other plates with the flour and the breadcrumbs.

---

Take a ball and roll in the flour, then the aquafaba liquid, then the breadcrumbs, then the liquid again and the bread crumbs again. Do the same for all the balls. Make sure they are all well covered and double crusted. If you feel you're running out of aquafaba, just add in a few tablespoons water halfway through.

Flour – liquid – crumbs – liquid – crumbs.

---

In a big pot put in the vegetable oil and turn the heat on medium / high. Keep an eye on the oil and be careful around the pot, oil can get extremely hot !

The perfect frying temperature is at 190 c (375 F), but if you don't have a thermometer use these tips to check for a good oil temperature. If the oil starts to smoke it's much too hot, so turn the heat completely off and open windows.

---

Prepare one plate with a few layers of kitchen paper.

---

When the oil is hot put ONE ball into the oil. This is the tester, you want the oil to be warm enough / or not too warm, and not wasting the whole batch at once.

If the ball is getting golden crisp in about 40-60 seconds then the oil is ready. If the ball is getting golden too soon the oil is too hot, then just turn the heat off and wait 5 minutes.

---

When the oil has reached the right temperature try with one more ball. Let it get golden crisp in about 40-60 seconds. Take the ball up with a tong and place on the kitchen paper plate.

---

If the first or second test ball is good, you can add the balls a few at the time, allow them some space to fry, put in about 5 at the time maximum. When they're golden and crispy take out the balls with a tong, drizzle the oil off and place on the plate with the paper towel to soak up the excess oil.

---

Continue until all the balls are done.

---

Vegan cheese sometimes has problems melting all the way through, if this is the case put them in the microwave (without the paper on the plate!) for about 45 seconds, then all vegan chili cheese tops should be melted, warm and crisp – ready to munch !
---
Enjoy !
---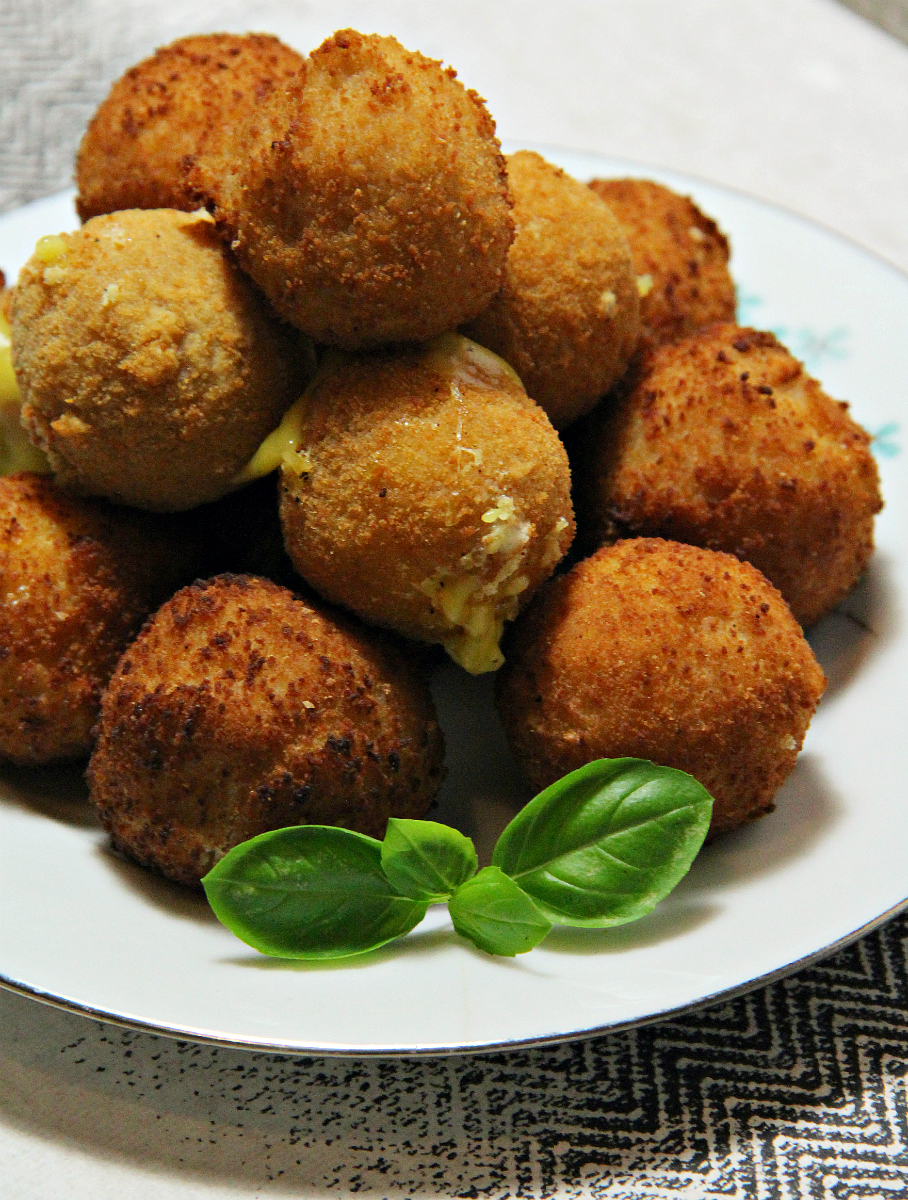 ---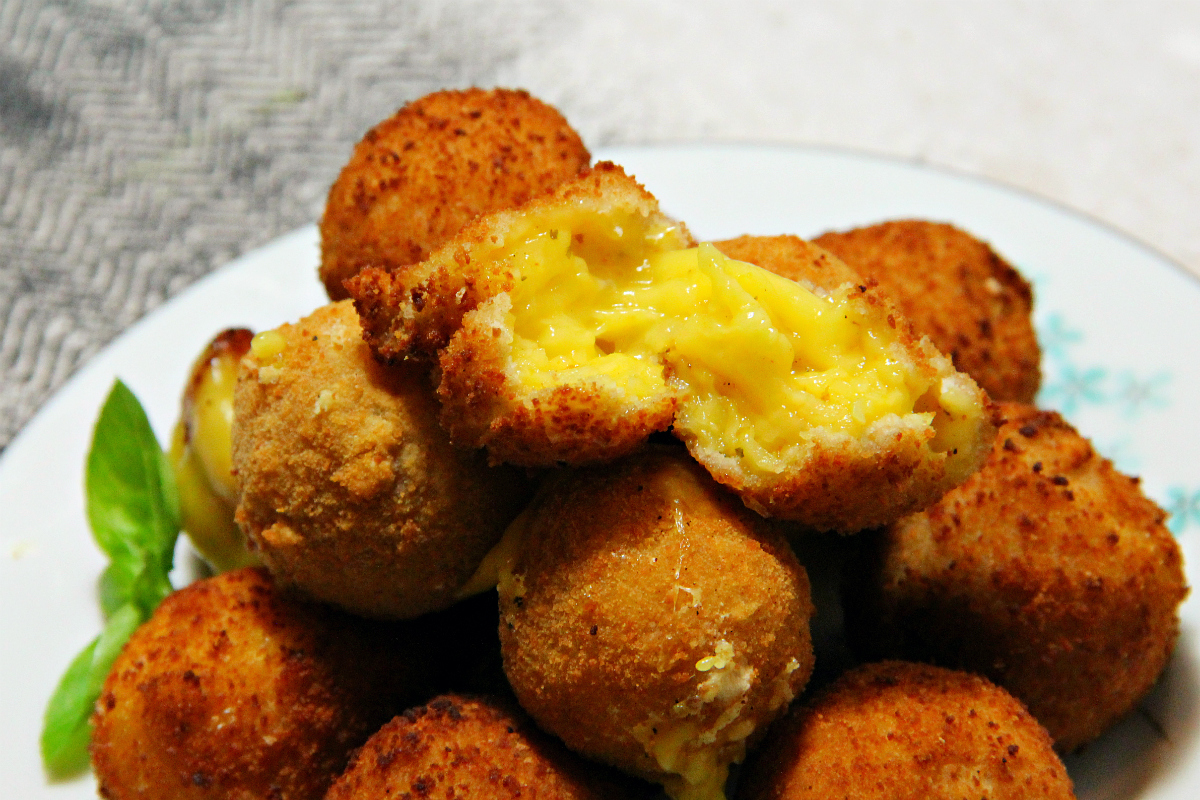 ---