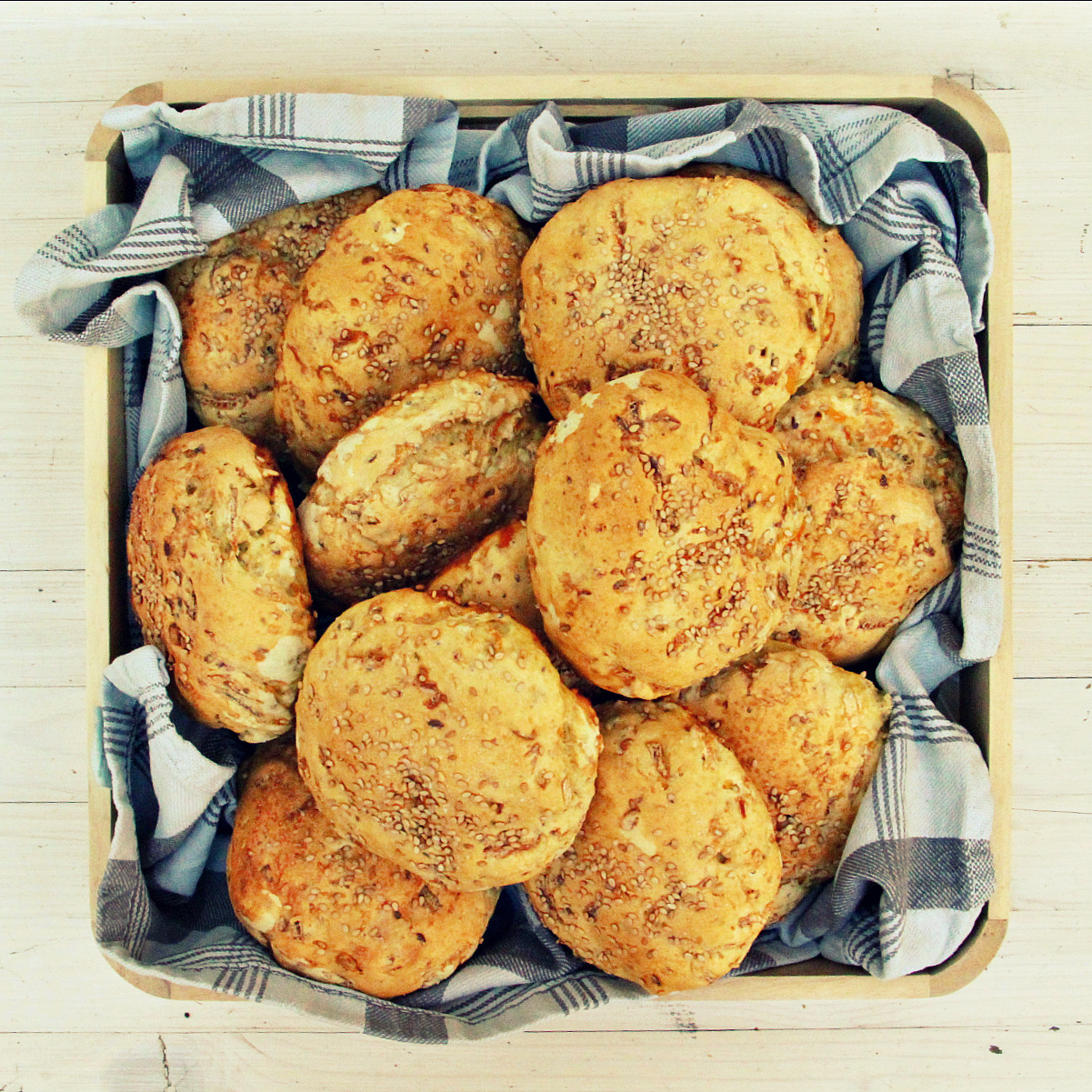 ---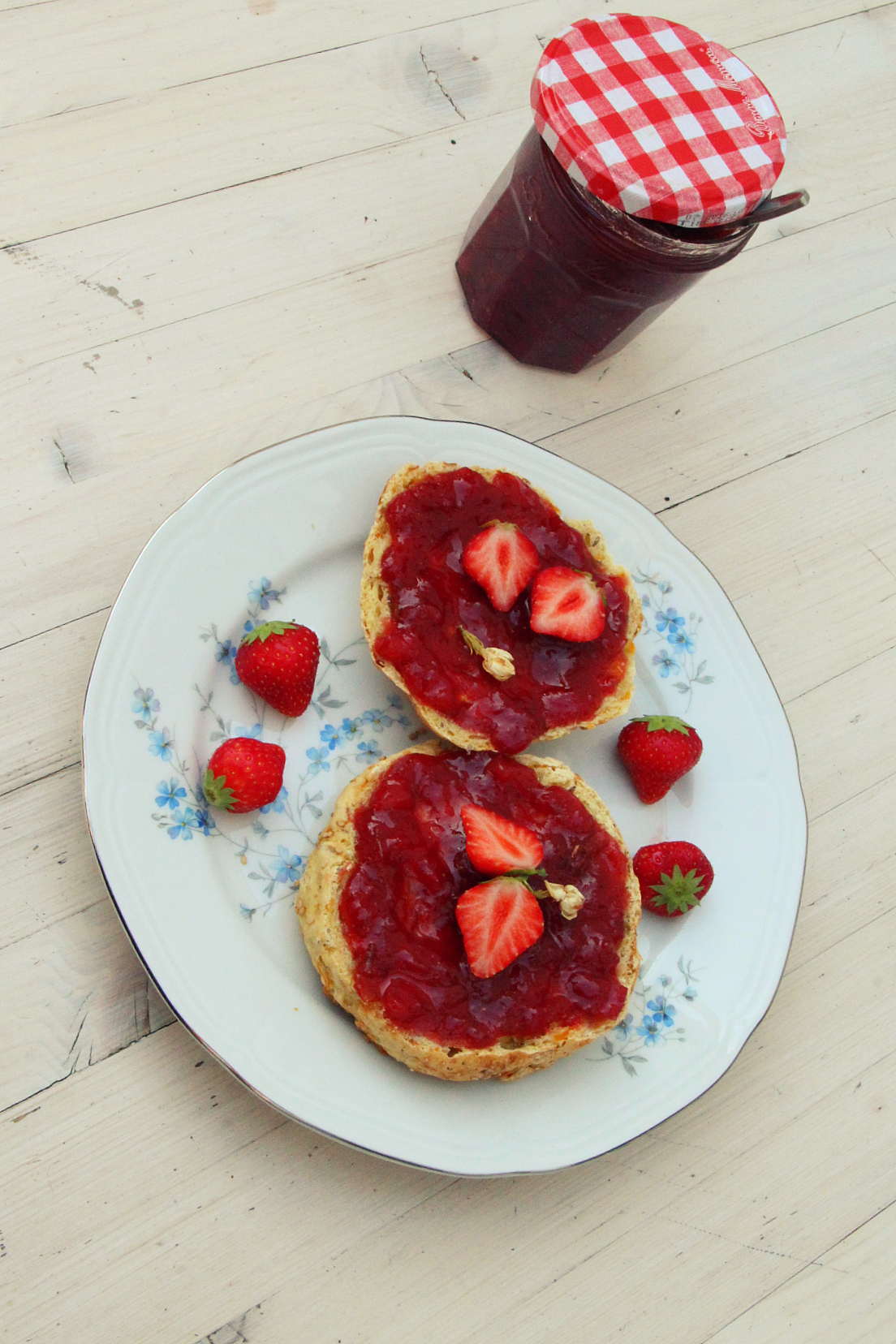 ---
Crunchy shell, soft inside, full of carrots and seeds. healthy and flavourful.
These buns have been a stable in our household for years now, and I make them very often. I grew up with my mum making the best carrot buns in the world, and when I wanted to make a vegan version it took some time to come up with the best recipe.
This is a veganized version with added herbal flavour and lots of healthy seeds.
The size of the buns are perfect for burgers, sandwiches or enjoyed with:
---
---
If you like these buns, you might also like:
---
---
Makes 14-16 big buns
---
Ingredients
---
3.5 dl lukewarm water (

1½ cup

)

1 tablespoon sugar

1 tablespoon olive oil

2 tablespoons pumpkin seeds

2 tablespoons sunflower seeds

1 tablespoon lin seeds

1 tablespoon sesame seeds

1 tablespoon chia seeds

1 teaspoon salt

1 teaspoon pepper

½ teaspoon dried thyme

½ teaspoon dried rosemany

½ teaspoon dried oregano

½ teaspoon dried basil

11g dry yeast (1 pack)

14 dl

organic white flour (

6 cups

)

5-6 carrots
---
Glaze
---
1.2 dl plant milk (

½ Cup

)

1 tablespoon maple syrup

Sesame seeds

Salt (optional)
---
What you will need
---
1 Large bowl

1 measuring cup

1 grater

1 w

hisk

1 knife

1 small bowl for glaze

1 brush

Baking paper or silicone mat

2 oven racks
---
Instructions
---
Boil the water and let it cool down until it's lukewarm in the big bowl. While its cooling down add the sugar, olive oil, all the seeds, salt, pepper and herbs. The warm water will soften the seeds. The lin seeds and chia seeds acts as an egg replacement, as they will get sticky very fast in the hot water. The herbs will infuse the water for an added flavour.

---

Peel the carrots and grate them.

---

When the water is lukewarm, add one cup of flour and the yeast and whisk it to a thin dough. Let the yeast wake up for about 10 minutes. The sugar acts as a nutrient for the yeast and makes it easier for it to work properly. The lukewarm water helps as well. Be careful that the water isn't too hot, that would destroy the effect of the yeast.

When you see the thin dough rise and show bubbles everywhere, the yeast is awake and ready, as pictured just below.

---

Add the grated carrot and 1 more cup (2.5 dl) of flour and whisk it. Now the dough should be too thick to whisk anymore.

---

---

---

Make sure your hands are clean and that you have the last 4 cups (9.5 dl) of flour ready. Pour in 1 cup (2.5 dl) of flour at the time while kneading the dough with your hands. Be careful not to add too much flour at the time, you might not need it all.

---

When the dough becomes less sticky, transfer it to a clean table top sprinkled with some flour and knead it for about 5-8 minutes. Knead until the dough has a smooth texture. If you don't have enough flour add a little bit at a time until it's smooth.

---

Cover the smooth round dough with a bit of flour and put in the big bowl again, cover it with a clean kitchen towel and put in a hot spot for about 30-45 minutes to rise. They should rest until the dough has doubled in size. The rising time can take longer if its kept in a cooler spot, but can be quick if its in a hotter spot.

---

---

---

When the dough have doubled in size, transfer it to a clean table top and knead it gently, but not too much. Cut the dough into 2 even sizes, and keep dividing the dough until you have about 14-16 pieces of evenly sized dough.

---

Knead the small pieces into flattened round smooth buns in your hand and put them on an oven rack with some baking paper or on a silicone mat. Keep the buns a few centimetres apart, to allow them to have space to rise. Do the same with all the buns, here you need two oven racks to fit all the buns.

Cover the buns with a clean kitchen towel, and let rise for 30-45 minutes.

---

Mix the plant milk and maple syrup in the small bowl. When the buns have finished rising to double the size, brush them with the glaze. Sprinkle the buns with sesame seeds and a bit of salt.

---

---

---

---

Place the rack in the middle of the oven and bake in a preheated oven on 200c (390 F) on normal heat - not convection. Bake for about 25-30 minutes, or until golden in colour. I like the buns to have a crispness to the outside, but still soft on the inside. They are baked at around 25 minutes, but are quite pale. The extra minutes gives them a beautiful golden colour and crunch.

---

Let the buns rest for a few minutes before cutting them open to eat. Can be enjoyed with garlic butter or strawberry jam.
---
Enjoy !
---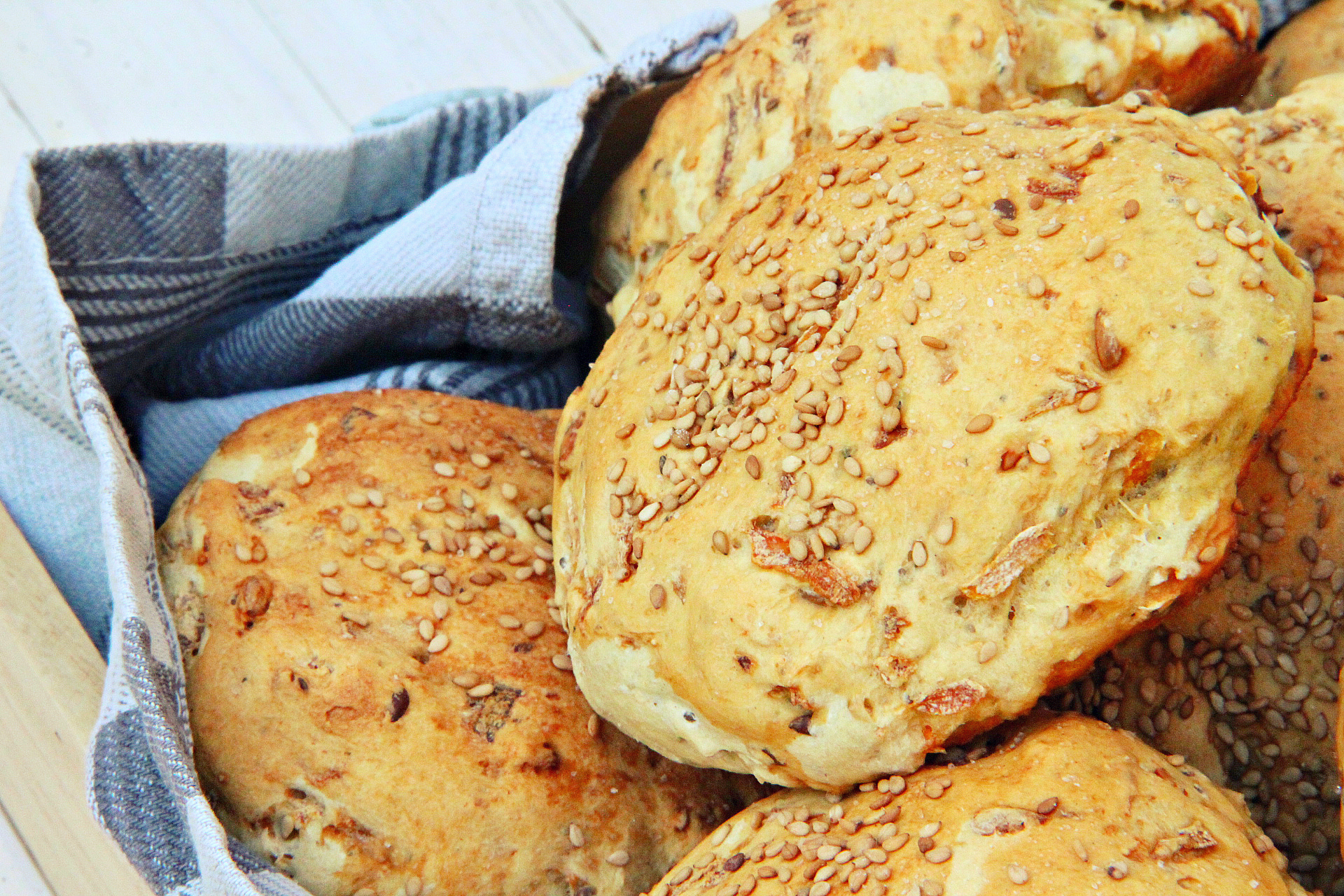 ---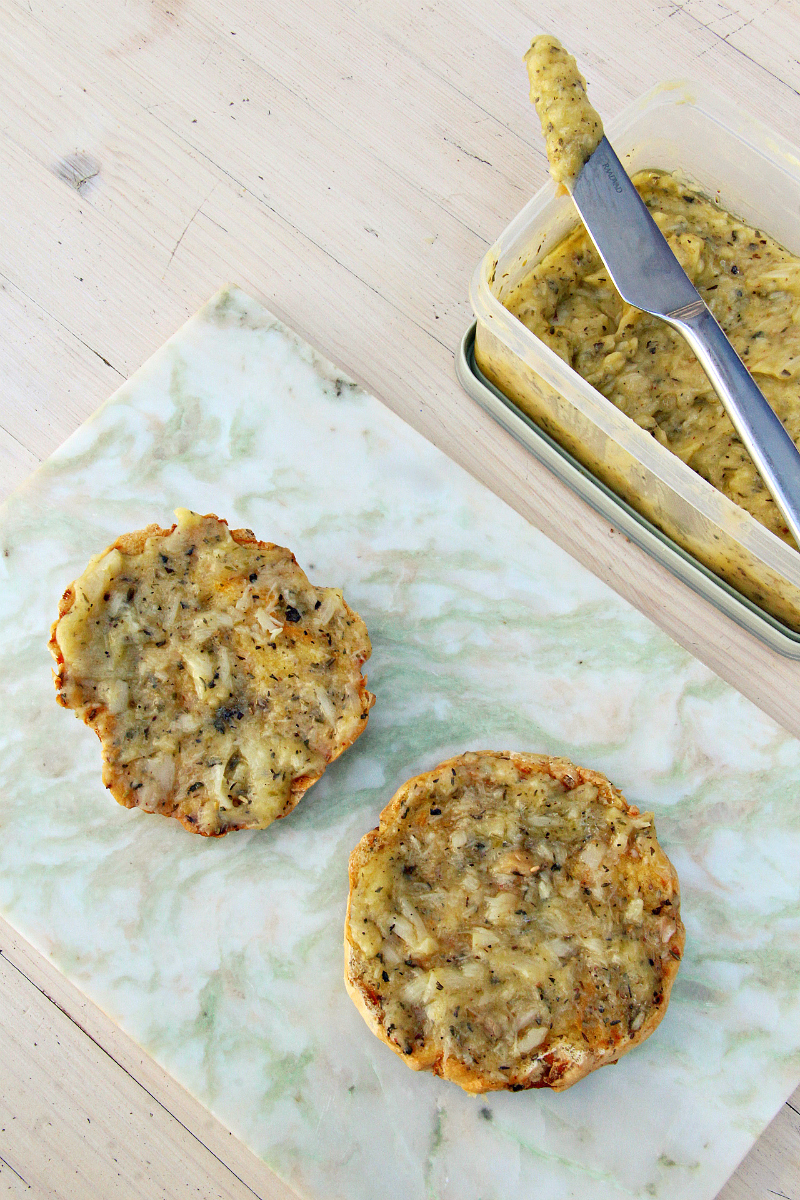 ---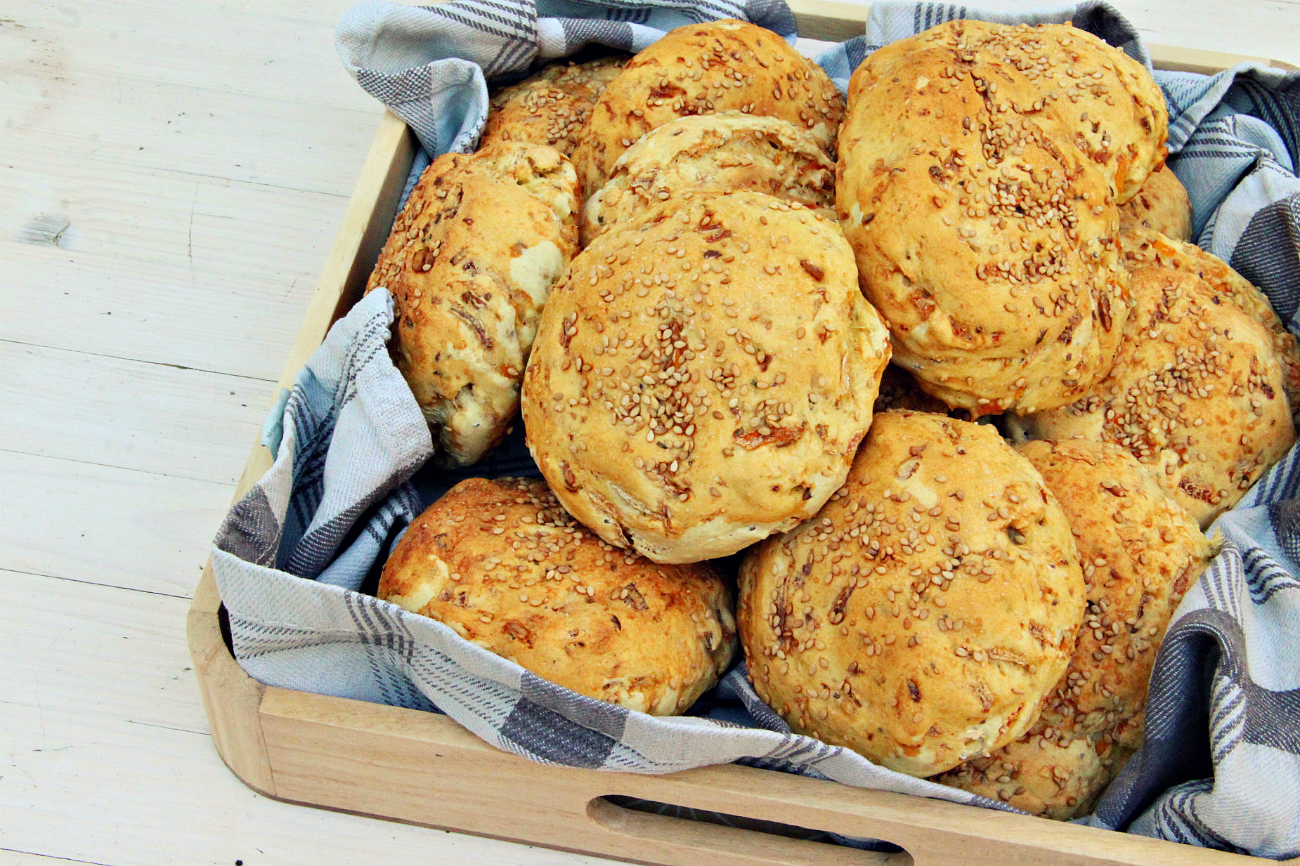 ---