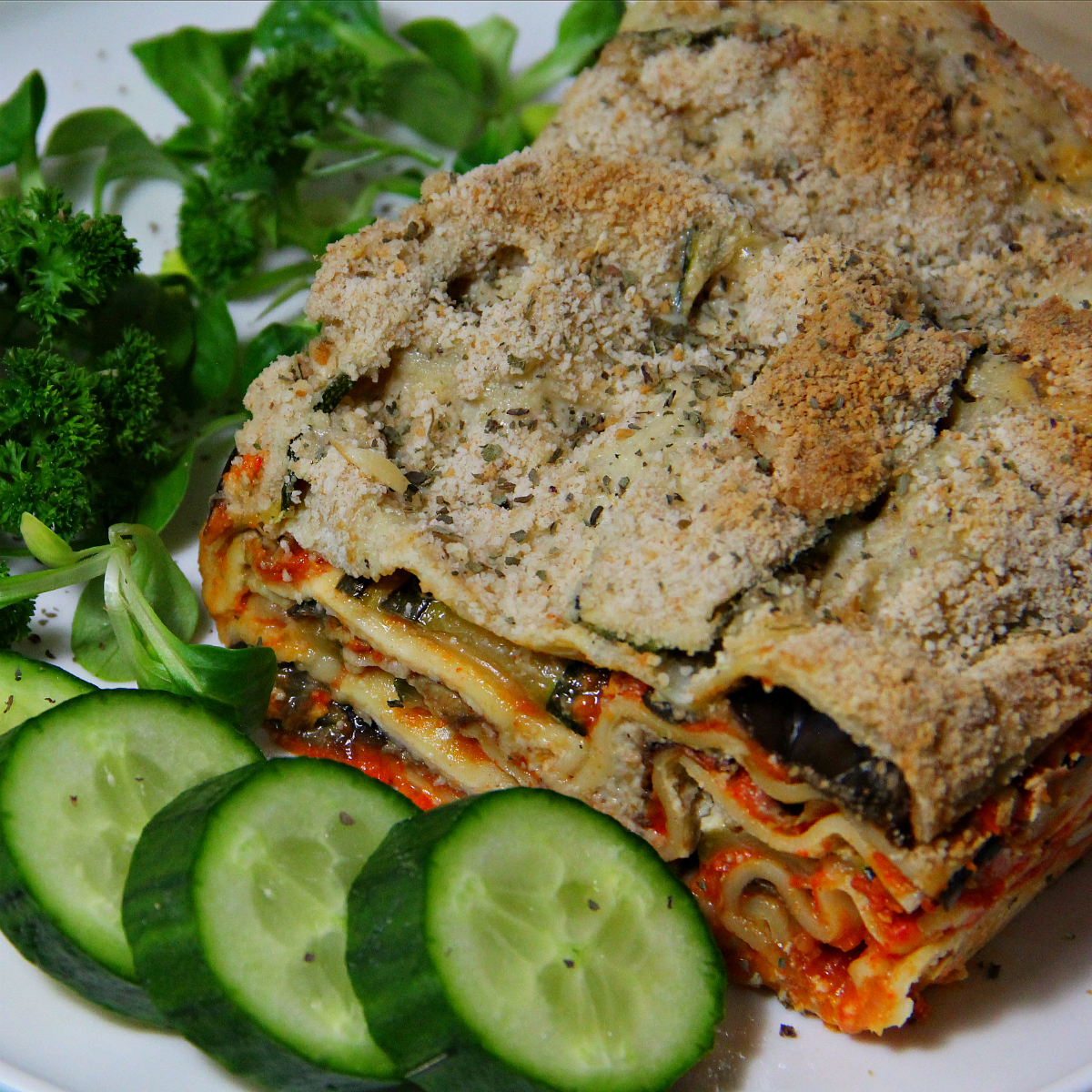 ---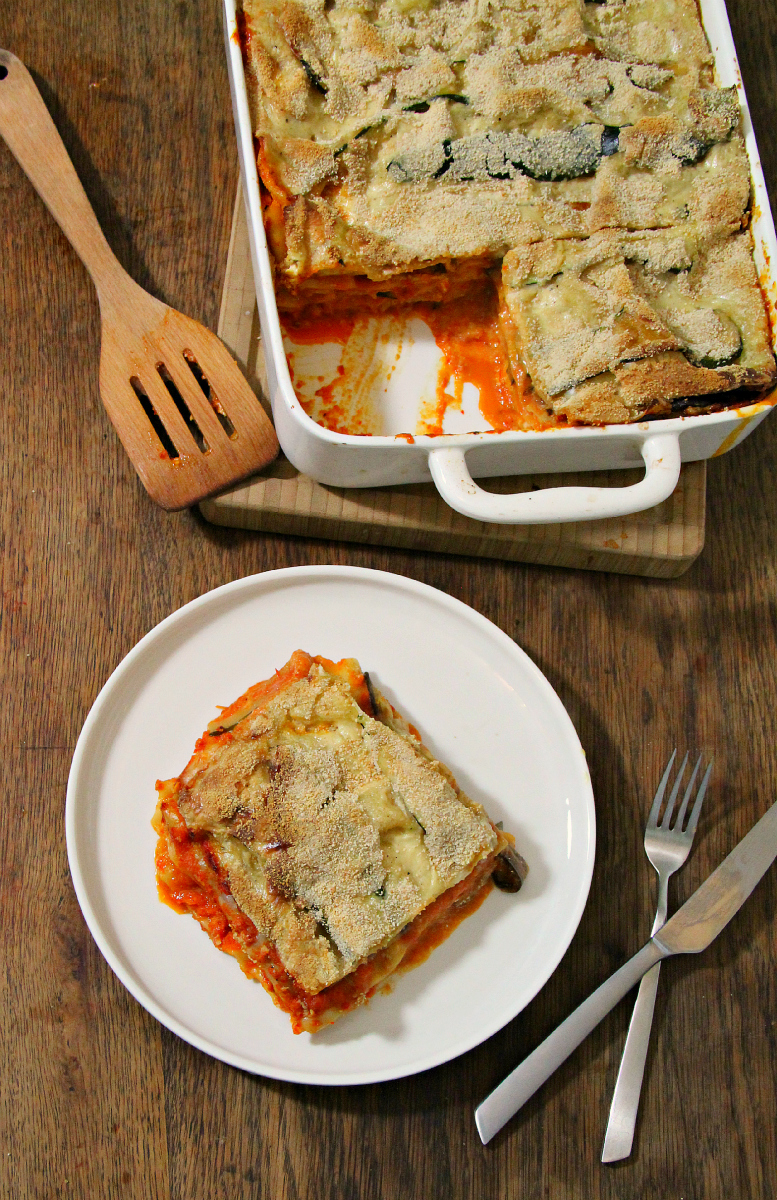 ---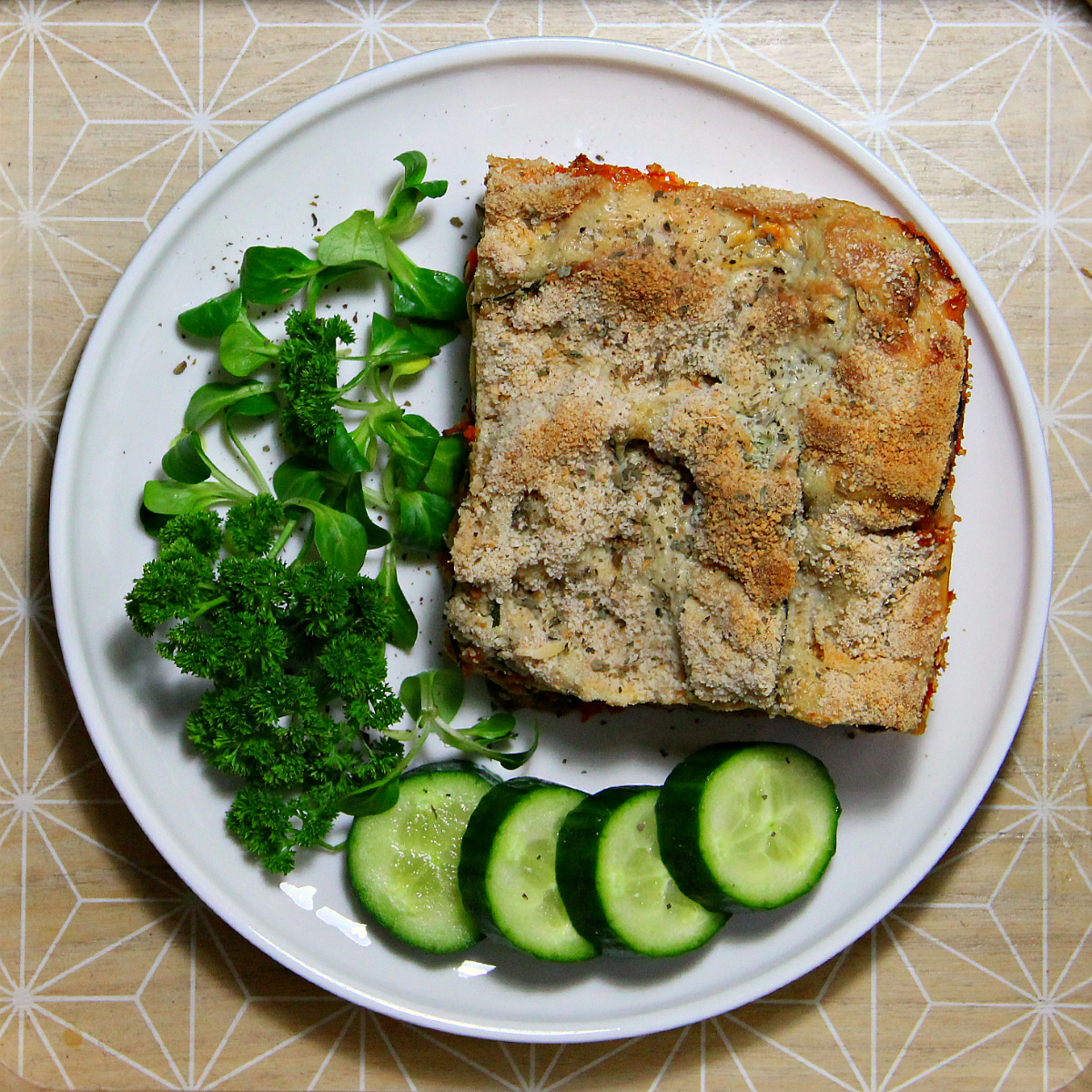 ---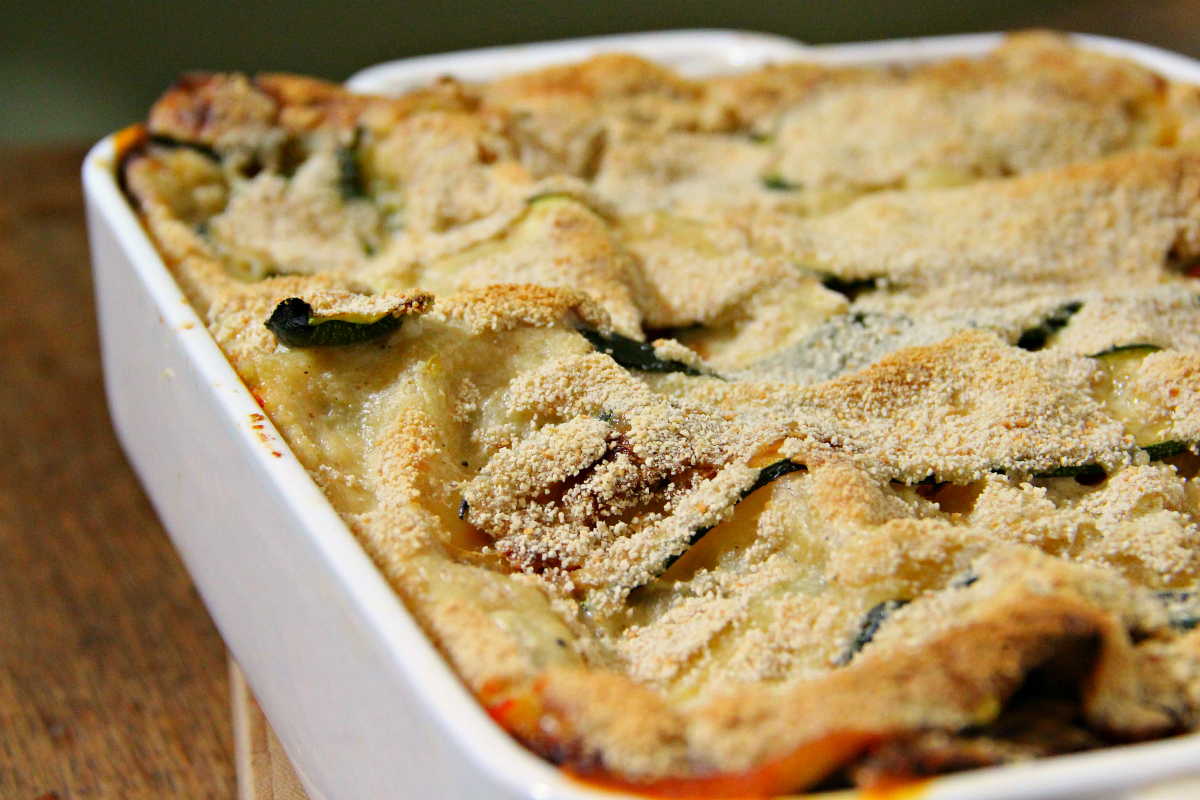 ---
It's no secret that I am a huuuuge lasagna fan !
And I love ratatouille too – so why not combine the two? These layers are made with grilled zucchini and aubergine layers, sauced up with roasted bell pepper and tomato sauce and the cheesy vegan mornay sauce.
Herbal flavours with that comforting ratatouille taste in between the pasta and cheese layers. Baked with breadcrumbs to get a crisp top and served with green sides.
---
If you're interested in the traditional ratatouille I have a recipe for it here, and for my traditional lasagna go here.
---
Serves 4-5 people
---
Ingredients
---
Layers
---
500g vegan lasagna pasta sheets* (17.6 oz)

2 zucchinis (approx. 850g / 1.9 lbs)

2 Aubergines (approx. 625g / 1.4 lbs)

Breadcrumbs as needed




*(not all are vegan – check the ingredient list)
---
Roasted bell pepper & tomato sauce
---
2 red bell peppers

2 yellow bell peppers

5 red ripe tomatoes (500g / 1.1 lbs)

2 yellow onions

4-5 garlic cloves

2 tablespoons olive oil

1 tablespoon balsamico

1 teaspoon dried vegetable stock

1 teaspoon dried basil

1 teaspoon dried oregano

1/4 teaspoon freshly grind nutmeg

1 teaspoon salt

½ teaspoon freshly grind pepper
---
Mornay sauce
---
2.5 dl cashew nuts (1 cup)

550ml unsweetened plant milk of choice (18.5 oz)

150g vegan cheese of choice (5.3 oz)

2 tablespoons nutritional yeast

2 garlic cloves

1/4 teaspoon freshly grind nutmeg

1 teaspoon salt

½ teaspoon pepper
---
Sides (optional)
---
---
What you will need
---
1 small bowl

Cutting board and knife

1 wide ovenproof dish (use it twice)

1 mandolin

1 or 2 non-stick pans and a spatula

1 measuring cup

Measuring spoons

1 small pot + spoon to stir

1 big bowl

1 stick blender
---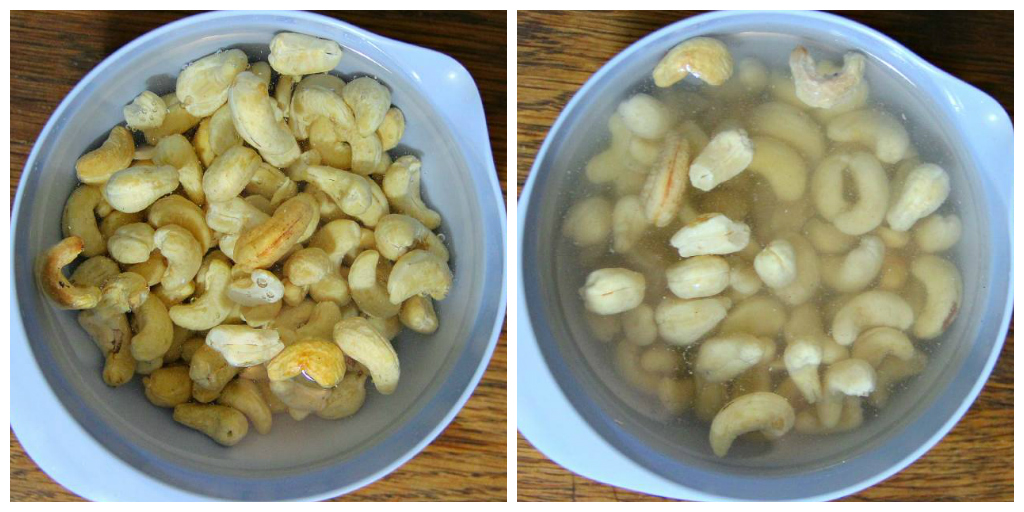 ---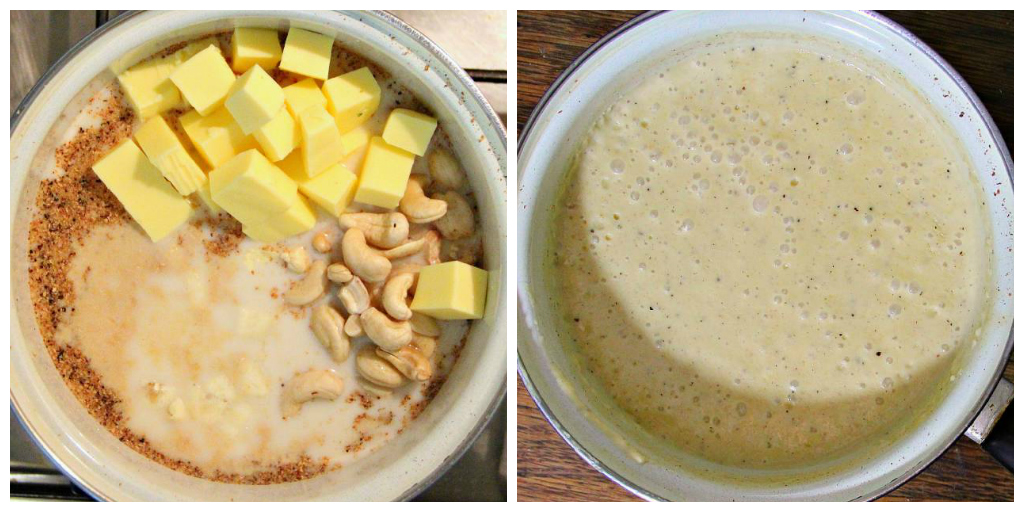 ---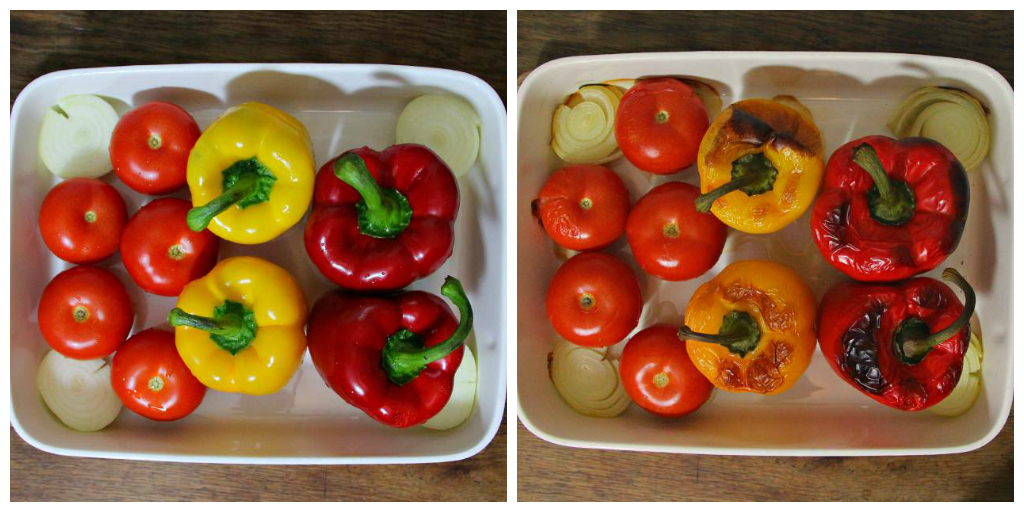 ---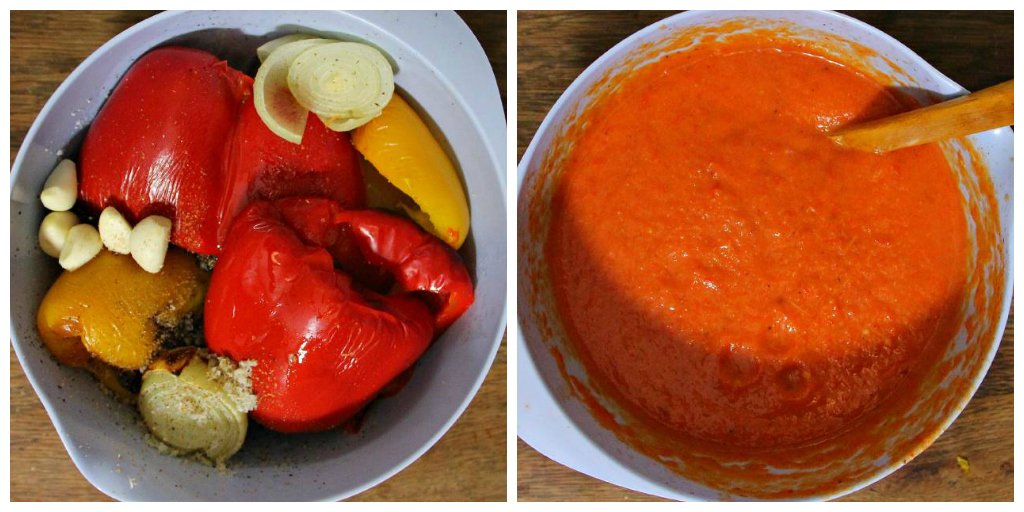 ---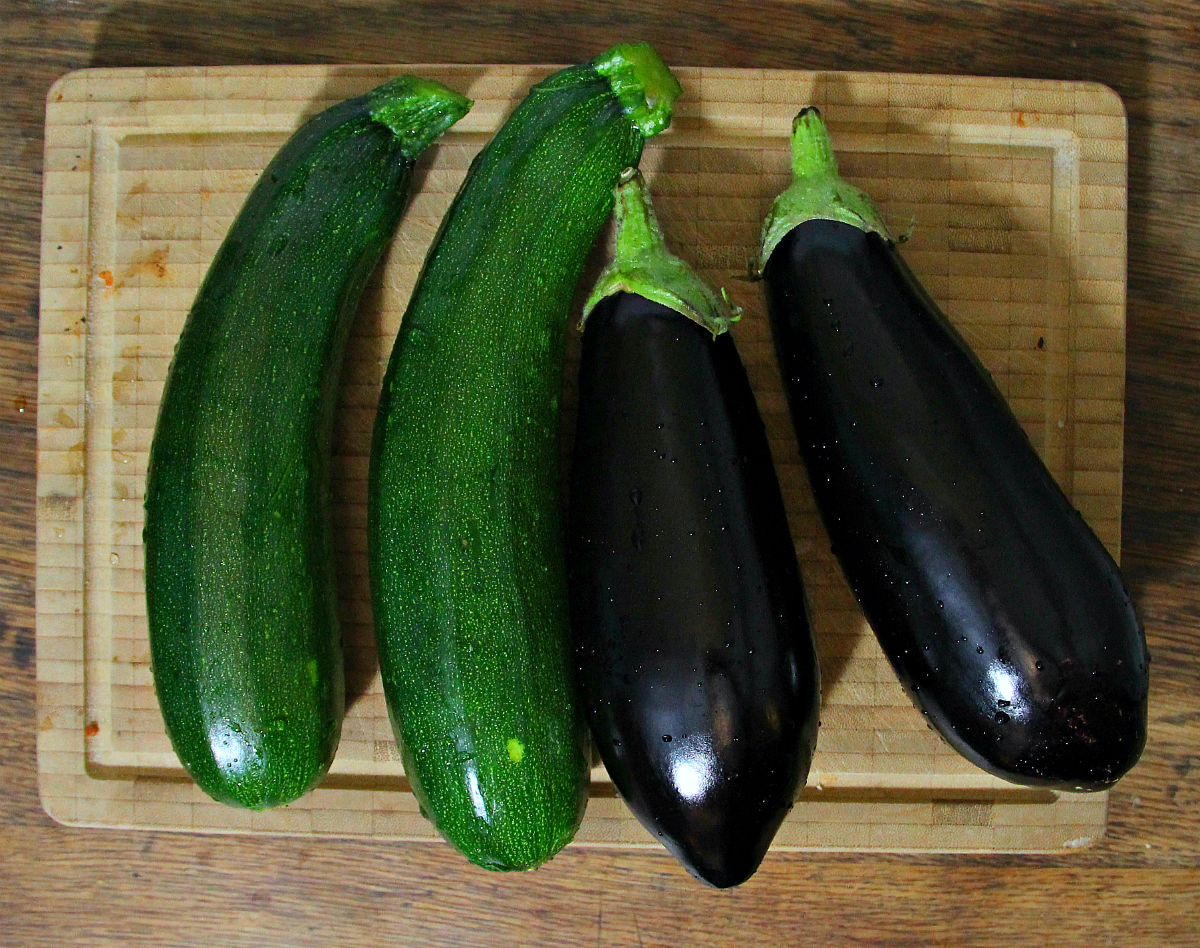 ---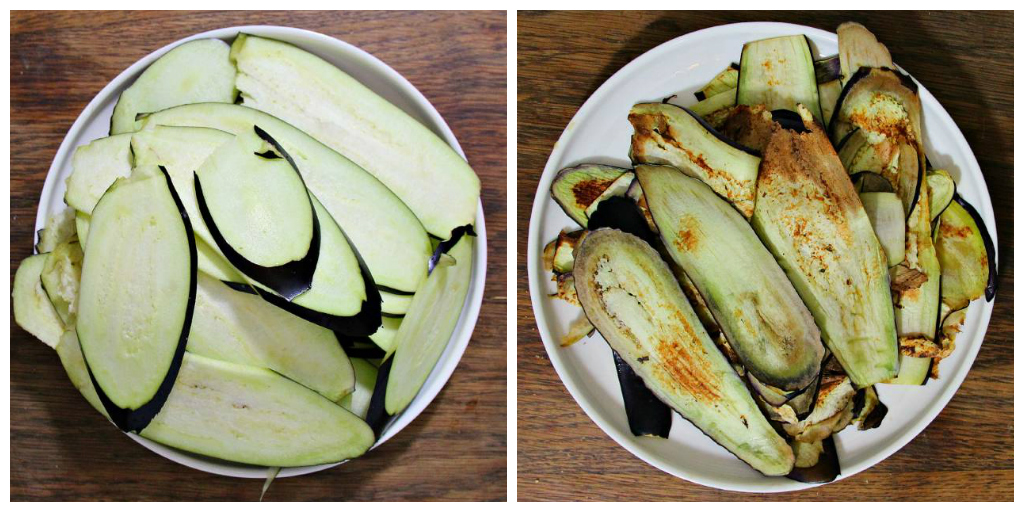 ---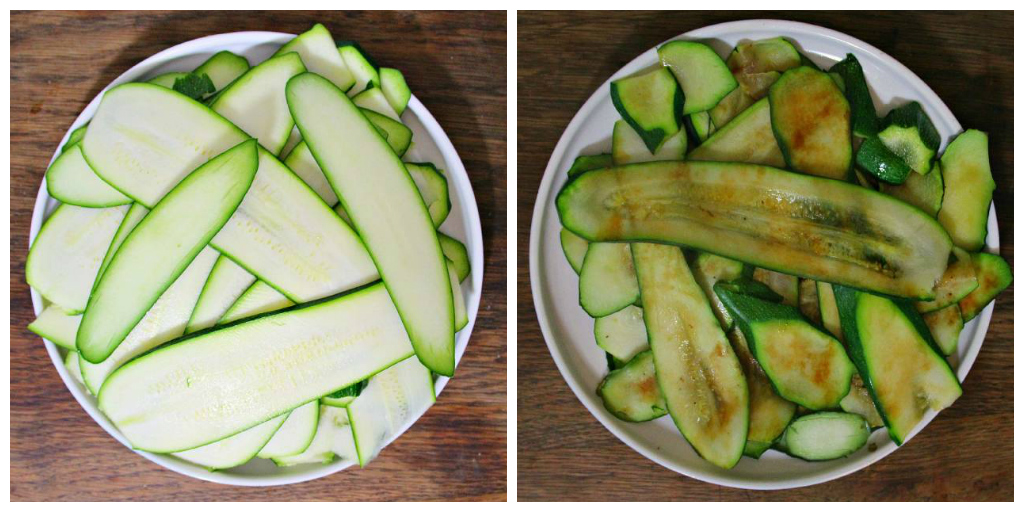 ---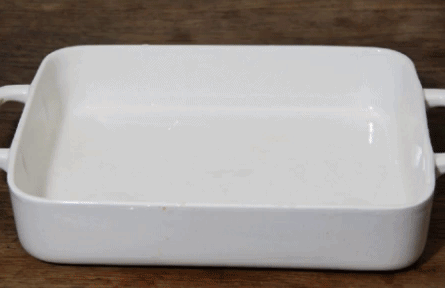 ---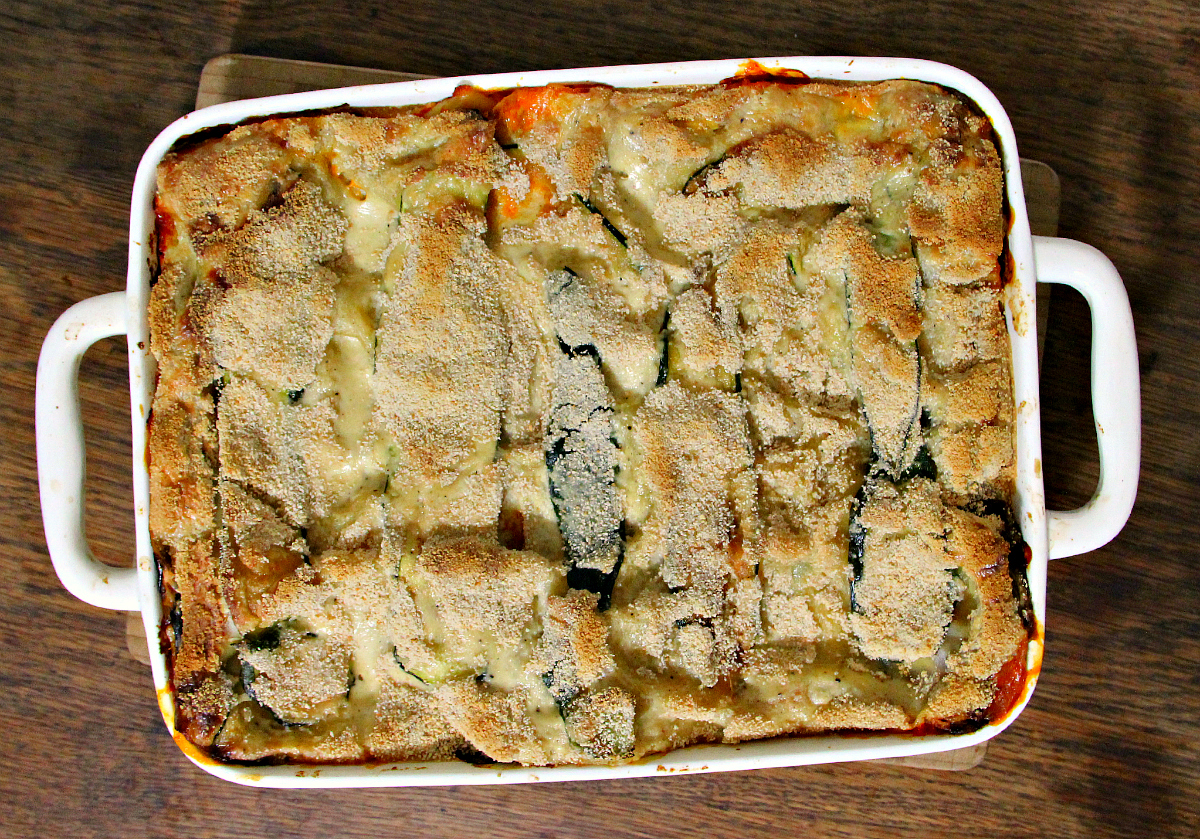 ---
Instructions
---
Preheat the oven to 200c (390 F).

---

Measure the cashews and soak with water in a little bowl.

---

Wash the tomatoes and bell peppers. Peel and chop the onions in half. Put in an ovenproof dish, big enough so they have space in between. Bake in a preheated oven at 200c (390 F) in the middle of the oven on normal setting for about 40 minutes, or until they look like pictured.

---

Wash and slice the zucchini and aubergine, slice them with a mandolin, in the thick setting. In non-stick pan cook the slices of zucchini and aubergine. This with wive them good flavour and texture, and reduce the liquid content in them so the lasagna wont get soupy. For a quick preparation you could use 2 pans if you like.

---

Strain the cashews. Peel and roughly chop the garlic for the mornay sauce. Roughly chop the vegan cheese as well. Put all the ingredients for the mornay sauce in a small pot. Bring to a simmer on medium heat stirring occasionally. When the cheese has melted then blend smooth with a stick blender, turn heat off and set aside.

---

When the bell pepper and tomatoes have been roasted and look a bit charred take out. Cut open the bell peppers and deseed them. Put all the roasted vegetables in a big bowl with the peeled garlic, olive oil, balsamico, vegetable stock, basil, oregano, nutmeg, salt and pepper. Blend smooth with a stick blender, set aside.

---

Optionally use the same ovenproof dish to assemble the lasagna, if it's the size you like. Take one layer bell pepper sauce, then layer of grilled zucchini, then a bit of mornay sauce, then pasta layers. Do the same steps except using aubergine on every second layer, until you have about 4-5 layers. The top layer should have a good amount of mornay sauce.

---

Note: If you prefer a thicker lasagna, opt for a smaller and taller dish for more layers, for more crispiness in top, opt for a shallower and wide dish with less layers and more surface area.

---

Top with breadcrumbs and bake in a preheated oven at 200c (390 F), in the middle of the oven on normal setting for about 35-40 minutes or until golden on top and the pasta layers are fully cooked.

---

Let cool down for a few minutes before serving and optionally serve with salad, cucumber and fresh parsley.
---
Enjoy !
---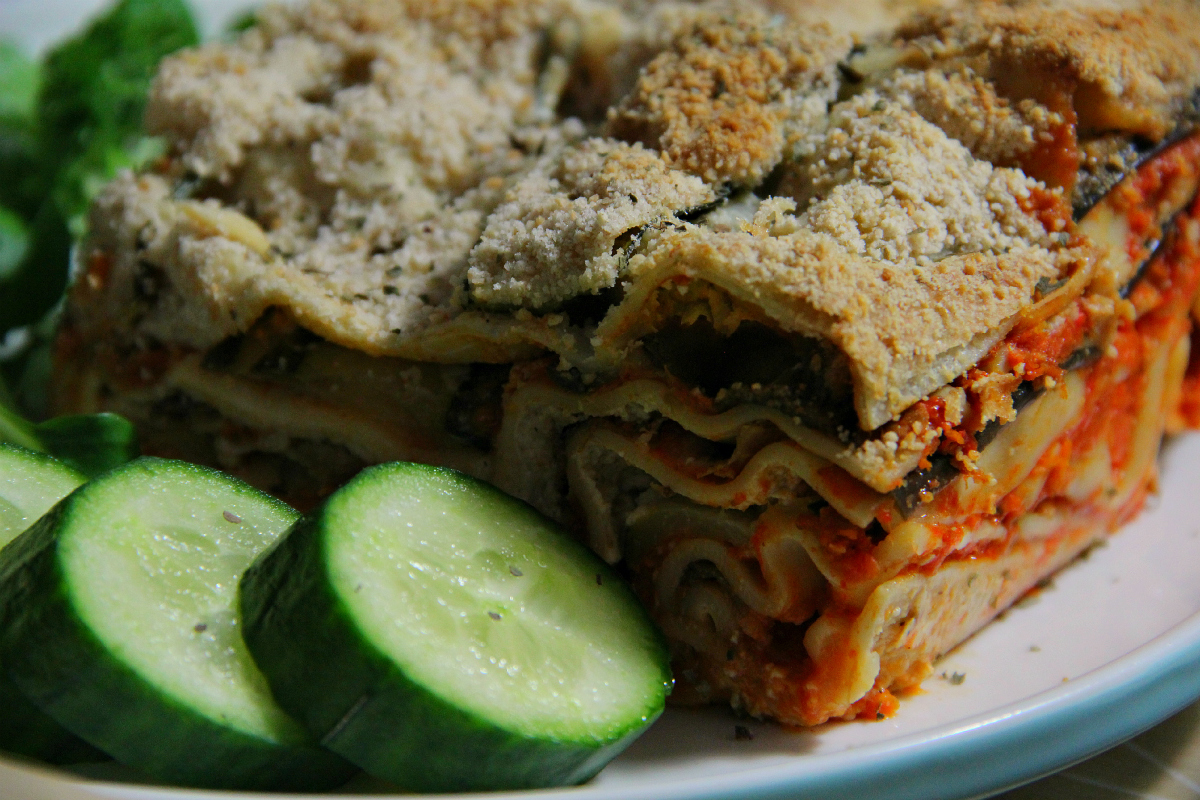 ---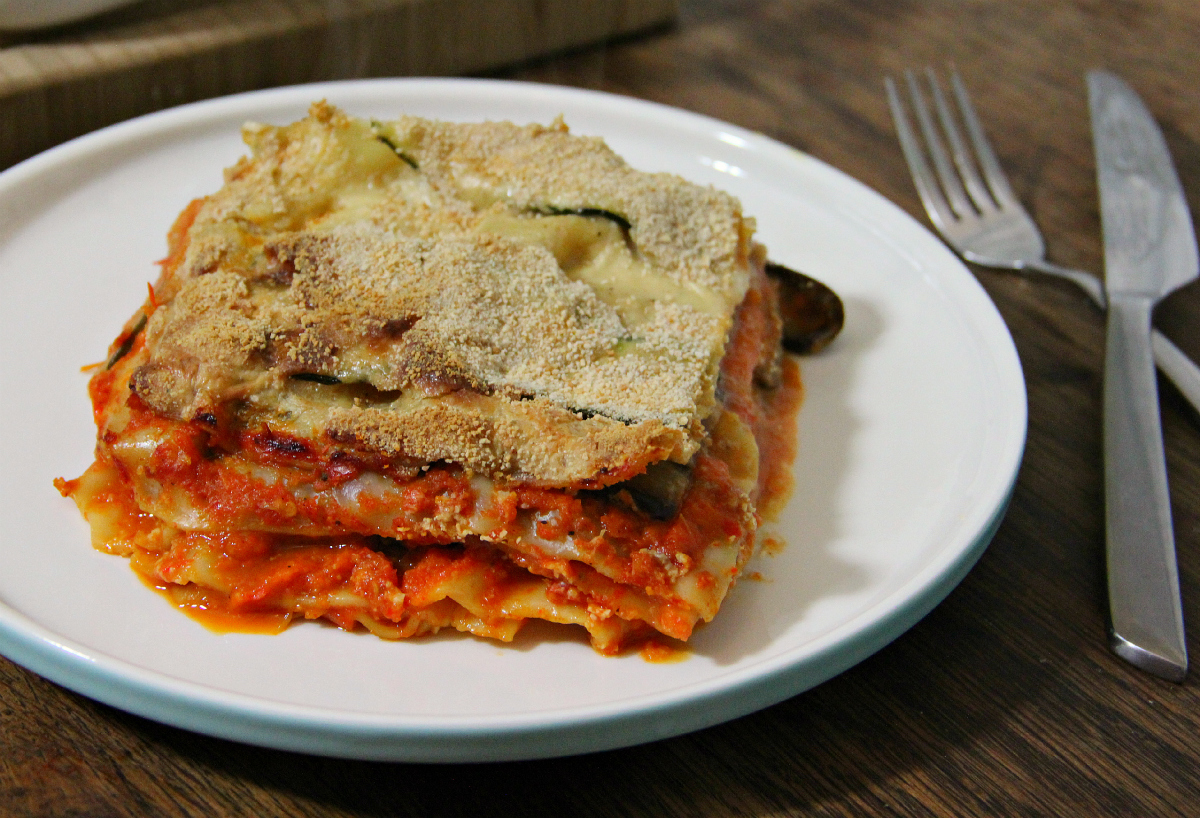 ---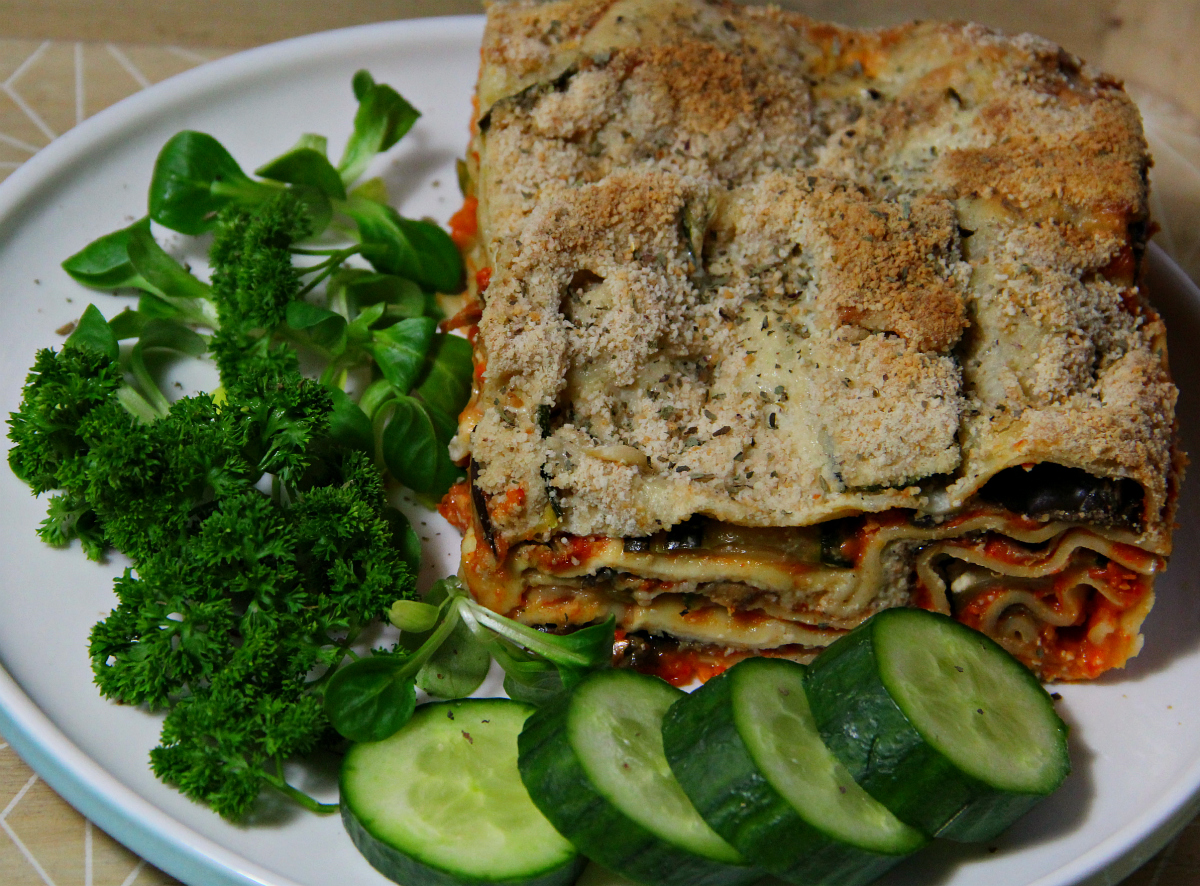 ---