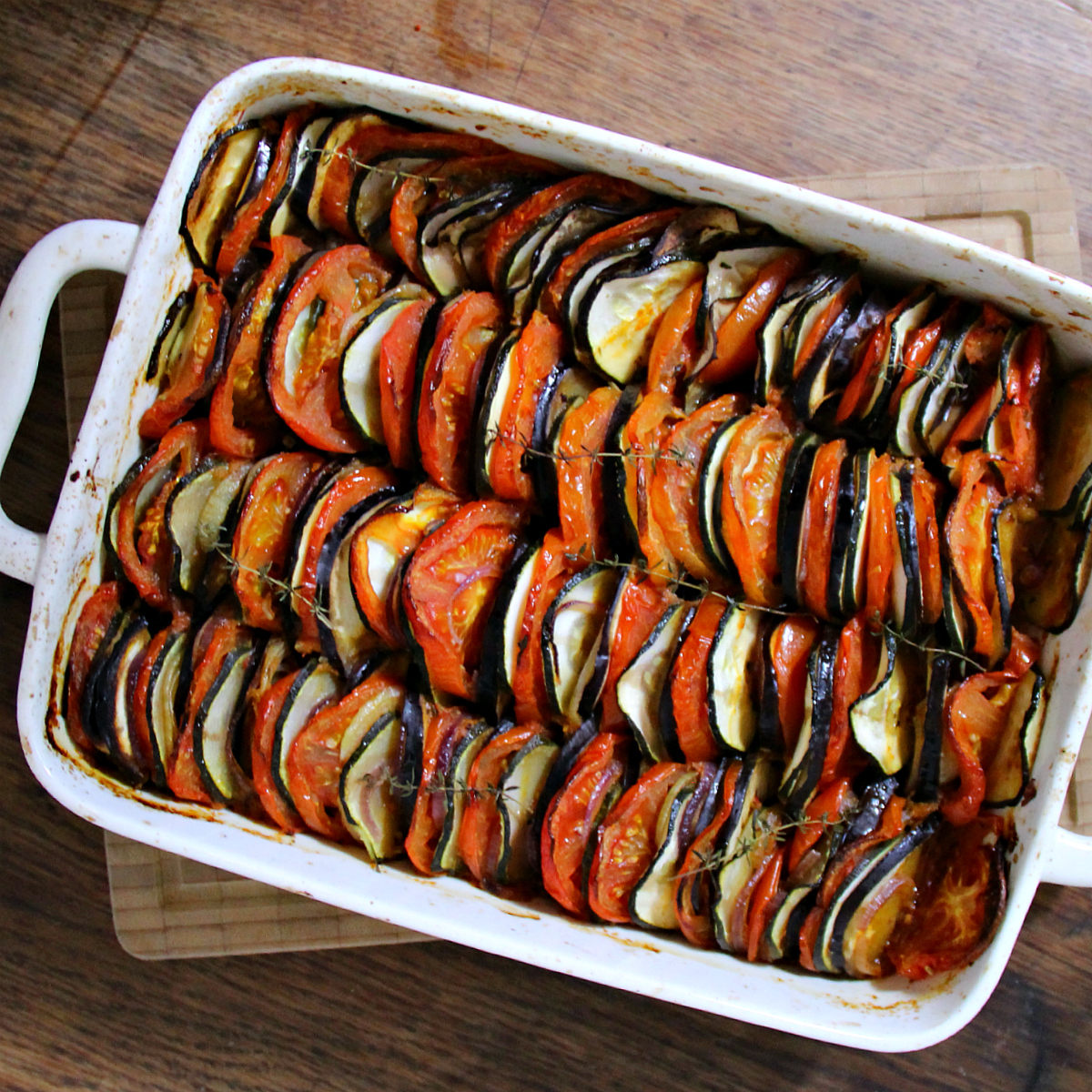 ---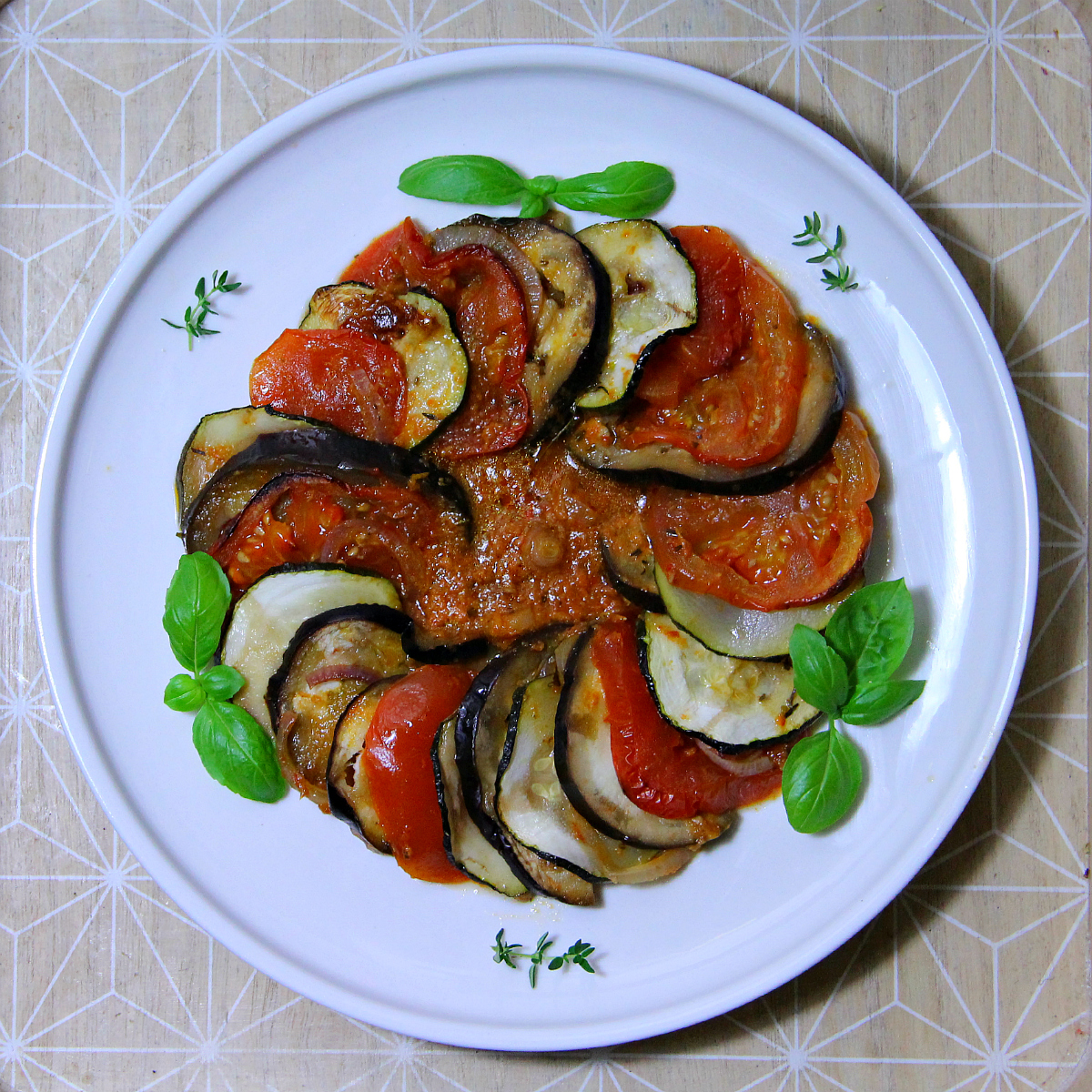 ---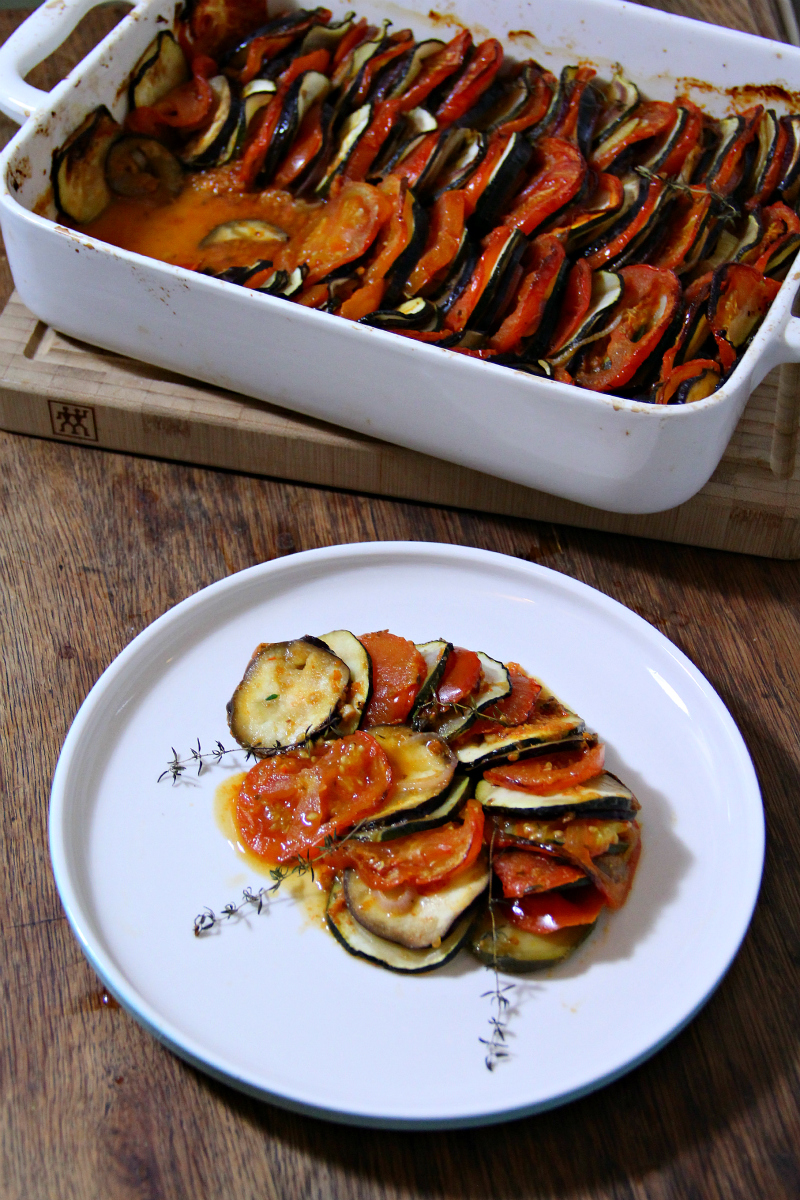 ---
Such a heartwarming dish perfect for the cold months !
To be really honest I haven't heard of this traditional french peasant dish before the Disney movie 'Ratatouille'. I knoooow, I'm suppose to be the professional vegan chef, haha, but honestly I didn't experiment much with new dishes and recipes up until a decade or a half ago or so, and Ratatouille (the movie) is from 2007 – already that long? Makes me feel old.
Anyways, this dish is so much more than just slices of vegetables. I know it's exactly what this is and what it looks like, but the sauce is packed with flavour, marinating the entire stew. All the juice and flavour from the aubergine, zucchini, onion and tomato is melting together, simmering and reducing in the oven.
Often this dish is made as a real stew itself, with chunks of big veggies, long time simmered over the stove. Other times it's more carefully arranged like this one. How you arrange the veggies is just how you prefer. It looks great in rows in a rectangular dish, or arranged in round circles in a cake tin, everything goes, no rules.
I used 2 small red onions and 2 small yellow ones, you can just use 1 normal sized red and yellow one. As for the size of the zucchini and aubergine, get them decent sized, the more similar in size they are the better. The narrower and longer the aubergine is the better, then you dont have to chop it in odd shapes. But everything goes. As pictured mine are not the same size, and the tomatoes are wider than the aubergine and zucchini, but still great, but most importantly tasted amazing !
For it to be more filling as a main course I would eat about 1/3 of this with garlic bread, without bread maybe half of it, really depends about how hungry you are. As a side dish this could serve many portions.
If you're interested in another ratatouille version i have also made the Vegan Ratatouille Lasaga.
---
Serves 2-3 dinners, as a side dish much more
---
Ingredients
---
Romesco sauce
---
1 red bell pepper

1 yellow bell pepper

2 red ripe tomatoes

4 garlic cloves

2 tablespoons finely chopped almonds

2 tablespoons extra virgin olive oil

1 tablespoon balsamico

1 tablespoon ketchup

1/4 teaspoon dried thyme

1/4 teaspoon dried rosemary

1/4 teaspoon dried oregano

1/4 teaspoon dried basil

½ teaspoon salt

1/4 teaspoon white pepper

pinch of freshly grind nutmeg
---
Ratatouille
---
1 zucchini

1 aubergine

1kg red ripe tomatoes (2.2 lbs) equals 6 big tomatoes

1 red onion

1 yellow onion

Few sprigs of fresh thyme

Drizzle of extra virgin olive oil

Drizzle of balsamico

Sprinkle of salt

Sprinkle of black pepper
---
Side dish (optional)
---
---
What you will need
---
Cutting board and knife

1 smaller oven proof dish

1 big bowl

1 stick blender

1 mandoline

4 plates / bowls

1 wide oven proof dish
---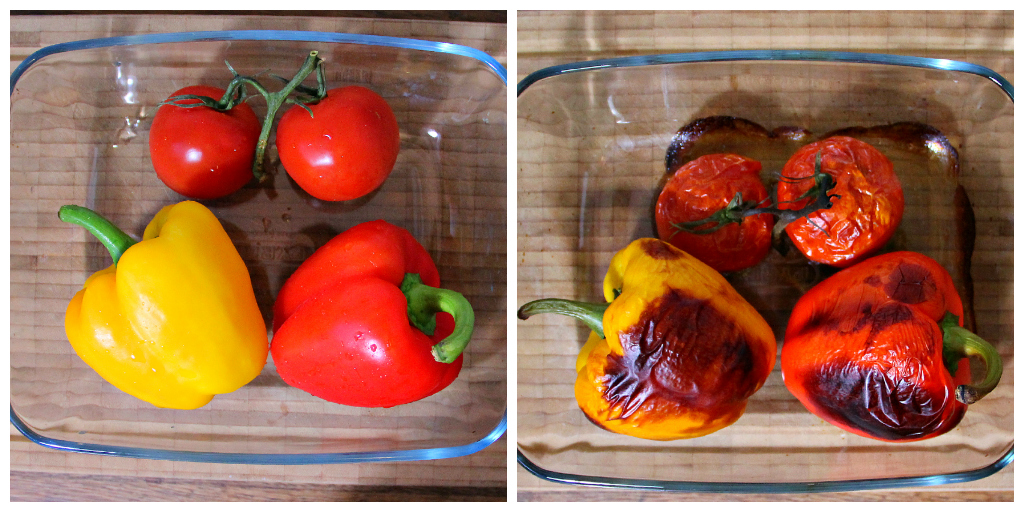 ---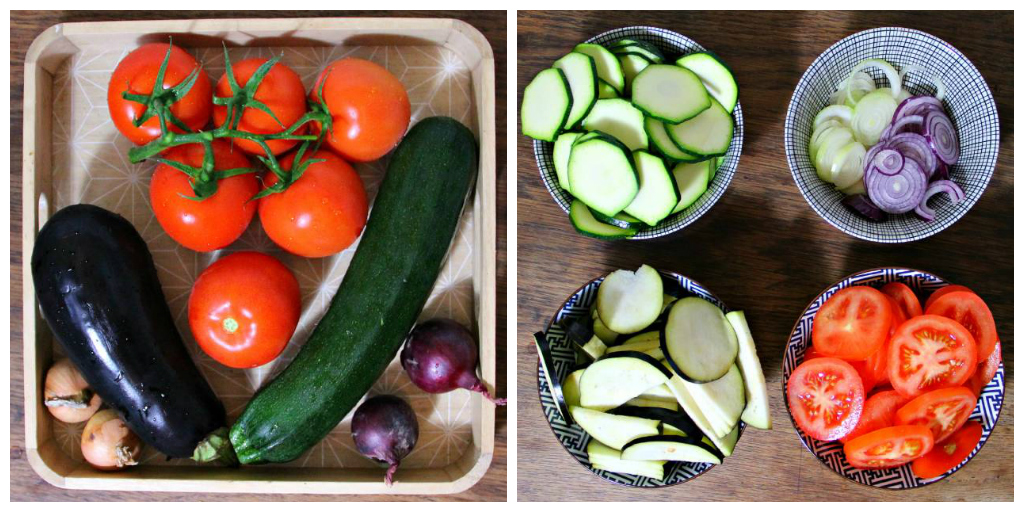 ---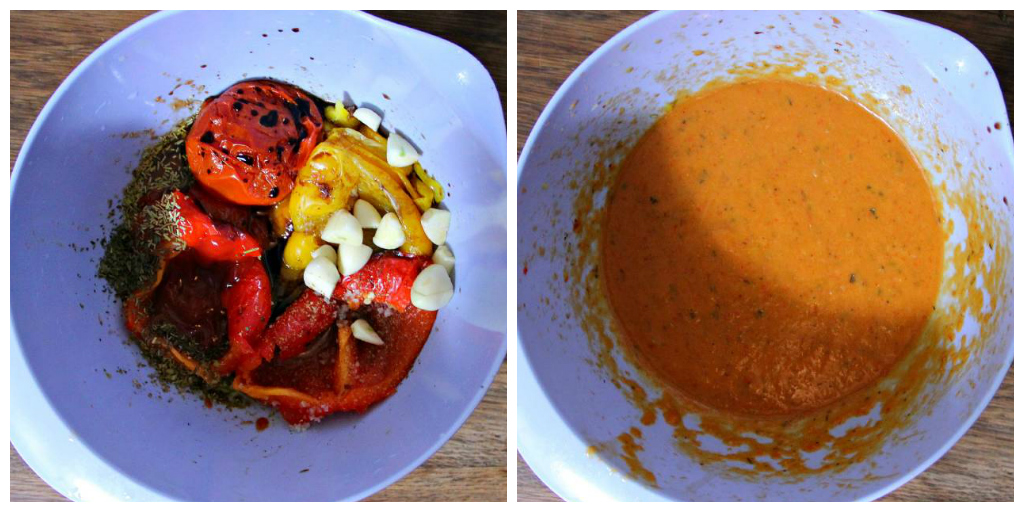 ---

---
---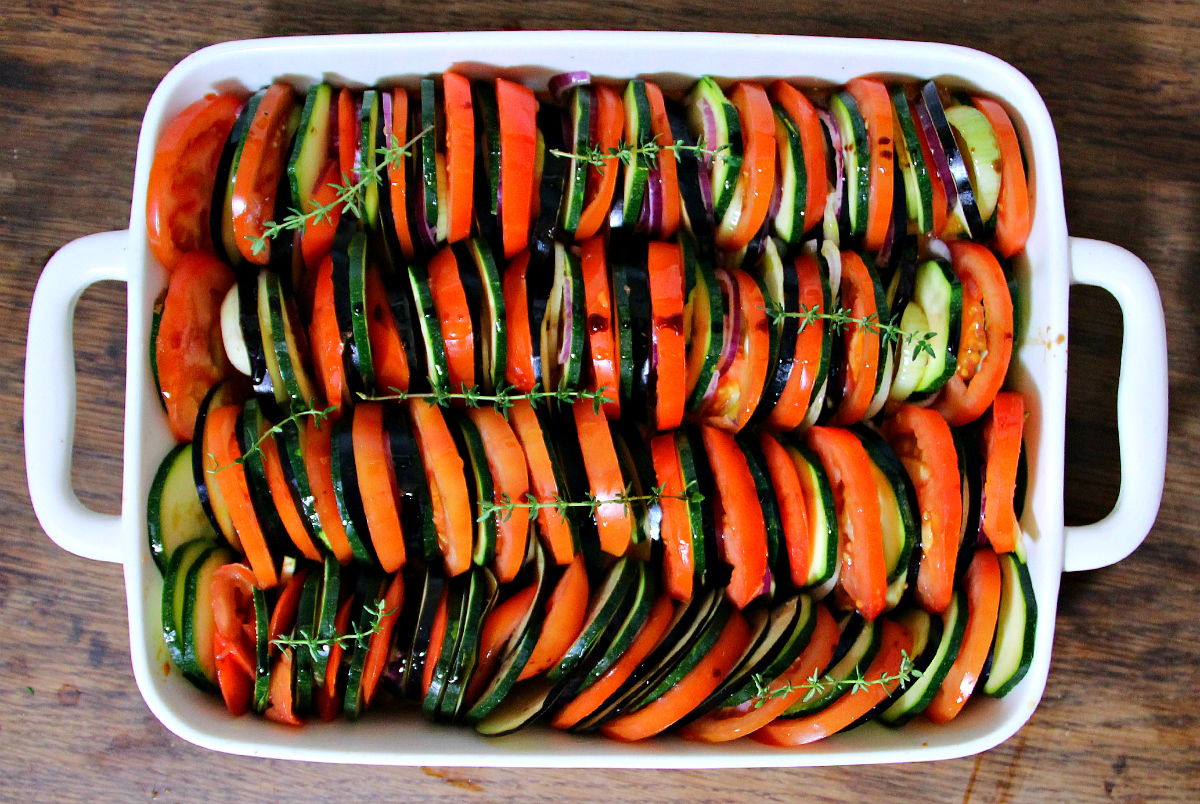 ---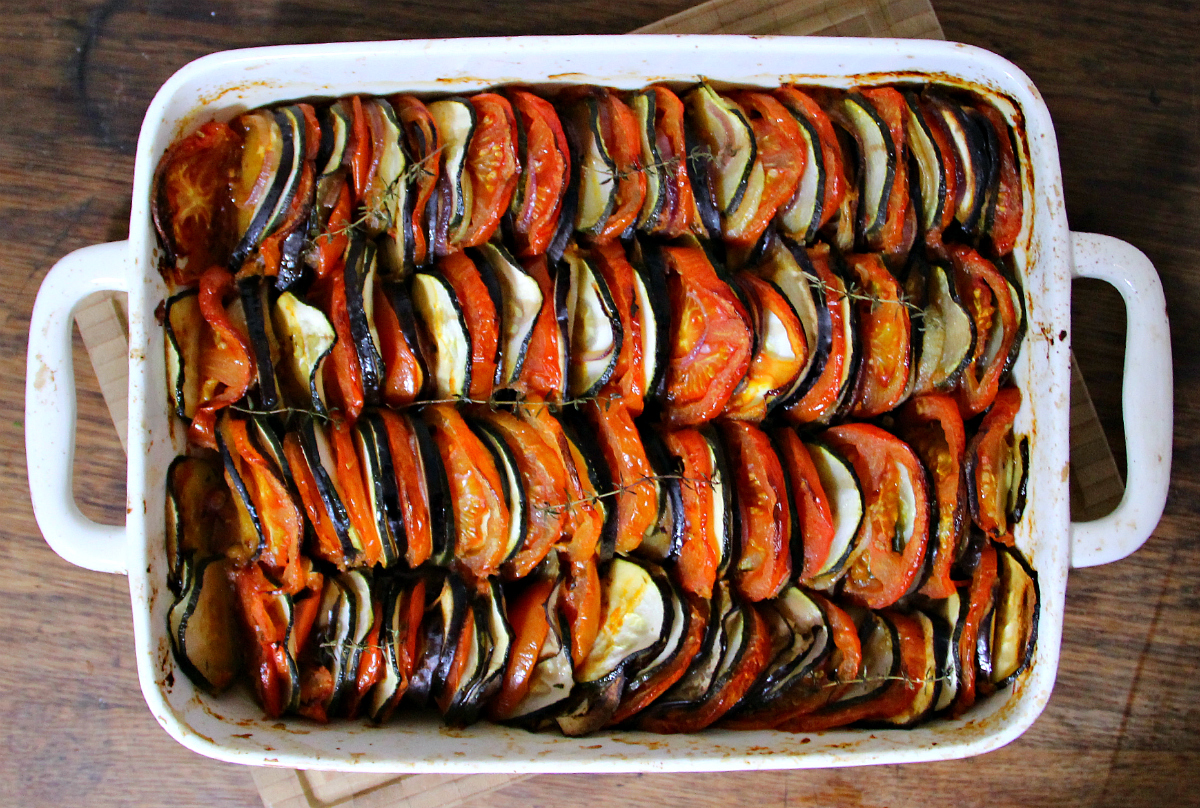 ---
Instructions
---
Preheat the oven to 200c (390 F).

---

Wash the bell pepper and tomatoes for the romesco sauce. Put in an oven proof dish and bake in the oven at 200c (390 F) on convection in the middle of the oven for about 30 minutes. Meanwhile prepare the vegetables.

---

Wash the tomatoes, aubergine and zucchini. Peel the onions and chop them with with the knife, as thin as possible. Set aside in a bowl or plate. Chop the tomatoes with the knife, about 1 cm or so (about ½ inch) thick. Put aside on a plate or bowl.

---

Use the thick setting on the mandoline to slice the zucchini, set aside in a plate or bowl. Do the same with the aubergine. If the vegetable is too wide to slice on the mandoline, chop it so it fits. Save the rest and chop then in smaller slices too. Set aside a bowl or plate.

---

Take the bell pepper and tomato out of the oven when fairly roasted. Keep the oven heated on 200c (390 F).

---

Deseed the bell pepper. Put the roasted bell pepper and tomato the big bowl along with the garlic cloves, chopped almonds, olive oil, balsamico, ketchup, thyme, rosemary, oregano, basil, salt, pepper and nutmeg.

---

Blend the romesco sauce smooth with the stick blender. In a wide oven proof dish pour in the romesco sauce.

---

Place the vegetables in rows in the dish on top of the sauce. A slice of tomato, then a ring of onion (not the whole slice just one ring), zucchini, ring of onion, aubergine and again and again. Not absolutely necessary to use the same pattern or order, but put them is the dish to have a variation in order.

---

When finished arranging the vegetables, drizzle over a bit of olive oil on all the rows. Do the same with the balsamico, be careful not to use too much of this. Put a few sprigs of thyme on top and lightly sprinkle with salt and pepper.

---

Bake in the middle of the oven at 200c (390 F) on normal setting for about 1 hour or until the vegetables look cooked and tender on top.

---

Take out of the oven when it looks roasted and fully baked. Let rest for 5 minutes before serving.

---

Can be served with garlic bread (optional but delicious), the Vegan Roasted Garlic Butter is great for that.
---
Enjoy !
---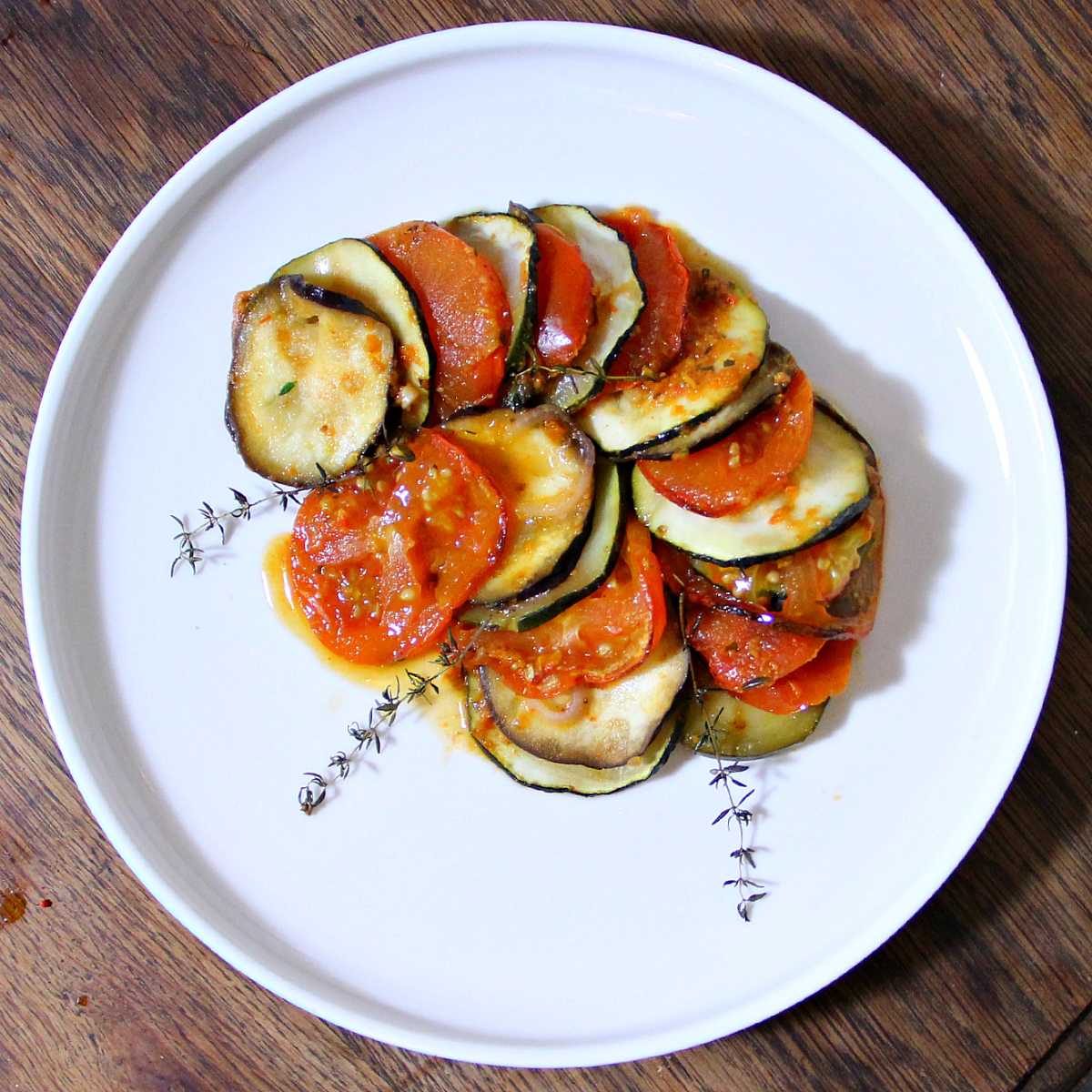 ---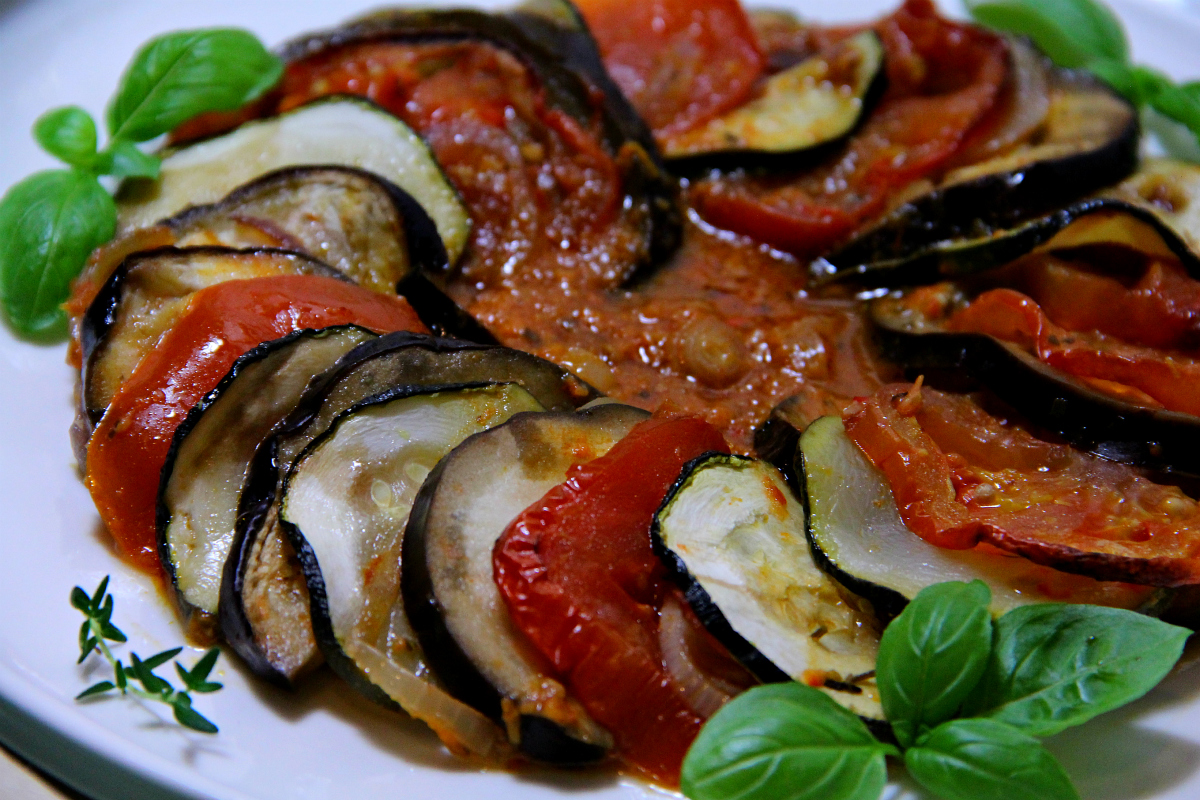 ---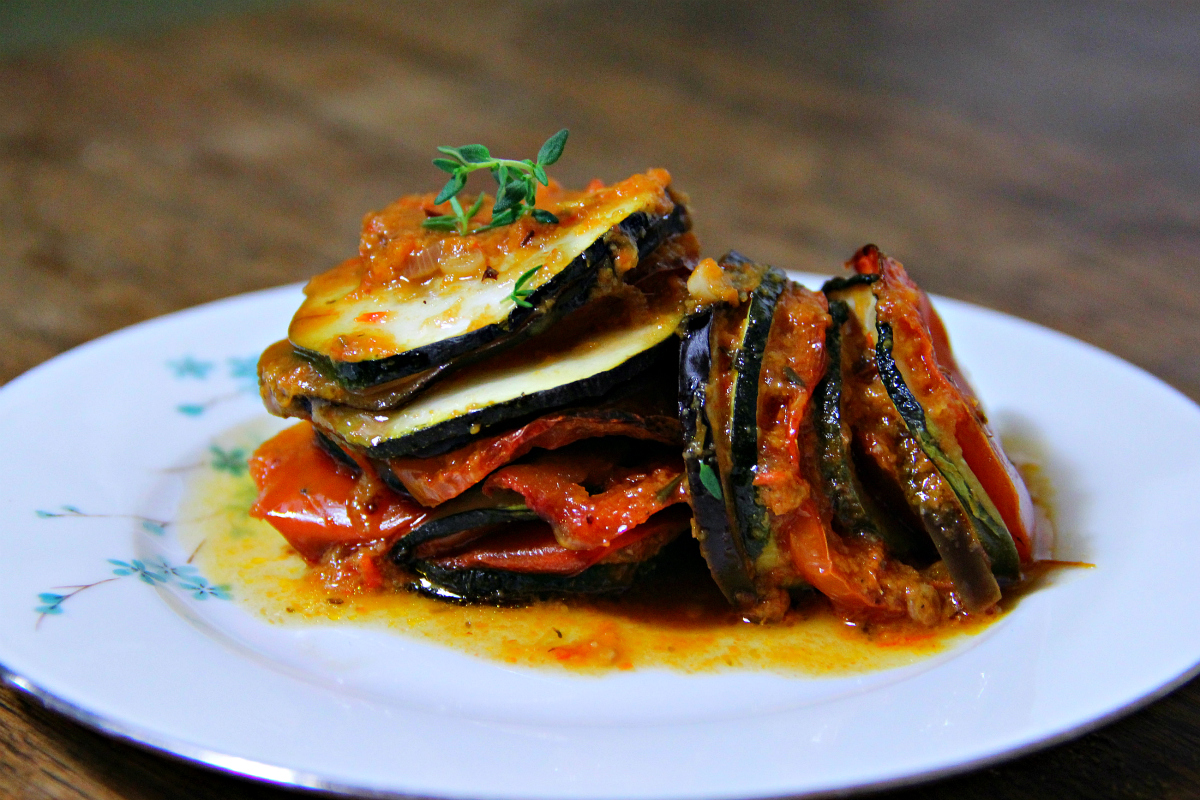 ---