---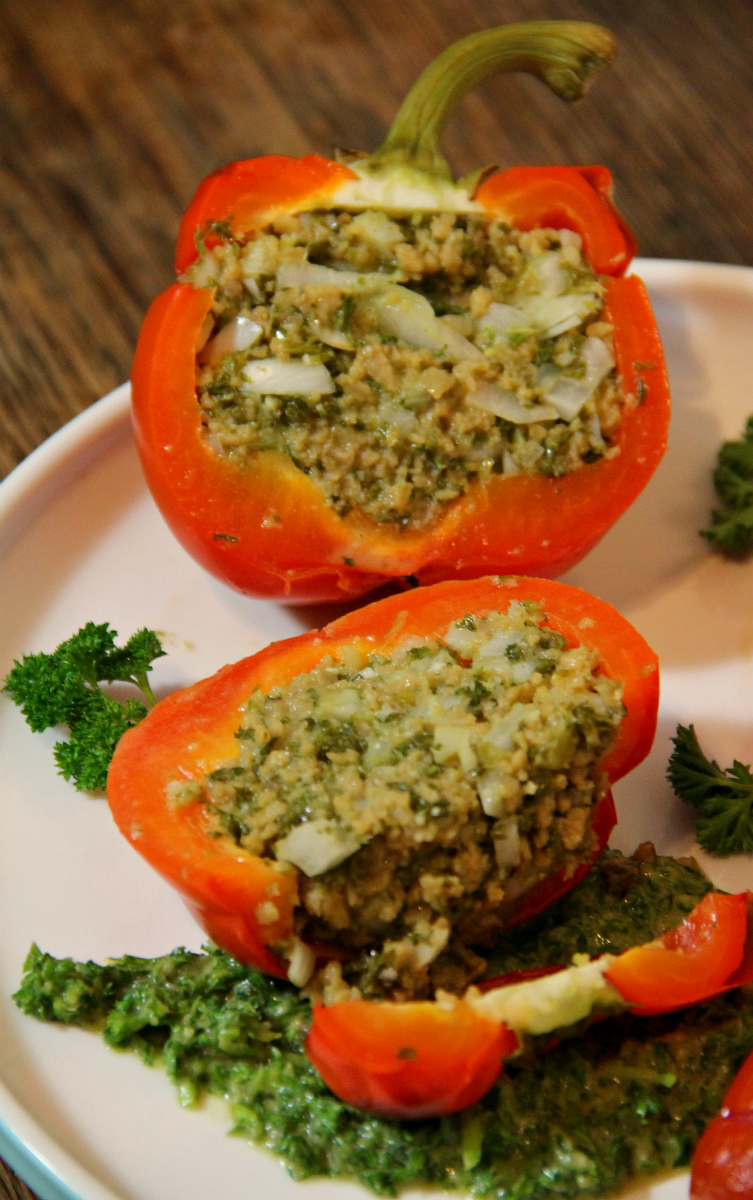 ---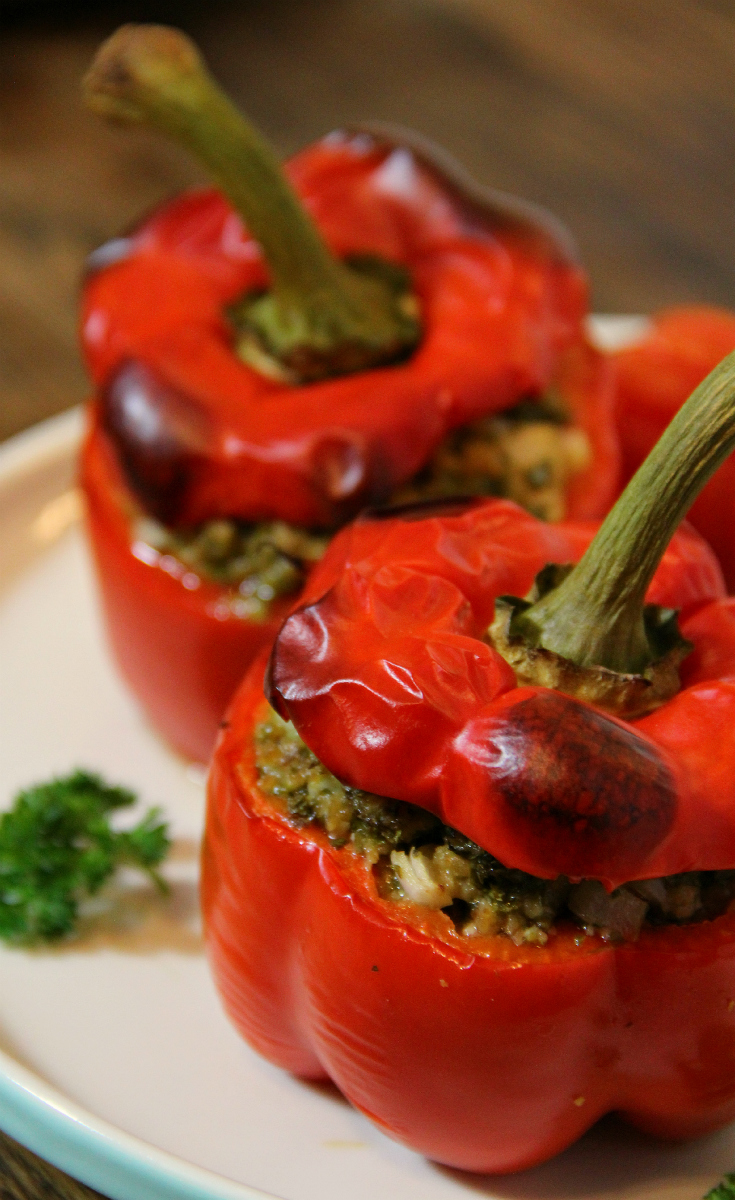 ---
Protein rich dinner PACKED with flavour. If you have not tried to eat chimichurri you have missed out. That raw sauce is something from heaven I believe.
The flavour in the stuffing is all from the chimichurri. The preparation of this is actually fairly quick, quickly blitz the chimichurri sauce, toss it with a chopped onion and the seitan, deseed the bell peppers, stuff them and just wait for the bake. Done.
Here served with a roasted, fleshy, big san marzano tomato, any tomato is okay actually, but I really like the San Marzano taste ... and it also looks a bit cool and gives an extra saucy texture to the dish.
I have used small red bell peppers for this recipe and they're super cute, but it also gives a good ratio in between the bell pepper and the stuffing. You need less stuffing for a small one, and you have a bit more bell pepper, as compared to one giant bell pepper and too much stuffing. Besides, serving two bell peppers for one serving just looks pretty awesome as well. To pack this dish with even more flavour it's been served here with some extra raw chimichurri sauce on the side, simply just because you can, and also, you wont regret it.
---
Serves 2
---
Ingredients
---
4 medium to small sized red bell peppers (750g / 26.5 oz)

200g seitan mince (7 oz)

250ml Argentinian Green Chimichurri Sauce (1 cup)

1 yellow onion

2 big san marzano tomatoes

½ teaspoon salt
---
Garnish (optional)
---
Raw Green Chimichurri Sauce as needed

Fresh parsley
---
What you will need
---
Cutting board and knife

1 big bowl

1 spoon to stir

1 wide ovenproof dish
---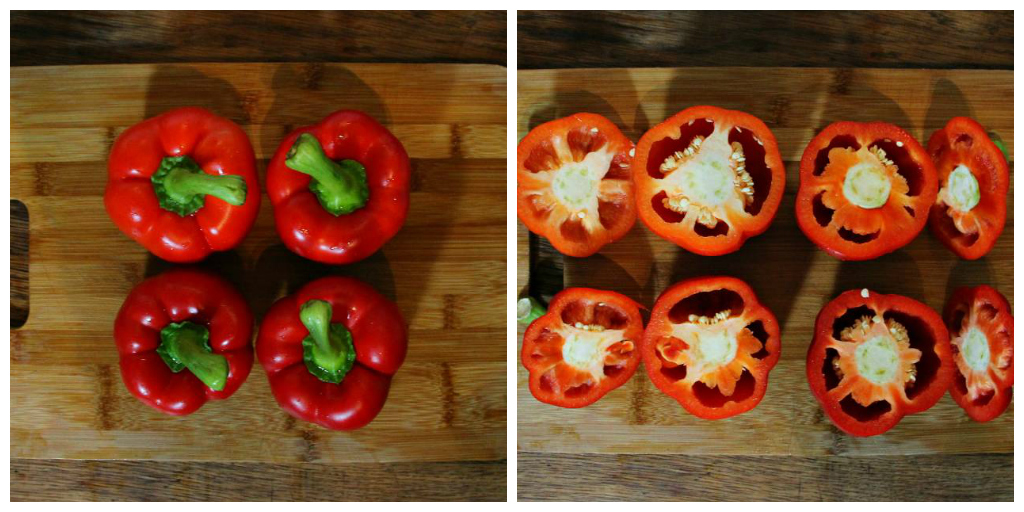 ---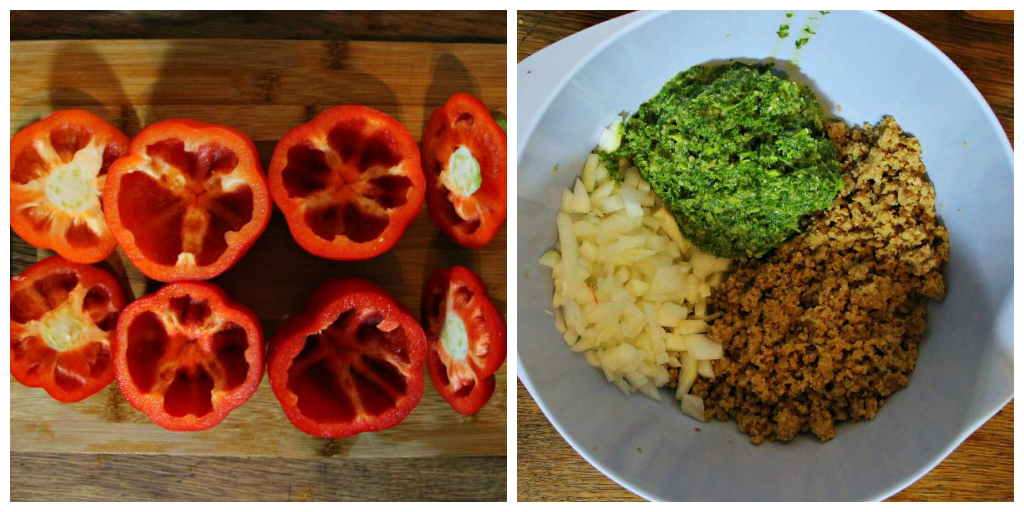 ---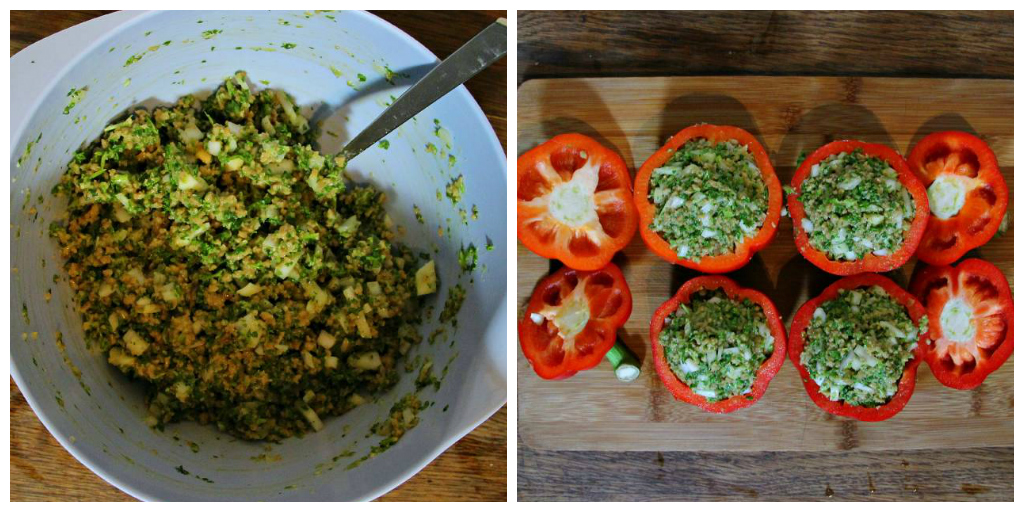 ---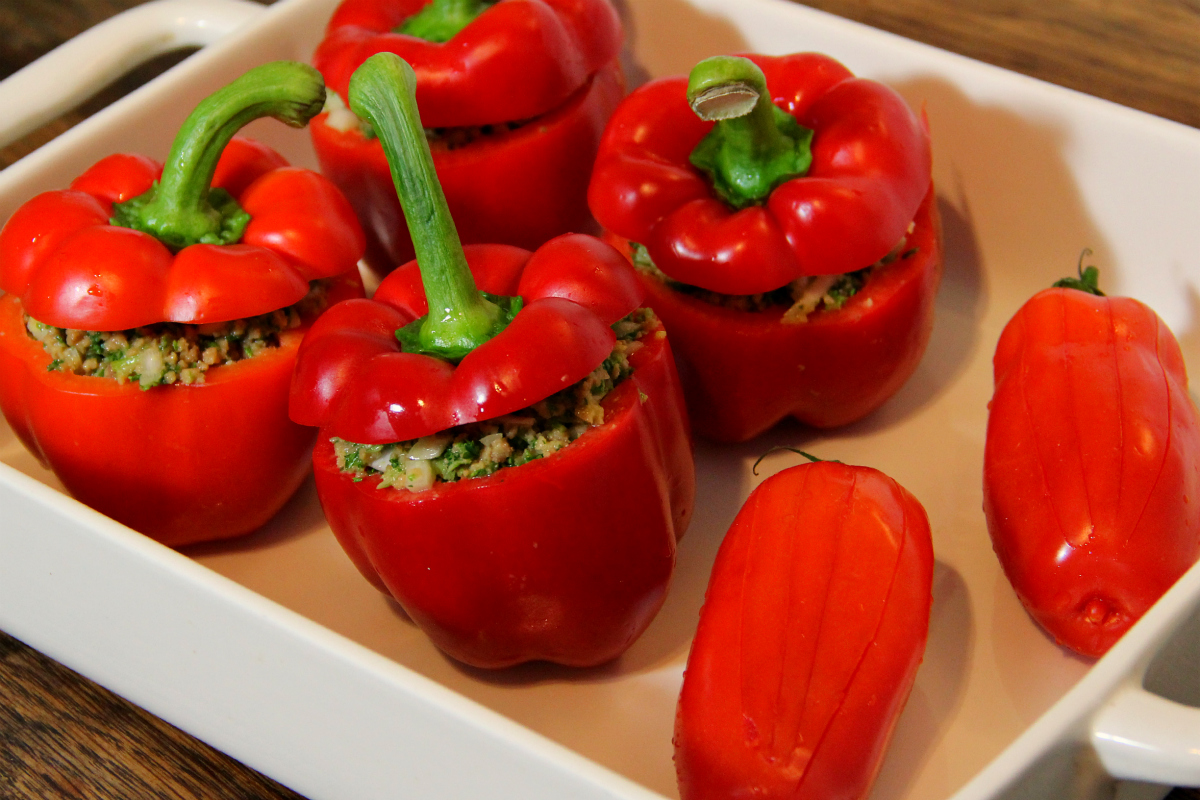 ---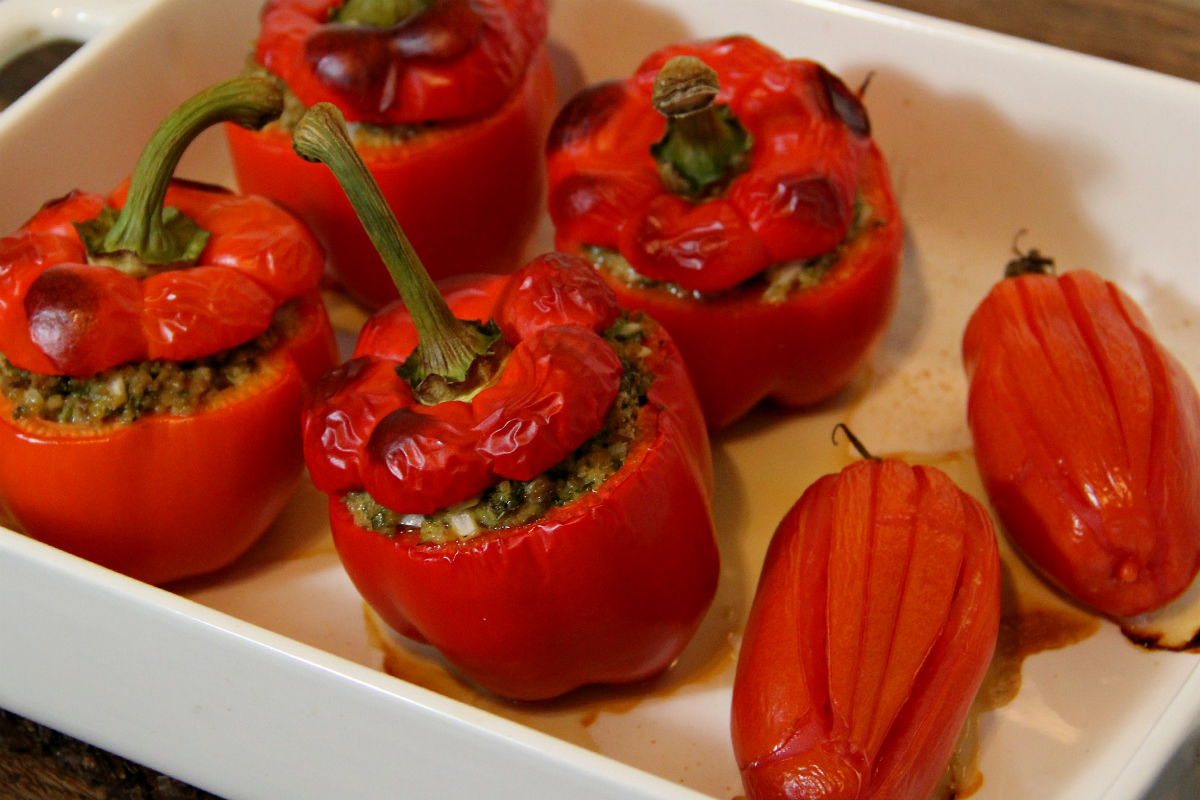 ---
Instructions
---
Make sure you have the Green Chimichurri Sauce ready.

---

Preheat the oven to 180c (350F).

---

In a big bowl add in the seitan mince and salt.

---

Chop the yellow onion and add to the bowl with the chimichurri sauce. Mix well.

---

Wash the bell peppers. Chop off the top of the bell pepper, but leave enough on the top so it does not break apart. This is your lid.

---

Deseed the bell peppers, make sure there is no seeds and while soft parts on the inside.

---

Stuff the peppers with the marinated seitan, stuff them tight and well, and it's ok to have a little dome shape of stuffing on the top. Place the lid back onto the peppers.

---

Clean the San Marzano tomatoes and make a few incisions on the long side. This will prevent the tomatoes from exploding in the oven. Also it looks nice.

---

Place the stuffed peppers and the tomatoes into a wide ovenproof dish. Bake in a preheated oven at 180c (350F), in the middle of the oven on normal setting for about 45 minutes, or until the lids of the bell peppers looks slightly charred.

---

Take out and serve with raw chimichurri and fresh parsley.
---
Enjoy !
---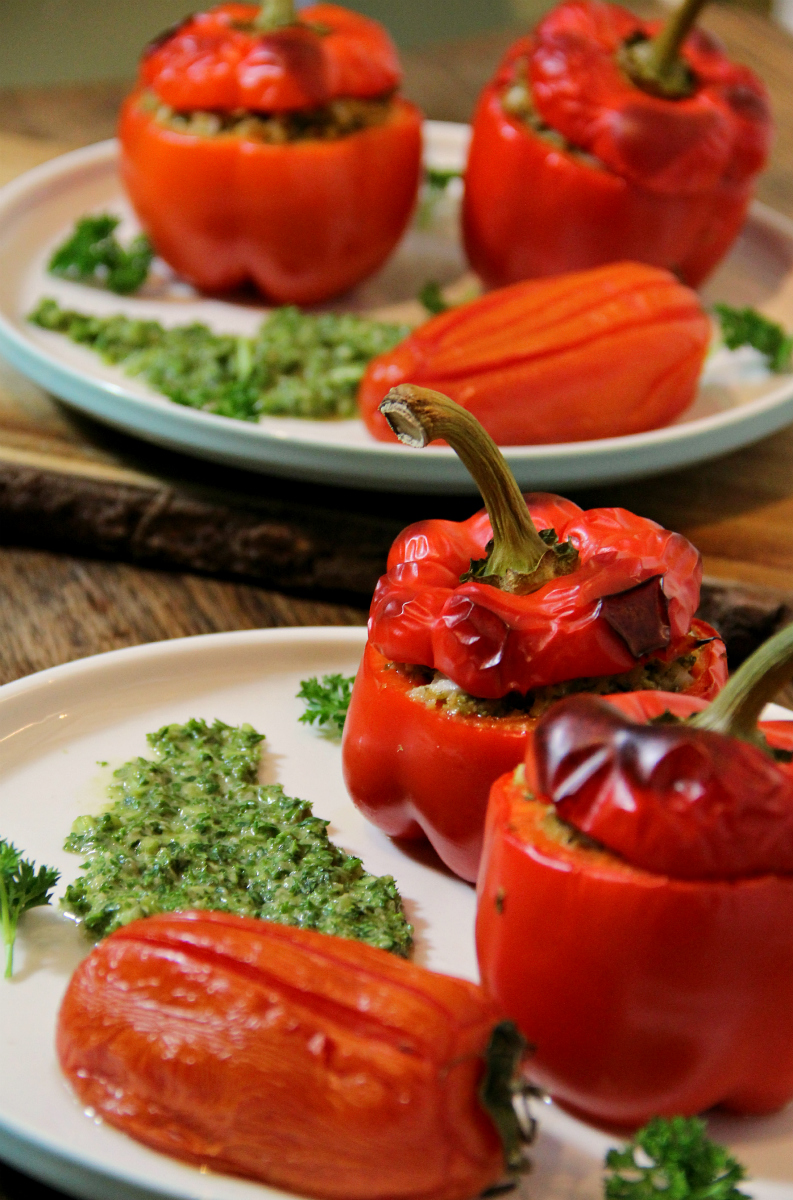 ---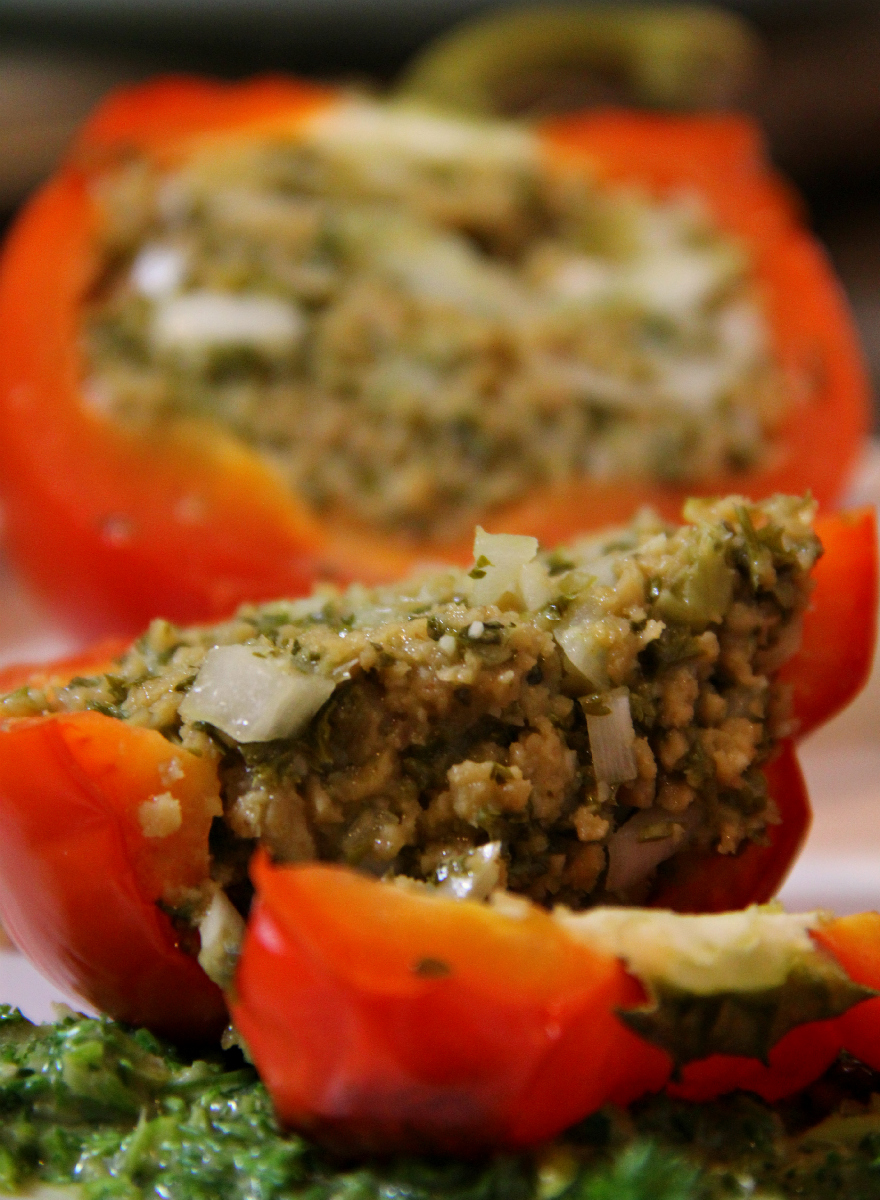 ---
---