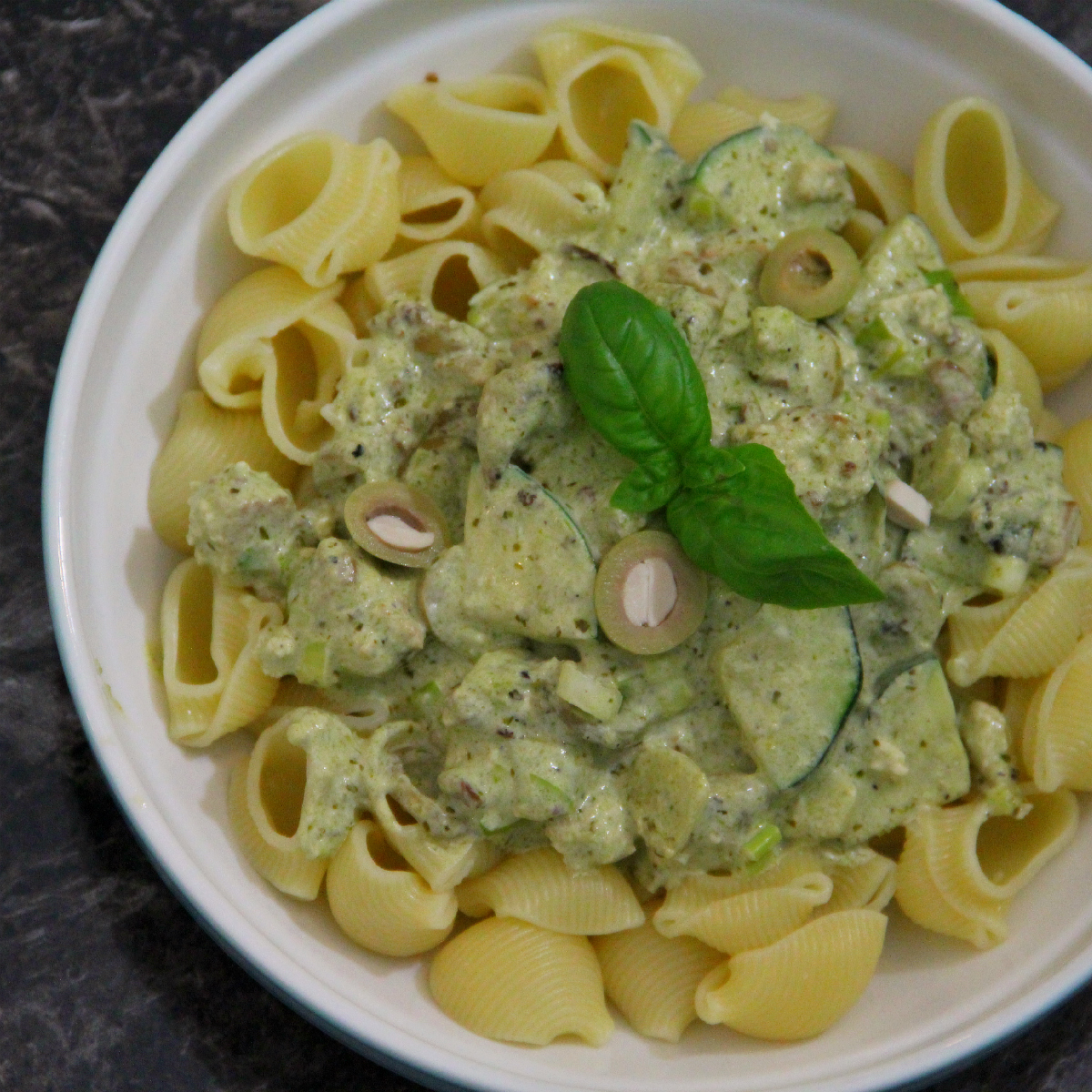 ---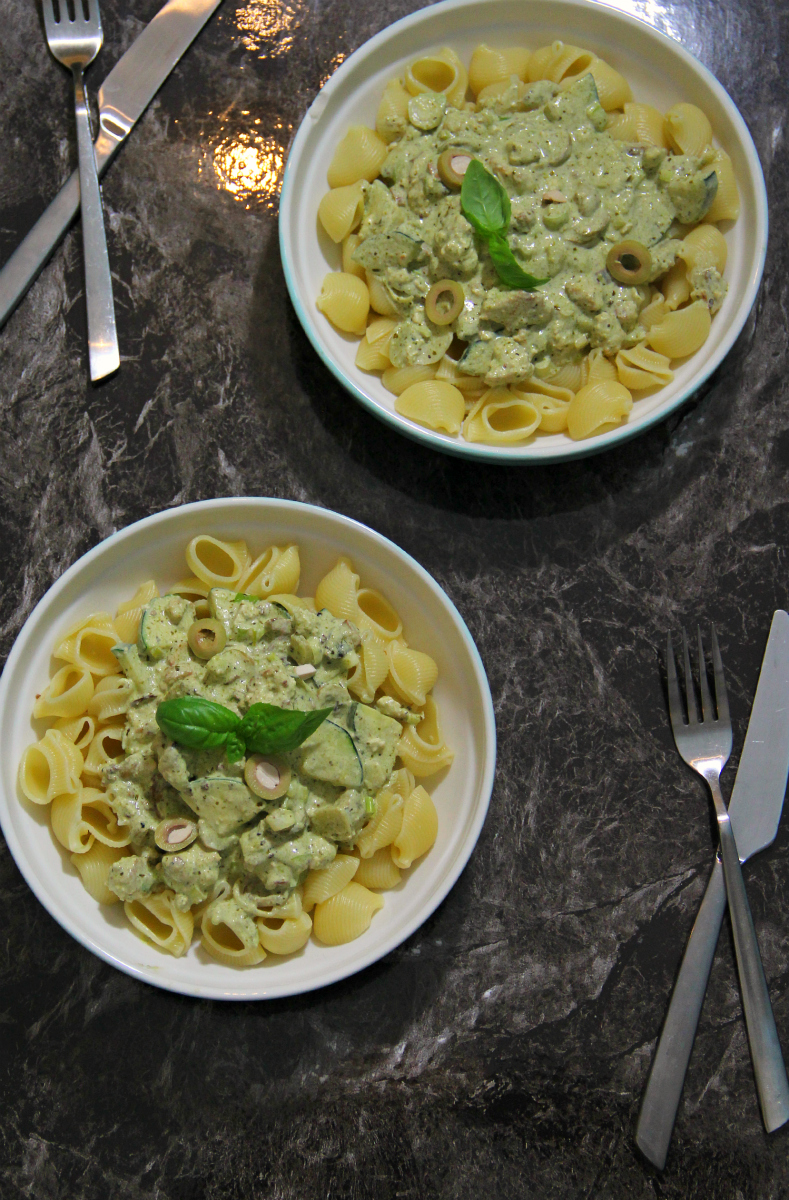 ---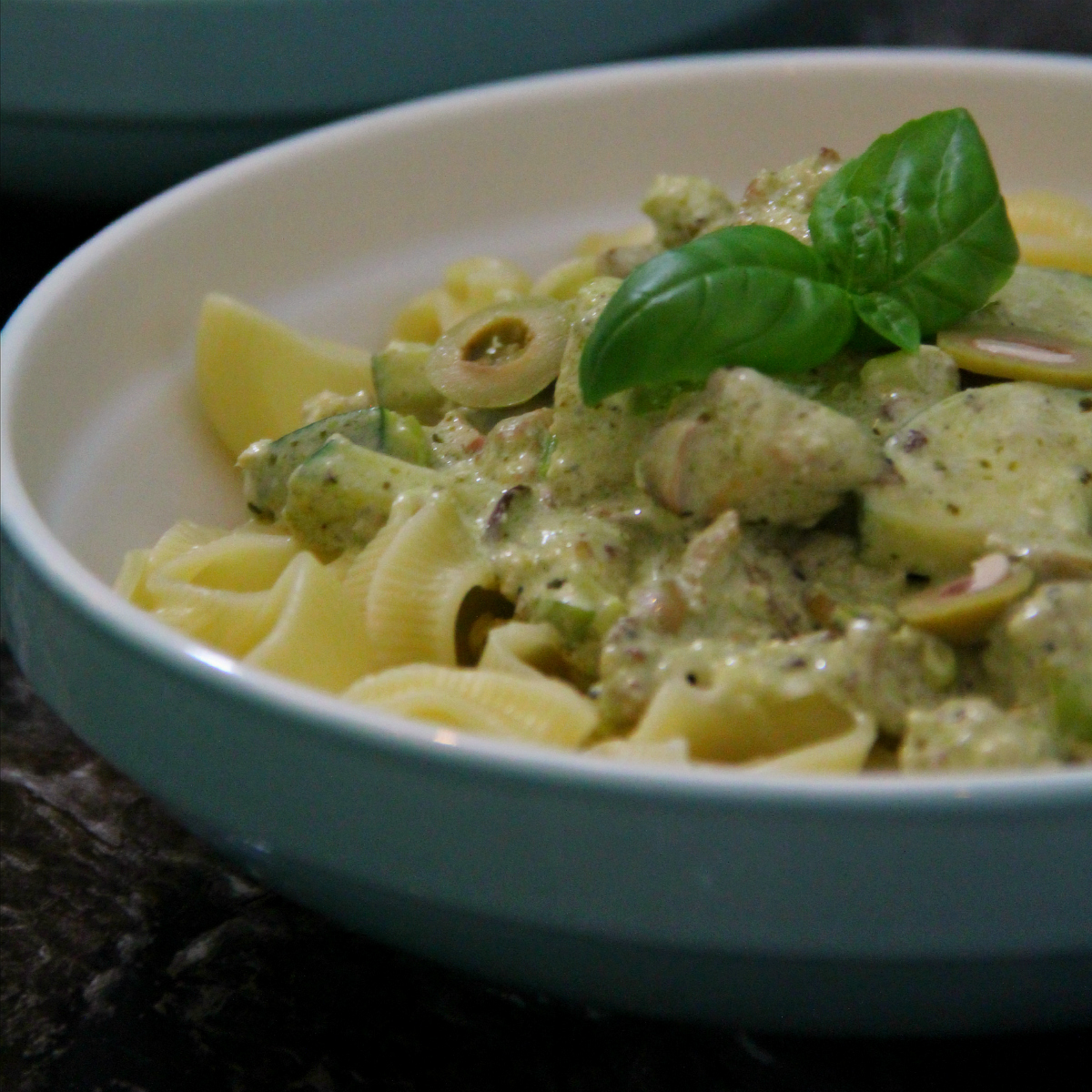 ---
This has been a quick go-to dinner for years in our house actually. When I don't really want to cook and still want something nice. It's quick and easy. I usually start boiling the water for the pasta once I start chopping, so everything is ready on the same time, that really all it takes. We just call it the pasta green sauce with the olives.. haha, don't really have a name for it, just "The Green Sauce".
It's super creamy and quite dreamy... granted, olives are an acquired taste, so if you like those you'll love this creamy pesto-ey sauce, pastel green in colour and quite light compared to it's a cream sauce.
---
Serves 4
---
Ingredients
---
Sauce
---
250g firm tofu (8.8 oz)

200g almond stuffed green olives (7 oz)

400ml soy cream (13.5 oz)

½ zucchini

6 stalks of spring onion

5 garlic cloves

6 tablespoons Vegan Basil Pesto or any other vegan pesto

2 tablespoons nutritional yeast

2 tablespoons extra virgin olive oil

1/4 teaspoon freshly grind nutmeg

½ teaspoon freshly grind black pepper

Salt to taste
---
Serve with
---
4 servings of pasta pipe rigate

Fresh basil as garnish
---
What you will need
---
Cutting board and knife

1 pan + spoon to stir

Measuring spoons

1 pot for boiling pasta
---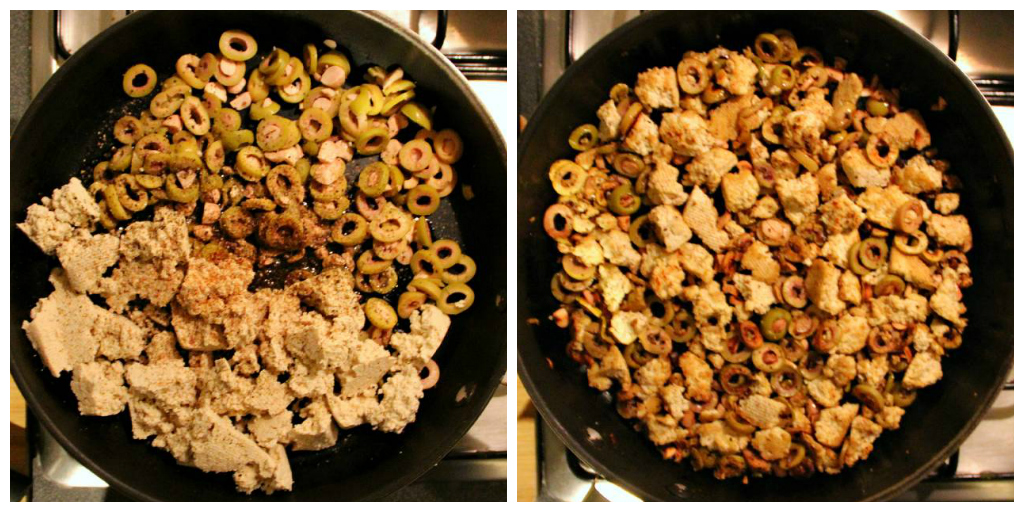 ---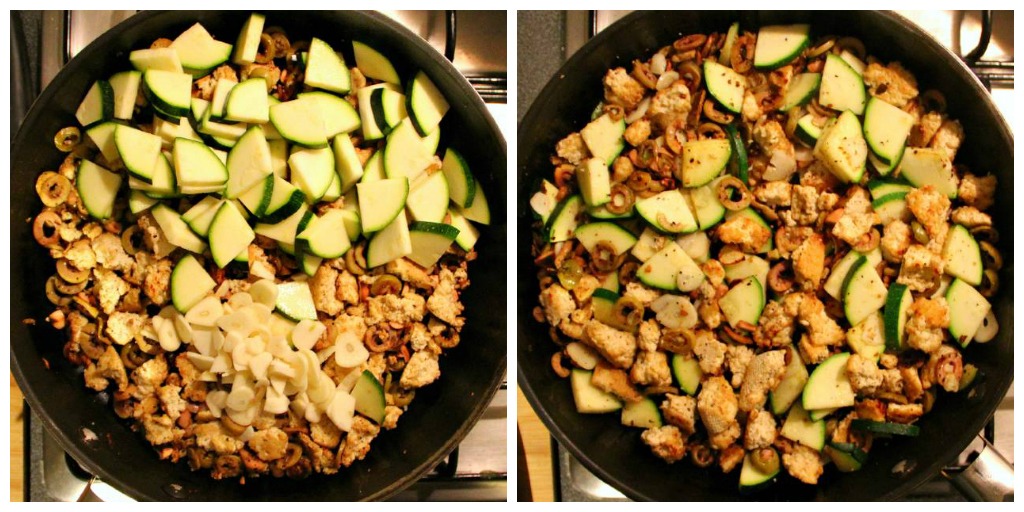 ---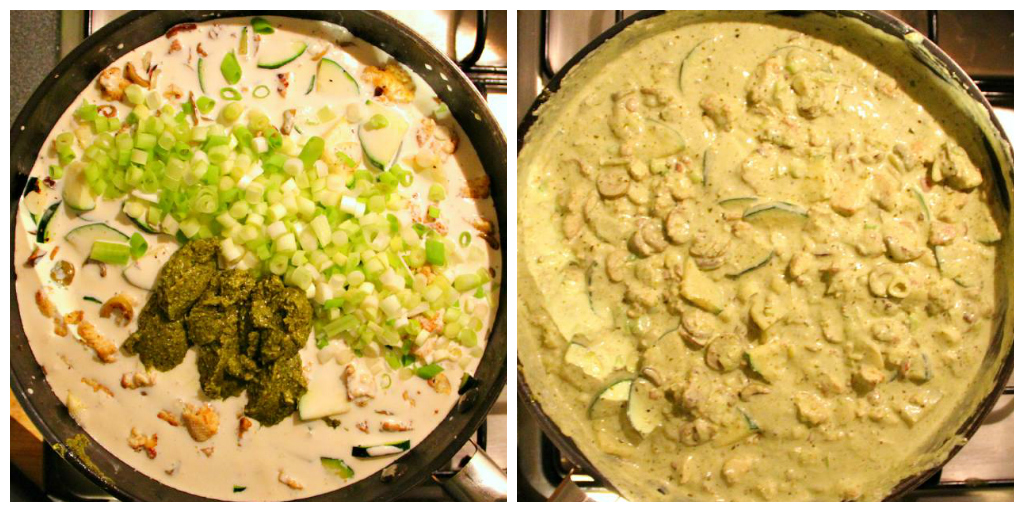 ---
Instructions
---
(Optional) Drain the tofu, pack in a bag, freeze overnight and thaw in the fridge. When thawed drain even more water out, this makes the tofu light airy and spongy, great for ripping apart crumbling like in this recipe. Leave refrigerated before use.

---

Drain the olives and give them a quick rinse. Thinly slice them and add to the pan with the olive oil, nutmeg, salt and pepper.

---

With clean hands crumble the drained and fluffy tofu into bigger bite sized pieces add and to the pan. Turn the heat on medium / high and let brown. Don't stir too often, it's okay to let the tofu and olives get a nice crisp colour and browning on the almonds, that wont happen if you stir all the time. Brown for about 8-10 minutes, stirring very little.

---

Clean the zucchini and let dry. Chop into quarter cut slices. Peel and finely slice the garlic and add to the pan. Cook for 2-3 minutes on medium to low heat.

---

Wash and finely slice the spring onions, add to the pan with the soy cream, nutritional yeast and pesto, turn the heat on low, bringing it to a simmer. Add salt to taste if needed.

---

Serve with pasta of choice and garnish with fresh basil.
---
Enjoy !
---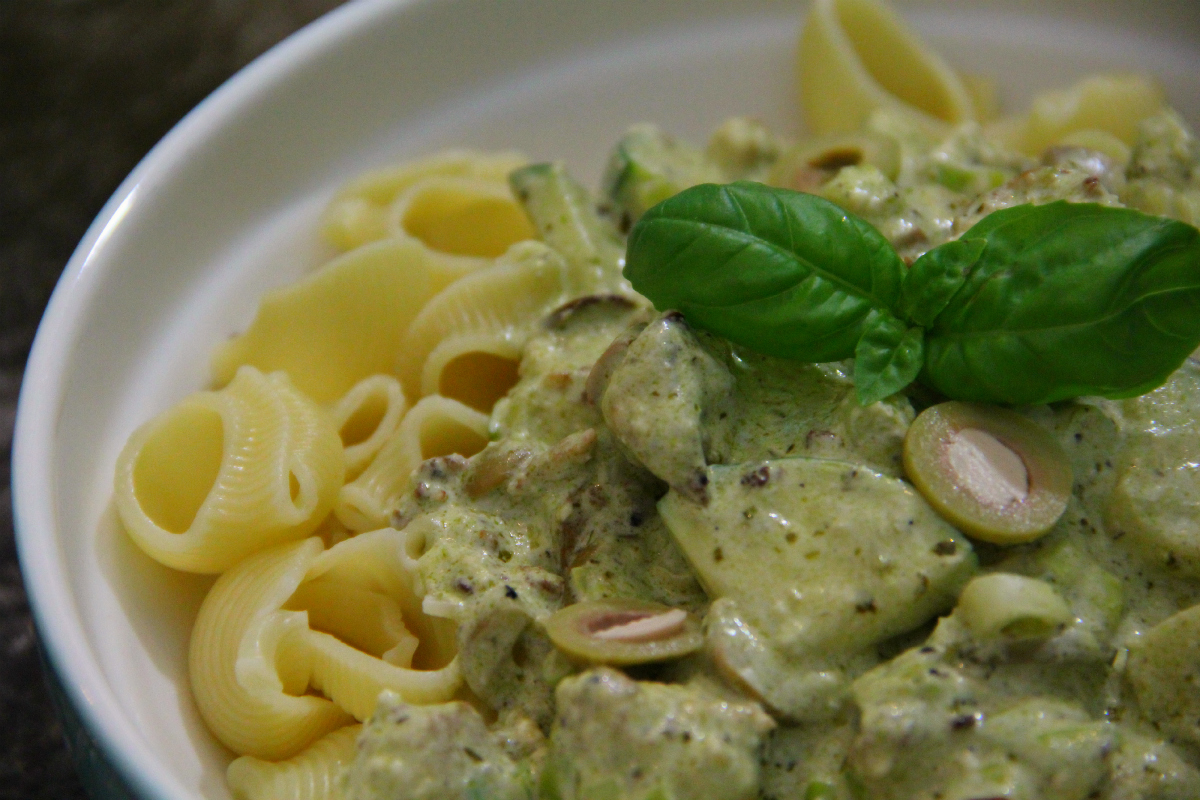 ---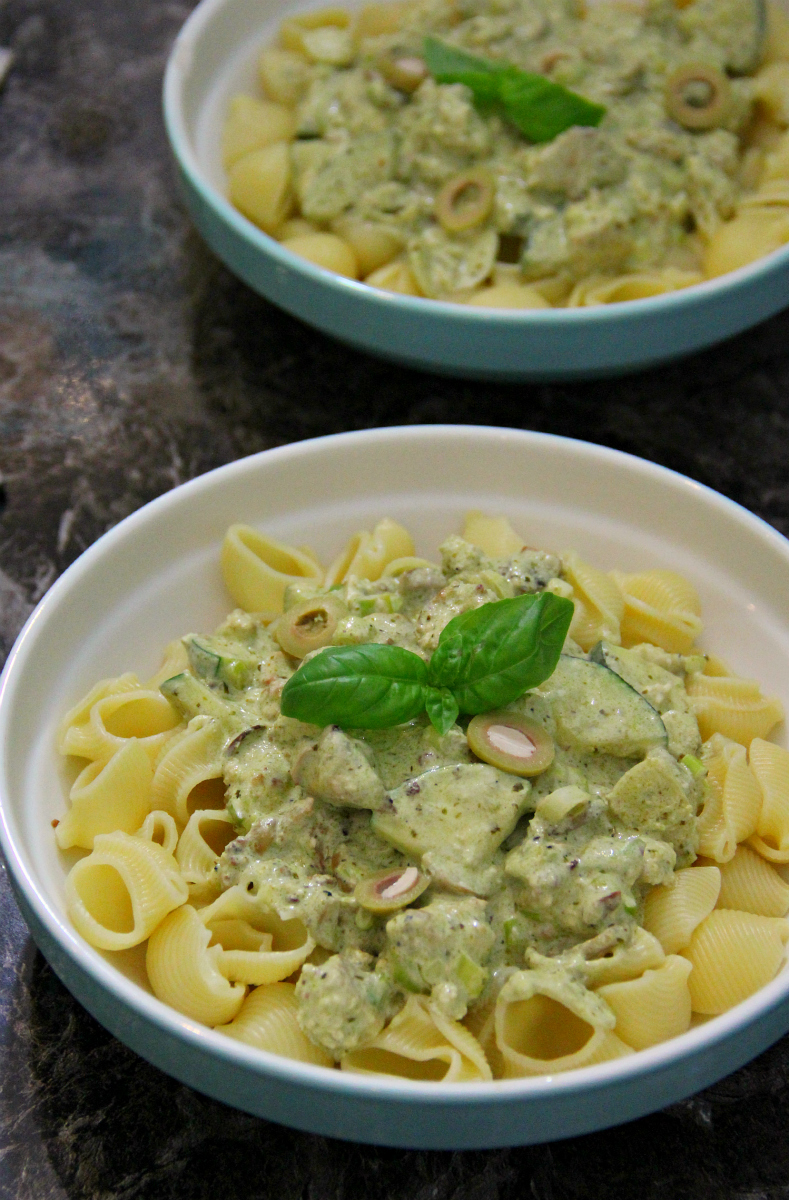 ---