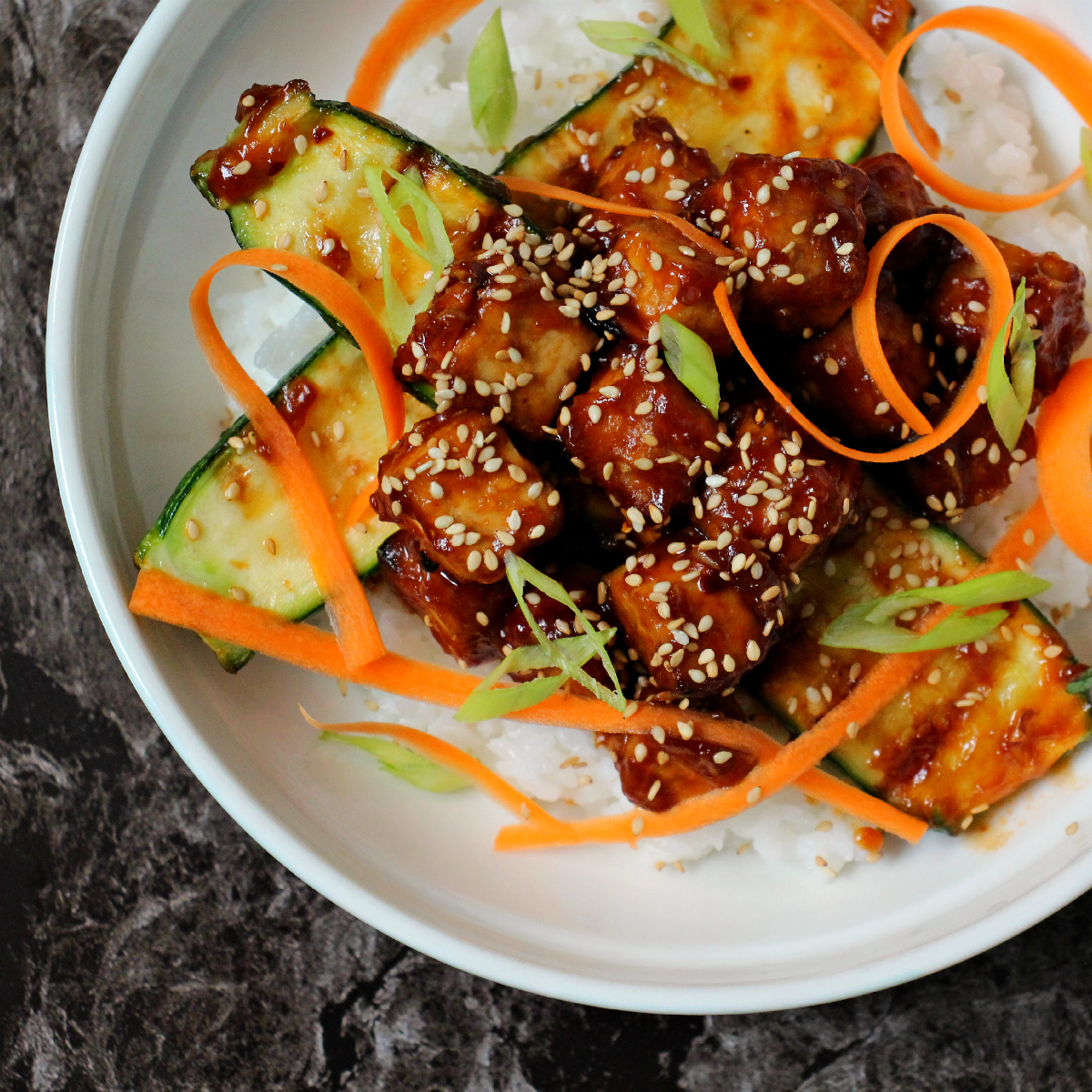 ---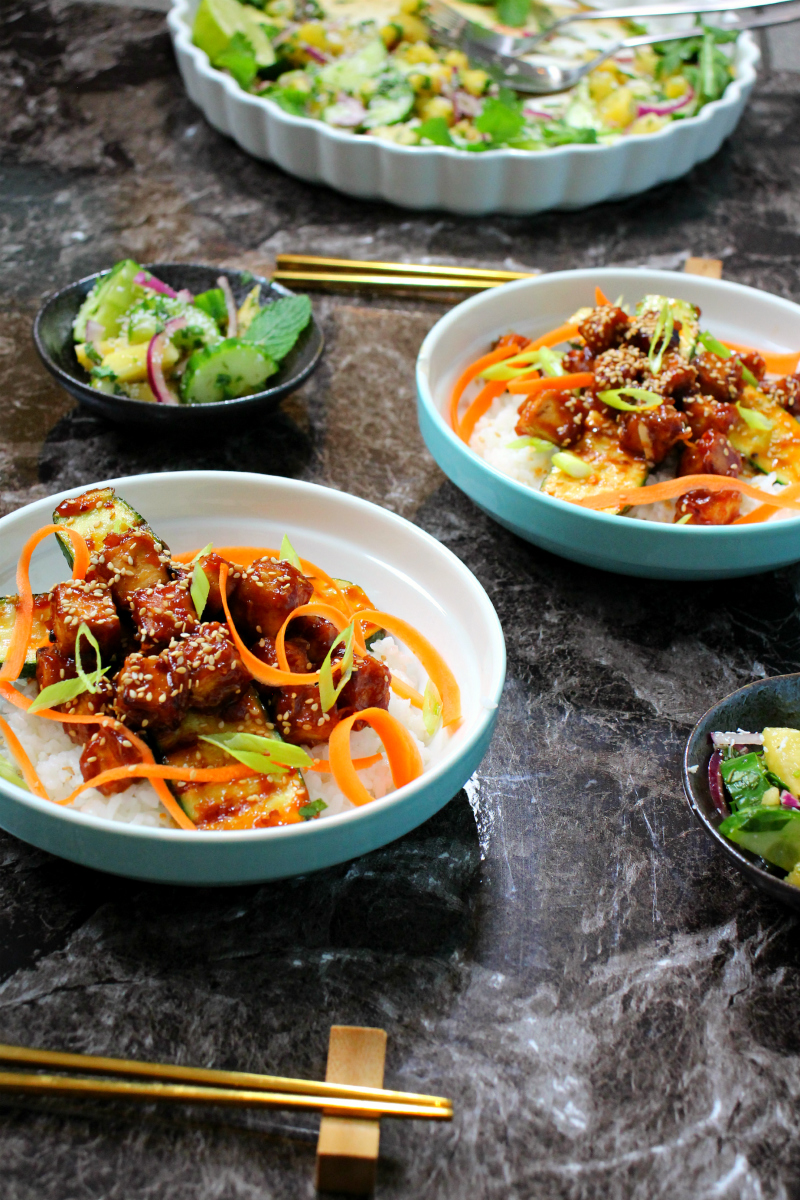 ---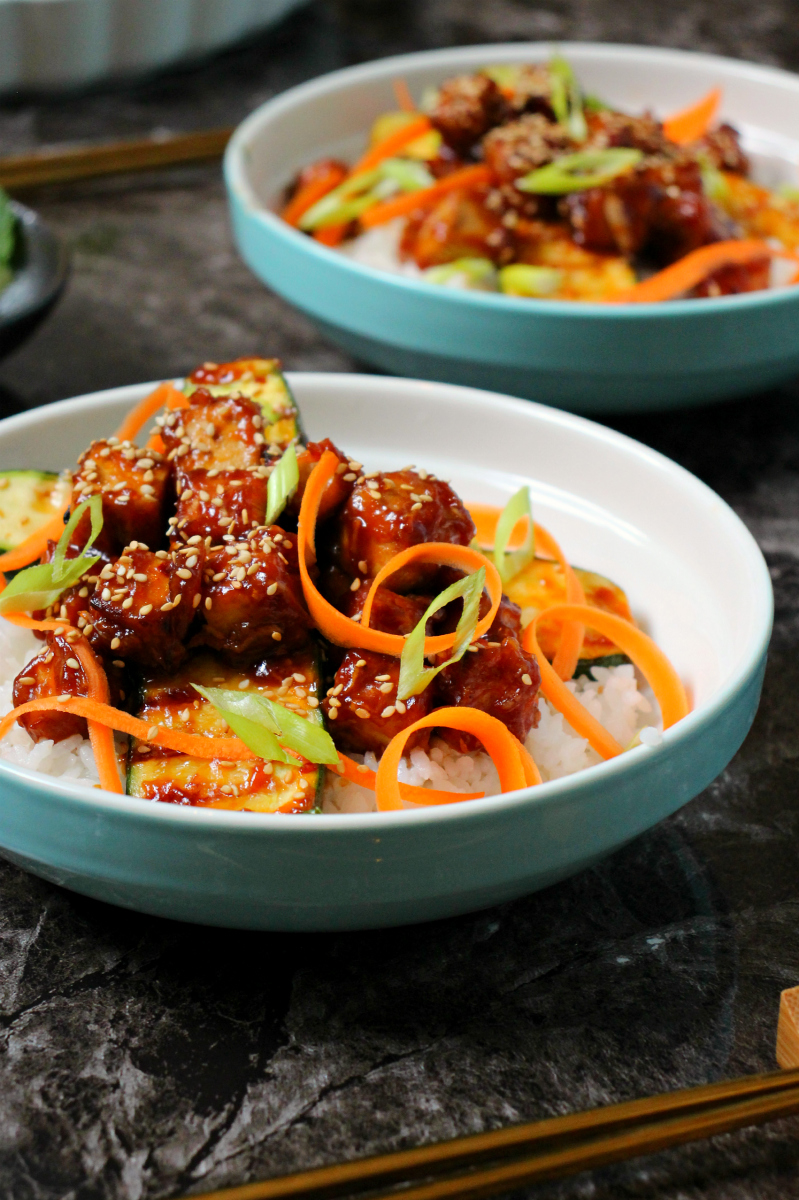 ---
A slightly different take on the all time favourite tofu dish. I am a hardcore tofu fan and this is probably one of the best tofu dishes out there in my very biased opinion ! I have come across a bunch of variations of the sauce online, but it mostly comes down to having something sweet, soy and vinegary with garlic, chili and ginger and making the sauce a thick glaze.
Hoisin sauce adds the sweetness and works as a great base to use and then pimp it heavily with other flavours to make it your own. It super quick to make, simply start cooking the rice from start, then start following this recipe, and when the rice is done so should this dish.
To add some vegetables I chose to grill and glaze some mini zucchinis, and add some colour and crunch from the fresh spring onion and carrot ribbons. I also chose to plate the dish on a bed of sticky rice, that goes well with the glazed tofu and zucchini. To balance the hot meal it has been served with a cold and refreshing Pineapple Cucumber Salad with lots of cilantro and mint.
---
Serves 4
---
Ingredients
---
Tofu and marinade
---
500g firm tofu (17.6 oz)

4 tablespoons potato starch (or cornstarch)

2 tablespoons soy sauce

1 tablespoon mirin

1 tablespoon maple syrup
---
Sauce
---
60 ml water (1/4 cup)

4 tablespoons vegan hoisin sauce

2 tablespoons vegetable oil

2 tablespoons soy sauce

2 tablespoons mirin

2 tablespoons ketchup

3 garlic cloves

1 thumb of ginger

1 teaspoon potato starch (or cornstarch)

1/2 teaspoon chili flakes and seeds
---
Grilled
---
4 mini zucchinis

2 tablespoons vegetable oil
---
Serve with
---
---
What you will need
---
Cutting board and knife

1 big bowl

Baking tray and paper

1 grill pan

1 pan + spoon to stir

1 pot for rice

Measuring spoons
---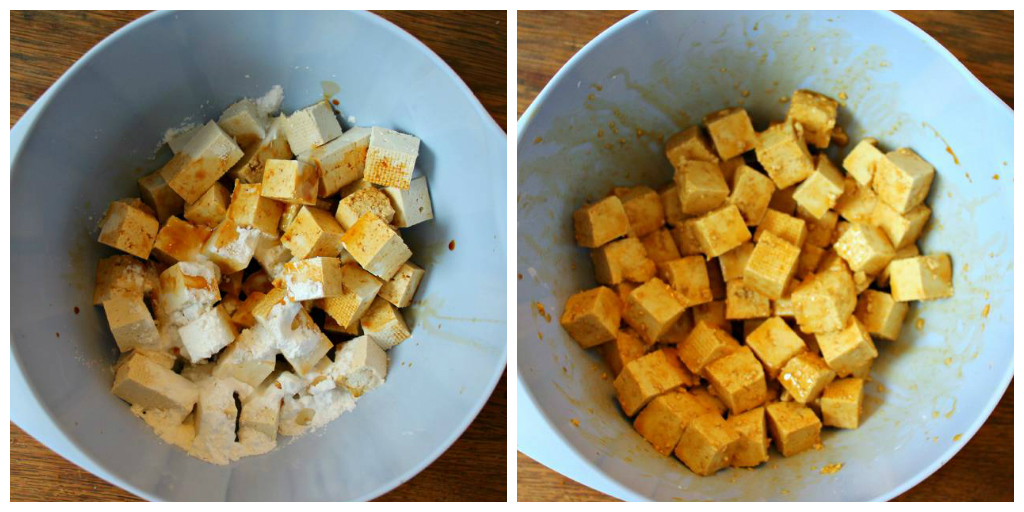 ---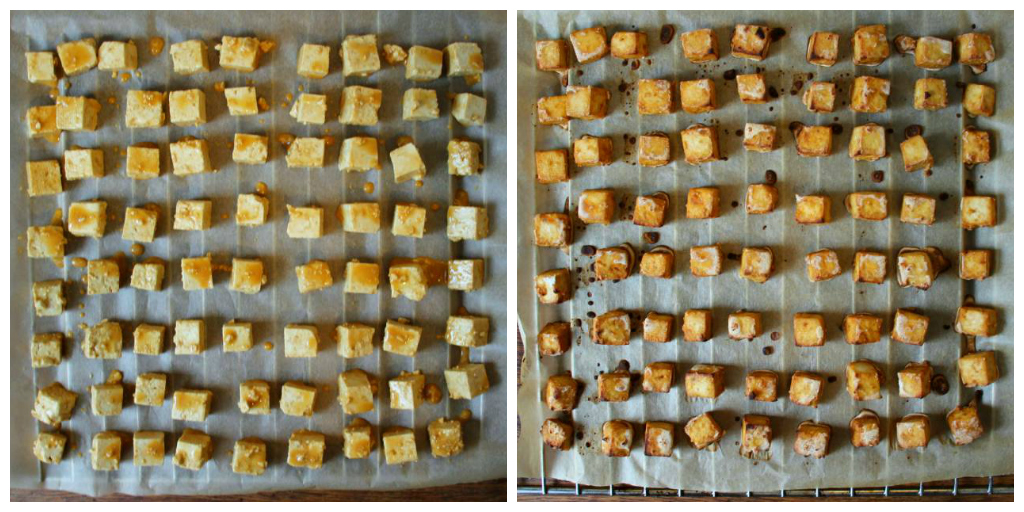 ---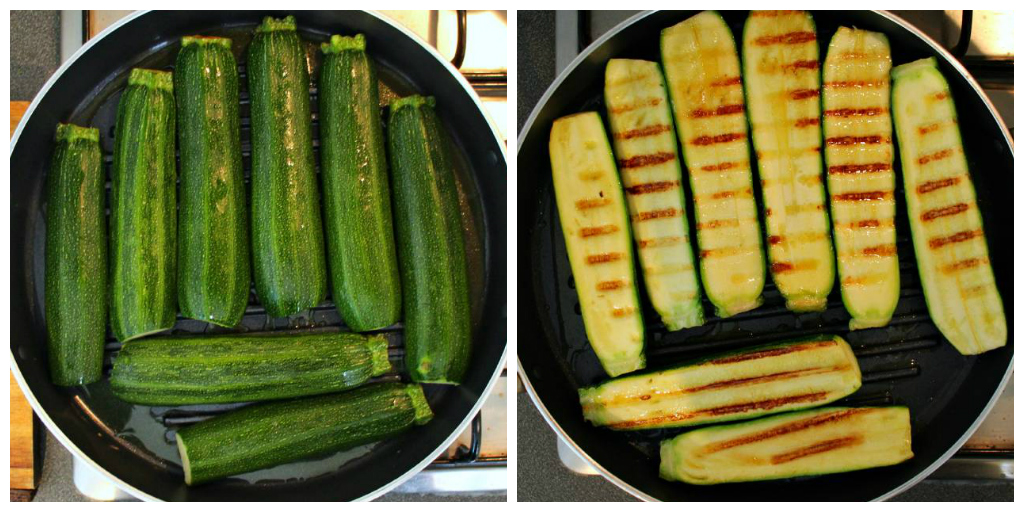 ---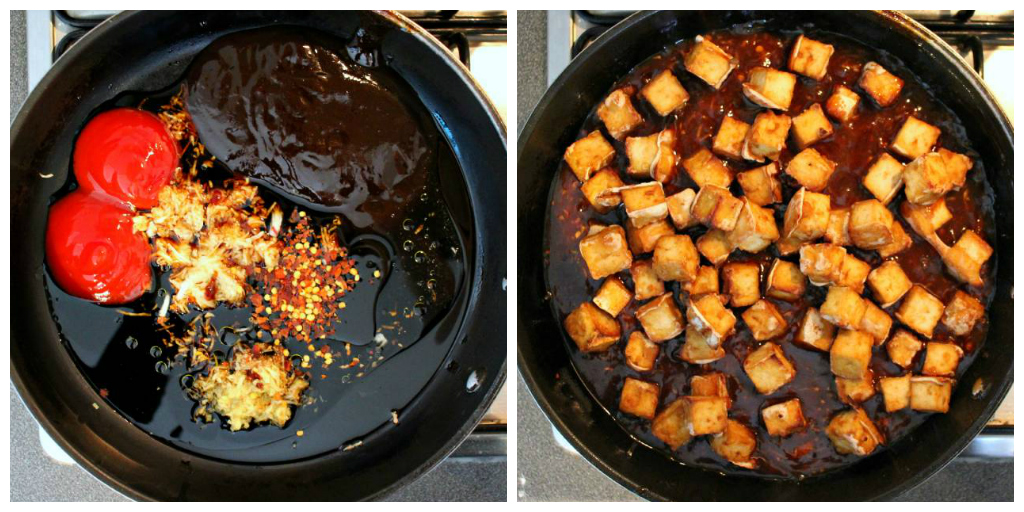 ---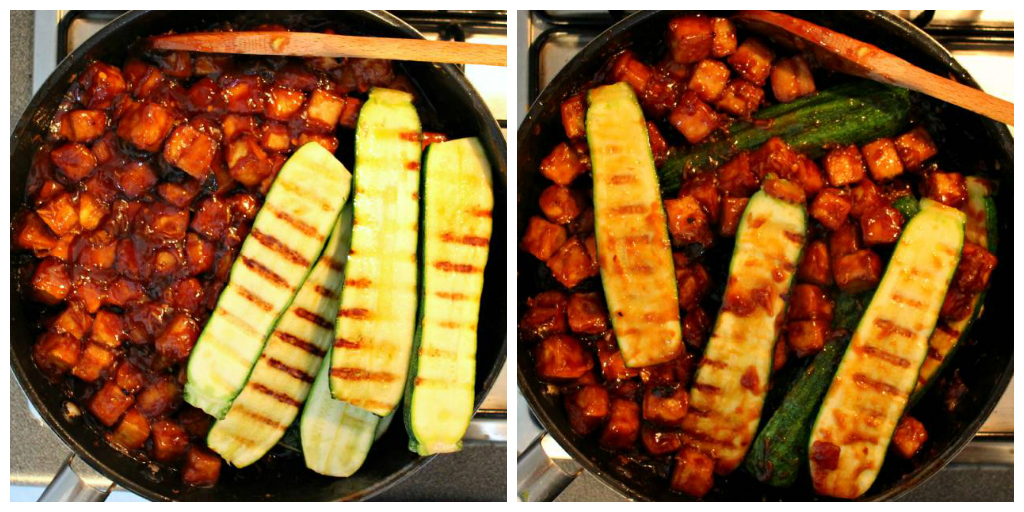 ---
Instructions
---
Preheat the oven to 180c (350 F).

---

Drain the tofu slightly, chop into squares. Transfer to a bowl and add in the potato starch, soy sauce, mirin and maple syrup. Toss to spread marinade evenly.

---

Put on a baking tray with baking paper. Bake in a preheated oven at 180c (350 F) in the middle of the oven on convection for about 15-18 minutes. Take out when golden and slightly crisp on the edges.

---

Wash and slice the mini zucchinis on the long side. Grill on a hot grill pan with vegetable oil on both sides until tender and grill marks appear. Set aside.

---

Peel and grate the ginger and garlic. Add to a pan with the oil, hoisin sauce, soy sauce, mirin, ketchup and chili flakes. Turn heat to medium high and bring to a simmer while stirring.

---

In a small bowl mix the water and the potato starch to make a slurry. Add to the sauce and mix well to thicken.

---

Take out the tofu when golden. Add to the pan with the sauce. Bring to a simmer. Put in the grilled zucchini to get coated just before serving.

---

Serve on a bed of of sticky rice, garnished with spring onion, sesame seeds and carrot ribbons. Here shown with a side dish of Pineapple Cucumber Salad.
---
Enjoy !
---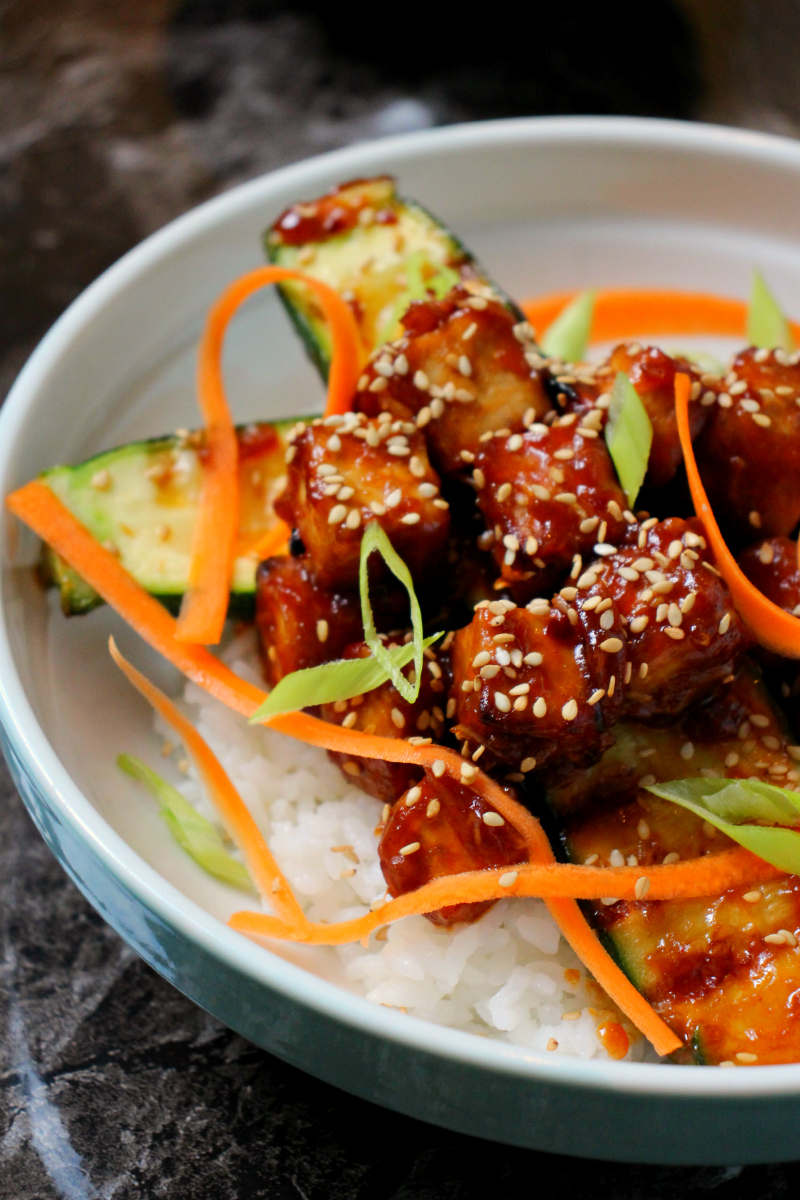 ---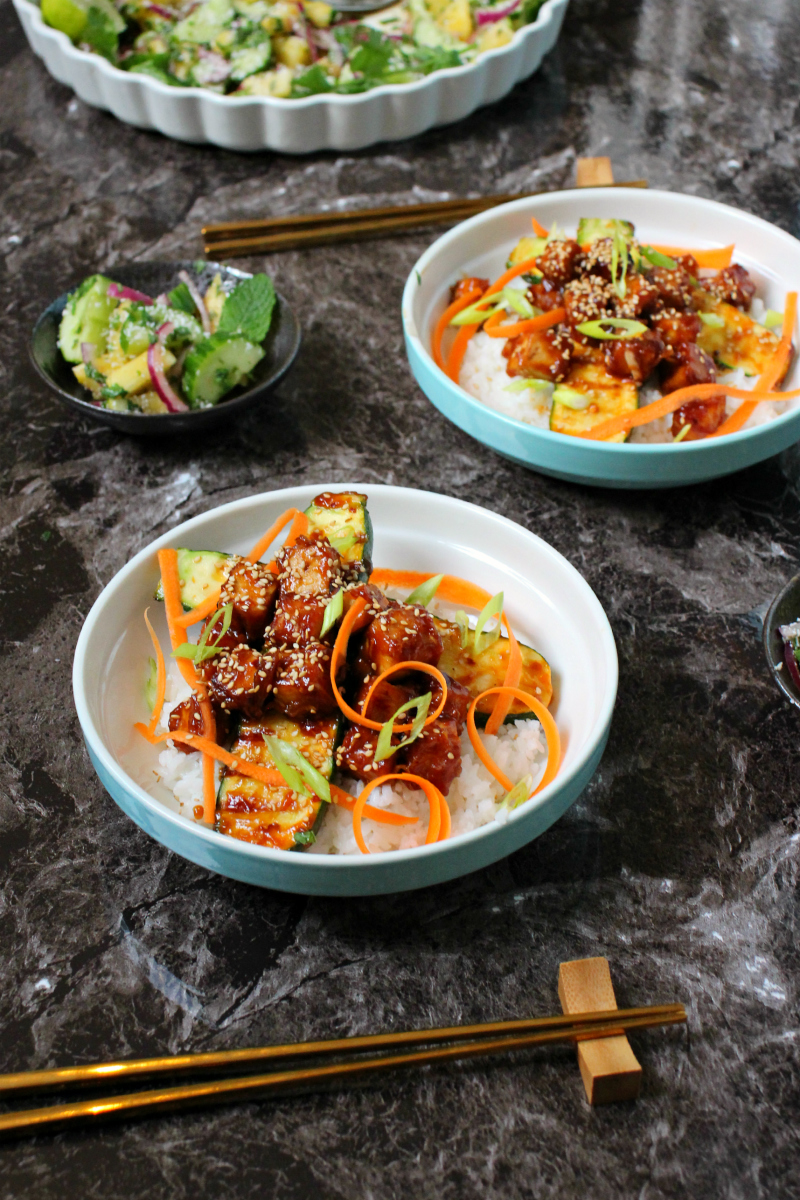 ---