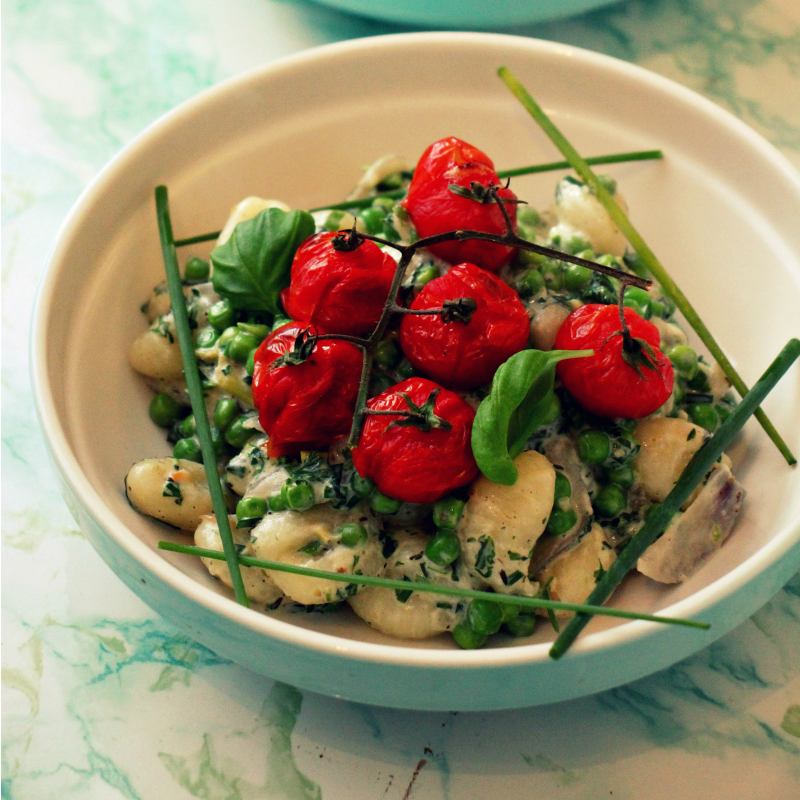 ---
So I made this recipe a while back, just posted the photo on various facebook groups and on my page, I did not do the usual step by step photos as a usually do, so i did not put the recipe online, but people really wanted the recipe. Luckily I did remember what I put in, so here is a simply recipe without the step by step photos. Just as simple to make as as the recipe is simplefied as well. But oh so delicious!
---
Like gnocchi in general? Then check out these recipes:
---
---
Serves 4
---
Ingredients
---
1kg premade vegan gnocchi (2.2 lbs)

600g frozen peas (21.2 oz)

200g cherry tomatoes (7.05 oz)

200ml soy cream + water as needed (6.8 oz)

4 tablespoons vegan butter

4 tablespoons olive oil

4 tablespoons nutritional yeast

1 red onion

4 stalks of spring onion

5 cloves of garlic

1 big handful curly parsley

1 handful basil

1 small handful chives

1 tablespoon finely chopped fresh mint

1 teaspoon dried oregano

1 teaspoon dried thyme

1 teaspoon dried vegetable stock

1/2 teaspoon freshly grind nutmeg

salt & pepper to taste
---
What you will need
---
Cutting board and knife

1 ovenproof dish

1 pan + spoon to stir

1 pot

Measuring spoons
---
Instructions
---
Bake cherry tomatoes on convection 200c (390 F), until wrinkly, 20 minutes or so.

---

Boil water in a pot for gnocchi, it needs to be crazy boiling, with some salt.

---

Finely slice red onion and spring onion, sweat in a pan with olive oil, dried vegetable stock and nutmeg.

---

Finely chop parsley, add to pan with vegan butter, sweat.

---

Add frozen peas, soy cream and all other herbs, finely chopped.

---

Grate in the garlic cloves, add water as needed to almost cover and make saucy ad add in the nutritional yeast, simmer for about 5 minutes. Add salt and pepper to taste.

---

Boil gnocchi, until they float to the top, this goes really fast. Drain and add to sauce, serve with roasted cherry tomatoes on top, fresh basil and chives.
---
Enjoy !
---