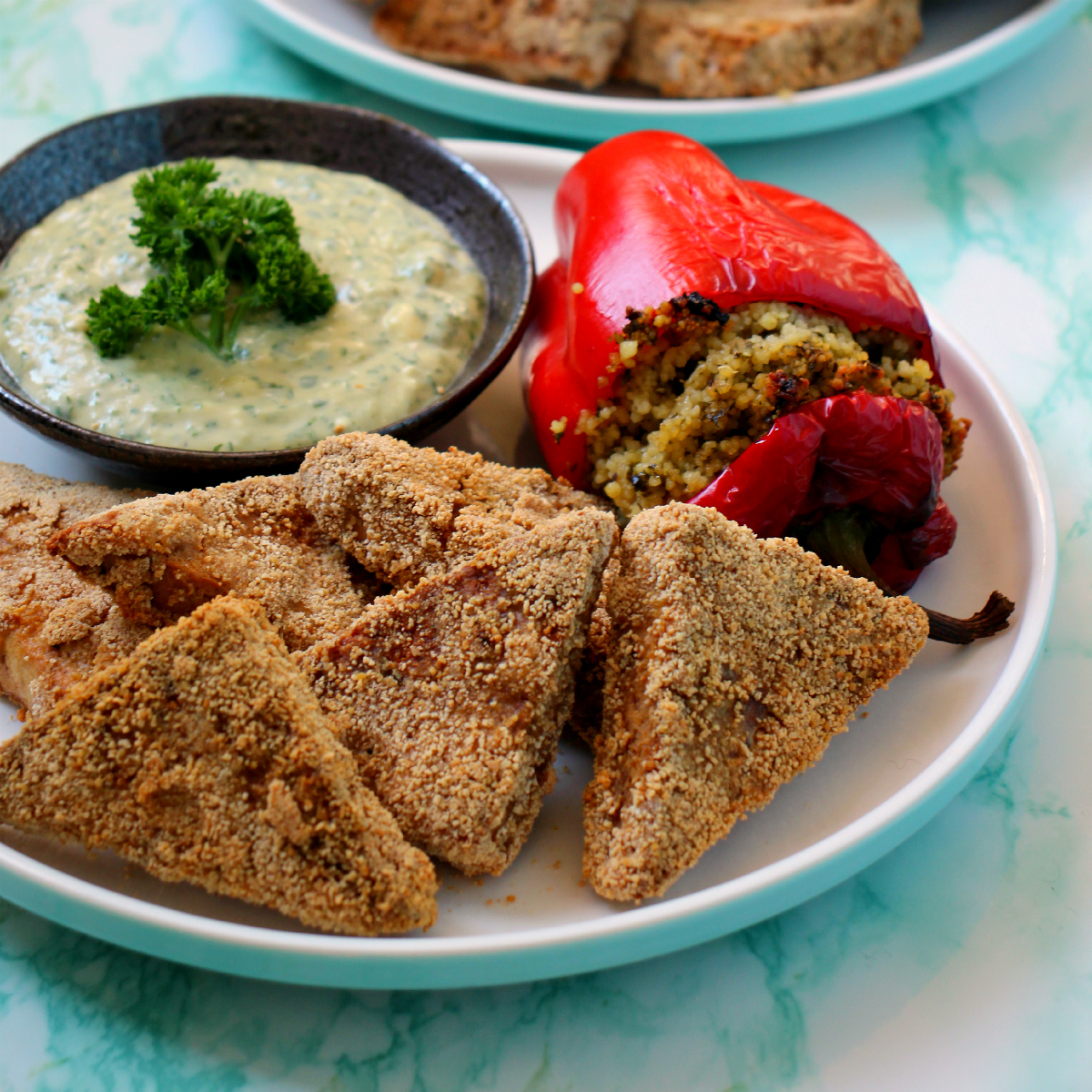 ---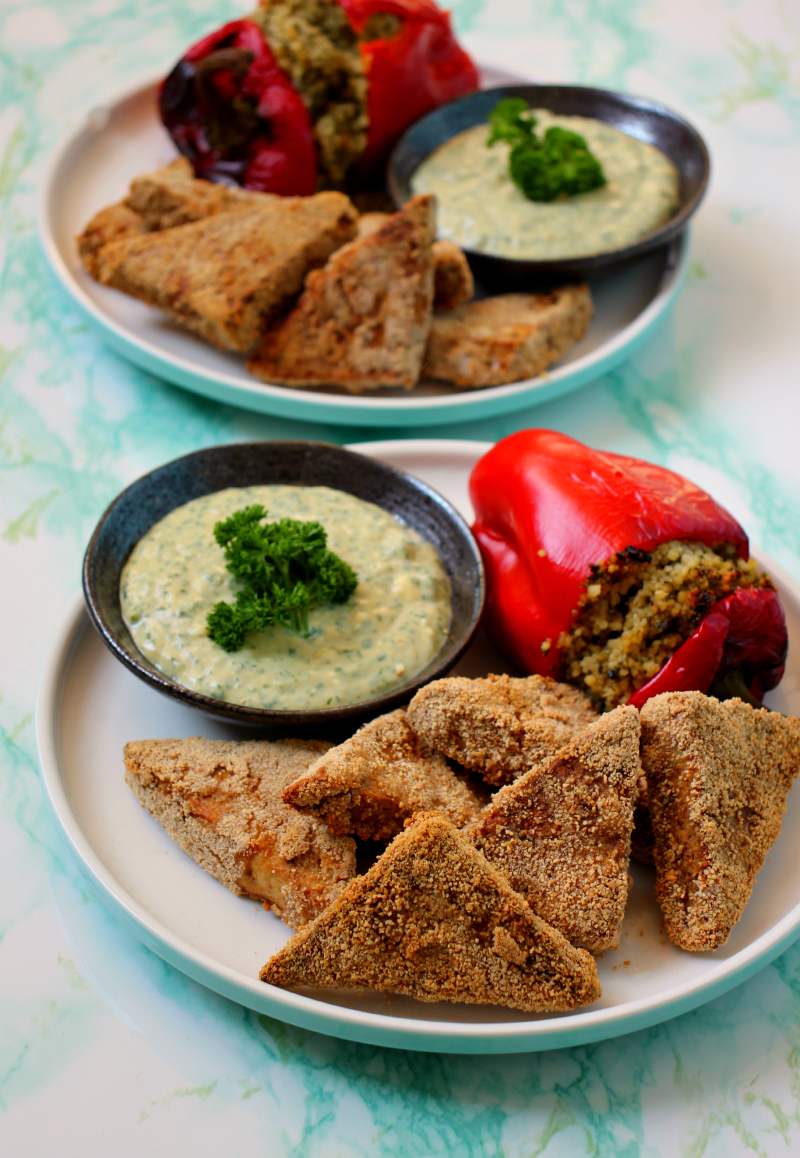 ---
Quite springy and summery. Zesty and tangy, refreshing. Crisp and flavourful tofu, and explosion of flavours in the baked bell peppers and the dip. Chimichurri is just so delicious !
---
Serves 2
---
Ingredients
---
Tofu
---
550g tofu (19.4 oz)

Aquafaba - liquid from 1 can of chickpeas (safe chickpeas for another purpose)

1.2 dl all purpose flour (1/2 cup)

1.2 dl breadcrumbs (1/2 cup)

60 ml balsamico (1/4 cup)

60 ml water (1/4 cup)

4 tablespoons maple syrup

3 garlic cloves

Black pepper to taste
---
Bell peppers
---
---
Dip
---
---
What you will need
---
cutting board and knife

1 blender for chimichurri

1 deep dish for marinade

1 grater

1 lined baking tray

3 bowls for breaded tofu

1 small pot + fitting lid for couscous

Tinfoil stand (optional)

1 oven proof baking dish

2 serving bowls for dip
---
Instructions
---
Optional but important step. Freeze tofu, thaw in fridge, freeze tofu again, thaw fully in fridge. Press well to get liquid out. This will change its texture and it will soak marinade like a sponge, or else it wont soak much.

---

Make 1 portion of Argentinian Green Chimichurri Sauce.

---

After the tofu is pressed, cut tofu into triangles, add the balsamico, water, 2 cloves of grated garlic and pepper to taste and a dollop of maple syrup into a deep dish, let tofu soak up all marinade.

---

Dip tofu in flour, then aquafaba, then breadcrumbs, put on a lined baking tray. Set aside.

---

Add couscous and boiling water to a small pot, cover and let sit for a few minutes. fluff up with a fork.

Take half of the chimichurri and mix with the couscous. Stuff inside hollowed out peppers and cover with bell pepper lid. Optionally make a mini "boat" stand of tinfoil for each pepper to sit in an oven proof dish, so the don´t fall down when baking.

---

Bake stuffed peppers and tofu on about 180c (350F) on normal setting until bell peppers are slightly charred, 30 minutes or so. Take out tofu halfway through and flip, put back in again and finish baking.

---

Take the rest of the chimichurri, mix with equal amounts of vegan greek style yogurt, granish with fresh parsley.

---

Serve altogether when tofu is crisp and peppers are charred, with the dip on the side.
---
Enjoy !
---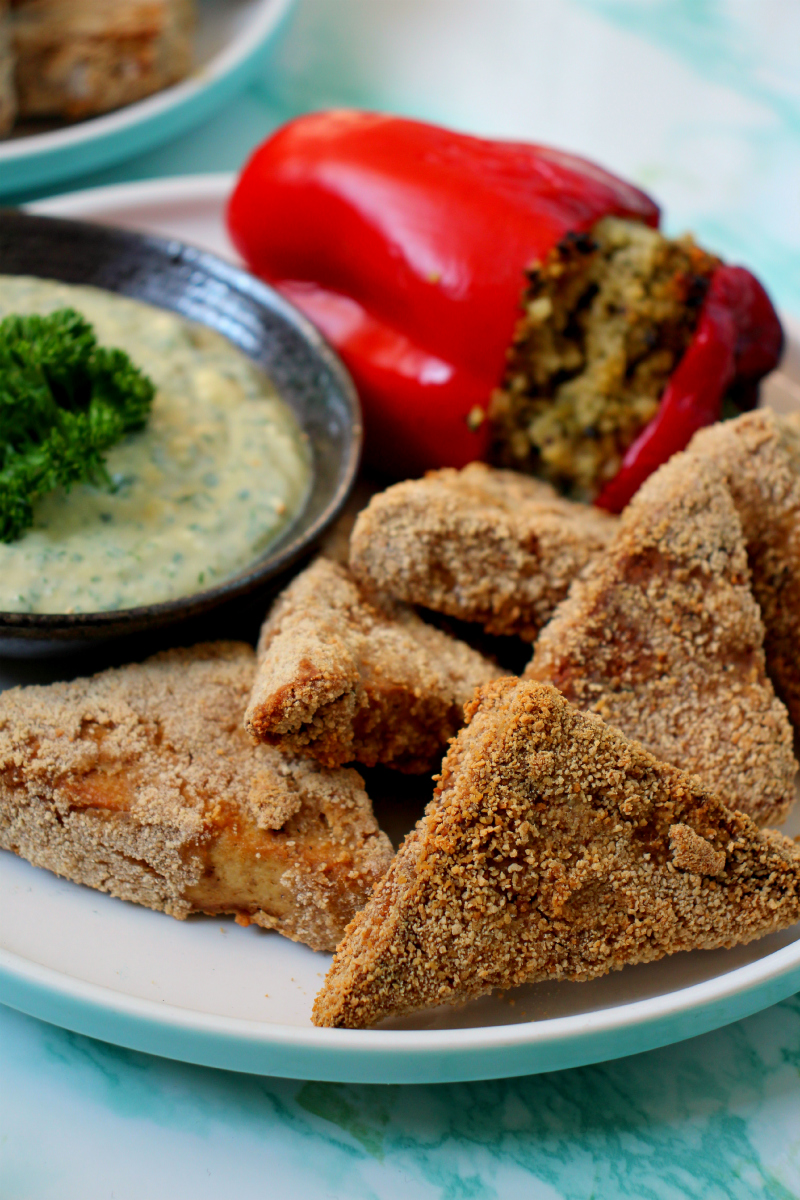 ---