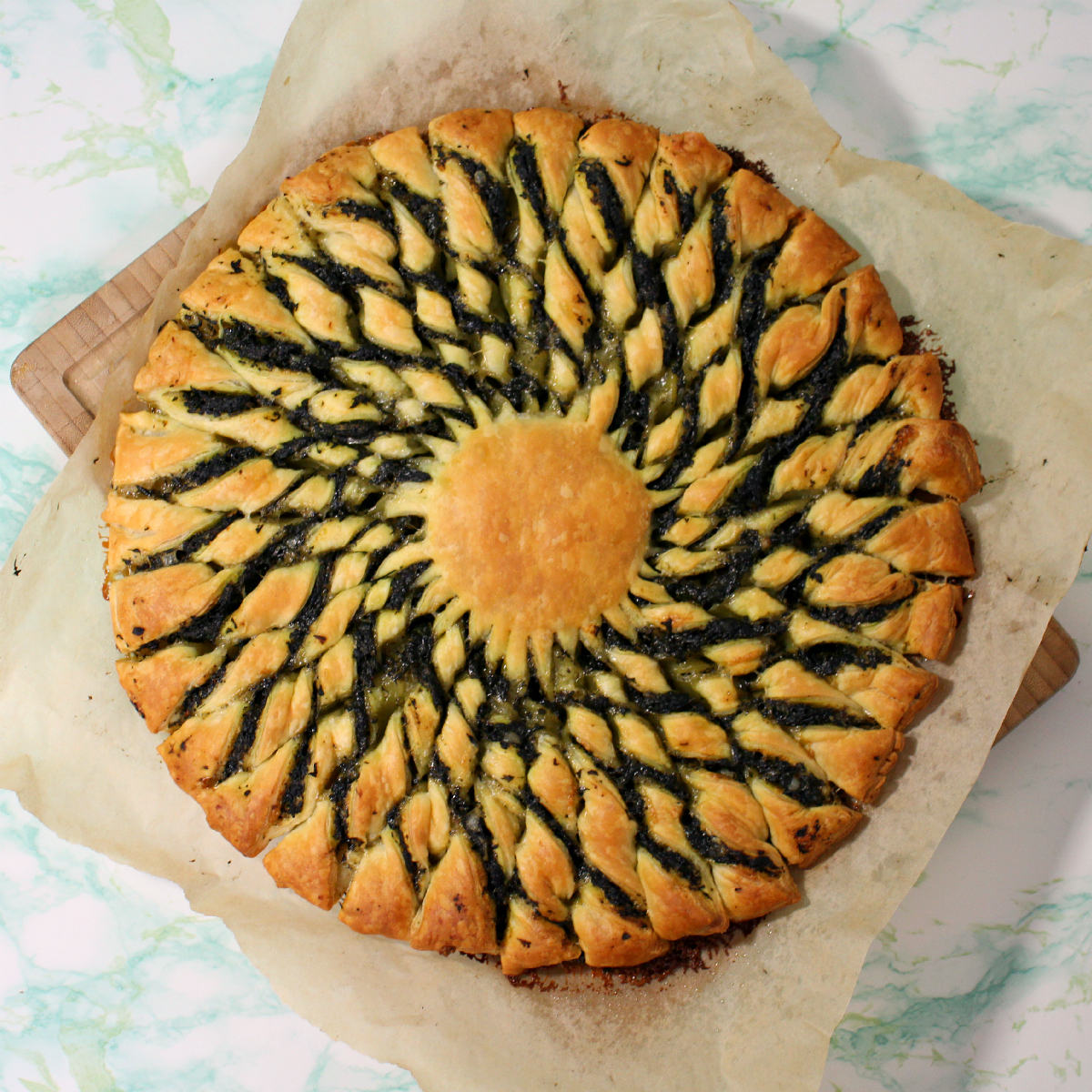 ---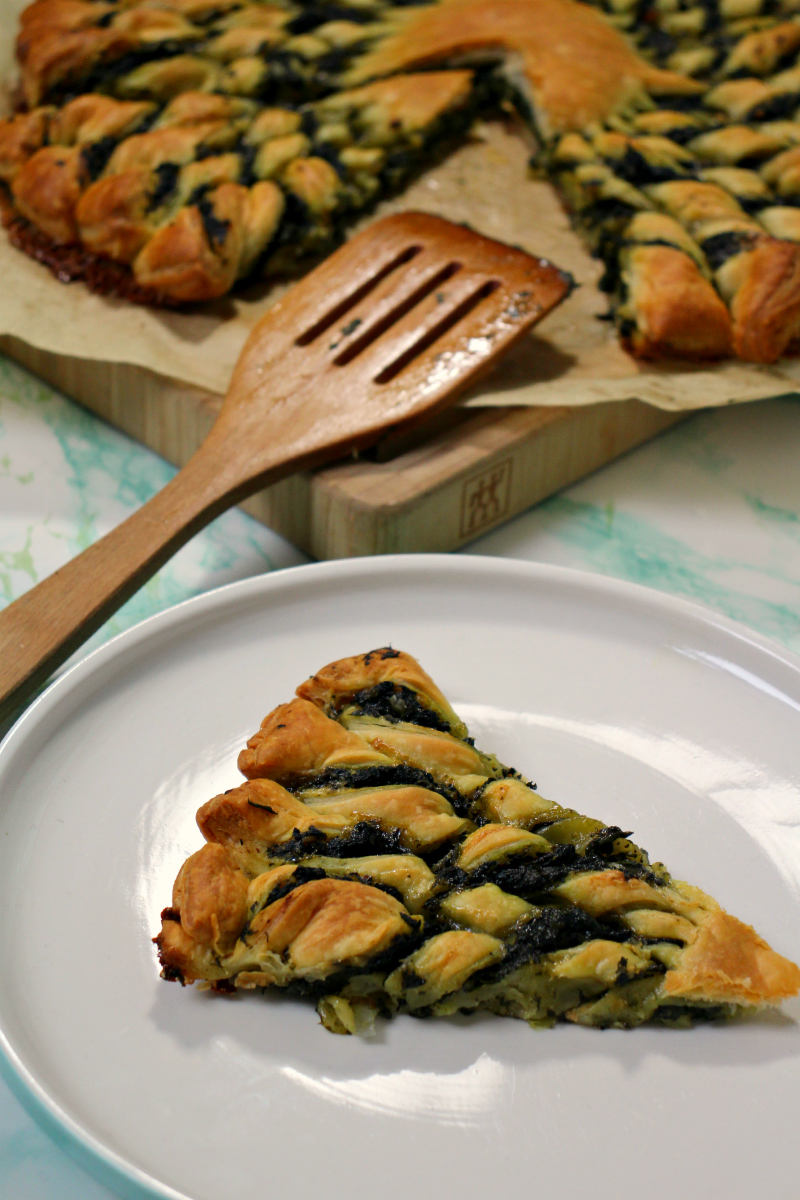 ---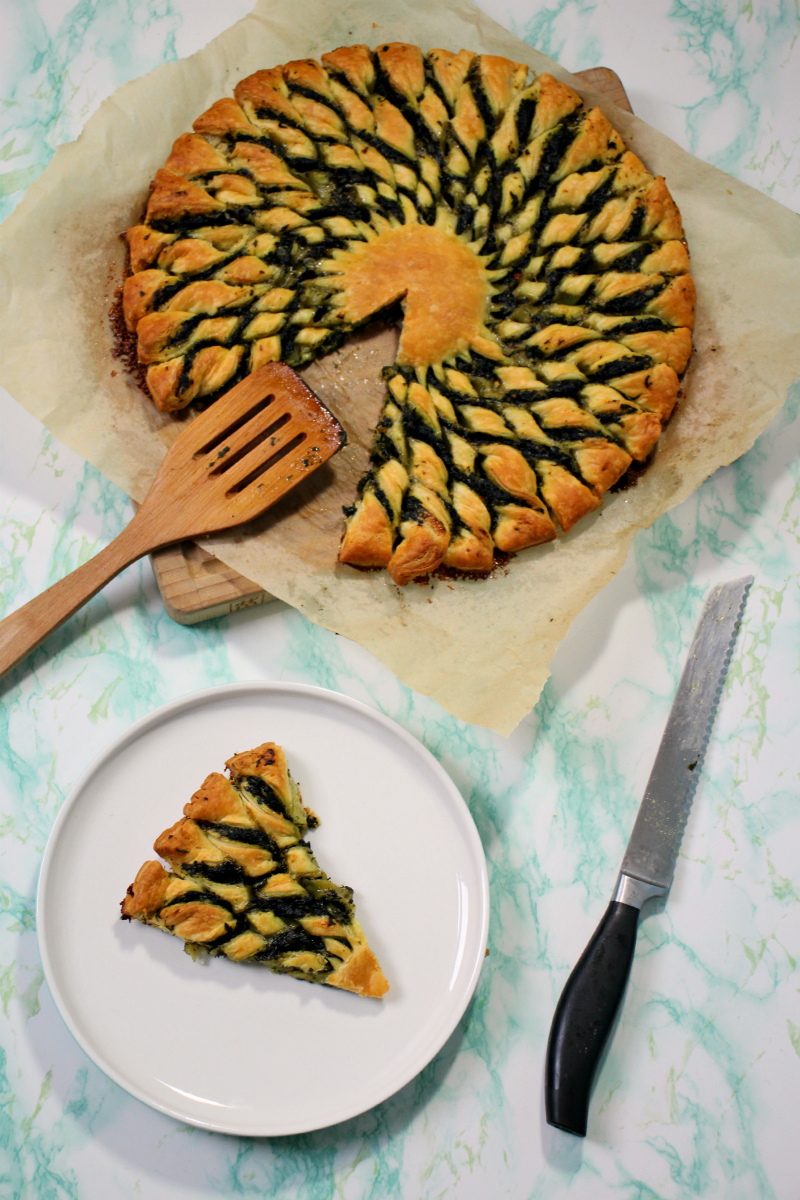 ---
It might be slightly blasphemous to call this a Spanakopita as I am not using phyllo dough, but making this with a puff pastry is just as delicious. Different yes, but still good. Apologies to the Greek, this is merely an inspired Spanakopita tarte soleil !
And yes, most store bought puff pastry is vegan per default, it´s simply cheaper production to use plant based fats to make the pastry layers, just please be aware of and avoid the ingredient L-Cysteine, on the otherwise vegan looking ones, as that is not a vegan ingredient.
Wanna use frozen chopped spinach instead? No problem, stew that the same as the fresh spinach, allowing most of the liquid to evaporate. The total yield for the stewed filling would be around 3.5 dl / 1 1/2 cup, so use approximately 2.5 dl / 1 cup or a little more of frozen spinach (the yield is stewed, so calculate for water evaporation as well).
One very important thing to note about making this, is to have a COMPLETELY cold filling, a very cold dough and a very sharp knife. If you have that, this will be very easy to make. We don´t even make the dough, simply the filling and doing the assembly so it´s very straight forward. If you don´t cool down the filling it will heat the puff pastry dough and make it very soft and "buttery", making it near impossible to cut and twist properly. Making sure everything is cold will make this super easy.
Perfect snack, brunch, side dish or dinner for 1 or 2 depending on how hungry you are and if you have other sides. Serving this with a herbal Greek potato pea stew - Arakas Laderos – and a tomato cucumber salad on the side will make this a great feast indeed.
---
Check out these other vegan Tarte Soleils:
---
---
Makes 1 big tart
---
Ingredients
---
2 x 280g ready made vegan puff pastry rounds (2 x 9.9 oz)

450g fresh spinach (16 oz)

200g vegan feta style cheese, I use Violife (7.05 oz)

1 handful fresh parsley

1 yellow onion

4 garlic cloves

4 tablespoons olive oil

1 teaspoon freshly grind black pepper
---
What you will need
---
Cutting board and very sharp knife

1 big pot + spoon to stir

1 bowl

1 lined baking tray

1 cup or glass for placing on the dough
---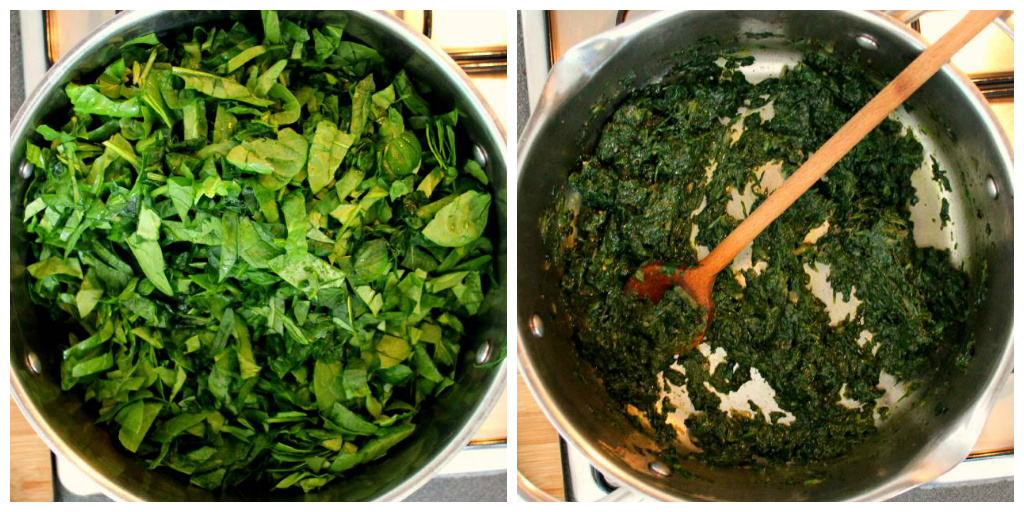 ---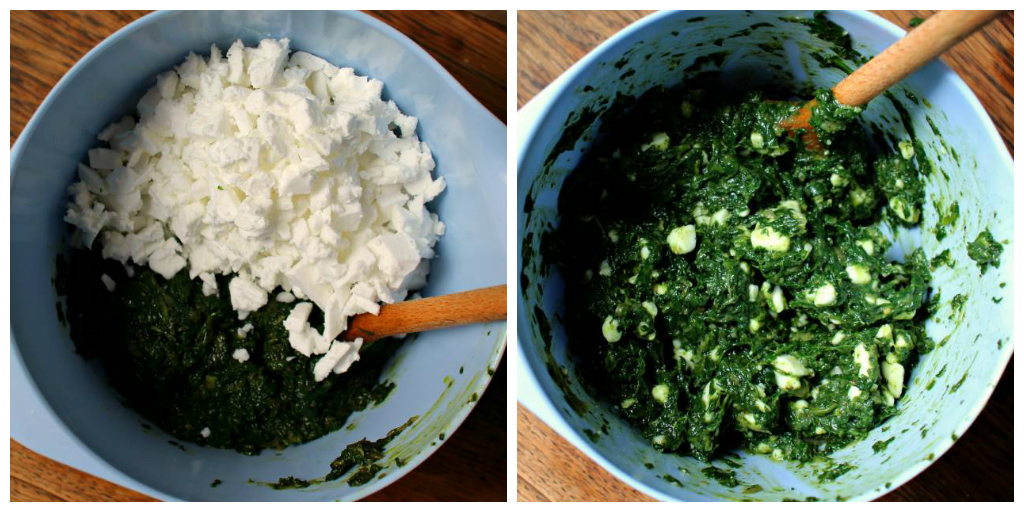 ---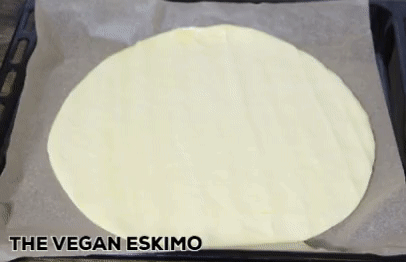 ---
Note: Video not from this recipe, but same method applies, you get the point
---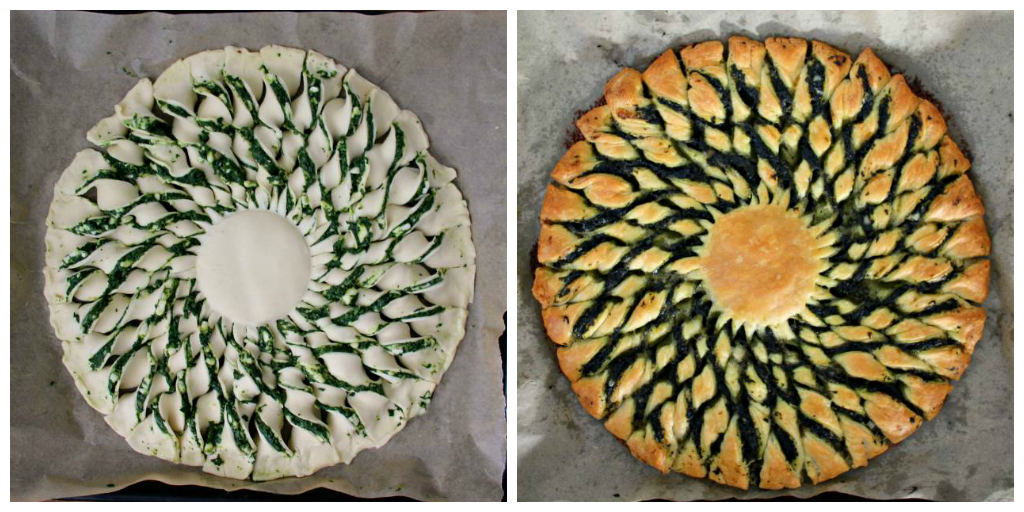 ---
Instructions
---
Wash all fresh greens and let dry. Peel and chop the onion and garlic, add to the pot with the oil and pepper.

---

Chop the spinach and parsley, add to the pot and stew until most water has evaporated, stirring often. It´s okay the mixture is a bit moist. Then add to a bowl.

---

Crumble the vegan feta style cheese and add to the bowl. Mix well. Let rest in the fridge until the mixture has cooled down completely! This step is very important.

---

Before assembling, put the puff pastry into the freezer (not too long). The colder the dough and filling is, the easier everything will be to cut and twist without it being messy.

---

Preheat the oven to 180c (350 F).

---

Place one cold puff pastry round on a lined baking tray. Add on all the cold filling and spread evenly, leaving a bare rim on the edge. Wet the rim with water, then add on top the last puff pastry round. Press on the edges to glue the dough parts together.

---

Place a round object in the middle of the dough, maybe a glass, cut the beams 4 places on a cross like pictured above. Then cut in between those 4 guidelines creating 8 beams, and do the same again and again until you have 32 evenly sized beams. Cut 4 – 8 – 16 – 32 beams in the end.

---

Lift each beam and twist it as many times as you like. Follow the same step on all the beams, the faster the better as the dough is easier to work with when cold.

---

Bake the tarte soleil in a preheated oven on 180c (350 F), in the middle of the oven on normal setting until golden. Please note that premade puff pastry can vary in baking time depending on brand, so follow instructions on that, but keep and eye on it.

---

Take out and let slighty cool down before serving.
---
Enjoy !
---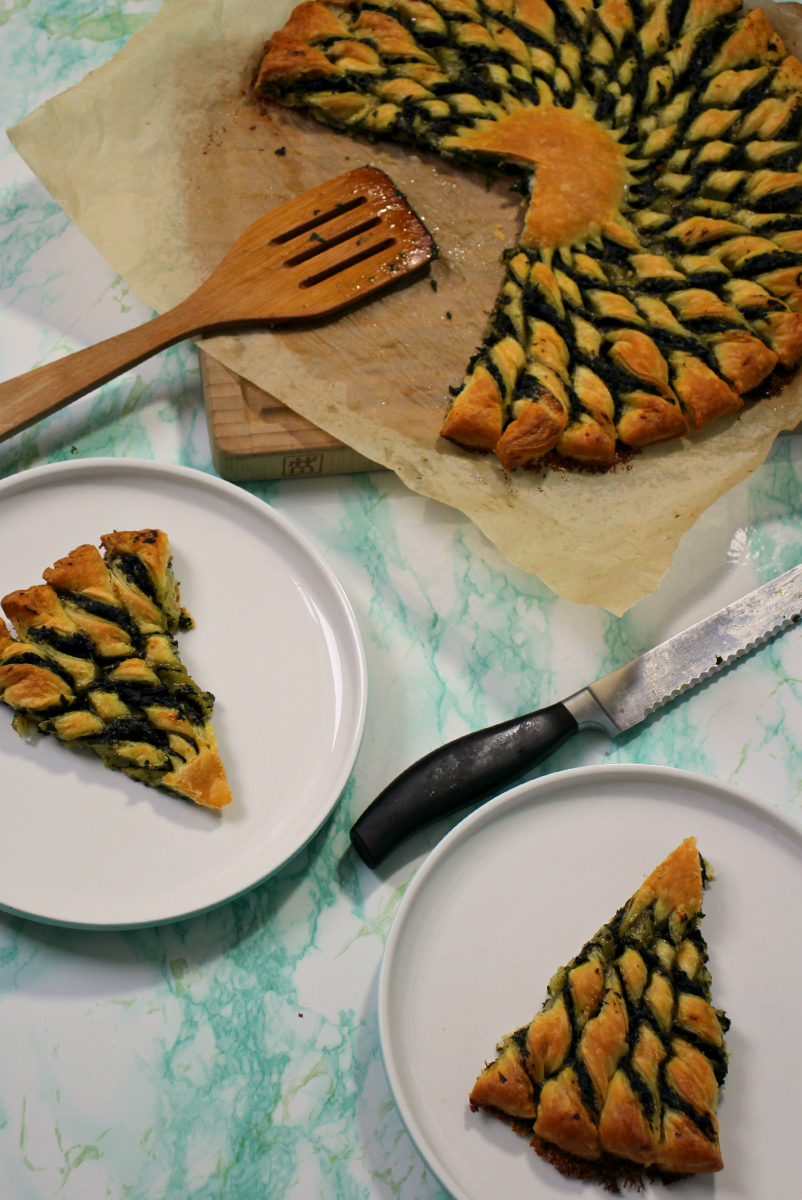 ---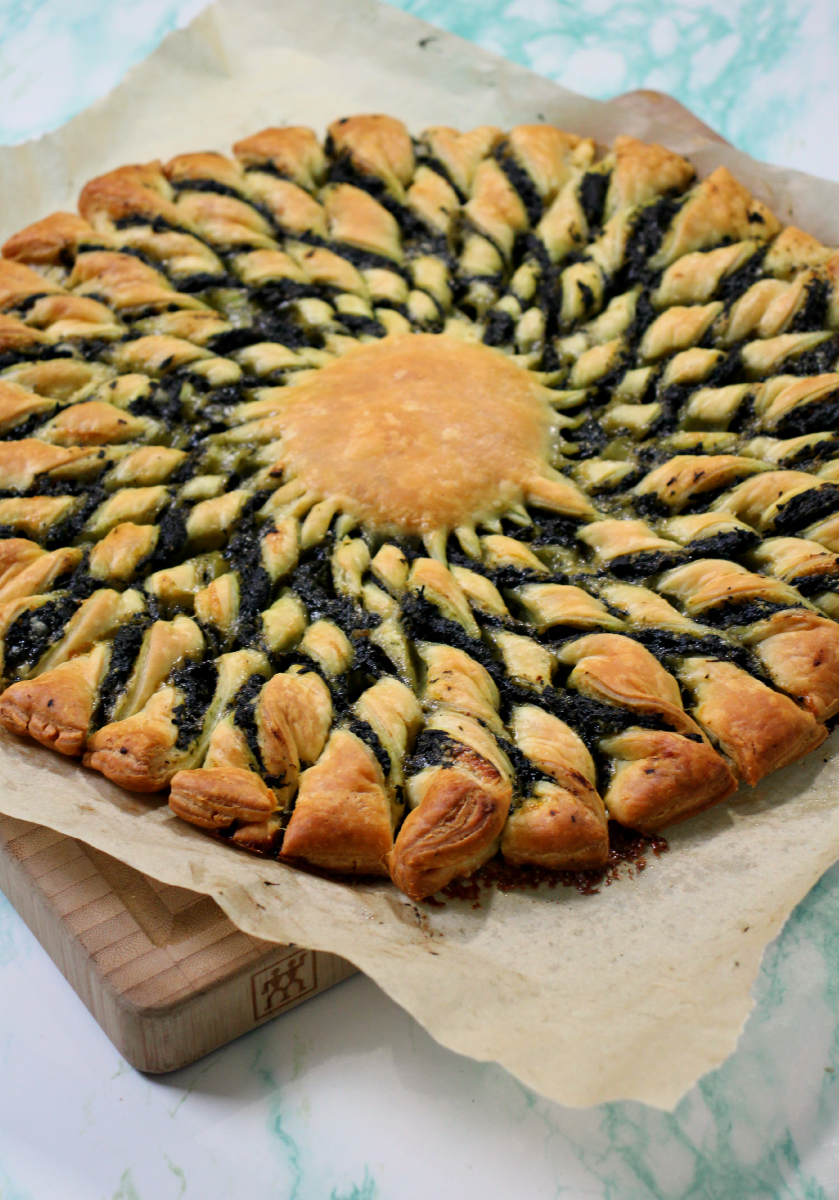 ---