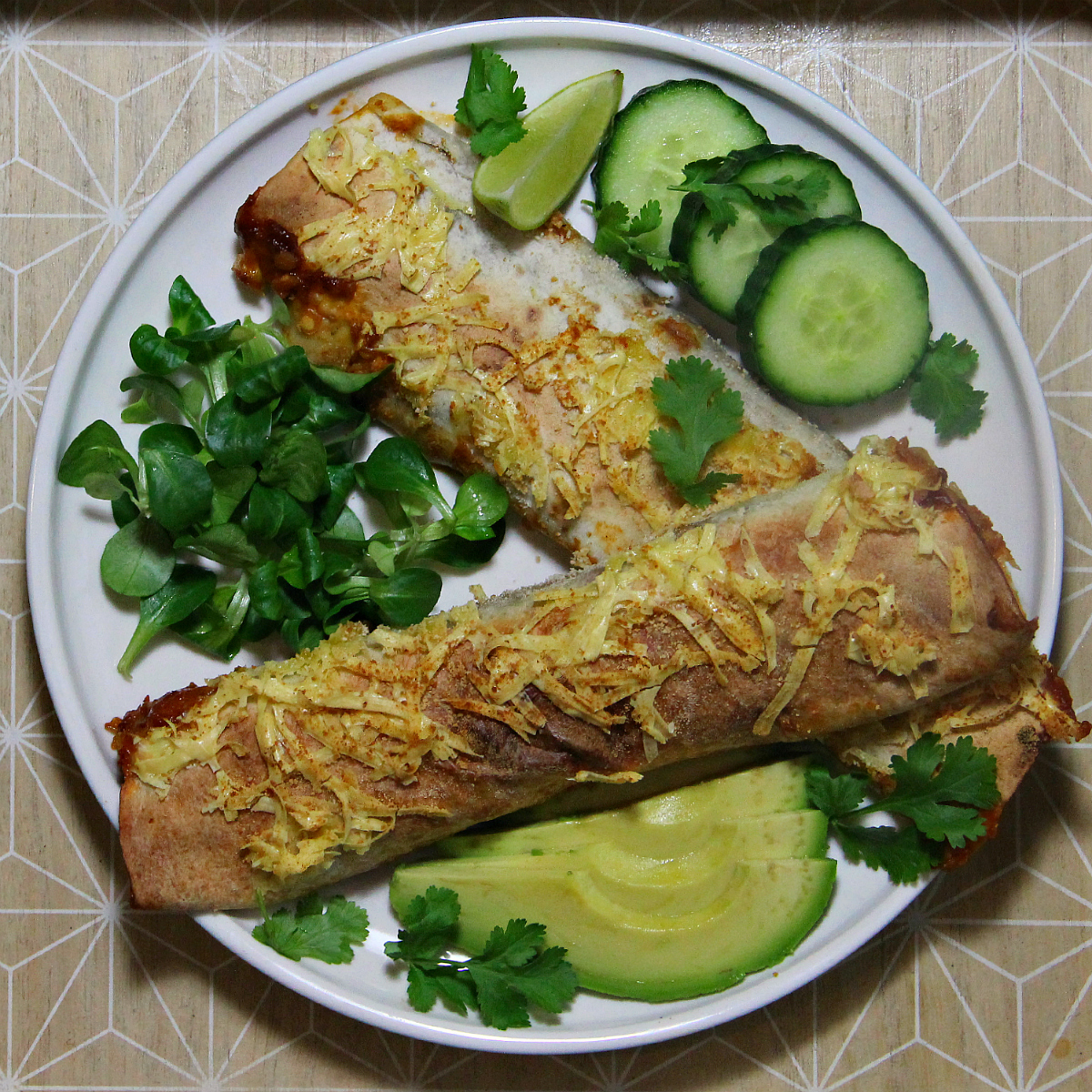 ---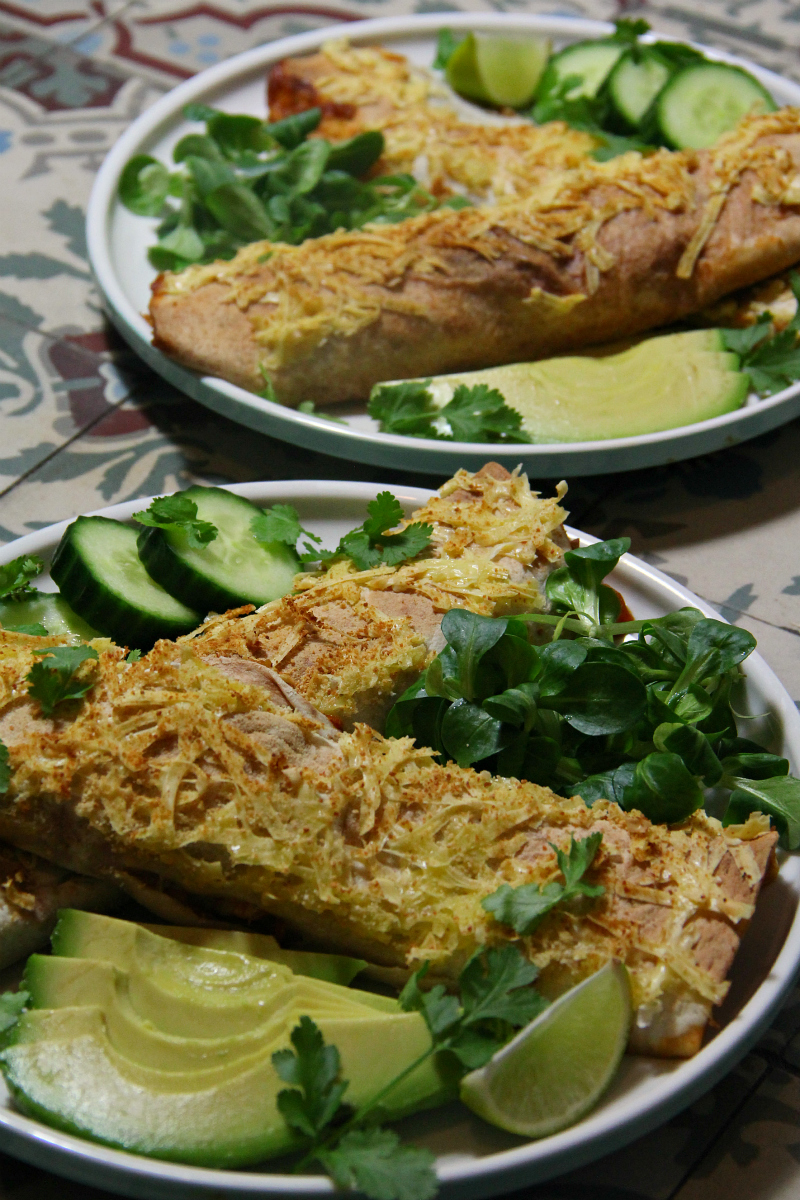 ---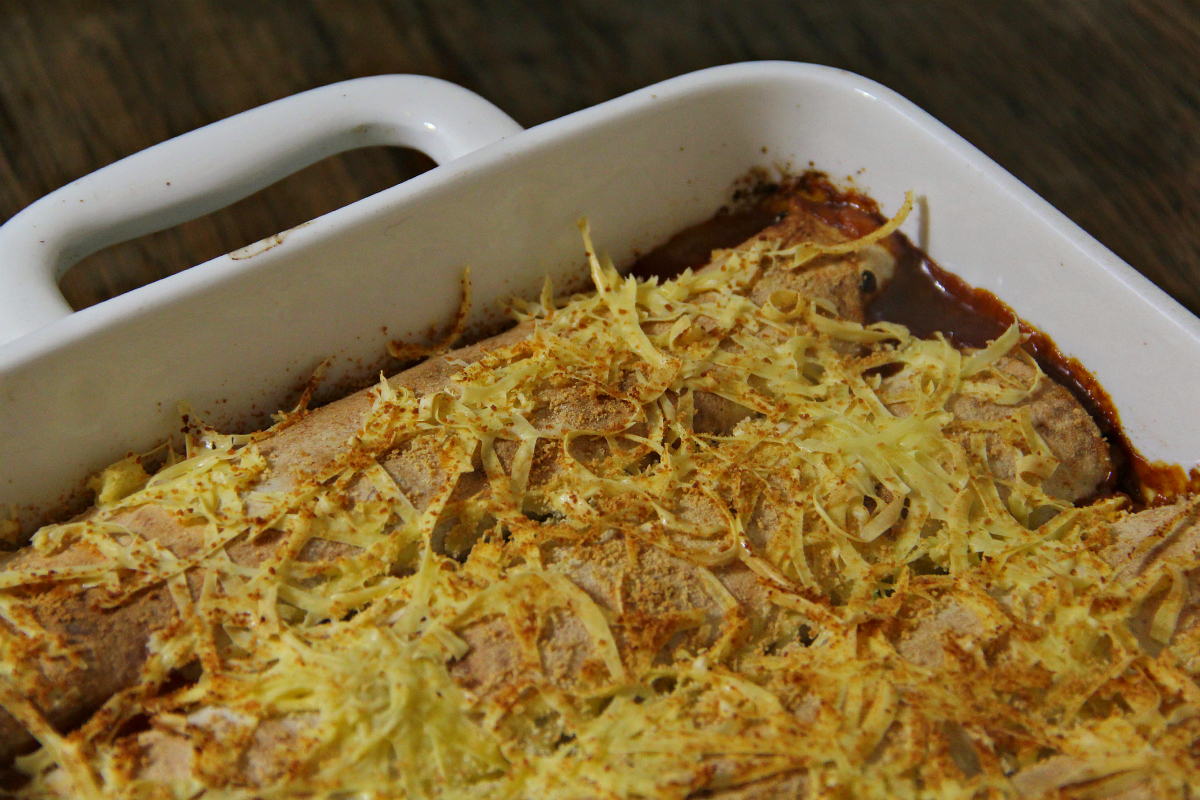 ---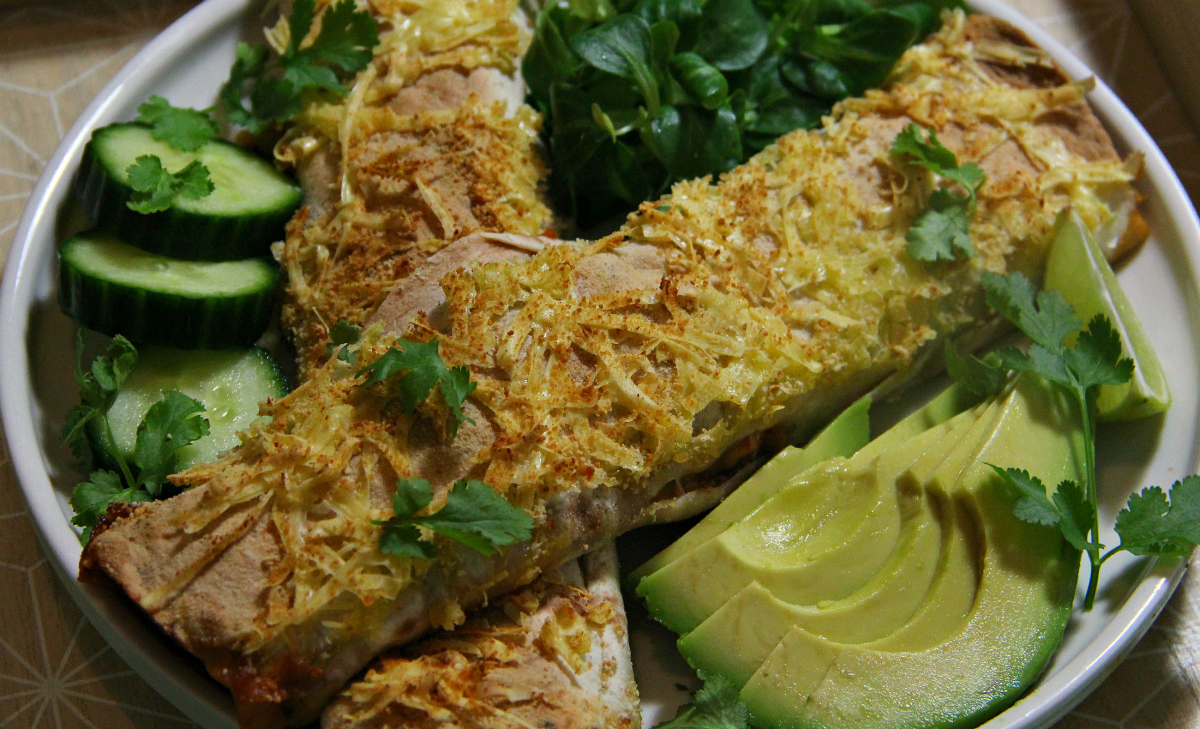 ---
One of my favourite dinners of all time !
Notes about the serving size: since making it so many times I have noticed people can eat very different amount of these enchiladas. I always eat 2, and with no side dishes then maybe 3, but then I'm also very full ! With a side dish I would only eat 2. So fx. This recipe makes 12 enchiladas, and with a side dish this would easily serve 6 people. Without a side dish and taken into consideration some people might eat a lot, it would serve 4-5 people.
Besides, if you feel like its too much to make, it's great to freeze the leftover sauce ! When you put so much effort into chopping and cooking a very healthy meal made from scratch it's convenient to freeze to have some extra, unless you're 4-6 people eating, then this is the perfect portion size !
I often make this portion size, then only make 6 enchiladas like shown here, that's enough for me and my husband and maybe one each for lunch next day. Then freeze the leftover sauce. Whenever I don't feel like cooking I just thaw and heat the sauce, roll the tortillas and put in the oven. Super delicious and easy homemade dinner without any effort basically ! It could also be used as a taco filling for those taco craving days !
This dish is lightly heated with a bit of chili flakes, chipotle hot sauce and chili kidney beans, but if you prefer it more spicy go for it, I have not made this too spicy, so its comfortably spiced for those who don't like too much heat !! And to freshen up the dish and get some greens, a healthy salad, crunchy and watery cucumber, fatty avocado and the tasteful coriander and lime is the perfect side dish ! Don't miss out on that combo, it elevates the whole dish !
---
Like Mexican food in general? check out these:
---
---
Makes 12 big enchiladas - Serves 4-6 people
---
Ingredients
---
Enchiladas
---
12 tortillas sized 25 cm / 10 inch diameter

Grated vegan cheese as desired

Breadcrumbs as needed

Sauce as described beneath
---
Sauce
---
2.5 dl red dried lentils (1 cup)

230g (netto weight) canned sweet corn (8 oz)

1 can chili kidney beans (480g / 16 oz)

1kg red ripe tomatoes (2.2 lbs)

3-4 red onions (depends on size)

1 zucchini

1 red bell pepper

1 yellow bell pepper

8 garlic cloves

3 tablespoons sunflower oil

2 teaspoons ground cumin

2 teaspoons ground paprika

1 teaspoon ground coriander

1 teaspoon dried oregano

1 teaspoon dried basil

½ teaspoon dried vegetable stock

½ teaspoon freshly grind pepper

1 teaspoon salt

1/4 teaspoon chili flakes and seeds
---
Meat substitute and marinade
---
180g ready made soy granules (6.5 oz)

80 ml unsweetened plant milk of choice (1/3 cup)

2 tablespoons dark soy sauce

2 tablespoons ketchup

1 tablespoon sunflower oil

1 teaspoon chipotle hot sauce

½ teaspoon dried vegetable stock

½ teaspoon salt

½ teaspoon pepper
---
Side dishes (optional)
---
Salad

Cucumber

Avocado

Fresh coriander leaves

Lime wedges
---
What you will need
---
Cutting board and knife

1 big bowl

1 big pot (5 liter / 1.3 gallon)

1 spoon to stir

1 grater

1 pan

1-2 wide oven proof dishes at least as wide as the tortillas themselves or 1 very big one for all
---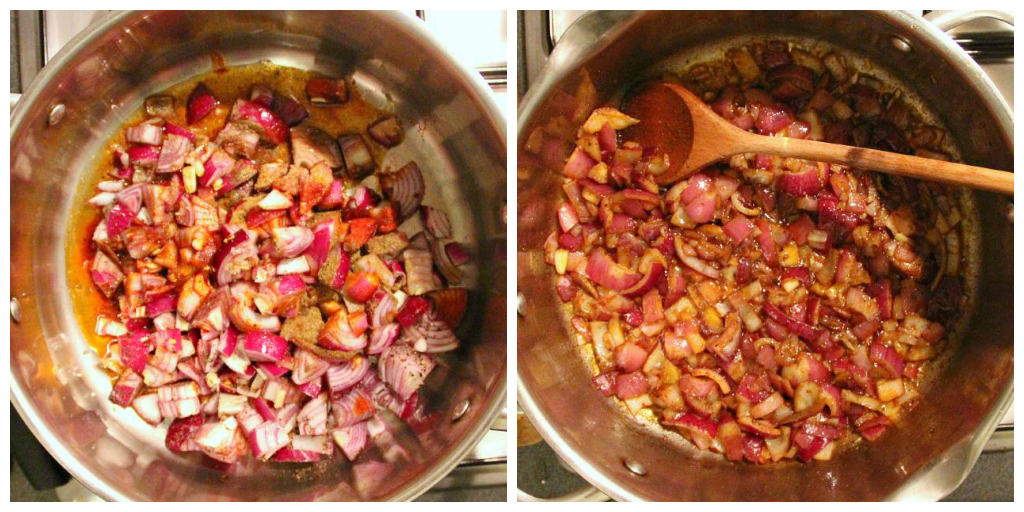 ---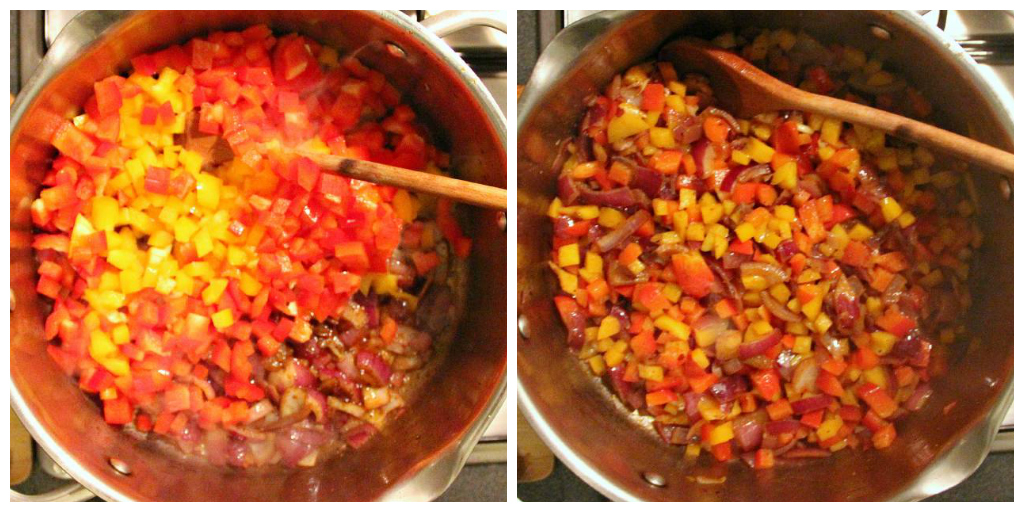 ---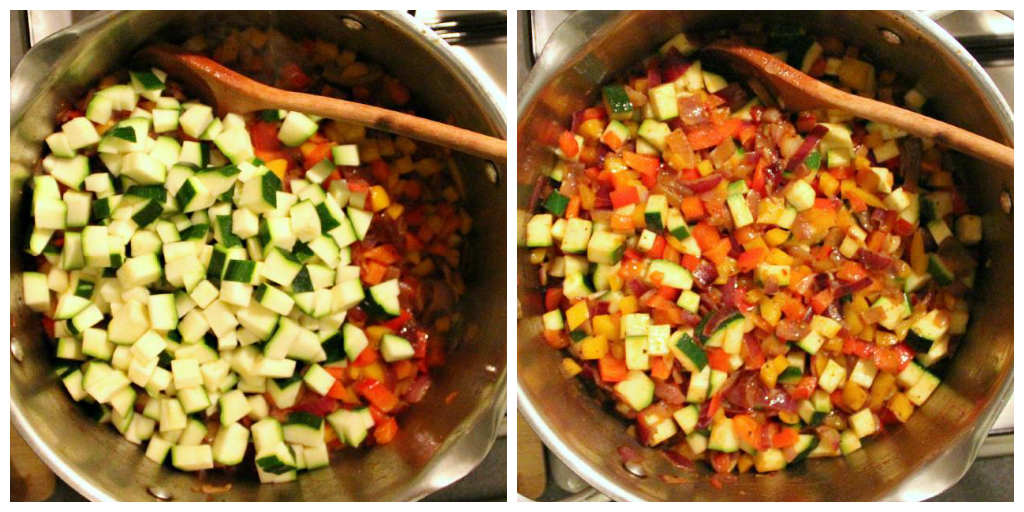 ---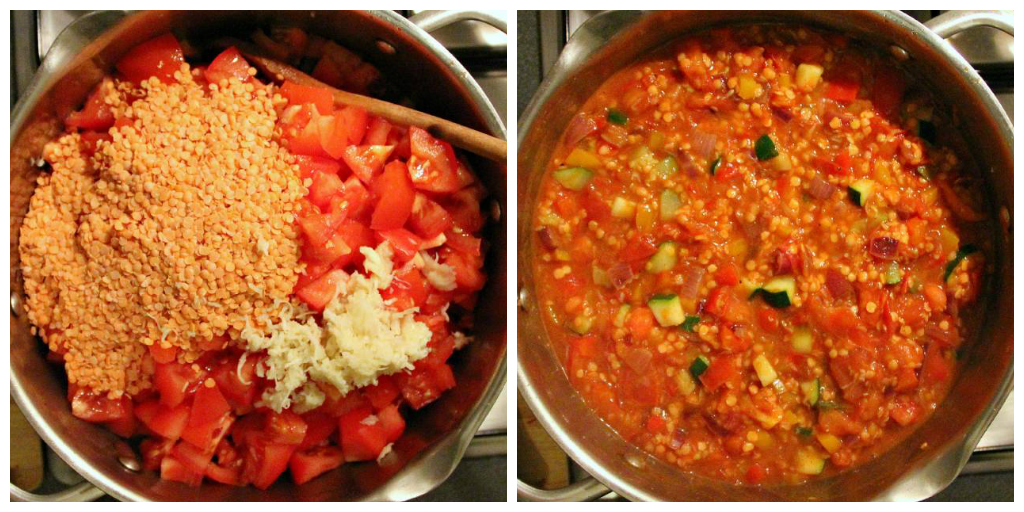 ---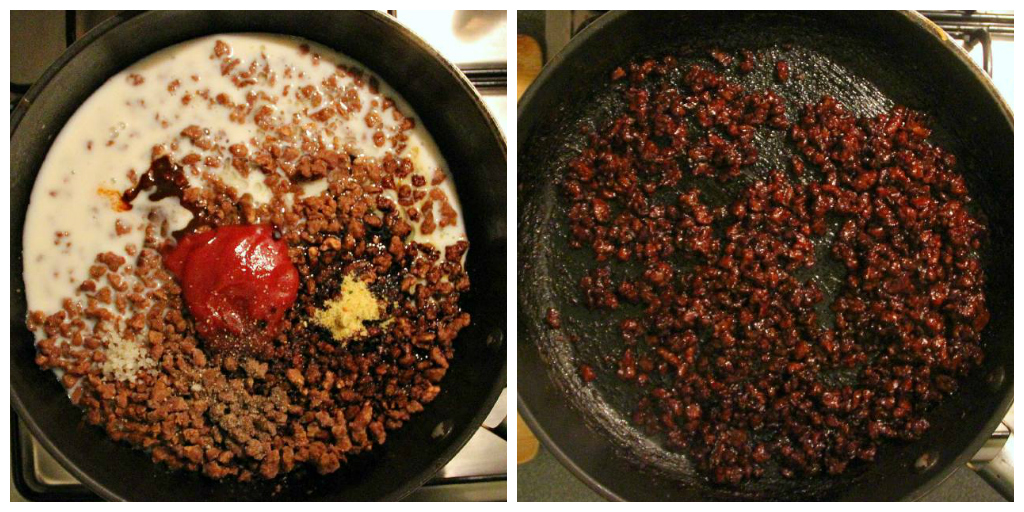 ---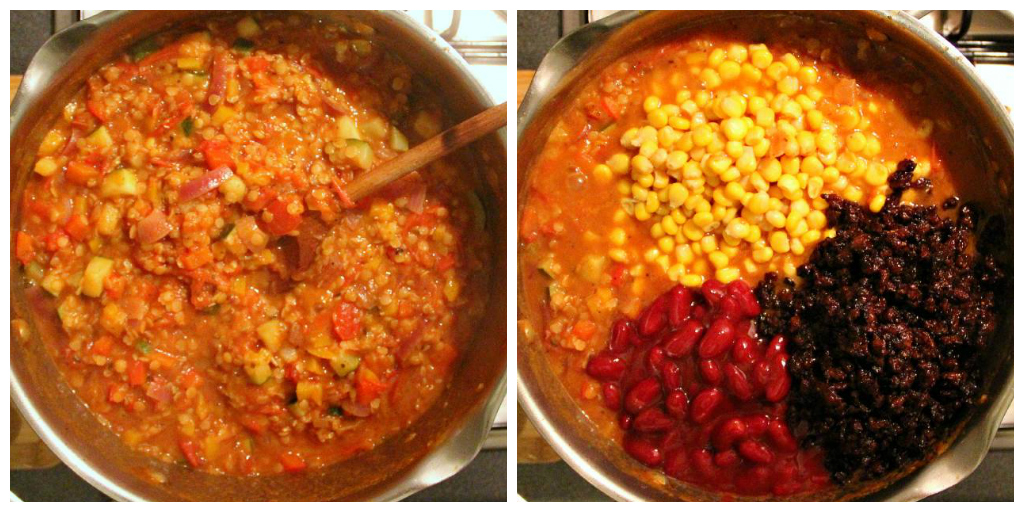 ---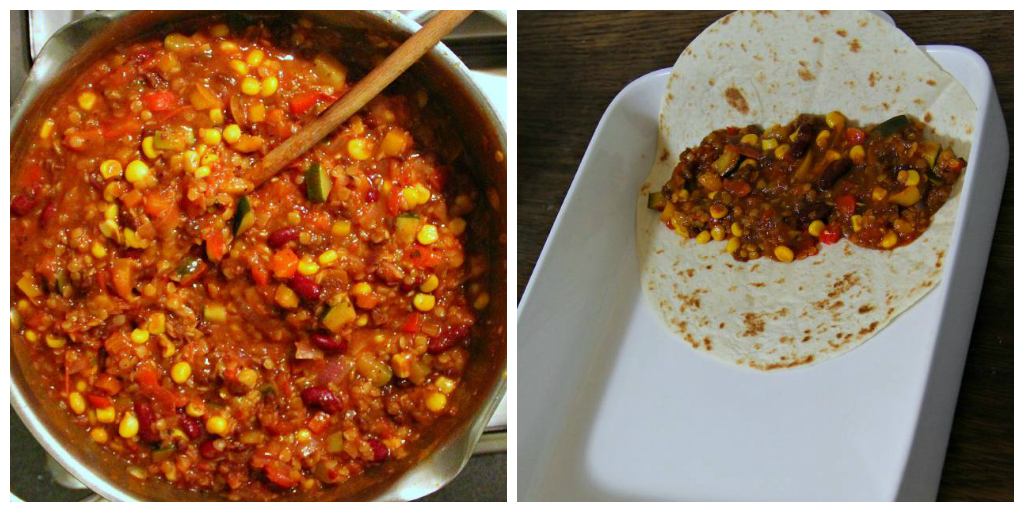 ---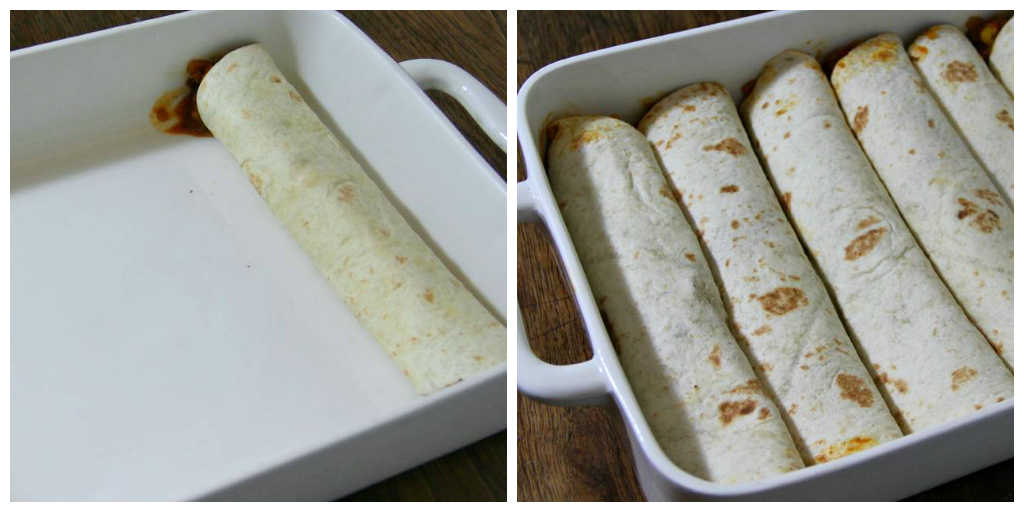 ---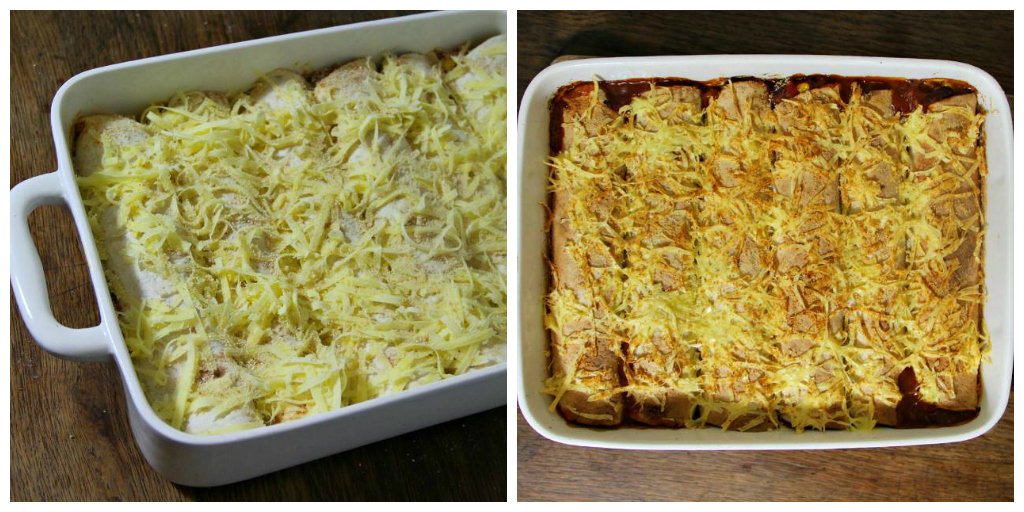 ---
Instructions
---
Wash the tomatoes and chop them all. Set aside in a bowl.

---

Peel and roughly chop the onions. Put in a pot along with the oil, cumin, paprika, coriander, chili, salt and pepper. Turn the heat on high and sweat the onions. Stir occasionally.

---

Wash and take out the core of the bell peppers. Finely chop them and then add to the onions on medium heat.

---

Wash and cube the zucchini in about 1 – 1.5 cm cubes (about ½ inch). Then add to the pot and let cook for about 2-3 minutes.

---

Peel and grate in the garlic cloves. Then add to the pot with the chopped tomatoes, red lentils, oregano, basil and dried vegetable stock. Let simmer on medium / low heat for about 30-40 minutes without a lid on to reduce the sauce. Stir occasionally.

---

In a pan put in the ready made soy granules, plant milk, soy sauce, ketchup, oil, vegetable stock, salt and pepper. Turn the heat on high and let the soy granules soak up all the marinade. Stir occasionally.

---

When the soy granules are sticky and not so wet, turn off the heat and set aside.

---

Strain and wash the corn. Drain out a bit of the liquid in the chili kidney beans can so it's not too liquidy.

---

When the sauce has reduced then add the corn, chili kidney beans and the marinated soy granules. Bring to a simmer, but don't boil too long, or else the beans will get too soft. Add salt and pepper to taste if needed.

---

Preheat the oven to 200c (390 F).

---

Total sauce makes about 2.7 – 2.9 liters (0.7 – 0.75 gallons). For each enchilada that is about 220 – 240 ml or little less than 1 cup, for each enchilada that measures 25 cm / 10 inches. They will be nice and thick but not too thick.

---

Roll all the enchiladas with the sauce in the oven proof dish. Sprinkle with vegan grated cheese and breadcrumbs as desired. Bake in the preheated oven at 200c (390 F), in the middle of the oven on normal setting for about 20-25 minutes or until crisp and golden on top.

---

Take out and let cool down. Serve with optional side dishes like fresh green salad, cucumber, fresh coriander, avocado and lime.
---
Enjoy !
---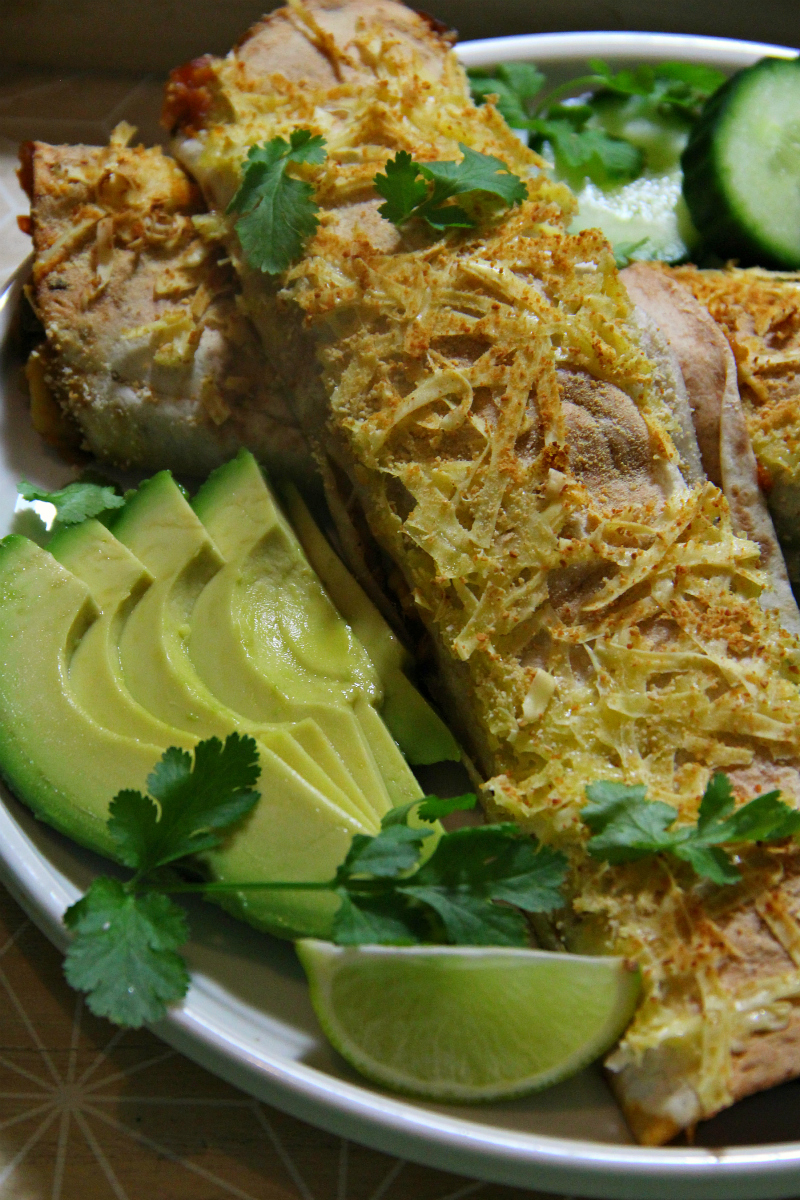 ---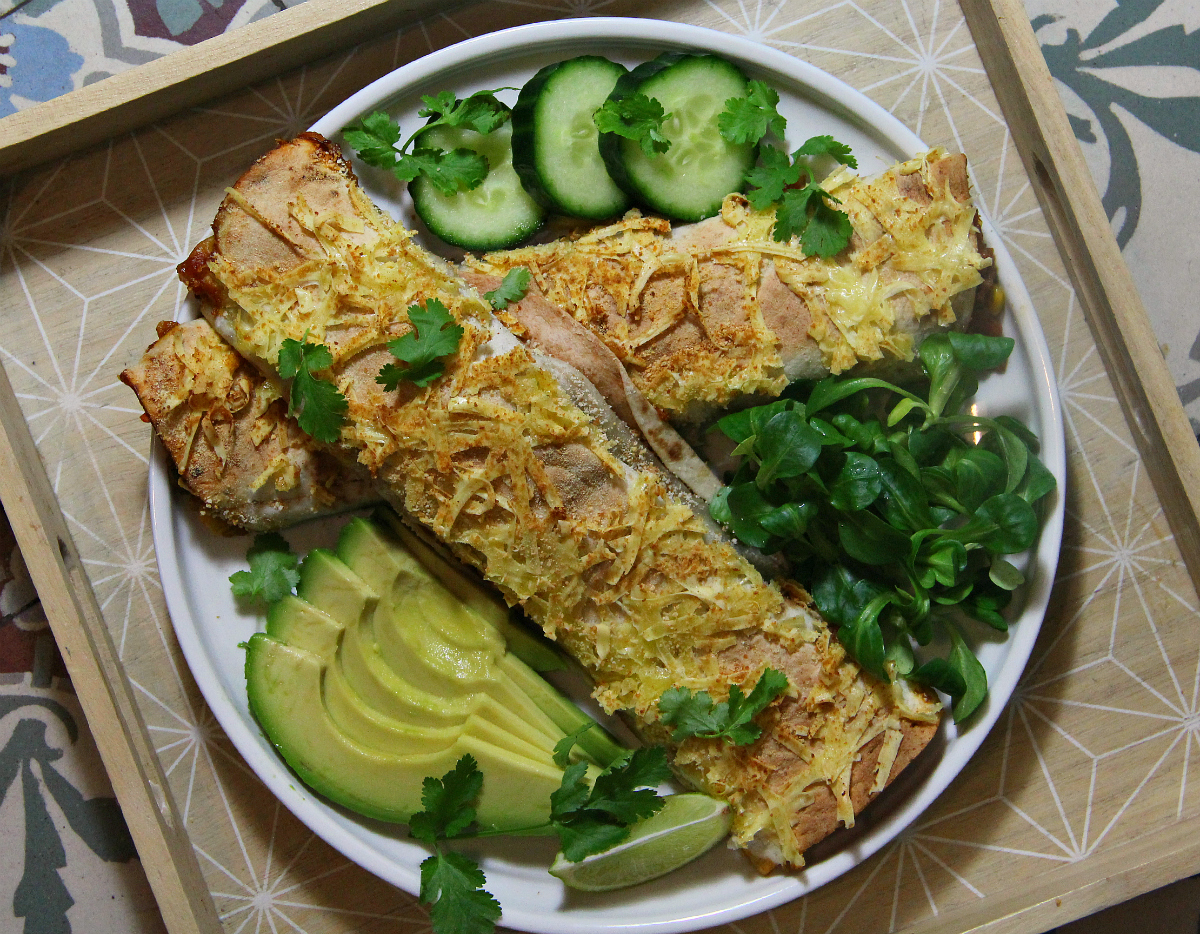 ---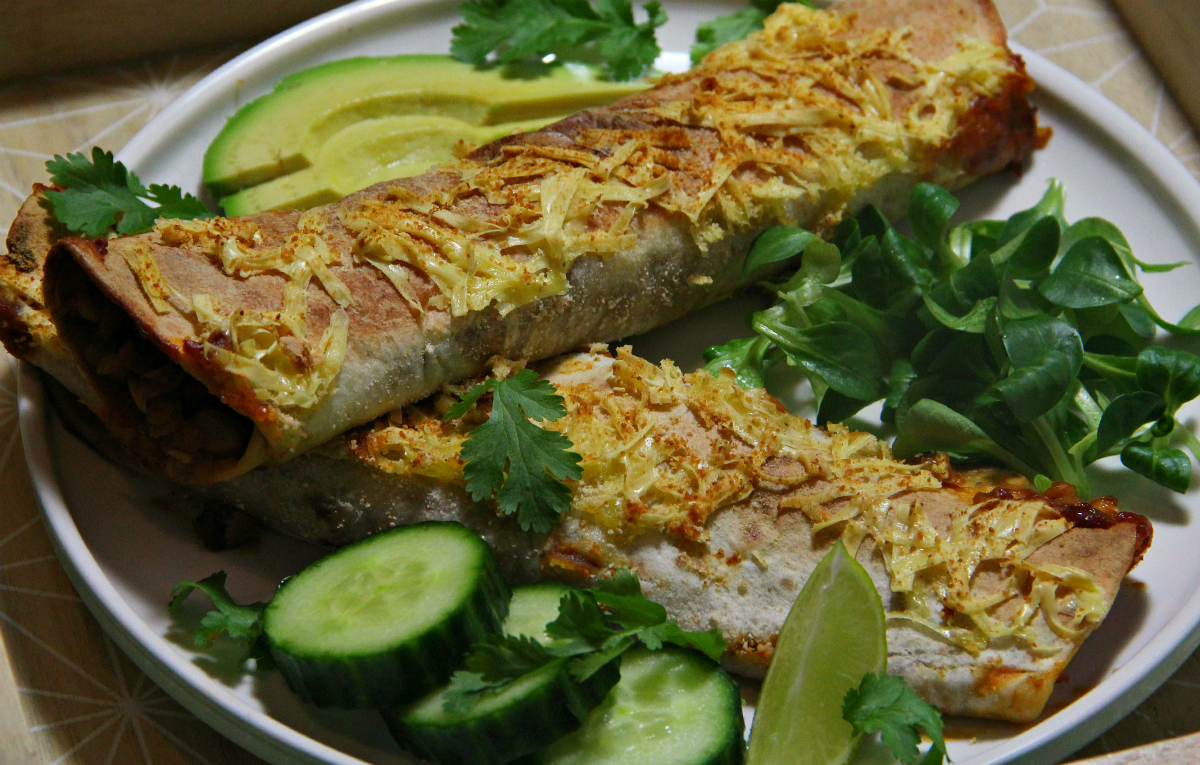 ---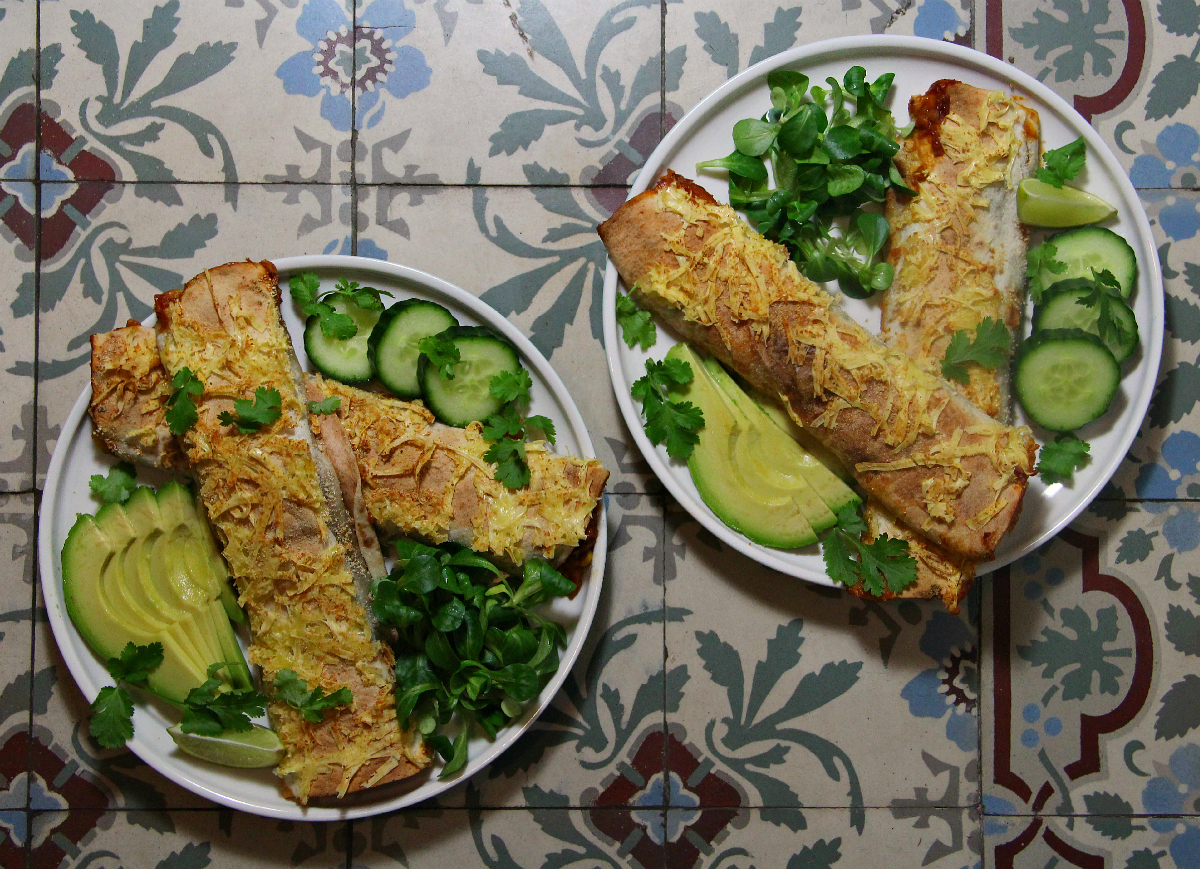 ---