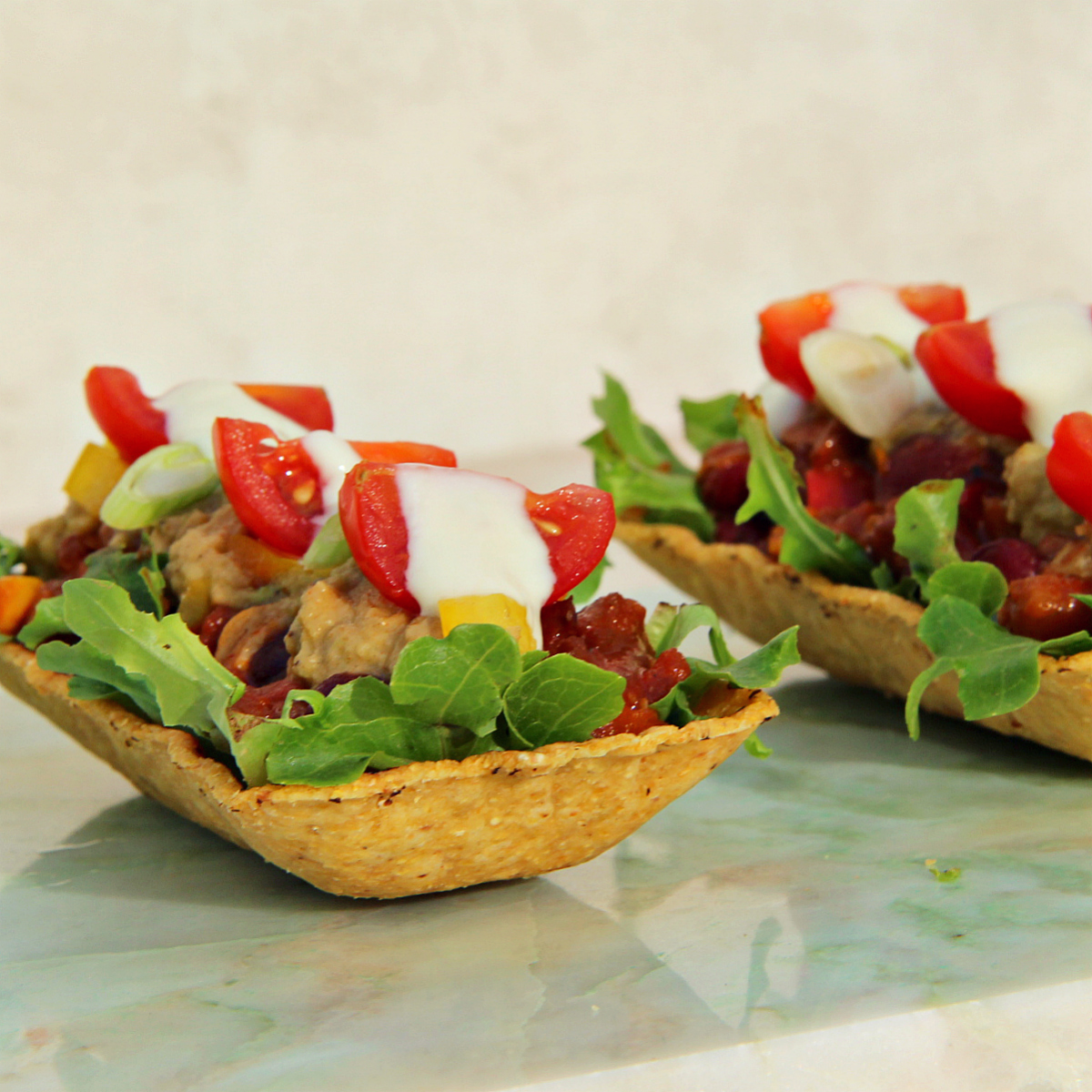 ---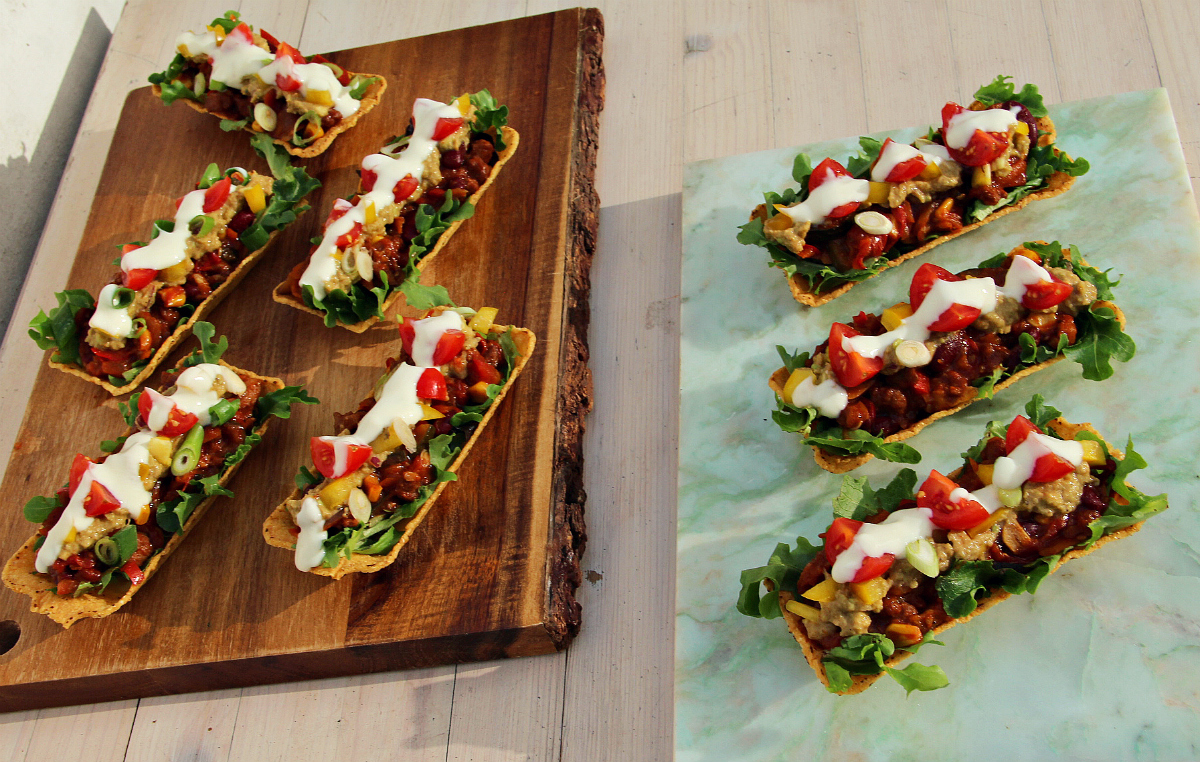 ---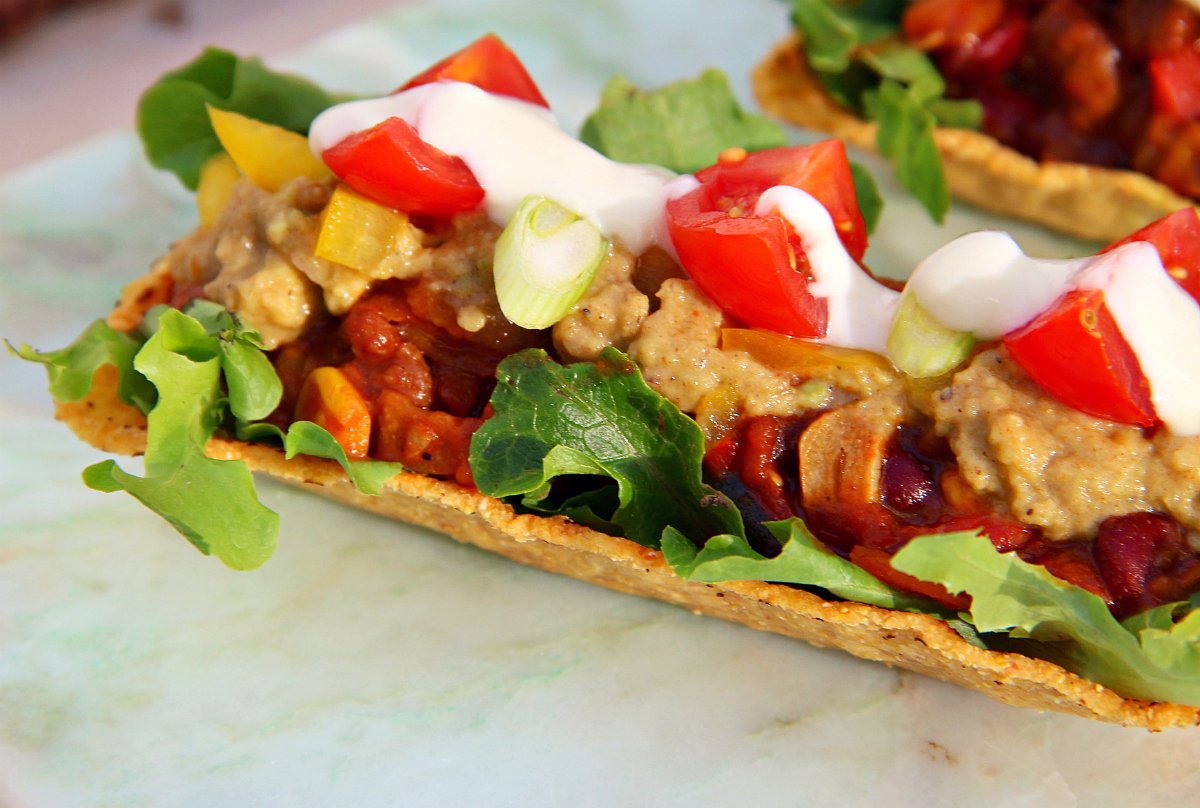 ---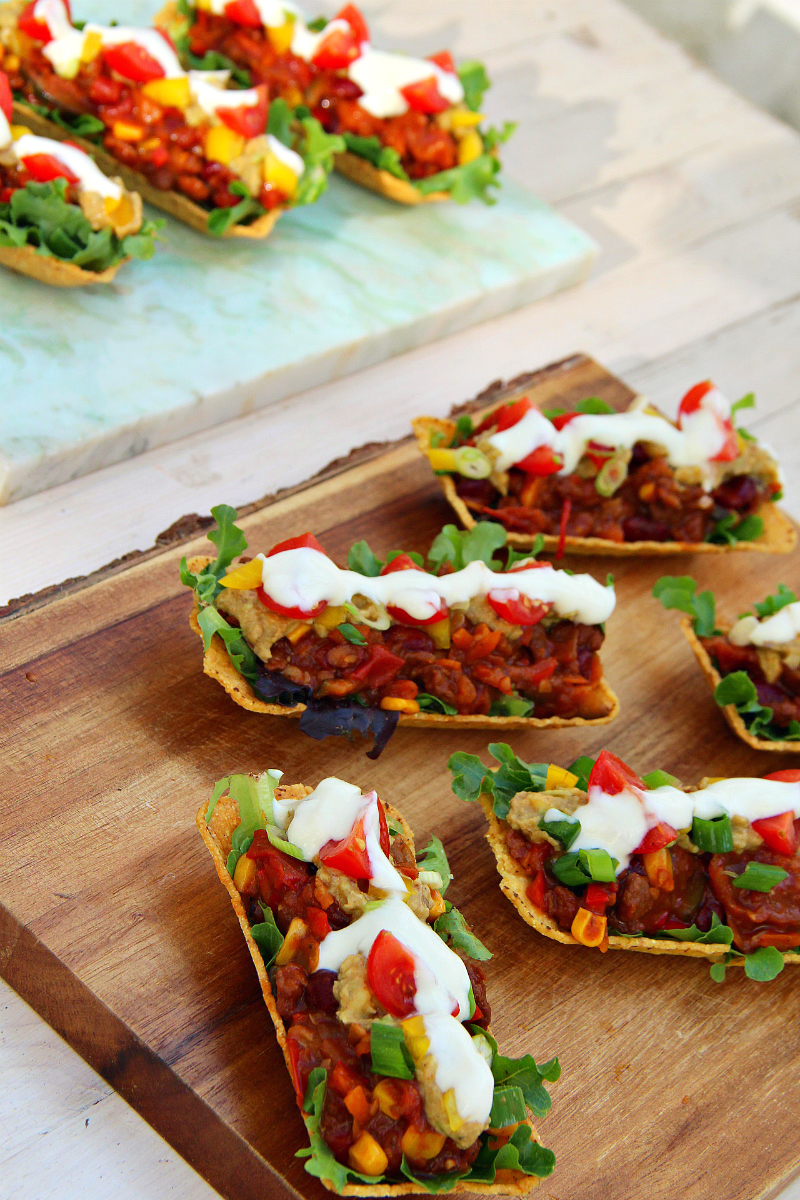 ---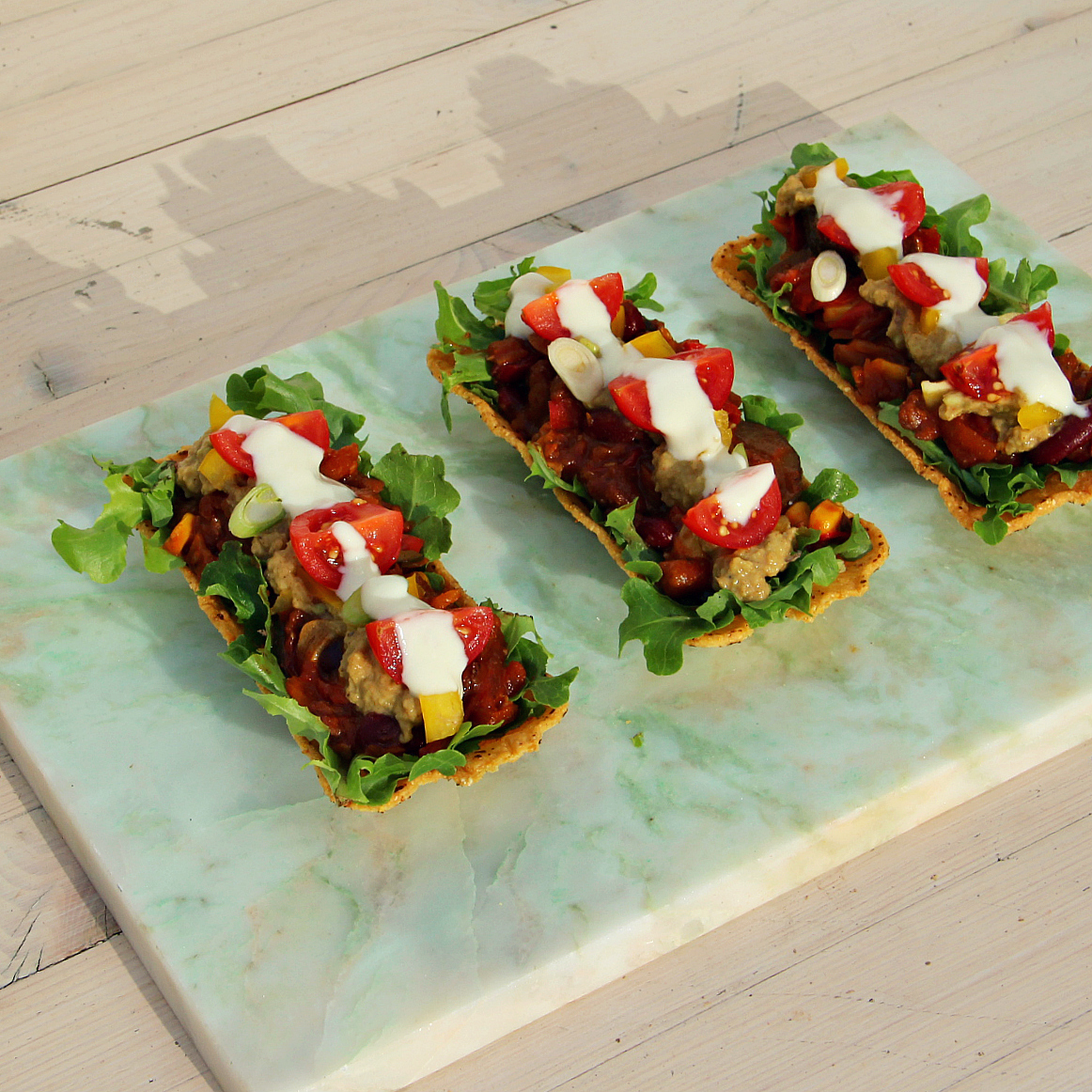 ---
Oooh Mexican food ! One of the most loved dinners in our home and one of my husbands favourite. Whenever he decides what I should cook he always gives the same answer: TACOS !
And this is my very personalized version of it.
I love a savoury sauce full of soy granules, kidney beans and corn with those warm flavours of cumin and paprika. Topped with Vegan Creamy Guacamole, vegan creme fraiche. A crunchy salad, ripe tomatoes and sweet yellow bell pepper adds a cool crunch and freshness to the hot sauce.
The tacos that I use are hard shell ones, kinda similar to the nacho texture. We use both normal taco shapes and tubes / boats. Personally I prefer the boats, they're less messy to eat and hold a lot of filling while making a good presentation.
About how many tacos you make, it's hard to answer, it really depends how much filling you use in each taco, if you use a hard taco shell, boats or bigger soft shells. And how many people it feeds, also difficult to answer, I usually eat about 5-6 fully topped boats, and I'm just a tiny woman.
So I suppose it could feed 4-5 people well and you might have a little leftover for a luxurious Sloppy Joe the next day !
---
Like Mexican food in general? check out these:
---
---
Serves 25-30 Tacos
---
Ingredients
---
Sauce
---
1 kg red ripe tomatoes (2.2 lbs)

1 can kidney beans in chili sauce

2.5 dl frozen corn (1 cup)

1 zucchini

1 red bell pepper

3-4 carrots

2 red onions

8 garlic cloves

5 small red chilies

4 tablespoons extra virgin olive oil

3 teaspoons cumin

3 teaspoons paprika

1 teaspoon salt

1 teaspoon pepper
---
Meat substitute and marinade
---
720 g ready to go soy granules (1.6 lbs) (not the dry ones – they weigh much less)

1.2 dl

plant milk (

½ cup

)

2 tablespoons extra virgin olive oil

2 tablespoons ketchup

1 tablespoon soy sauce

1 tablespoon tamari

1 tablespoon maple syrup

1 teaspoon cumin

1 teaspoon paprika

1 teaspoon salt

1 teaspoon pepper
---
Topping Suggestions (optional)
---
Vegan Creme Fraiche

Vegan grated cheese

Salad

Cherry tomatoes

Yellow bell pepper

Spring onions
---
What you will need
---
Cutting board and knife

2 big bowls

1 vegetable peeler

1 grater

1 big pot 2 L or more

1 pan

1 spoons to stir

1 strainer

Spoons to measure

Baking paper or silicone mat

Small bowls for toppings (optional)
---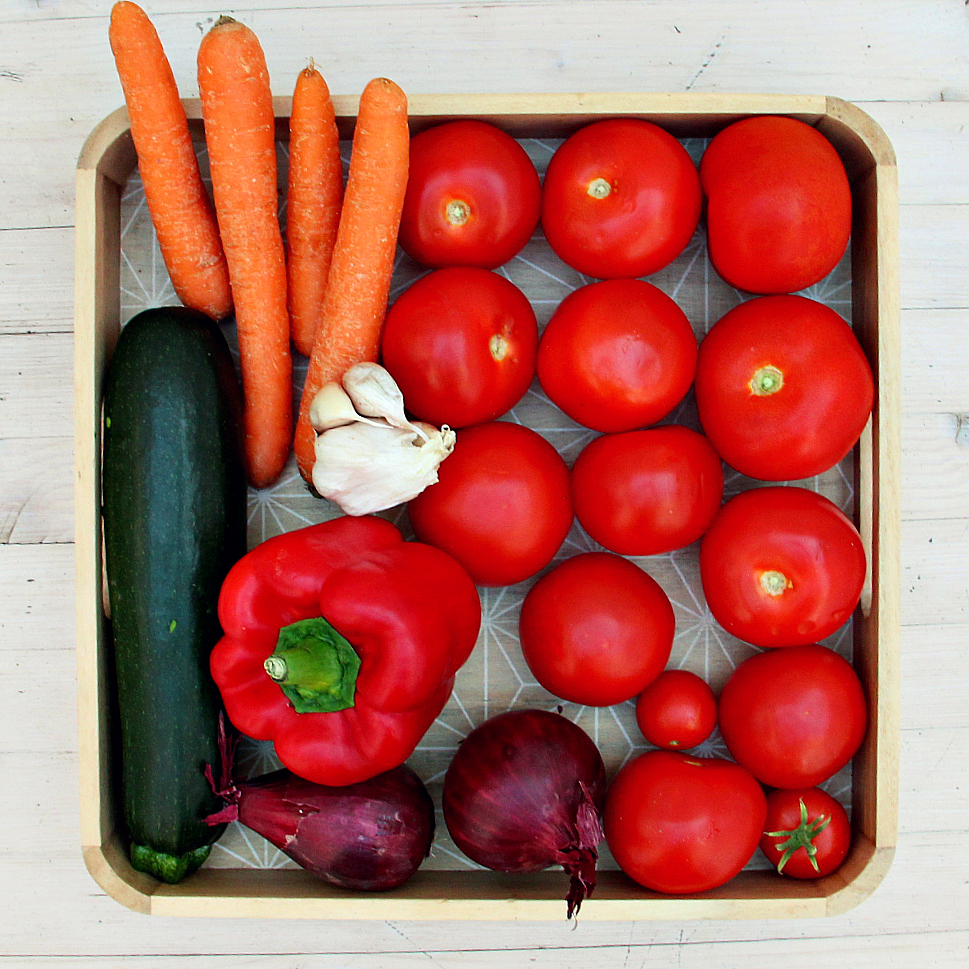 ---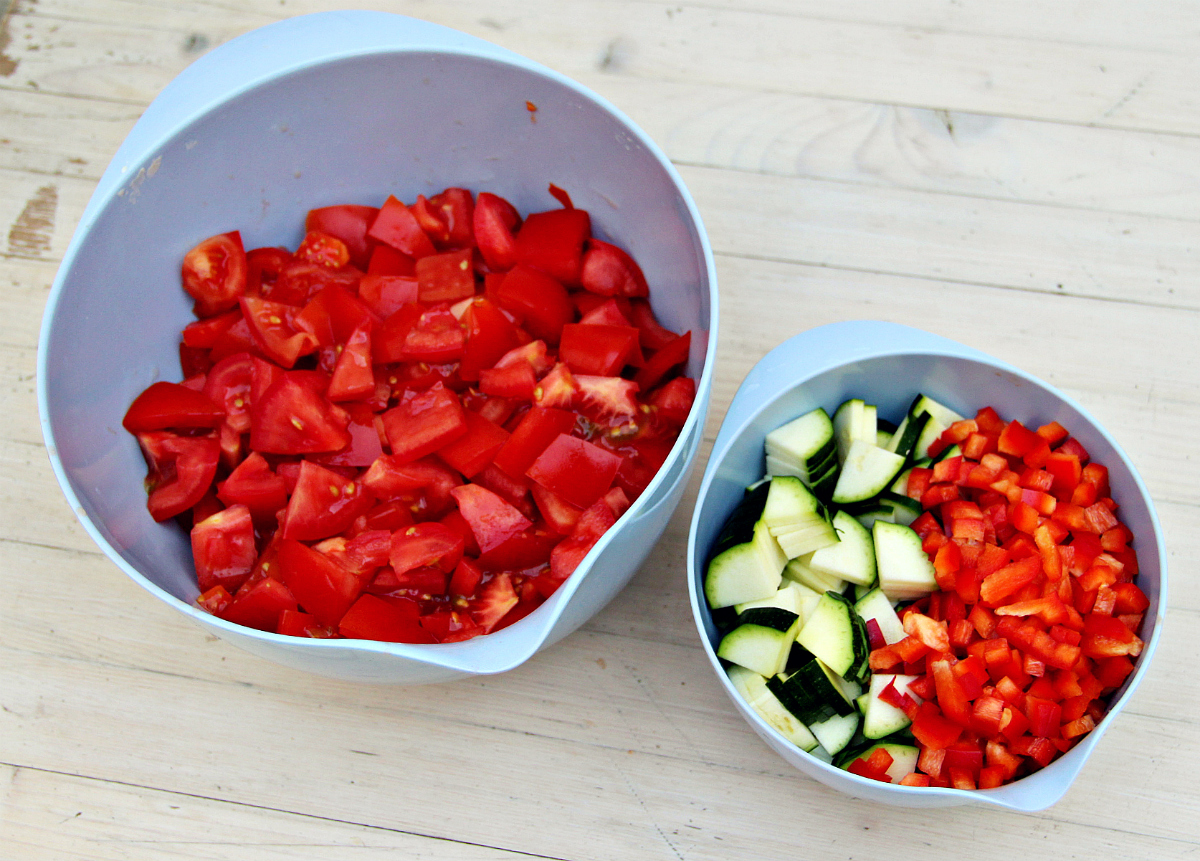 ---

---

---

---
Instructions
---
Chop all the tomatoes and put in a big bowl. Put it aside.

---

Finely chop the red bell pepper and zucchini and put in a bowl and put aside.

---

Peel and grate the carrot and put in the big pot with olive oil, cumin, paprika, salt and pepper.

---

Finely chop the onion, garlic and chili and put in the same big pot, turn the heat on high, stir occasionally until the onions has softened.

---

When the onions has softened, put in the zucchini and bell pepper. Stir occasionally.

---

When the zucchini and bell pepper has softened put in the chopped tomatoes and bring to a simmer while stirring. When brought to a simmer turn heat on medium/low and let sit for about 30 minutes without the lid on, stirring occasionally. The sauce should be shrunken to about half the size. Meanwhile prepare the soy granules.

---

---

---

---

---

---

---

Put in a pan the soy granules, plant milk, olive oil, soy sauce, tamari, maple syrup, cumin, paprika, salt and pepper. Turn the heat on high while stirring. All the moisture should evaporate after 5-10 minutes and leave the granules marinated, sticky and almost caramelized. Then turn the heat off and out aside.

---

(optional, but indeed recommended) Chop all the vegetables if you want fresh toppings, and put in small bowls. If you like also prepare Vegan Creamy Guacamole, creme fraiche and grated cheese.

---

When the sauce has simmered, evaporated some of the water and has a thicker texture, put in the kidney beans in chili sauce, and the strained and washed corn. Stir and let simmer.

---

Put the taco shells in the oven on some baking paper or a silicone mat. About 150 c (300 F) for a few minutes.

---

Finally put in the marinated soy granules to the sauce and let simmer for a few minutes.

---

When the taco shells are heated, serve in a dish, along with the taco sauce and optional chopped fresh toppings.

---

People can assemble the tacos as they please, its fun and they can choose exactly what ingredients they like.
---
Enjoy !
---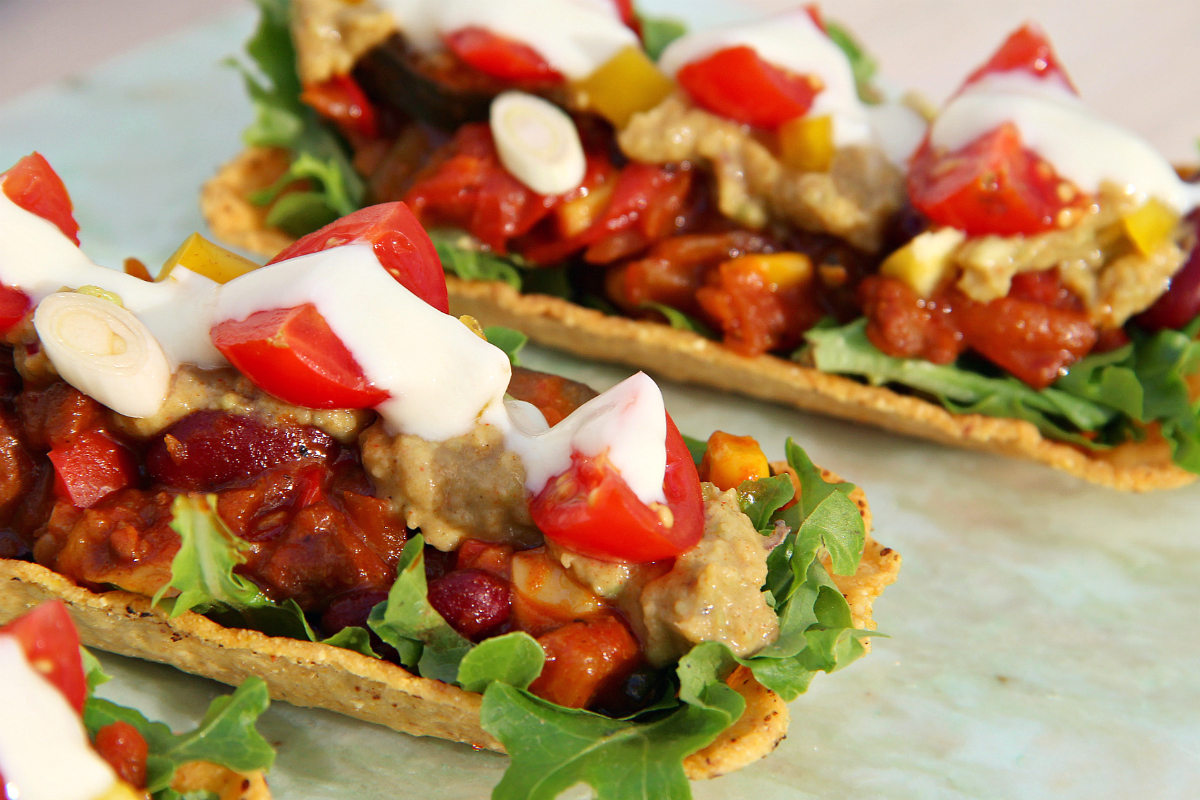 ---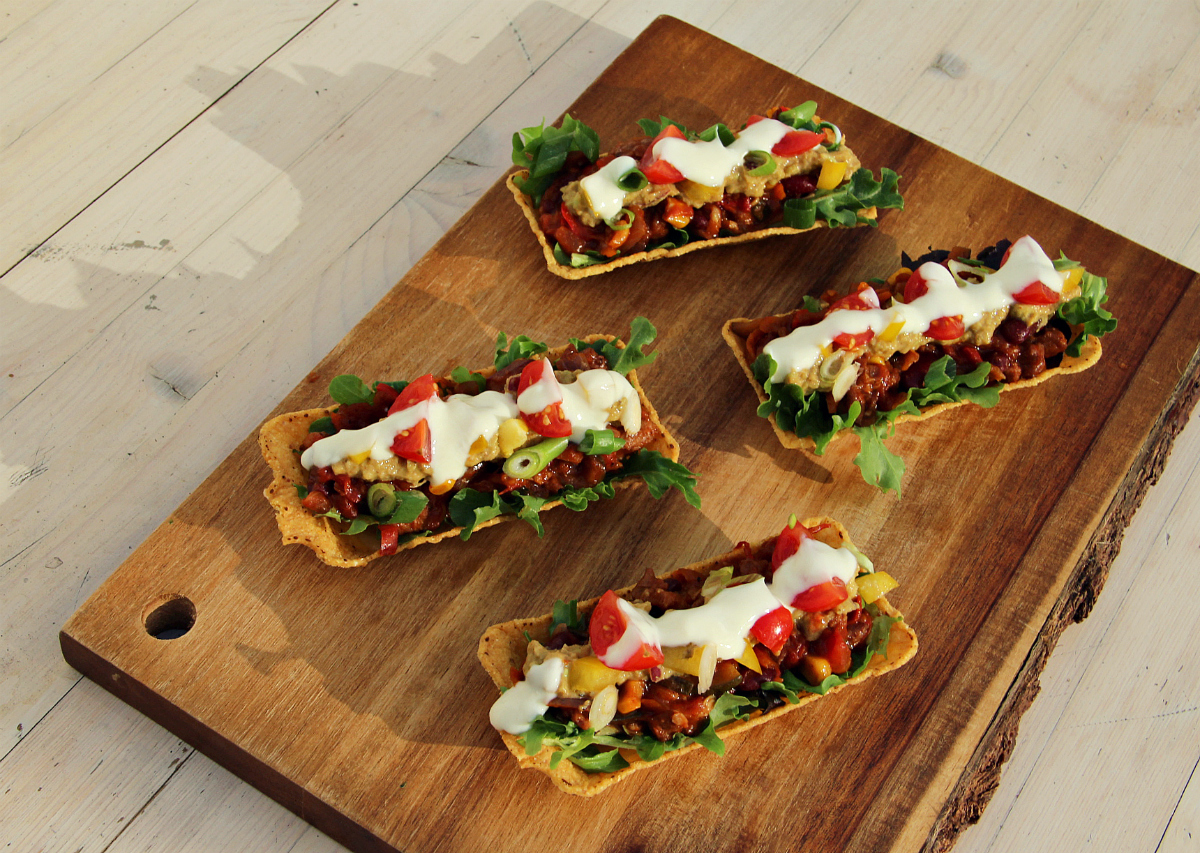 ---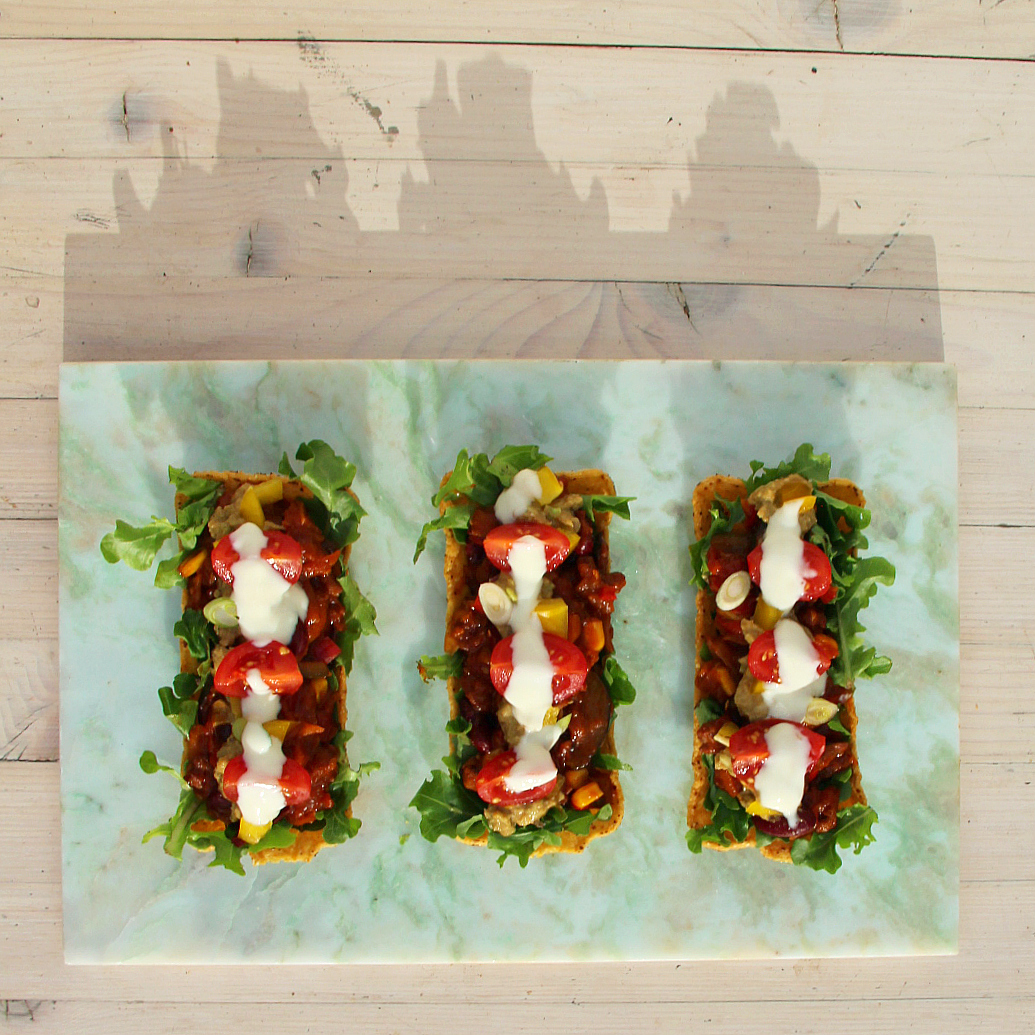 ---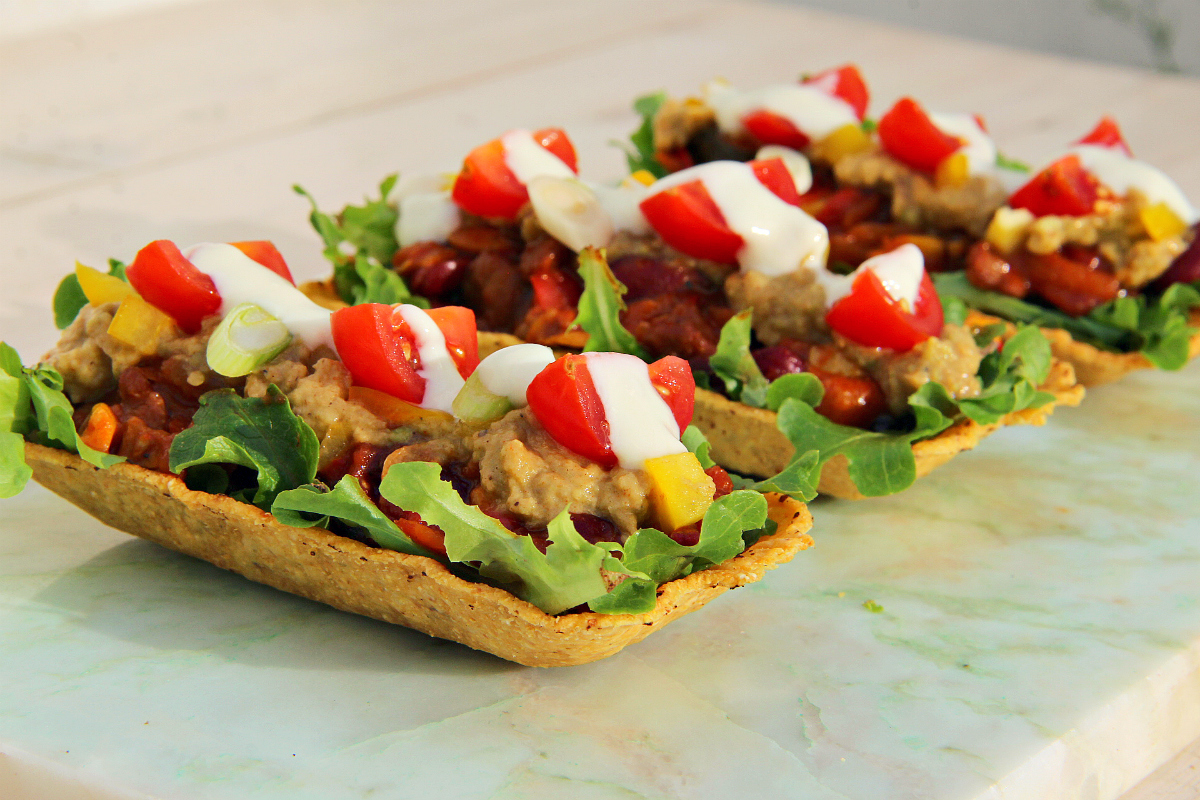 ---