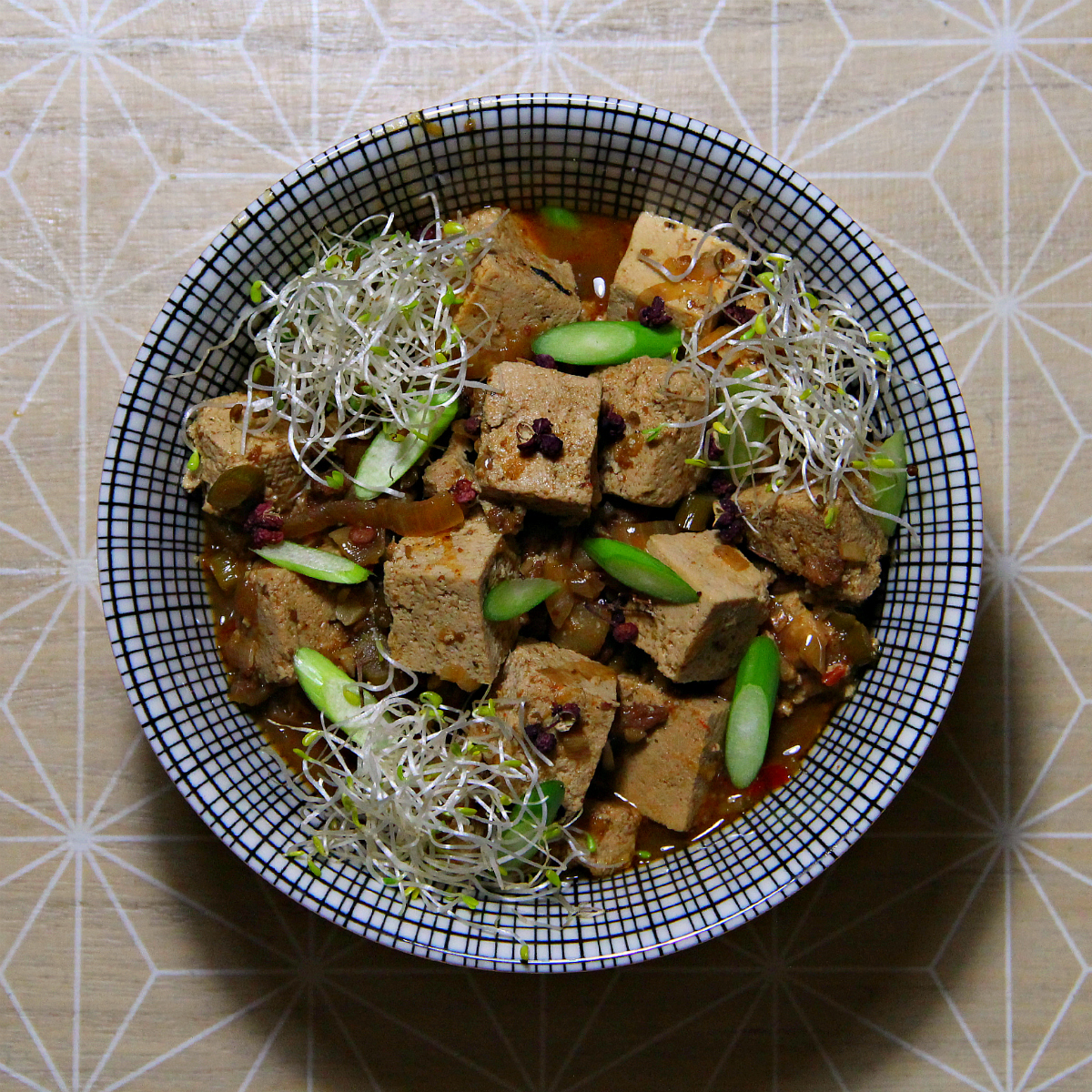 ---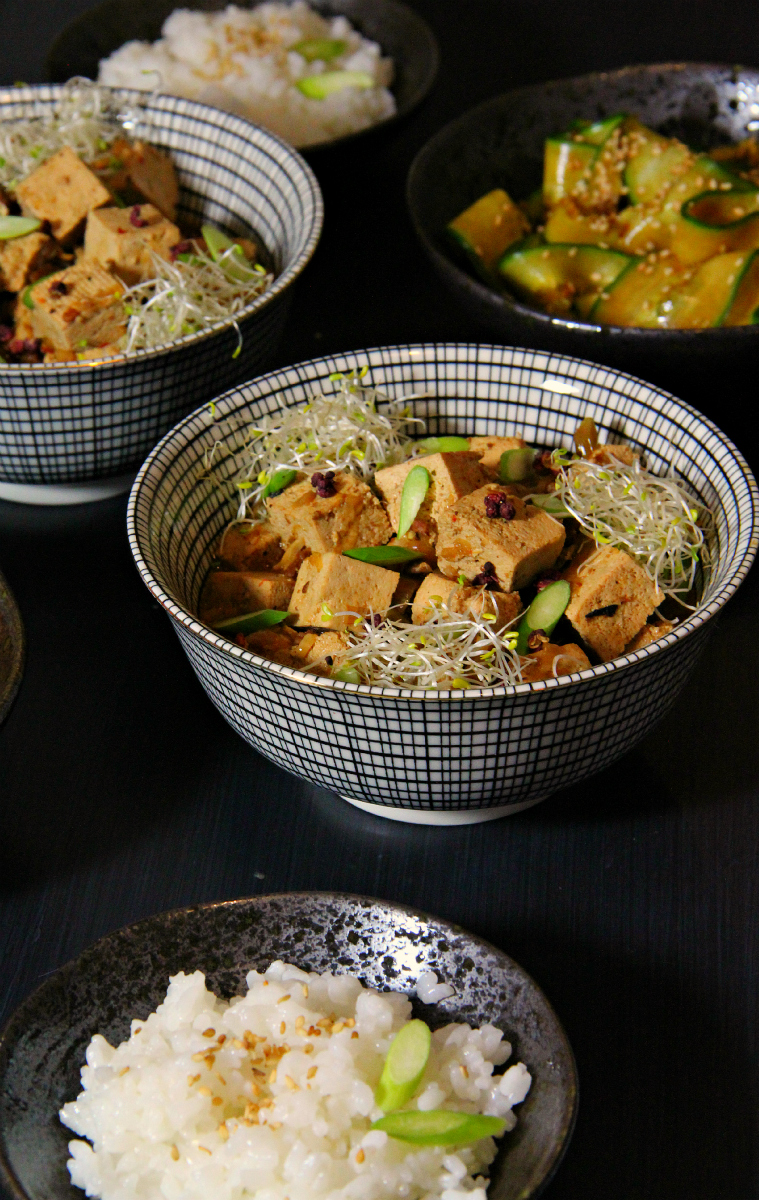 ---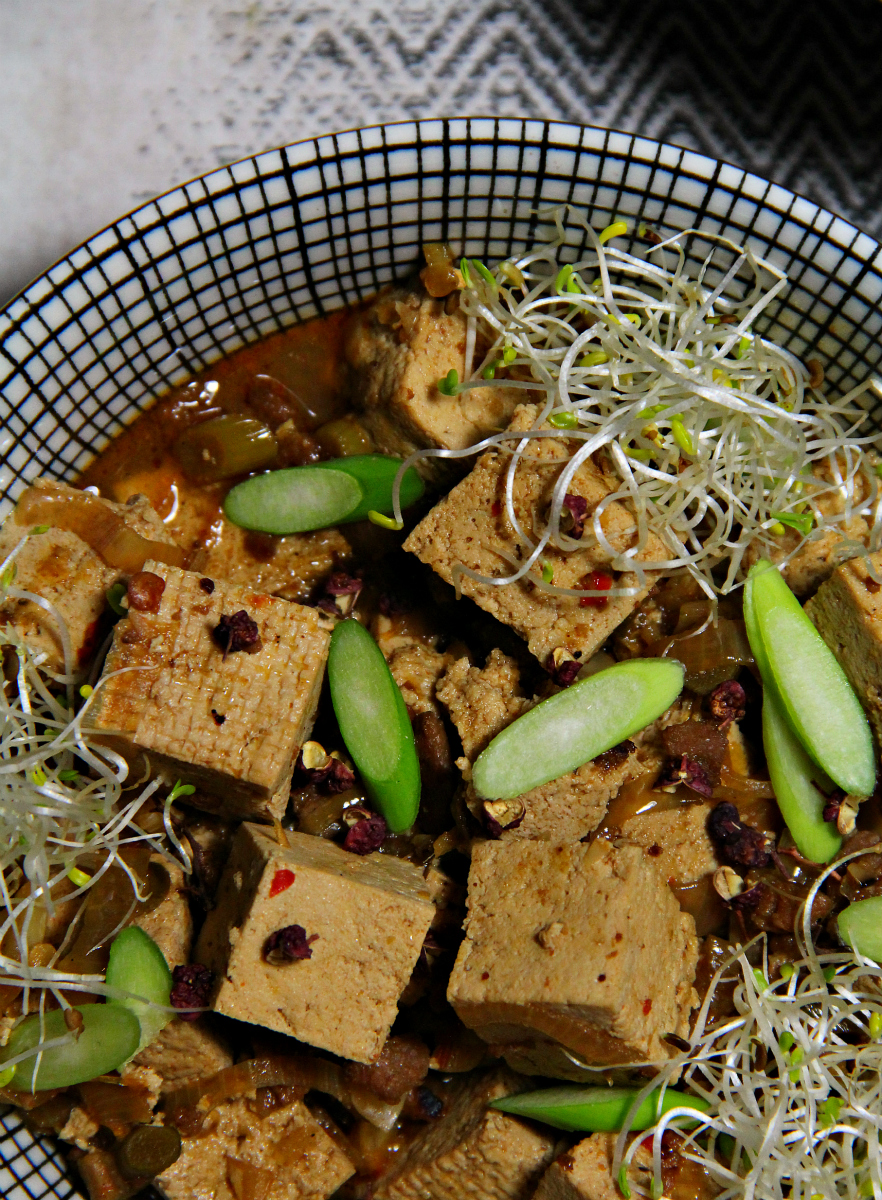 ---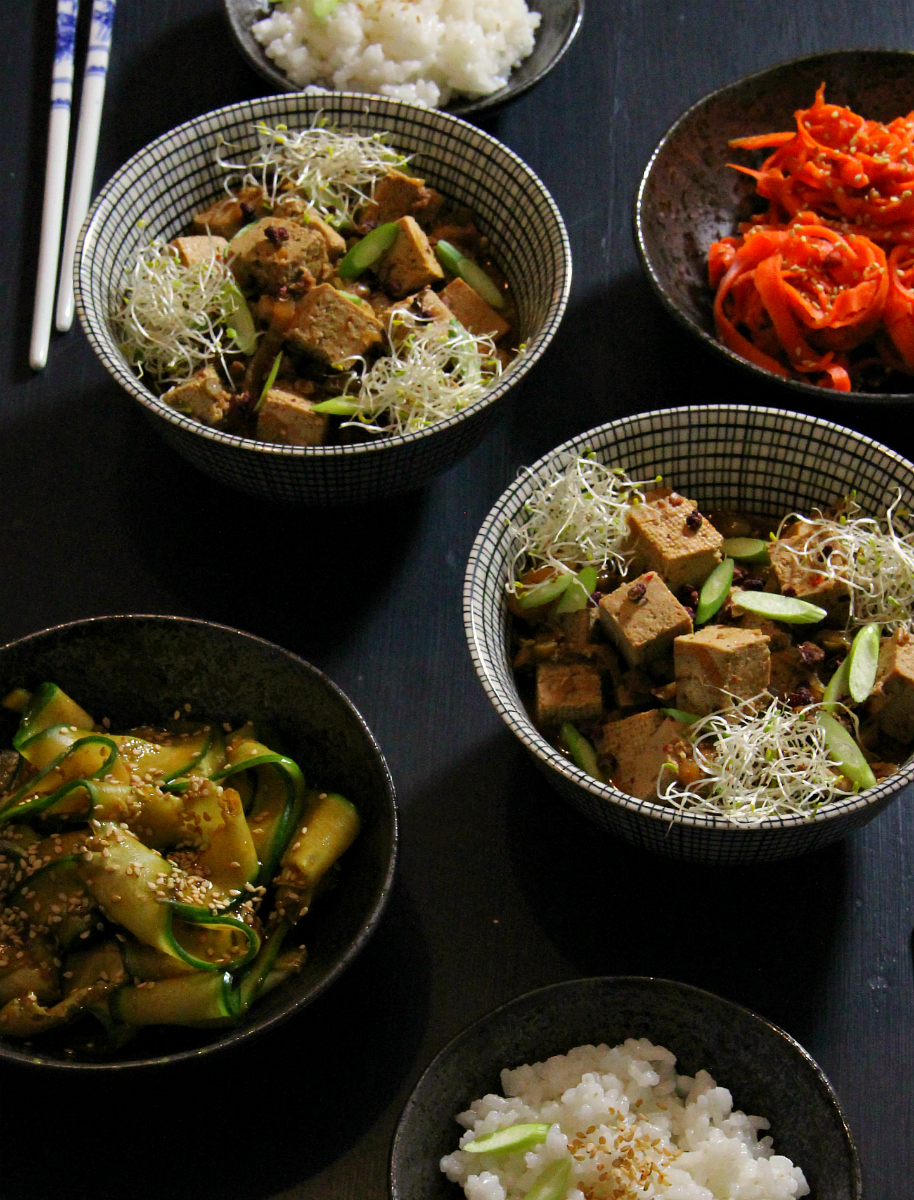 ---
A traditional dish from the Sichuan province in China. This dish is super flavourful, packed with plant based protein and very Sichuan style ingredients. These might be hard to come by in a western supermarket, but in a Chinese supermarket this would be much easier to find.
The Sichuan peppers are the most important ingredient in this dish, and you gotta have the real good kind. The kind that, when you eat a whole pepper corn you get a numb tongue, then you know you have the right kind ! The taste is kind of citrussy, peppery, and hints of menthol, juniper, blackcurrant and pine flavours. Very unique, so you can't substitute the flavour with black pepper or other peppers. I was so lucky to be gifted some real good peppers from some friends who actually introduced me to this dish as well (Thank you guys !).
Besides the peppers, it's also important to have the two different kinds of bean paste. If you cannot find them AT ALL, you are able to substitute with some red miso paste, and then add chili or chili paste for the heat - lots of it. This version is a Japanese style Mapo Tofu, also referred to as "Mabo Dofu" instead, where Japanese ingredients such as sake and mirin is used, with a light sprinkle of Sichuan peppers. But please try this original Sichuan style, you wont regret it, and it has the authentic Mapo Tofu flavour ! It's also a dish that's suppose to be VERY spicy, here I have spiced it so most (i think) westerners would handle the heat, and of course you could spice it up more with additional chili oil, paste or flakes !
Here served with two quick pickled fresh vegetable salads and a side of sticky rice. When served with all of these you will be able to feed 5-6 people instead of 4. I would recommend to add the sides and they are also a very good palate cleanser. The sticky rice is mellow and neutral and the two pickled salads are refreshing and cold, a good contrast to the very flavourful and spicy Mapo Tofu.
---
Serves 4, with side dishes 5-6
---
Ingredients
---
Mapo Tofu
---
750g firm tofu or soft tofu (not silken) (26.5 oz)

180g ready made soy mince (6.4 oz)

500ml water (16.9 oz)

80ml chopped peanuts (1/3 cup)

3 shallots

8 stalks of thick long garlic scapes

6 garlic cloves

2 thumbs of fresh ginger

2 tablespoons Sichuan peppers

1 star anise

1 teaspoon dried vegetable stock

3 tablespoons peanut oil

1 tablespoons roasted sesame oil

2 tabelspoons spicy chili oil

3 tablespoons chili bean sauce / doubanjian / toban-djan

3 tablespoons sweet bean paste / tiang mian jiang

2 tablespoons soy sauce

2 tablespoons rice vinegar

3 teaspoons tapoica starch

More chili flakes / powder / oil to taste (optional)
---
Garnish (optional)
---
Chopped garlic scapes

Sichuan peppers

Fresh sprouts
---
Side dishes (optional)
---
---
What you will need
---
Cutting board and knife

1 wok

1 spoon to stir

1 mortar and pestle or a spice grinder

Measuring spoons

1 measuring cup

1 small bowl + fork for slurry
---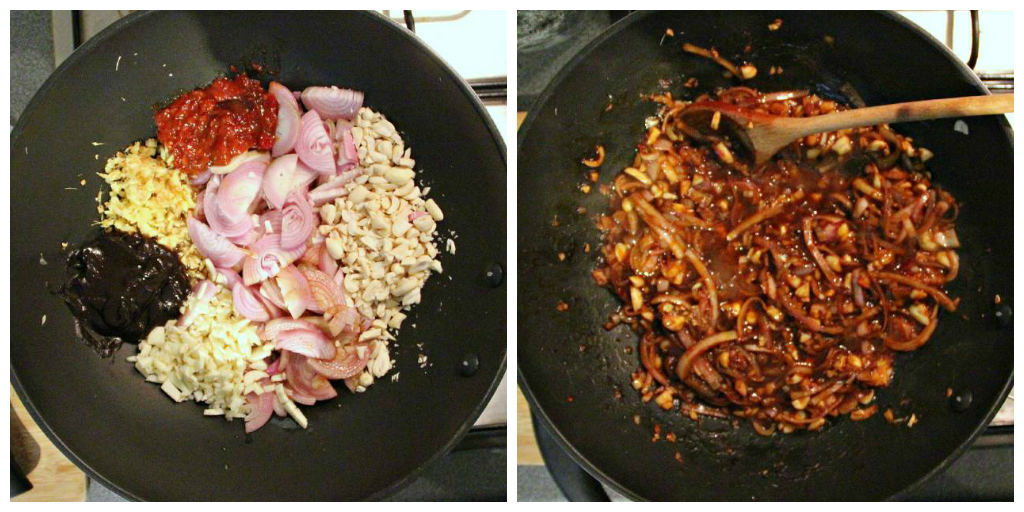 ---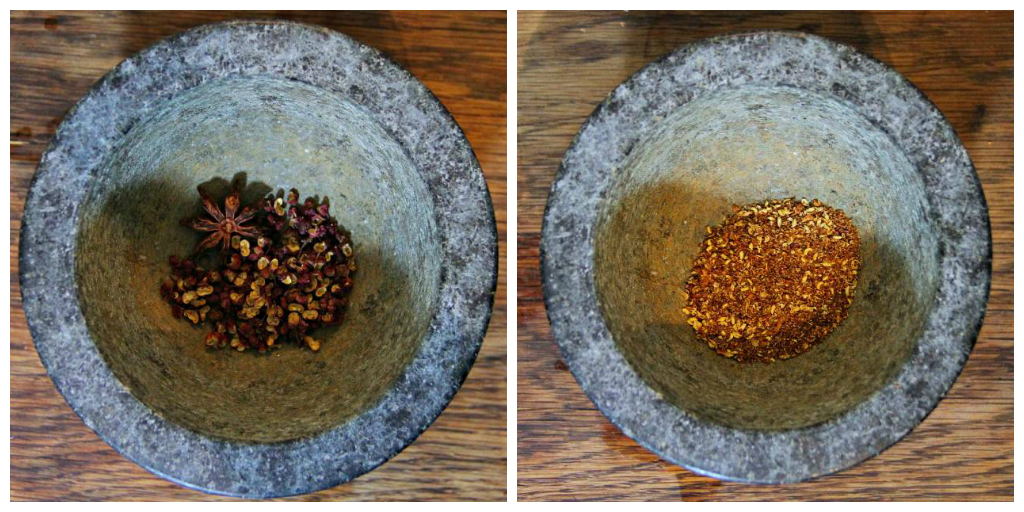 ---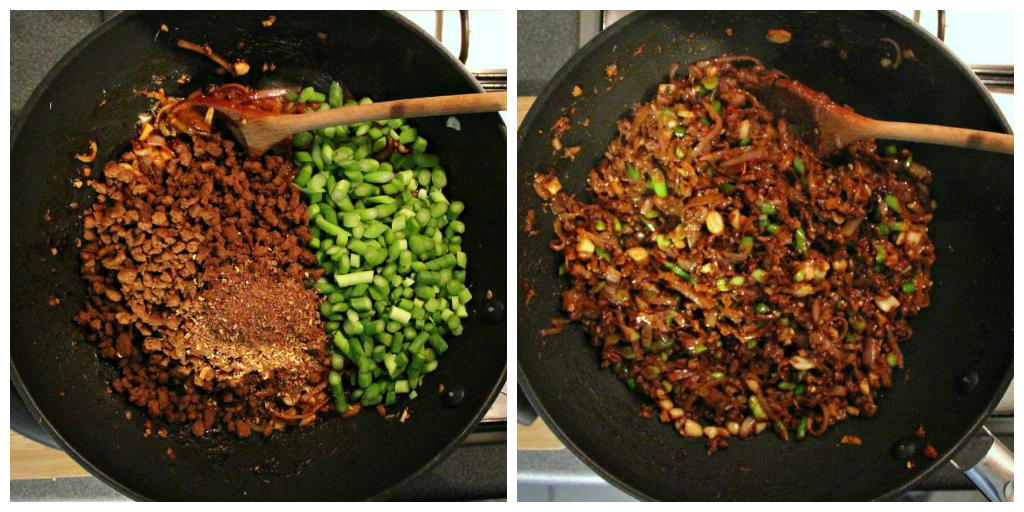 ---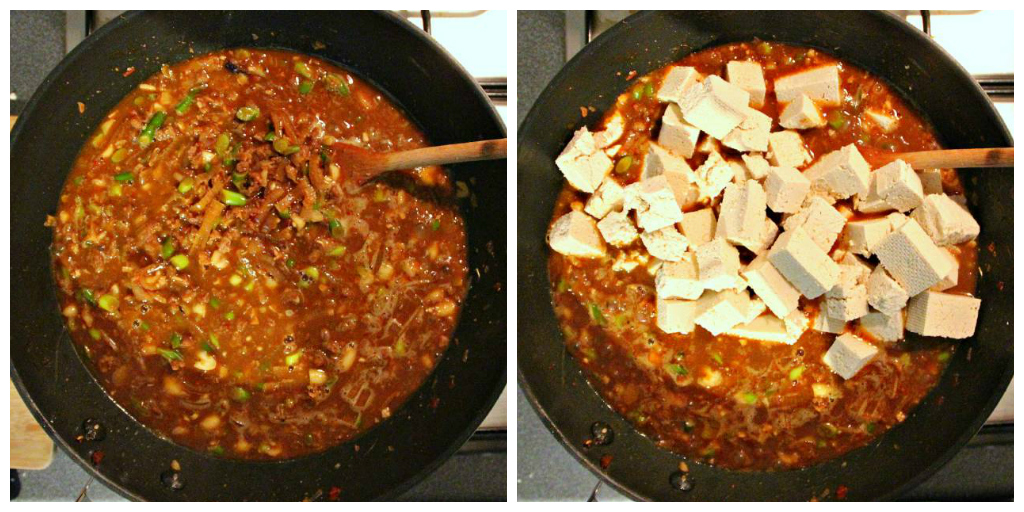 ---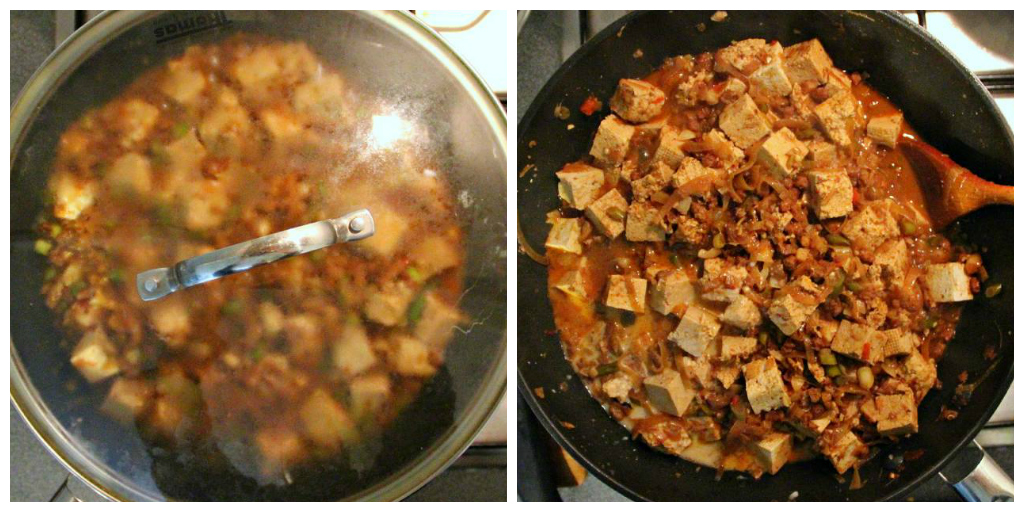 ---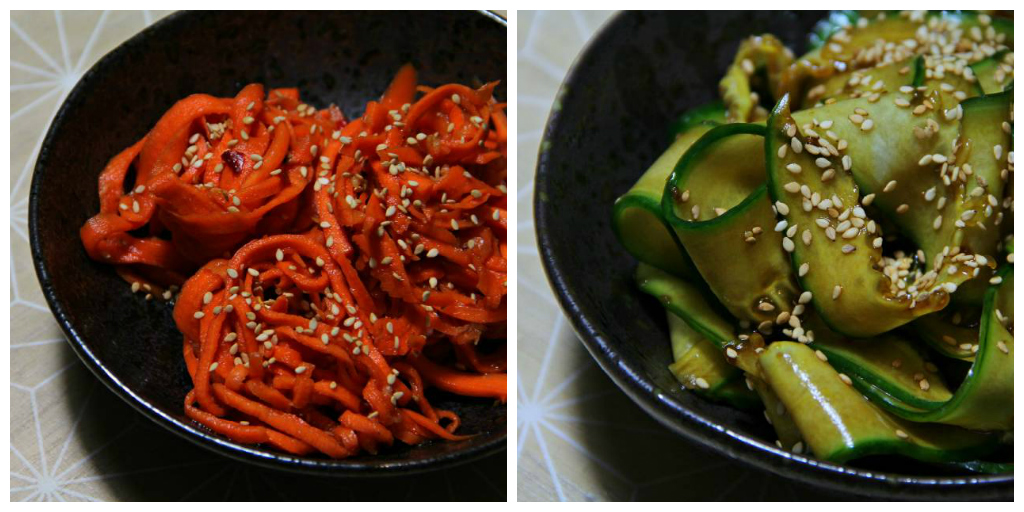 ---
Instructions
---
Only if using firm tofu, if you use soft tofu this step is not needed. Take the firm tofu out of its package and drain for water. Put into a bag and freeze for 1 day or overnight. Take out and thaw completely in the fridge. Gently press the water out of the tofu. This method will make your tofu less watery, firm and more fluffy.

---

Peel and chop the ends of the shallots. Cut on its long side, then chop them thinly into half moon circles. Peel and finely chop the garlic. Roughly chop the peanuts. Finely chop the ginger, no need to peel it. Add all to the wok with the peanut oil, sesame oil, chili oil, chili bean sauce, sweet bean sauce, soy sauce and rice vinegar. Turn heat on high fry until the shallots are soft, stir occasionally.

---

Take the Sichuan peppers and star anise and grind them either in the mortar or the spice grinder. Then finely chop the garlic scapes diagonally. Add spice mix and scapes to the wok with the ready made soy mince. Fry for about 3-4 minutes.

---

When the garlic scapes look soft and browned then add in the water and dried vegetable stock. Bring to a simmer.

---

In a small bowl put in 3 tablespoons of water and add in the tapioca starch, mix very well with a fork. Then add the slurry to the wok and mix well.

---

Chop the tofu into about 4 cm cubes (1½ inch or so). Then add to the sauce. Don't stir too much, gently push and fold the tofu around in the wok instead to prevent breaking it. Put on a lid and let simmer on low for about 10 minutes. Then it's finished. If you wish to have more heat and spice add either more chili oil or add some chili flakes or chili powder. It's suppose to very spicy, but it's optional how spicy you want it / can handle it.

---

Garnish with chopped garlic scapes and Sichuan peppers.

---

Serve with optional sides dishes like sticky rice, Quick Pickled Carrot Noodles, Asian Style Cucumber Salad in Strips, fresh greens and sesame seeds.
---
Enjoy !
---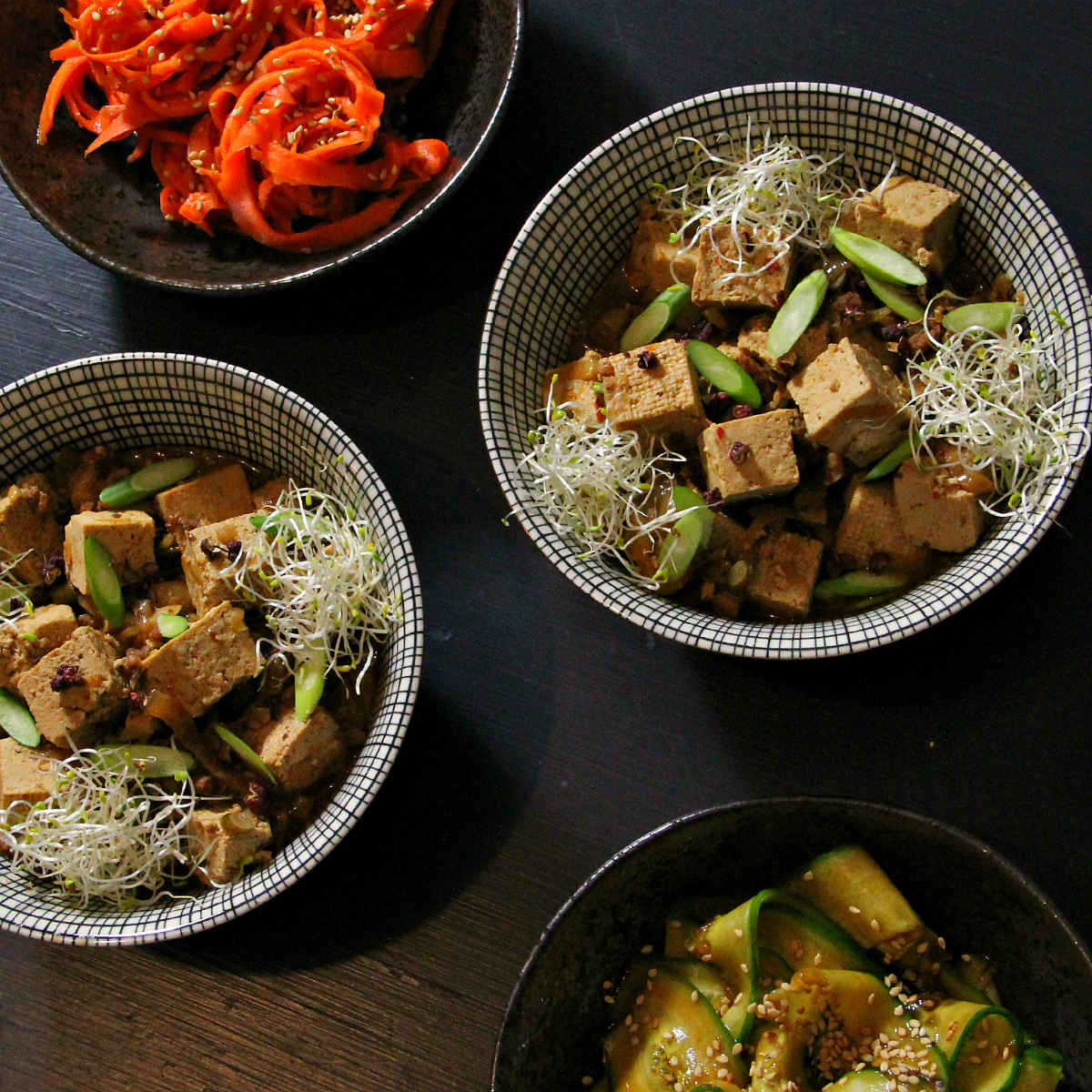 ---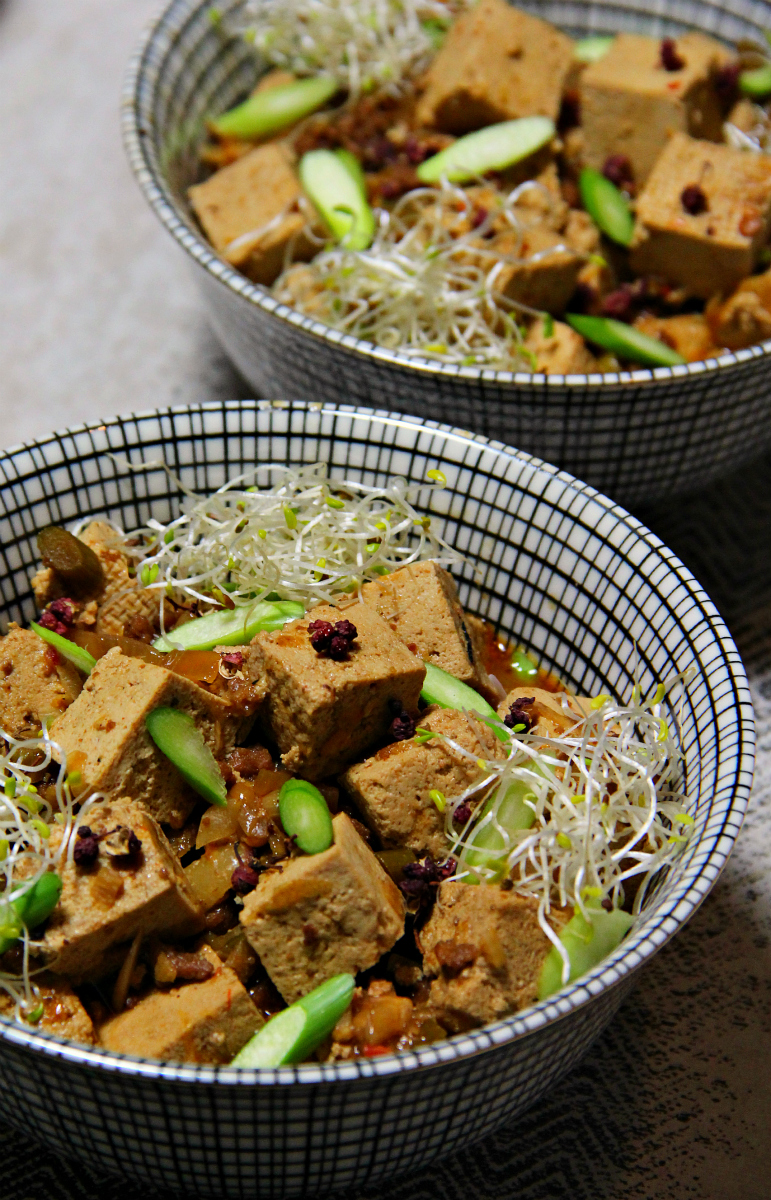 ---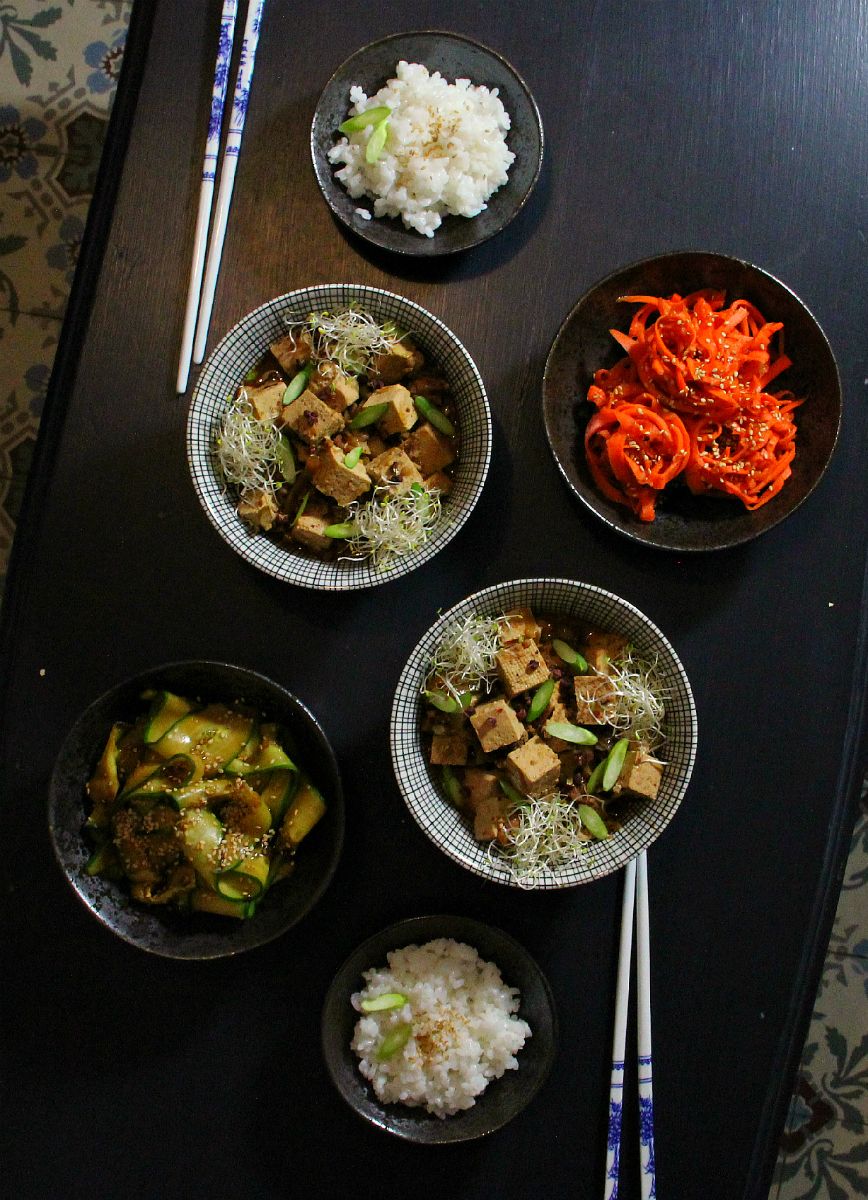 ---