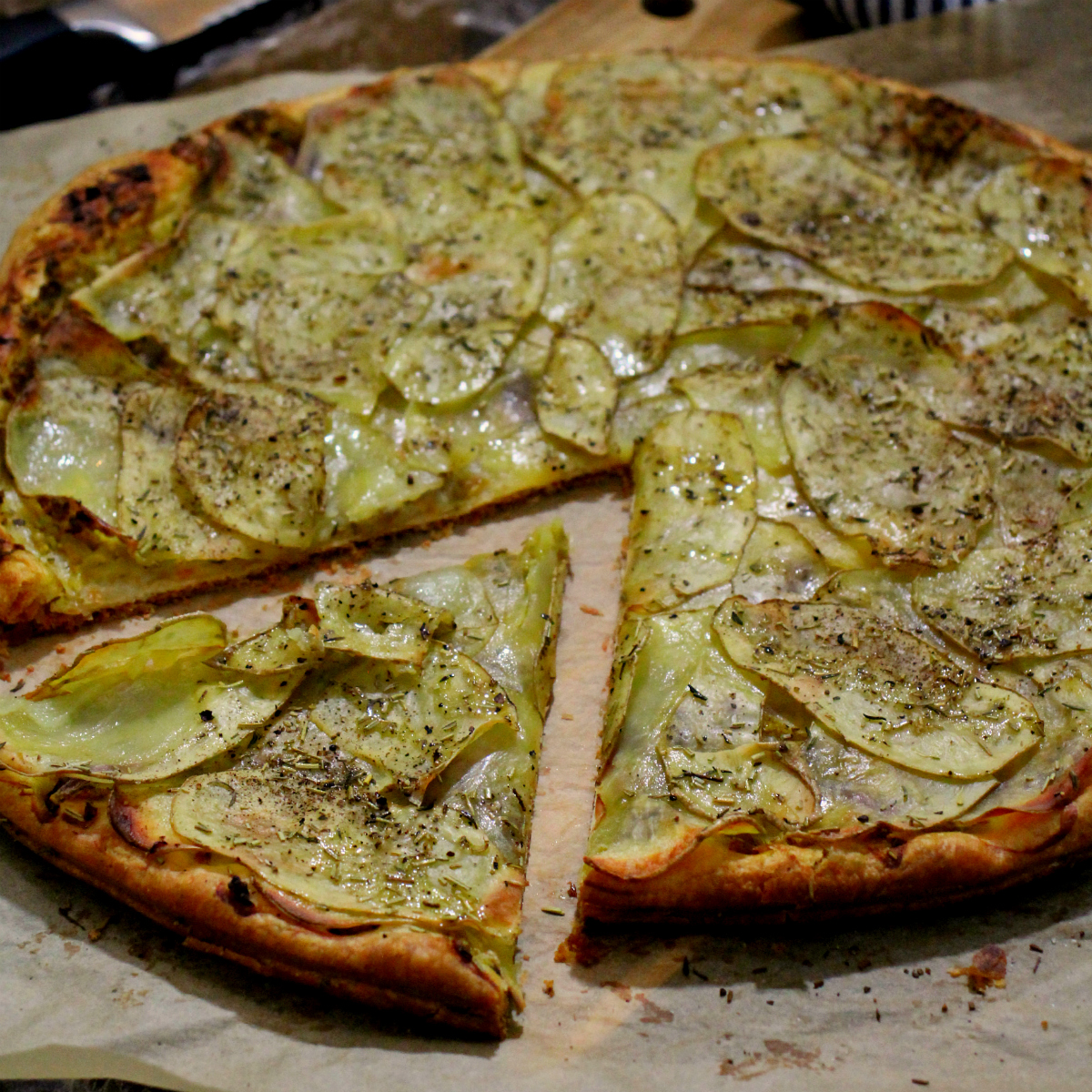 ---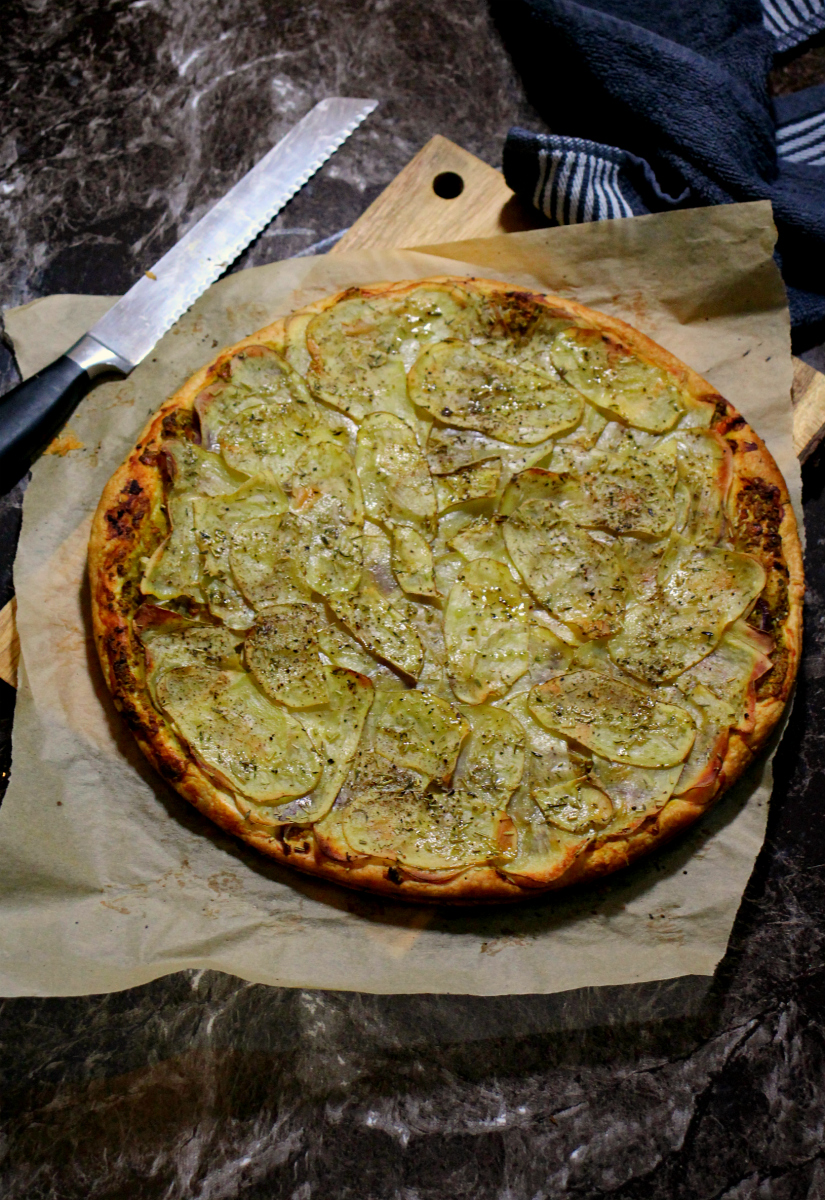 ---
A no effort, super easy to make and a delicious herbal potato pizza, crusty and flaky from the vegan puff pastry. YES! Most puff pastries are vegan, the store bought cheap ones, just double check the otherwise vegan ones for the ingredient L-cysteine, as that is not a vegan ingredient, so watch out for that.
Use a quick to make homemade vegan basil pesto, or for ease use a vegan store bought one. All other ingredients are the usual pantry essentials. If you don´t have a mandolin try and slice the potatoes as thin as you can, as that gives the best result, as the double layer of thin potatoes bakes quicker and becomes flaky like the puff pastry, layering the whole dish even more! This is layers upon layers of flaky goodness.
---
Serves 2 with a side dish, or 4 as a snack
---
Ingredients
---
Base
---
230 g ready made vegan puff pastry (8.10 oz)
---
Sauce
---
1 red ripe tomato

4 garlic cloves

3 tablespoons homemade Vegan Basil Pesto Pine Nuts or a store bought vegan one

2 tablespoons unsweetened plant milk
---
Toppings
---
250-300 g potatoes (8.8 – 10.6 oz)

1 very small red onion

Drizzle of extra virgin olive oil

Dried thyme to taste

Dried Rosemany to taste

Freshly grind black pepper

Herbal salt sprinkle

Vegan Parmesan Sprinkle or nutritional yeast for garnish (optional)
---
What you will need
---
1 blender

1 mandolin

Cutting board and knife

1 lined baking tray
---
Instructions
---
Preheat the oven to 180c (350 F).

---

Add all the sauce ingredients in a blender and blend smooth. Set aside.

---

Brush the potatoes clean, slice on the thin setting on a mandolin.

---

Peel and chop the red onion into half moon slices.

---

On a lined baking tray put the ready made puff pastry. Evenly spread out the sauce, then top with the half moon red onion.

---

Decorate evenly with the potatoes, a double layer is good. Drizzle with olive oil, salt and pepper, dried thyme and rosemary to taste.

---

Bake in a preheated oven on 180c (350 F) in the middle of the oven on normal setting for as long as your package instructs. Various brands finish baking at different times, but keep and eye on it. Take out when puffed up, golden and the potatoes are crisp on the edges.

---

Optionally finish it of with Vegan Parmesan Sprinkle or a sprinkle of nutritional yeast.
---
Enjoy !
---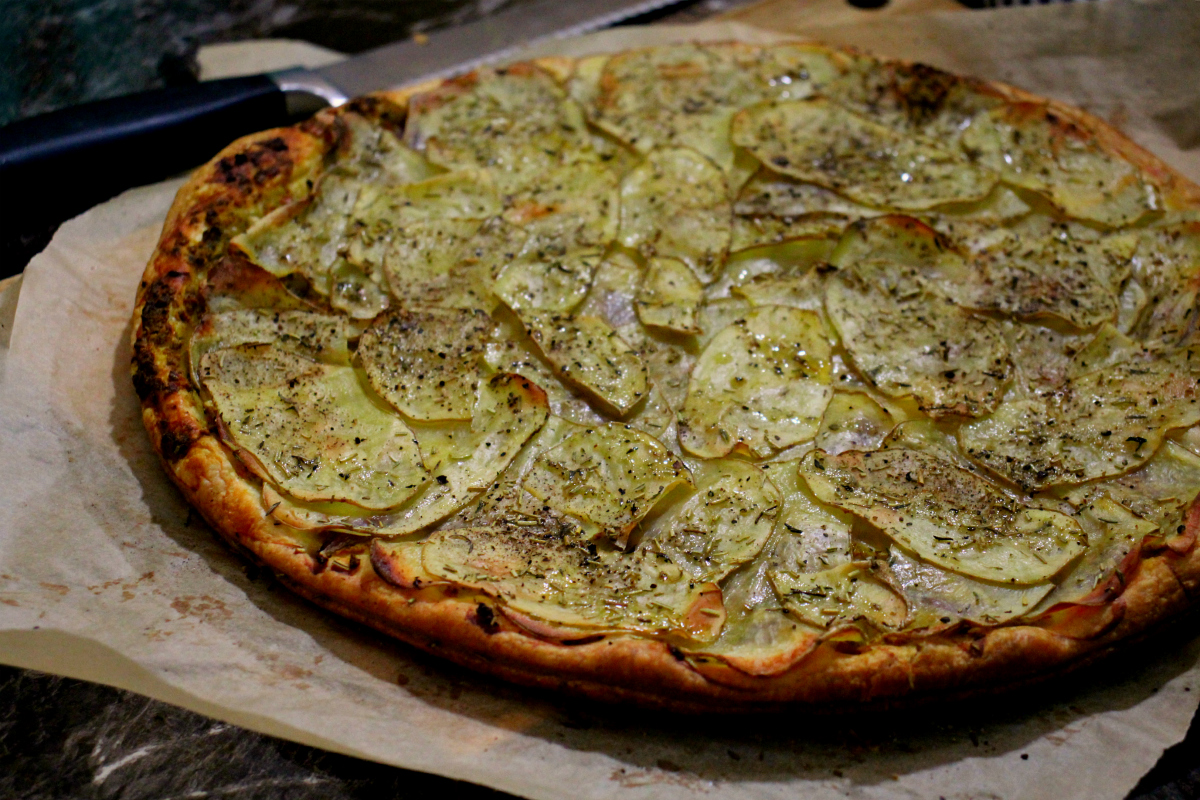 ---