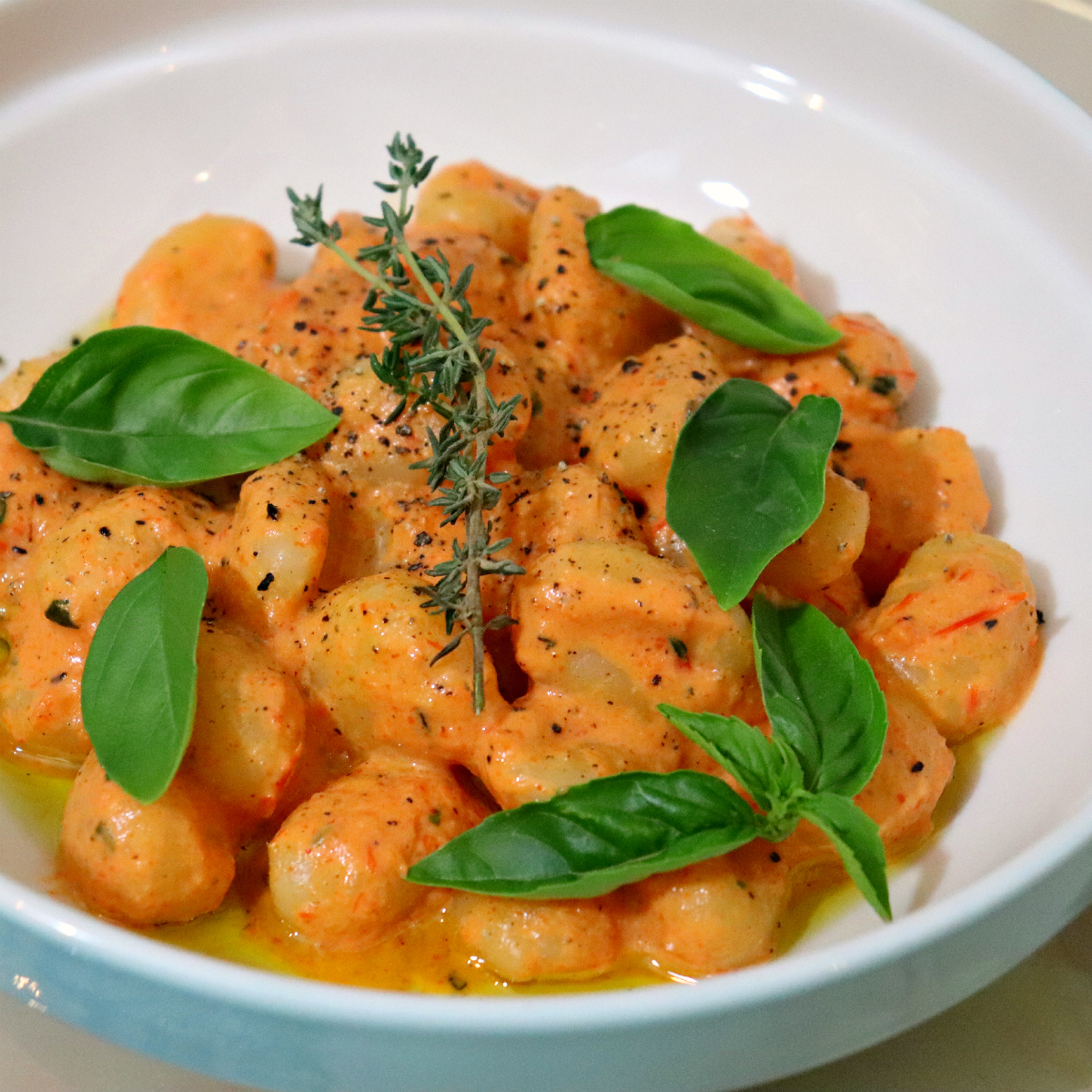 ---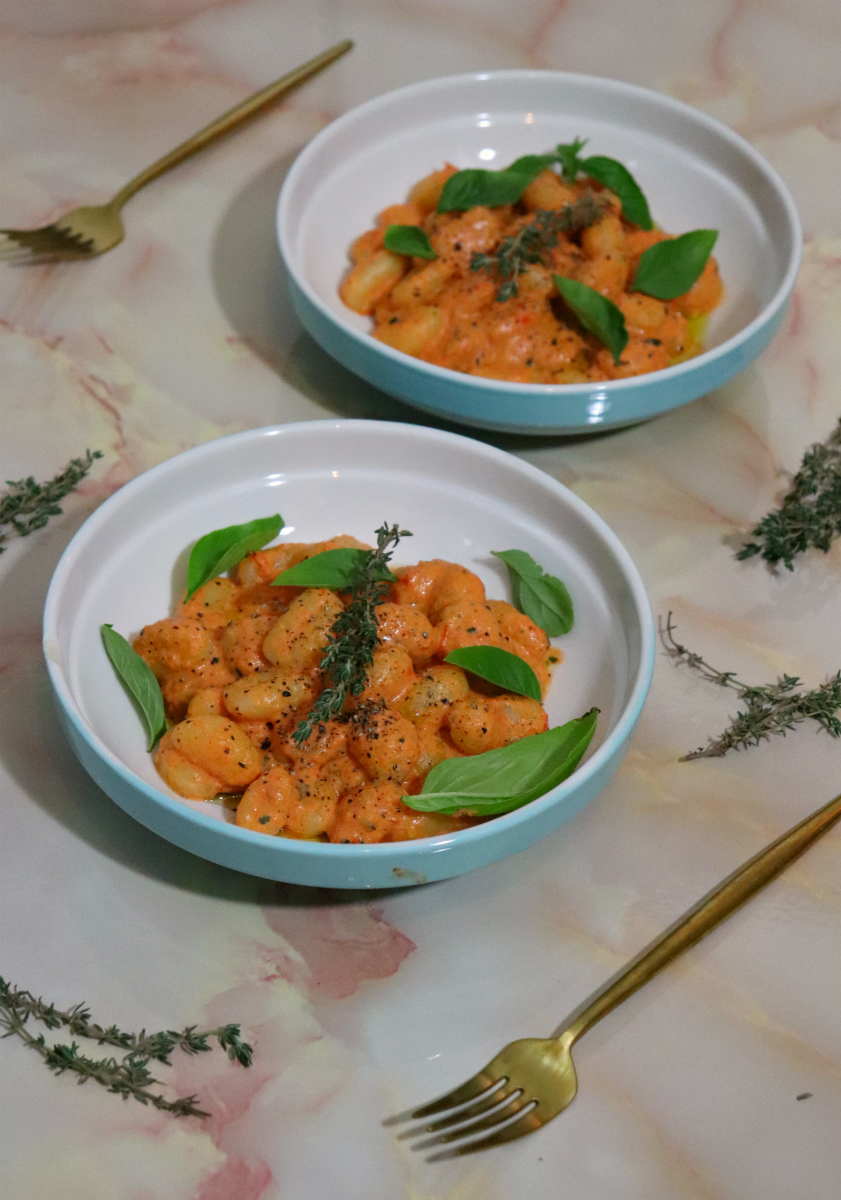 ---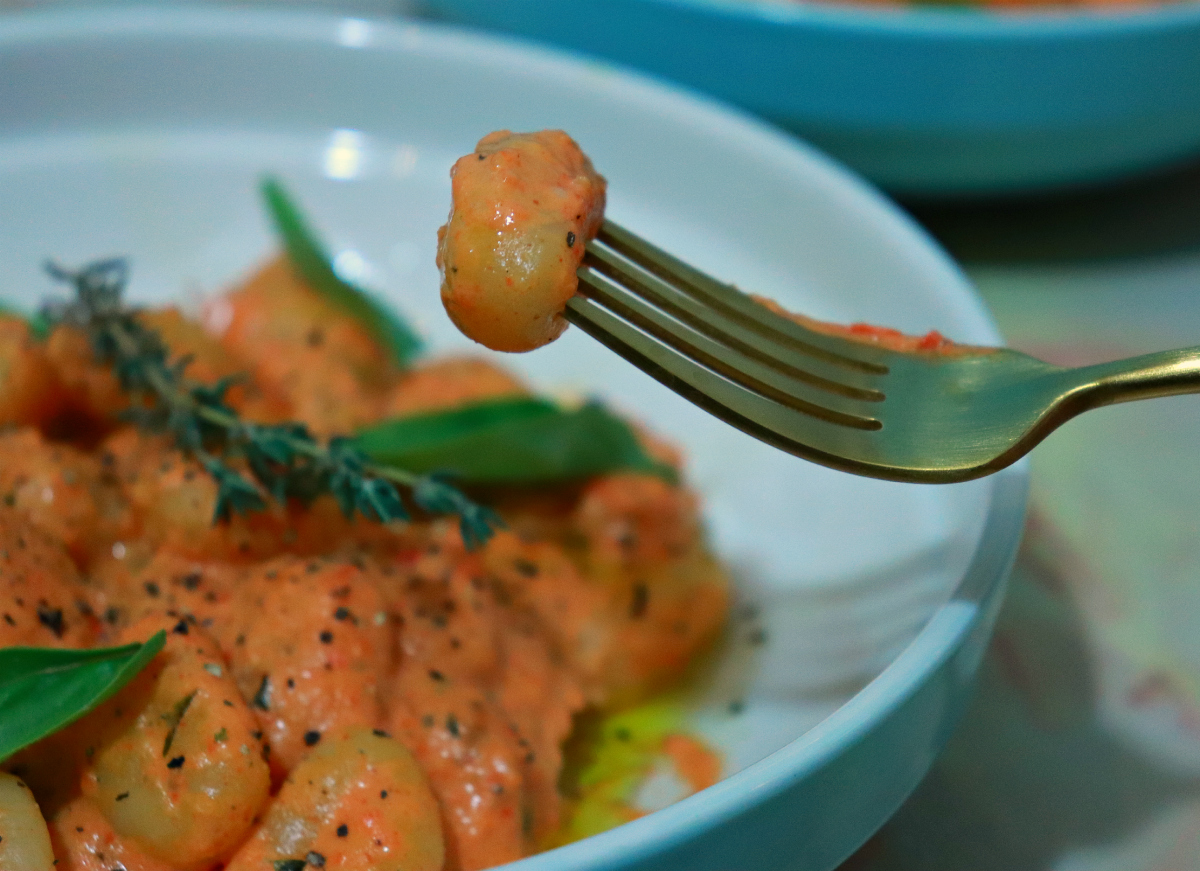 ---
Creamy and dreamy. Very herbal and roasted flavour in this sauce, paired with the vegan potato gnocchi and more fresh herbs, this is just screaming autumn ! Super easy and quick to make, just roast those veggies, blend them smooth and add some soy cream and herbs. Voila.
Have you cooked gnocchi before? Easier than pasta, it really just takes 2 minutes. For ease, store bought ones are used here, but make sure they are vegan, as some tend to put eggs in them (read that somewhere, but haven't personally come across them yet, only the vegans ones).
---
Like gnocchi in general? Then check out these recipes:
---
---
Serves 4
---
Ingredients
---
1 kg ready made vegan potato gnocchi (2.2 lbs)

2 red bell peppers

1 red onion

100 ml soy cream (3.4 oz)

4 garlic cloves

2 tablespoon fruity extra virgin olive oil

1 tablespoon nutritional yeast

1 tablespoon freshly chopped thyme

1 tablespoon freshly chopped basil

1 teaspoon dried vegetable stock

1 teaspoon ground paprika

½ teaspoon freshly grind black pepper

½ teaspoon salt
---
Garnish
---
Fresh thyme

Fresh basil

Olive oil drizzle

Freshly grind black pepper
---
What you will need
---
Cutting board and knife

1 ovenproof dish

1 bowl + 1 stick blender OR 1 blender

Measuring spoons

1 pot for gnocchi

1 strainer
---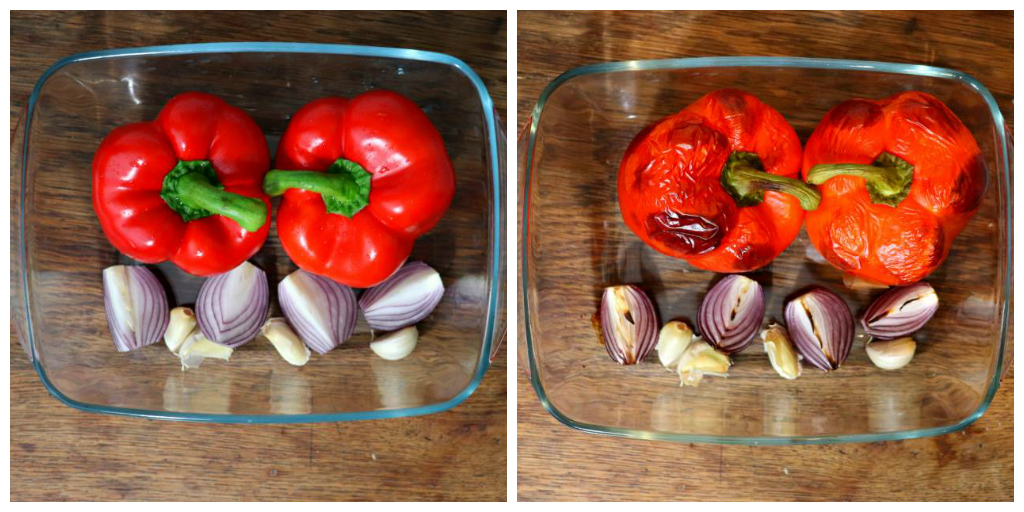 ---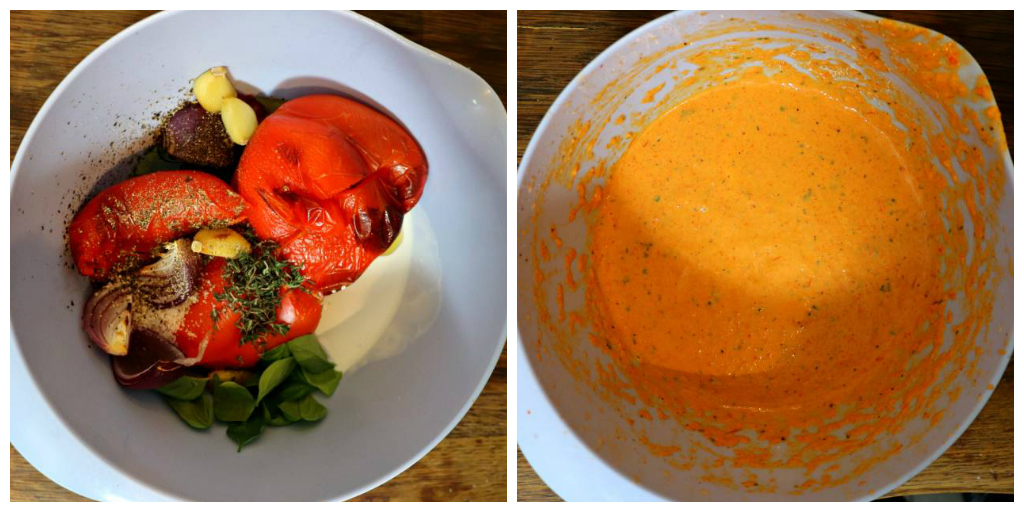 ---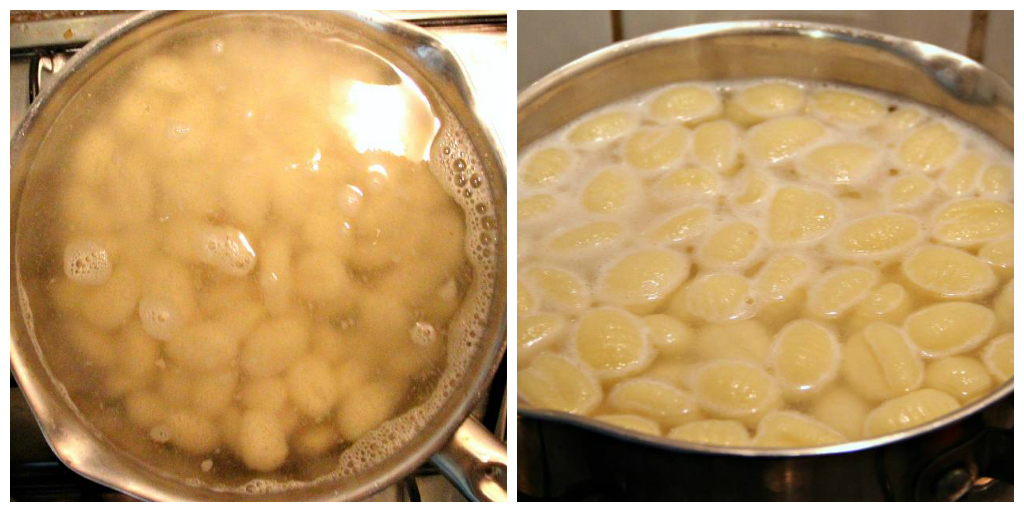 ---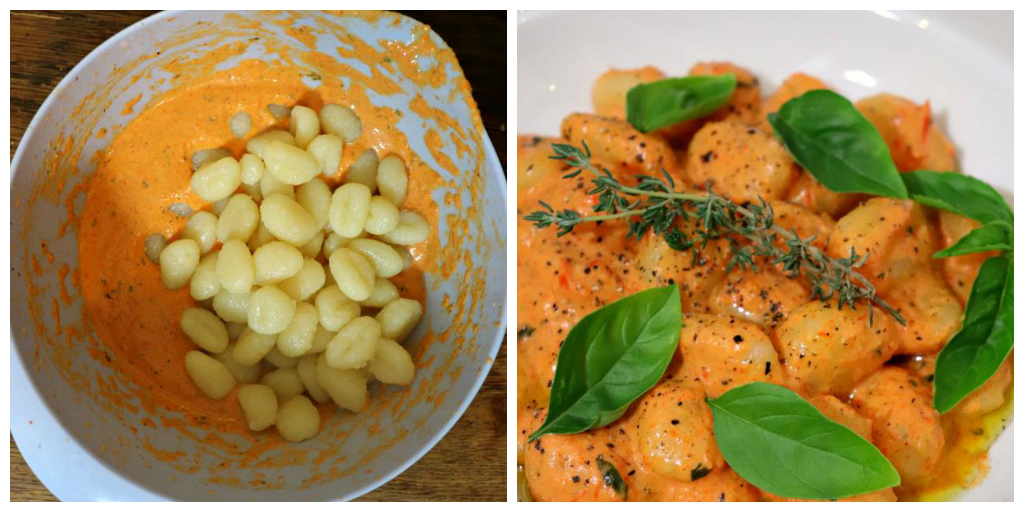 ---
Instructions
---
Preheat the oven to 200 c (390F).

---

Wash and dry the bell peppers, put onto an ovenproof dish. Peel and chop the red onion into quarters. Put in the garlic cloves with the skin.

---

Bake in a preheated oven at 200 c (390) in the middle of the oven on normal setting for about 35-40 minutes or until the bell peppers looks slightly charred like pictured above.

---

Boil a pot of slightly salted water for the gnocchi.

---

Take out and cut open the bell peppers when roasted, take away the stem and deseed them, be careful not to burn yourself.

---

Add bell peppers, onion, garlic, soy cream, olive oil, nutritional yeast, dried veg stock, paprika, thyme, basil, salt and pepper to a bowl or blender and blend smooth. Add salt and pepper to taste.

---

Put the gnocchi into the boiling water. They only need to boil for 2-3 minutes, when they float to the top they´re done. Strain over the sink.

---

Mix the gnocchi and the creamy sauce and serve garnished with fresh thyme, basil, freshly grind black pepper and an olive oil drizzle.
---
Enjoy !
---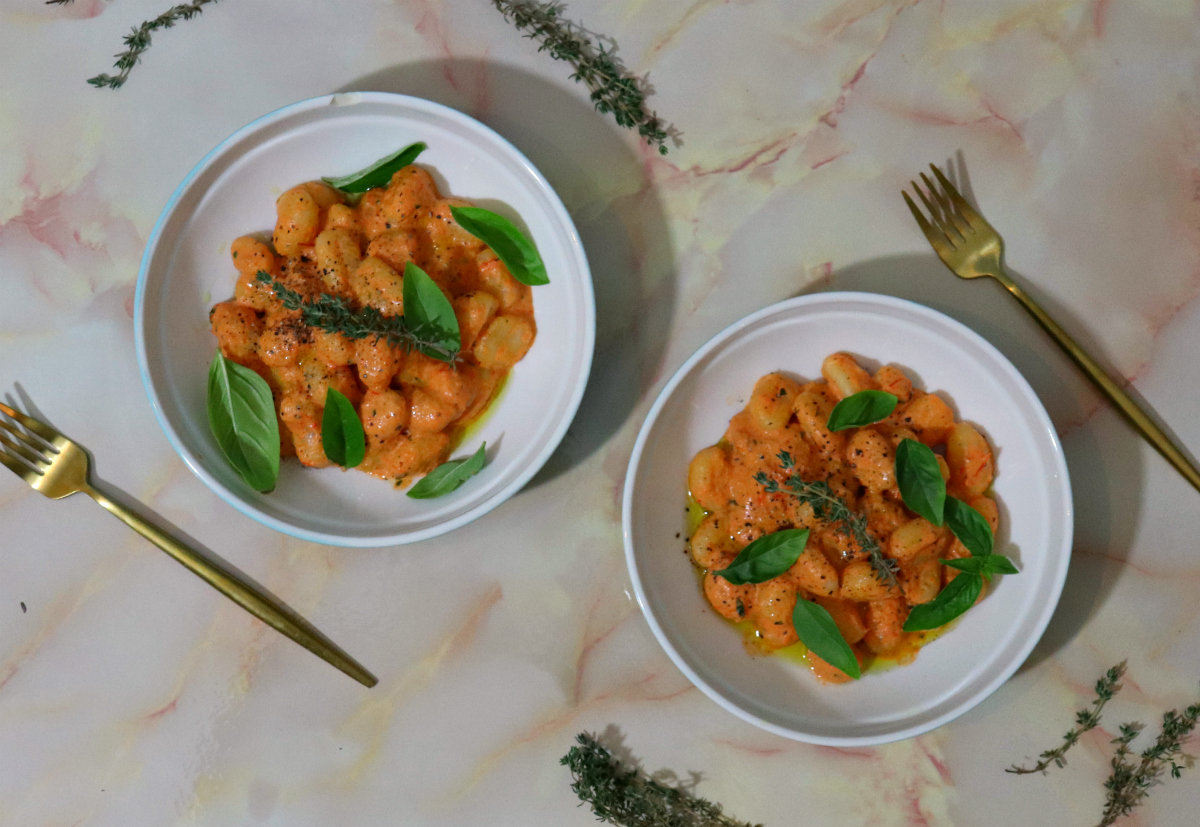 ---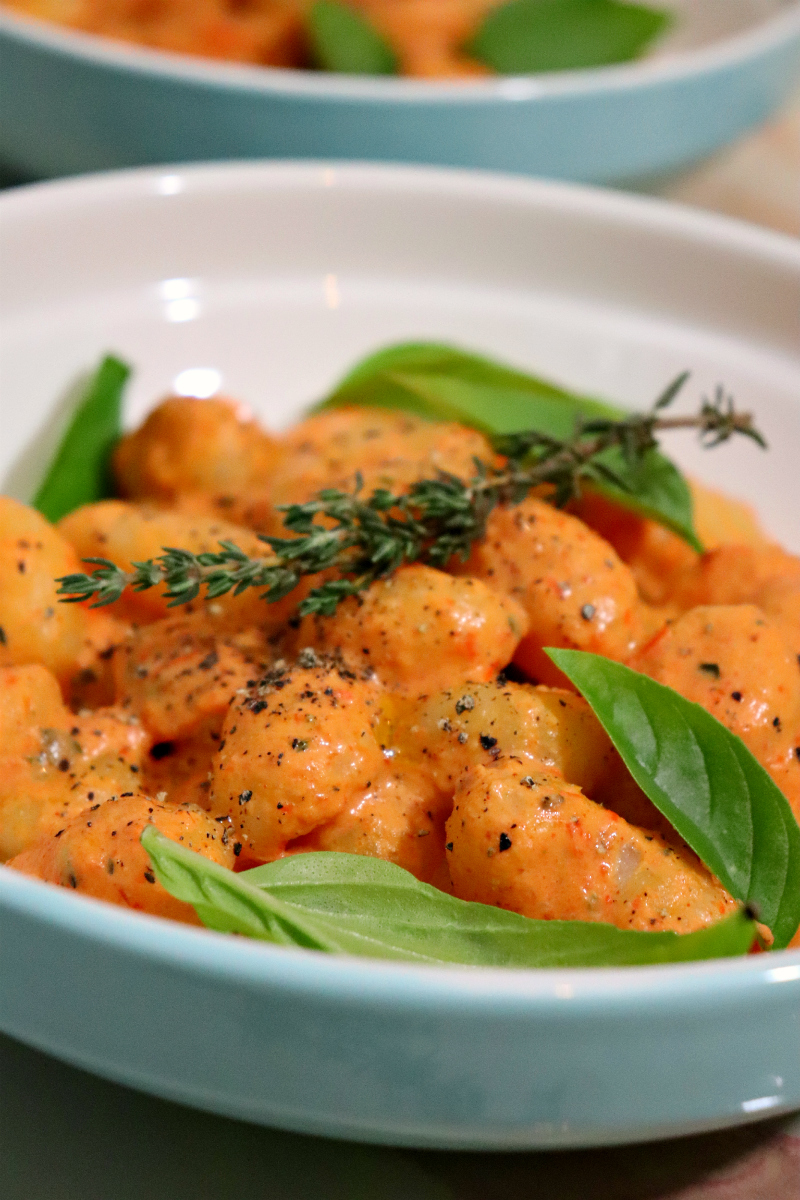 ---