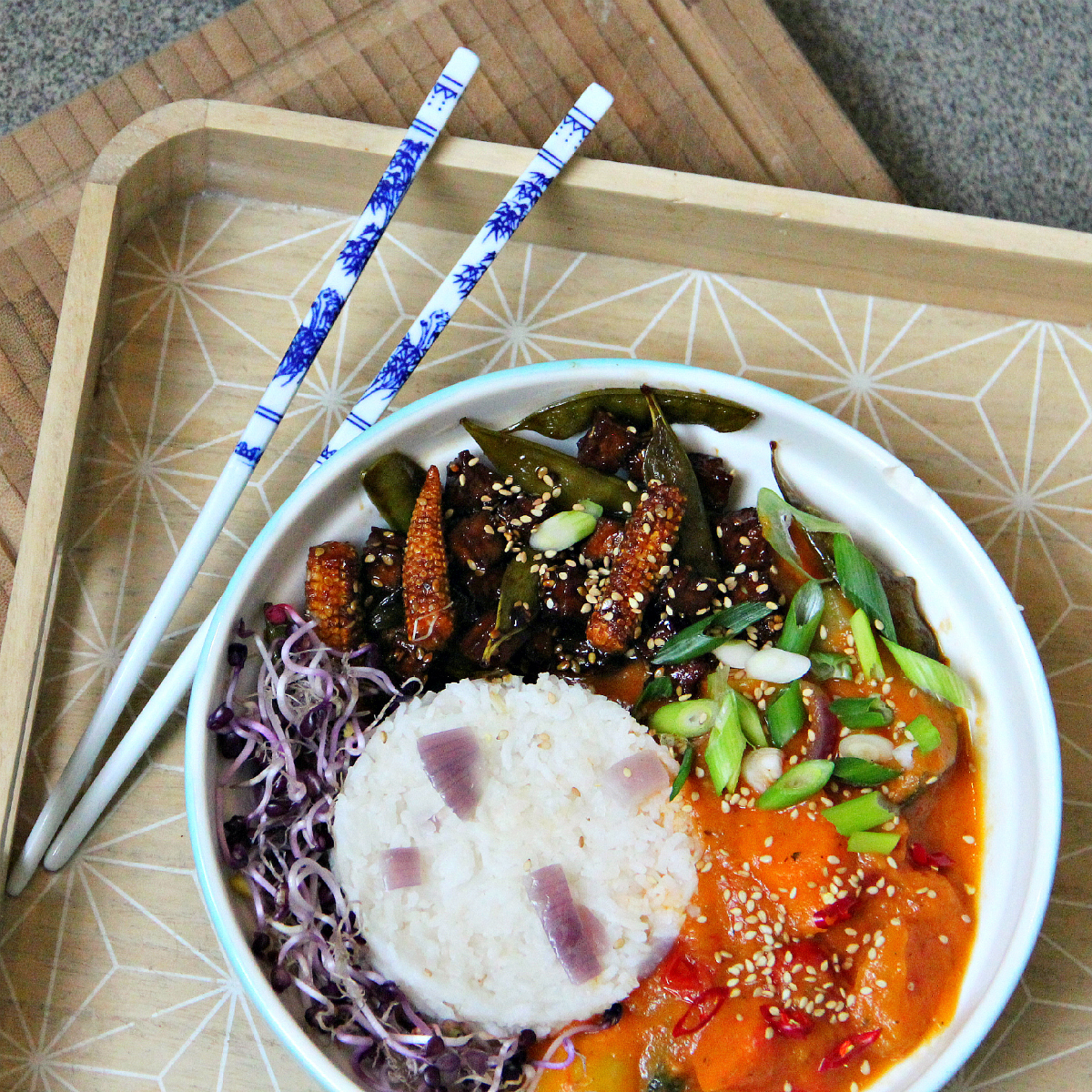 ---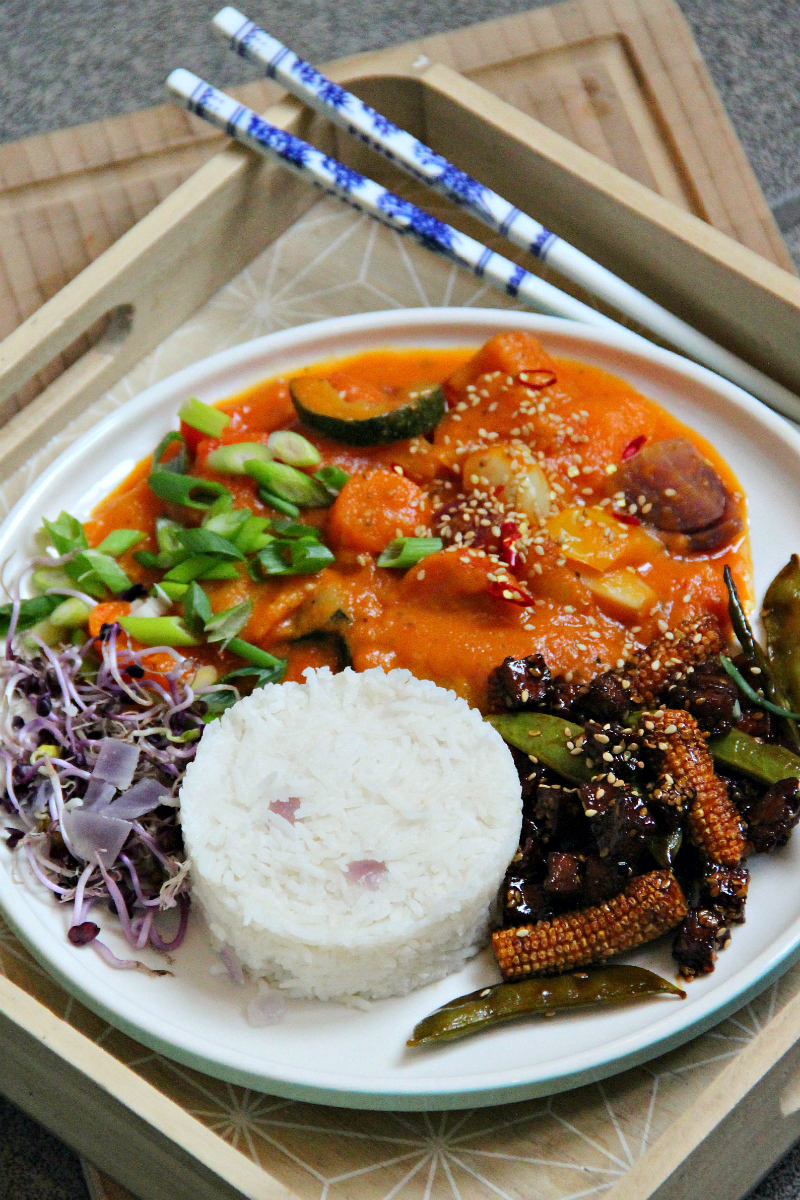 ---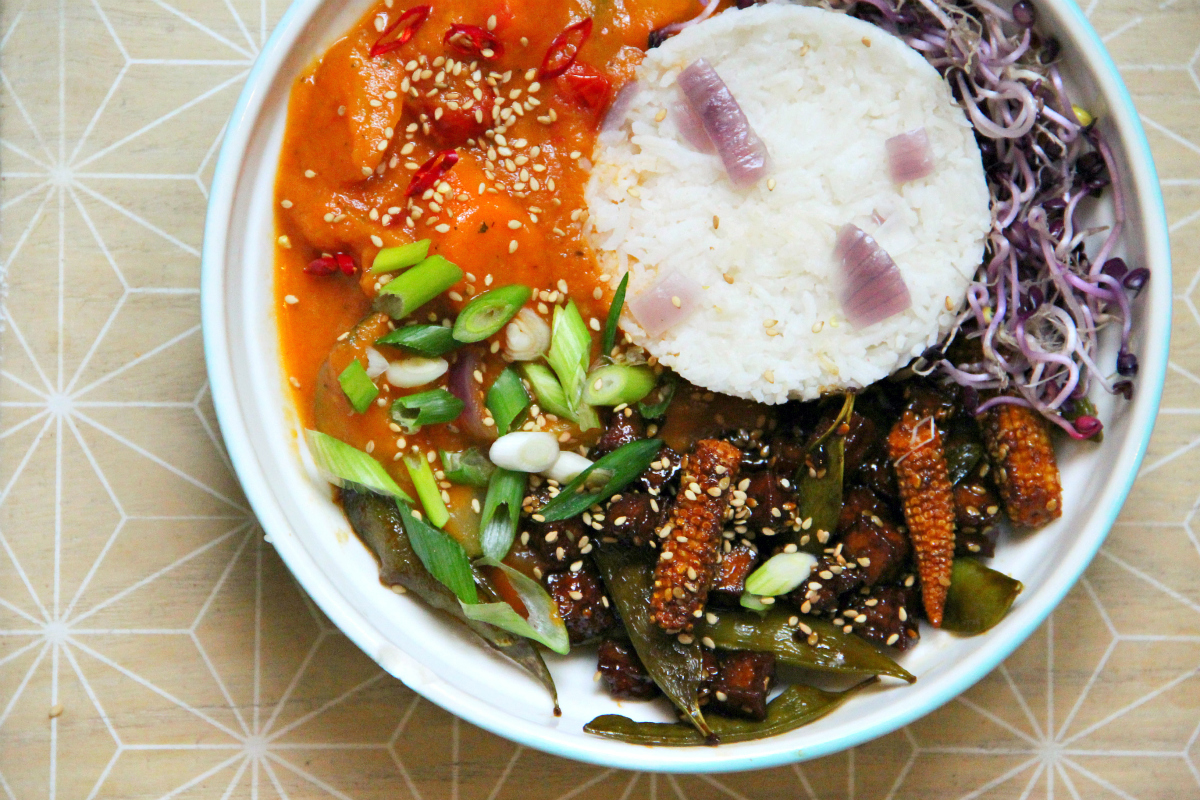 ---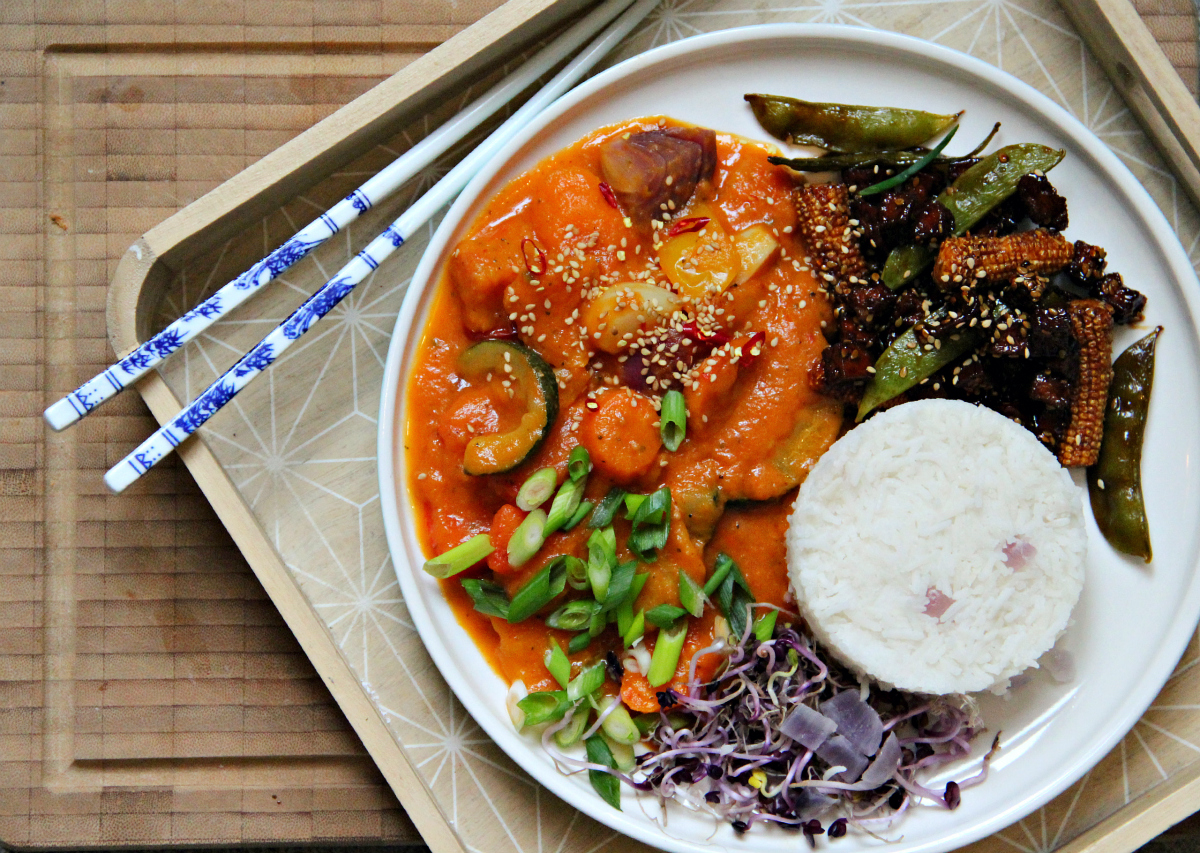 ---
A perfectly balanced sweet & sour sauce, made from blended baked vegetables with the sweetness from the pineapple, so the sauce is hearty and full of nutrients.
Served with rice and glazed marinated tofu, baby corn and snap peas, topped with fresh sprouts, chili and spring onions with a sprinkle of sesame seeds.
In this recipe I have used canned pineapple which is easy to find anywhere, but if I could find fresh pineapple I would opt for that at any time, but unfortunately I had a hard time finding fresh pineapple, so here I used the canned version. The taste is still great and adds that perfect sweetness to the sauce.
The ultimate taste of Asia.
---
Like Asian inspired food in general? Then you also might like these dinners:
---
---
Serves 4-5
---
Ingredients
---
Base
---
---
Sauce prep
---
400g plum tomatoes (0.90 lbs)

250g pineapple (0.55 lbs)

2-3 carrots

½ zucchini

2 yellow bell peppers

1 red bell pepper

2 red onions

6 garlic cloves

3 tablespoons extra virgin olive oil

Generous sprinkle salt and pepper
---
Sauce spice
---
3 tablespoons granulated sugar

3 tablespoons apple cider vinegar

2 tablespoons ketchup

2 tablespoons extra virgin olive oil

Juice from ½ lime

Salt and pepper to taste
---
Fried sides
---
180g diced ready made unmarinated tofu (0.40 lbs)

100g snap peas (0.22 lbs)

100g baby corn (0-22 lbs)

2 tablespoons extra virgin olive oil

2 tablespoons soy sauce

2 tablespoons sweet soy sauce

2 tablespoons ginger syrup

2 tablespoons tamari

2 tablespoons ketchup

2 tablespoons sweet chili sauce

2 tablespoons ume su / umeboshi / Japanese plum vinegar

2 tablespoons rice vinegar

2 tablespoons sesame seeds
---
Fresh toppings (optional)
---
Red chili

Spring onions

Sprouts

Sesame seeds
---
What you will need
---
Cutting board and knife

1 strainer

1 vegetable peeler

1 big ovenproof dish

1 big bowl

1 stick blender

1 pan

1 spatula
---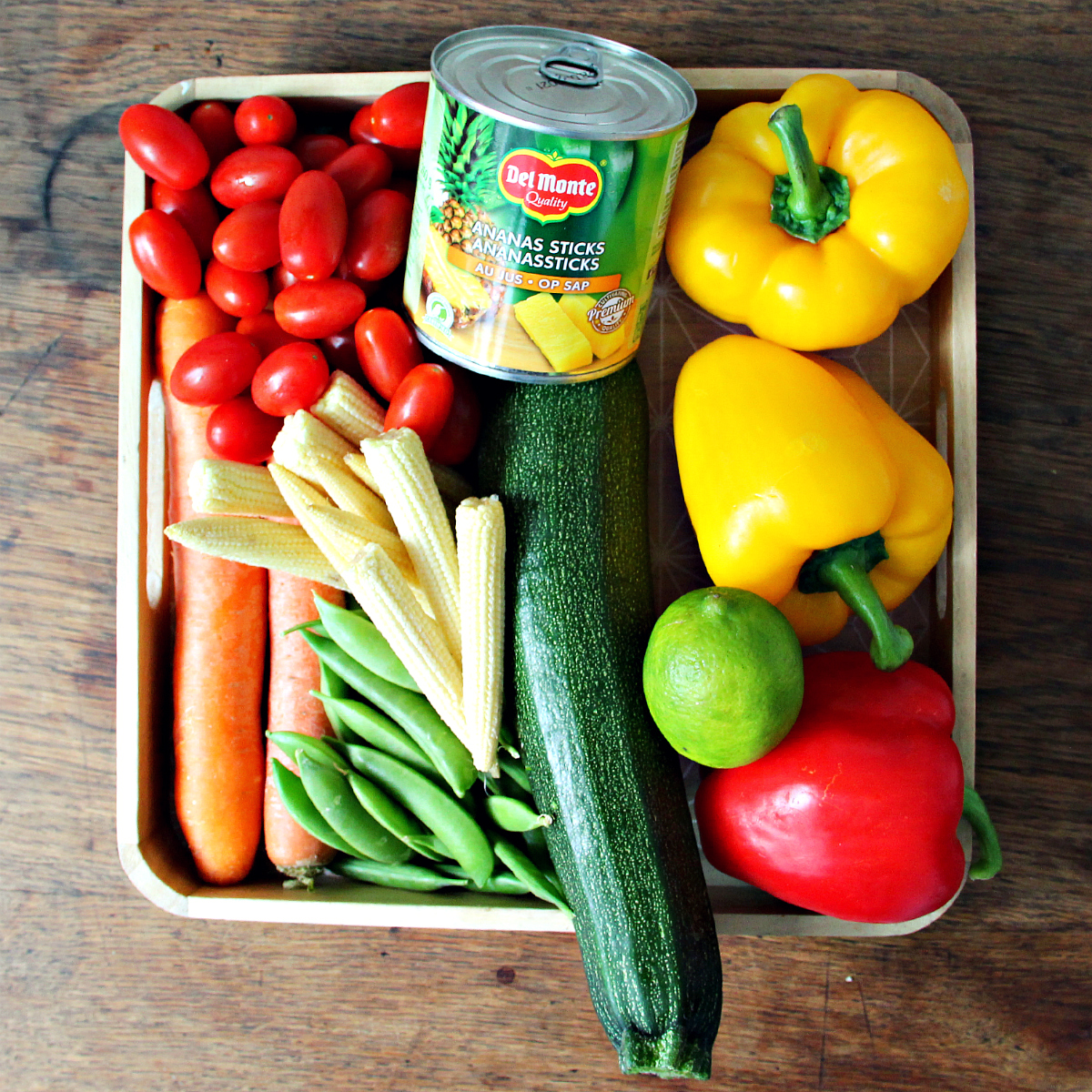 ---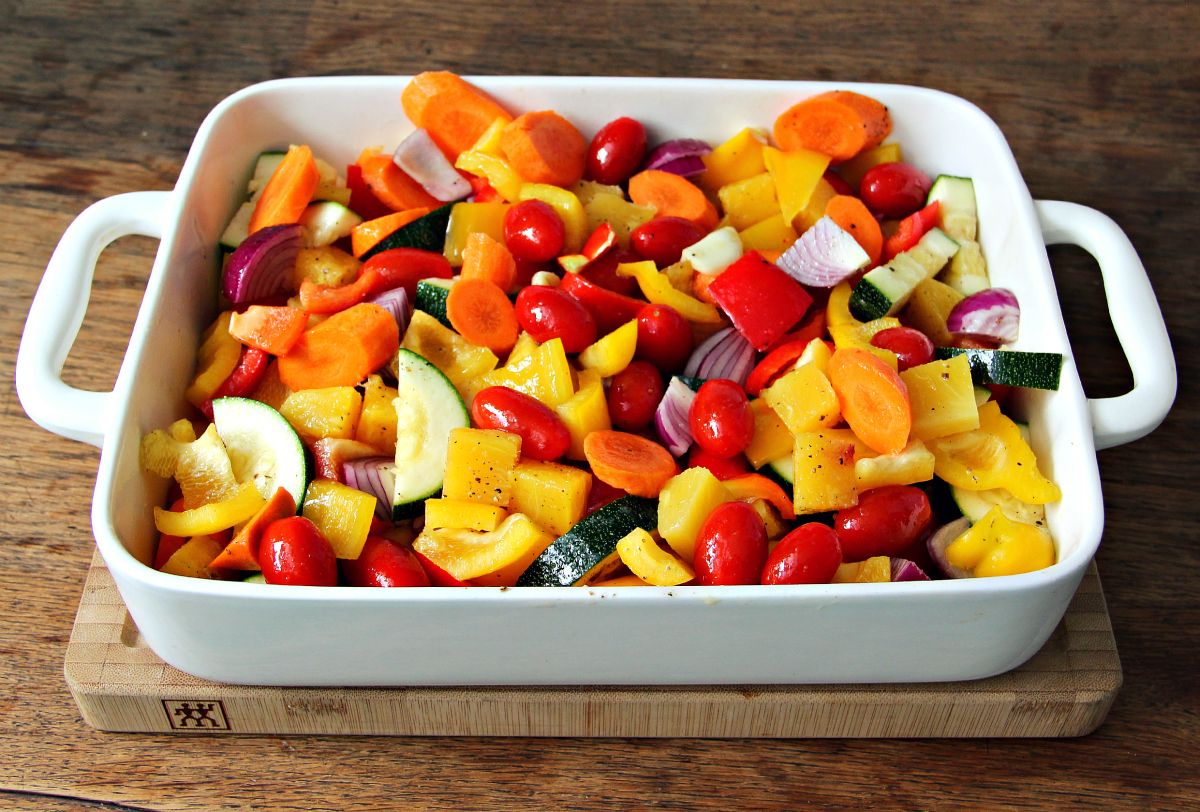 ---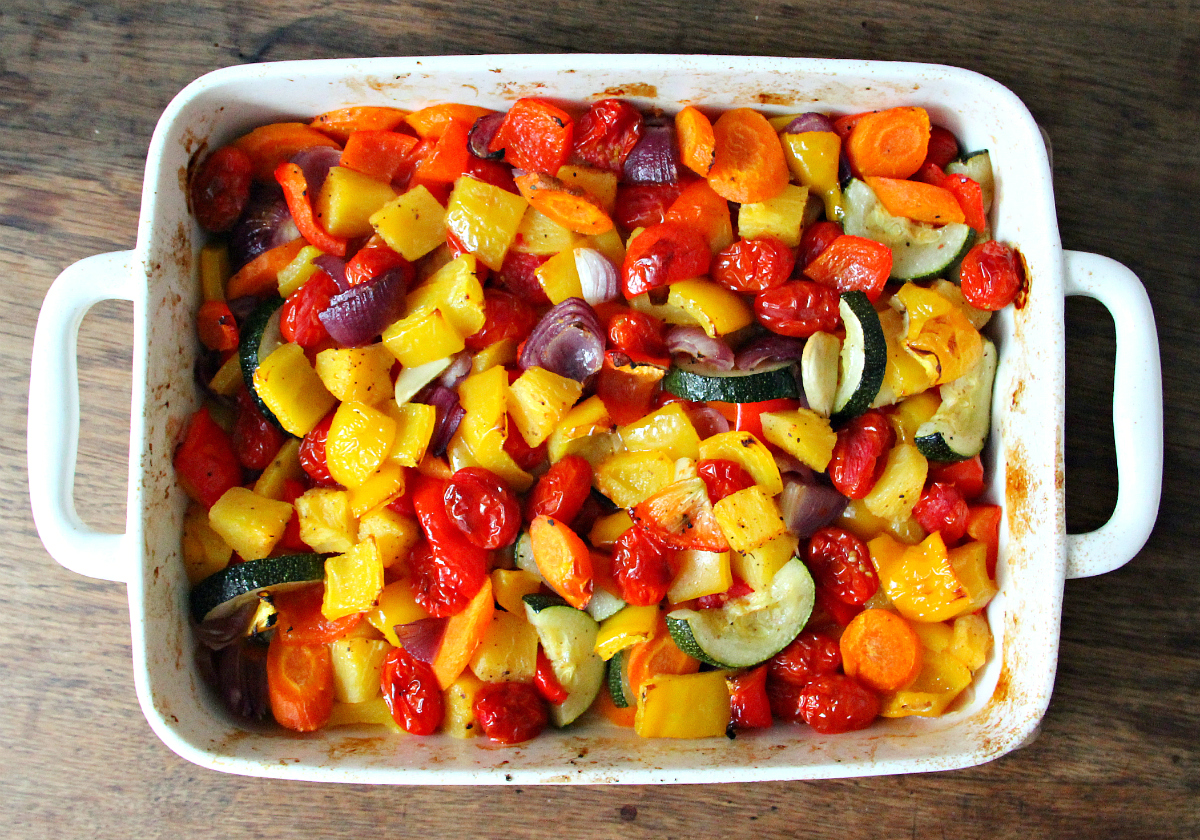 ---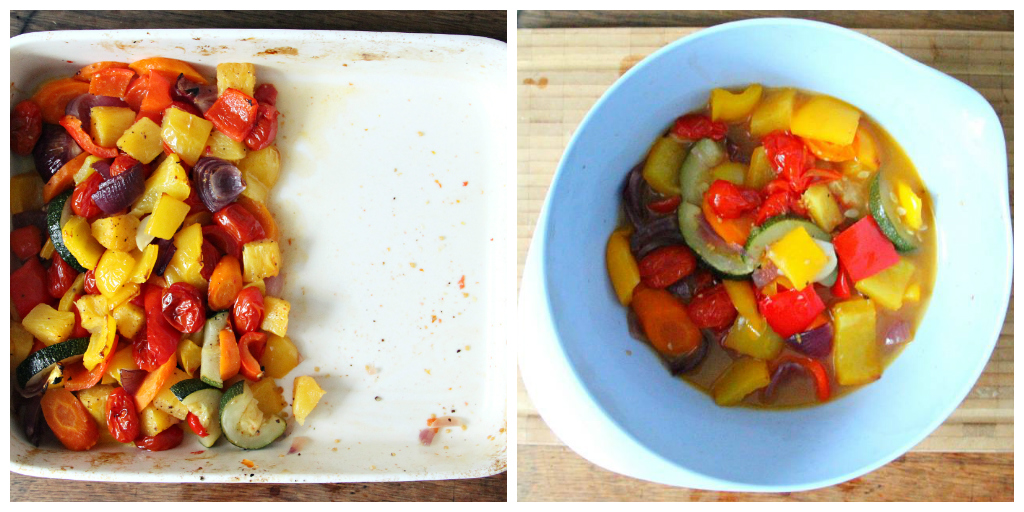 ---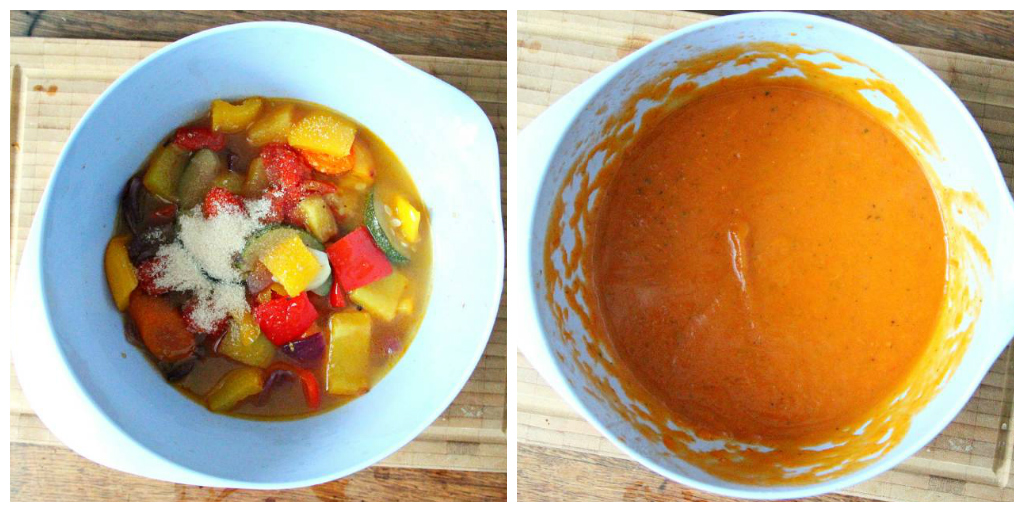 ---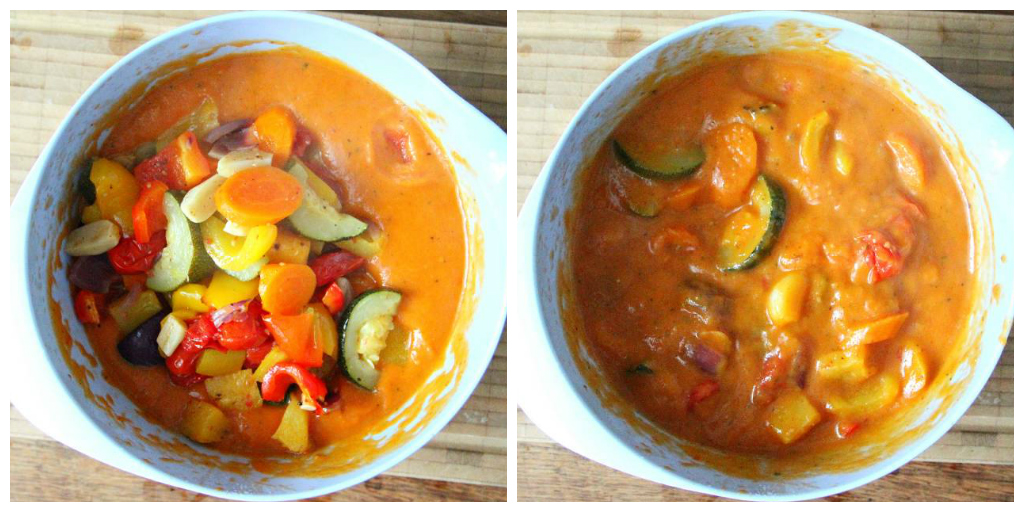 ---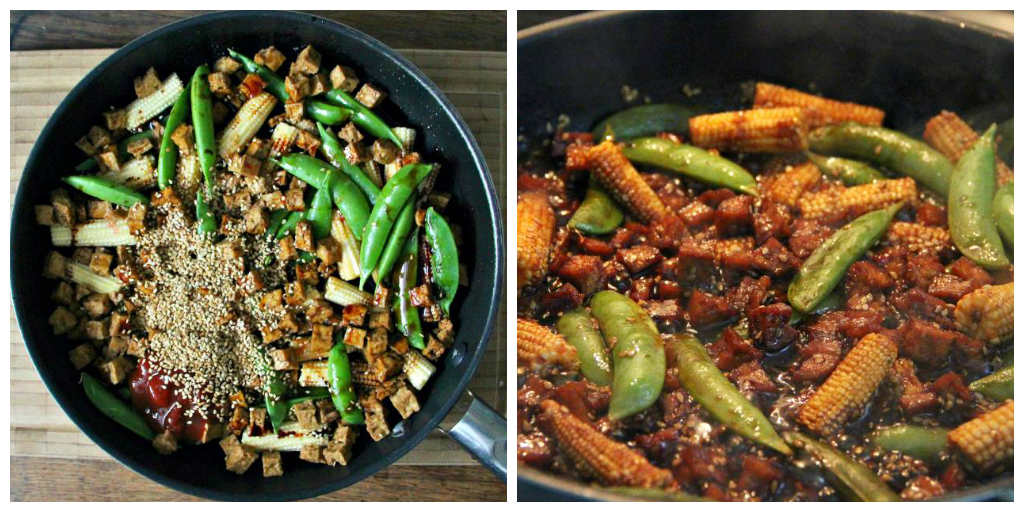 ---
---
Instructions
---
Preheat the oven to 200c (390 F) on convection.

---

Wash all the vegetables thoroughly. Put the plum tomatoes whole in the oven proof dish.

---

Drain the can of pineapples over the sink and chop in big pieces (by all mean use fresh pineapple if you have it, i just couldn't find it).

---

Peel the carrots and chop them sideways on a sharp angle in about 2.5cm (1 inch) slices.

---

Chop the zucchini in 2.5cm (1 inch) slices and half them.

---

Deseed the bell peppers and chop them in bigger pieces.

---

Peel the onions and cut in 4 large quarters. Peel the garlic and half them. Put all the vegetables in the oven proof dish.

---

Add olive oil and a generous amount of salt and pepper. Mix well and put in the oven and bake for about 20-25 minutes on 200c (390 F) on convection. Halfway through take the dish out of the oven and flip the vegetables with a spatula then put in the oven again.

---

When the vegetables is flipped, prepare the rice and the fried toppings.

---

In a pan put the tofu with whole snap peas and the baby corn chopped in half. Add in the oil, soy sauce, sweet soy sauce, ginger syrup, tamari, ketchup, sweet chili sauce, ume su, rice vinegar, and sesame seeds. Turn the heat on high and stir occasionally until the tofu and veg has fully glazed and the liquid evaporated.

---

Take out the vegetables from the oven. Put half of the vegetables (and all of the liquid in the bottom), in a big bowl, along with the sugar, vinegar, lime juice, ketchup and salt and pepper to taste. With a stick blender blend until smooth. Add the rest of the baked veggies into the sauce.

---

Serve the sweet and sour veg sauce mixture with rice and the glazed tofu and veg on the side. Optionally, top with fresh chili, spring onion, sprouts and sesame seeds if you like.
---
Enjoy !
---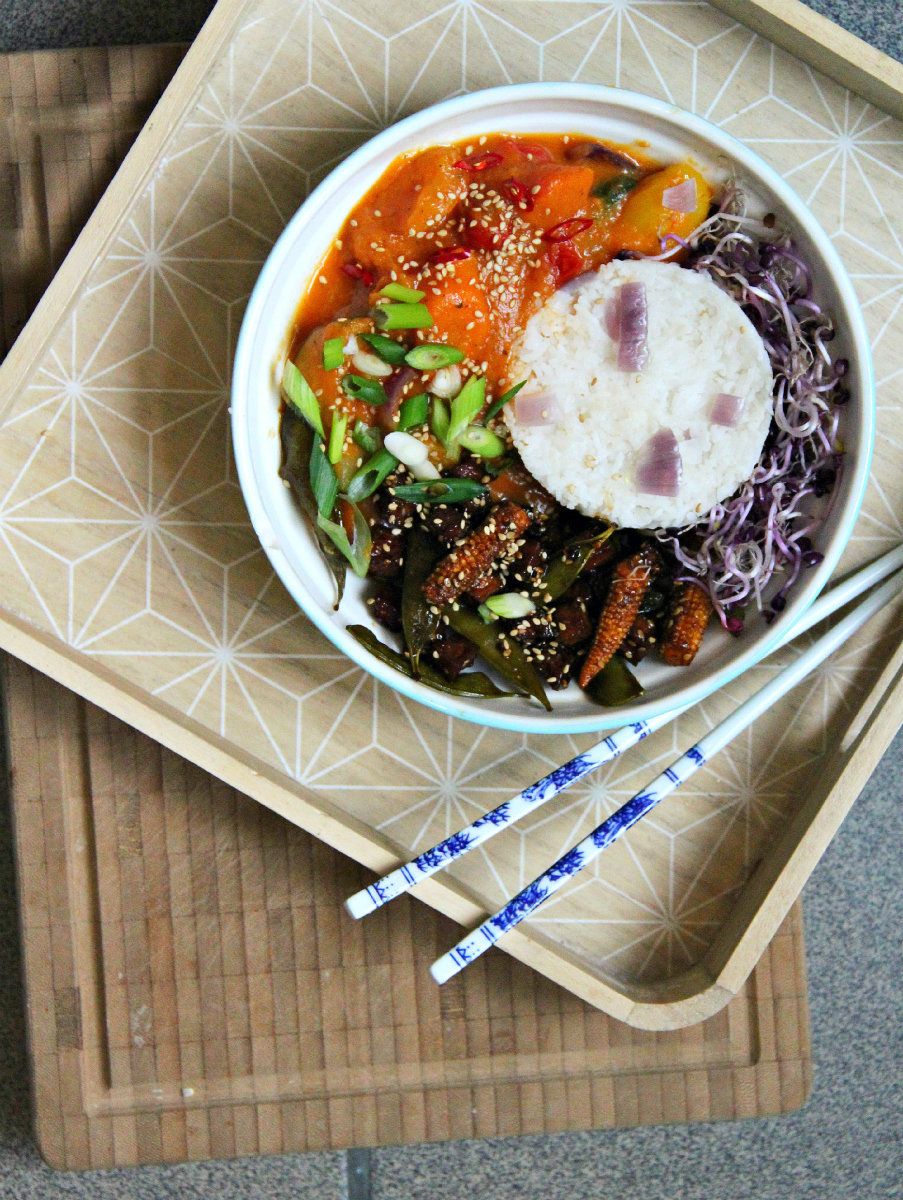 ---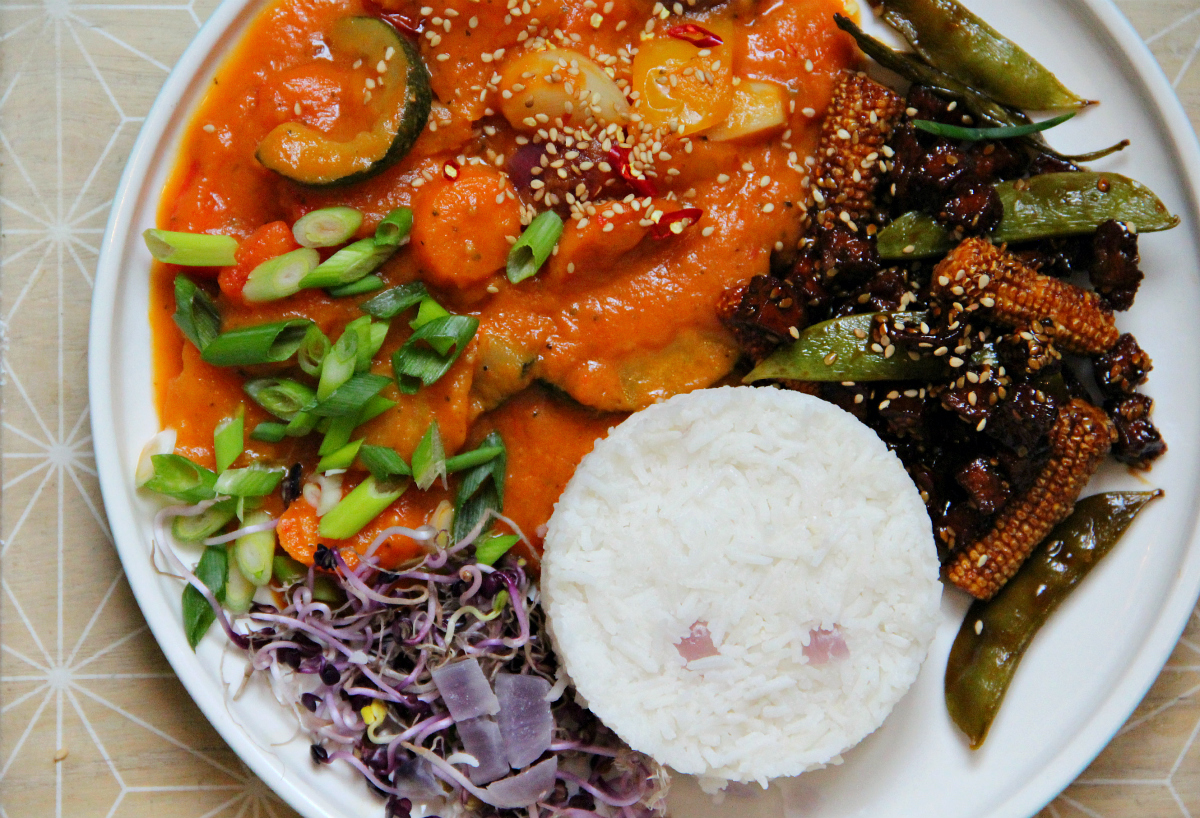 ---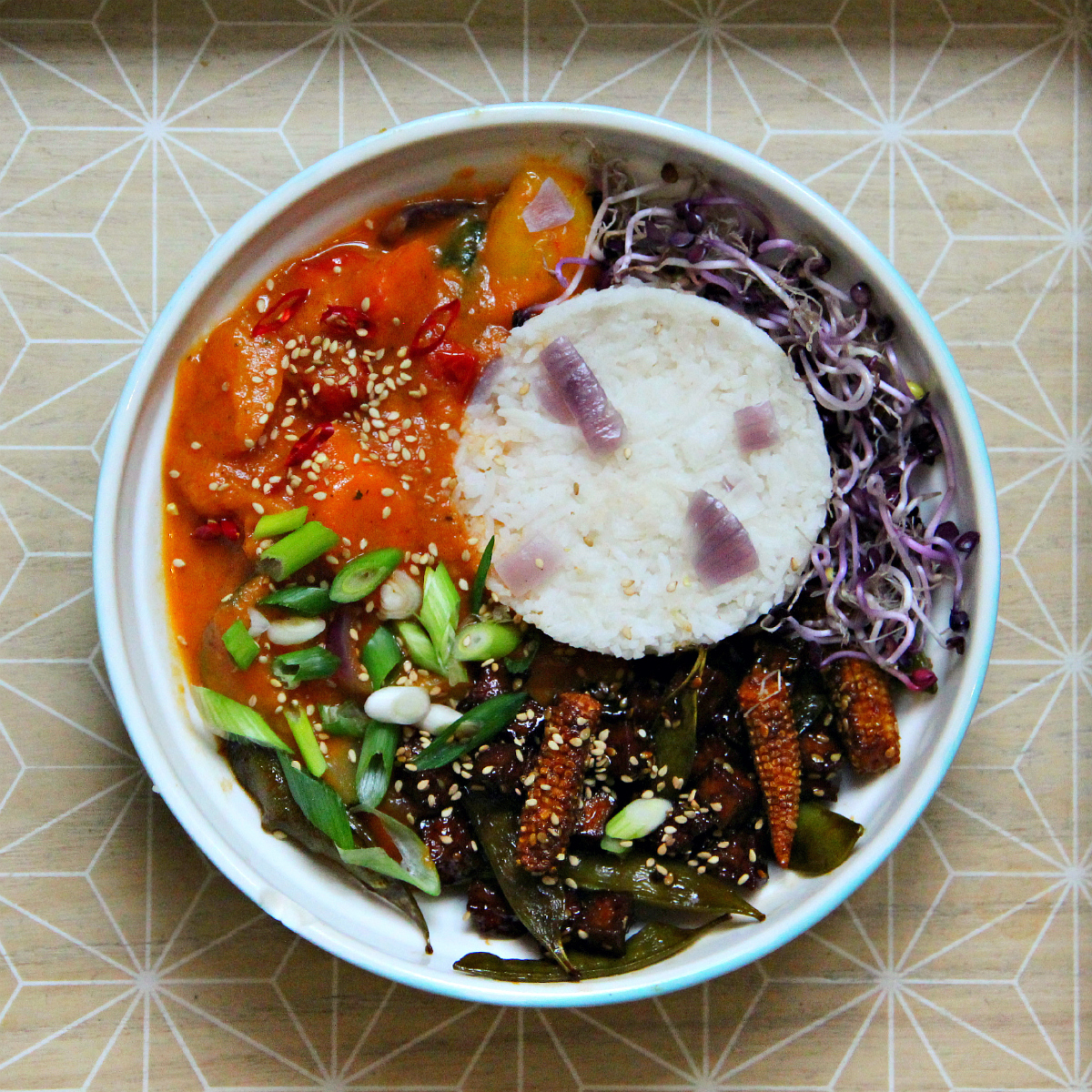 ---