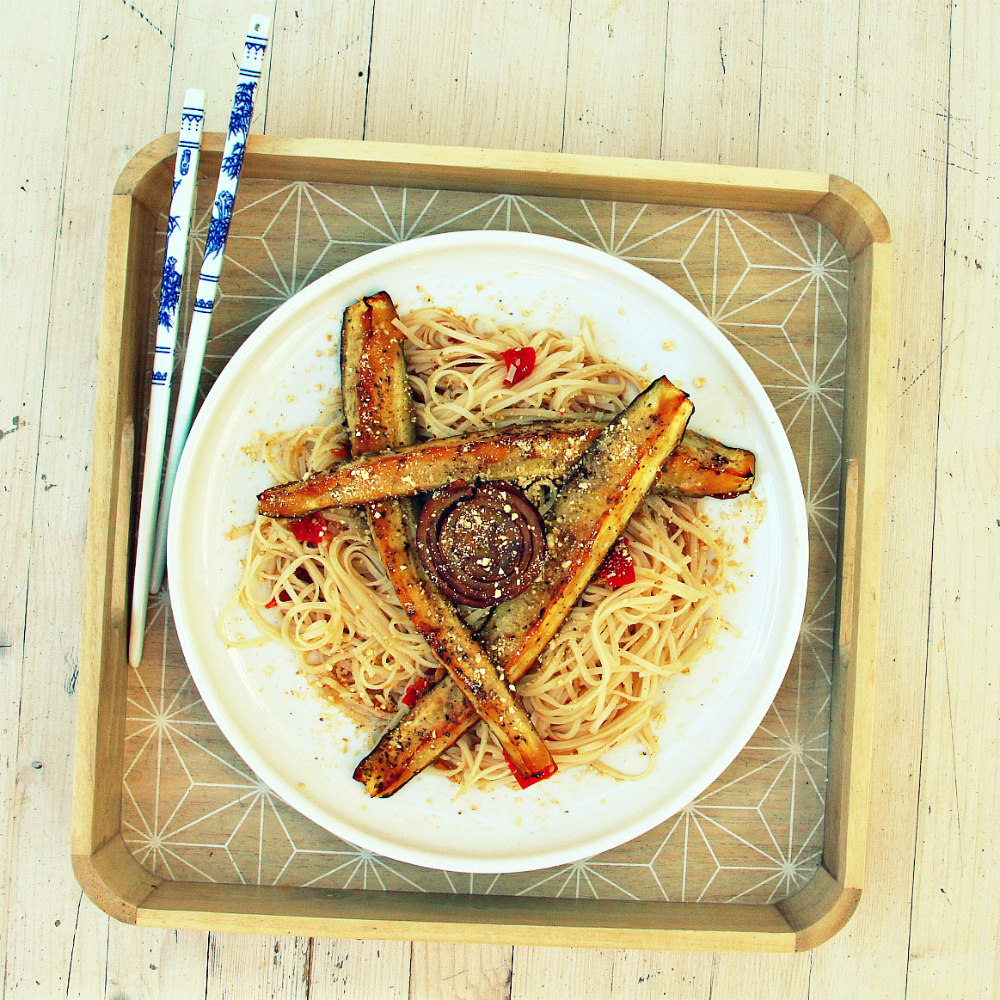 ---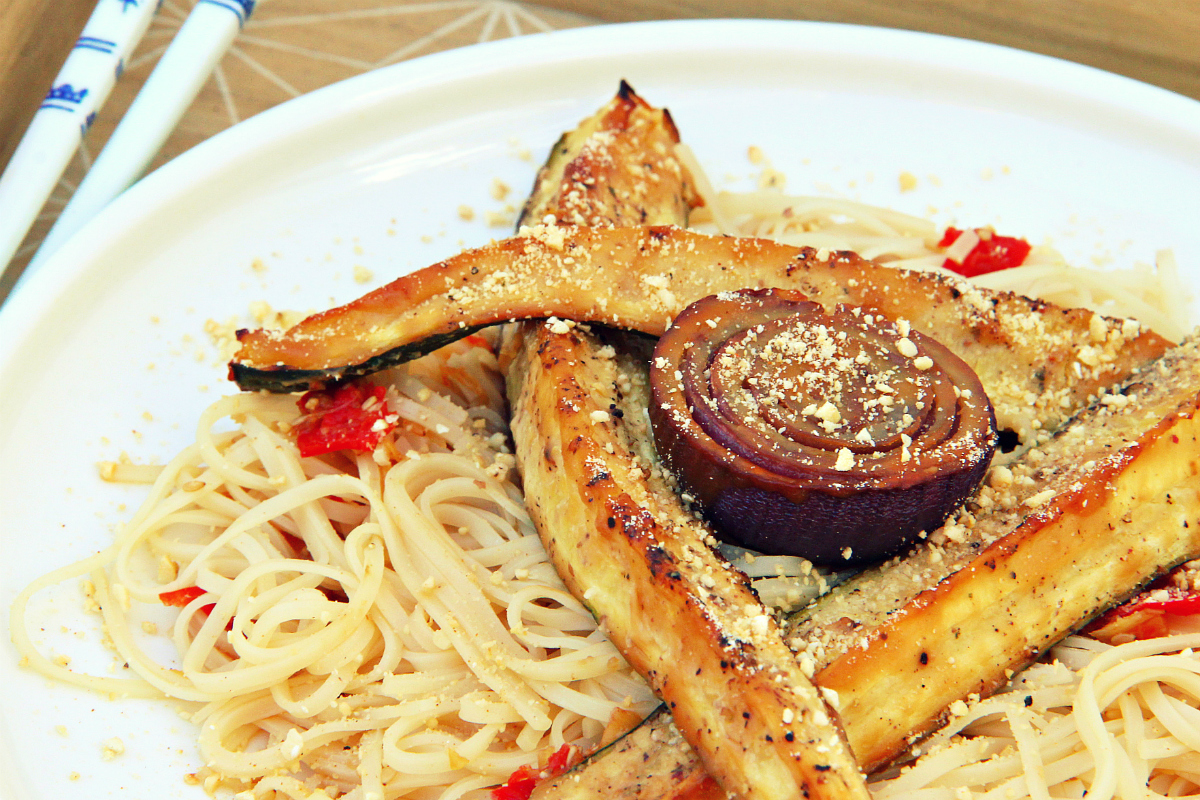 ---
---
Nuac cham chay rice noodles topped with miso wasabi glazed zucchini and red onions, with sprinkled cashews.
This dish is a Japanese and Vietnamese fusion, since I use the Vietnamese Nuac Cham Chay sauce for the rice noodles, and the Japanese miso and wasabi glaze for the baked zucchini and red onion. Wholesome, healthy and powerful tastes are derived from this meal and its perfect for a BBQ, dinner party or just a cosy evening at home.
---
Like Asian inspired food in general? Then you also might like these Asian dinners:
---
---
Serves 4
---
Ingredients
---
250g Rice dry noodles (0.55 lbs)

2 zucchinis

2 red onios

8 tablespoons shiro miso

4 teaspoons wasabi

water

Blended cashews to sprinkle

Salt & pepper
---
What you will need
---
Cutting board and knife

1 small bowl and fork to stir

Baking paper or silicone mat

1 big bowl

1 brush

1

Strainer

Spoons to measure
---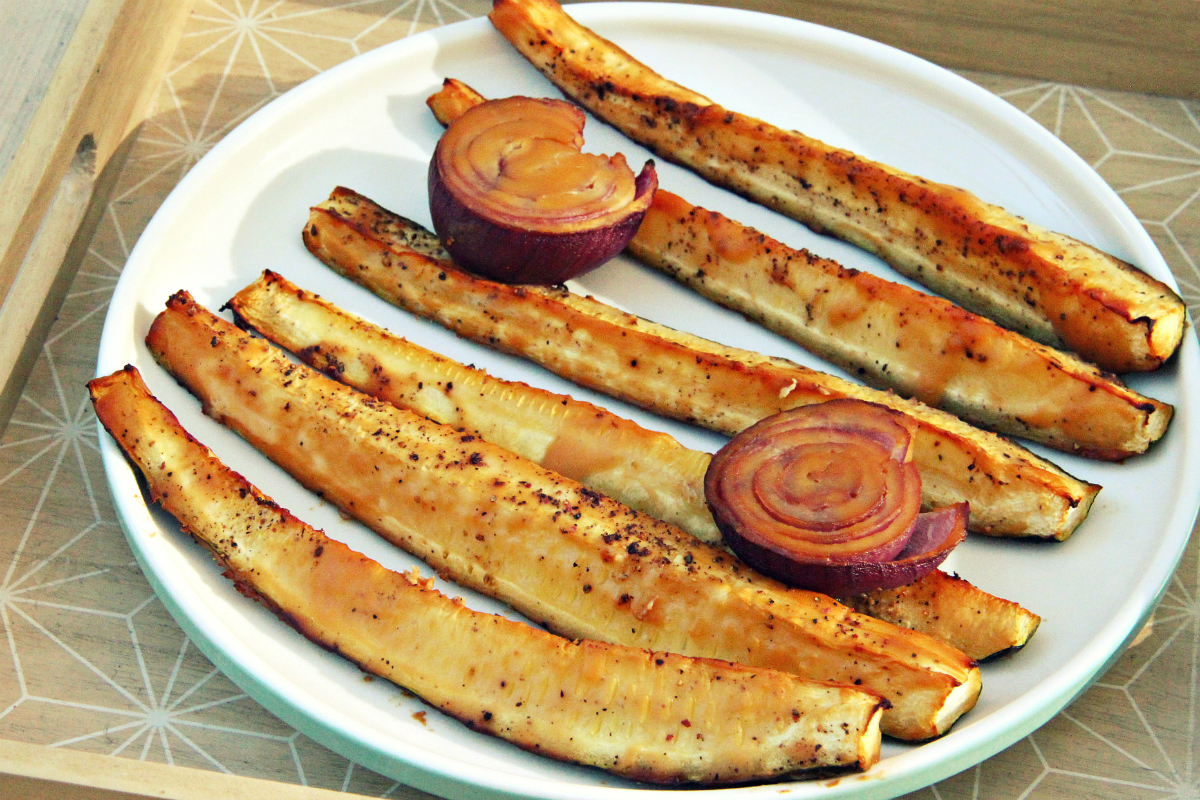 ---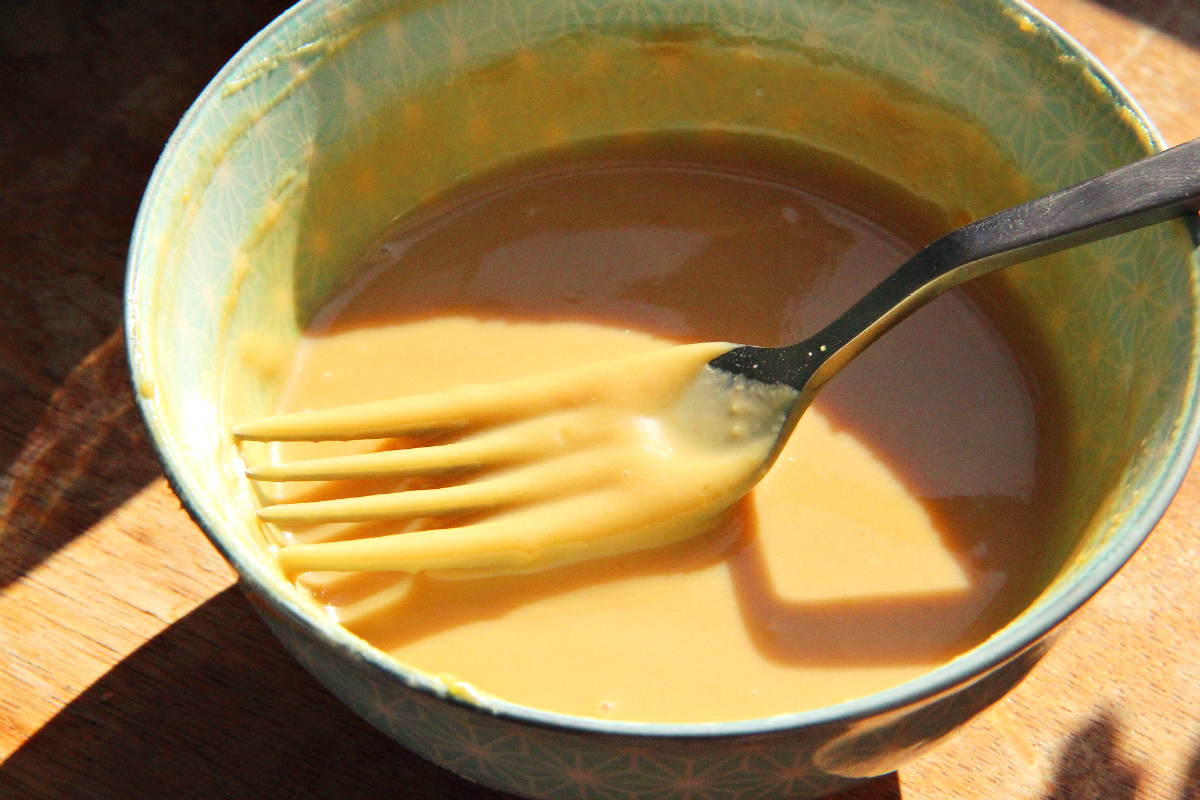 ---
Instructions
---
Preheat oven to 200 c (390 F)

---

Take a small bowl and put in the miso and wasabi. Stir it with a fork until it has blended. Add water until a smooth creamy texture has developed. Look at the picture above to see the texture.

---

Cut the zucchinis two ends off, and slice it in half longways. The half sides should be cut evenly longways in three pieces, so you end up with 6 evenly sized long slices of zucchini. Do the same with the other zucchini.

---

Cut the two pointy sides off the two red onions, peel them and chop them in half.

---

Put the zucchinis and the red onions on the baking paper or silicone mat. Use the brush to glaze the vegetables with the miso wasabi marinade, use as much marinade as you can. Sprinkle them with a bit of freshly grind black pepper.

---

Put the veggies the preheated oven on normal setting and bake for 30 minutes. If you have leftover miso wasabi marinade, you can glaze the vegetables again halfway through the baking time, to get a ticker glaze.

---

Put the rice noodles in the big bowl with a bit of salt. Pour in boiling water until the noodles are fully covered. Let rest for a few minutes.

How long time your rice noodles should be in the water depends on the thickness, some rice noodles are wide and some varieties are super thin. However this should not take more than a few minutes.

---

When the rice noodle is fully softened and cooked, pour it in the strainer over the sink. Strain it as much as possible. Put the rice noodles back in the big bowl and mix the rice noodles with the Nuac Cham Chay sauce, use as much as you prefer.

---

Put the rice noodle nuac cham chay on the plates. When the zucchini and red onion has finished baking, take them out and place on top of the rice noodles and s

prinkle with some blended cashews.
---
Enjoy !
---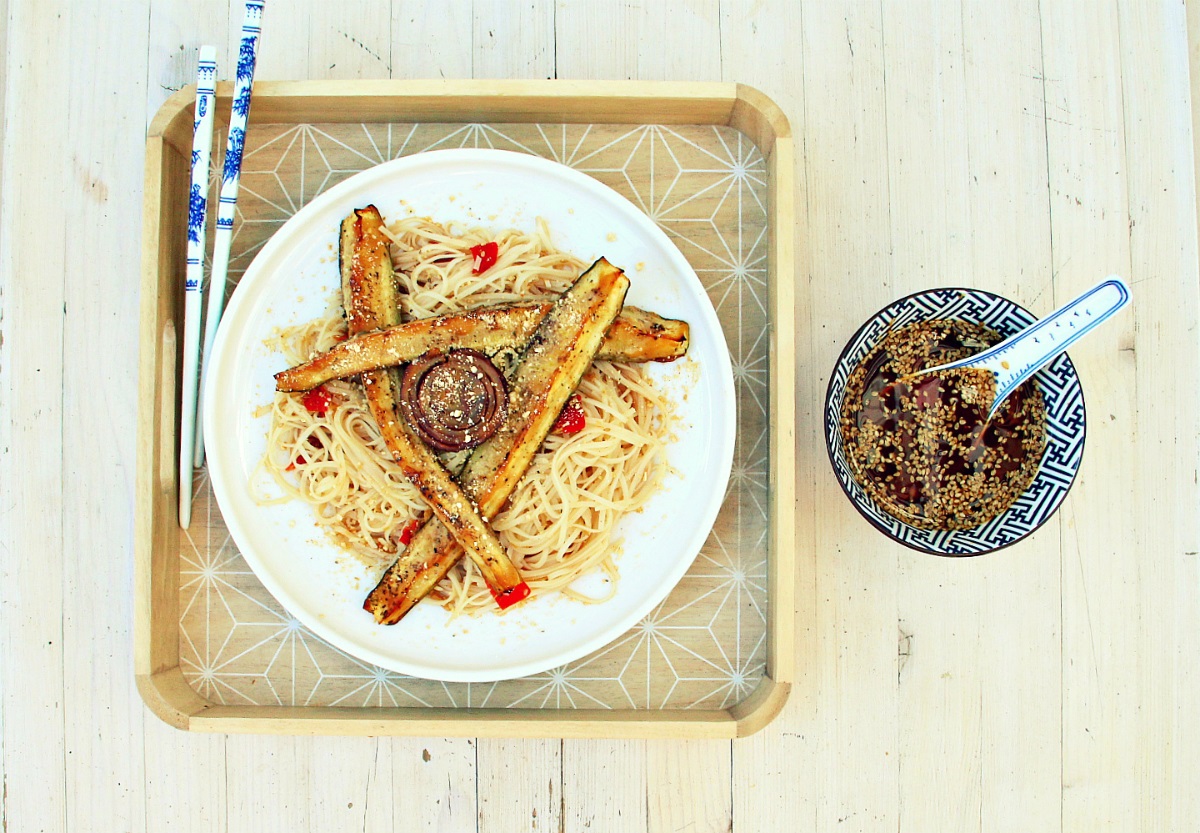 ---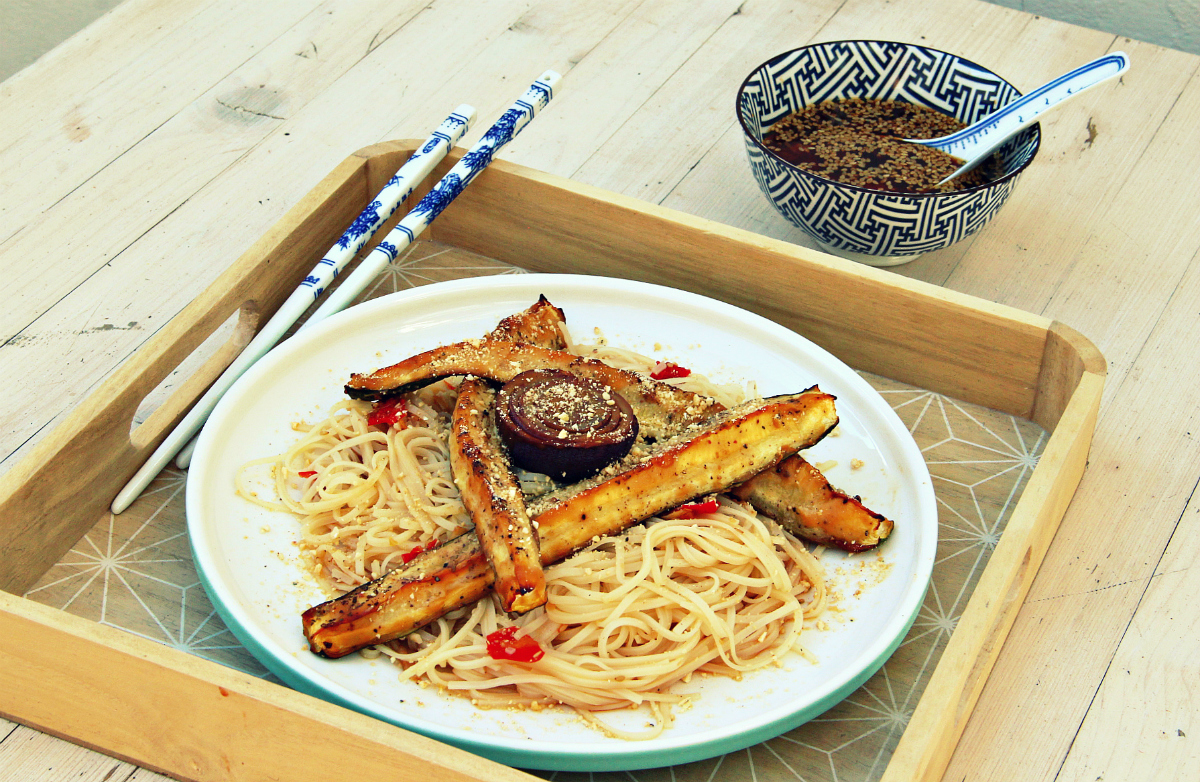 ---