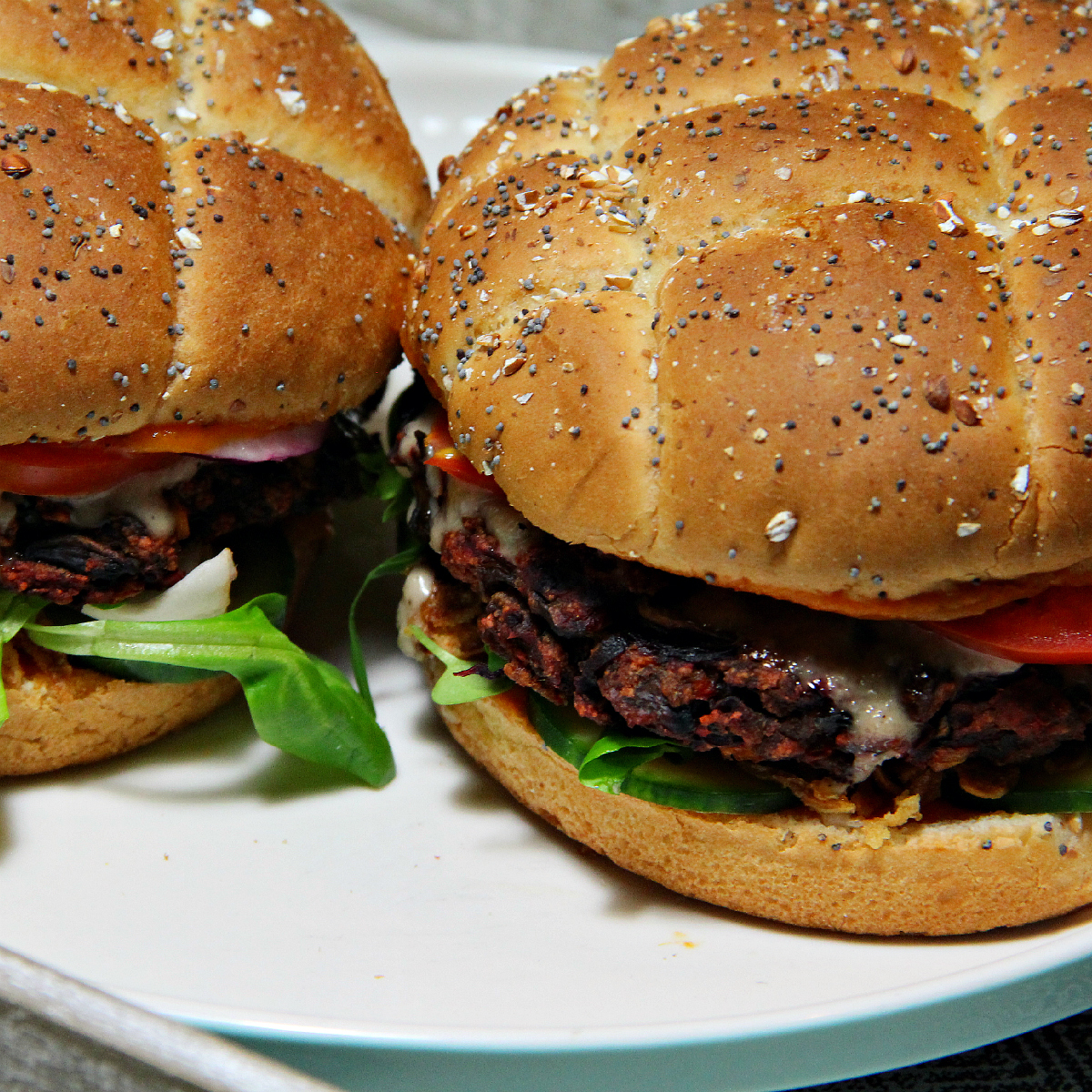 ---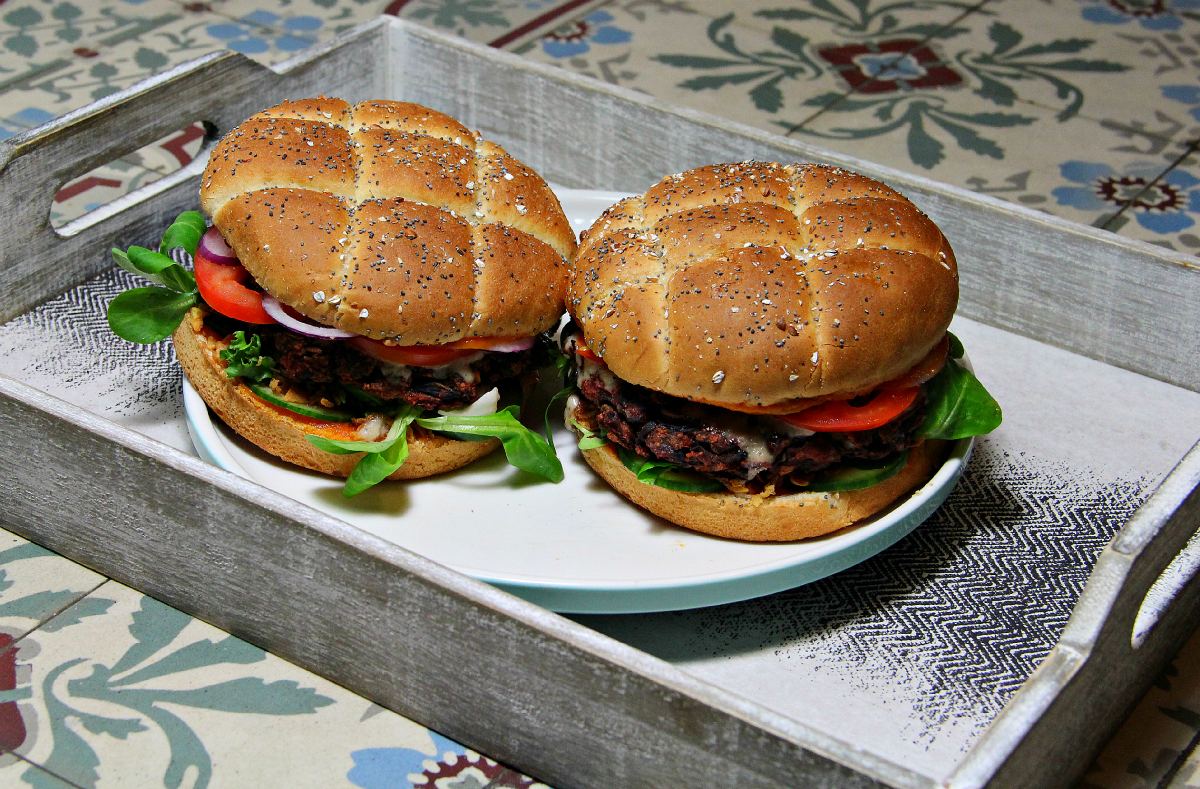 ---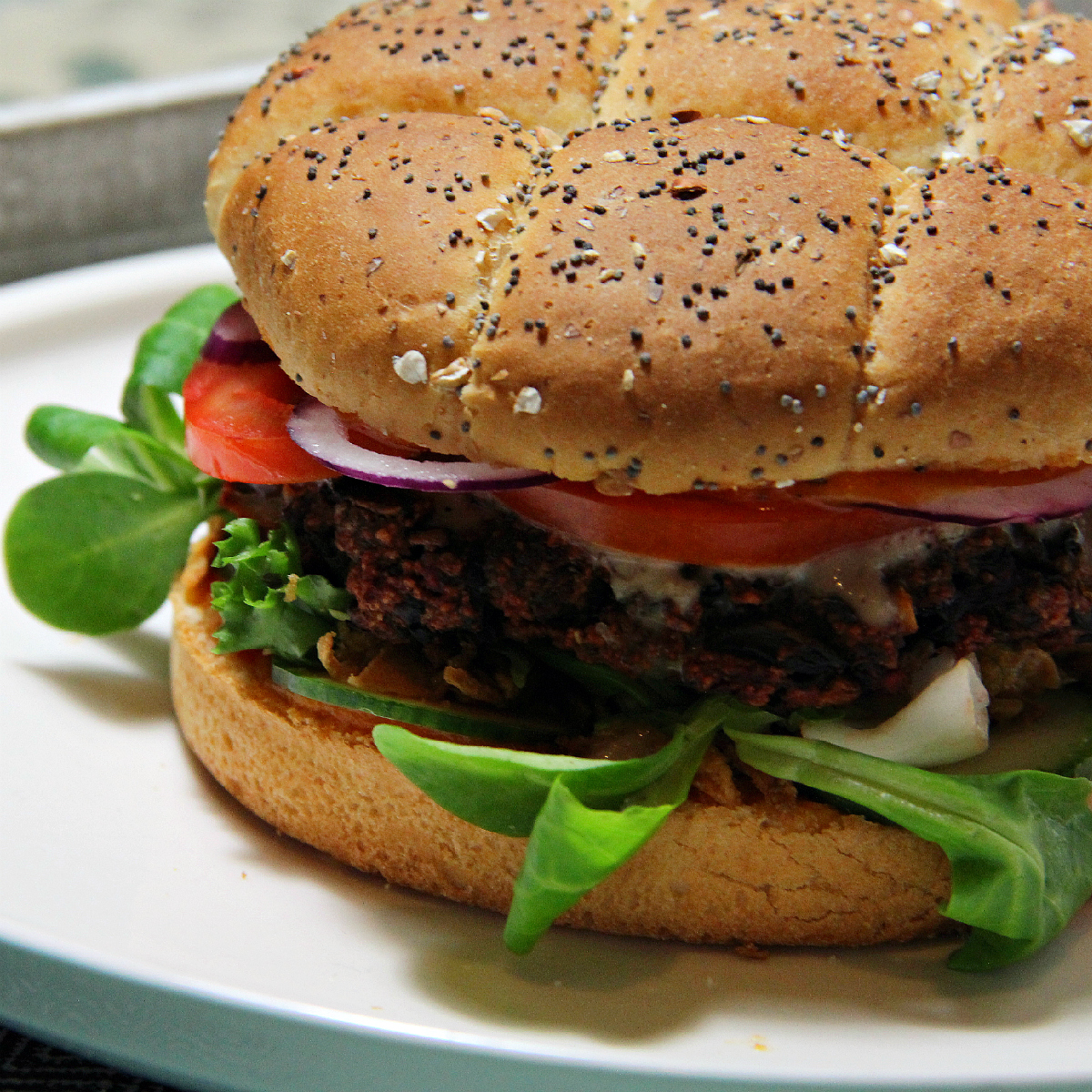 ---
The vegan burger ! This recipe gives you 4 or 5 burger patties with mushroom, soy granules and beet root. They're very "meaty" and hearty, a great substitute for the real beef patty. The recipe is very similar to my meatless meatballs used in the Meatless Meatball Sub or in the Vegan Spaghetti Meatless Meatballs, but this recipe is slightly different.
You can assemble the burger as you please with the ingredients. I assembled it as the basic classic burger, salad, tomato, cucumber, red onion, with a twist of sweet onion dressing and fried onions, you can also add vegan cheese if you like to be extra fancy !
You can adjust the burger in many ways, make a Mexican inspired one, with salad, Vegan Creamy Guacamole, tomato, corn, chipotle sauce and some chili kidney beans. Or you can make one with Caramelized Red Onions, grated carrots, cucumber, Baba Ganoush and fresh sprouts. The options are endless !
---
Makes 4-5 burger patties
---
Ingredients
---
Patties
---
500g cremini mushrooms (17.5 oz)

2.5 dl grated beet root (1 cup)

2.5 dl bread crumbs (1 cup)

1.2 dl unsweetened plant milk (½ cup)

2 tablespoons chia seeds

Meat substitue marinated as below
---
Meat substitute & marinade
---
180g ready made unmarinated soy granules (6.5 oz)

1 chopped tomato

4 tablespoons unsweetened plant milk

2 tablespoon soy sauce

1 tablespoon sweet soy sauce (optional or add more maple syrup)

1 tablespoon ume su / umeboshi / Japanese plum vinegar

1 tablespoon maple syrup

½ teaspoon pepper

½ teaspoon salt
---
Burger assembly (as pictured but optional)
---
4-5 vegan burger buns

Thin slices of tomatoes

Thin slices of red onion

Thin slices of cucumber

Fried onions

Mixed salad greens
---
What you will need
---
Cutting board and knife

1 brush

1 pan

1 spoon to stir

Measuring spoons

1 measuring cup

1 big bowl

1 baking tray

Baking paper or silicone mat
---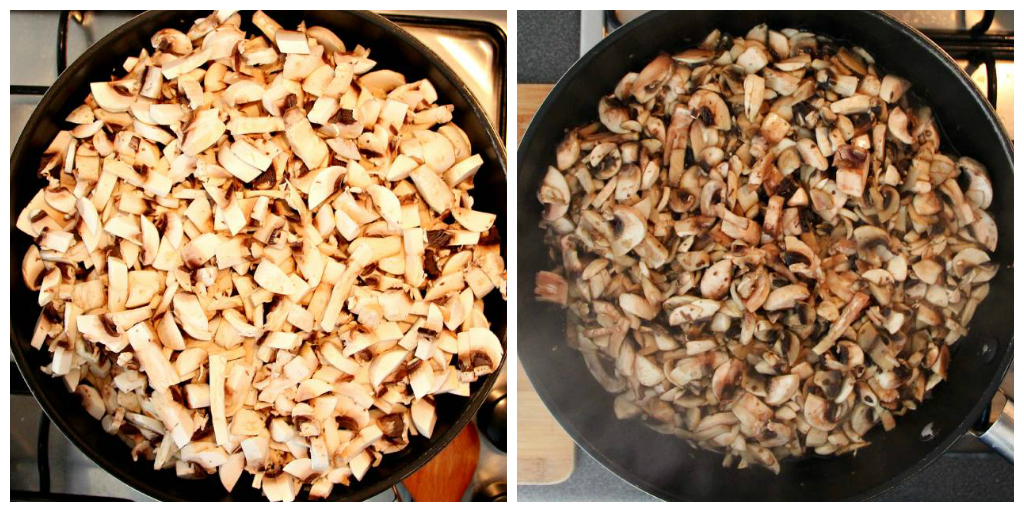 ---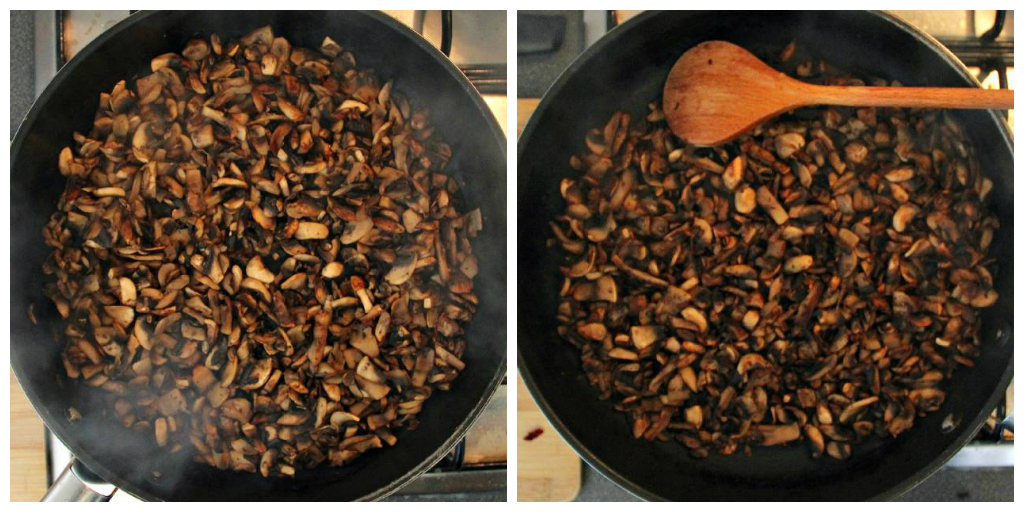 ---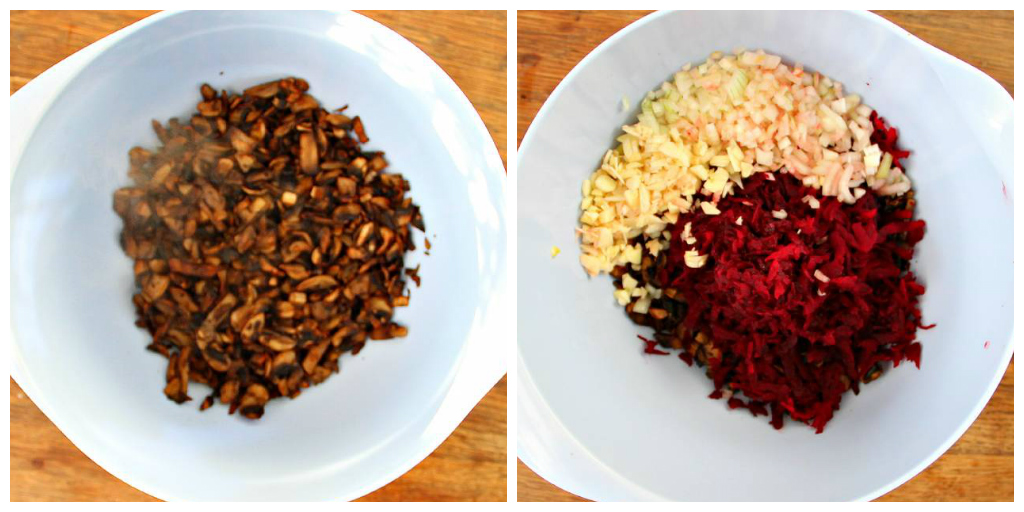 ---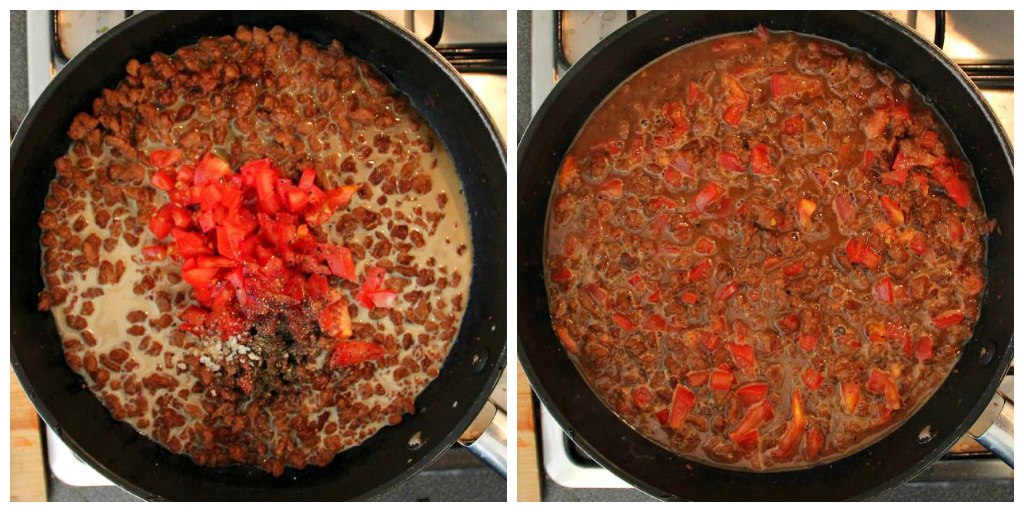 ---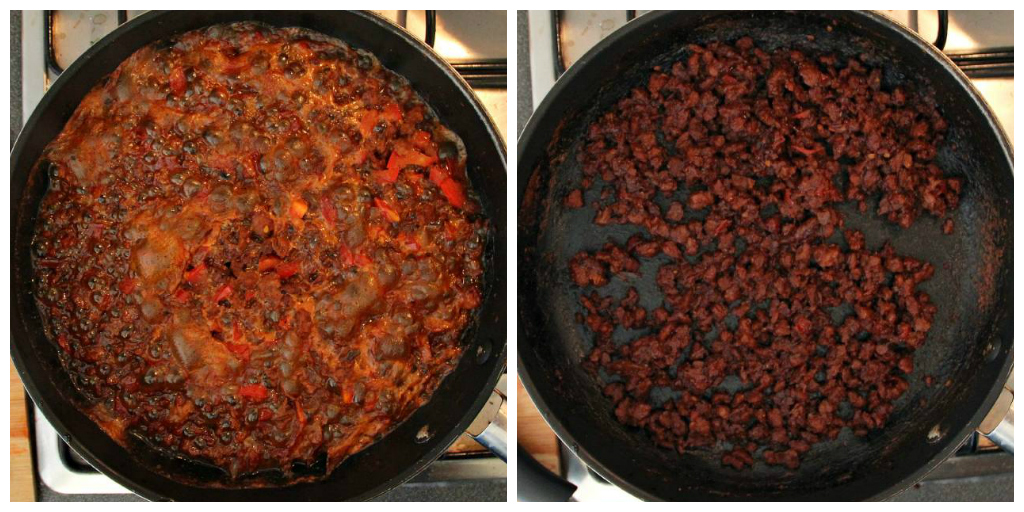 ---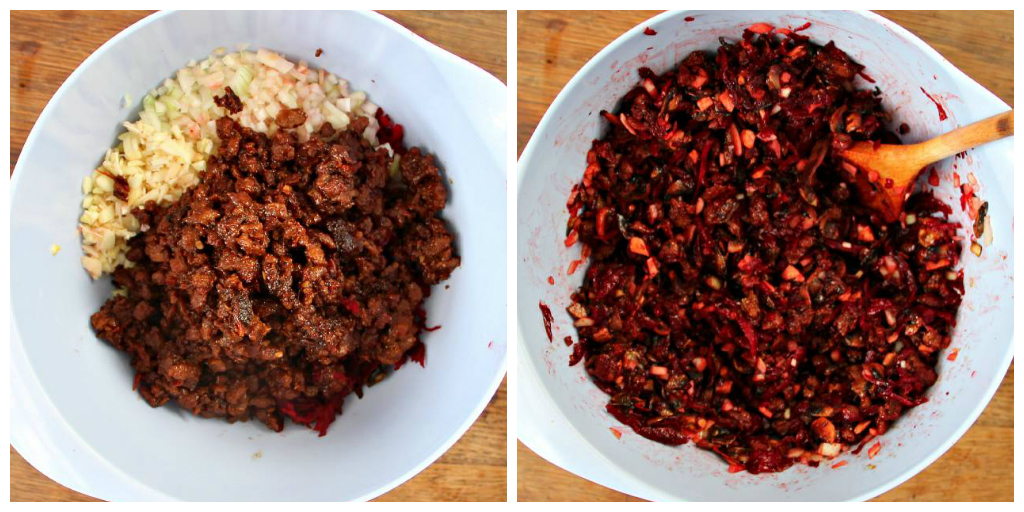 ---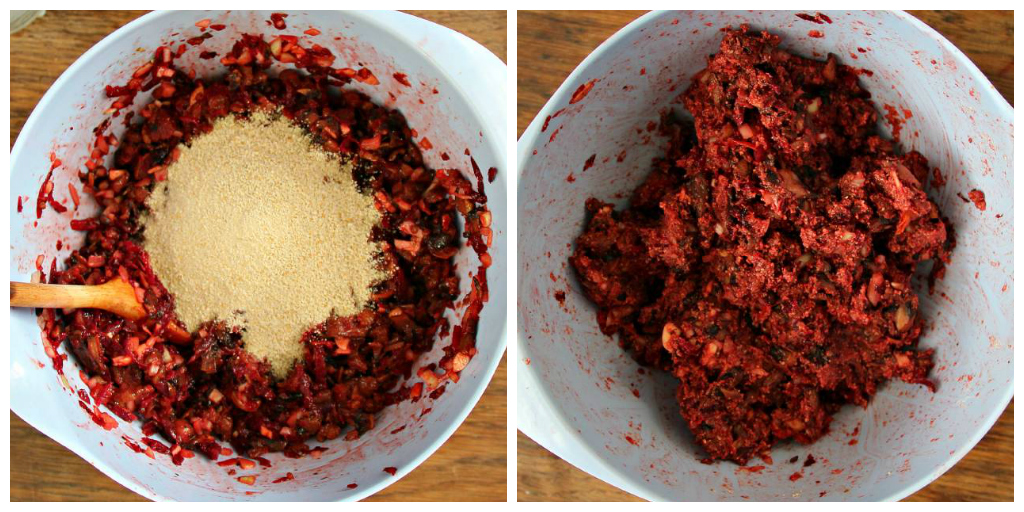 ---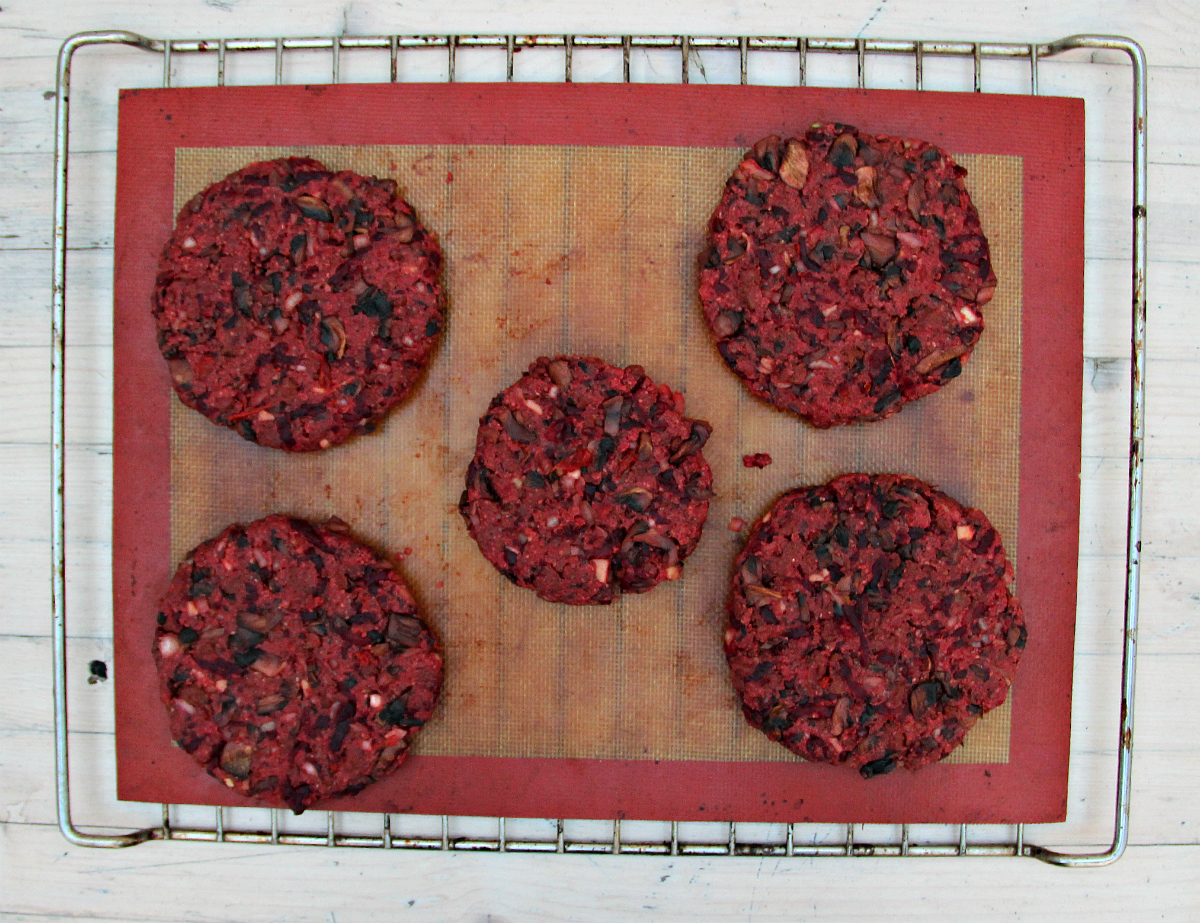 ---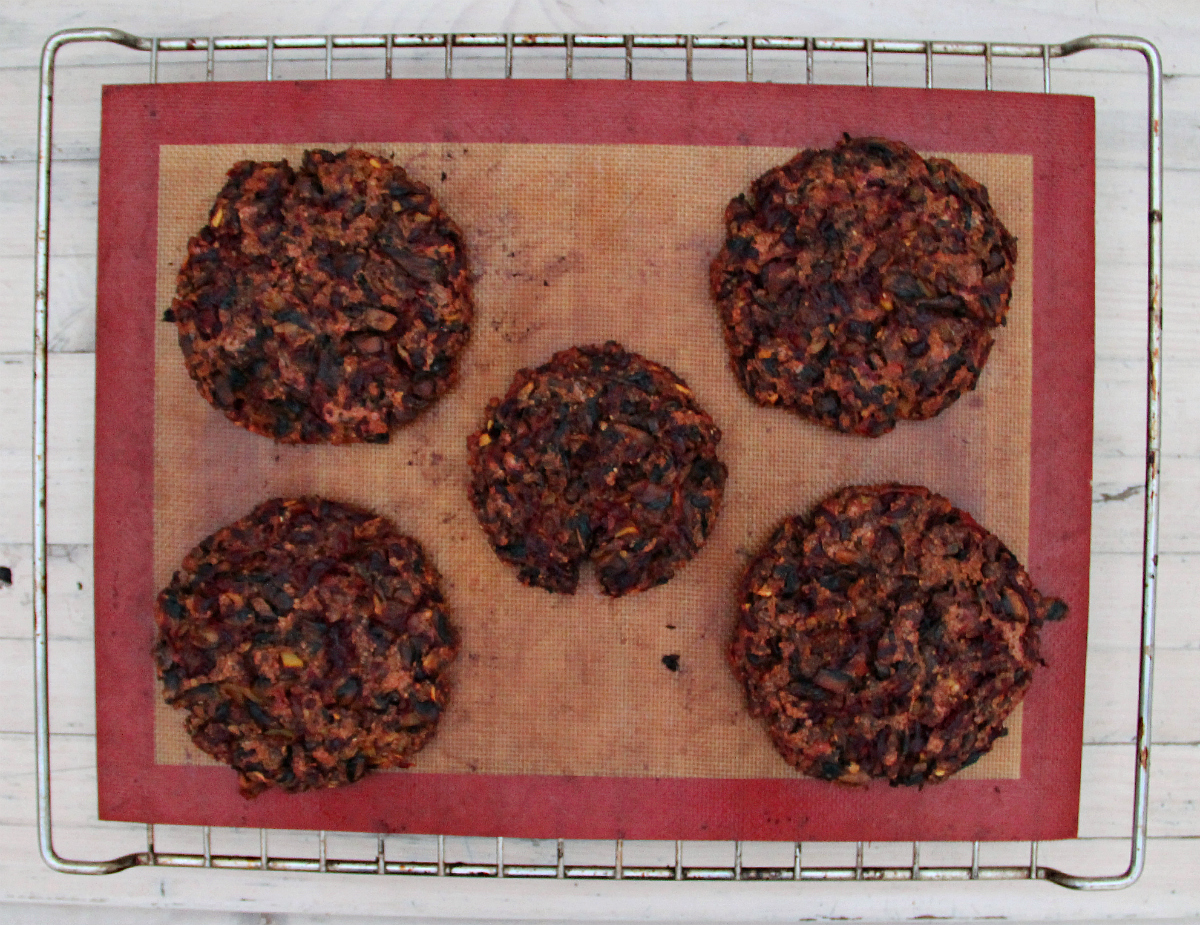 ---
Instructions
---
Brush all the dirt of the mushrooms, please don't wash them. Chop them, some bigger pieces are okay, but most of it should be in between rough and finely chopped. If the pieces are too big the burger patties will be hard to shape.

---

Add to the pan and turn the heat on high. Dry fry them while stirring once in a while. There's lots of water in the mushrooms, which should be evaporated and they should have a golden crisp texture like pictured, this can take around 15 minutes.

---

Peel and grate the beet root.

Peel and very finely chop the onion and garlic cloves. Then add to the big bowl along with the grated beet root.

---

In the same pan put the soy granules. Add in the marinade and bring to a simmer while stirring on occasion. Let all the water evaporate and continue to cook until the granules have a sticky texture. This can take 10 minutes.

Add to the bowl and mix everything well.

---

Add in the plant milk and the chia seeds. Mix well and let the chia seeds soak for a few minutes before adding in the breadcrumbs.

---

When adding in the bread crumbs use clean hands to knead everything together. Rest in the fridge for 20 minutes or until cold and easy to shape.

---

Preheat the oven to 200 c (390 F).

---

With clean hands shape 4-5 equal sized burger patties. The ones pictured are fairly large burger patties. If you want smaller ones for mini burgers you can probably make 6.

---

Put on a baking tray with baking paper or a silicone mat. Bake in the middle of the oven for about 20-25 minutes on normal setting, halfway through flip the patties.

---

When finished baking, take out of the patties and assemble the burgers as preferred. I put in Homemade Tomato Ketchup, Vegan Sweet Onion Dressing, thin slices of tomato, red onion and cucumber, fried onions and mixed green salad.
---
Enjoy !
---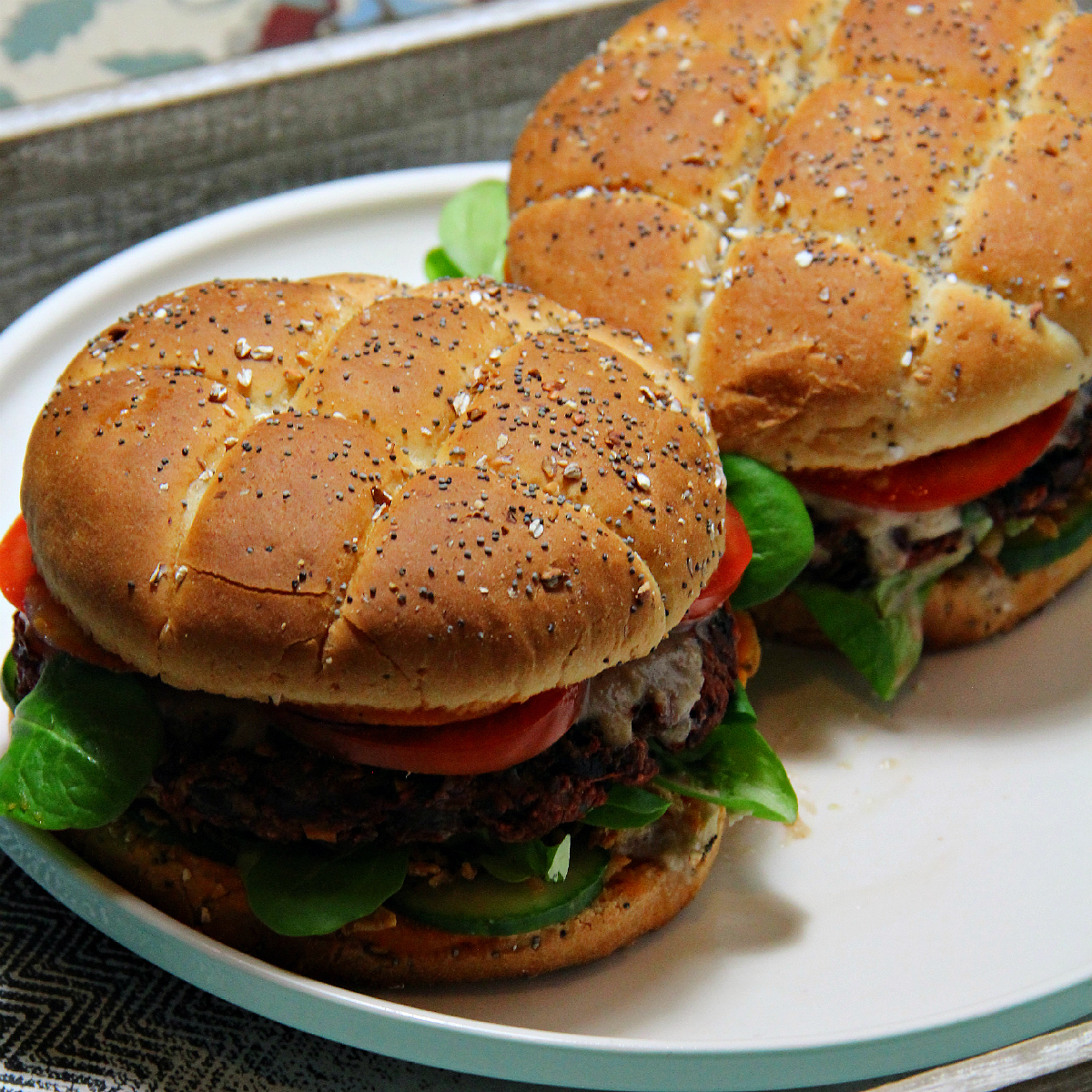 ---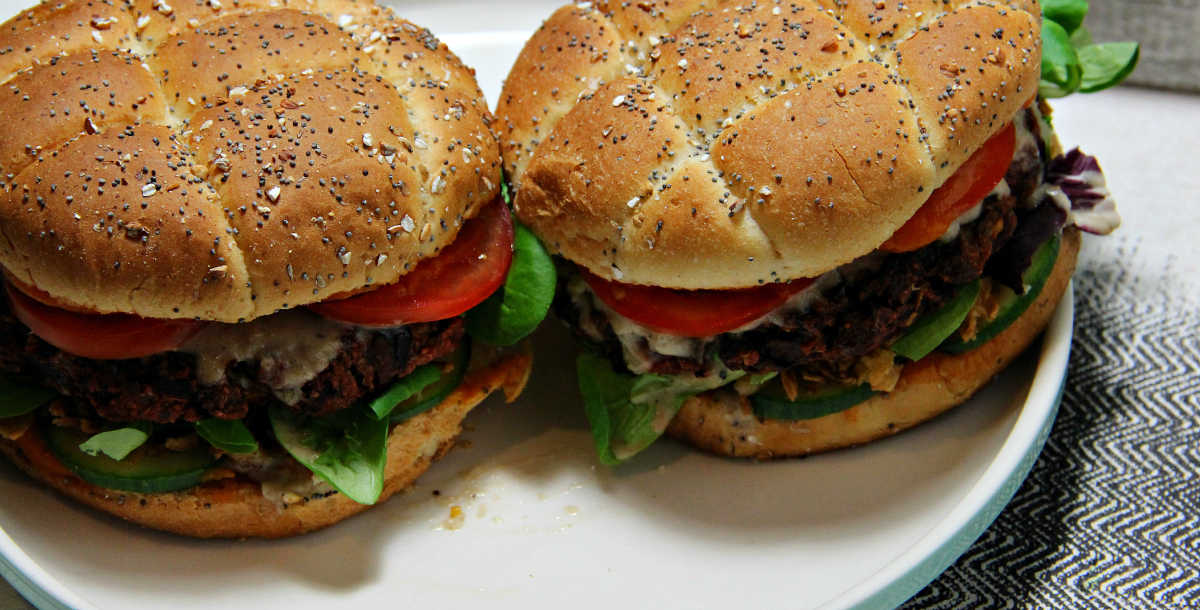 ---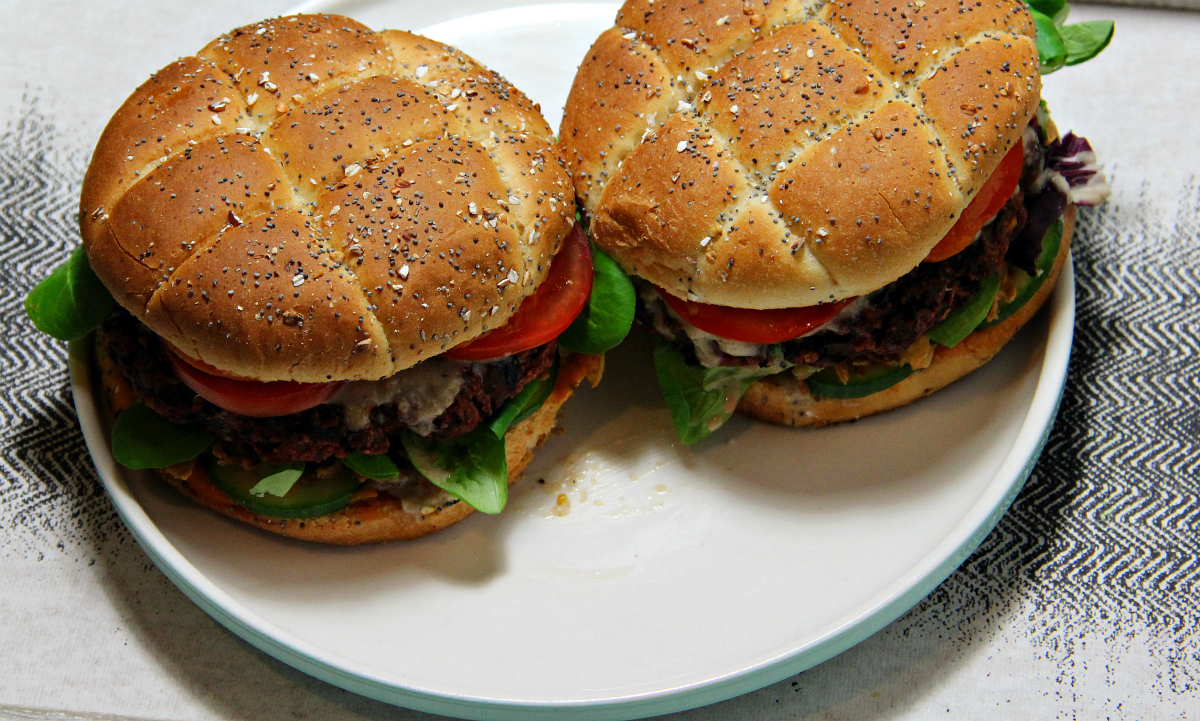 ---