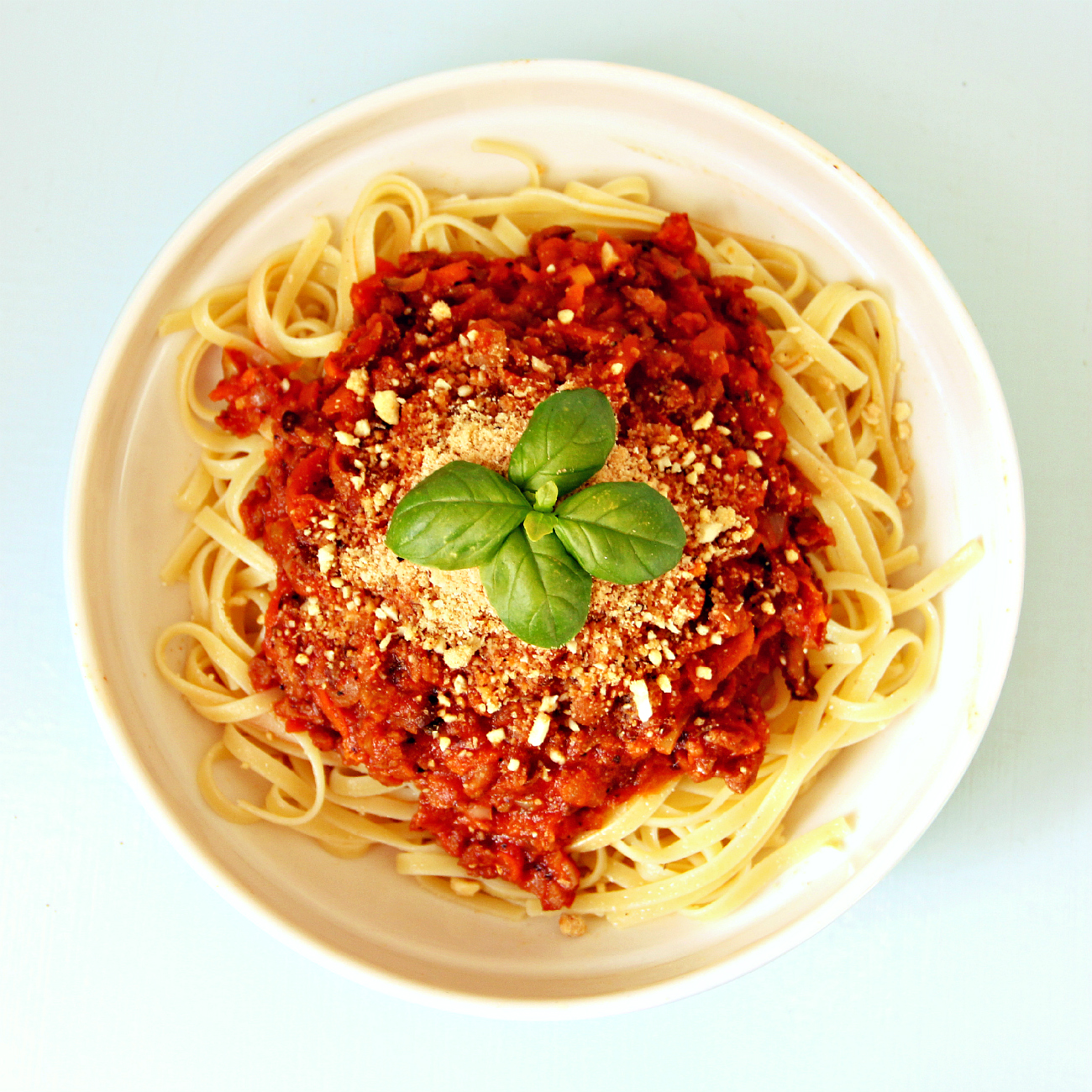 ---
Don't be alarmed over the words slow and cooked in the same sentence. This recipe don't need a long prepping time, it just needs to simmer and marinade for a longer time, and you can do other stuff meanwhile, whilst your house will start to smell like an Italian kitchen. You can also opt for a quick version:
1kg tomatoes instead of two (still the same amount of the other ingredients), then add 70g tomato puree and a little ketchup to taste, simmer for about 25 minutes and serve! It will have a similar taste to the slow cooked version, but not just quite. If you have the time go for the slow cooked.
The flavours are umami, savoury and almost sweet. The natural sweetnes comes from the fresh tomatoes being boiled down to half the size.
You can use canned tomatoes if you prefer, but the flavours will not give the same result, canned tomaotes often taste very acidic, i would always recommend, that if you use one can of tomato, alway add about the same weight in fresh tomato, that will significantly chnage the flavour to be much less acidic.
If you have yet to try and make a tomato sauce from scratch I urge you to try at least one time, you won't regret it ! Top this dish with the Vegan Parmesan Sprinkle for an extra added umami flavour and crunch.
Into Italian cuisine? try out these other dishes:
---
---
Serves 6 people
---
Ingredients
---
Marinara sauce
---
2 kg ripe tomatoes (4.4 lbs)

1 zucchini

2 red onions

2 carrots

10 cloves of garlic

4 tablespoons extra virgin olive oil

4 tablespoons nutritional yeast

A generous big handful of fresh basil leaves

1 teaspoon dried vegetable stock

1 teaspoon dried oregano

½ teaspoon of

freshly grated nutmeg

salt and pepper to taste
---
Meat substitute & marinade
---
360g ready made soy granules / mince (0.80 lbs) (not the dry ones, they weigh less)

2.5 dl unbsweetened plant milk or water (

1 cup

)

2 tablespoons ketchup

2 teaspoon soy sauce

1 teaspoon maple syrup

½

teaspoon dried vegetable stock
---
What you will need
---
Cutting board and knife

1 pan to marinade

1 big pot for sauce +

1 spoon to stir

1 pot to boil pasta

1 grater
---
Instructions
---
Marinara sauce
---
Finely chop the red onions and put in a big pot with the olive oil, dried vegetable stock, nutmeg and some salt and pepper. Sweat until transluscent.

---

Peel and grate the carrots, add to the onions and sweat. Chop the ends of the zucchini and chop into smaller chunks, add to the pot.

---

Dice all the tomatoes discarding the hard stem part. Add to the big pot with the oregano, and bring to a simmer on medium heat.

---

Peel and grate the garlic and add to the sauce.

Let simmer on low for about 1½ - 2 hours without a lid on and reduce to half it's size. Stir it occasionally to make sure it does not stick to the bottom.
---
Soy granule marinade
---
Put all of the ingredients in a pan, mix and bring to a simmer. Continue to simmer until it has a sticky texture and the liquid has evaporated. Set aside.

---

When the marinara sauce have about halved in size add the finished soy granules.

---

Chop a generous amount of fresh basil leaves and add to the sauce in the end with the nutritional yeast. Add salt and pepper to taste and let simmer for a few minutes, optionally add a few scoops of the pasta water to make it more saucy, the starches from the pasta will thicken the sauce and make it creamier.

---

Serve with spaghetti, linguine, or any other pasta shape you prefer and top it with Vegan Parmesan Sprinkle, nutritional yeast or any other vegan grated cheese.
---
Enjoy !
---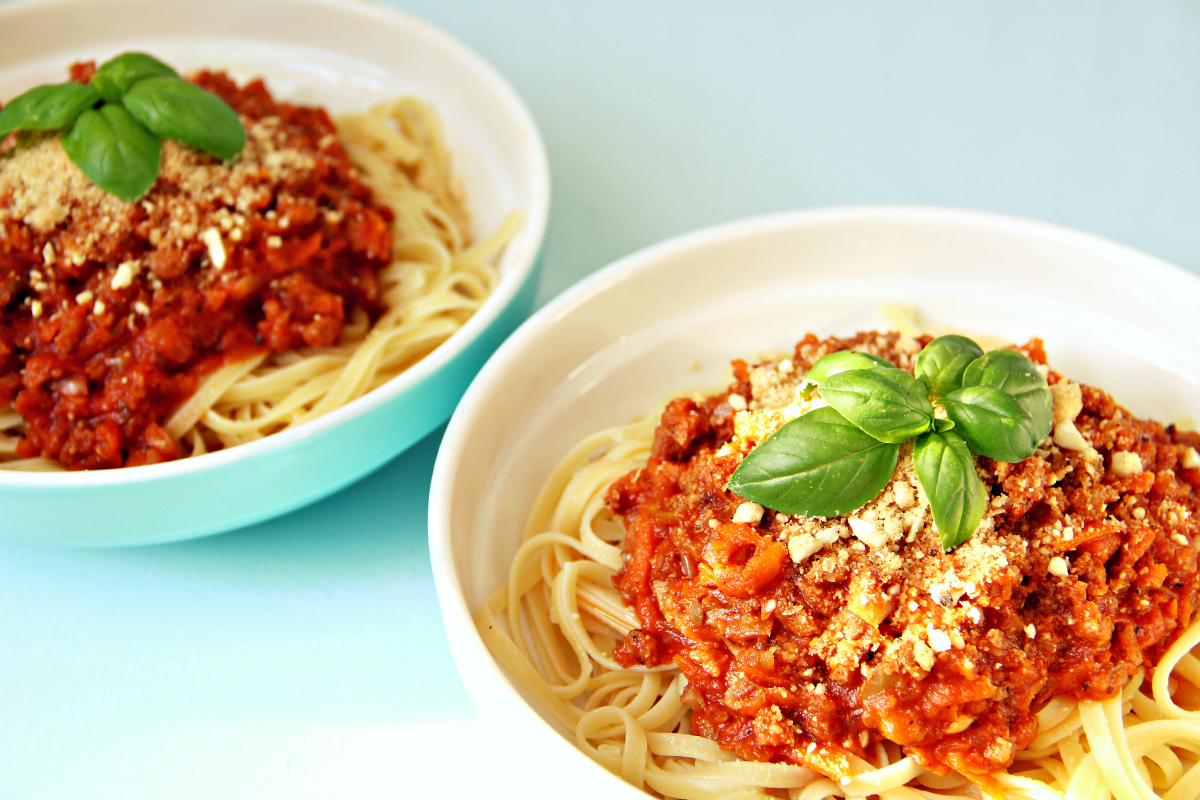 ---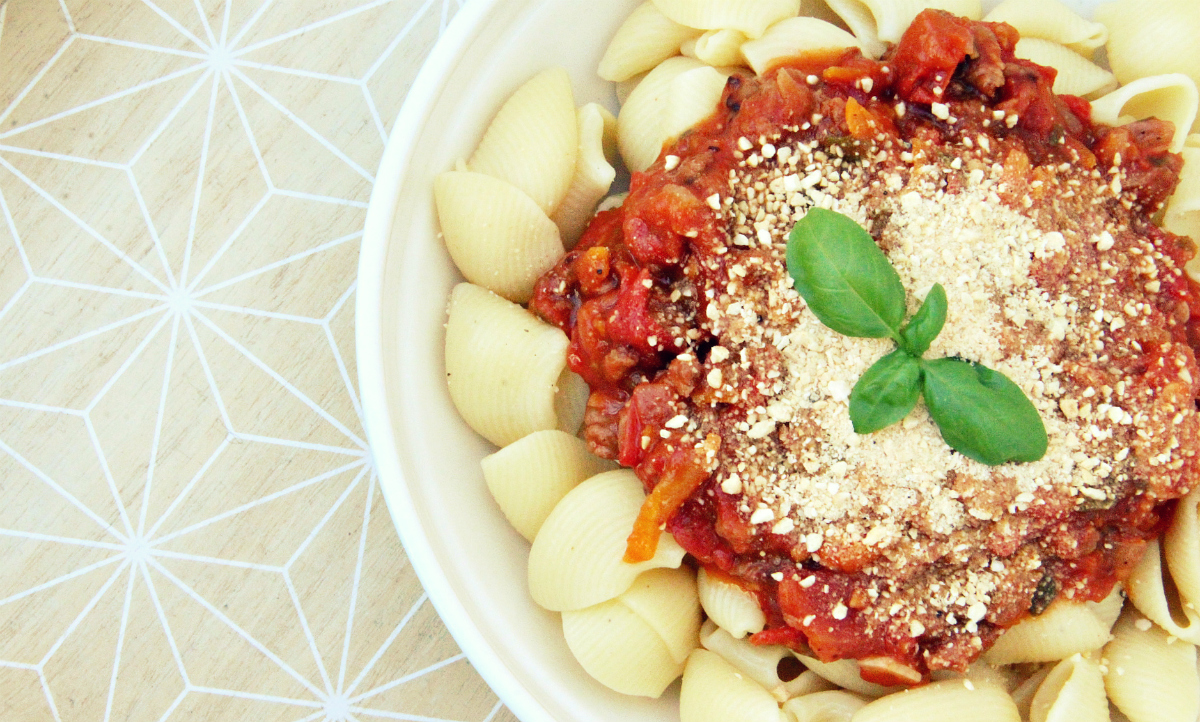 ---

---