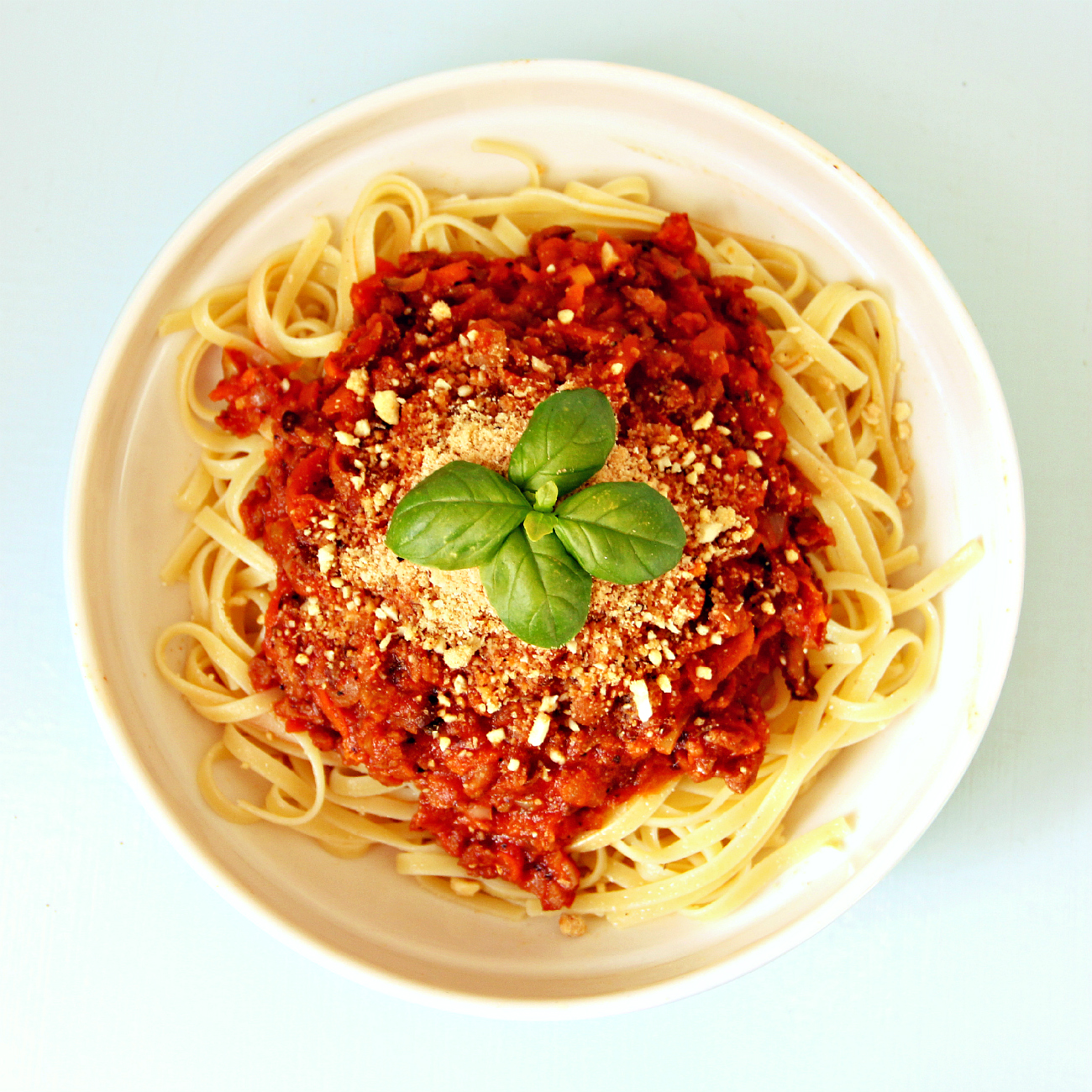 ---
Don't be alarmed over the words slow and cooked in the same sentence. This recipe don't need a long prepping time, it just needs to simmer and marinade for a longer time, and you can do other stuff meanwhile, whilst your house will start to smell like an Italian kitchen.
The flavours are umami, savoury and almost sweet. The natural sweetnes comes from the fresh tomatoes being boiled down to half the size. It's a very natural flavour that is often not regocnized, since canned tomatoes are so common and they taste very different.
You can use canned tomatoes if you prefer, but the flavours will not give the same result. If you have yet to try and make a tomato sauce from scratch I urge you to try at least one time, you won't regret it !
Top this dish with the Vegan Parmesan Sprinkle for an extra added umami flavour and crunch.
---
Into Italian cuisine? try out these other dishes:
---
---
Serves 6 people
---
Ingredients
---
Meat substitute:

360g ready made soy granules (0.80 lbs) (not the dry ones, they weigh less)
---
Marinara sauce:
2 kg ripe tomatoes (4.4 lbs)

2 red onions

2 carrots

10 cloves of garlic

1 red spanish chili (optional)

2 tablespoons extra virgin olive oil

A generous big handful of fresh basil leaves

salt and pepper to taste
---
Soy granule marinade:

2.5 dl plant milk (

1 cup

)

1 teaspoon salt

1 teaspoon black pepper

1 teaspoon paprika

½ teaspoon of cumin

½ teaspoon of

freshly grated nutmeg

½ teaspoon of

ground ginger

2 tablespoons ketchup

2 teaspoon maple syrup

2 teaspoon soy sauce

2 teaspoon balsamic vinegar
---
What you will need
---
Cutting board and knife

1 pan to marinade

1 big pot for sauce

1 spoon to stir

1 pot to boil pasta

1 grater

1 blender for the parmesan
---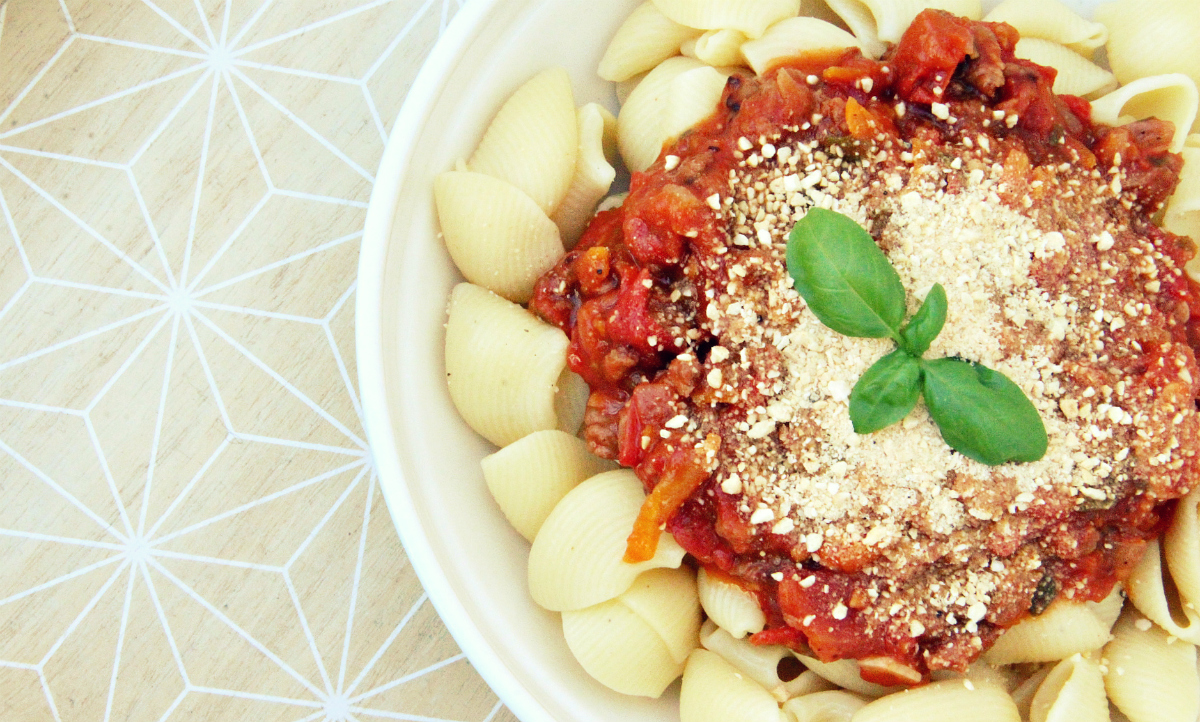 ---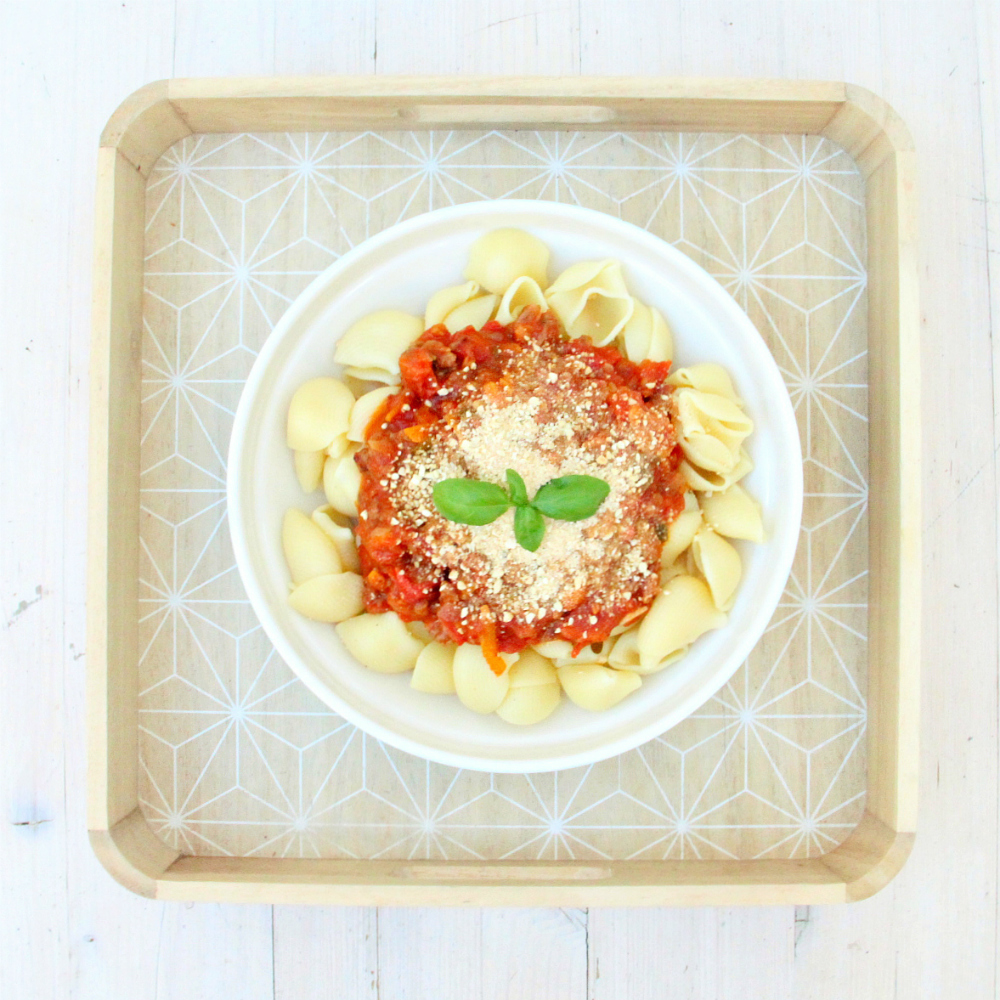 ---
Instructions
---
Marinara sauce
---
Finely chop the red onions and put in a big pot with the olive oil and some salt and pepper.

---

Deseed the chili, finely chop it, put in the pot. Peel the garlic cloves and chop them in very thin slices and put in the pot. Turn the heat on on high, stir occasionally.

---

Chop all the tomatoes. Cut them into quarters, then chop off the hard part where the stem was attached. Then cut the quarters in smaller chunks. Add all the tomatoes to the big pot, and bring to a boil on medium heat.

---

When the sauce have been brought to a boil, turn the heat on low. Let simmer for about 1½ - 2 hours without a lid on and reduce to half it's size. Stir it occasionally to make sure it does not stick to the bottom. Meanwhile make meat substitute in the marinade.
---
Soy granule marinade
---
The soy granules I use is already soaked, softened and pretty much ready to go, but they aren't marinated.

---

Pour 1 cup of plant milk of choice in a pan with all the rest of the ingredients and mix them well.

---

Add the soy granules and let them soak in the marinade for about an hour. No heat is needed at the moment.

---

After 1 hour or so of marinating the soy granules, turn the heat on the pan on high while stirring the soy granules.

---

When the marinade is brought to a simmer turn the heat down a bit, but continue to stir the granules until they has soaked up all the moisture and have a sticky crisp texture. This can take about 15 minutes.

---

When the marinara sauce have about halved in size from its original size, you can add the finished soy granules.

---

Chop a generous amount of fresh basil leaves and add to the sauce in the end. Salt and pepper to taste as you like. Let simmer for a few minutes and then serve with spaghetti, linguine, or any other pasta shape you prefer and top it with Vegan Parmesan Sprinkle.
---
Enjoy !
---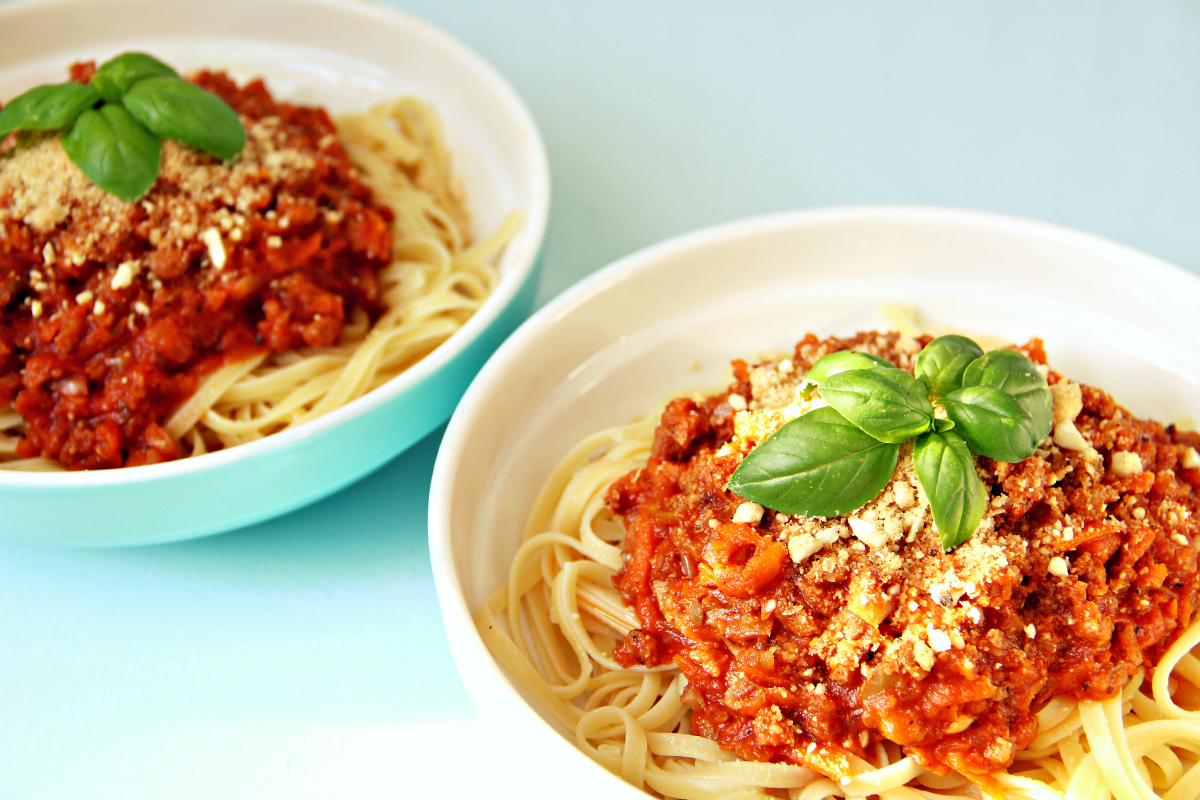 ---

---