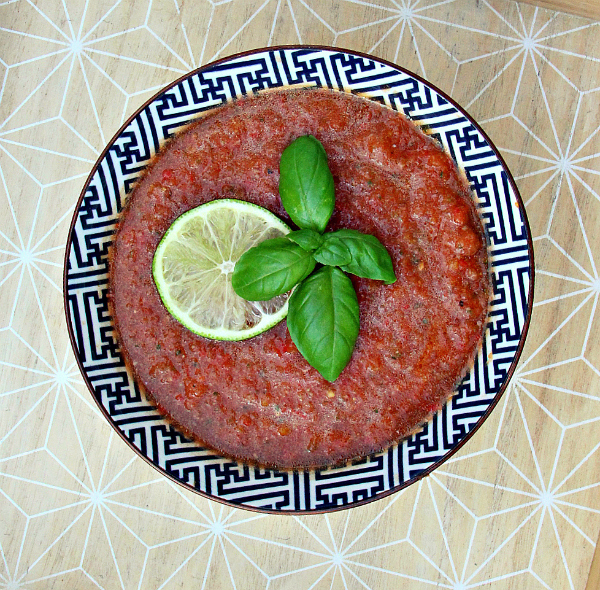 ---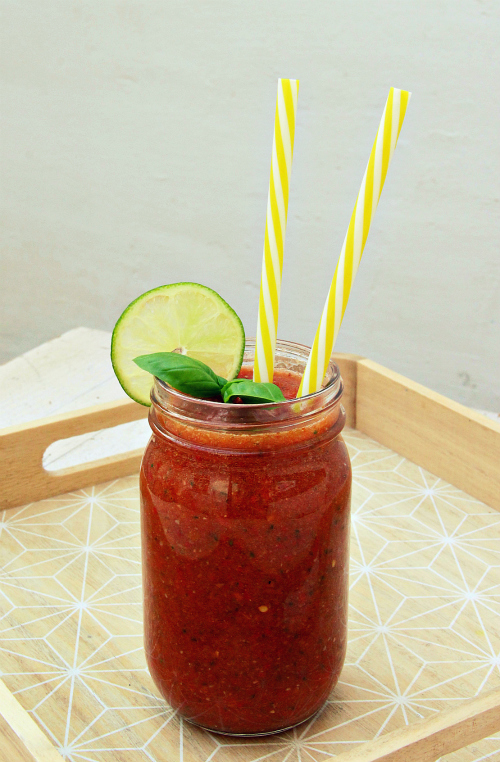 ---
This refreshing cold soup is both raw, vegan and full of nutrients!
This savoury dish can be served in a glass with a thick straw or eaten as a soup, good in the hot summer afternoons as well as in the evenings.
The texture is similar to a thick smoothie, but it can be blended to rougher or smoother texture as desired. The celery and balsamico gives the flavour a kick, as well as a salty flavour, so almost no salt is needed for this recipe.
---
Into Italian cuisine? try out these other dishes:
---
---
Like soups in general? Check out these:
---
---
Serves: 4 portions as pictured
---
Ingredients
---
1 kg red ripe tomatoes (2.2 lbs)

4 stalks of celery

2 yellow onions

1 red bell pepper

1 yellow bell pepper

½ cucumber

4 garlic cloves

4 tablespoons balsamic vinegar

4 tablespoons cold pressed virgin olive oil

juice from ½ lime

Salt and pepper to taste
---
What you will need
---
Cutting board and knife

1 Big bowl

1 food processor or blender

1 tablespoon to measure and stir
---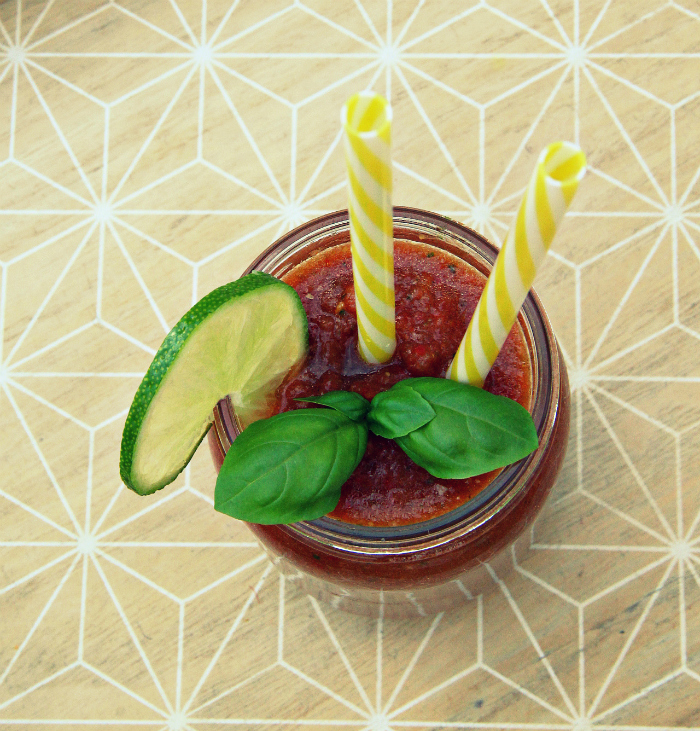 ---
Instructions
---
As for the kind of blender to use, a big food processor or a high speed blender is good . Although, even a stick blender with a small attactable food processor would do the job, and that's what I am using. I would only recommend the normal long stick blender if you like a very rough texture, as it would not blend everything evenly.
Cut all the veggies into big rough chunks.

---

Blend the vegetables separately t

o get an evenly texture. Cucumbers and tomatoes are high in water content and would be blended to almost liquid - very fast. Celery and bell peppers on the other hand has more firmness to them and need longer blending time for that same texture. Blending separately will result in the overall texture of the soup to be even.

---

Blend the celery along with 1 or 2 tomatoes to make the harder celery easier to blend. Transfer the celery and tomato mix into the big bowl.

---

Put the yellow onions in the blender along with 1-2 tomatoes, blend until desired texture and transfer it to the big bowl.

You get the pattern.

---

When you have done the same for the the bellpeppers, cucumber, garlic and the tomatoes, transfer it to the big bowl.

---

Add the lime, balsamic vinegar, olive oil and the salt and pepper. Stir and enjoy!
The recipe is delicious when it's just made, but leaving it for a few hours in the fridge or leaving it overnight makes it even better, all tastes would have merged and all the flavours would be fully integrated. It will last in the fridge for about 3 days, but normally it will be eaten before that in our household, even just for me and my husband.
---
Enjoy!
---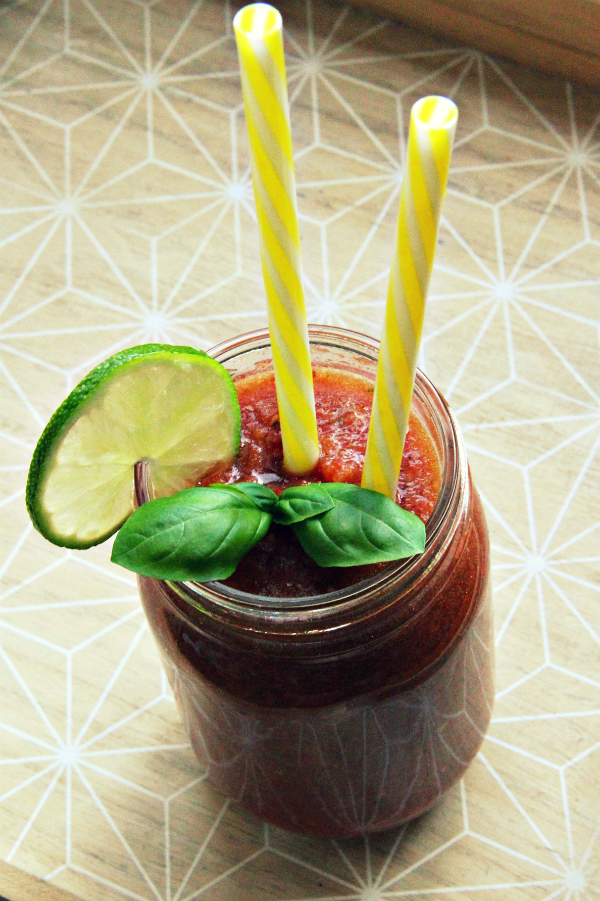 ---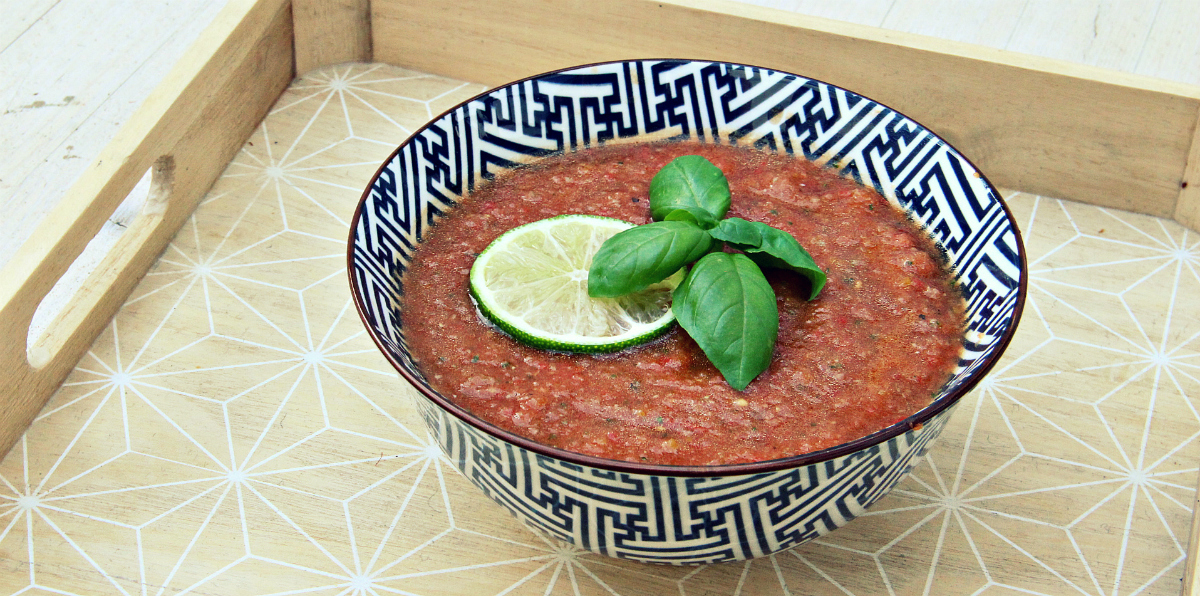 ---