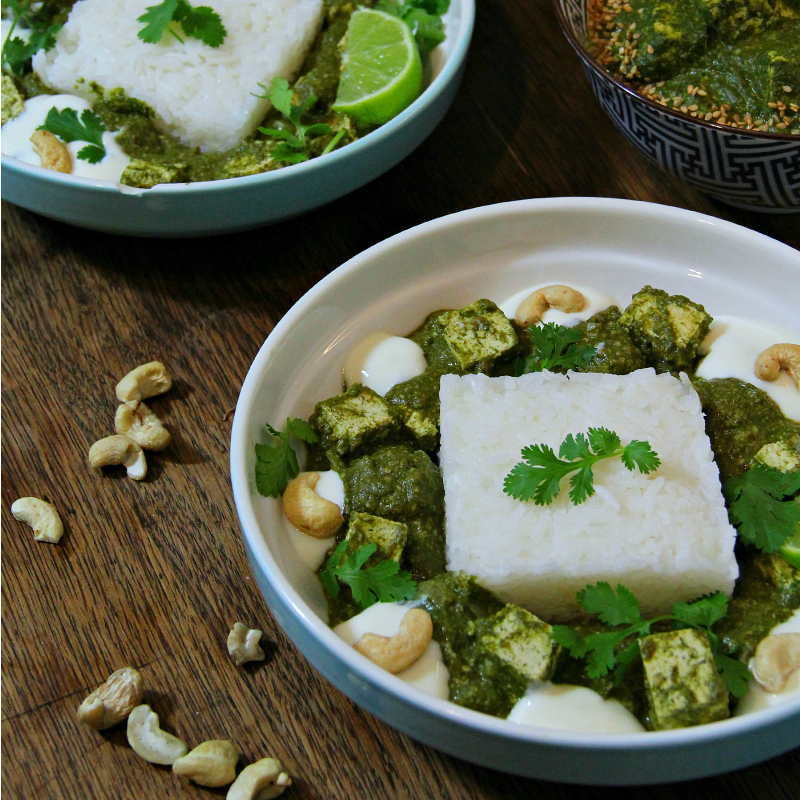 ---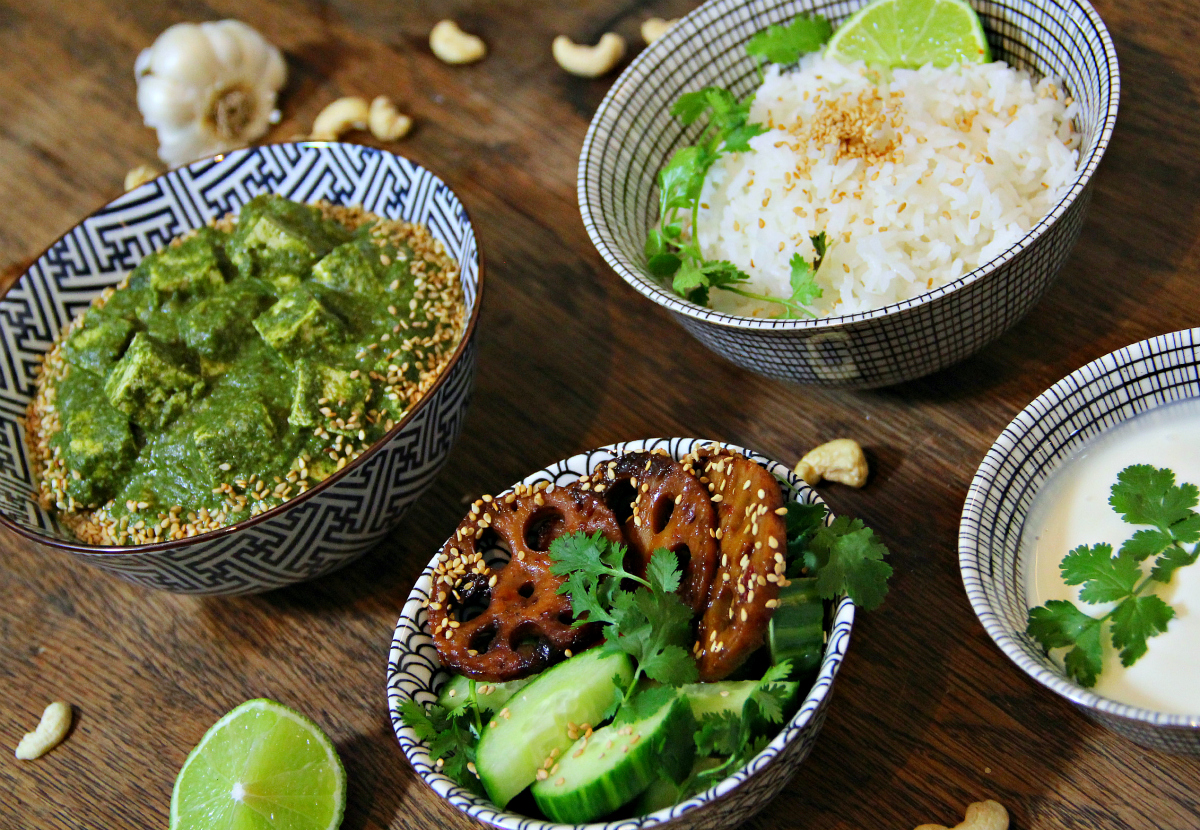 ---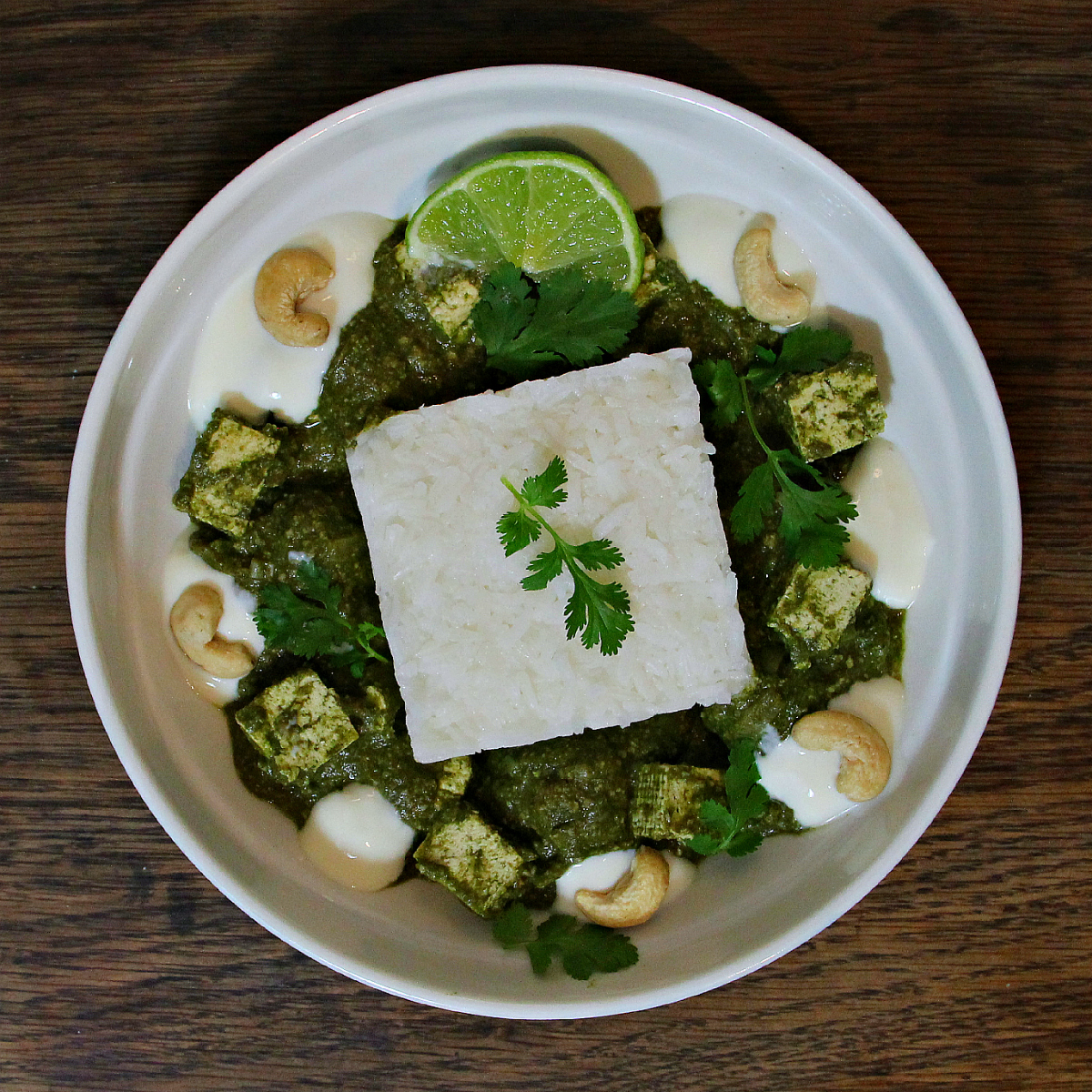 ---
Delicious veganized Indian dish. Palak Paneer is a very traditional Indian dinner, seen at many Indian restaurants, specially popular in western Indian restaurants. When I was a vegetarian I often ate this at Indian restaurant, every time though, they would always serve the spinach overly stewed and in whole leaves, I don't think I have ever been served a true palak paneer when I come to think of it. It's always served when it resembles more of Saag Paneer, where the spinach is not blended to a paste, and I think people think this is how it should be made. This is not the case though, a true Punjabi style palak paneer has the spinach blanched and then blended to a paste, and no cream is added but the creaminess comes from the cashews actually.
I never knew this until I started researching about this recipe, and I wanted to make it as traditional as possible, with the only exception being tofu instead of paneer, which is dairy made. I also tried to make this recipe more flavourful and fresh tasting, as the many palak paneers I have encountered where pretty dull to say the least. The taste here is very fresh, lightly spiced, but certainly not overpowering the spinach.
The tofu I made more fluffy by draining it, freezing it and then draining it again, this method makes more liquid come out of it. The result is actually very paneer like, and it soaks the sauce very well and gets a great flavour from it. My husband actually said he couldn't tell if it was paneer or tofu, so I suppose this recipe is a true hit !
Here seen served with Jasmine Green Tea Braised Lotus Pods.
---
Like Indian cuisine in general? Check out these recipes:
---
---
Serves 6 with side dishes
---
Ingredients
---
Spinach Sauce
---
600g fresh spinach (21.2 oz)

500g firm tofu (17.6 oz)

500g red ripe tomatoes (17.6 oz)

3 shallots

6 garlic cloves

2 thumbs of ginger

2 tablespoons vegetable oil

2 tablespoons green chili sauce (or to taste)

1 teaspoon ground coriander

1 teaspoon ground cumin

½ teaspoon dried vegetable stock

½ teaspoon freshly grind black pepper

½ teaspoon Himalaya salt

Juice from ½ lime
---
Cashew sauce
---
2.5 dl raw cashew nuts (1 cup)

1.2 dl unsweetened almond milk (½ cup)

½ teaspoon Himalaya salt
---
Side dishes and garnish (optional)
---
Basmati rice (definitely recommended)

Unsweetened vegan yogourt drizzle

Fresh cilantro

Sesame seeds

Cashew nuts

Fresh cucumber slices
---
What you will need
---
1 measuring cup

1 bowl

Cutting board and knife

1 x 2 liter pot (0.5 gallon or bigger)

1 x 5 liter pot (1.3 gallon or bigger)

1 spoon to stir

1 strainer

Measuring spoons

1 blender (or stick blender + bowl)
---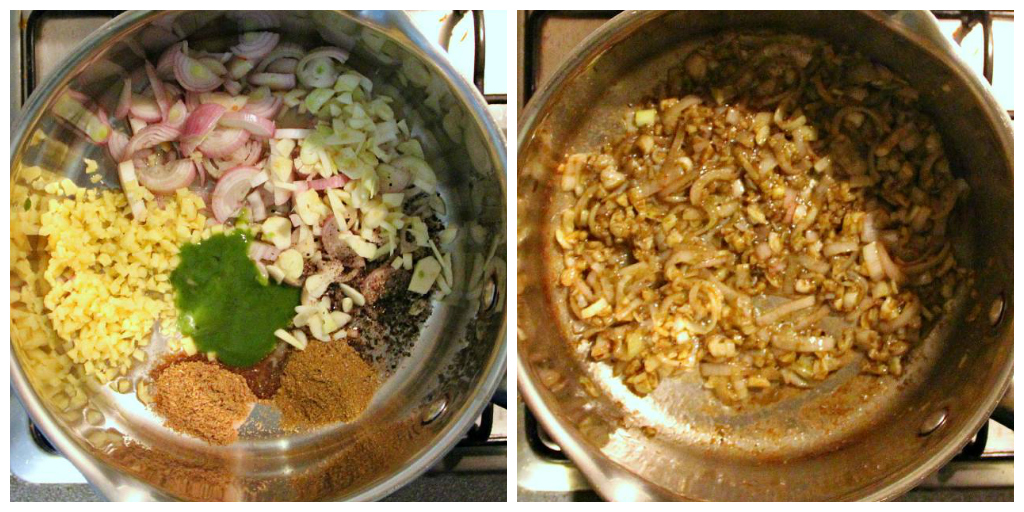 ---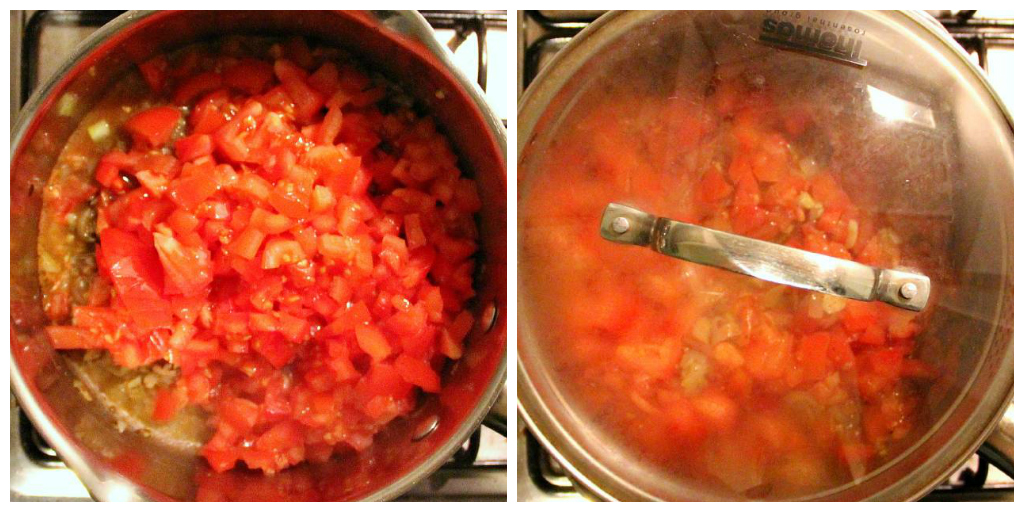 ---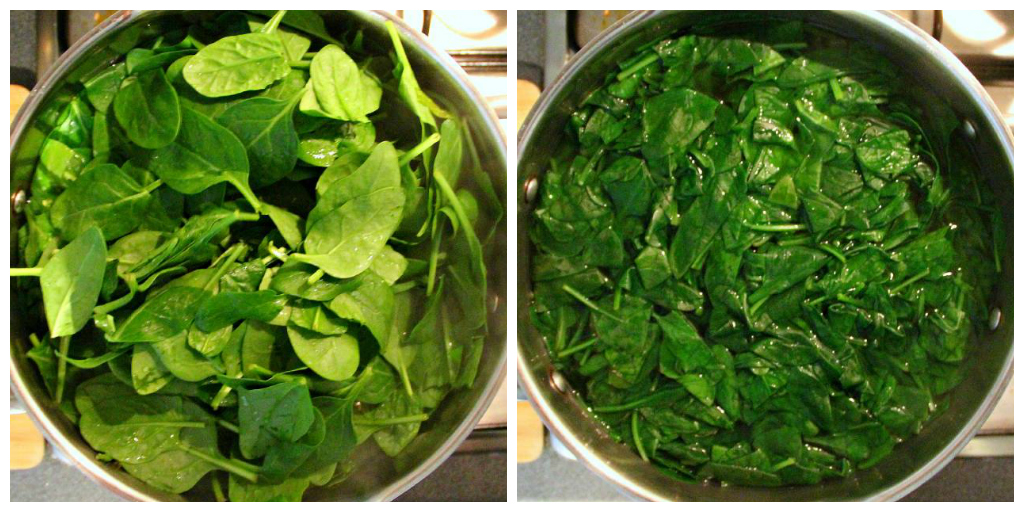 ---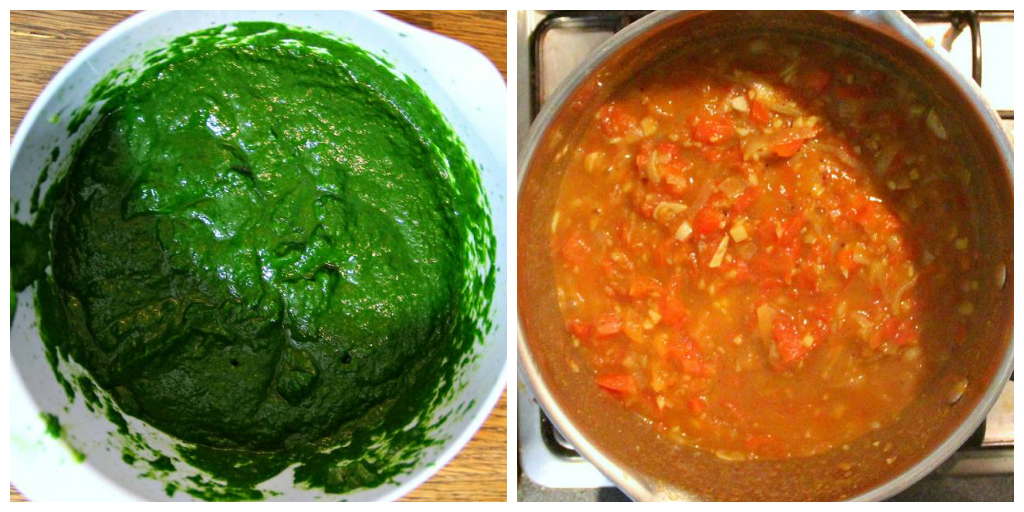 ---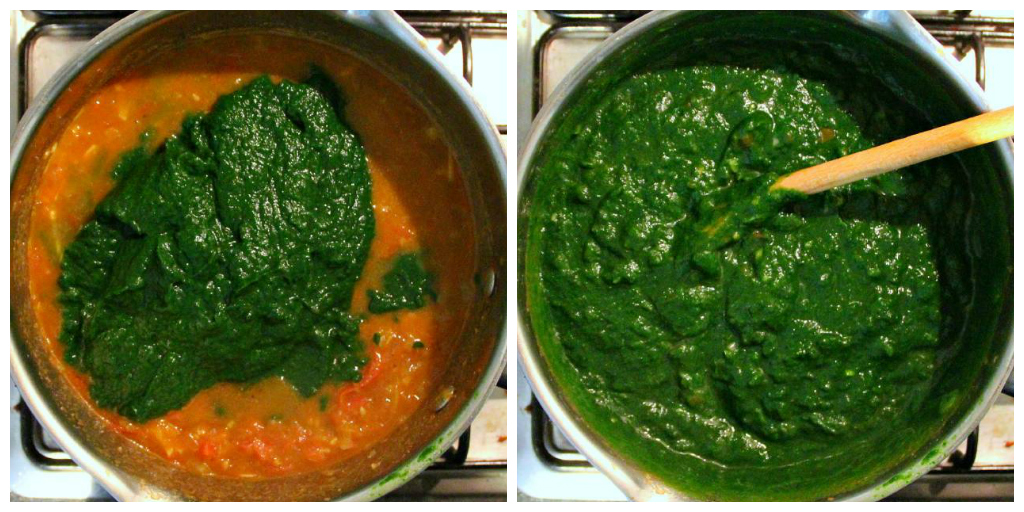 ---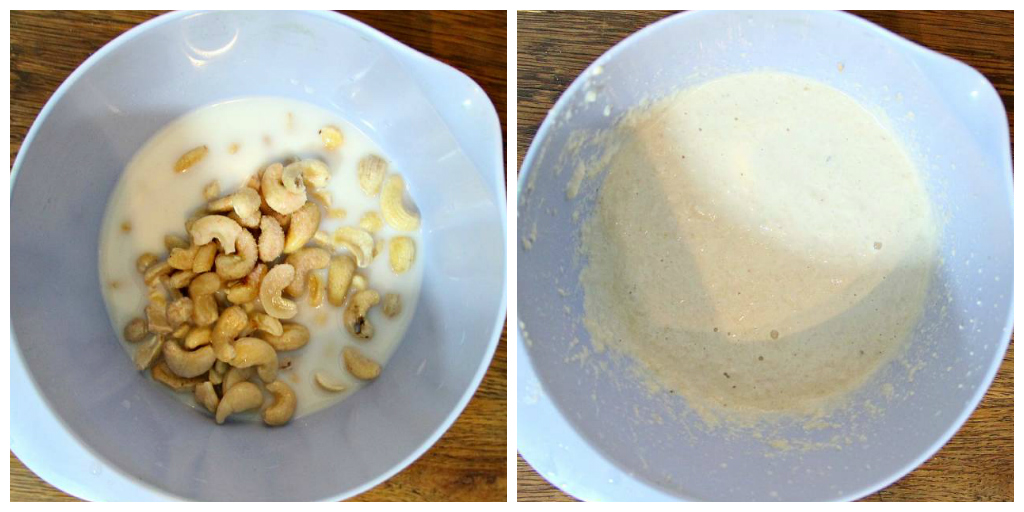 ---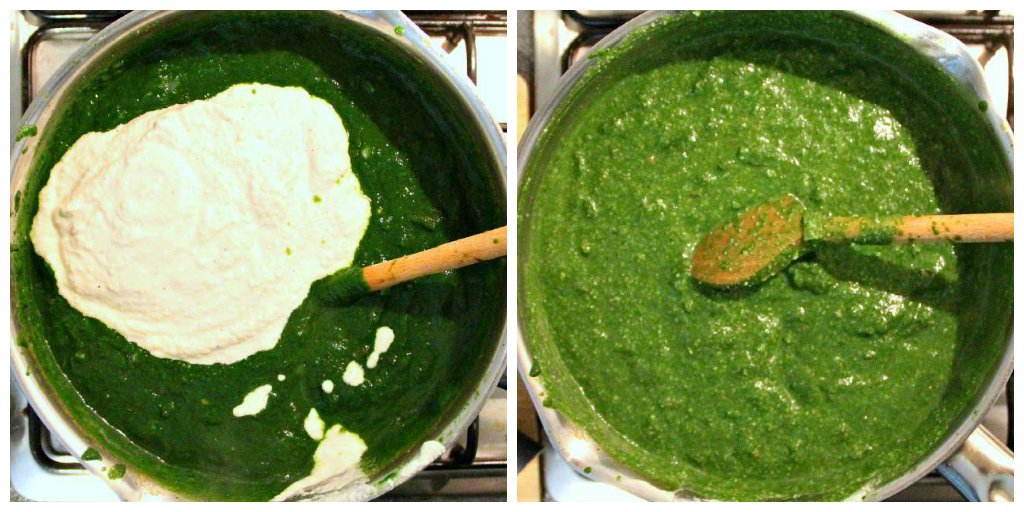 ---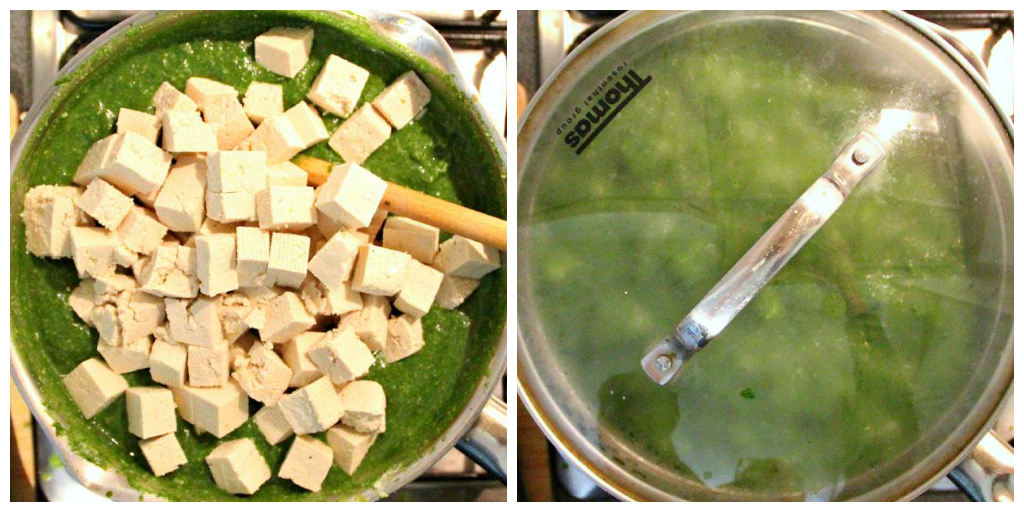 ---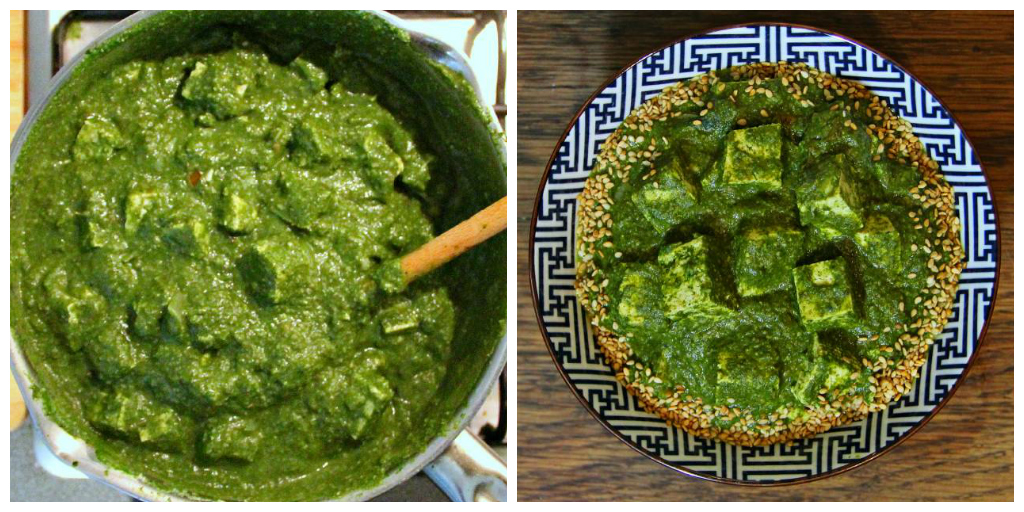 ---
Instructions
---
Optional: unpack the tofu and drain as much water out as possible, be gentle and keep the shape. Put in a bag and freeze overnight. Take out and thaw in the morning, put in the fridge. When fully thawed around dinnertime, give the tofu a squeeze, much more water with come out and will give the tofu a much fluffier texture and will soak more sauce and marinade this way. Then it's ready to be prepared for cooking. Leave refrigerated until use.

---

Soak the cashew nuts in a bowl of water, cover them generously as they will soak a lot of the water, let sit for at least 30 minutes.

---

Wash and finely chop the fresh tomatoes, discard the hard part where the stem was attached. Set aside.

---

Peel and finely chop the shallots, garlic and ginger. Add to a big pot with the oil, green chili sauce, cumin, coriander, pepper and salt. Turn heat om medium and sweat the onions, stirring occasionally.

---

Add in the finely chopped tomatoes and dried vegetable stock, stir, put a lid on and bring to a simmer on low heat. Leave it and prepare the spinach.

---

Wash the spinach well in a strainer. Add all the spinach in a large pot of boiling water (half full of water) and blanch them for about 4 minutes, they will become soft and should still be bright green, don't over cook them. If you don't have a big pot you can do this step twice in a smaller pot.

---

Strain the spinach over the sink and wash them with cold running water so they cool down. This will stop the cooking process and keep the spinach bright green. It might be very wet, so press out a lot of the water with a spatula or spoon, to prevent it getting soupy when you blend it, you can always add more water to it while blending to get the right texture, but you cant take it out.

---

Transfer spinach to a blender and blend smooth. If needed add a few tablespoons of water until the texture is like paste or very thick smoothie like pictured above. Put blended spinach into the tomato sauce, still keep the heat on low.

---

Strain the cashews and put into the blender. Add in unsweetened almond milk and salt. Blend smooth and then add to the spinach. Mix well and bring to a simmer on low.

---

Chop the tofu into desired cube sizes, then add to the sauce along with the freshly squeezed lime juice. Bring to a simmer on medium heat with a lid on. When the tofu is warm the dish is ready. Add salt and pepper to taste if you feel it needs it.

---

Serve with basmati rice, fresh cilantro and a drizzle of unsweetened vegan yogourt.
---
Enjoy !
---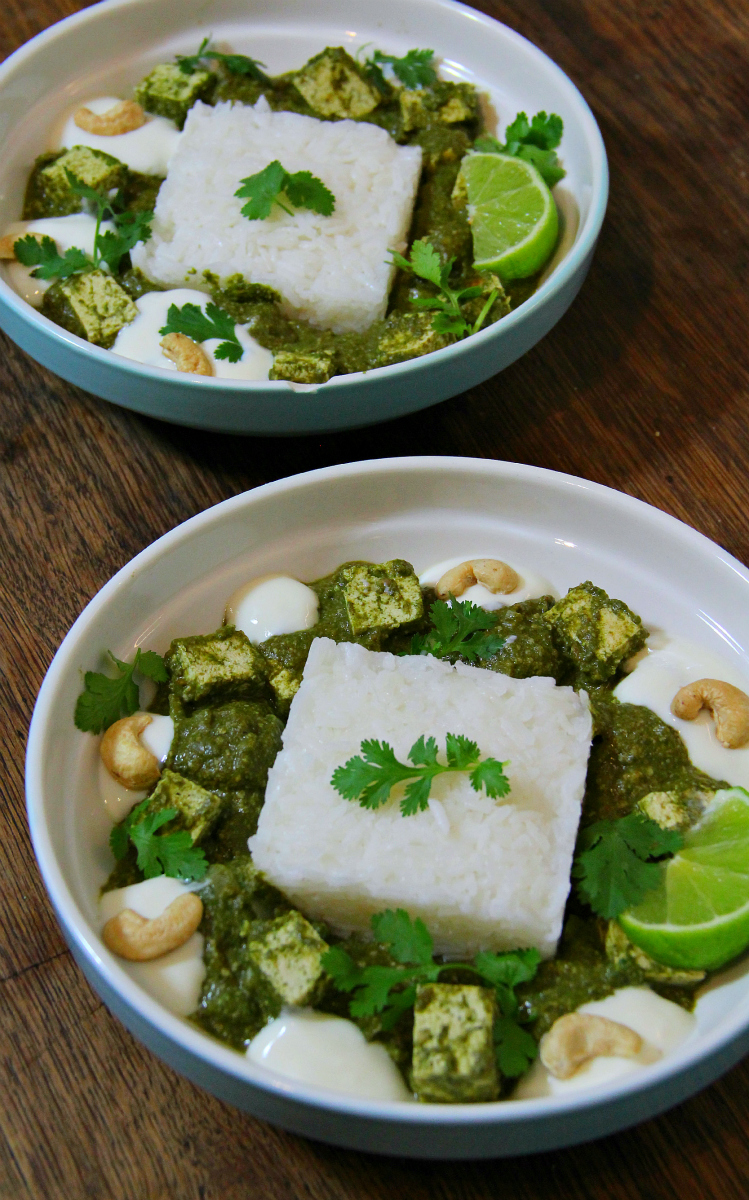 ---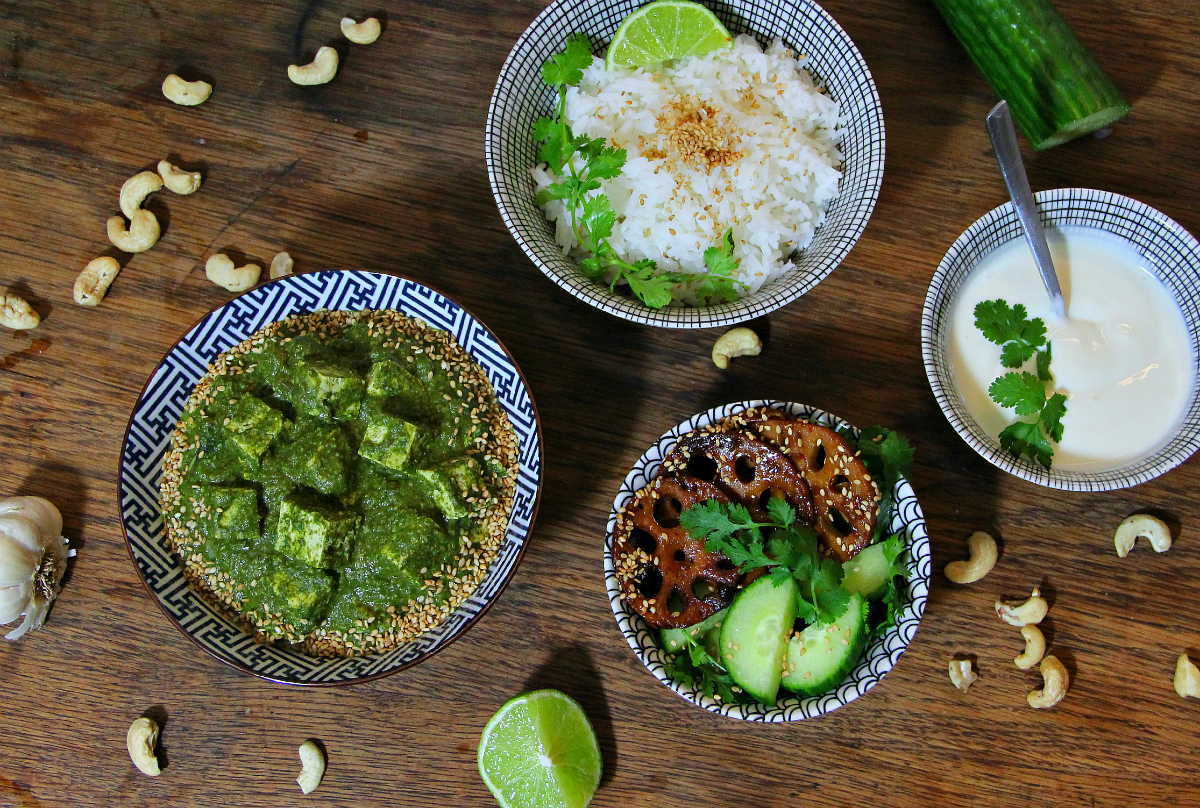 ---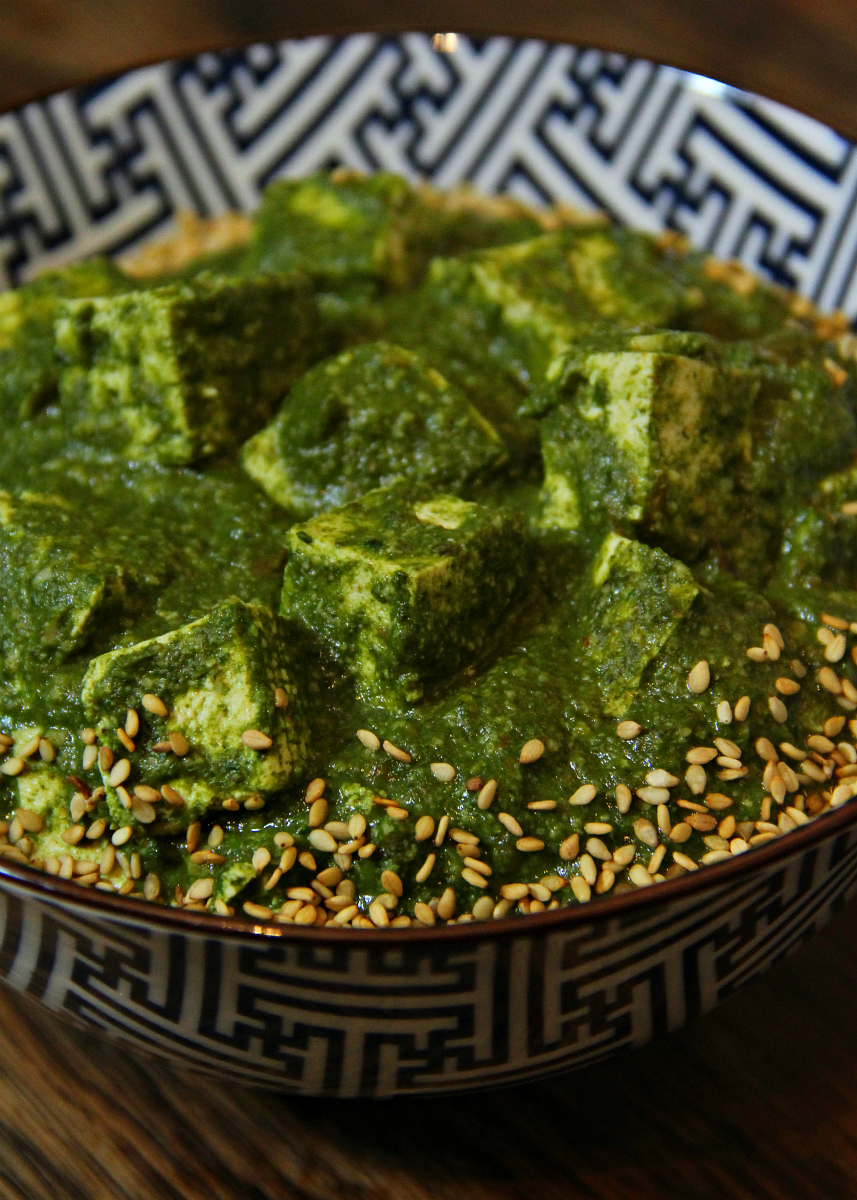 ---