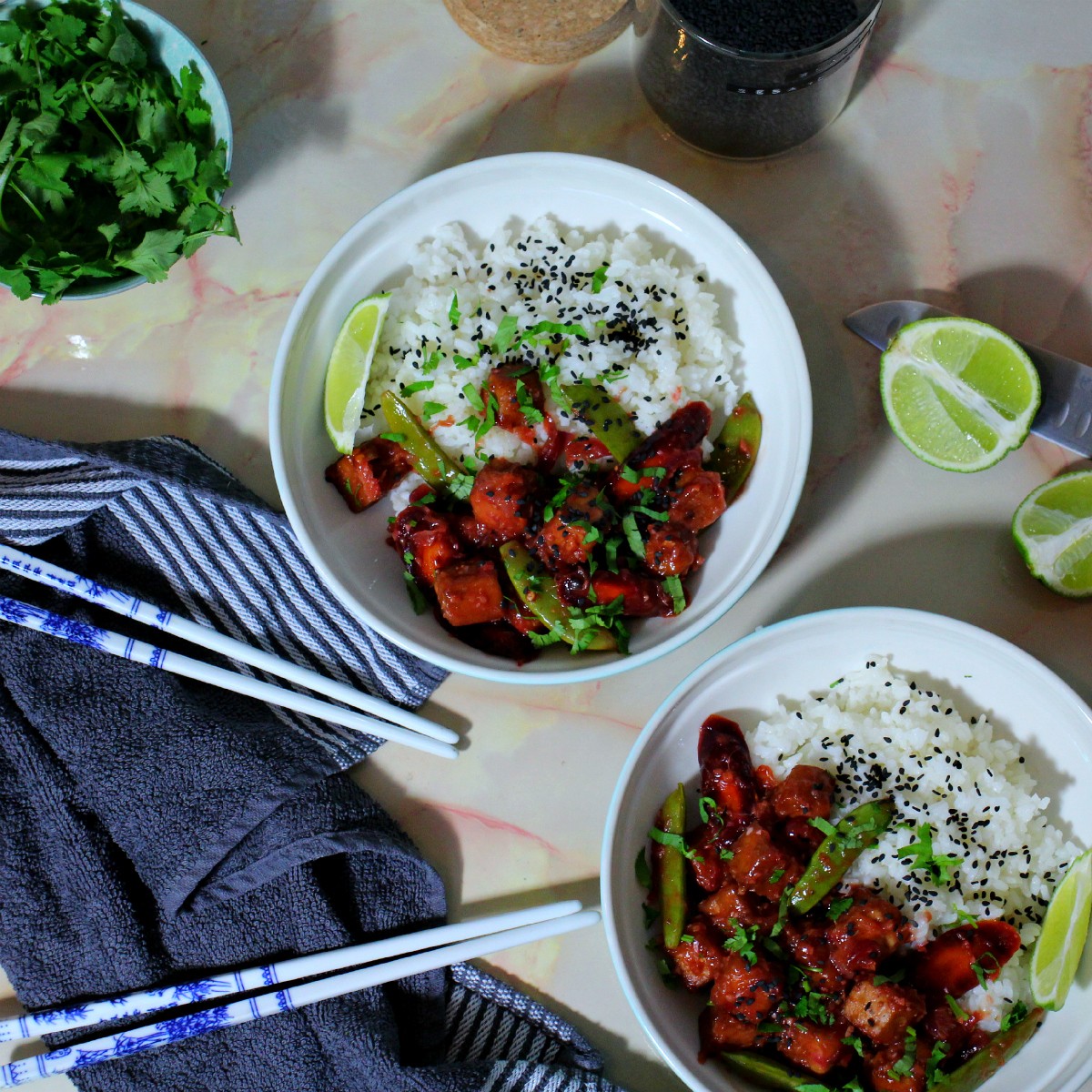 ---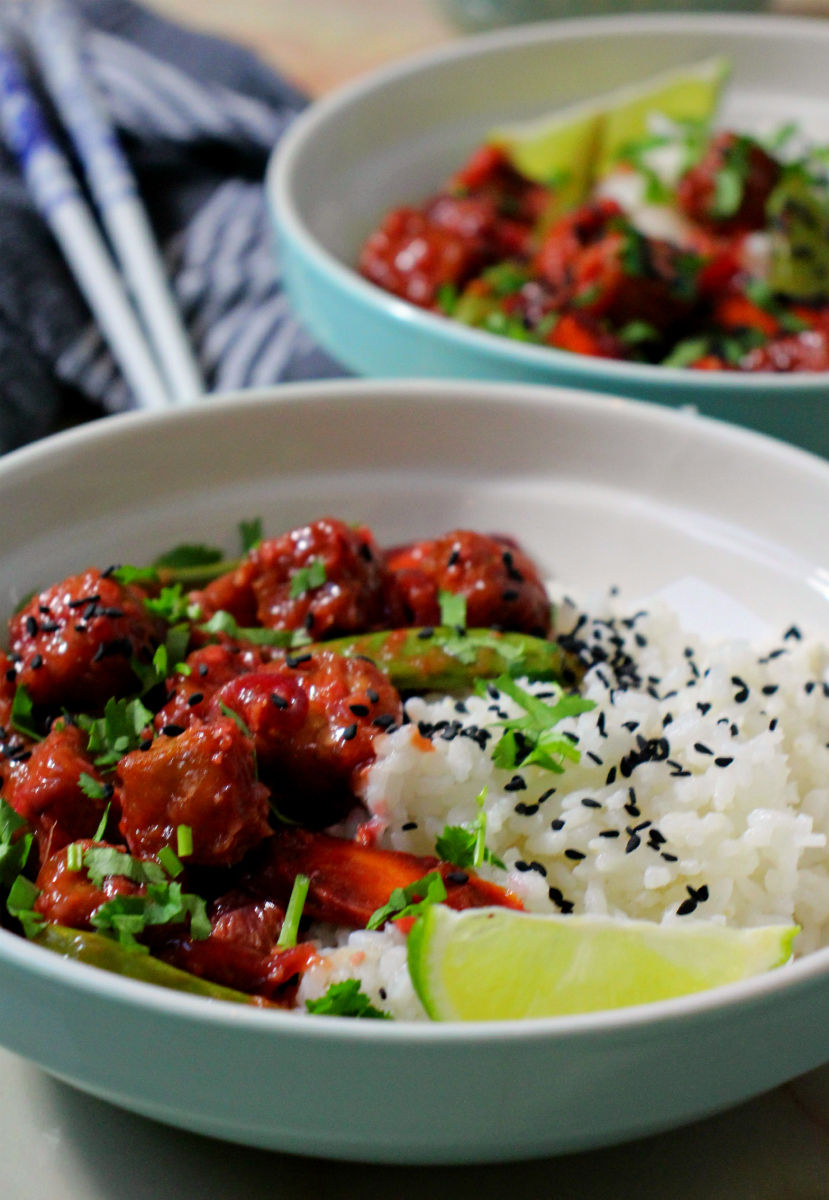 ---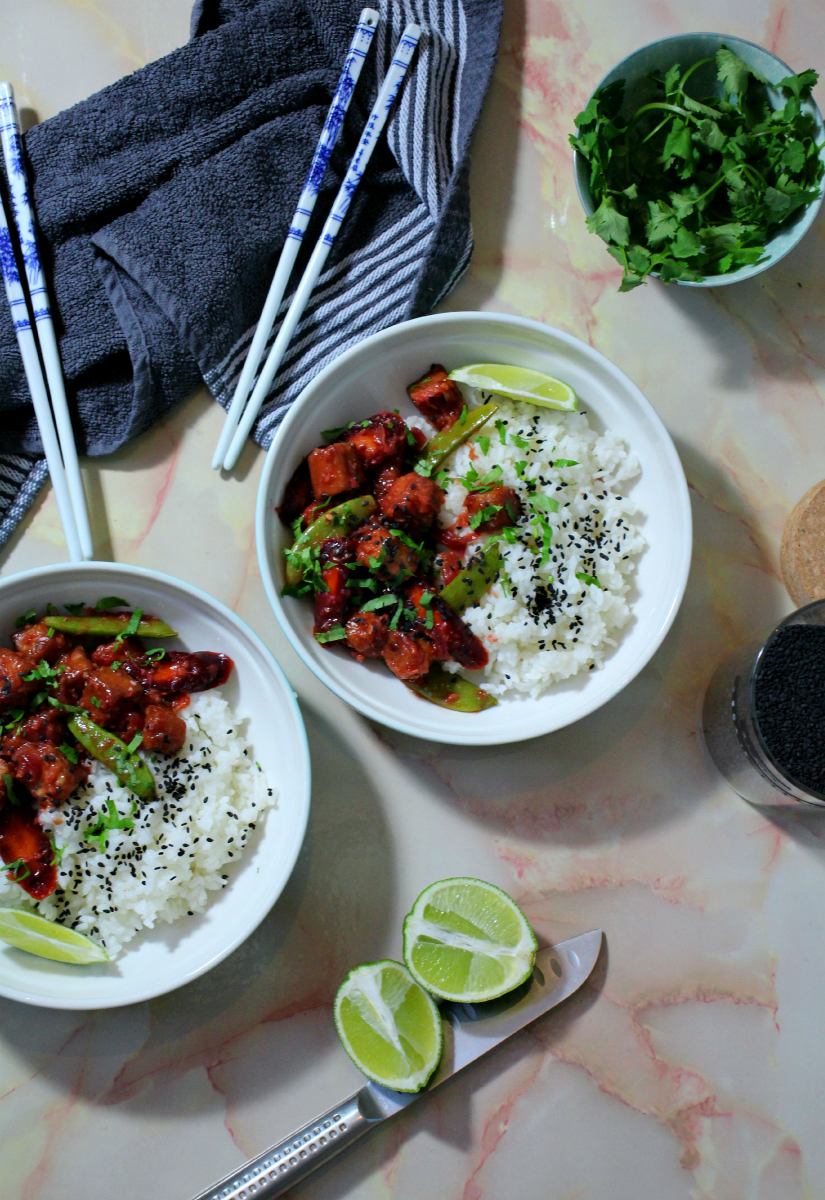 ---
The tofu obsession continues. I have a little love story going on with tofu, it´s like your mind, it´s tastes exactly like what you marinade it in. It´s a common idea that tofu is boring and unflavourful, but you just need to cook it right, marinade it, bake it, fry it, bread it, sauce it up, glaze it and the possibilities are endless, it´s such a versatile food staple.. sent from heaven..!
This dish is a fluffy and slightly crisp tofu, bake din the oven and then glazed with a homemade orange sauce with lots of spice. Add as much or little chili as you like, chili flakes really do vary in heat, I have some VERY spicy ones, and this dish is (for me) medium heat, but I am also a chili whore, so add to taste. Snap peas and carrots are added for extra veg and colour. Sticky rice because I am just as obsessed with sticky rice as I am tofu. And yes... it does not look orange, the brown sugar, red onion and purple carrot took care of that, but the taste of orange is still very much there.
---
Are you also slightly obsessed with tofu? Then check out these other recipes:
---
---
Serves 4
---
Ingredients
---
Baked Tofu
---
500g firm tofu (17.6 oz)

3 tablespoons soy sauce

3 tablespoons potato starch (or cornstarch)

1 tablespoon rice vinegar

1 tablespoon sesame oil
---
Orange Sauce blend
---
2 oranges (or equivalent to 2.5 dl or 1 cup peeled and choppped)

4 garlic cloves

1 thumb of ginger

4 tablespoons brown sugar

3 tablespoons rice vinegar

2 tablespoons soy sauce
---
Other sauce ingredients
---
100g snap peas (3.5 oz)

3 purple carrots

80 ml water (1/3 cup)

1 medium red onion

2 tablespoons sesame oil

2 teaspoons potato starch (or cornstarch) + little water for slurry

1 teaspoon very hot chili flakes (or to taste)

1/2 teaspoon dried vegetable stock
---
Serve with
---
4 servings of sticky rice

Black sesame seeds

Freshly chopped cilantro

Lime wedges
---
What you will need
---
Cutting board and knife

1 bowl

1 baking tray + baking paper

Measuring spoons

1 pot for rice

1 blender OR bowl and stick blender

1 pan + spoon to stir

1 small bowl for slurry
---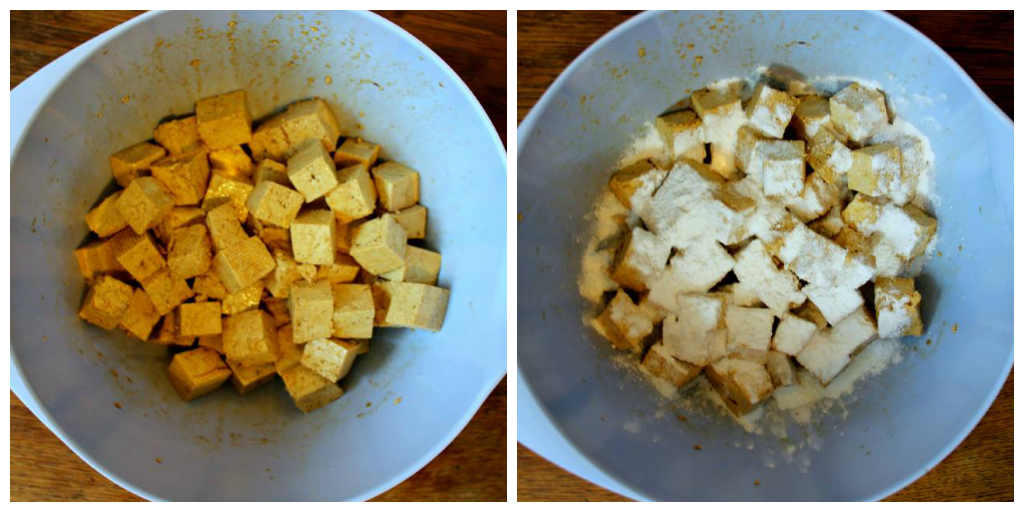 ---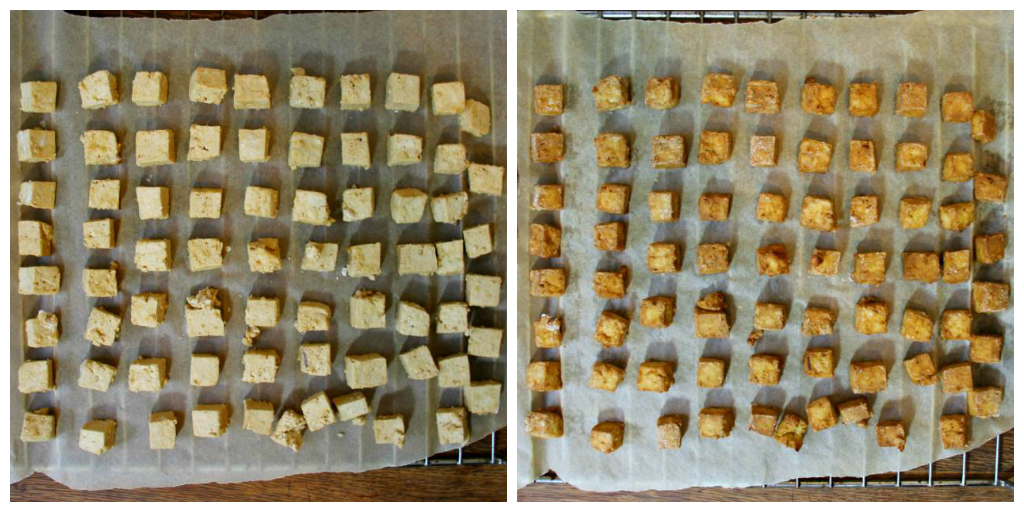 ---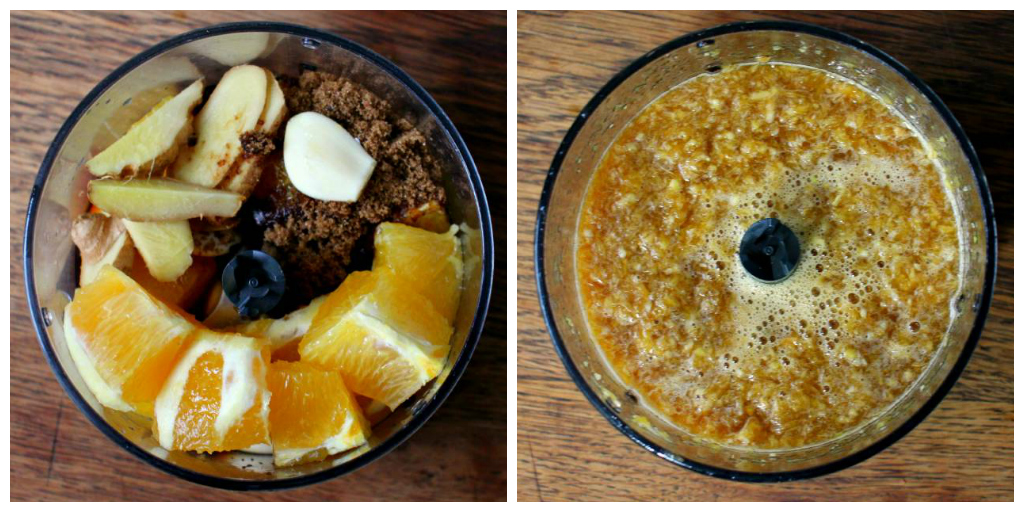 ---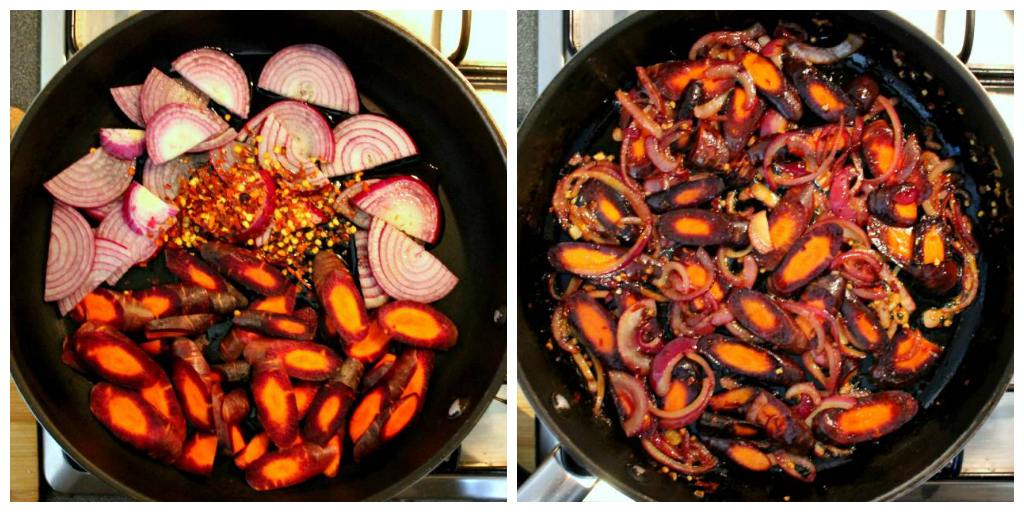 ---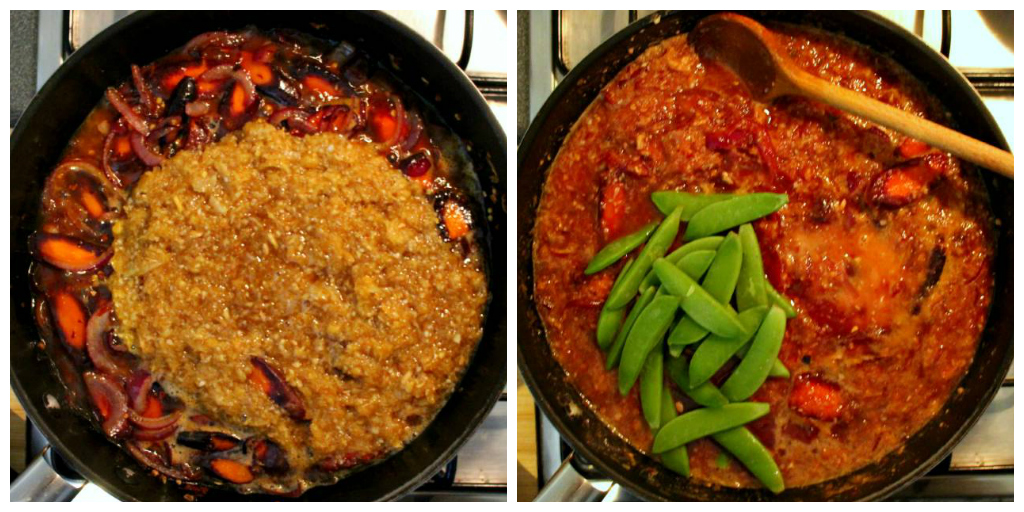 ---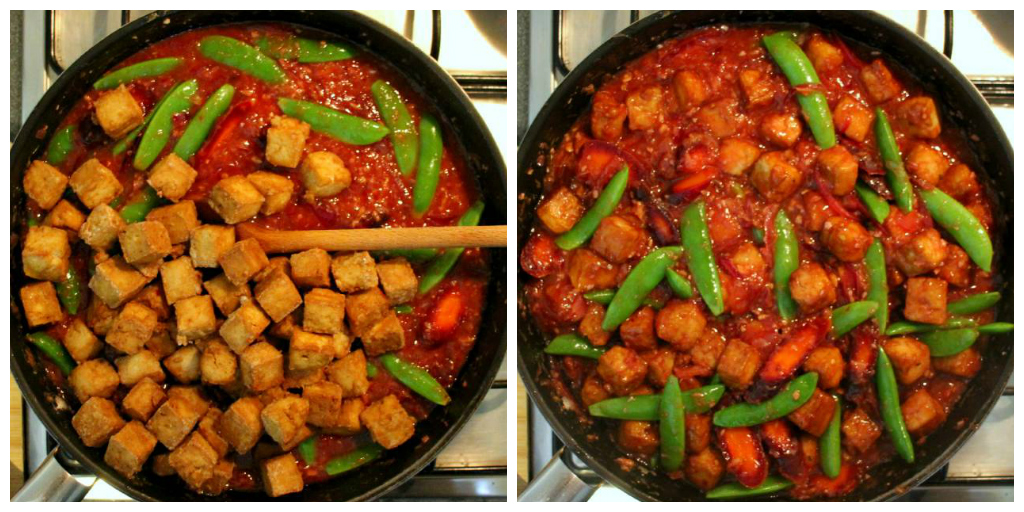 ---
Instructions
---
(Optional) – drain the tofu, freeze overnight, thaw in the fridge, drain, wash and drain again. This gives the tofu a different and more spongy texture. If you don´t wish to do this step simply just drain the tofu and start the recipe.

---

Preheat the oven to 200c (390 F).

---

Chop the tofu into cubes, put into a bowl, add in the soy sauce, rice vinegar and sesame oil. Allow to soak for a few minutes. Add in the starch, toss gently to coat. Put on a lined baking tray. Bake in a preheated oven on 200c (390 F) in the middle of the oven on normal setting for about 15-18 minutes or until golden and slightly crisp on the edges.

---

In a blender (or bowl with stick blender) add in the peeled and chopped orange, garlic, ginger, brown sugar, rice vinegar and soy sauce. Blend smooth. Set aside.

---

Peel and chop the onion and carrot. Add to a pan with the sesame oil and chili flakes. Sweat and cook for about 5 minutes or until the carrot a slightly tender. Then add in the orange sauce. Bring to a simmer on low.

---

In a small bowl add in the starch and little water, mix well to make the slurry. Add to the sauce with the water and dried vegetable stock. Stir well until thickened, let simmer on low heat.

---

Add in the snap peas just before the tofu is done. Cook until bright green, be careful to not overcook these, they taste best when they still have a bite to them.

---

When the tofu is golden, take out and add to the sauce to coat them. Serve with sticky rice, black sesame seeds, freshly chopped cilantro and lime wedges.
---
Enjoy !
---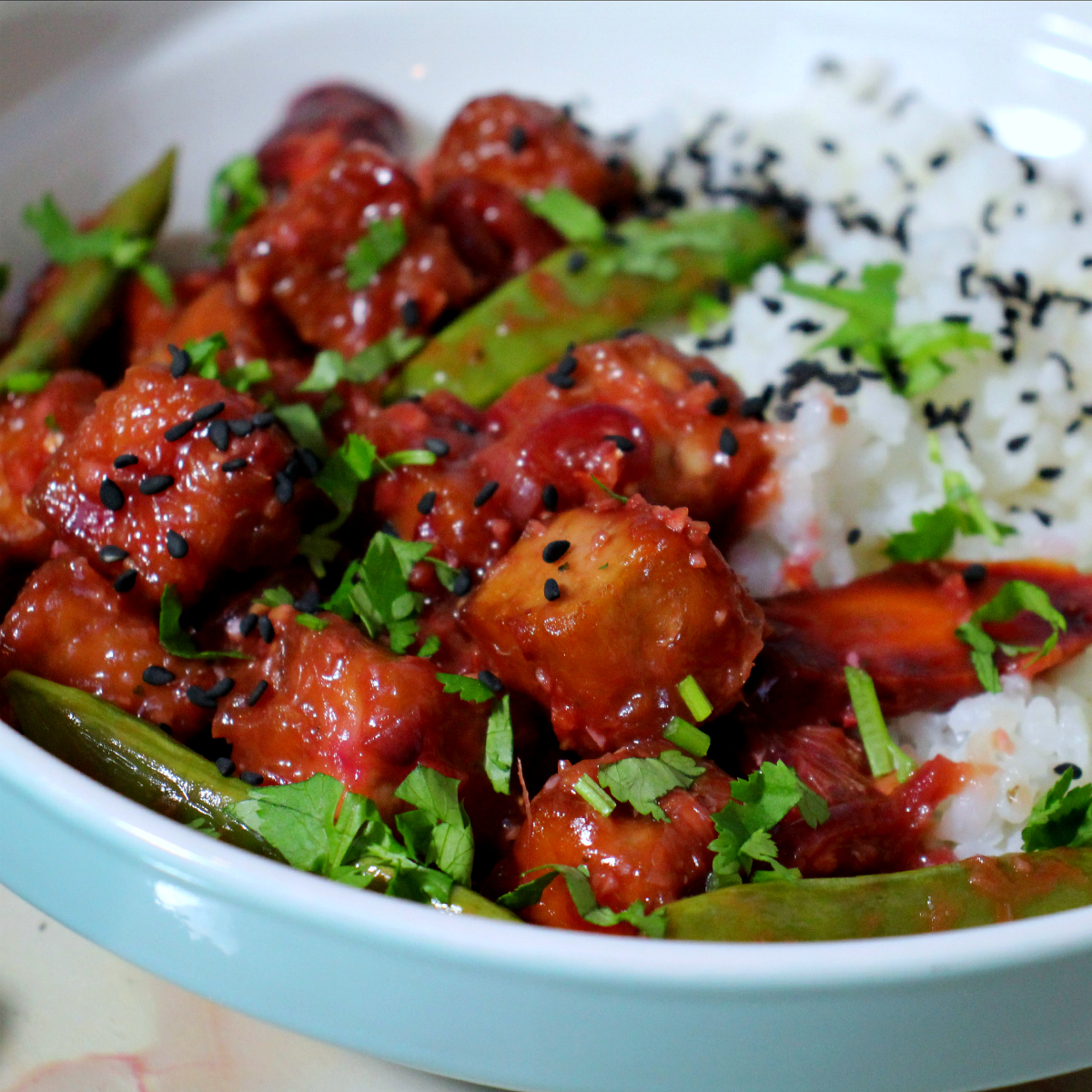 ---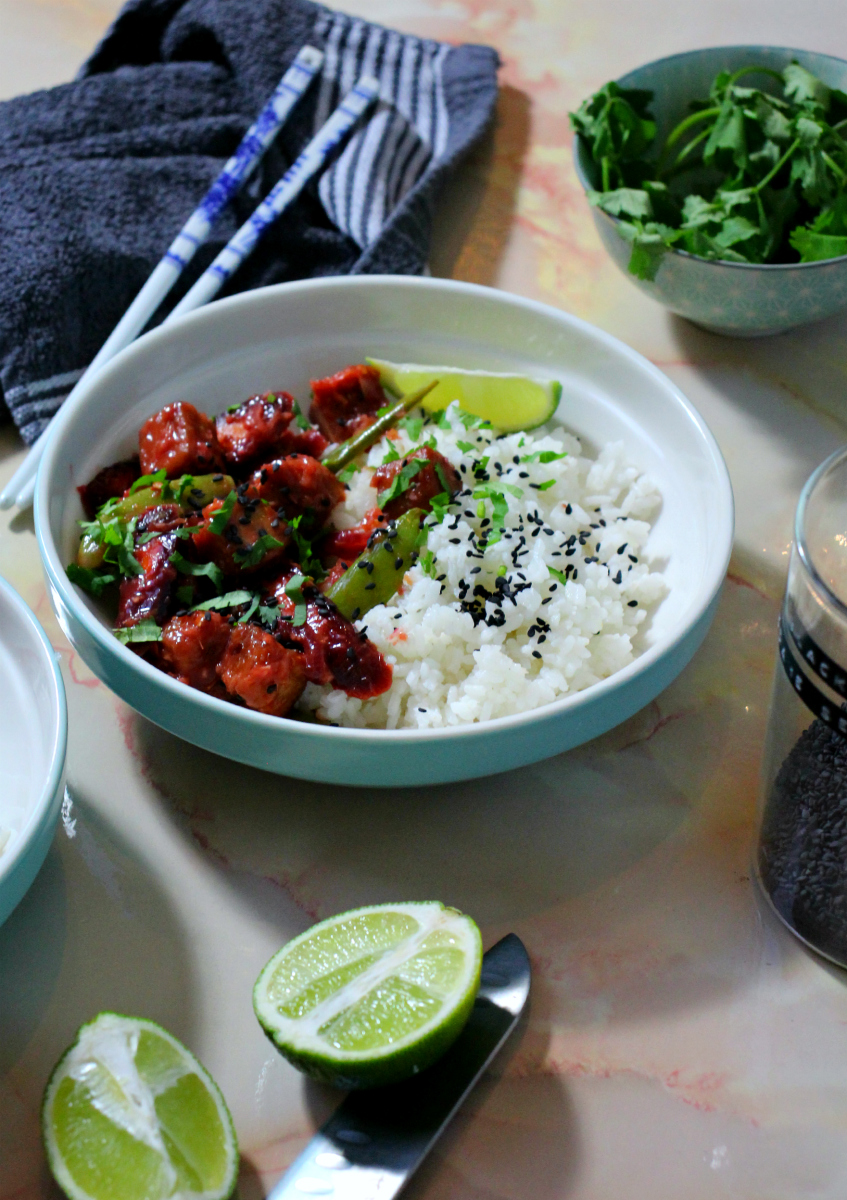 ---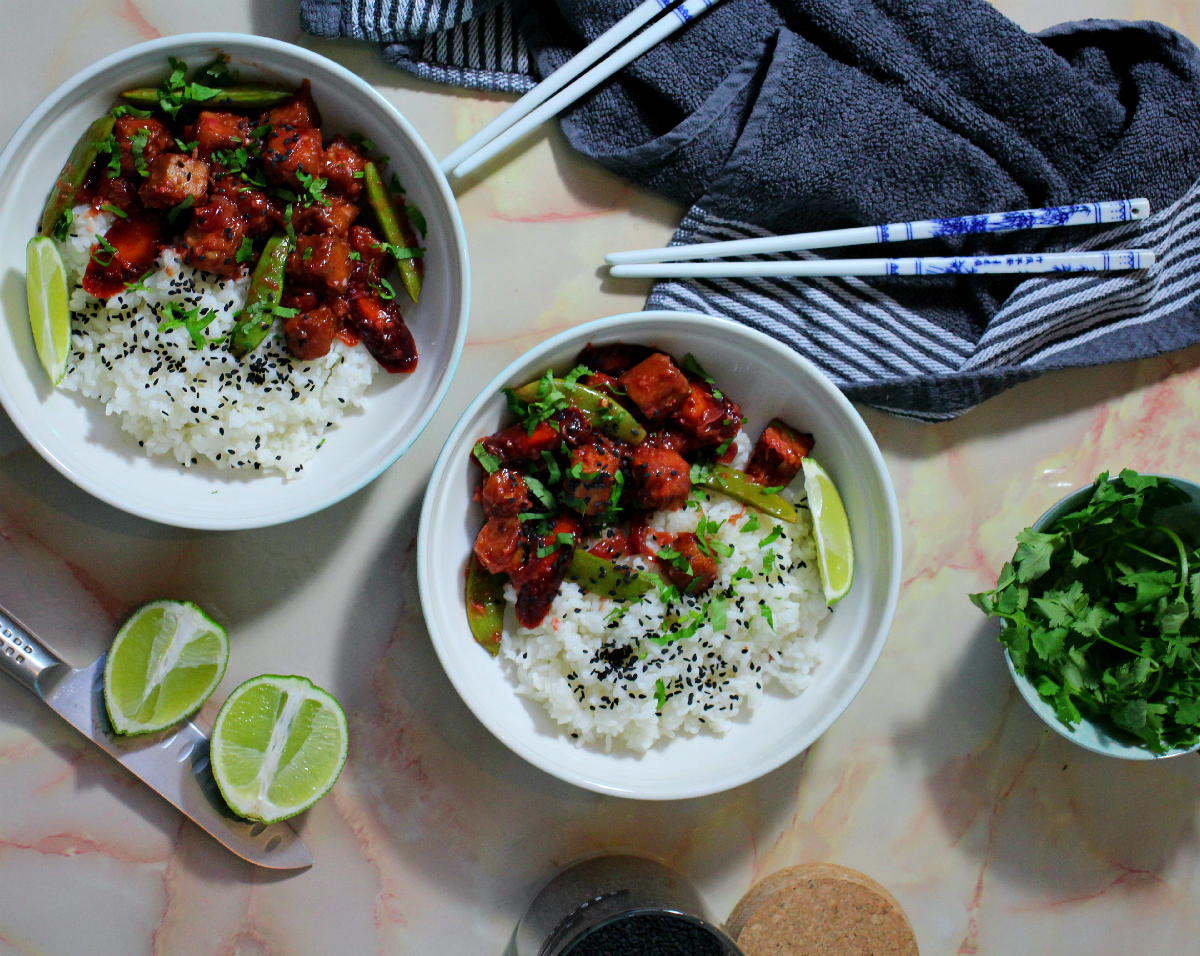 ---